For some dogs, bison pet food is the way to go. This novel ingredient is gentle on stomachs and suitable for dogs with allergies. 
Bison used to be quite common in North America. However, as the Europeans colonized the continents, this huge mammal was pushed to the point of extinction. 
Today there are about a million bison spread across preserves and on farms. Most bison meat eaten by dogs and humans comes from these bison farms. 
As their number continue to rise, their meat is becoming cheaper, which makes it more accessible for the general population. A few decades ago, it was nearly impossible to find bison dog food, but now it isn't all that rare at all. 
There are countless reasons why you might want to take advantage of this unique protein source. 
Why You Should Trust Us
I've been a dog owner and health-nut my whole life. We have reviewed hundreds of different dog foods over the years, so we have an expert view of what the market currently offers. All of our reviews are based on scientific evidence, not marketing campaigns or hearsay. We carefully stay up to date on the latest research so that we can recommend only the best to you and your pets. 
Before making it into any article, each Bison dog food has to pass a rigorous review process that involves more than just surface-level information. We calculate all of our own macronutrient data. While we do pay attention to the ingredient list, we also consider macronutrient ratios and recall frequency.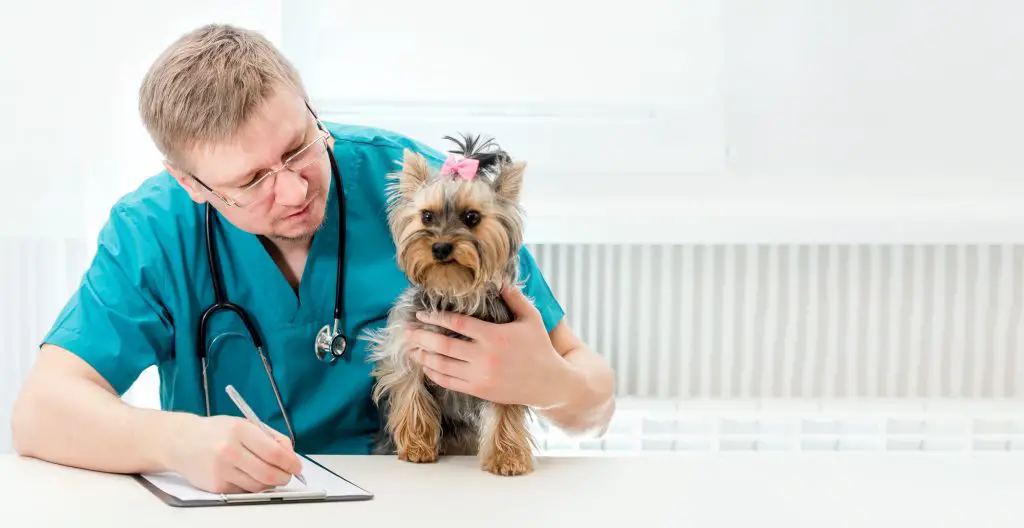 Reviews of the 5 Best Bison Dog Foods
Our Pick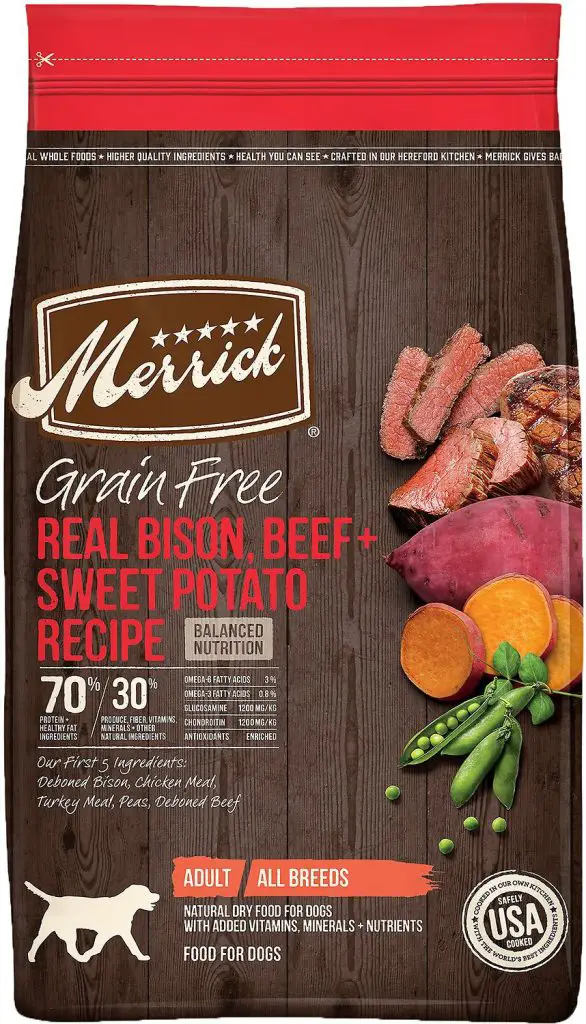 Glucosamine and chondroitin included to support joint health
100% free from preservatives, fillers, corn, wheat, soy, and gluten
Deboned bison as the #1 ingredient
Doggypedia rating: 5/5
Calorie Content: 3708 kcal/kg
First 5 Ingredients: Deboned bison, chicken meal, turkey meal, peas, deboned beef.
Macronutrients (Dry-Matter Basis):
42.7% Protein
19.1% Fat
29.21% Carbohydrates
The Best Bison Dry Dog Food
This bison dog food brands by Merrick contains deboned bison as the first ingredient. No matter why you're looking for a bison dog food, including bison as the first ingredient is always a good sign. 
As the second and third ingredient, this dog food includes other protein sources. If your dog does not currently have any allergies, having multiple different protein sources can prevent allergies from forming. If your dog is not allergic to anything on the ingredient list, this food is still a perfect option. However, if your dog is allergic to chicken, beef, or turkey, you should avoid this food. 
The rest of the ingredient list contains a variety of veggies, like peas, sweet potatoes, and potatoes. These are not the best vegetables to include in dog food for a few different reasons. The most important of these reasons is that these ingredients may be linked to a certain heart condition that is gaining prevalence in the dog population according to the FDA. 
Furthermore, peas also contain quite a bit of protein. They can throw off the amount of protein in the food by making it higher. However, they do not contain all of the essential amino acids our dogs need to survive, making them an incomplete protein. That's something to keep in mind when looking at the protein content of this food. 
One positive aspect of this food is its high caloric count. Your dog will likely need less of this food than other foods, which can save you quite a bit of money in the long run. This food is a bit more expensive than most, but you should keep in mind that this food will also stretch further than most.  Highly recommend for large breeds and small breeds.
Recall Info: Yes
Runner Up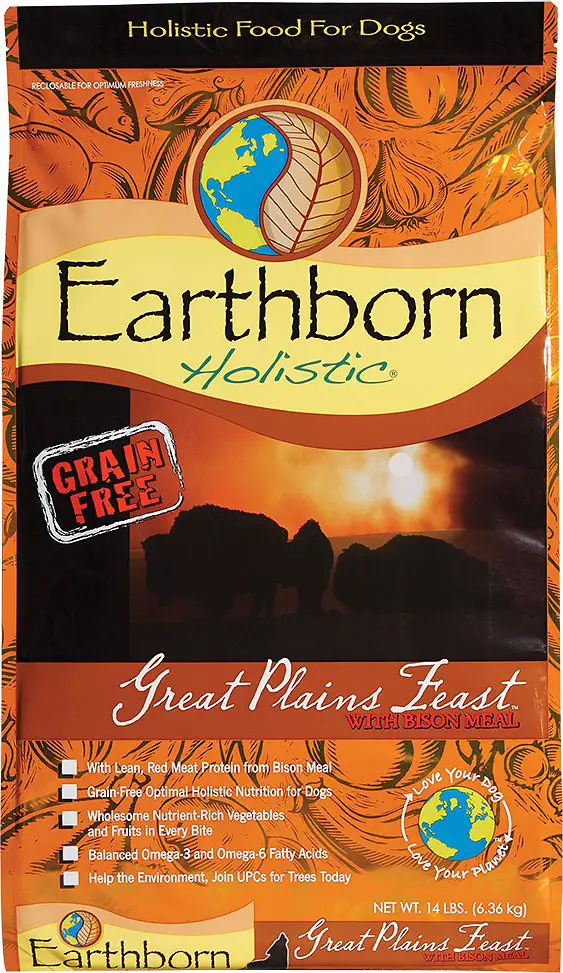 L-carnitine to support a healthy metabolism
Complete egg protein with omega 6 fatty acids
High amounts of vitamin E and C
Doggypedia rating: 3.5/5
Calorie Content: 3780 kcal/kg
First 5 Ingredients: Bison meal, peas, pea protein, tapioca, dried egg.
Macronutrients (Dry-Matter Basis):
35.56% Protein
20% Fat
35.56% Carbohydrates
Grain Free Bison Dog Food
This food is decent. It isn't one of the best choices for your canine, but it isn't one of the worst either. The first ingredient is bison meal, which is a high-quality protein source. The "meal" just means the food has been ground up and then rendered. This is a process similar to stew making, except the food is cooked until the bulk of the moisture is removed. 
In other words, the bison meat is boiled into a very nutritious meat-powder substance. This contains all of the nutrients of regular meat, expect it is very concentrated. Due to its concentrated nature, your dog can often get more nutrients from meal meat than whole meat. In general, meat meal has four times more protein than whole meat!
However, peas are included as the second ingredient. Peas are not extremely nutritious, but they are high in protein. They do not contain a complete protein, however. They are often used to increase the protein content of dog food cheaply since peas are much less expensive than meat. Furthermore, they have been linked to DCM by the FDA, which is an increasingly common heart condition in dogs. 
The macronutrient content of this food is also not very great. Carbohydrates are way higher than we would like at 35%. In fact, this food contains just as much protein as it does carbohydrates! This is a dead giveaway that this food likely contains more filler veggies than it does meat. 
Recall Info: None
Runner Up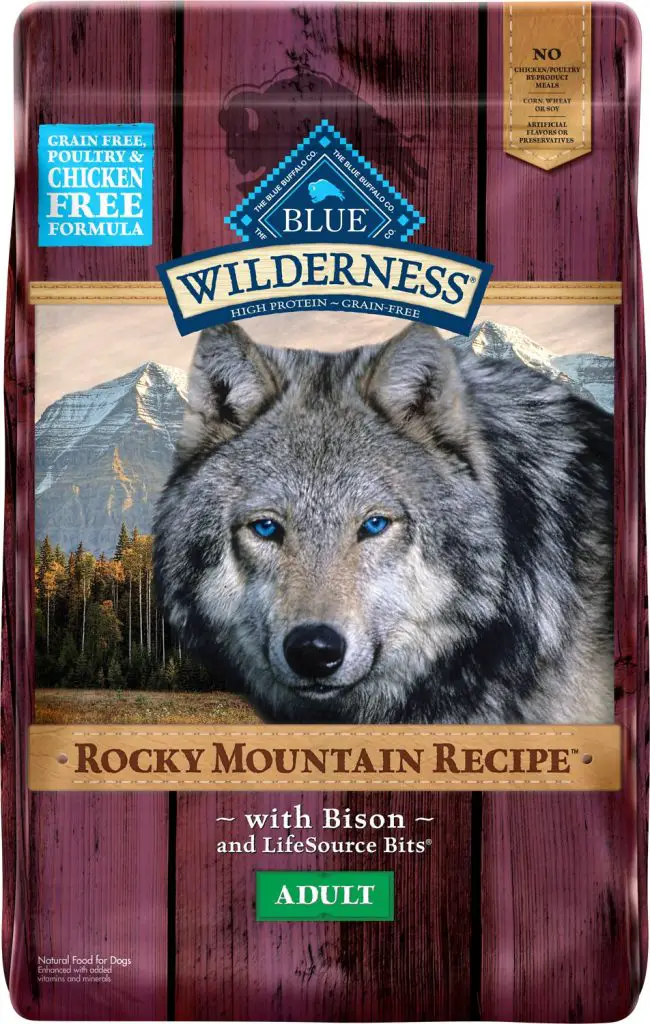 L-Carnitine for a metabolism boost
Chicken-free for dogs with allergies
Made with LifeSource Bits
Doggypedia rating: 3.5/5
Calorie Content: 3636 kcal/kg
First 5 Ingredients: Deboned bison, fish meal, peas, pea protein, tapioca starch.
Macronutrients (Dry-Matter Basis):
33.33% Protein
20% Fat
37.78% Carbohydrates 
Bison Food for Dogs with Allergies
Blue Buffalo creates this decently popular bison dog food. It is decent, but not one of our favorites. The first ingredient is deboned bison, which is the best red meat choice. Fish meal is included as the second ingredient. Fish is another "novel" ingredient, which means not many dogs are allergic to it. If your dog has allergies, this food might be a suitable choice as long as your dog isn't allergic to fish. 
The third ingredient is not as high-quality, though. Peas have been associated with certain dietary heart conditions in dogs and are often considered a "filler veggie". They are not particularly nutritious. 
They do contain quite a bit of protein. Many companies use them for this reason to increase the protein content of this food. However, peas are not a complete protein and are quite low in taurine, which is an essential amino acid canines need for a healthy heart. If they get too much of their protein from peas, it is likely that they will not be getting the complete nutrients they need. 
The macronutrient content of this food is also not great. Carbohydrates are high at over 37%. We preferably like to see carbohydrates under 20% if possible. Protein could be much higher, as could fat. Fat is only at 20% when it should preferably be the highest amount. 
Recall Info: Yes
Runner Up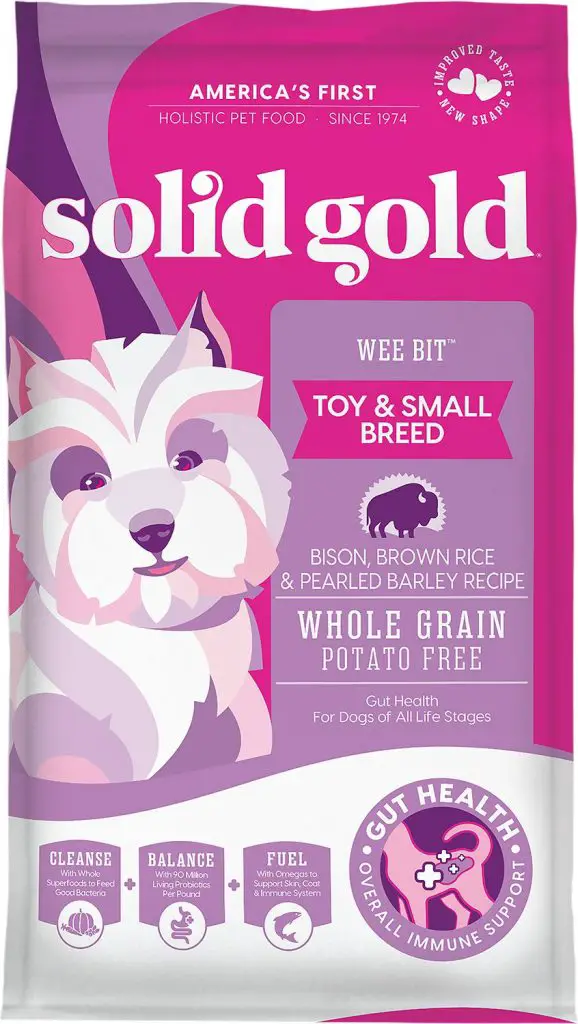 Small kibble for small dogs
Made with lean bison
No wheat, corn, or soy
Doggypedia rating: 3/5
Calorie Content: 3745 kcal/kg
First 5 Ingredients: Bison, ocean fish meal, peas, oatmeal, chicken fat.
Macronutrients (Dry-Matter Basis):
31.11% Protein
20% Fat
40% Carbohydrates
For smaller dogs, this might be a better option. It is made of bison and ocean fish, which are both suitable for dogs with allergies. The kibble is very small so tiny breeds can eat it. 
We do have a few gripes about this food, however. Peas are included, which is not a good choice for most dog food. They are an incomplete protein source and low in a few amino acids your dog needs to thrive. 
Carbohydrates are also extremely high at 40%. This is far higher than what we would like to see. Fat is also quite low at only 20%, which is likely because lean bison is the first ingredient. 
We mostly recommend this dog food for small breeds who just can't eat the better options on this list. 
Recall Info: Yes
Runner Up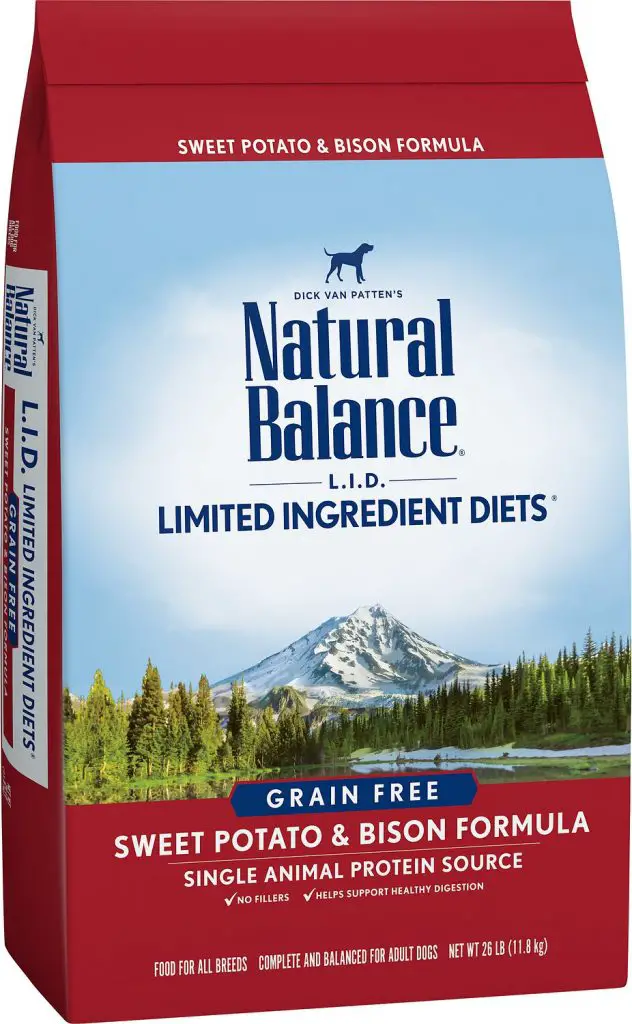 Grain-free
Omega-3 fatty acids from flaxseed added to support skin and coat health
Single animal protein for severe allergies
Doggypedia rating: 2.5/5
Calorie Content: 3460 kcal/kg
First 5 Ingredients: Sweet potatoes, bison, potato protein, pea protein, canola oil.
Macronutrients (Dry-Matter Basis):
22.22% Protein
11.11% Fat
57.78% Carbohydrates
This dog food is not the best by any means. However, it is one of the few bison dog foods that does not include another protein ingredient. If your dog is allergic to everything by bison, this dog food might be suitable. However, we really do not recommend this food for most dog owners for a couple of different reasons. 
Firstly, the ingredient list is not very good. The first ingredient is sweet potatoes. We highly recommend choosing food with meat as the first ingredient. Furthermore, sweet potatoes are only an okay ingredient for dogs. They are starchy and not particularly nutrient-dense. The second ingredient is whole bison, which is a suitable choice. 
Another issue with the ingredient list comes from the inclusion of various veggie protein sources. This protein is not complete, which means that it does not contain all the amino acids your dog needs. It is often used to bulk up dog foods since vegetables are much cheaper than meat. On top of this, pea protein is used in particular, which has been linked to heart problems by the FDA. This is because peas lack taurine, which is an essential amino acid required for heart health. When dogs get most of their protein from taurine, they can miss out on this amino acid. 
Secondly, the macronutrient content of this food is not good in the least. Carbohydrates are far too high and there is not enough protein or fat. The inclusion of pea protein combined with the low amount of protein worries us that it might not contain enough amino acids to keep your dog healthy. 
We really only recommend this food if your dog has severe food allergies and you don't have any other options. 
Recall Info: Yes
Why should you feed your dog Bison meat?
Bison meat is much rarer on the market than other meat sources. Out of all the different animals commonly included in dog food, chicken and beef are by far the most common. Even in dog foods that claim to include some other protein source, it isn't rare to find chicken and beef hiding in the ingredient list. 
Because chicken and beef are so pervasive, it isn't uncommon for dogs to become allergic to them. Dogs do not develop allergies in the same way humans do. Instead, if dogs eat too much of a protein for too long, their bodies lose the ability to break it down as well. This makes their immune system flair up, which causes the allergic reaction. 
Bison is not a very common ingredient in dog food, similarly to venison and rabbit. Dogs are not exposed to it very often, so there is a much lower chance that they'll become allergic to it. If your dog is allergic to other protein sources, Bison can often be a helpful choice. 
Of course, your adult dog can become allergic to Bison if they eat too much of it as well. So, we recommend switching your dog's protein source often to avoid potential allergies from forming. Choosing food containing multiple calorie sources is also a good idea. 
Bison is also not terribly expensive in most cases. While you do usually only find bison in higher-end dog food, it typically doesn't cost any extra to choose a high-quality bison dog food. 
Plus, bison has a wide range of nutritional benefits that your dog can benefit from. 
Is Bison Good for Dogs?
Yes, bison has a number of wonderful benefits that make it suitable for canines. Firstly, it is one of the leanest meats out there, making it one of the most high-protein meats as well. 
In total, it is about 86.8% protein and only 6% fat. For comparison, beef is about 30% fat. Furthermore, much of the fat in bison are omega-3 fatty acids, which are the "good" fats. 
Bison is also quite high in B-vitamins. These vitamins help dogs convert the food they eat into useable energy, so they are obviously quite important. As you can imagine, dogs need B-vitamins to survive. (source)
Bison may be able to help fight inflammation or is at least less inflammatory than other meats. It contains high amounts of Selenium, which is a mineral that works as an antioxidant. Like all antioxidants, it can help decrease inflammation and oxidative stress. This may be helpful for dogs who have certain conditions, like arthritis. 
This meat is also quite high in zinc, which is a critical nutrient. It helps your dog's immune system work properly and improves cellular functioning.  (source)
Because it is leaner than most meats, bison is also very high in iron – so much so that it is visibly different from beef and poultry. It is often much brighter and redder than other types of meat. 
All animals need iron, including our dogs. Without it, your body cannot make enough blood, which can make you feel groggy and sap your energy. 
How We Chose the Best Bison Dog Foods
The number of bison dog foods available has slowly been increasing over the years. Dog food manufacturers are starting to understand that many pet parents are drawn to these unique proteins, so many have began producing bison formulas of their own. 
This can make it difficult to select the best bison dog food. Luckily, we're here to help. 
When ranking each dog food, we put your dog's nutrition first. This means that we preferred foods that were as close to what our dogs would eat naturally in the wild. 
Studies have found that when dogs are given complete control of their diet, they tend to eat a diet consisting of 30% protein, 63% fat, and 7% carbohydrates. Sadly, it is difficult to find a dog food that matches up with this formula. However, we did aim to select foods that were as high in fat and protein as possible. 
Because bison is very lean meat, most of the dogs foods on our list are quite low in fat, especially if they use bison as their sole protein source. 
We also considered the ingredient list of each food. While not all "controversial" ingredients are bad by any means – like by-products – some are not the best choice for our canines. We specifically stayed on the lookout for fillers. Often, these take the form of refined grains like white rice, but some veggies can also be used as fillers as well. 
We also preferred that protein came from a meat source. Plant sources do not contain all the amino acids necessary for your dog to thrive. 
We also considered the extra ingredients each food contained, including natural flavors, probiotics, vitamin B12 supplements, vitamin e supplements, thiamine monoitrate, calcium pantothenate, and other beneficial ingredients. 
Finally, we considered how much bison the food actually had in it. In some cases, foods would be labeled as "bison", but not really contain very much bison. Others would list bison as the first ingredient, followed by a long list of chicken parts. While we did include some of these when we were particularly impressed by them, we made sure to let you know that they didn't just include bison in the review. 
Read More Dog Food Reviews: Best Food for Picky Eaters or Best Beef Dog Food