Looking For The Best Dog Food Brands For Your Toy Breed? Help Your Dog Stay Healthy With Our Wet And Dry Food Reviews Here.
Anyone who has ever spent time around a toy breed dog knows that they're an absolute joy to own. Their little bodies mask big personalities, they're happy without huge backyards and, given their long life span, they make loving long-term companions. However, as many people know, there's a downside to toy breed ownership; finding the right sort of food.
Toy breed dogs have some specific nutritional requirements that make shopping for them a little trickier than medium or even large breed dogs. Because they can't eat as much as larger dogs, they need a food that's higher in calories. However, it's tough to find a food that meets this requirement while still containing enough nutrients to keep your pup healthy and happy. In addition to this, because toy breeds tend to live longer, there are certain age-supporting nutrients that should be included in any good toy breed food.
Unfortunately, there's a real problem with a lack of transparency in the dog food industry. Many companies will claim that they've formulated a specialty toy breed food but in reality, they've just stuck a new label on an older product. Because of this, it can be difficult for the average dog owner to find a food that's suitable for their toy breed companion.
To help take the strain off of making your food selection, we've listed five of the very best toy breed foods out there. Encompassing dry, wet, and puppy food options, these foods have all been chosen and judged based on a set of rigorous, scientifically-backed criteria. While each of these five foods has its own merits and drawbacks, you can rest assured knowing that any of the following products will help to keep your toy breed pooch happy and healthy in the years to come.
Why You Should Trust Us
I've been a dog owner and health-nut my whole life. We have reviewed hundreds of different dog foods for small dogs over the years, so we have an expert view of what the market currently offers. All of our reviews are based on scientific evidence, not marketing campaigns or hearsay. We carefully stay up to date on the latest research so that we can recommend only the best to you and your pets. 
Before making it into any article, each small dog food has to pass a rigorous review process that involves more than just surface-level information. We calculate all of our own macronutrient data. While we do pay attention to the ingredient list, we also consider macronutrient ratios and recall frequency.
Reviews of the Best Dog Foods for Toy Breeds 
Best Wet Foods for Toy Breeds
Macronutrients (Dry-Matter Basis):
Protein: 34.4% average minimum
Fat: 24.4% average minimum
Carbs: 30.4% average maximum
Best Dog Food for Small Dogs With Allergies
Next on the list is a unique sort of dog food: NomNomNow's variety pack. NomNomNow is different from your usual dog food company, in that you won't find their products in traditional stores. Instead, owners can input information about their dog's breed, age, and health requirements into NomNomNow's convenient online ordering system and then have dog food delivered straight to their door. NomNomNow offers four great recipes, and their variety pack allows for a sample of each of them.
The ingredient lists of NomNomNow's products are devised by a veterinary nutritionist, so you know that your pup is getting a healthy, nutritionally complete meal. The main protein source (either chicken, beef, turkey, or pork) is supplemented with a variety of quality veggies like potatoes, mushrooms, and kale. Each recipe also includes several different vitamin and mineral supplements to provide an extra boost of nutrition.
The macronutrient profiles of NomNomNow's products look a little bit different than most wet foods. The abundance of fruit and veg in their recipes means that the carbohydrate content is, on average, 30.4%. However, the protein and fat contents are still high enough to be commendable (34.4% and 24.4%, respectively), and the quality of the carbohydrate sources is so high that the extra few percent can be forgiven. Aside from this, NomNomNow is a great pick for toy breeds because the caloric densities of their wet foods are unusually high (125 kCal/100g). This means that your small dog can get enough energy to lead an active life without an additional dry food option being necessary.
The only real negative of NomNomNow's variety pack is that it isn't tailor-made for toy breeds. Consequently, not all of the recipes contain antioxidants, glucosamine, and chondroitin. Nom Nom Now hand prepares and mixes their meals in small batches. Because of this, expect slight variations between freshly prepared batches. However, they always strive for optimal consistency, and their meals are designed to be suited for all breeds and stages of life! That's why we still highly recommend it.
First 5 Ingredients for all their recipes: 
Heartland Beef Mash: Ground beef, russet potatoes, eggs, carrots, and peas.
Tasty Turkey Fare: Ground turkey, eggs, brown rice, carrots, and spinach.
Chicken Chow-Wow: Diced chicken, sweet potatoes, yellow squash, spinach, and sunflower oil.
Porkalicious Potluck: Ground pork, russet potatoes, green beans, yellow squash, and brown mushrooms.
Macronutrients (Dry-Matter Basis):
Protein: 41.7% minimum
Fat: 16.7% minimum
Carbs: 25% maximum
For Small Dogs with Sensitive Stomachs
Taking the title of the best wet food for toy breed dogs is Solid Gold's Chicken, Chickpea, and Pumpkin recipe. With a good ingredient list and strong macronutrient profile, this is a great all-round product for toy breed pups who prefer to chow down on wet food.
A particular positive of this food is that it comes in small packages; only 3.5 oz per container. A common complaint that small and toy breed dog owners have is that they can only buy food in big portions and have to throw out half of the can because it doesn't keep for very long. Solid Gold has solved this problem by offering smaller portion sizes to suit your small dog!
The ingredient list of this product is solid. Chicken is the sole protein source, but the lack of variety is made up for by the inclusion of chicken liver, which is high in B vitamins (Williams, 2007). The major carbohydrate source is chickpeas, which are high in iron, fiber, and have a good protein content. Other highlights include pumpkin, cranberries, and fish oil. While there isn't anything particularly innovative about this ingredient list, it provides a good variety of nutrients and flavors that's sure to keep your small breed happy and healthy.
The macronutrient profile of this food is strong. The protein content is 41.7% and the fat content is 16.7%, which complies with the AAFCO guidelines. The carbohydrate content sits at just 25% and the carbohydrate sources are of good quality. The main disadvantage of this food is that the caloric density, 91 kCal/100g, is really too low to exclusively feed your small breed dog this food. Because of this, this product should really be fed in conjunction with a higher calorie dry food.
Best Dry Foods for Toy Breeds
Macronutrients (Dry-Matter Basis):
Protein: 40.1% minimum
Fat: 17.6% minimum
Carbs: 33.5% maximum
Best Toy Breed Dry Food To Gain Weight
When it comes to dry dog foods, there are none more tailored towards toy breeds than Instinct Raw Boost's kibble. With a great macronutrient profile, plenty of glucosamine and chondroitin, and a fantastic ingredient list, this product is a great fit for any toy breed dog.
The most unique aspect of this food is that pieces of raw, freeze-dried duck meat are included in the kibble. This adds an extra boost of meaty goodness to the food and makes it more palatable for your pup to enjoy. Raw dog foods are generally of very high quality and are tailored to suit the kind of diet your pup's digestive tract was designed to cope with; high meat, low carb.
The main protein source in this food is cage-free duck meat, with chicken, turkey, and herring also making an appearance. This abundance of different meat sources helps to diversify your pup's diet, which is always a plus. Aside from the meat ingredients, the ingredient list contains some real gems. The major carbohydrate source, peas, aren't a particularly impressive inclusion, but fibrous pumpkin seeds, antioxidant-packed cranberries and blueberries, and omega-3 rich salmon oil are all included. In addition to this, the recipe contains a strain of probiotic bacteria, which is proven to help to balance your pup's gut microbiome, improving digestion and providing a boost to the immune system (Schmitz and Suchodolski, 2016).
The high-quality ingredients translate into a great macronutrient profile. This food contains 40.1% protein and 17.6% fat on a dry-matter basis, which far surpasses the AAFCO guidelines. The carbohydrate content, 33.5%, is on the higher side but is still acceptable. Instinct also provides a guaranteed level of glucosamine and chondroitin sulfate, 300 mg/kg and 225 mg/kg respectively, which is a good indicator that they have a strong grasp on what toy breed owners are looking for. The caloric density is 410 kcal/kg, which is perfectly suited to toy breeds.
One thing to beware is that this product may not be suited for pups who are picky eaters. Although the freeze-dried duck pieces seem to be a favorite amongst virtually all dogs, some have reportedly turned their nose up at the rest of the kibble.
Macronutrients (Dry-Matter Basis):
Protein: 42.7% minimum
Fat: 19.1% minimum
Carbs: 29.2% maximum
Best Food for Toy Breeds with Sensitive Stomach
For toy breed dogs that have sensitive stomachs and digestive issues, finding a good food can be tough. However, Merrick's Lil' Plates sweet potato dry food really takes the cake.
A particular positive of this food's ingredient list is that it's great for toy breeds with sensitive stomachs. Sweet potato is considered to be the most easily digestible carbohydrate source for dogs, making it easy on sensitive tummies. In addition to this, Merrick has included several strains of probiotic bacteria. Probiotics help to promote the growth of good bacteria in your dog's gut, which can bring relief to gastrointestinal discomfort.
In terms of the ingredient list, there's a lot of things to be excited about. The main protein sources are chicken, turkey, and salmon, which provide a good array of nutrients. Dried alfalfa meal enhances the fiber content of the food, flaxseed and sunflower oil provide omega-3 and omega-6 respectively, and a variety of vitamin and mineral supplements help to give an extra boost to your pup.
The macronutrient profile of this food is great, with 42.7% protein, 19.1% fat, and 29.2% carbohydrates. These percentages hit all of the right marks. Like Instinct's freeze-dried product, Merrick guarantees the level of glucosamine and chondroitin sulfate included in their food (1200 mg/kg on both accounts), which shows a good level of transparency. The caloric density, 369 kcal/kg, could be higher but is sufficient.
One negative of this product is the inclusion of pea protein. This ingredient generally features in dog foods that don't have a high enough meat content and hence need an extra boost of protein. While vegetable proteins like this certainly aren't harmful, they don't have the variety of amino acids that animal proteins do, and therefore aren't as nutritionally complete.

Best Food for Toy Breed Puppies
Macronutrients (Dry-Matter Basis):
Protein: 33.3% minimum
Fat: 20% minimum
Carbs: 37.8% maximum
Best Dry Food for Toy Breed Puppies
Toy breed puppies are the smallest dogs out there, and therefore they need and deserve high-quality foods to support their tiny bodies. Blue Buffalo's Freedom Puppy Chicken Kibble fits this bill perfectly.
The ingredient list of this food is a long one, and it's packed with all sorts of interesting goodies. The main protein source is deboned chicken, with turkey meal added as an extra bonus. The recipe is grain-free, meaning that peas, tapioca, and potato are the staple carbohydrates, with no grain by-products included. Other than this, dried chicory root adds an injection of fiber, blueberries and cranberries provide antioxidants, dried kelp functions as a source of iodine, and yucca schidigera extract helps to control the odor of your puppy's waste. On top of all of this, several different strains of probiotic bacteria are included, to help keep your pup's digestive tract running smoothly.
The macronutrient profile of this food is good, with 33.3% protein and 20% fat. The carbohydrate content is a little bit high, sitting at 37.8%, and ideally the food would contain a higher proportion of meat so that this could be reduced. However, the good caloric density (376 kCal/100g) and the fact that Blue Buffalo guarantees a high level of DHA, which is essential for brain development in puppies, makes up for this (Zicker et. al., 2012)
How To Choose The Best Food For Your Toy Breed 
The most important thing to look at when it comes to evaluating dog food is the food's macronutrient profile. This refers to the balance of proteins, fats, and carbohydrates in the product's formula. Protein and fat are particularly essential, as they allow for muscle growth, sustainment, and development and fuel your dog with the energy that he or she needs. Indeed, proteins and fats are so important that the American Association of Feed Control Officials publishes strict guidelines that all dog food companies in the U.S must follow. All of the foods on our lists adhere to these guidelines, which are as follows (AAFCO, 2014):
A crude protein content of over 18%
A fat content of over 5.5%
The nutritional requirements of puppies are slightly different from that of adult dogs, meaning that they have their own set of guidelines. These are given below:
A crude protein content over 22.5% 
A fat content over 8.5%
The third macronutrient, carbohydrates, are more complicated to deal with. Some carbohydrate sources, such as fruit, veggies, and whole grains, are packed full of beneficial vitamins, minerals, and fiber (Souliere, 2014). However, carbohydrates aren't an essential part of the canine diet, and too many carbs can indicate that the meat content of a food isn't high enough (Roberts et. al., 2018). In addition to this, some dog food companies will pack their foods full of cheap, non-nutritious grain fillers in order to cut costs. To help chose and rank our top foods, we developed the following guideline:
A carbohydrate content under 30% is favorable, with exceptions given to foods with quality carb sources
Along with these general guidelines, there are some nutritional requirements that are unique to toy breed dogs. Though it may seem counterintuitive, toy breeds often fare better with a food that has a high caloric density. This is because they need more energy per pound of body weight than bigger dogs do, but can only eat small amounts at one time. Foods with a high caloric density can provide a lot of energy in small amounts, which is perfect for toy breed dogs (Middleton et. al., 2017). Therefore, when choosing and ranking our top picks, we applied the following guideline:
120-150 kcal/100g for wet foods, and
390-420 kcal/100g for dry foods
The final consideration that should be made is that toy breed dogs tend to live longer lifespans than medium or large breed dogs. While this is a wonderful thing, it also means that toy breeds are affected by age-related problems more severely than other breeds. For example, dogs over the age of eight have been found to be far more likely to develop osteoarthritis (Anderson et. al., 2018). Chondroitin and glucosamine are two nutrients that have been found to help to relieve joint pain (Bhathal et. al., 2017), while antioxidants can help to prevent age-related oxidative stress (Dowling and Head, 2011). Therefore:
Products with beneficial nutrients like chondroitin, glucosamine, and antioxidants were given preference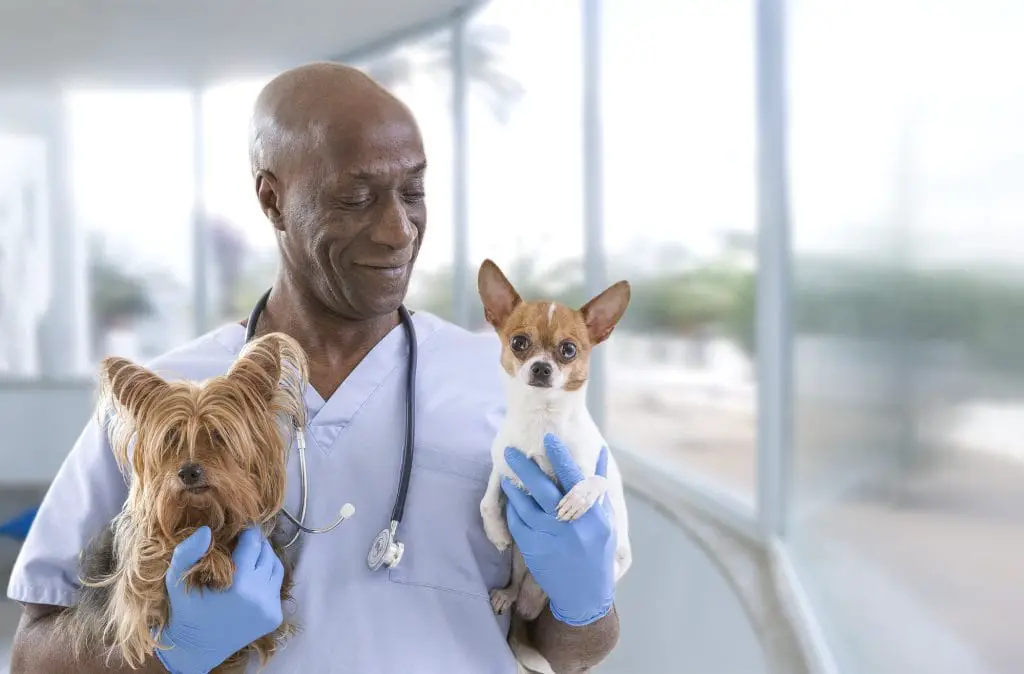 How Much to Feed your Toy Breed (adult vs puppies) 
The most valuable advice when it comes to feeding any dog is to follow the instructions provided by your chosen dog food's manufacturer. This is almost always found on the back of the packaging of the food. Owners can see how much food per day is recommended based on their dog's weight. However, some toy breeds can be lighter than even the smallest category of these recommendations, which can prove a challenge for owners.
In this situation, consulting with your vet is the best course of action, especially if your dog is a puppy. Older dogs generally have better self-control when it comes to food and will stop when they're full, while puppies are more likely to gulp down all of the food in front of them, even if it's too much. Bring the food you've chosen to your vet and they'll be happy to advise you on how much you should be feeding your toy breed dog. 
Allergies Information
All dogs are susceptible to food allergies, and toy breeds are no exception. Their longer life span may also mean that they're more likely to develop food allergies or sensitivities over time or during their old age.
A diagnosis of a severe food allergy can seem disastrous but in reality, even the most complex mixture of food allergies can be remedied with a good dog food. Limited ingredient diets can help dogs with sensitivities or allergies to specific, known ingredients, while hydrolyzed protein diets can tackle more tricky cases. For more information on this, check out our article on the Best Hypoallergenic Dog Foods.
Read More Dog Food Reviews: Best Alligator Dog Food or Best Food for Rottweilers
Sources and Further Reading:
AAFCO 2014 Recommendations (Adult and Puppy): The 2014 AAFCO Dog Food Nutrient Profile for Growth and Reproduction. (2019). [ebook] AAFCO. Available at: https://www.aafco.org/Portals/0/SiteContent/Regulatory/Committees/Pet-Food/Reports/Pet_Food_Report_2013_Midyear-Proposed_Revisions_to_AAFCO_Nutrient_Profiles.pdf [Accessed 28 Jun. 2020].
The benefits of some whole grains in dog foods: Souliere, K. (2014). A Study of the Nutritional Effect of Grains in the Diet of a Dog. University of Maine.
Optimal carbohydrate content in dog food: Roberts, MT, Bermingham, EN, Cave, NJ, Young, W, McKenzie, CM, Thomas, DG. Macronutrient intake of dogs, self‐selecting diets varying in composition offered ad libitum. J Anim Physiol Anim Nutr. 2018; 102: 568– 575. https://doi.org/10.1111/jpn.12794
Metabolism of small breed dogs: Middleton, R., Lacroix, S., Scott-Boyer, M., Dordevic, N., Kennedy, A., Slusky, A., Carayol, J., Petzinger-Germain, C., Beloshapka, A. and Kaput, J. (2017). Metabolic Differences between Dogs of Different Body Sizes. Journal of Nutrition and Metabolism, 2017, pp.1-11.
Risk factors for canine osteoarthritis (including age): Anderson, K. L., O'Neill, D. G., Brodbelt, D. C., Church, D. B., Meeson, R. L., Sargan, D., Summers, J. F., Zulch, H., & Collins, L. M. (2018). Prevalence, duration and risk factors for appendicular osteoarthritis in a UK dog population under primary veterinary care. Scientific reports, 8(1), 5641. https://doi.org/10.1038/s41598-018-23940-z
Glucosamine and chondroitin for joint pain in canines: Bhathal, A., Spryszak, M., Louizos, C. and Frankel, G., 2017. Glucosamine and chondroitin use in canines for osteoarthritis: A review. Open Veterinary Journal, 7(1), p.36.
The benefits of antioxidants in canine aging: Dowling, A. L., & Head, E. (2012). Antioxidants in the canine model of human aging. Biochimica et biophysica acta, 1822(5), 685–689. https://doi.org/10.1016/j.bbadis.2011.09.020
The benefits of probiotics in canines: Schmitz, S. and Suchodolski, J. (2016). Understanding the canine intestinal microbiota and its modification by pro-, pre- and synbiotics – what is the evidence?. Veterinary Medicine and Science, 2(2), pp.71-94.
Benefits of organ meat: WILLIAMS, P. (2007). Nutritional composition of red meat. Nutrition & Dietetics, 64(s4 The Role of), pp.S113-S119.
The role of DHA in brain development: Zicker, S., Jewell, D., Yamka, R. and Milgram, N., 2012. Evaluation of cognitive learning, memory, psychomotor, immunologic, and retinal functions in healthy puppies fed foods fortified with docosahexaenoic acid–rich fish oil from 8 to 52 weeks of age. Journal of the American Veterinary Medical Association, 241(5), pp.583-594.