Looking for the best dog food brands? Using research and in-depth, scientific studies we found the best dog foods!
When it comes to the decisions that every dog owner needs to make, choosing what kind of food you'll feed your pup is among the most important. Every good owner wants the best for their precious pooch, but sadly good intentions aren't always enough.
Buying a good dog food product can do wonders for your pet's health. It can be the difference between your puppy developing joint problems or growing up healthy and strong, the difference between your adult pooch maintaining a healthy weight or becoming obsese, and the difference between your senior pup living his or her golden years in comfort or in pain.
However, the world of dog food is a surprisingly complicated one. With billion dollar brands that make false promises, empty marketing slogans that entice well-meaning owners into buying low quality products, and no clear road-map for how to find a great food for your pup, there are hundreds of different dog foods to select from.
Because of this, the average dog owner can find it incredibly difficult to navigate all of the different options. Should you go for the cheapest option, or the most expensive? What does it mean when a dog food company claims to offer a 'wild diet?' Are grain-free foods better, or are they dangerous?
To help these well-meaning dog owners, we've compiled a massive database of the best (and not-so-best) dog foods out there. Including everything from budget foods to boutique ones, and from simple ingredients to unpronounceable ones, this article contains eight in-depth reviews of the very best foods chosen from our database. Judged against a set of scientific criteria and ranked accordingly, these eight products are the absolute pinnacle of wet and dry dog foods, and are sure to be hit with any pup that tries them.
Ratings And Reviews Of The Best Dog Food Brands:
Our Pick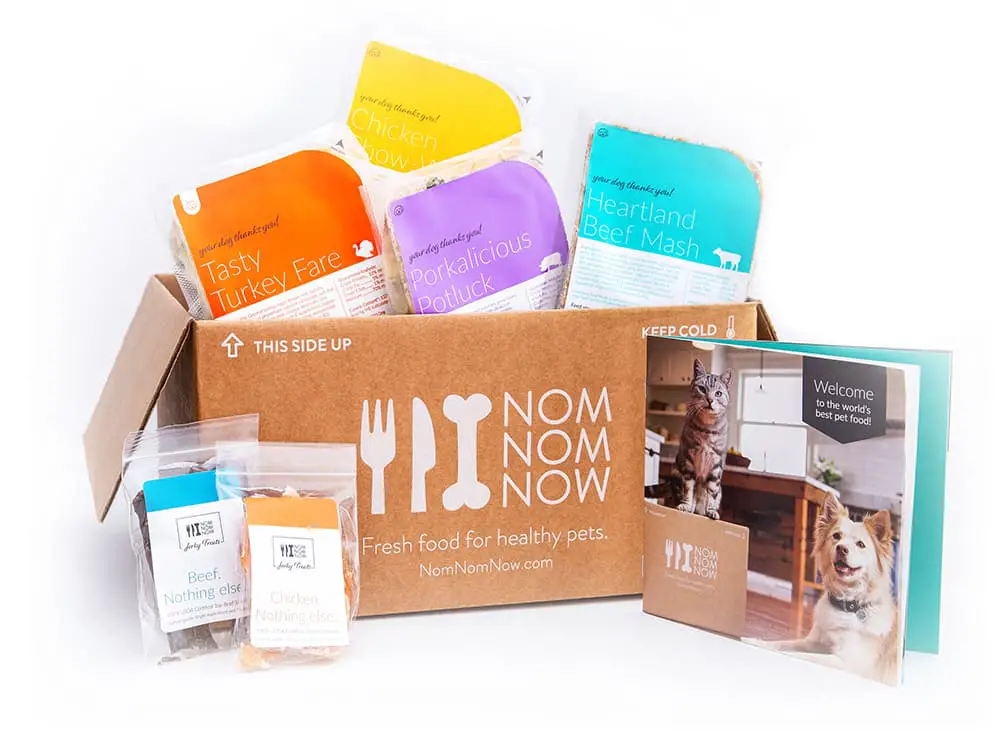 Fresh, human-grade ingredients
Near-perfect macronutrients
Convenient delivery
Doggypedia rating: 5/5
First 5 Ingredients: Ground Turkey, Eggs, Brown Rice, Carrots, and Spinach.
Calories/100g: Average 125 kCal/100g
Macronutrients (Dry-Matter Basis):
Protein: 34.3% average minimum
Fat: 20.4% average minimum
Carbs: 34% average maximum
The Best Overall Dog Food
Claiming the title of the best overall dog food is NomNomNow's Variety pack. With fantastic brand values, macronutrient profiles that reflect the effort put into formulating them, and high quality, natural ingredients, it really doesn't get any better than these four dog food recipes.
NomNomNow is a unique pet food brand, in that you won't find their products on the shelves of any regular shops. Instead, ordering is done through their online system. Owners input their pup's breed, weight, age, and other information into NomNomNow's website and are then recommend one or more of their four recipes. This kind of dog-focused recommendation system is almost completely unique in the world of dog food and is definitely a big tick in NomNomNow's favour.
One of the highlights of NomNomNow's recipes is the quality of their ingredient list. All of the meat products they use are of human-grade, in comparison to the pet-grade or even feed-grade products that are typically used in dog food. Aside from meat, their recipes contain a range of healthy veggies, fruits, and vitamin supplements.
In terms of the food itself, the high-quality ingredients really shine through when looking at the macronutrient profile. NomNomNow's recipes contain an average of 34.3% protein and 20.4% fat, which is well within the AAFCO guidelines. To the untrained eye the carbohydrate content, which is an average of 34%, will look high when compared to other wet foods. In reality, though, all of the recipes are packed full of veggies like sweet potatoes, carrots, peas, and spinach, and some also contain brown rice as a source of whole grains. While these ingredients inflate the carbohydrate content, they also deliver a multitude of vitamins, minerals, and fiber, and therefore are definitely worth the extra carbs.
As mentioned before, NomNomNow will recommend one or more of their products depending on your pup's breed, weight, and energy requirements. Where possible, they'll recommend their variety pack, which includes all four of their key recipes. Feeding your pup a rotating diet of these four recipes allows you to provide a diversity of nutrients that a single dog food product just can't provide. 
All in all, NomNomNow's variety pack is the best of the best when it comes to dog food. It has an innovative and convenient online ordering system, a fantastic ingredient list, a great macronutrient profile, provides a kind of diversity in your dog's diet that is seldom seen and, given the quality and delivery services provided, the price is very reasonable. If you're looking for a healthy, nutritious dog food for your precious pup, it doesn't get any better than this. Highly, highly recommend.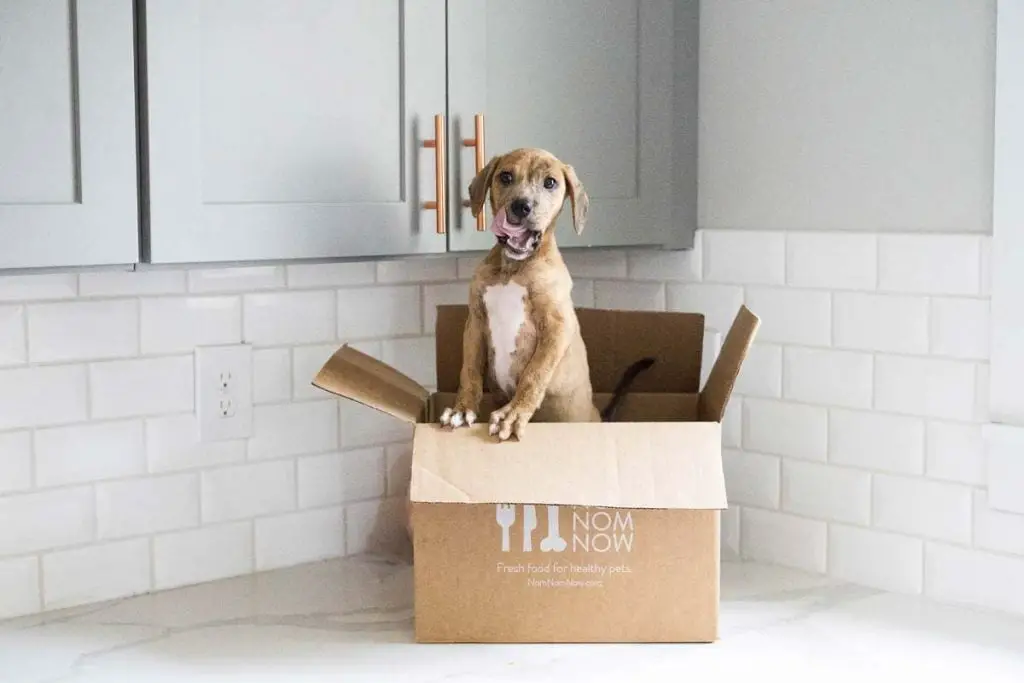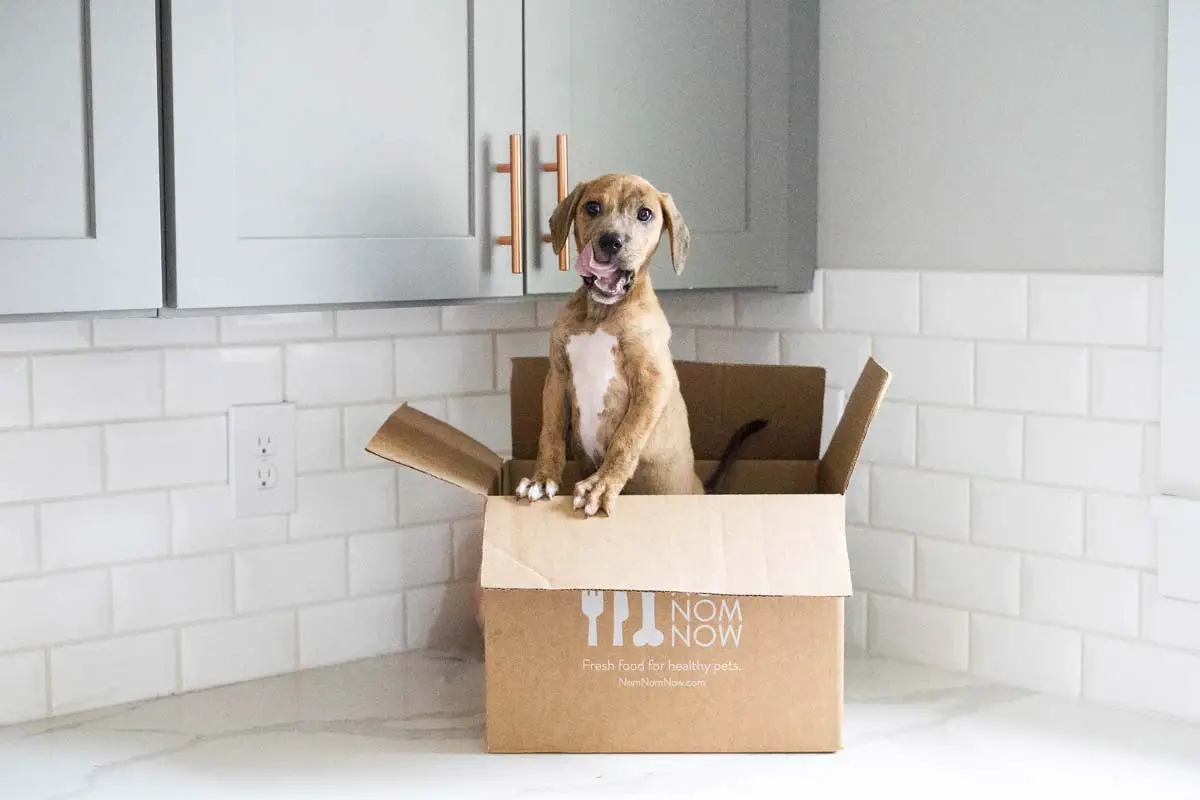 Best Wild Diet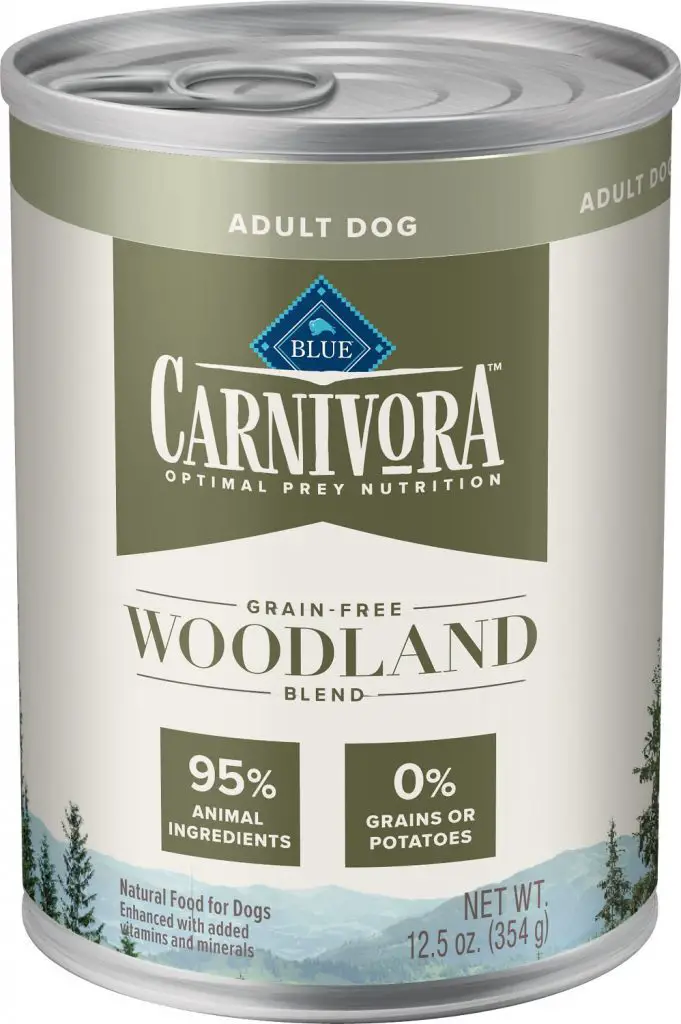 Adheres to the canine ancestral diet
High meat content
Great taste for picky dogs
Doggypedia rating: 5/5
First 5 Ingredients: Chicken, Turkey, Turkey Broth, Duck, and Dried Egg Product.
Calories/100g: 140 kCal/100g
Macronutrients (Dry-Matter Basis):
Protein: 54.6% minimum
Fat: 31.8% minimum
Carbs: 0% maximum
Best Wild Diet Dog Food
Following NomNomNow is one of the most exciting new dog foods on the market. With a strong focus on adhering to the wild, ancestral diet that canines are biologically wired to enjoy, Blue Buffalo's Carnivora range has great ingredients and a protein content that's off the charts. Of all of the products in this range, the Woodland Blend wet food is easily the best.
The ingredient list of Blue Carnivora Woodland Blend is truly impressive The first ingredient is real chicken, with three other meat sources (turkey, duck, and mackerel) and plenty of organ meats. Organ meat is high in B-vitamins, making this a valuable inclusion (Williams, 2007). Other ingredients include fish oil, which is high in omega-3 fatty acids, pumpkin, which is a great source of fiber, and various different vitamin supplements.
In terms of macronutrients, Blue Carnivora's real stand-out is the protein content, which sits at a massive 54.6%. Even for a wet food, this is incredibly high, and reflects the high amount of quality meat in the recipe. The fat content, 31.8%, is also high, and the carbohydrate content is an estimated 0%. It's important to note that this is an estimate only and doesn't mean that the food is completely carb-free, but this number still indicates that very little space in the food's recipe has been wasted on carbs.
For those owners who have a puppy or senior dog, Blue Buffalo also stocks a puppy and senior version of the Woodland Blend recipe. This is comforting to many owners, as it means that you won't have to go through the stress of finding an appropriate adult dog food once your pup grows, or a new senior food once your adult dog starts to age. 
In sum, Blue Buffalo's Woodland Blend is a great, meaty dog food that adheres strongly to the canine ancestral diet. The high protein and fat content also gives it a great taste, so if you have a picky puppy then this is a particularly strong choice.

Best Dry Food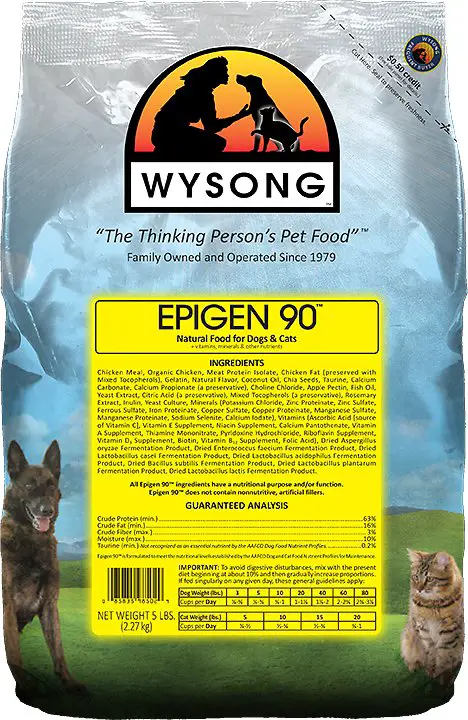 Packed with protein
Includes probiotics
Suitable for dogs and cats
Doggypedia rating: 5/5
First 5 Ingredients: Chicken Meal, Organic Chicken, Meat Protein Isolate, Chicken Fat (preserved with Mixed Tocopherols), and Gelatin.
Calories/100g: 489 kCal/100g
Macronutrients (Dry-Matter Basis):
Protein: 70% minimum
Fat: 17.8% minimum
Carbs: 6.1% maximum
Best Dry Dog Food
Coming in at number three is Wysong's Epigen 90: a unique product that definitely earns the title of the best natural dry dog food on the market.
The major problem with many dry foods is that they're stuffed full of grain fillers and thus contain much less meat than wet dog food does. Wysong, however, has managed to completely solve this issue. They've packed their dry kibble full to the brim with meat, including chicken meal, organic chicken, chicken fat, and meat protein isolate. The latter ingredient would normally be a concern, as it's technically an unspecified meat source, but Wysong has ensured that the ingredient is actually 100% pork protein. 
The really incredible thing about this product is the protein content, which is a massive 70%. This is unprecedented in a dry dog food and remedies the problem that many kibbles face. Despite the huge protein content, the fat content is quite modest, 17.8%, which means that the energy density isn't much higher than other dry foods. 
The carbohydrate content, which is 6.1%, is sourced from ingredients such as chia seeds, which provide quality dietary fiber. Another notable ingredient is the various strains of probiotic bacteria in the recipe. Probiotics help to balance your pup's digestive tract and boost their immune system, so if your dog has a sensitive stomach then you may find that this product is particularly good.
Another unique benefit worth mentioning is the fact that Wysong Epigen 90 is suitable for both dogs and cats. This is quite rare and is a great feature for pet owners who have a cat and a dog living under one roof; you don't need to worry about your dog getting into the cat food or your cat getting into the dog food, as it's the same product!
Wysong's Epigen 90 is a truly unique dry dog food that's packed full of meat, leading to a high protein content and high nutritional value. The fact that it's suitable for both dogs and cats will be the icing on the cake for many pet owners. A very healthy option.
Freeze Dried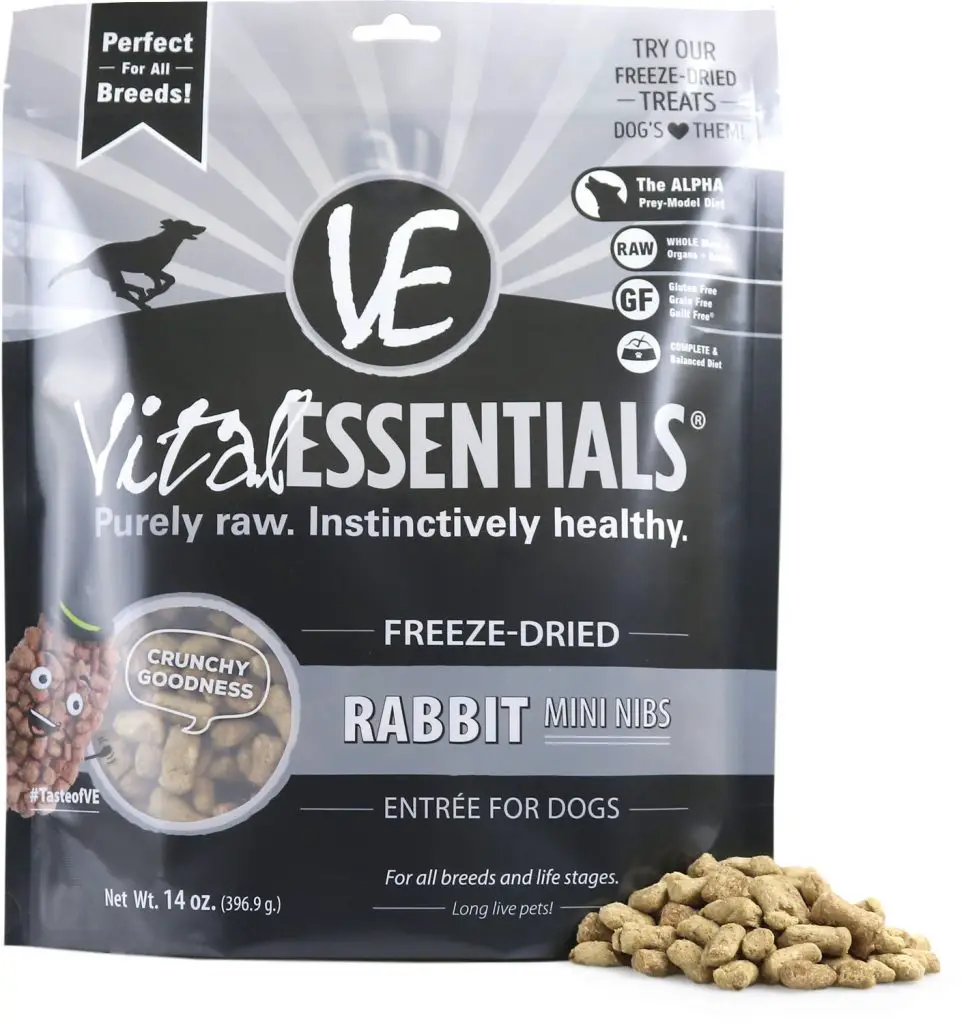 Fantastic protein content
Includes lean rabbit meat
Suitable for all life stages
Doggypedia rating: 5/5
First 5 Ingredients: Whole Rabbit, Rabbit Liver, Rabbit Heart, Rabbit Lung, and Herring Oil.
Calories/100g: 359 kCal/100g
Macronutrients (Dry-Matter Basis):

Protein: 59.1% minimum
Fat: 15.1% minimum
Carbs: 17.2% maximum
Best Freeze-Dried Dog Food
Dog food number four is another one with an exceptional protein content: Vital Essentials' Rabbit Entree Mini Nibs. With a freeze-dried recipe, a strong macronutrient profile and a short, non-deceptive ingredient list, this is a great product for those looking for a simple, well-made dog food.
Vital Essentials' Rabbit Entree Nibs are a freeze-dried dog food. This means that rather than being cooked, the rabbit that they're made from is frozen completely, drawing any moisture out of it. While this may seem like an odd way to produce dog food, freeze-dried raw dog foods have many advantages over regular dog foods. One such advantage is that they retain nutrients that are lost when regular dog foods are subjected to high heat during cooking. For a full break down of the process of freeze-drying and the benefits of raw food, check out our article on the best freeze-dried dog foods.
As mentioned, the ingredient list of this rabbit-based food is short and sweet. The first four ingredients are various different cuts of rabbit meat, the fifth is herring oil, which is a source of omega-3 fatty acids, the sixth is a natural preservative, and the seventh is a vitamin E supplement. That's it. For pet owners who don't like feeding their pup ingredients that they can't pronounce, this is a fantastic benefit. You know exactly what's in the food and exactly what the purpose of each ingredient is.
In terms of macronutrients, the Rabbit Entree Mini Nibs have a predictably high protein content, 59.1%. This is due to the high meat content of the food. However, because rabbit is a lean meat, the fat content is comparatively low, sitting at just 15.1%. This keeps the energy density down, which is a plus. The carbohydrate content is predicted to be 17.2%, however, considering that the ingredients are nearly all meat, this percentage should be called into question. It's possible that the formula used to typically calculate carbs doesn't work well for freeze-dried dog foods, resulting in an inflated carb content.
In sum, Vital Essentials' Rabbit Entree Mini Nibs are a simple and nutritious dog food, packed with lean, protein-rich rabbit meat for your pup to enjoy. 
Grain Free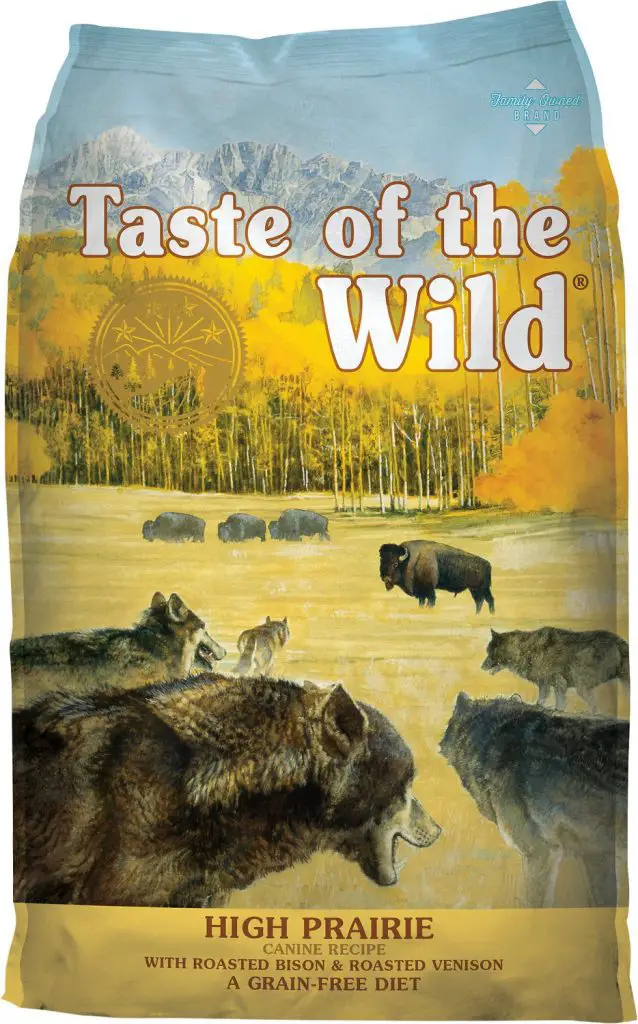 High-quality ingredients
Seven different animal protein sources
No grain fillers
Doggypedia rating: 4.5/5
First 5 Ingredients: Buffalo, Lamb Meal, Chicken Meal, Sweet Potatoes, and Peas.
Calories/100g: 372 kCal/100g
Macronutrients (Dry-Matter Basis):
Protein: 35.6% minimum
Fat: 20.0% minimum
Carbs: 31.1% maximum
Best Grain-Free Dog Food
Coming in at number five is Taste of the Wild's High Prairie Dog Food. With a grain-free recipe that focuses on providing multiple, high-quality animal protein sources, there's a lot to be excited about when it comes to this food.
In terms of ingredients, Taste of the Wild's High Prairie does exceptionally well. The main point to highlight is the animal protein sources, which come from seven different animals. These sources include buffalo, bison, venison, lamb, chicken, beef, and ocean fish meal. Diversity of protein sources in dog food is a definite plus, as it means that the full spectrum of amino acids is available for your pup to digest and use. 
The macronutrient profile of this food is nothing to complain about, either. It has 35.6% protein, which is high for a dry dog food, 20% fat, and 31.1% carbohydrates. The major carbohydrate sources include sweet potatoes, which are highly digestible sources of fiber, peas, which contain protein, and dried chicory root, which is another source of fiber. The quality of these carb sources mean that the carbohydrate content is nothing to worry about, despite going slightly over the 30% guideline.
All in all, Taste of the Wild's High Prairie is a real standout in the world of dog foods. For owners looking for a quality grain-free dry dog food, it doesn't get much better than this.
Runner-up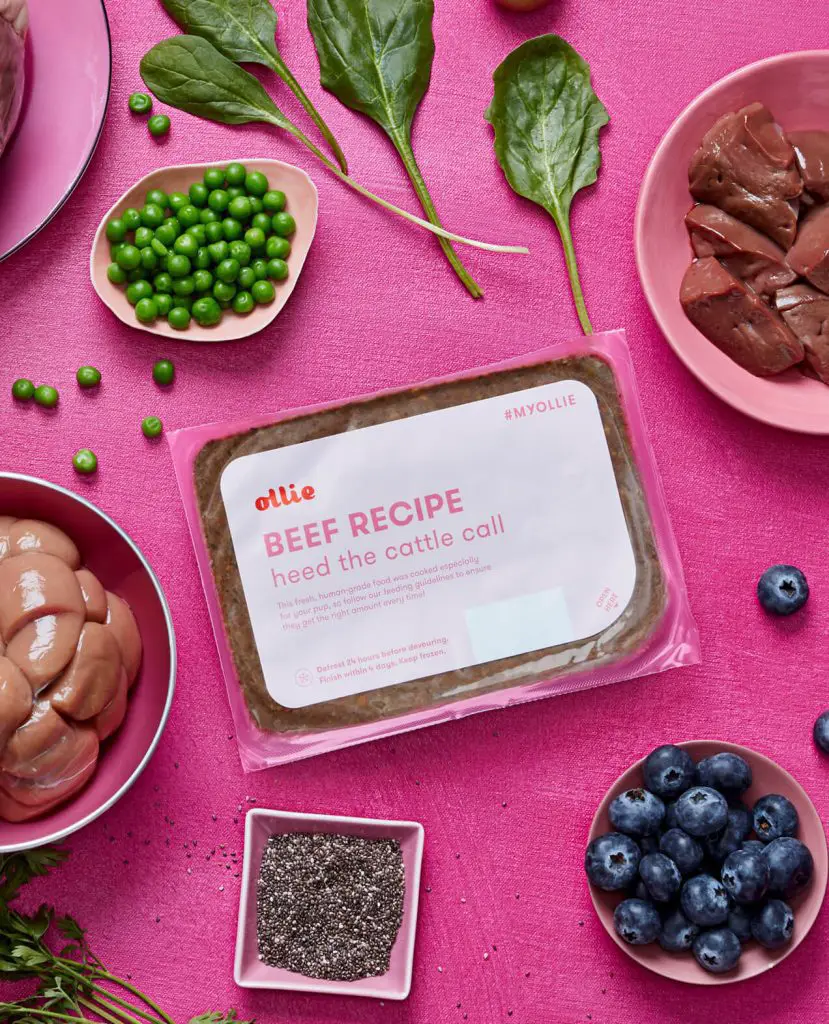 Includes healthy organ meat
Excellent macronutrients
Delivered in large batches
Doggypedia rating: 4.5/5
First 5 Ingredients: Beef, beef heart, sweet potato, peas, and potato.
Calories/100g: 154 kCal/100g
Macronutrients (Dry-Matter Basis):
Protein: 37.5% minimum
Fat: 31.3% minimum
Carbs: 21.9% maximum
Natural Ingredients In A Dog Food
Taking sixth place is a boutique dog food company that's quite similar to NomNomNow; Ollie. With a great macronutrient profile and quality natural ingredients, Ollie's Beef recipe is sure to be a hit with your dog.
Ollie's ordering system works very similarly to NomNomNow's, in that you can input your pup's information into their website and then generate a meal plan to have sent to your door. Again, this is fantastic for pet parents who are on-the-go and don't have time to pick up dog food at the store every other week. 
Ollie features four recipes for dogs, but their beef-based one is a definite standout. Its ingredients include sweet potatoes, which are a great source of fiber and vitamins, chia seeds, which are high in fiber, and blueberries, which are a source of antioxidants. 
The great ingredient list results in a strong macronutrient profile, with 37.5% protein, 31.3% fat, and 21.9% carbohydrates. This balance is fairly close to what the ideal dog food would look like. The energy density of the food, 154 kCal/100g, is higher than many wet dog foods, but if you stick to the feeding guidelines your dog should be able to maintain a healthy weight.
A potential downside to this product is that arrives in quite large batches; two weeks worth at a time. While some pet parents may like this bulk delivery system, for those who have limited fridge space, this could be a bit of a hassle.
All in all, Ollie is a great dog food product. Like most boutique brands, it's on the expensive side, but the extra cost really is worth the high-quality. While the bulk delivery model may not suit some pet owners, it's perfect for others.
Inexpensive Pick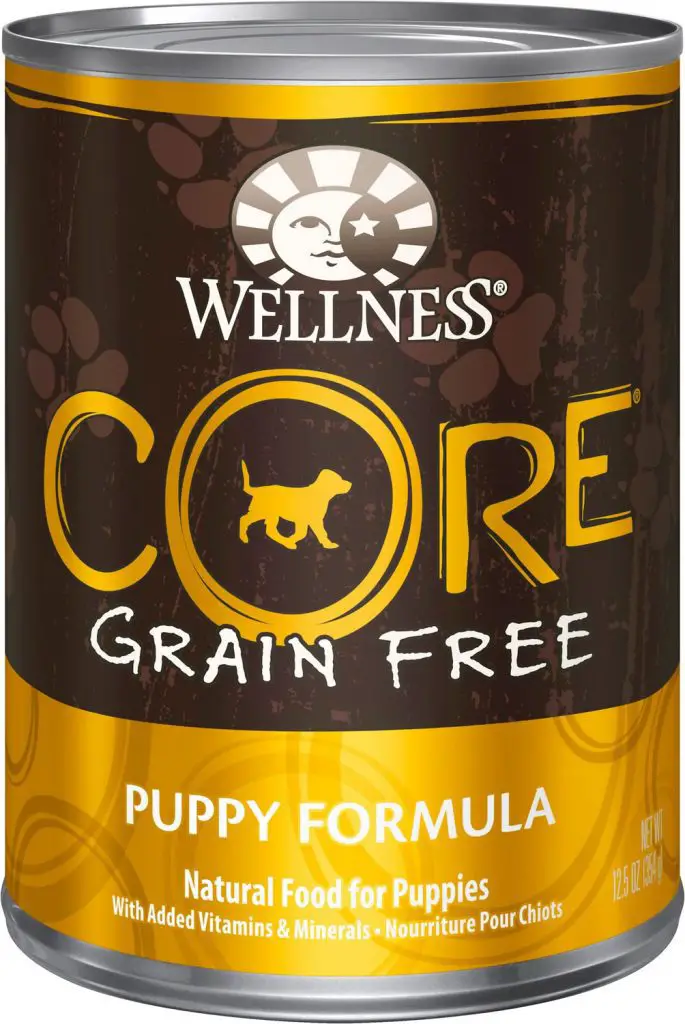 Perfect macronutrient balance
Great diversity of ingredients
Great brand transparency
Doggypedia rating: 4/5
First 5 Ingredients: Turkey Broth, Turkey, Chicken, Chicken Liver, and Ground Dried Peas.
Calories/100g: 124 kCal/100g
Macronutrients (Dry-Matter Basis):
Protein: 45.1% minimum
Fat: 27.4% minimum
Carbs: 17.1% maximum
Best Puppy Food for Dogs
Coming in at number seven is a specialty puppy food: Wellness' CORE Grain-Free wet food. With a macronutrient balance tailored to puppies and a trusted, transparent brand name, there's a lot to love about this product.
The most unique thing about this product is the transparency of the brand. Dog food companies are notorious for trying to mislead their consumers and providing little or ambiguous information about the ingredients and nutritional content of their products. Wellness, however, provides a full nutrient breakdown on their website and even provides an analysis of a representative sample of their product. This kind of transparency and openness is a great indicator that they have nothing to hide and that their food is healthy, safe, and high-quality.
In terms of macronutrients, the product contains 45.1% protein, 27.4% fat, and 12.1% carbohydrates. As well as complying with the AAFCO standards for the maintenance of adult dogs, this particular composition also complies with the standards for the growth of puppies, so you know that your new friend is getting all of the nutrients that he or she needs. The meat sources on the ingredient list include chicken, turkey and herring, which also provides diversity to your growing pup.
Other ingredients in the formula include sweet potato, which is a great, digestible source of carbohydrates, blueberries, which are full of antioxidants, and kale, which is high in various vitamins and calcium. This inclusion of a calcium source is particularly important for puppies, who need at least 1.2% calcium in their food to maintain a healthy rate of growth.
In sum, Wellness' CORE puppy food is the best wet food for pups out there. It's made by a reputable and trustworthy brand, has a macronutrient content that's tailored towards growing pups, and a great ingredient list to boot.
Inexpensive Pick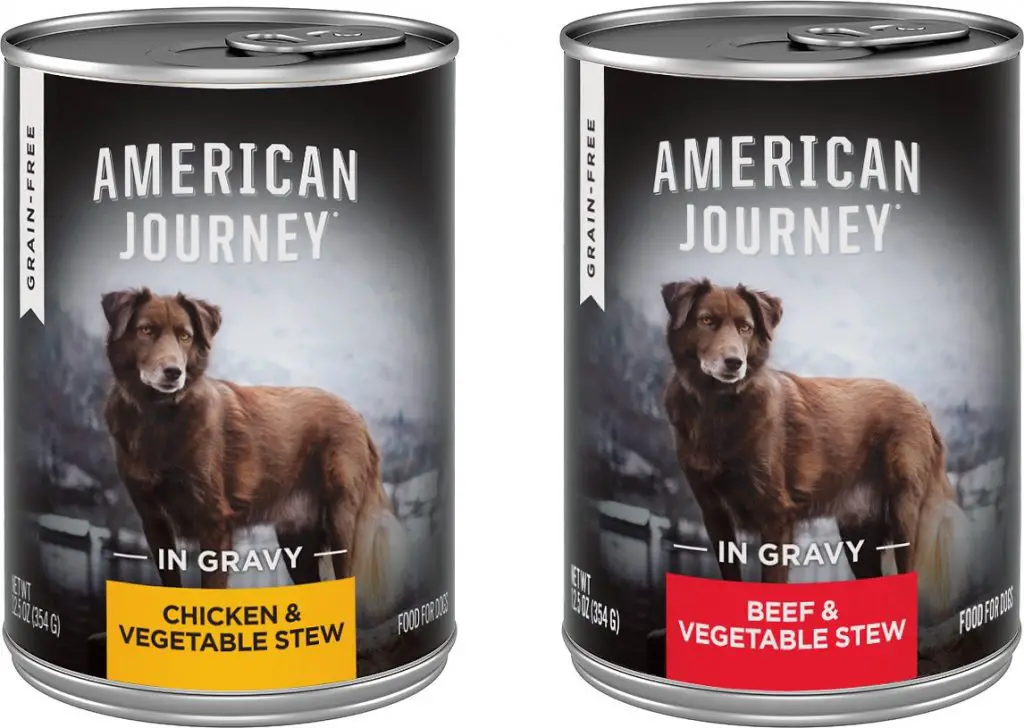 More affordable than comparable products
Good diversity of nutrients
Lower quality ingredients
Doggypedia rating: 4/5
First 5 Ingredients: Beef, Chicken, Beef Broth, Chicken Liver, and Potatoes.
Calories/100g: Average 123 kCal/100g
Macronutrients (Dry-Matter Basis):

Protein: 40.9% minimum
Fat: 27.3% minimum
Carbs: 18.2% maximum
Best Affordable Dog Food
Claiming the final place on the list of the best dog foods is an affordable option that doesn't sacrifice a good nutritional profile to keep the costs down. American Journey's Poultry and Beef Variety pack offers great ingredients and good diversity at an affordable cost, for those pet parents who are more budget-conscious but still want the best for their pup.
As it comes in a variety pack, a real standout of this product is the diversity that it provides. Feeding your dog two different recipes on a cyclical basis is a great way to introduce new kinds of nutrients into your pooch's diet.
In terms of macronutrients, the two products are identical. They contain 40.9% protein, 27.3% fat, and 18.2% carbohydrates. While other foods on this list offer similar, if not better, nutrient contents, none of them do it at the affordable price that American Journey does. The only real sacrifice that the brand has made is to include meat broth as a staple ingredient, whereas other brands would use a higher percentage of meat and then increase the price. However, there's still plenty of real meat in both of the recipes, as evidenced by the protein content, so this isn't anything to worry about.
Other things to note about this product is the inclusion of fish oil in both recipes, which serves as a source of omega-3, and the addition of various vitamin and mineral supplements, which help to keep your pup happy and healthy. Unfortunately, the ingredients aren't of the same quality as boutique or more expensive generic dog food brands, however they're still nutritious and tasty for your pup.
In sum, American Journey Poultry and Beef is a great product that offers diverse nutrients and a good macronutrient profile. While the ingredients may not be of the same caliber as other dog foods, the affordable price still makes this food a great option for dog owners on a budget.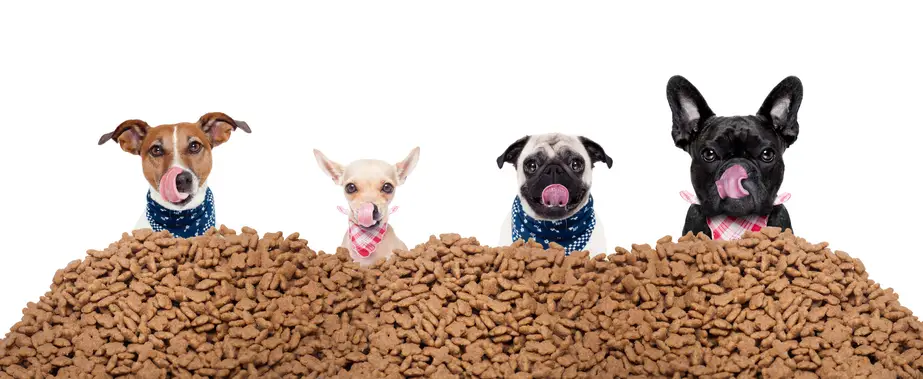 How We Rate And Review Dog Foods
Choosing the best dog foods and then ranking them in order of the best-of-the-best to the slightly-less-best-of-the-best is no easy business. To make informed decisions, we delve deep into the ingredient list and guaranteed analysis of the food, rather than relying on empty marketing promises from shady brands. 
All of the dog foods on our top lists are subjected scientifically-based, rigorous criteria and then ranked accordingly. While these criteria can vary from list to list depending on the types of dog food being reviewed, there are three that remain consistent across all of our pages. These are the criteria related to the food's macronutrient balance.
The three macronutrients present in dog food are proteins, fats, and carbohydrates. A food's macronutrient balance refers to the relative percentages of each of these substances. By comparing these percentages with their ideal numbers and with each other, we have a great base that we can use to rank dog foods.
The first two macronutrients, protein and fat, are essential in the canine diet. Proteins contain essential amino acids that your pup needs to function (Wolfe, 2012), while fat acts as an energy source and makes the food more palatable (Aldrich and Koppel, 2015). Because the amount of protein and fat in dog food is so important to your pup's wellbeing, there are strict guidelines that dog food companies must follow. These guidelines are set by the Association of American Feed Control Officials and all of the foods in our dog food database follow them (AAFCO, 2014). They are as follows:
A protein content of over 18%
A crude fat content of over 5.5%
The third macronutrient, carbohydrates, don't have any strict guidelines associated with them. This is because carbs actually aren't an essential part of the canine diet (Roberts et. al., 2018). While some carbohydrate sources, like digestible sweet potatoes, vitamin-packed veggies, and fibrous whole grains are definitely beneficial to your pup, they're not strictly required. Because of this, a lower percentage of carbohydrates generally indicates a more nutritious food, as the levels of protein and fats will be subsequently higher. Therefore, the following rule was applied to help rank our favourite dog foods:
A carbohydrate content under 30%, with preference given to healthy and digestible carbohydrate sources
Why You Should Trust Us
I've been a dog owner my whole life, growing up with puppies to adopting my newest pup, Max. We have reviewed hundreds of different dog foods over the years, so we have an expert view of what the market currently offers. All of our reviews are based on scientific evidence, not marketing campaigns or ads. We carefully stay up to date on the latest research so that we can recommend only the best to you and your pets. 
Before making it into any article, each dog food has to pass a rigorous review process that involves more than just surface-level information. We calculate all of our own macronutrient data. While we pay attention to the ingredient list, we also consider macronutrient ratios and recall frequency. Additionally, we speak to the dog food brands, vets, and dog trainers to make sure our recommendations are the most healthy options for your dog.
What To Look For In A Quality Healthy Dog Food
Along with a great macronutrient balance, there are a few extra things that you should be taking into consideration when looking for a quality, healthy dog food for your pup. All of the factors listed below are taken into consideration in our selection of the top dog food products.
One of the things that indicates high-quality in a dog food is a high meat content. By this, we mean that any dog food that you chose should always have a meat source as the first listed ingredient, except under very special circumstances. There are a few reasons for this. For one, dog food companies have started to catch on that wised-up consumers are looking carefully at their macronutrient balance to decide how healthy a food is. This has led to many brands trying to inflate their protein content as much as possible, which is commonly done by adding veggies that are high in protein like legumes (Margier et. al., 2018). While adding protein-rich veggies definitely isn't a bad thing by itself, replacing quality meat sources with plant-based protein is. Additionally, plant-based proteins don't always have the amino acids that your pup requires to function. This is best exemplified by a recently published, scary study by the FDA, which shows a link between some grain-free dog food brands and canine heart disease. The study identifies that the main cause of the issue is dog food brands who are replacing meat with plant protein, which leads to the recipe having a reduced amount of taurine, which is an essential amino acid that promotes cardiac health in dogs (Kaplan et. al., 2018).
A Price that's Proportional to Quality
Many dog food companies will offer incredibly cheap dog food with no obvious drawbacks. If you can help it, avoid these products like the plague! Normally, it means that the company is trying to deceive you by using poor quality ingredients or cutting corners during manufacturing and ingredient sourcing, and then is selling the product without explaining how they managed to reduce the cost so much. Of course, it's understandable why many dog owners would be drawn to the cheaper prices of such products; after all, having a dog can be expensive, and shaving off costs where you can is tempting. If you're looking for a cheaper product, make sure that you're buying from a brand that makes it easy to find the cons of their product, or at least doesn't actively conceal them. Additionally, there are some companies out there who work hard to provide good quality for a fair price. Many of our lists of top dog foods include an affordable, good quality option that's perfect for pet parents who're on a budget.
Features that Suit your Pup's Specific Needs
It's all well and good to have a dog food with a great macronutrient balance, quality ingredients, high meat content, and fair price. However, what makes a dog food really shine is when it suits your pup's specific needs. For example, small breed dogs often have a longer life span, so purchasing a food that's rich in anti-ageing antioxidants will help to support your pup into his older years (Yu et. al., 1998). Large breed dogs, on the other hand, often develop joint issues in later life if they grow too fast as pups, so finding a puppy food that will limit their rate of growth is a must (Kane, 2013). To find a dog food that's purpose-built for your pup's unique needs, check out our guides to specific types of dog food, which are linked below.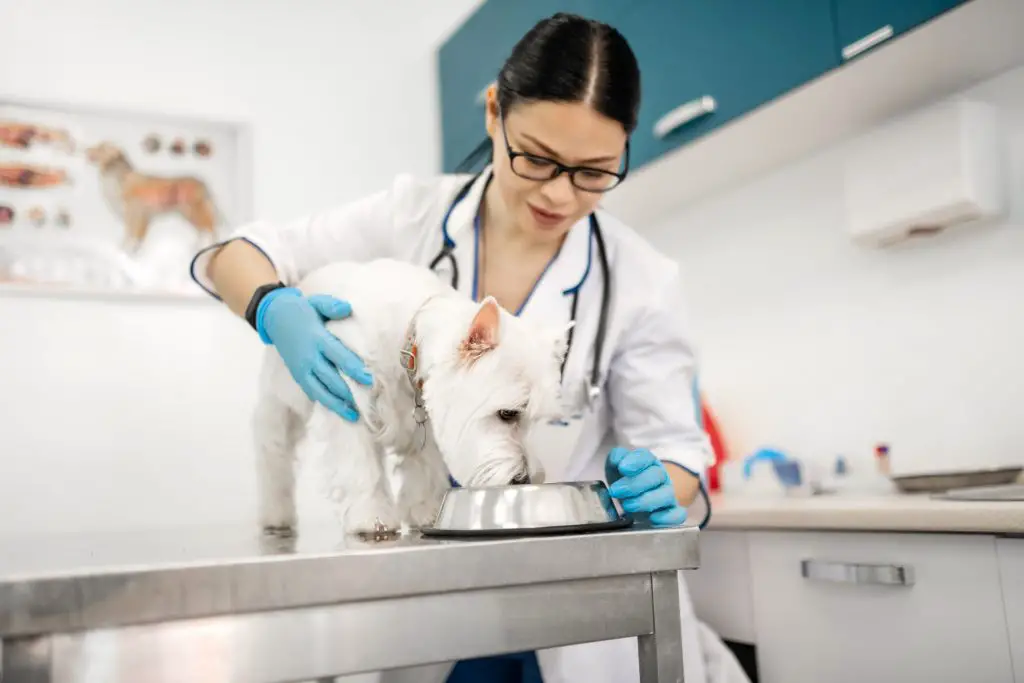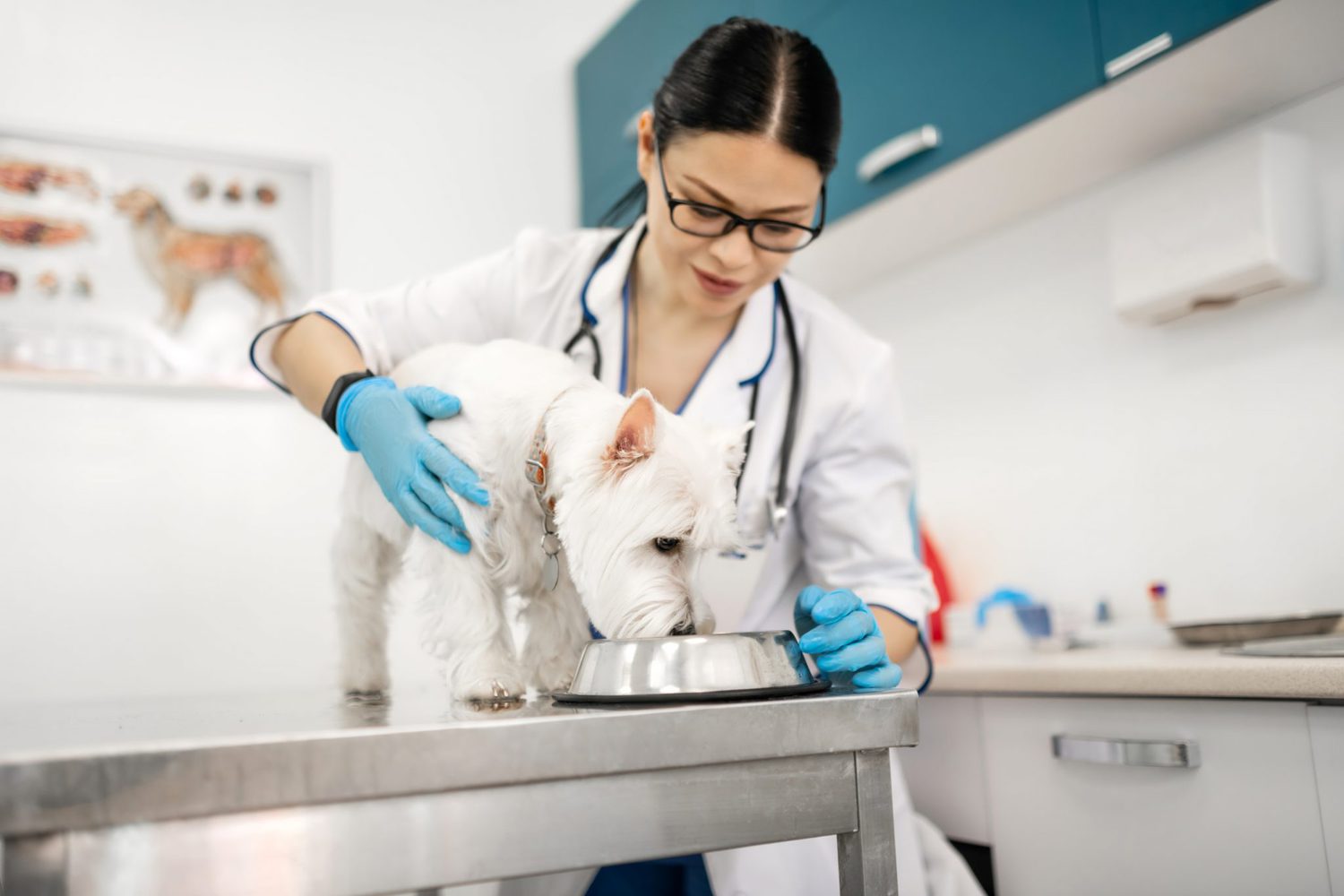 What's The Right Amount Of Food To Eat?
Many dog owners, even experienced ones, don't bother measuring out their pup's food and instead just scoop a reasonable-seeming amount into the bowl and assume that their dog will stop eating when they feel full. While this kind of method is quick and simple, it can actually be very dangerous.
Just like humans, dogs can suffer from a range of complications if they put on too much weight. This includes increased risk of joint issues, problems with respiration, decreased stamina, high blood pressure, diabetes, and a range of other conditions (German, 2006). Similarly, not feeding your dog enough food can result in dangers like lethargy, visible emaciation, organ failure, and even death (Gerdin, 2015). So, it's clear that feeding your pup the right amount of food is important. But how do you know what the right amount is?
All dog food products are obliged to have a daily recommended feeding guideline on them, which details how much of the food you should be feeding your pup per unit of weight. As an owner, this should be your go-to when deciding how much to feed your pup. The recommendations take into account the energy density of the particular dog food, which can vary heavily from product to product. For most dogs, sticking strictly to these guidelines will keep him or her at their optimum weight.
Some dogs, however, struggle with weight issues even when fed the correct amount. This can be due to an abnormally high or abnormally low activity level, an abnormal metabolism, or age-related changes in energy requirements. If you're concerned that your dog may be overweight or underweight even though you've been sticking to the feeding guidelines, the best thing to do is consult your vet and work out an alternative feeding plan.

Which Ingredients And By-Products To Stay Away From
A good indicator of the quality and nutritional content of a dog food is its ingredient list. Carefully looking at which ingredients are used and what order they're in is a great way to analyse the strengths and weaknesses of a dog food before even considering things like the macronutrient balance. As well as looking for positive ingredients, there are also some unhealthy, poor quality, and downright dangerous ingredients to look out for. Some of these include:

Poor Quality Meat Products:
Meat by-products, which are generally of a lower quality than real meat ingredients and may be deficient in certain amino acids
Unnamed meat sources, which mean that you have no idea what you're feeding your pup
Rendered fat, a mix of different meat by-products with the moisture squeezed out, which bolsters the protein and fat contents but is less nourishing than real meat
Poor Quality Grain Products:
Grain by-products, such as brewers rice, which are empty sources of calories and usually classified as unfit for human consumption
High amounts of grains, because even too many healthy whole grains is a bad thing
Corn or wheat gluten, which both artificially raise the protein level of a dog food without providing the key essential amino acids that meat protein does.
Dangerous Preservatives and Other Additives
Butylated Hydroxyanisole, a carcinogenic preservative
Butylated Hydroxytoluene, a carcinogenic preservative
4-methylimidazole, a carcinogenic food dye
What Do Dogs Really Want to Eat?
Recently, there's been a lot of research into the canine ancestral diet, which aims to understand exactly what dogs want to be eating. Looking into some of these studies can help us to determine what kind of natural balance of macronutrients we should be looking for when it comes to picking a good dog food.
For example, a study published in the Journal of Animal Physiology looked at what kind of diet dogs would select when left up to their own devices. To do this, they provided the sample of dogs with three kinds of foods; one high in carbohydrates, one high in protein, and one high in fat. The researchers found that the dogs initially ate more of the high-fat food, but later gravitated towards the protein-rich food. This is likely because the stress of an unknown environment made them want to gulp down the most energy-dense food, but as they began to realise that they weren't under any threat they switched to the high-protein food.
These results indicate that a high-protein diet is what dogs want to be eating, with a good amount of fat included. The high-carbohydrate food was largely avoided by all of the dogs over the entire duration of the study, which gives further merit to the practice of minimising grain fillers and byproducts in dog food (Roberts, et. al., 2017).
Of course, as dogs can't verbally communicate with us, we'll never be sure whether they self-select a high protein diet because they know it's healthier for them, or if it's simply tastier. However, the fact that they want to eat it, combined with the known benefits of protein when it comes to muscle function and growth, certainly means that higher protein foods have a lot of scientific merit.

Our other Dog Food Reviews
A great way to pick a dog food is by looking in a specific category. As mentioned before, all dog foods have different strengths and weaknesses, and by honing down your criteria a bit you can tailor these positives and negatives to best suit your pup. Check out our detailed, topic-specific reviews for recommendations of the best food for your pup's age, breed, taste preferences, or medical conditions.
SOURCES:

B Vitamins in Organ Meat: WILLIAMS, P. (2007). Nutritional composition of red meat. Nutrition & Dietetics, 64(s4 The Role of), pp.S113-S119.
The function of protein in dog food: Wolfe, R. (2012). The role of dietary protein in optimizing muscle mass, function and health outcomes in older individuals. British Journal of Nutrition, 108(S2), pp.S88-S93.
Fat and palatability of dog food:  Aldrich, G. and Koppel, K. (2015). Pet Food Palatability Evaluation: A Review of Standard Assay Techniques and Interpretation of Results with a Primary Focus on Limitations. Animals, 5(1), pp.43-55.
AAFCO 2014 Recommendations: The 2014 AAFCO Dog Food Nutrient Profile for Growth and Reproduction. (2019). [ebook] AAFCO. Available at: https://www.aafco.org/Portals/0/SiteContent/Regulatory/Committees/Pet-Food/Reports/Pet_Food_Report_2013_Midyear-Proposed_Revisions_to_AAFCO_Nutrient_Profiles.pdf [Accessed 28 Oct. 2019].
Optimal carbohydrate content in dog food and canine self-selecting diet study: Roberts, MT, Bermingham, EN, Cave, NJ, Young, W, McKenzie, CM, Thomas, DG. Macronutrient intake of dogs, self‐selecting diets varying in composition offered ad libitum. J Anim Physiol Anim Nutr. 2018; 102: 568– 575. https://doi.org/10.1111/jpn.12794
Protein content of legumes: Margier, M., Georgé, S., Hafnaoui, N., Remond, D., Nowicki, M., Du Chaffaut, L., Amiot, M. and Reboul, E. (2018). Nutritional Composition and Bioactive Content of Legumes: Characterization of Pulses Frequently Consumed in France and Effect of the Cooking Method. Nutrients, 10(11), p.1668.
DCM linked to Taurine deficient grain-free foods: Kaplan, J., Stern, J., Fascetti, A., Larsen, J., Skolnik, H., Peddle, G., Kienle, R., Waxman, A., Cocchiaro, M., Gunther-Harrington, C., Klose, T., LaFauci, K., Lefbom, B., Machen Lamy, M., Malakoff, R., Nishimura, S., Oldach, M., Rosenthal, S., Stauthammer, C., O'Sullivan, L., Visser, L., William, R. and Ontiveros, E. (2018). Taurine deficiency and dilated cardiomyopathy in golden retrievers fed commercial diets. PLOS ONE, 13(12), p.e0209112.
Antioxidants and aging: Yu, B., Kang, C., Han, J. and Kim, D. (1998). Can antioxidant supplementation slow the aging process?. BioFactors, 7(1-2), pp.93-101.
Developmental Orthopedic diseases associated with calcium in dog food: Kane, E. (2013). Developmental orthopedic disease in large-breed puppies. [online] DVM360. Available at: http://veterinarynews.dvm360.com/developmental-orthopedic-disease-large-breed-puppies [Accessed 3 Oct. 2019].
Complications of obesity in dogs: German, A. (2006). The Growing Problem of Obesity in Dogs and Cats. The Journal of Nutrition, 136(7), pp.1940S-1946S.
Starvation in dogs: Gerdin, J., McDonough, S., Reisman, R. and Scarlett, J. (2016). Circumstances, Descriptive Characteristics, and Pathologic Findings in Dogs Suspected of Starving. Veterinary Pathology, 53(5), pp.1087-1094.