Boxers are pretty popular in the United States. They're alert, silly, and full of personality. They're one of the most popular breeds in the United States and rank number ten in popularity according to the American Kennel Club. 

While these dogs are mostly just companions today, they are still quite athletic. When well-toned, one of these dogs is an impressive sight. 

Do to their upbeat and playful nature, these dogs make good family pets. They're pretty good with other animals and great with children. 

Because of their popularity, it can be difficult to find a unique name for your Boxer. To help you on this quest, we've created this huge list of Boxer names.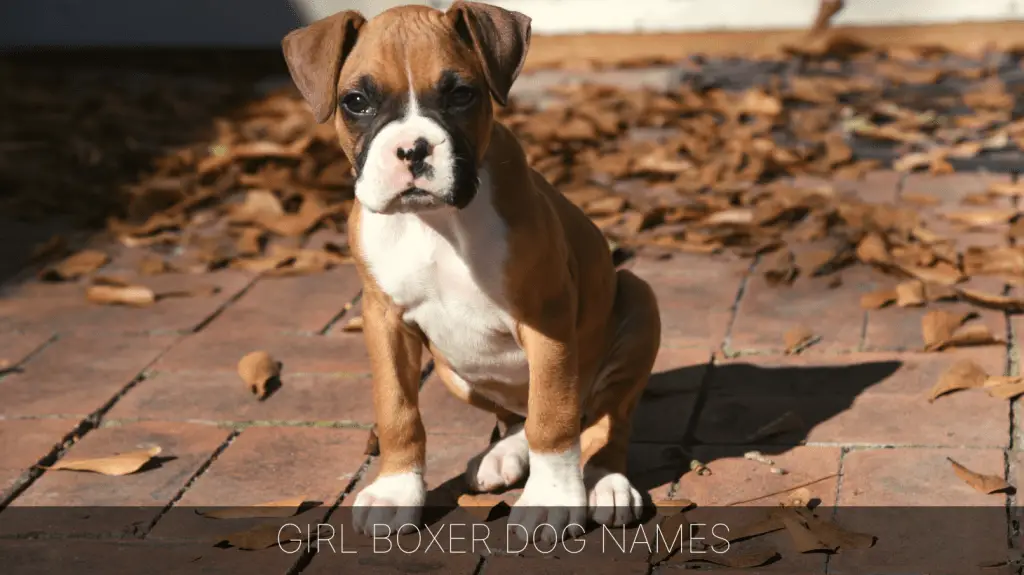 Girl Boxer Dog Names
Female Boxers are significantly smaller than their male counterparts. However, that doesn't mean that these dogs aren't athletic. Walking the fine line between athletic and feminine can be difficult, but here are some of our favorite names: 
Addie
Alexis
Alice
Allie
Alyssa
Amari
Amber
Amelia
Amelie
Amina
Angel
Angelica
Angie
Aspen
Athena
Aubrey
Bessie
Betsy
Betty
Birdie
Biscuit
Blair
Blakely
Blanche
Blondie
Blossom
Bonnie
Brandy
Brielle
Brooklyn
Cadence
Callie
Cameron
Camilia
Camille
Candy
Carla
Carly
Carmela
Carmen
Carolina
Carolyn
Casey
Cassie
Cecelia
Chance
Cleo
Clover
Coco
Cookie
Daisy
Dakota
Dallas
Demi
Destiny
Diamond
Diva
Dixie
Dolly
Dolores
Dora
Dorothy
Dory
Dot
Dottie
Duchess
Eden
Edie
Edith
Elsa
Elsie
Ember
Erin
Esmerelda
Estelle
Esther
Etta
Fannie
Fantasia
Faye
Felecity
Fern
Frida
Gabby
Gemma
Genesis
Geneva
Georgia
Geraldine
Gia
Gidget
Gigi
Ginger
Giselle
Gloria
Goldie
Grace
Greta
Gretchen
Gwen
Gypsy
Hadley
Haley
Halle
Hallie
Hannah
Heidi
Henley
Hershey
Holly
Honey
Hope
Ibby
Ida
Imani
Indigo
Inez
Ingrid
Irene
Iris
Isabella
Isla
Ivory
Ivy
Izzy
Jackie
Jada
Jade
Jamie
Jane
Janelle
Jasmine
Jenna
Jersey
Jessie
Jewel
Joan
Jolene
Jordan
Josie
Karina
Karla
Karma
Kate
Kay
Kayla
Kelly
Kelsey
Kiara
Kiki
Kimmie
Kinley
Kinsley
Lassie
Layla
Leia
Lena
Leona
Leslie
Lexy
Liana
Libby
Liberty
Lila
Lily
London
Lorelai
Loretta
Lorraine
Louise
Lovely
Lucia
Madison
Mae
Maeve
Malia
Mallory
Mandy
Mango
Maple
Mara
Margaret
Margot
Marianna
Marilyn
Mia
Mika
Mila
Miley
Miriam
Missy
Mitzi
Mocha
Molly
Morgan
Moxie
Muffin
Mya
Myra
Nadia
Nala
Nanette
Naomi
Nia
Nikita
Nikki
Nina
Noel
Pandora
Paris
Parker
Patsy
Pebbles
Phoebe
Piper
Pippa
Pippy
Pixie
Polly
Poppy
Portia
Raven
Reese
Regina
Remy
Riley
Rio
Rita
River
Roxy
Sadie
Sasha
Sassy
Savannah
Sawyer
Scarlet
Serenity
Shadow
Sheba
Silvia
Sissy
Snookie
Snowball
Sookie
Sue
Sugar
Suki
Sydney
Sylvia
Tabitha
Talia
Taylor
Tessa
Thea
Valentine
Vera
Victoria
Viola
Violet
Virginia
Vivi
Vivienne
Vixen
Whitney
Zara
Zelda
Zia
Zola
Learn More: Top 900+ Shih Tzu Dog Names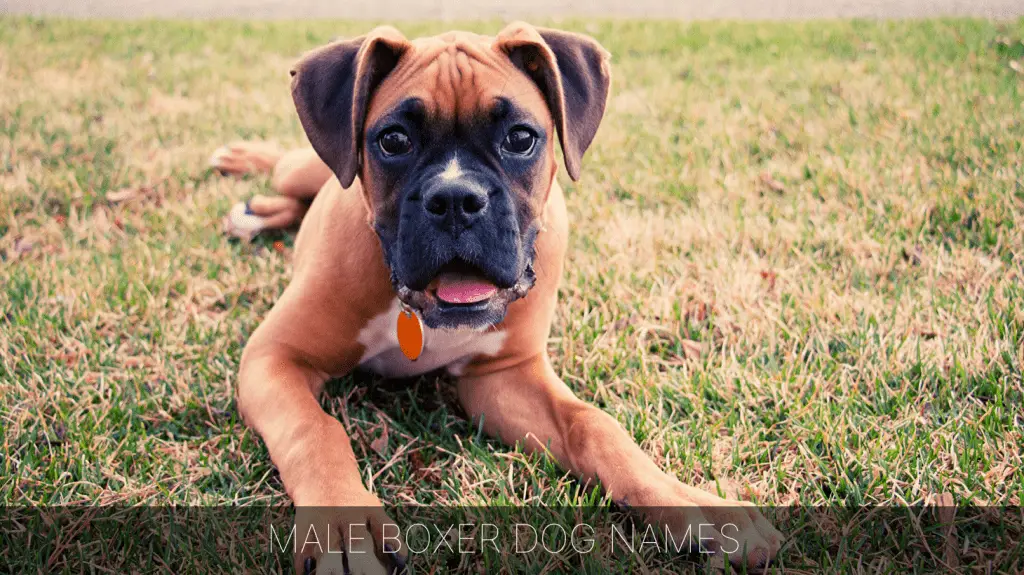 Male Boxer Dog Names
Male Boxers are often larger and more muscular than females. They make suitable guard dogs and watch dogs when appropriately trained. If you're naming one of these athletic dogs, here are some names you might want to consider:
Angus
Apollo
Augustus
Austin
Axel
Bailey
Bandit
Barkley
Barney
Baron
Barry
Barton
Bruce
Bruno
Brutus
Bryce
Bubba
Buck
Bucky
Buddy
Buster
Butch
Buzz
Captain
Chewy
Chico
Chief
Colby
Coleman
Colin
Conrad
Cooper
Corky
Cornelius
Cosmo
Crawford
Damien
Dane
Daniel
Dante
Darby
Darius
Davis
Davy
Denver
Dexter
Diego
Diesel
Donovan
Drew
Dudley
Duffy
Duke
Dusty
Dylan
Earl
Easton
Eli
Eliot
Elmer
Elvis
Elway
Emerson
Emmett
Evander
Everett
Ezra
Fabio
Fang
Farley
Felix
Felton
Fenton
Fido
Finley
Finn
Fisher
George
Gerald
Ghost
Gilbert
Gizmo
Goose
Gordy
Grady
Graham
Griffin
Harold
Harrison
Harry
Hart
Harvey
Hawkeye
Hayes
Heath
Hector
Henry
Herbert
Herman
Hilton
Hogan
Hudson
Hugh
Hunter
Hyatt
Iggy
Igor
Ike
Indy
Ira
Irving
Ivan
Ives
Jack
Jackson
Jacob
Jag
Jake
James
Jameson
Jasper
Java
Jax
Jefferson
Jerry
Jesse
Jet
Jethro
Joey
John
Johnny
Jonas
Joseph
Judge
Junior
Kane
Kendrick
Kent
Kilo
King
Kobe
Koda
Kona
Lambert
Lance
Lane
Langston
Lars
Lawrence
Lemuel
Lenny
Leo
Leonard
Leroy
Levi
Lewis
Liam
Lucky
Marty
Mason
Maverick
Max
Maximillian
Maximus
Maxwell
Mccoy
McKinley
Mercer
Meyer
Michael
Mickey
Milburn
Miles
Miller
Moose
Morris
Mort
Morton
Murphy
Nelson
Nero
Newton
Nico
Niles
Orson
Oscar
Otis
Otto
Overton
Owen
Ozzy
Pablo
Paco
Parker
Parley
Patch
Peanut
Pepper
Percival
Percy
Petey
Phillip
Pierce
Piper
Pogo
Pongo
Porter
Prince
Quincy
Quinton
Radar
Ralph
Rambo
Randall
Ranger
Rascal
Raymond
Rebel
Reed
Reese
Reggie
Remy
Reuben
Rex
Richard
Ricky
Rider
Riley
Ringo
Ripley
Robert
Rocco
Rockwell
Rocky
Romeo
Roscoe
Roy
Russell
Rusty
Sam
Sammy
Samson
Sarge
Saul
Sawyer
Sebastian
Sedrick
Shadow
Shamus
Sheldon
Shelton
Sherman
Sherwood
Shiloh
Sigmund
Silas
Simba
Simon
Skip
Smokey
Snoopy
Socks
Sparky
Spencer
Spike
Spot
Stanley
Stewie
Stitch
Teddy
Tesla
Thaddeus
Theo
Theodore
Thor
Thornton
Tiller
Titus
TJ
Tobias
Toby
Tyler
Tyson
Ulysses
Vaughn
Vernon
Victor
Vince
Vincent
Vinnie
Virgil
Wade
Wallace
Wally
Walter
Warren
William
Wilson
Winston
Woody
Wyatt
Yoshi
Yukon
Zane
Zeus
Ziggy
Learn More: Top 250+ Italian Dog Names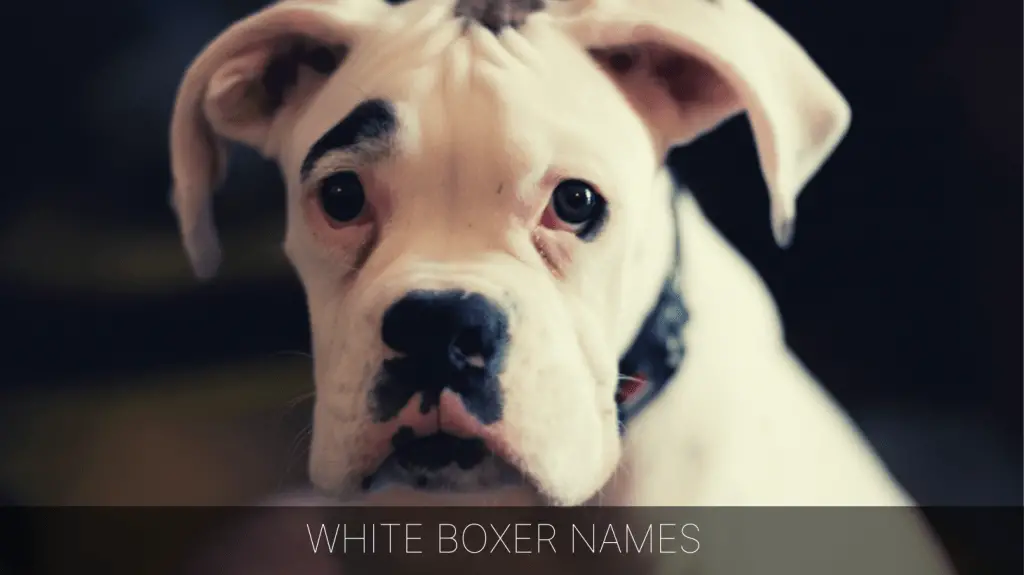 White Boxer Names
White Boxers are somewhat uncommon, but they are becoming more and more popular. White is not in the breed standard, so in earlier years it wasn't uncommon for breeders to euthanize white puppies. These dogs are not albino, but the result of genetics.
Akos
Alaska
Alban
Albert
Alby
Alva
Angel
Anjo
Arjun
Artemis
Aspen
Aubin
Avalanche
Bai
Bardhyl
Bela
Belbog
Beluga
Belun
Bianca
Blake
Blanco
Blizzard 
Bolt
Brie
Bubbles
Casper
Cloud
Coconut
Coffee
Daisy
Dove
Echo
Egret
Everest
Faith
Finn
Finola
Fion
Flora
Gardenia
Gavin
Gawain
Genna
Ghost
Gidget
Glacier
Grizzly
Gwyn
Harmony
Hotah
Ice
Igloo
January 
Knight
Kodiak
Leban
Lotus
Luna
Misty 
Moon
Nimbus
Oreo
Peony
Phantom
Polar
Polar
Rim
Salt
Sirius
Skah
Starbucks
Sugar
Tulip
Tuyet
Vanilla
Whisper
Whitney
Winter 
Wit
Wyn
Yeti
Yukon
Zuri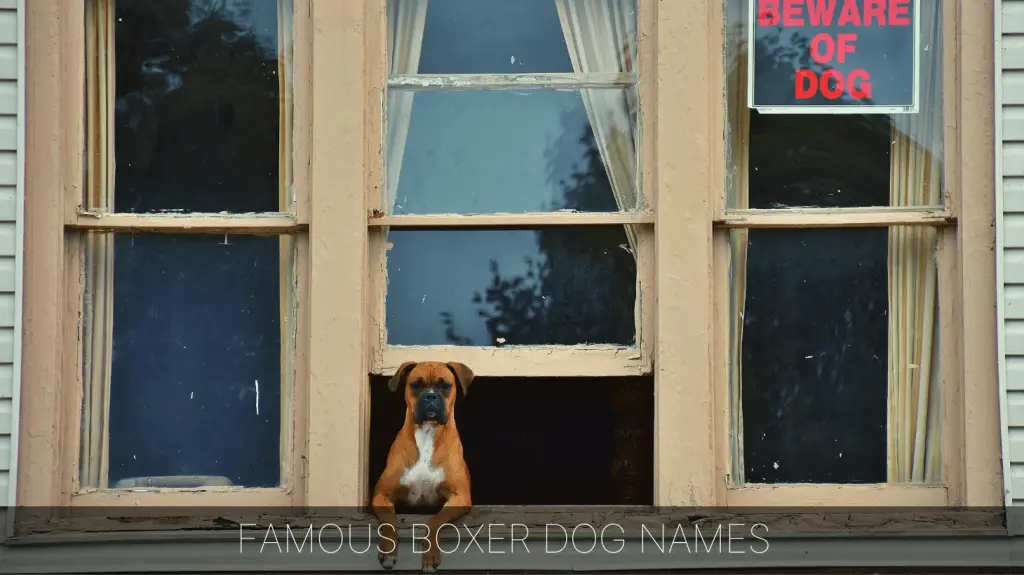 Famous Boxer Dog Names
There have been quite a few famous boxers over the years. Take a little inspiration for history and consider naming your pooch after them. 
Baby: owned by Humphrey Bogart
Bear: JLo
Bernard Hopkins: Khloe Kardashian
Bonny: Alan Langer
Brennan: Justin Timberlake
Brindie: Alan Ladd
Buckley: Justin Timberlake
Caesar: Shirley Maclaine
Charlie: Rick Ehrenberg
Foster: Greg Biffle
George: owned by Humphrey Bogart
Gracie: Greg Biffle
Gruden: Misty-May Traynor
Harvey: owned by Humphrey Bogart
Jax: Chelsea Handler
Jezebel: Alan Ladd
JJ: Hugh Jackman
Judy: dog awarded the Dicken Medal for devotion to duty during a military conflict
Killer: Dale Earnhardt, Jr.
Lizzie: Nick Saban
Mona: Jennifer Love-Hewitt
Orphan: Dedee Pfeiffer
Penny: Luke Perry
Presley: Travis Brorsen
Punch: dog awarded the Dicken Medal for serving in a military conflict
Rocky: Kim Kardashian
Roxy: JLo
Shane: Jordan Knight
Sunshine: Aishwarya Rai
Wendell: Dian Fossey
Willy: Gisele Bunchen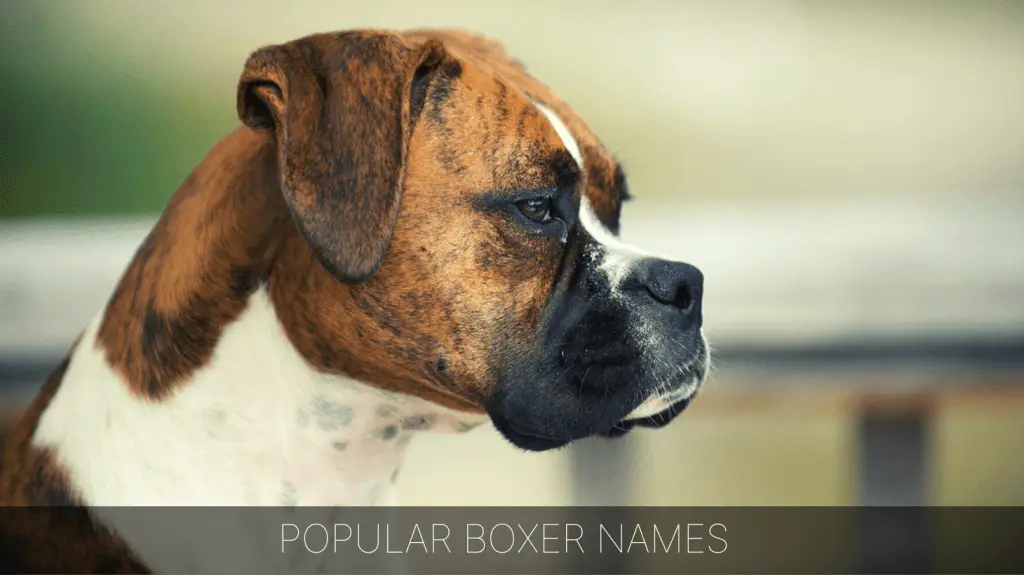 Popular Boxer Names
Not everyone wants an incredibly unique, one-of-a-kind name. Sometimes, a popular name suits your dog perfectly. While you might run into a dog named something similar at the dog park, everyone will be able to pronounce their name and be able to spell it!
Abbott
Abe
Ace
Agate
Agnes
Alexia
Alexis
Alice
Amazon
Amethyst
Annabell
Annie
Anya
Ariel
Artie
Ash
Ashby
Ashley
Asia
Atlas
Autumn
Ava
Avery
Baby
Bailey
Bambi
Basil
Bea
Bean
Bella
Bertha
Bianca
Billie
Bindi
Bing
Biscuit
Bitsy
Blair
Blakely
Blanche
Blondie
Blossom
Bonsai
Carly
Carmela
Carmen
Carolina
Charlie
Charlotte
Chloe
Clarissa
Clementine
Cora
Coraline
Courtney
Cricket
Crystal
Cuddle
Dixon
Doc
Dodge
Domingo
Domino
Donnie
Doodle
Fifi
Fiona
Flo
Foxy
Frances
Frankie
Freeman
Fritz
Gage
Gracie
Journey
Joy
Kamila
Kendall
Kennedy
Kenya
Louise
Lovely
Lucia
Lucille
Lucinda
Lucky
Lucy
Lula
Lulu
Luna
Madison
Mae
Maeve
Maggie
Maisie
Makayla
Marley
Midget
Munchkin
Murray
Nacho
Napoleon
Nash
Ned
Nipper
Ollie
Pearl
Peggy
Penelope
Penny
Pepper
Perdia
Petunia
Phoenix
Siti
Skye
Skylar
Smokey
Snickers
Storm
Stuart
Summer
Sylvan
Taco
Tank
Taylor
Taz
Trixie
Trudy
Twinkie
Ursula
Xena
Yasmin
Yvonne
Zara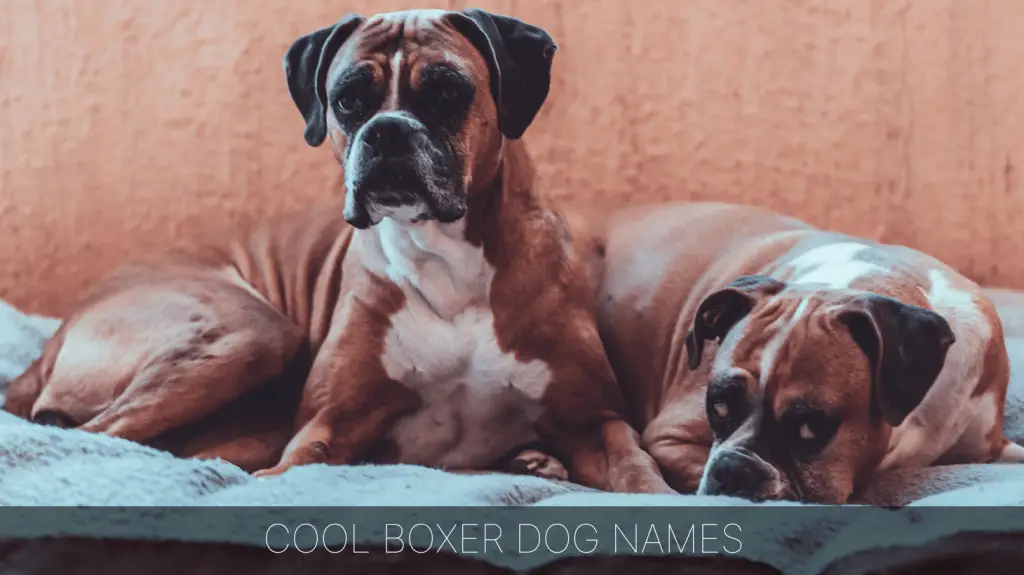 Cool Boxer Dog Names
Boxers are just cool dogs. They're athletic, without being absolutely huge like some athletic dogs are. Furthermore, they make good family dogs and good watchdogs, which isn't a combination you find often. 
Abby
Achilles
Ada
Adelaide
Agnes
Alexander
Alexia
Alfie
Alford
Ali
Alistar
Brownie
Brynn
Buffy
Chanel
Charlie
Charlotte
Clarissa
Clementine
Edward
Edwin
Eldon
Emory
Ernest
Eugene
Evan
Lincoln
Linus
Logan
Loki
Louie
Nola
Opal
Oreo
Paige
Paisley
Ruby
Ruth
Ruthie
Rylie
Scout
Selena
Selma
Serena
Tripp
Tristan
Truman
Tucker
Valeria
Velma
Venus
Wylie
Yogi
Zelda
Zia
Zoey
Choosing a Name for Your Dog
There really isn't much that you have to account for when selecting a name for your pooch. The most important factor is that it's a name that you like. If you have others in your household, you should ensure that they like the name as well. 

Older children should be involved in selecting the name directly if at all possible. While younger children likely can't be of much help in the naming process, you should still ensure that they can pronounce the name at least somewhat well. 

If you have trouble choosing a name for your canine, we recommend trying out a few different names to see which one fits best. Some dogs are just made for certain names. Even if there is a name that you absolutely love, it might not match your dog's personality. 

With that said, most dogs don't come out of their shell for a few months. So, trying to find a name that exactly fits their personality probably won't work out!