The German Shepherd is one of the most popular breeds in America. According to the American Kennel Club, they rank number three in terms of popularity across the country. 

Choosing a good dog food is essential to every breed, including the German Shepherd. Without high-quality food, our dogs could be left open to nutritional deficiencies and become susceptible to diet-related illnesses. 

The best dog food for a German Shepherd dog is one that meets their macronutrient needs, provides them with all the key vitamins and minerals they need, and includes only safe ingredients. 

Sadly, choosing a dog food in this day and age is not easy. There are many options out there, and many are not very good. The dog food industry is not heavily regulated, which means some foods even contain potentially harmful ingredients. 

To help you choose the perfect food for your pooch, we put together this complete guide. We've included everything you need to know about selecting the best dog food and reviewed some of the best options on the market. 
Best Dog Foods for German Shepherds (Wet)
Our Pick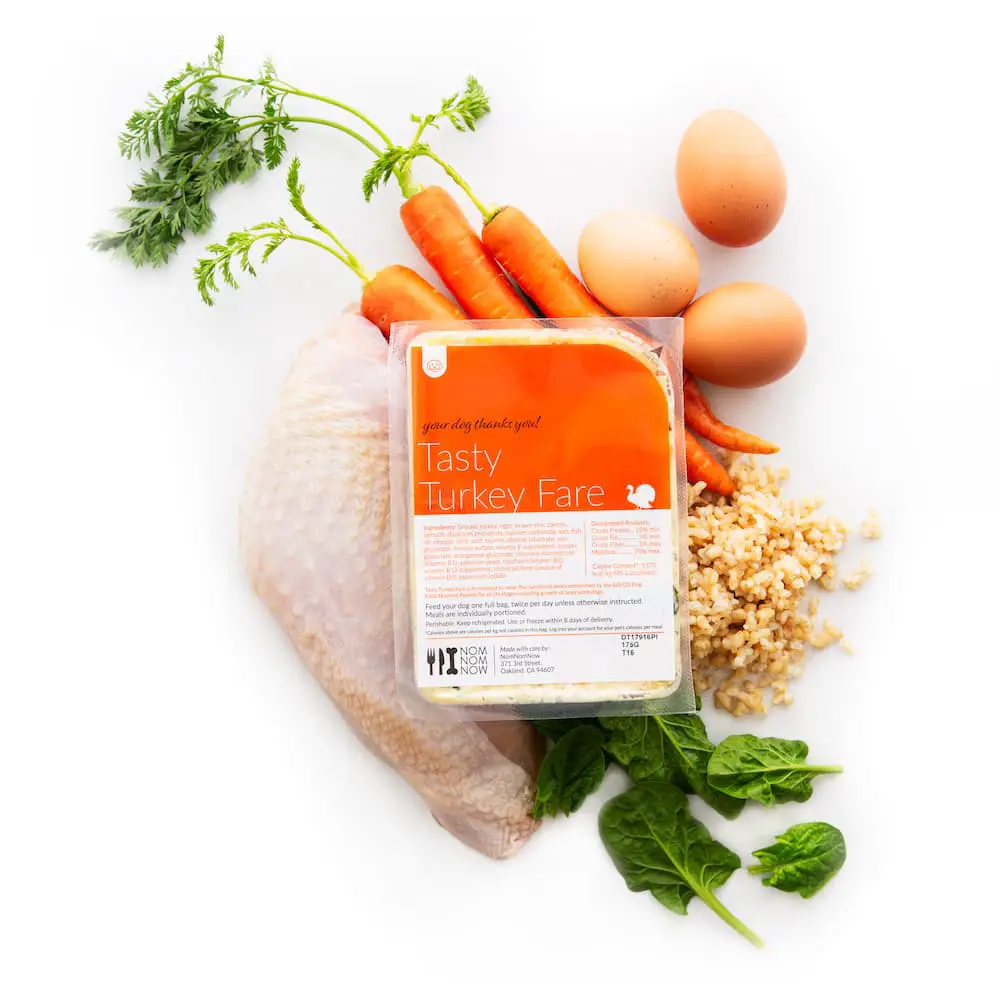 Fresh, human-grade ingredients
Near-perfect macronutrients
Convenient delivery
Doggypedia rating: 5/5
First 5 Ingredients: Diced chicken, sweet potatoes, yellow squash, spinach, and sunflower oil.
Macronutrients (Dry-Matter Basis):
36.96% Protein
26.09% Fat
23.91% Carbs
Best Dog Food For German Shepherds With Allergies
Out of all the dog foods we reviewed and tested, this is the best one. Nom Nom Nom is a fresh dog food delivery service. Similarly to a meal delivery service, this company delivers dog food straight to your front door. Plus, and perhaps most importantly, their dog food is absolutely wonderful. It has an optimal macronutrient breakdown that is high in protein and fat but low in carbohydrates. 

There are many different formulas available, though we consider their chicken option to be one of the best ones. With that said, you may want to consider subscribing to a variety of different formulas to increase the variety in your dog's diet. This not only keeps them interested in the food, but also prevents allergies from forming and helps ensure that meet all of the dietary needs. 

The recipes are formulated by board-certified veterinary nutritionist Dr. Justin Shmalberg, and contains very important cuts of organ meat. They use home-made human ingredients, and we found it very easy to setup recurring deliveries. Highly recommend for German Shepherds.
Runner Up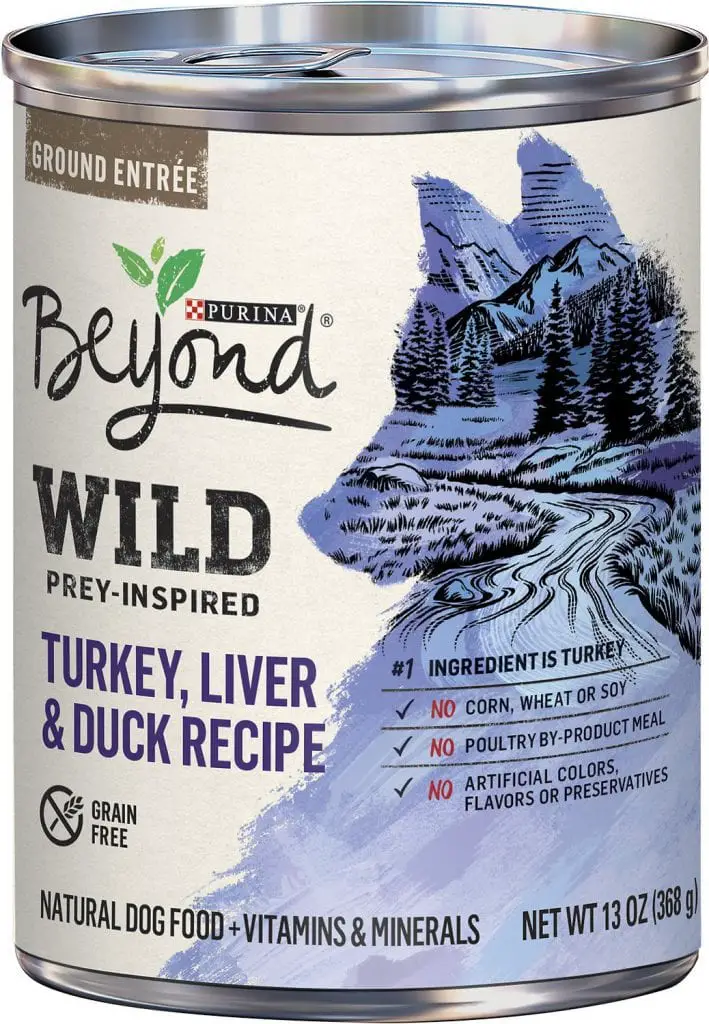 Inexpensive
Great macronutrient balance
Contains only meat as the first five ingredients
Doggypedia rating: 5/5
First 5 Ingredients: Turkey, turkey broth, chicken, liver, and duck.
Macronutrients (Dry-Matter Basis):
40.91% Protein
31.82% Fat
13.64% Carbohydrates
The macronutrient breakdown of this wet food is impressive. It contains about 13% carbohydrates, which is much lower than most of the other foods we reviewed. Protein is all the way up at 41%. This is very similar to what your pet would be eating in the wild. Perhaps most importantly though, all of the protein comes from actual meat – not low-quality ingredients like peas. 

In fact, the first five ingredients in this food are meat sources. The main meat source is turkey, though chicken and duck are also included. The other ingredients in this food are mostly just nutritional additions. This food is free of artificial colors, flavors, and preservatives. Plus, it doesn't contain any by-product meal. 

This food is suitable for all sizes and life-stages, including German Shepherds. It includes everything your dog needs while leaving out many of the common ingredients your dog doesn't. 

Runner Up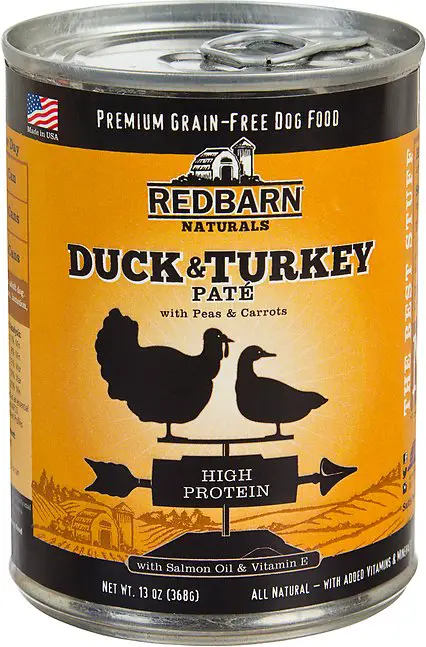 Salmon oil for omega-3 fatty acids
Low number of ingredients
Grain-free
Doggypedia rating: 4.5/5
First 5 Ingredients: Duck, Turkey, Turkey Liver, Duck Broth, Peas.
Macronutrients (Dry-Matter Basis)

50% Protein
36.35% Fat
0% Carbohydrates
This dog food features the lowest percentage of carbohydrates out of all the foods we've reviewed. Protein is exceptionally high at 50% and fat is also quite high at 36%. The sources of protein appear to be high-quality as well, with duck as the first ingredient. These premium meats contain plenty of amino acids and other nutrients that your dog needs. This food is also completely grain-free and doesn't contain corn, wheat, or soy. In fact, it has very few ingredients all together and appears to be mostly made out of animal sources. It doesn't contain any artificial colors, flavors, or preservatives. 

One thing this food does contain though is peas. Peas are a common filler in grain-free products and have very little nutritional value for dogs. They are also connected with dietary-induced heart problems in dogs. Because of this, we find it hard to rank any dog food containing peas very high. If it wasn't for the peas, this dog food would be perfect. However, we can not ethically give it a perfect score with this ingredient. 

Best Dry Foods for German Shepherds
Our Dry Pick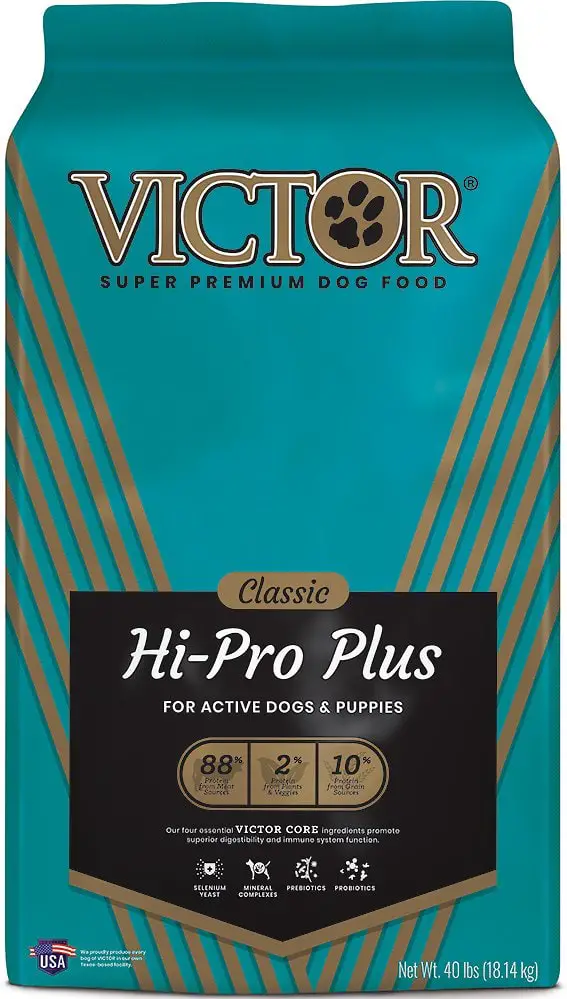 Good macronutrient contents
Premium meat ingredients
88% of the protein comes from meat
Doggypedia rating: 4/5
First 5 Ingredients: Beef Meal, Grain Sorghum, Chicken Fat, Pork Meal, Chicken Meal.
Macronutrients (Dry-Matter Basis):
Good food for german shepherd to gain weight
This dry dog food by Victor is a decent option for your German Shepherd. It contains meat heavily early on in the ingredient list. Plus, it's animal products come from many different sources, including beef and chicken. This diversification prevents canines from developing an allergy to certain ingredients. Just like humans, dogs need to get their nutrients from a diverse variety of foods, and this dog food provides it. 
Its macronutrient breakdown isn't exactly what we would hope. The carbohydrates are a little high at 36.26%. However, it does not use pea protein or other potentially dangerous ingredients to jack up the protein content. Much of the protein comes from actual, premium meat. This high-quality protein also provides essential amino acids, which helps keep your pooch healthy and strong. 
The only non-meat ingredient included in the first five is sorghum. This is a starchy cereal that is similar to corn. It is gluten-free and doesn't spike blood sugar, which makes it a great non-meat ingredient. 
Runner Up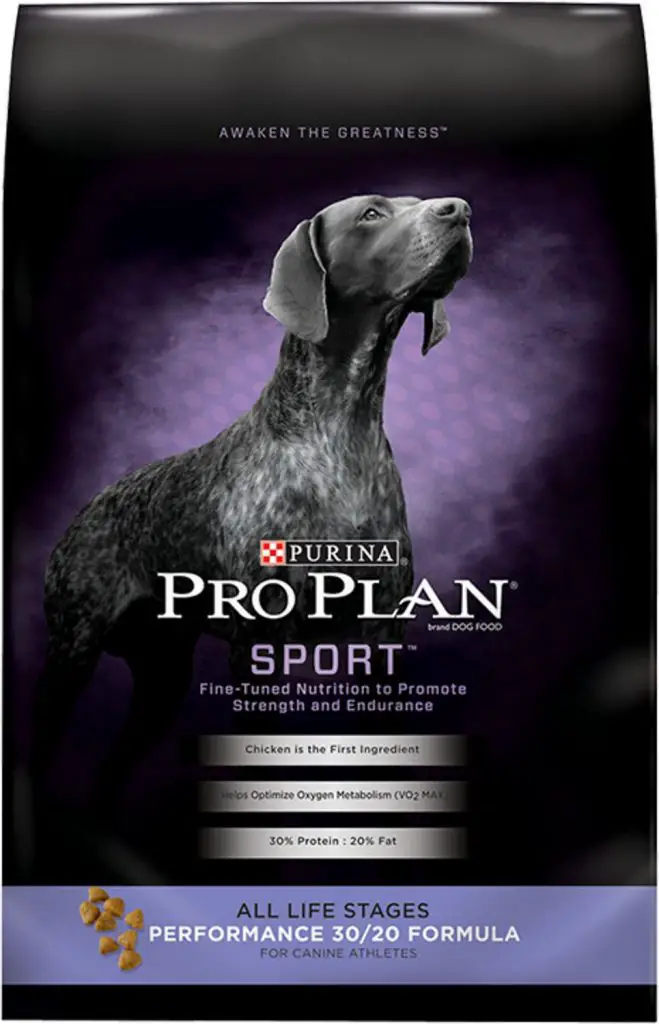 Contains Glucosamine
No peas, potatoes, or lentils
Inexpensive when compared to other brands
Doggypedia rating: 3.5/5
First 5 Ingredients: Chicken, Corn Gluten Meal, Brewer's Rice, Animal Fat, Poultry by-product meal.
Macronutrients (Dry-Matter Basis):
34.09% Protein
22.73% Fat
34.09% Carbohydrates
Purina is a widely available dog food brand that is pretty trustworthy. This particular adult dog food contains just about 30% carbohydrates. While we would like to see it a little lower, this is great for dog food at this price tag. Plus, most of the protein appears to come from chicken and other meats. It isn't uncommon for dog food brands to stuff their formulas with low-quality protein sources, like peas, so we're happy that we don't see that here. 

Furthermore, it does not contain peas, potatoes or many of the other fillers we're used to seeing in other brands. Corn gluten meal is the second ingredient. However, in most cases, it is much better to feed your dog a food with a grain like corn than one with peas and other fillers. Corn is actually quite nutritionally beneficial for dogs, especially when you consider that they evolved to eat it. 

With that said, there were some ingredients we did not like. We would have loved to see more animal products in the first five ingredients, instead of things like Brewer's Rice. Poultry by-product is also somewhat vague. We would have rather seen "chicken by-product" or something similar. 
Runner Up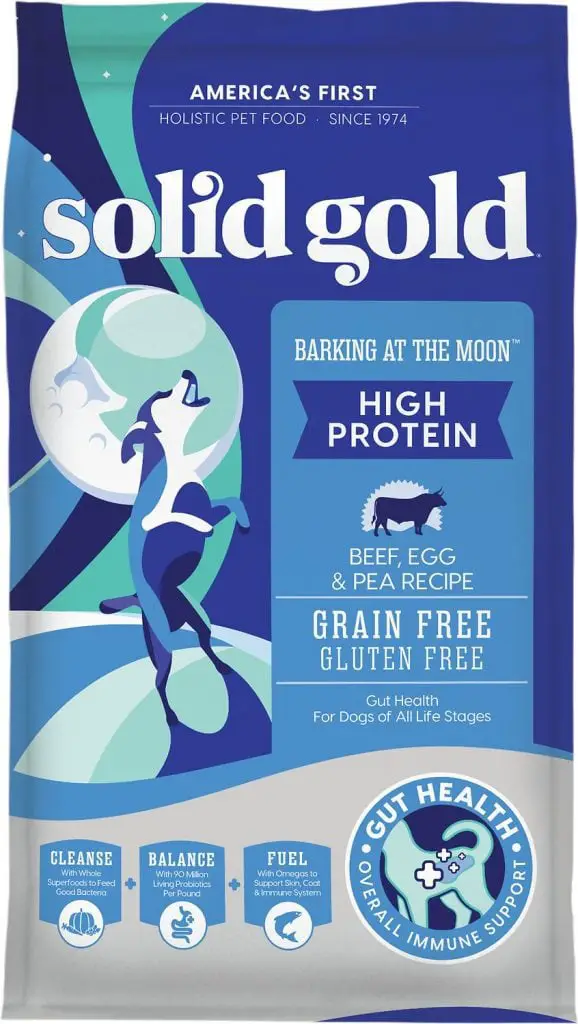 Contains fatty acids
Beef as the first ingredient
Includes prebiotics and probiotics to help with their digestive system and immune system
Doggypedia rating: 3.5/5
First 5 Ingredients: Beef, Ocean Fish Meal, Pea Protein, Potatoes, Dried Eggs.
Macronutrients (Dry-Matter Basis):
45.56% Protein
20% Fat
25.56% Carbohydrates
This dog food by Solid Gold has a lot going for it. It is grain-free and uses beef as the main ingredient. This is a high-quality protein source for most canines and is not a common allergen. Furthermore, it contains less than 30% carbohydrates, which is optimal but sadly very difficult to find in most commercial dog foods. This food is also packed with many quality ingredients that have nutritional benefits for dogs, like eggs. 

However, there were also quite a few things we didn't really like about this dog food. Firstly, it appears that most of the protein content comes from peas. Not only have peas been connected with certain heart diseases, but peas also do not contain many of the amino acids your dog needs. This is an obvious filler to raise the food's protein content and arguably the worst source of protein they could have chosen. 

This food also includes other unsightly ingredients, like potatoes, which have also been linked to similar heart problems. Despite the inclusion of these ingredients, this dog food does not contain extra Taurine – a huge red flag. Taurine helps keep your dog's heart pumping strong. Without it, they will develop heart problems. Taurine is naturally found in meat. However, because this food contains much pea protein, it is unlikely there is enough meat included to provide the Taurine your dog needs. Plus, the FDA has speculated that peas actually inhibit Taurine absorption, making this absence even more alarming. 

While this dog food does meet our macronutrient requirements, the inclusion of peas caused us to mark it down a few points.  This is still the best german shepherd food for dogs with sensitive stomachs.
best dog food for german shepherd puppies
Our Pick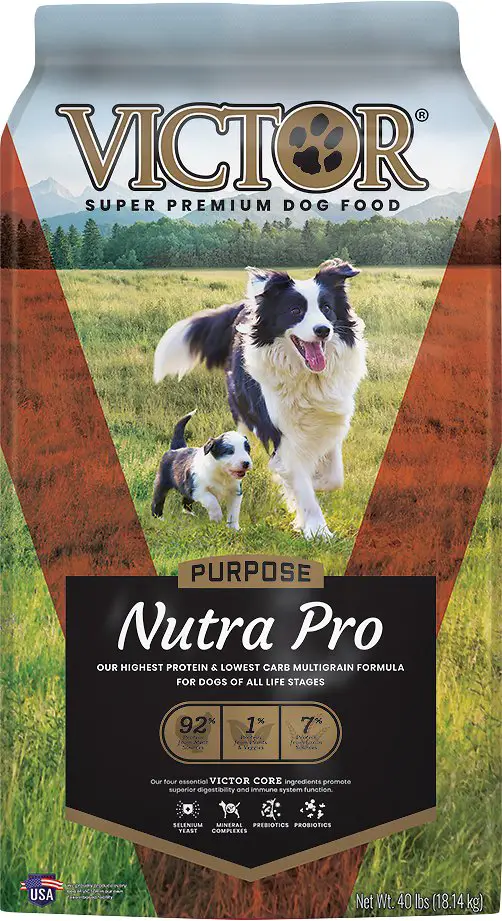 Formulated for puppy and adult German Shepherds
Good macronutrient content
92% of protein included comes from meat
Doggypedia rating: 5/5
First 5 Ingredients: Chicken meal, blood meal, whole grain millet, chicken fat, yeast culture.
Macronutrients (Dry Matter Basis):

41.76% Protein
19.78% Fat
29.67% Carbs
Good german shepherd food recommendation
This puppy food is designed for all puppy sizes, including large breeds, making it suitable for any GSD puppy. The first two ingredients, chicken meal and blood meal, are both high-quality meat concentrates. Meals are just highly rendered meats, which are made in a process similar to creating a stew. In the end, you end up with a high-concentrated meat powder that has been dehydrated – rendering it high in protein per ounce than regular, whole meat. While some meals are created out of low-quality, anonymous "meat", the exact source of this food meal is named as chicken, so we can rest assured that it is probably a high-quality product. 

All the other ingredients included in the first five are quality as well. Yeast culture is a common ingredient used to raise the amount of B-vitamins in a food and improve digestion. Whole grain millet is a quality grain that provides many key nutrients. While grain isn't the best option for dog food, they have evolved to digest it. As long as it is whole grain, it is considered a good ingredient.  This is the best German Shepherd dog food for puppies.
Runner Up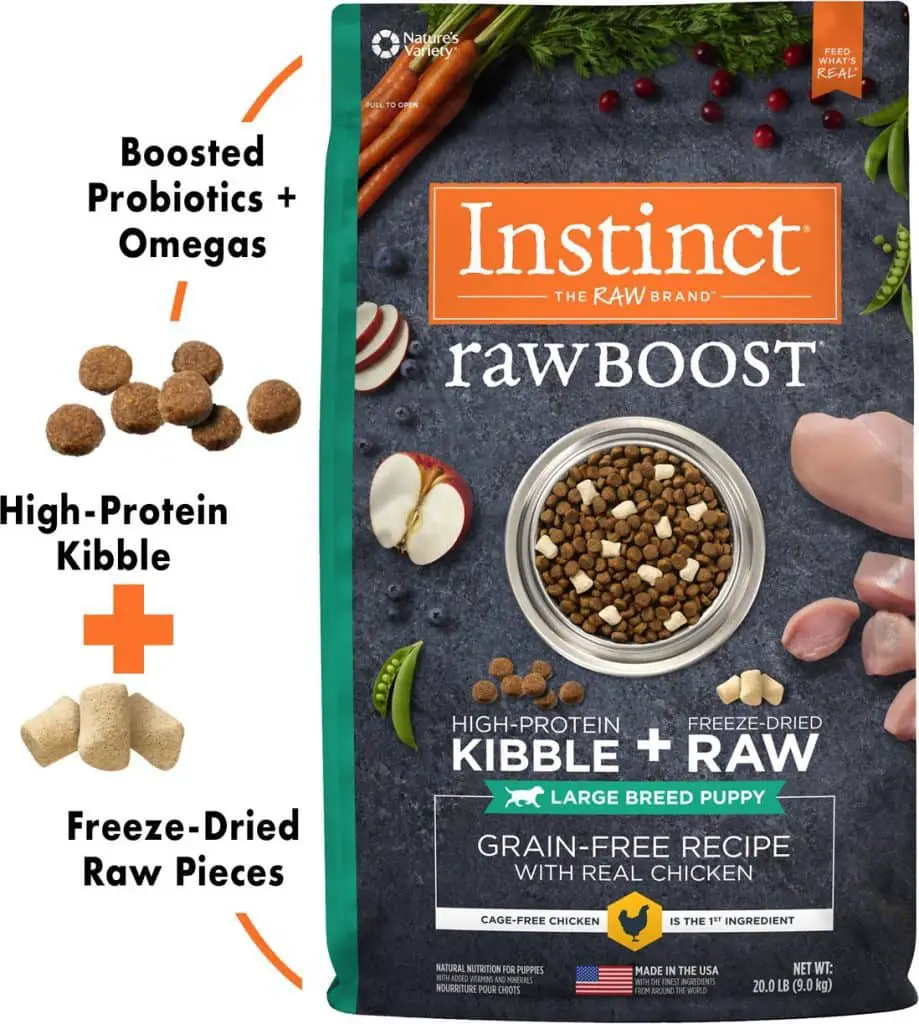 Includes kibble and freeze-dried meat
Contains DHA and Omega-6 Fatty Acids
Grain-free
Doggypedia rating: 4/5
First 5 Ingredients: Chicken, Chicken Meal, Turkey Meal, Peas, Egg Product.
Macronutrients (Dry Matter Basis):
37.36% Protein
23.63% Fat
30.22% Carbs
This dog food is designed for small, medium, and large breed dogs, making it suitable for GSDs. It includes meat as the first three ingredients, including two cases of a protein-dense meal. These two ingredients are likely why the protein content is so high. However, this food also includes peas as the fourth ingredient. We would have rather seen some sort of grain in this product instead of the peas. Plus, peas also contain quite a bit of protein, though they do not provide many of the amino acids dogs need. It is likely that peas contributed considerably to the protein content of this food. 
This dog food does not contain any sort of grain, wheat, gluten, or soy. Its macronutrient content is pretty good, though the carbohydrates are just lingering in the optimal zone. Overall, this is a decent dog food, though it isn't the best. 
How to Choose the Best Food for Your German Shepherd
In most cases, choosing a food for your German Shepherd is not much different than choosing a diet for any other dog. As a breed, they do not have any specific nutritional requirements. With that said, here are some things to look at when selecting dog food for your canine:
Optimal Macronutrients. Selecting a dog food with the correct macronutrient breakdown is vital. According to scientific studies, the optimal intake for dogs is 44% protein, 52% fat, and 7% carbohydrates. In a real-world situation though, it is nearly impossible to find food with this specific breakdown. Still, you should aim to choose a food that is almost equally fat and protein, with carbohydrates under 30%. 
Don't be fooled by "grain-free". Many dog owners believe in the misconception that "grain-free" dog food must be high-quality. However, this is not true. Often times, grain-free dog food doesn't even contain more meat than dog food with grains. Instead, dog food companies just remove grains from their usual formula and replace them with a low-quality vegetable, like peas, which have been linked with health problems in dogs by the FDA. Furthermore, dogs have evolved to eat grain. Unless your dog is actually allergic to grains, which is uncommon, you don't need a grain-free food. Preferably, you should choose whole grains like brown rice when possible. 
Avoid fillers. Many dog foods will add fillers to make their food cheaper. While some fillers are obviously fillers, like mill run, others don't sound scary or low-quality in the least. Vegetables like peas, potatoes, and some lentils provide very little nutritional benefit to dogs and have been linked with diet-related illnesses. However, "bison with sweet potatoes" doesn't sound like a low-quality food. Our advice? Purchase a dog food with a high amount of protein and meat. Generally, you want meat to be the first five ingredients if at all possible.
High-quality ingredients. The ingredients in your dog's food should be high-quality. While this means avoiding fillers as we previously discussed, it also means making sure the meat sources and other ingredients are high-quality. You want to avoid unnamed meats. "Meat by-product" is not a good source of meat, because it could come from literally anywhere. On the other hand, by-products with their source named, like "beef by-product" are considered decent quality. By-products aren't necessarily bad; you just want to know where they come from. Meal is also okay, as long as the source of the meal is named. "Lamb meal" is okay; "meat meal" is not. 
Size formulation. German Shepherds are considered a medium to large breed, depending on who you ask. This means that you want to get a dog food designed for their size. A dog food designed for Shih Tzus is not going to be appropriate for a German Shepherd.
How Much to Feed Your German Shepherd
You should always follow the feeding instructions located on the bag when feeding your German Shepherd. Different foods have different numbers of calories, so the amount you need to feed your canine might differ from brand to brand. 

While you're feeding your dog, be sure to keep an eye on their physical condition. You should be able to feel your dog's ribs, but not see them. If you suspect they are under or overweight, contact your veterinarian. While it could be the amount of food you're feeding him, it could just as easily be an underlying illness or something else. It is important to check with your vet just in case. 
Nutritional Requirements of German Shepherds
GSDs don't have hugely different nutritional requirements than any other medium-sized dog. There are several nutrients that dogs require in their food, including fatty acids and chondroitin. This is why you often see dog foods packed with vitamin supplements. The AAFCO sets standards for dog and cat food, including the number of vitamins they must contain. Any dog food with the AAFCO seal contains the necessary nutrients a dog needs. 

It is important to note that the AAFCO does not have the authority to regulate dog food, so they can't take something off the shelf if it doesn't comply. Because of this, it is essential to check. 

German Shepherds do develop hip dysplasia more often than other breeds. We recommend a joint supplement to combat this. A quality supplement can improve their joint health
Read More Dog Food Reviews: Best Lamb & Rice Dog Food
Allergy Information
There is a lot of misinformation surrounding dog allergies. In many cases, food allergies in dogs present as skin problems. Your dog might develop a rash or just be itchier than usual. Often, dogs are not allergic to grains or vegetables. Instead, types of meat appear to be the most common causes of food allergies. 

Feeding your dog the same food over and over again can result in allergies. Your dog might not start out allergic to lamb, but if you only feed your dog lamb for five years they can easily develop an allergy. Because of this, we generally recommend switching your dog's food often to prevent health issues. It is a good idea to have two or three foods with different protein sources selected that you switch between regularly. 

Luckily, German Shepherds do not tend to develop allergies very easily.
Why You Should Trust Us
I've been a dog owner my whole life. We have reviewed hundreds of different dog foods over the years, so we have an expert view of what the market currently offers. All of our reviews are based on scientific evidence, not marketing campaigns or ads. We carefully stay up to date on the latest research so that we can recommend only the best to you and your pets. 
Before making it into any article, each dog food has to pass a rigorous review process that involves more than just surface-level information. We calculate all of our own macronutrient data. While we pay attention to the ingredient list, we also consider macronutrient ratios and recall frequency. Additionally, we speak to the dog food brands, vets, and dog trainers to make sure our recommendations are the most healthy options for your dog.