Police dog names are tough, bold, and fearless, making them the perfect option for dogs like German Shepherds and the Belgian Malinois. If you've recently adopted one of these dogs, you might be considering giving them a police dog name. 

Of course, these names are going to be most useful for dogs who are actual police dogs. But, even if your dog is only a pet, these tough names can still be very fitting. Here are some of our favorite names inspired by police officers: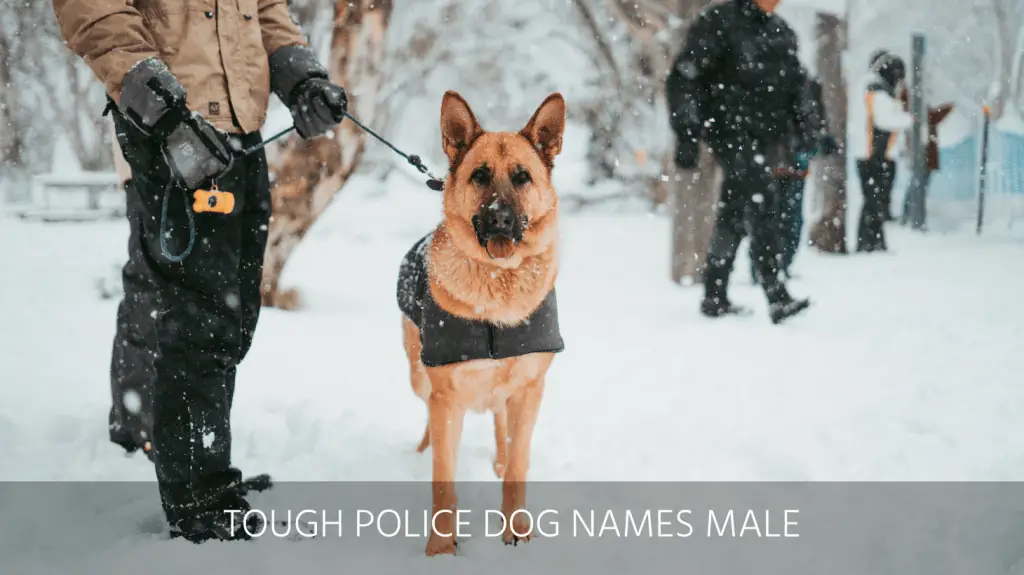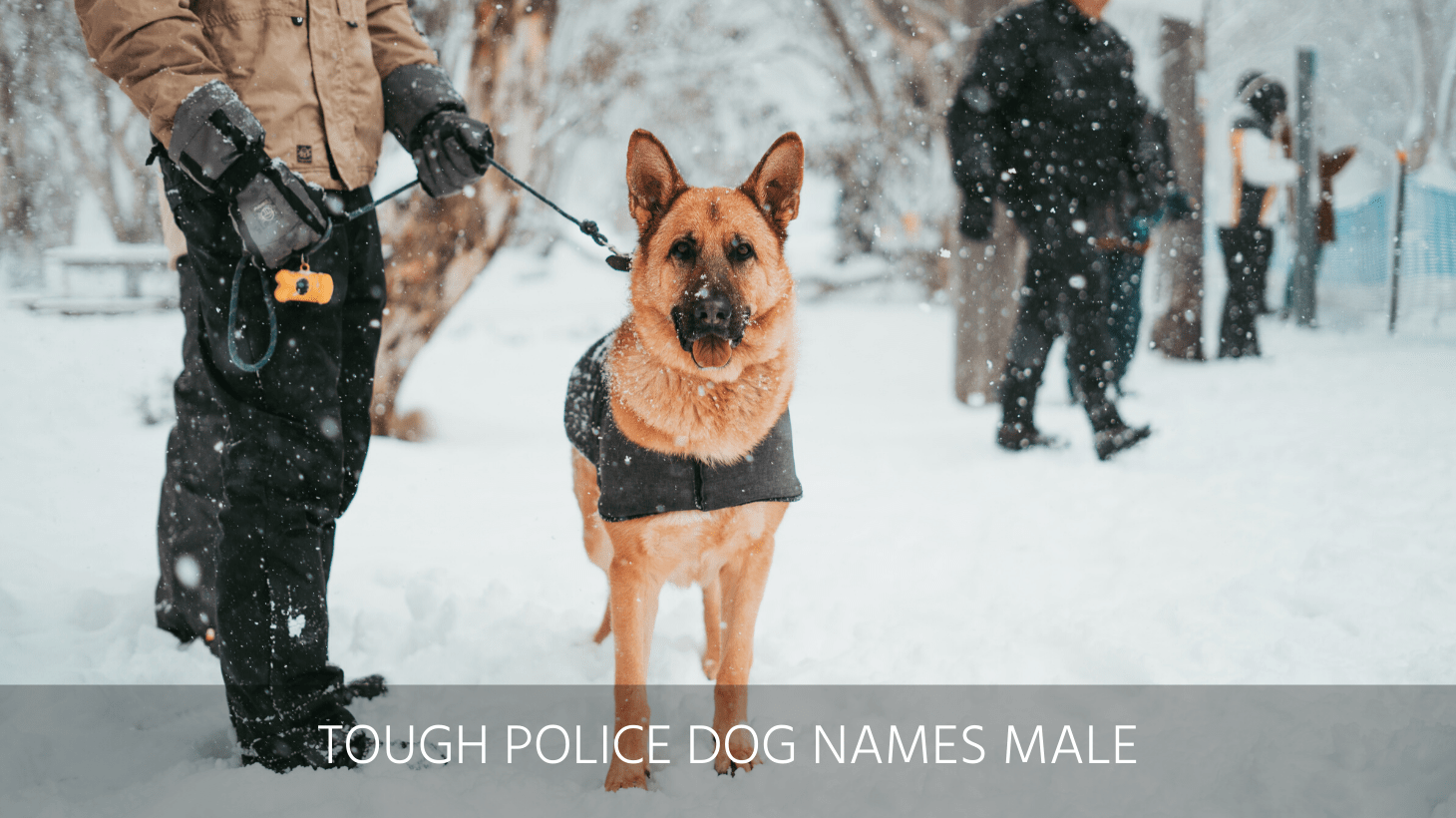 Tough Police Dog Names Male
Male dogs have countless options for tough, police-inspired names. Use this list as a jumping point for coming up with your own names or just select one of these for your pooch. Many of these names are fitting for both large and small dogs. However, because police dogs are often larger in size, some of these names only make sense for large dogs – unless, of course, you use them ironically. 
Agent
Apache
Archer
Argos
Aslan
Atlas
Augustus
Avalanche
Axel
Azlan
Badge
Bart
Baton
Bernard
Bolt
Boomer
Boris
Brett
Brigadier
Bronson
Bronx
Bruiser
Bruno
Buckeye
Bud
Bully
Buzz
Cain 
Captain
Carlito
Ceasar
Cerberus
Chavez
Chaz
Chevy
Chief
Chopper
Churchill
Clint
Cobb
Colonel
Colt
Crash
Cujo
Cy
Czar
Damien
Darth Vader
Debo
Denver
Deputy
Detective
Dickens
Diego
Digger
Ditka
Dre
Edgar
Enforcer
Escobar
Flash
Gonzo
Governor
Griffin
Hamlet
Harry
Hawkeye
Hendrix
Highlander
Holster
Honor
Hooch
Hudson
Hunter
Hyde
Ice
Igor
Indiana 
Inspector
Ivan
Jax
Jekyll
Jesse
Joker
Judge
Jupiter
Justice
K-9
Khan
Killer
Kodiak
Kong
Koopa
Laika
Lancelot
Lennox
Leo
Lieutenant
Macbeth
Maddox
Marksman
Marshall
Maverick
Maximus
McGruff
Moose
Neo
Nero
Noble
Officer
Osiris
Ozzy 
Pablo
Paco
Parker
Partner
Petey
Pistol
Protector
Quixote
Ram
Rambo
Ranger
Reagan
Rebel
Recruit
Remington
Riggs
Rogue
Rookie
Rudder
Samson
Sarge
Sergeant
Shadow
Shepherd
Sherman
Smokey
Snake
Spike
Standby
Sylvester
Tank
Taz
T-Bone
Thor
Tiberius
Tiger
Tito
Triton
Trooper
Tugg
Vice
Vinnie
Vlad
Vulcan
Wario
Wrigley
Yukon
Learn More: Top 325+ Doberman Dog Names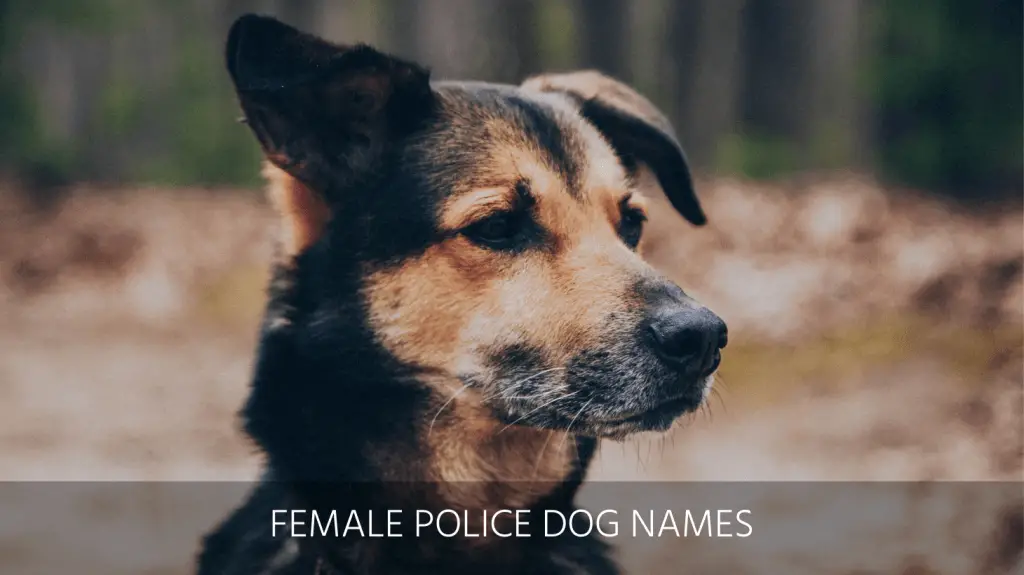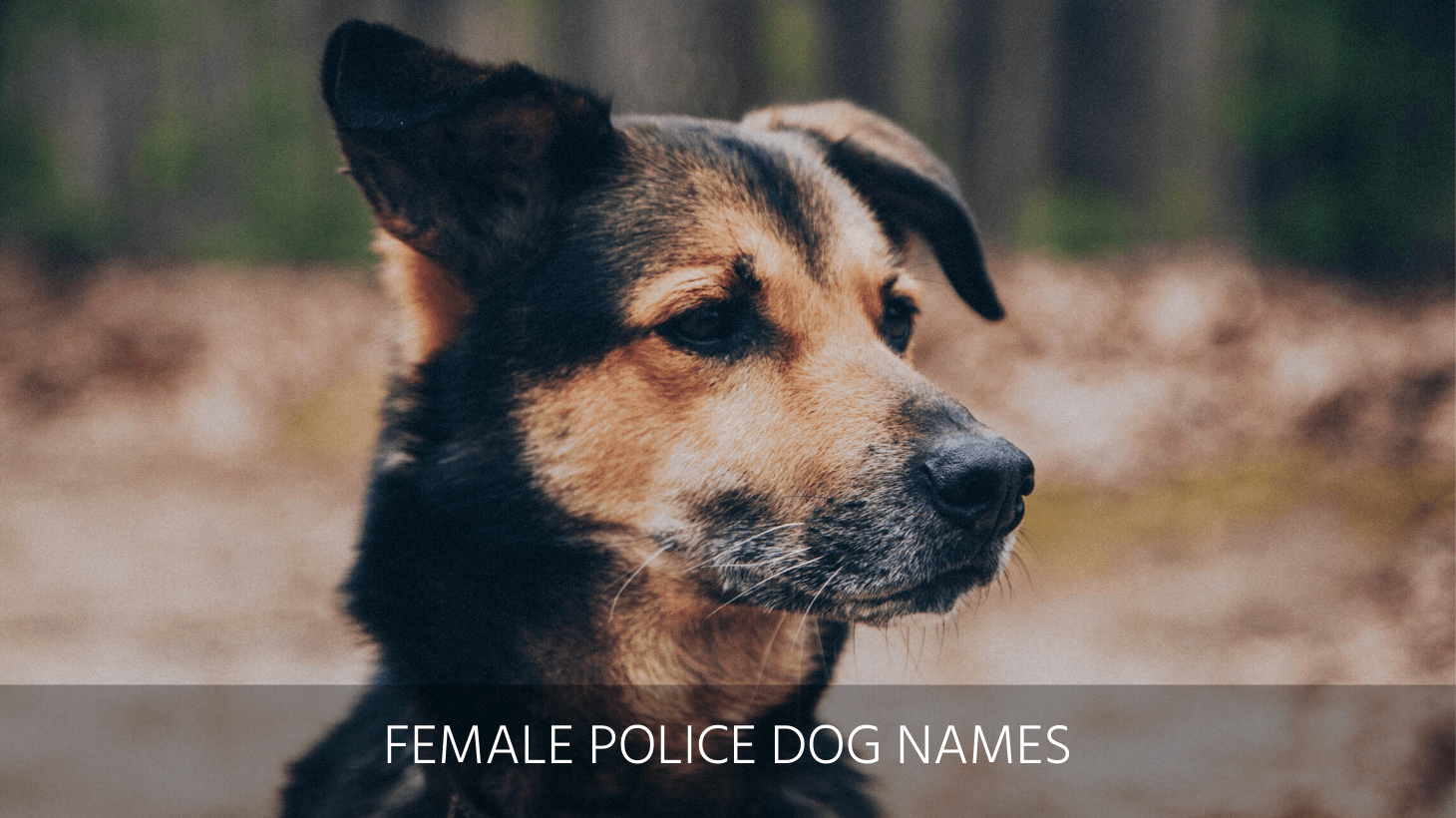 Female Police Dog Names
There is a fine line to walk between tough and dainty when you're naming a female police dog. Of course, many male names are acceptable for female dogs. And, you don't have to consider gender at all when naming your pooch if you don't want to.

However, if you're looking for something that is both tough and feminine, it can be difficult. Here were some of our favorites:
Acadia
Akita
Alaska
Alexis
Ambrosia
Amethyst
Andromeda
Angelina
Astra
Avril
Bandit
Blaze
Blitz
Blizzard
Bones
Brooklyn
Callisto
Cleopatra
Codex
Courage
Diva
Duchess
Ebony
Echo
Elektra
Frannie
Freya
Ghost
Harley
Hecuba
Huntress
Jedi
Jersey
Jinx
Joan of Arc
Jojo
Joplin
Kaia
Koda
Lakin
Leia
Leisel
Liberty
Lola
Lolita
Medusa
Mercy
Midnight
Montana
Ninja
Norma
Nyx
Olga
Olympia
Porkchop
Punky
Pyro
Queenie
Raven
Rocky
Roxy
Ryder
Sable
Samus
Sassy
Sheba
Sissy
Squat
Starbucks
Steffi
Teegan
Timber
Ursa
Willow
Winter
Xena
Yuna
Learn More: Top 800+ Mexican Dog Names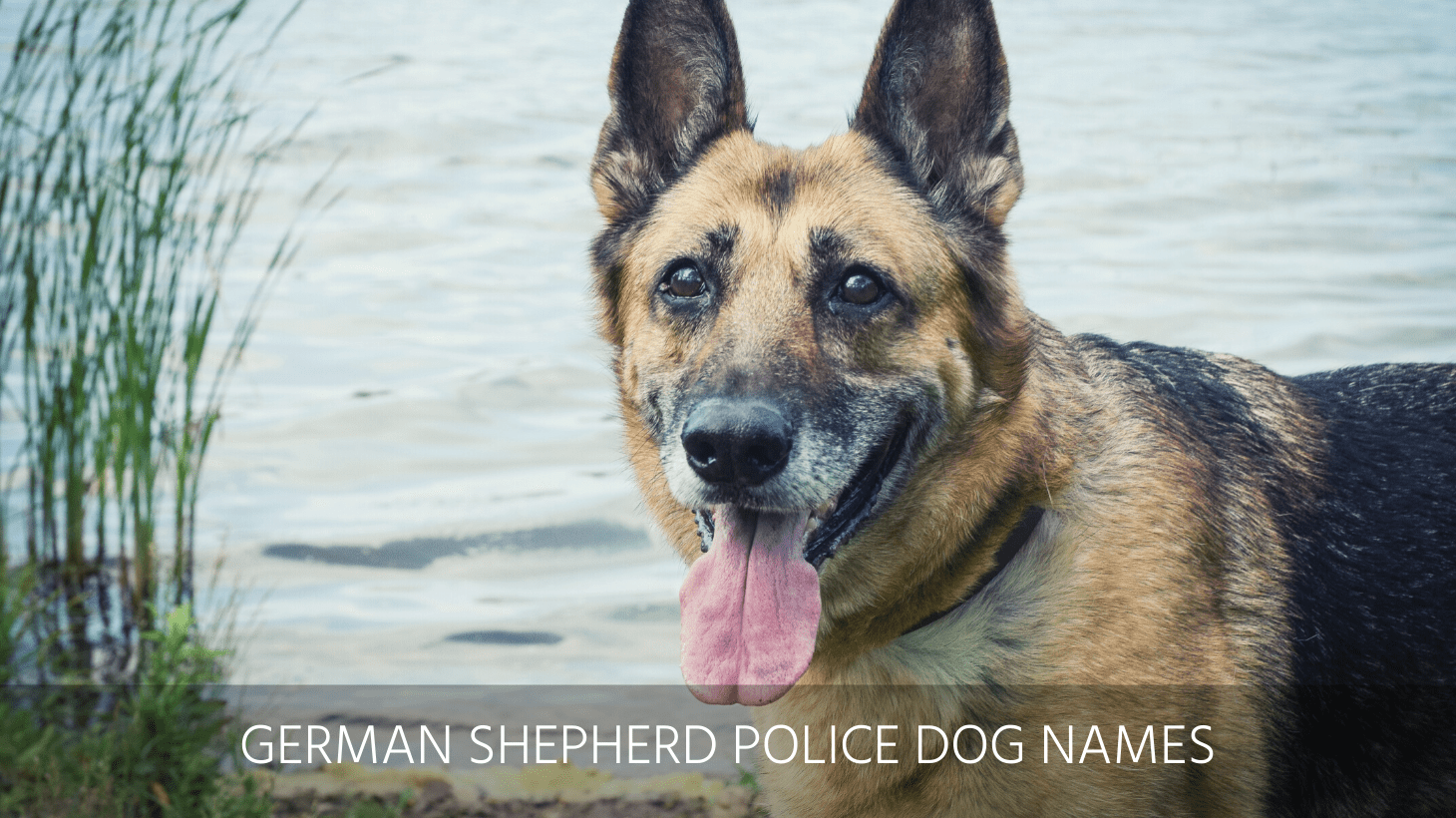 German Shepherd Police Dog Names
German Shepherd are one of the most common dogs used by police, and for good reason. These dogs are known for being exceedingly loyal and dedicated. They're intelligent enough to train easily without being so intelligent that they'll figure out they really don't HAVE to listen to you. 

Plus, they're also very common within the United States according to the AKC. This popularity makes them easy for any prescient to find and adopt. 

If you're recently adopted a German Shepherd yourself, you might want to consider some of these names: 
Abner
Ajax 
Ammo 
Angelo
Ares 
Arya
Asa
Athena 
Attila 
August
Bama
Bane
Beast 
Becca
Bernie
Blade
Boss 
Brady
Brewer
Brinley
Brittany
Bruiser
Brutus
Bryn
Bug
Bullet 
Butch
Carlton
Carrie
Cash
Cersei 
Chauncey
Chewbacca
Chocolate
Chrissy
Daenerys 
Dagger 
Damon
Danger 
Derby
Duck
Elton
Emmylou
Ethan
Evelyn
Fang 
Gamora
Genevieve
Goliath 
Gretta
Gunner 
Hades 
Haven
Hera 
Hercules 
Janeway
Jed
Jody
Jonah
Joni
Julius
June Bug
Kal-El
Katniss 
King 
Kinsey
Maeve
Magic
Malia
Marge
Marie
Maurice
Memphis
Midas
Ming
Miranda
Miska
Molly
Mystique 
Nami
Nell
Nevaeh
Nitro 
Norm
Olly
Pumpkin
Randall
Randy
Riddick
Riptide
Rodney
Ruben
Scooter
Selena
Shannon
Shirley
Sloane
Sox
Sparky
Sprinkles
Titan 
Tom
Trapper 
Trinity
Tyrion
Una
Ursula
Vader
Viper
Virgil
Vixen
Yeti
Yumi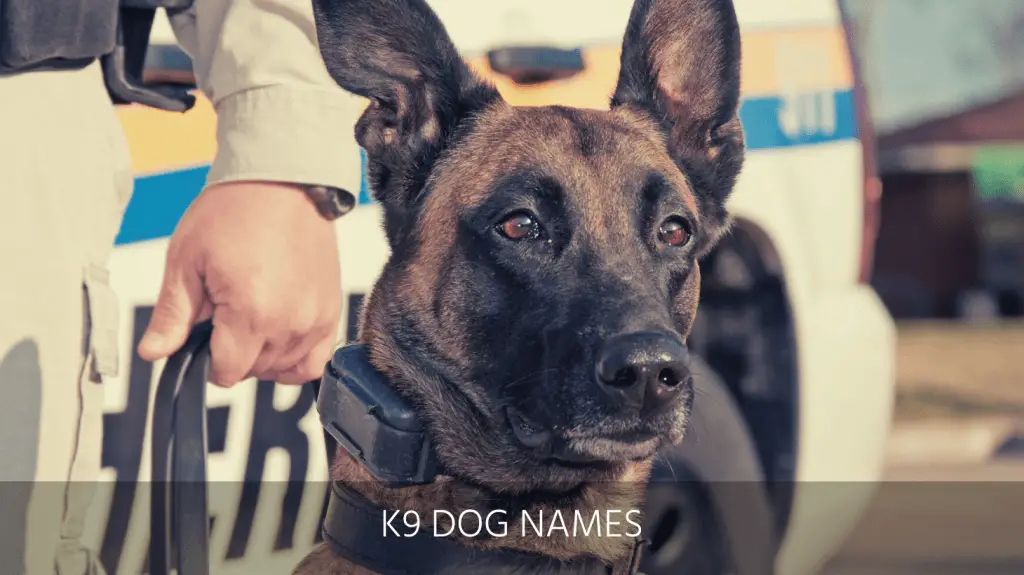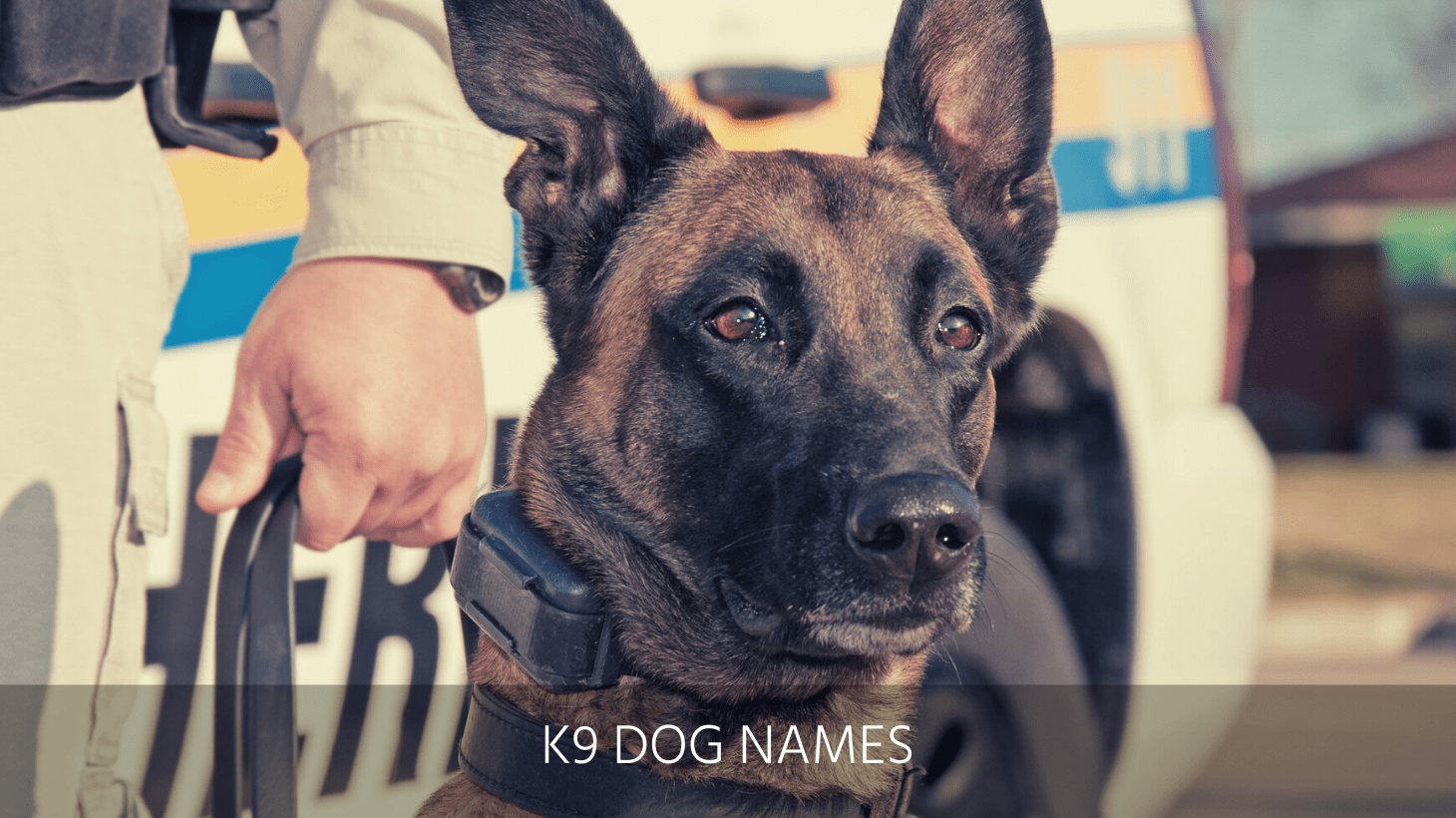 K9 Dog Names
In some countries, a police dog is simply referred to as "K9". A K9 unit is a handler and his trained dog partner. Often, the dog will live at his handler's house and is his complete responsibility. He has to feed him and ensure that his health is taken care of. 

If you're becoming a K9 handler yourself, or just want some tough name ideas for your dog, here are some to try:
Abe
Abigail
Adams
Admiral
Anna
Barack
Barbara
Betty
Brick
Brock
Buchanan
Buck
Bush
Caesar
Caroline
Carter
Champ
Charger
Chester
Chino
Claudia
Clinton
Cobra
Coolidge
Dane
Dempsey
Diamond
Diesel
Dolley
Donald
Dozer
Dredd
Duke
Dutch
Edith
Eisenhower
Eleanor
Eliza
Elizabeth
Ellen
Emily
Evander
Faber
FDR
Fedor
Flair
Florence
Floyd
Frances
Garfield
Giant
Glory
Grace
Gracie
Grover
Hannibal
Harriet
Harrison
Hawk
Helen
Hillary
Hoover
Hulk 
Ida
Jab
Jackie
Jackson
Jane
Jaws
Jericho
Jett
JFK
Julia
Kitana
Knox
KO
Laura
Letitia
Liddel
Lincoln
Lucy
Lyndon
Machida
Mack
Madison
Major
Mamie
Margaret
Marshal
Martha
Mary
Mauser
Max
Mayweather
McKinley
McMahon
Melania
Michelle
Mick
Millard
Monroe
Nancy
Nixon
Obama
Odin
Ozzie
Pierce
Polk
Porter
Quincy
Rampage
Razor
Rex
Rogue
Ronald
Rose
Rousey
Rowdy
Roxie
Rutherford
Ryder
Sarah
Silva
Sonny
Taft
Taylor
Thelma
Tito
Tonka
Trigger
Trixie
Truman
Trump
Tyler
Tyson
Ulysses
Van Buren
Venom
Victory
Warren
Washington
Woodrow
Zander
Zelda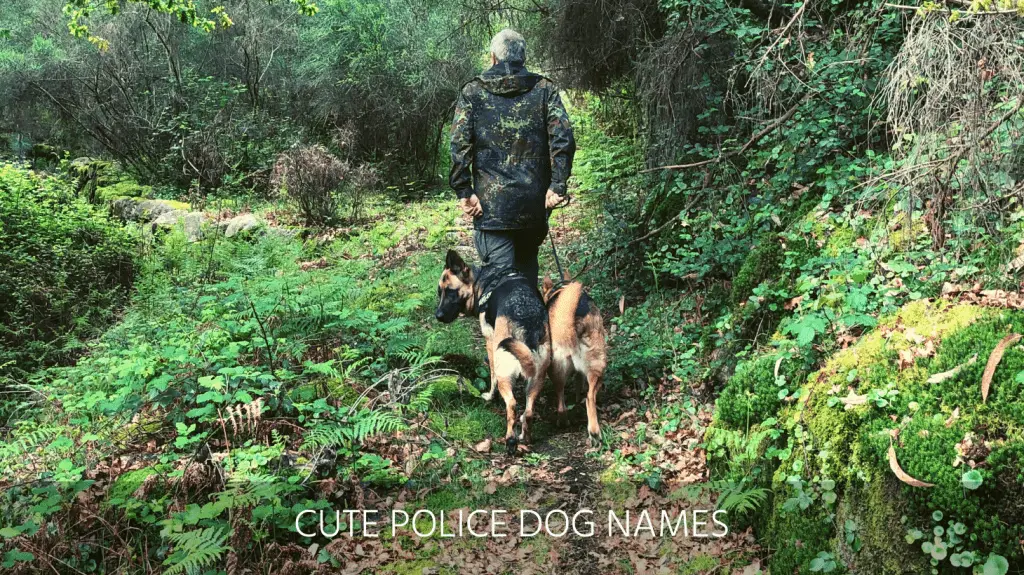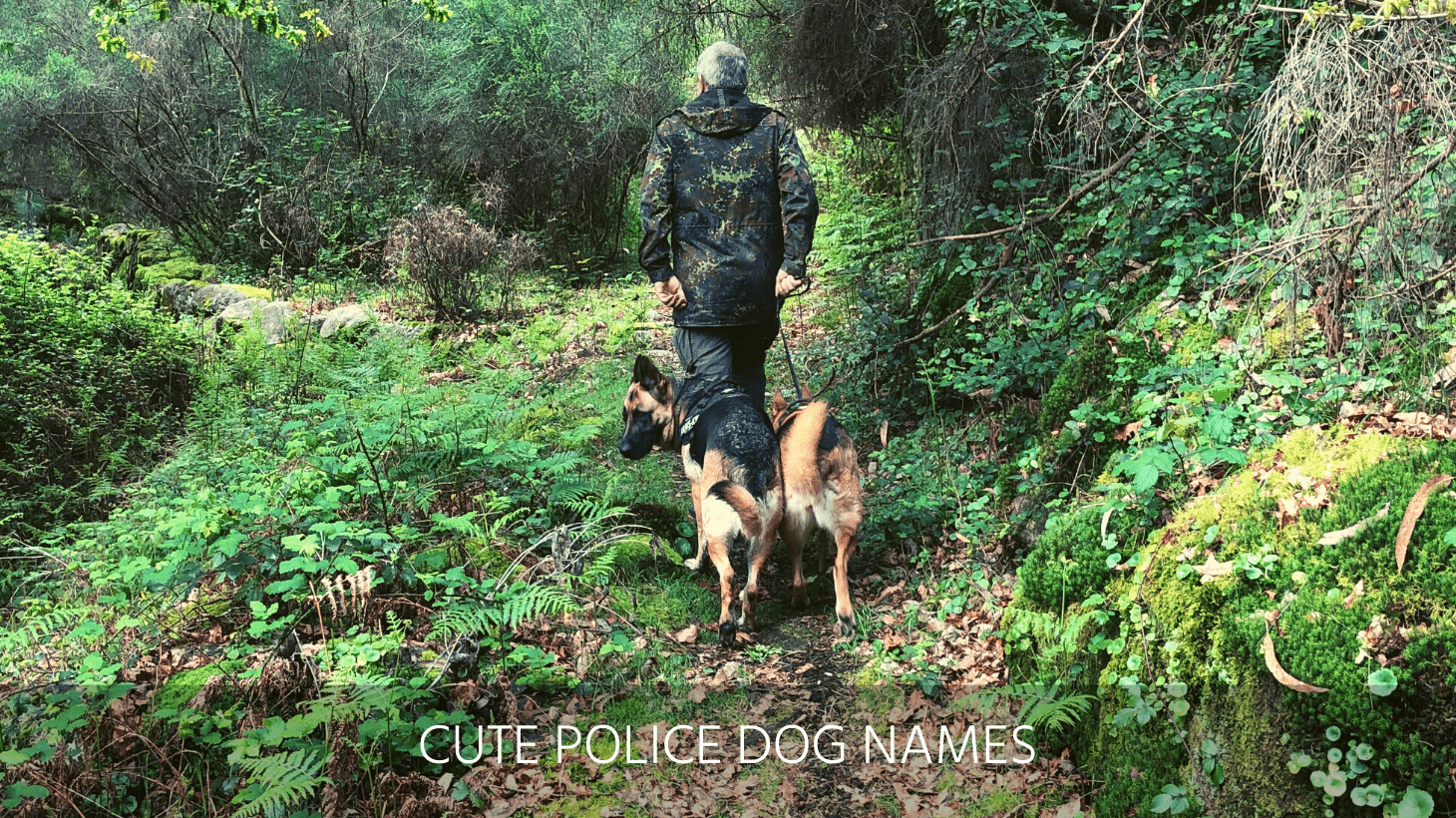 Cute Police Dog Names
Not all police dog names have to be rough and tough, here are some cuter options you might be fond of: 
A.J.
Alfie
Ali
Ames
Amos
Angel
Angus
Ansel
Applejack
Archie
Argo
Arlo
Artie
Avery
Babe
Bacon
Bailey
Balto
Banjo
Barkley
Barney
Bear
Benjamin
Benji
Bingo
Biscuit
Blue 
Bobby 
Boo
Boots
Bosco
Bowie
Brain
Brewster
Brian Griffin
Brodie
Brownie
Bubbles
Bucky
Buddy
Bugsy
Bullseye
Buttons
Cappuccino
Carmel
Casper
Charlie
Chewie
Coby
Coco
Cookie
Copernicus
Copper
Corky
Cupid
Digby
Dino
Doonesbury
Duffy
Earnest
Eddie
Edison
Elf
Elmo
Ernie
Ewok
Fergus
Finn
Fonzie
Fuzzy
Gabe
Gizmo
Gulliver
Hansel
Hershey
Hobbit
Izzy
Jacques
Jasper
Java
Jawa
Jerry Lee
Jordi
Jude
Kenji
Kennedy
Kipling
Kirby
Lad
Louie
Lucky
Madden
Maple
Marley 
Marshmallow
Meeko
Miles
Milo
Mitch
Monet
Monty
Moon
Mowgli
Nemo
Newton
Nikita
Nugget
Odie
Old Yeller
Opie
Oreo
Oscar
Otis
Patches
Peanut
Peanut Butter
Pebbles
Pee Wee
Pepper
Percy
Picasso
Pluto
Poochie
Porkchop
Pugsley
Quinsy
Rascal
Reggie
Reuben
Ridley
Rigby
Ripley
Roosevelt
Rylee
Scottie 
Scout
Scrappy
Sebastian
Seuss
Sheldon
Simba
Sinclair
Skip
Slink
Snowball
Spencer
Spot
Spud
Squirt
Stewie
Stinky
Teddy
Toto
Waffles
Wagner
Waldo
Wallace
Wally
Walter 
Widget
Willie
Winn-Dixie
Wishbone
Wrigley
Wyatt
Yogi
Yoshi
Ziggy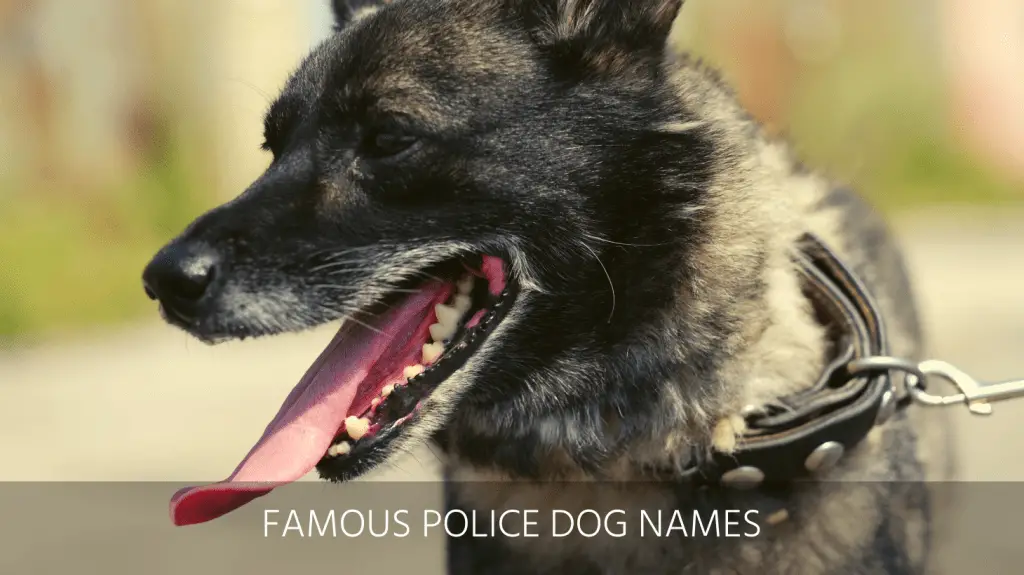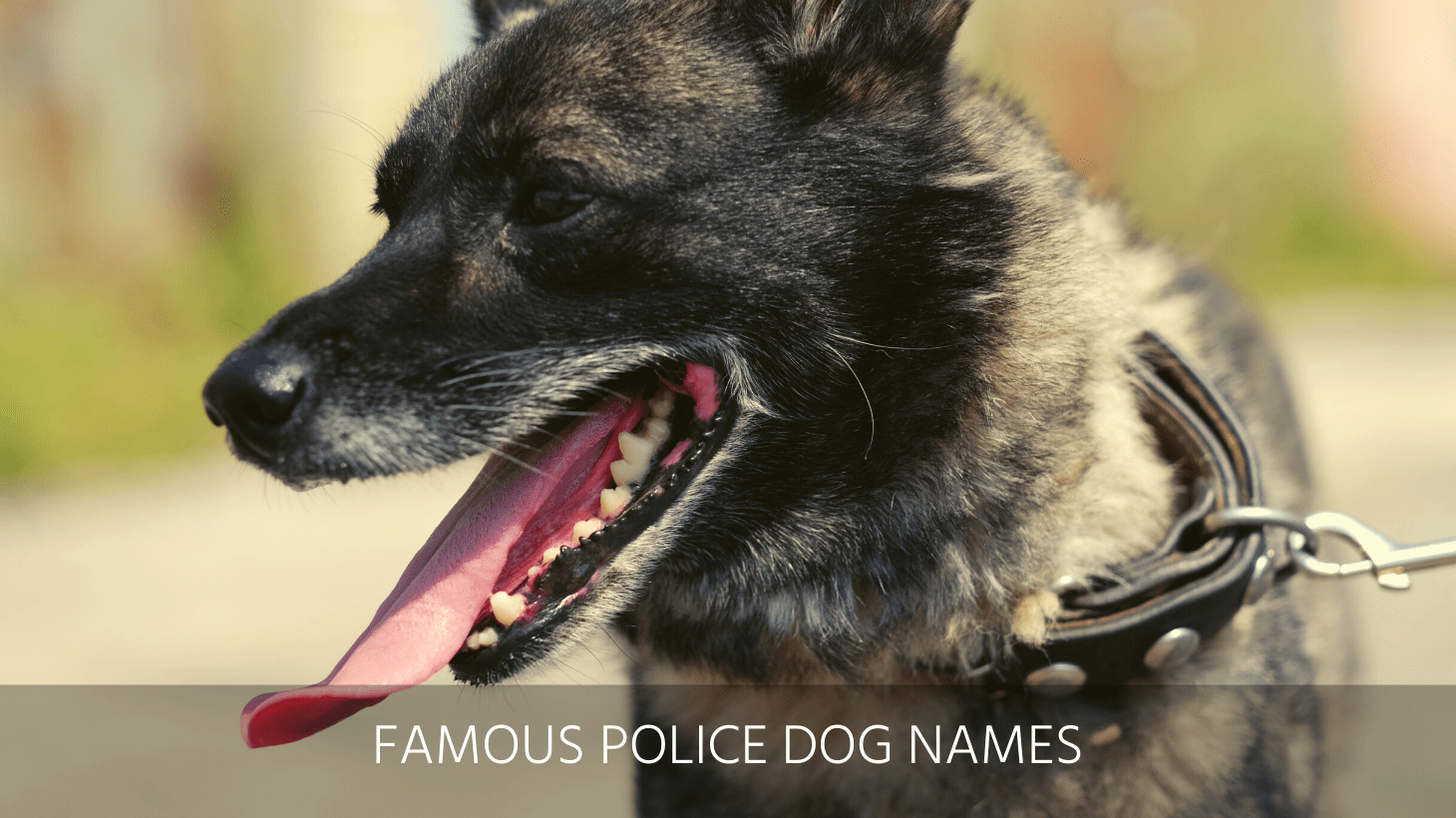 Famous Police Dog Names
Here are some of the more famous police dogs. Consider taking a cue for these dog names and giving your dog a similar moniker.
Apollo: a police dog who worked on Ground Zero in 2011. He was one of the first dogs on the site after the attacks and was awarded the Dickin Medal. 
Cloud II: one of the most famous dogs in Canadian history, who apprehended 123 fugitives and located countless lost children and hunters. 
Koton: a drug-sniffing police dog who played in movies on top of being a real-life police dog. 
Mattie: Mattie was the first accelerant detection dog in the U.S. when she started working in 1986. She could find tiny drops of gasoline after an arson. 
Rin Tin Tin: a newborn puppy that was rescued by Corporal Lee Duncan in Flirey.  France. Rin Tin Tin was brought back to the United States, where he was trained for police work. 
Strongheart: this canine worked as a police dog and played in moves. He was born in Poland and spend much time working for the German Red Cross. When he was later brought to the United States, he became a film star and began playing in movies. 
Time to Choose a Name!
Hopefully, there were plenty of names on this list to strike some inspiration and help you name your new pooch. There aren't terribly many rules you should follow when naming your K9. Perhaps most importantly, you should like your dog's name. After all, you are the one that is going to have to use it. 

If you plan on training your pooch lots of training, you should consider giving them a shorter name or at least providing them with a nickname. Shorter names are easier for dogs to remember, which is essential for training purposes. This is especially true for dogs working in dangerous situations, where saying a command quickly can be vital.

You should also ensure that the name doesn't sound like any commands you're planning on them learning. The last thing you need is for them to get their name and a command confused. 

Lastly, you should ensure that the name is easily pronounceable by anyone who is going to be using it. Obviously, this means you. But, if you also have children in your household or your dog is going to be involved in public service, be sure others can pronounce it as well.