Are you looking for a guard dog that's also a loyal companion?  If that's the case then look no further than a Doberman Pinscher.  These dogs were bred to be protectors so their appearance can be intimidating.  But to those that know and love them, the Doberman is an intelligent, faithful companion.

The Doberman was bred by a German tax collector back in the 19th century for protection purposes.  As time went on, they began to excel as working dogs and make great police, military, or service dogs.  

While ideal working dogs, Dobermans have also gained popularity as a family dog that can guard the house.  These intelligent dogs won't be happy snoozing by your lap and need plenty of exercise in order to keep them content. (https://www.akc.org/dog-breeds/doberman-pinscher/)

Now that we have a backstory on the breed, let's take a look at some names that would be perfect for your loyal Doberman companion.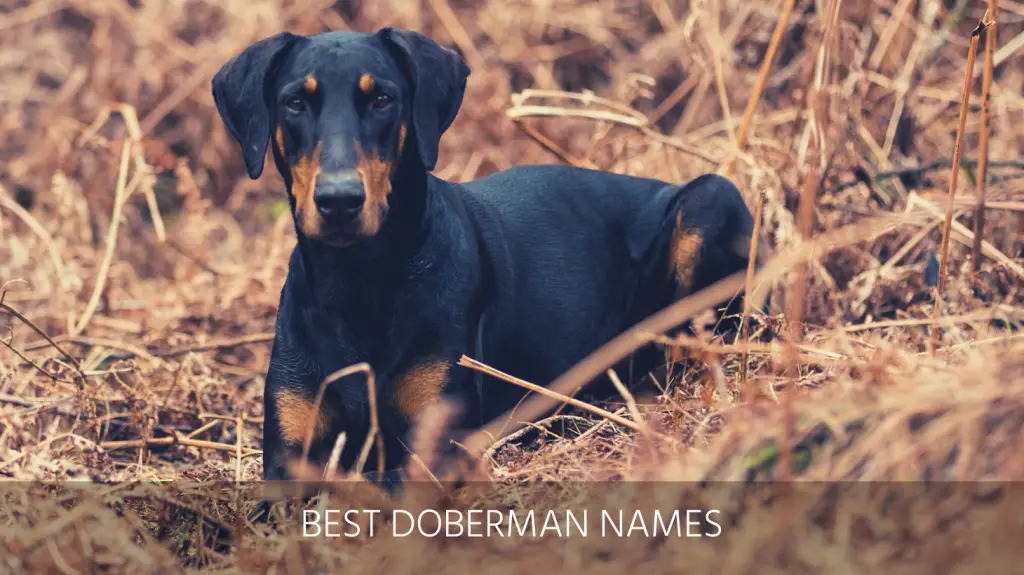 Best Doberman Names
Since Dobermans are considered tough dogs, picking a name that's strong maybe your best bet.  Another tip is to use a one or two-syllable name since this is easier to say when training the dog.  Below are some of the best Doberman names around, broken down by gender.
Best Female Doberman Names
Bella
Bonnie
Candy
Cleo
Cricket
Gracie
Josie
Lacey
Lexi
Libby
Lucy
Lulu
Minnie
Missy
Molly
Nelly
Penny
Piper
Remy
Riley
Ruby
Sadie
Sandy
Shelby
Violet
Zoey
Best Male Doberman Names
Bodie
Bruno
Caesar
Charlie
Chase
Dallas
Dante
Drake
Duke
Eddie
Ernie
Gus
Hank
Harvey
Hugo
Jack
Kobe
Max
Monty
Ozzy
Remy
Rufus
Simon
Toby
Tyler
Wilson
Learn More: Top 800+ Rottweiler Dog Names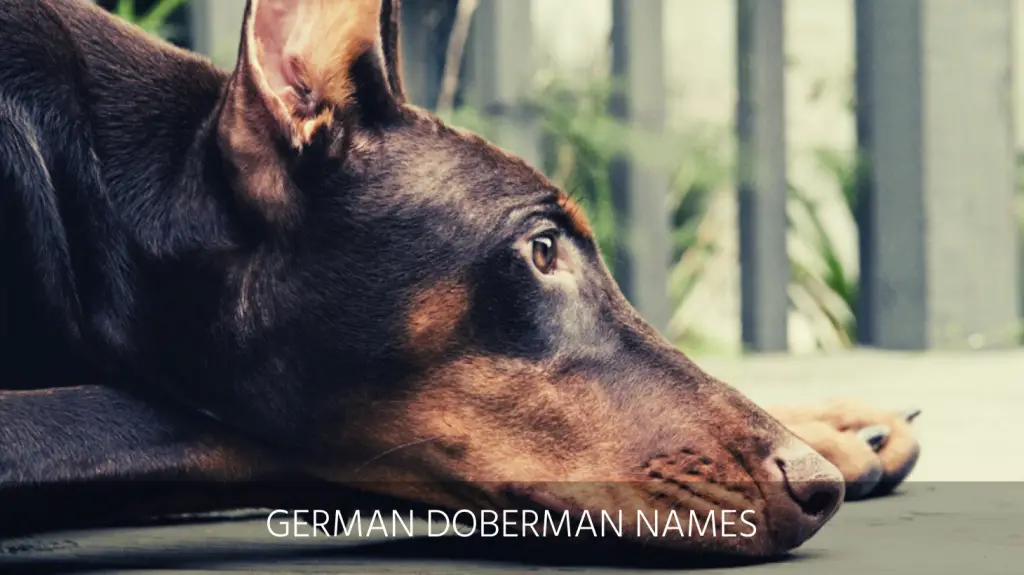 German Doberman Names
Since this breed originated in Germany it's only fair to provide your new pup with a name from that country.  Below are some great German names for your pooch!
German Female Doberman Names
Addie (from nobility)
Annette (the Lord has favored me)
Annika (graceful)
Arnelle (as strong as an eagle)
Beatrix (she who brings happiness – a perfect name for your new best friend!)
Bernadette (bold as a bear)
Britta (strength or exalted one)
Brunhilde (armed for battle)
Erika (eternally powerful)
Erma (German word for warrior – perfect for a Doberman with a strong personality.)
Frederika (peaceful ruler – would be a great name if you have a dog with a calm personality.)
Frieda (peaceful ruler)
Greta (pearl)
Gretel (the name from the children's fairytale Hansel and Gretel)
Hedwig (refuge in battle)
Heidi (of noble birth)
Helga (holly)
Hilda (battle woman)
Ines (pure)
Irmalinda (whole, soft, tender, entirely gentle – great name for your family dog.)
Joli (lovely – your beautiful Doberman deserves such a remarkable name.)
Keyla (beautiful as the night – perfect name for your stunning Doberman.)
Klara (clear and bright)
Leona (lioness)
Liesel (pledged to God)
Lorelei (enthralling and alluring)
Luann (graceful warrior)
Marlene (based on German-born actress Marlene Dietrich)
Marta (lady)
Matilda (mighty in battle)
Mischa (who is like God)
Olinda (protector of property – perfect name for a watchdog!)
Petra (solid as a rock)
Philomena (friend of strength)
Richelle (brave one)
Rolanda (famous in all the land – or maybe just famous in your family!)
Rosamund (famous guardian – great name for a guard dog!)
Sascha (defender of mankind)
Thea (goddess)
Ursula (little female bear – if your girl is a cuddler this could be the name for her!)
Zelda (gray fighting maid)
Zelinda (shield of victory)
German Male Doberman Names
Adler (eagle)
Alaric (noble ruler)
Alger (clever warrior)
Audi (the German car manufacturer)
Barrett (strong as a bear)
Bergen (the mountain or hill dweller)
Blaz (an unwavering protector)
Clovis (famous warrior)
Dieter (ruler of the people – maybe not all the people, just your family!)
Duxi (warrior of the people)
Einstein (based on the brilliant physicist from Germany – would be a great name for a Doberman since their known for their intelligence.)
Franz (free man)
Fremont (guardian of freedom)
Fritz (peaceful ruler)
Griswold (gray forest)
Gunther (battle warrior)
Hamlin (one who loves his home)
Hans (God is gracious)
Harbin (the little shining fighter)
Heinrich (the home of a king)
Jarvis (skilled with a spear)
Kaiser (emperor – is your dog the king of the castle?  This name would be a perfect fit)
Kasper (treasurer)
Klaus (people of victory)
Leopold (a bold leader)
Luther (a famous warrior)
Mozart (the famous composer that was of German descent)
Otis (good hearing – the perfect name for your alert watchdog!)
Otto (prosperous)
Panzer (WWII German tank)
Rhine (a river flowing through Germany)
Rico (strong and powerful – sound like your tough Doberman?)
Roland (famous throughout the land)
Schnapps (the German alcoholic beverage)
Schwarz (the German word for black – perfect for your black and tan Dobie.)
Sigmund (victorious protection – looking for a guard dog?  How about this name?)
Wolfgang (traveling wolf)
Zaki (pure or virtuous)
Ziggy (victorious protector)
Badass Doberman Names
As we've already established, the Doberman Pinscher is one fierce and badass dog.  From their looks to their intelligence, and ability to guard and protect, these dogs have it all.  They just need a name that will fit their rough and tumble personality. Check out the list below and you'll find the perfect one!
Angus
Athena
Atticus
Axel
Balboa
Bandit
Blaze
Brutus
Bubba
Buffy
Cobra
Cruella
Cujo
Dane
Diablo
Diesel
Draco
Fang
Fury
General
Gunnar
Hannibal
Hawk
Hercules
Ivan
Ivy
Knox
Loki
Luther
Lynx
Maverick
Mustafa
Neo
Olga
Onyx
Phoenix
Queeny
Ragnar
Ranger
Raven
Rocky
Scar
Sheba
Shera
Storm
Thor
Titan
Trigger
Tucker
Vader
Vega
Venom
Vixen
Xena
Famous Doberman Names
If you still haven't found a good name yet then maybe one from the movies or TV might work.  There have been lots of Dobermans featured on the big screen due to their trainability. With that in mind, take a look at these Doberman Pinscher names and see if any of them suit your pooch.

Adolph – From Ruthless People starring Danny Devito and Bette Midler.
Alpha – featured in the movie UP.
Baby Face Nelson
Blackie – From the 2011 flick Hugo
Cerberus – The zombie dog from the Resident Evil movie.
Dillinger, Bonnie, Clyde, Ma Barker, Pretty Boy Floyd – The following were from the 1972 movie The Doberman Gang.  All 6 of the dogs were named after famous bank robbers.
Munch – The name of a bounty hunters partner from the 1990 film Street Hunter.
Rodney – The name of the Doberman featured in the 1946 movie It Shouldn't Happen to a Dog.
Tripoli – The dog's name from the movie Eyes of an Angel.
Zeus and Apollo – This dynamic duo was featured on the TV series Magnum PI.
Learn More: Top 400+ Red Dog Names
Good Doberman Names
The most common colorings of the Doberman are black and tan.  However, there are other lesser-known colors that dobies can have such as red, blue, fawn and white.  

If you're still unsure of what to name your little protector, maybe a name based off his coloring will do.  You'll find some great choices listed below!
Good Black and Tan Doberman Names
Bear
Coco
Ebony
Ember
Hershey
Jet
Licorice
Merlin
Midnight
Panther
Brownie
Twilight
Viper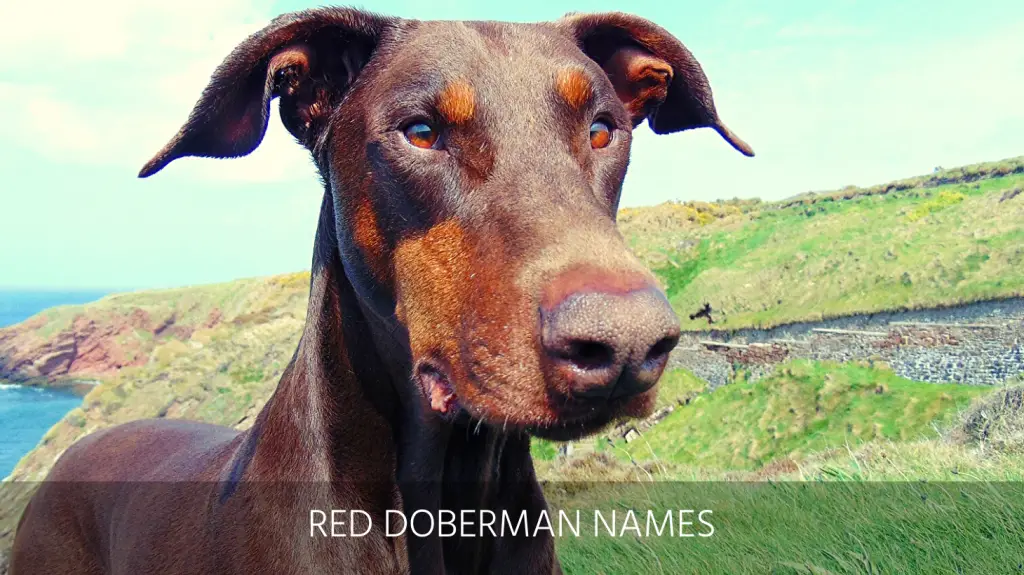 Good Red Doberman Names
Red Dobermans aren't exactly red but have a reddish undertone to their fur.  They have different colorings ranging anywhere from a copper to a chocolate brown. (http://images.akc.org/pdf/breeds/standards/DobermanPinscher.pdf)

Amber
Apple
Autumn
Brandy
Brick
Cinnamon
Copper
Coral
Curry
Garnet
Heinz
Paprika
Red
Rusty
Scarlett
Sienna
Good Blue Doberman Names
The blue Doberman often looks slightly gray or may even have a bit of a purplish hue.  

Ashes
Blade
Blue
Bullet
Carbon
Cobalt
Denim
Dusty
Flint
Nickels
Violet
Learn More: Top 115+ Game of Throne Dog Names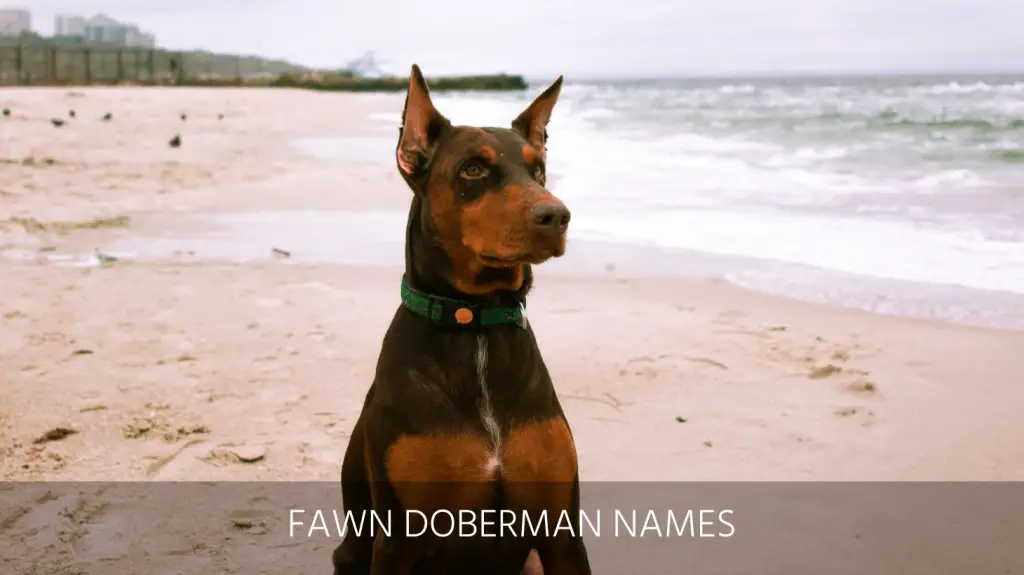 Good Fawn Doberman Names
Fawn is a diluted color of the red Doberman and is one of the rarest colors of the Doberman species. (https://www.gentledoberman.com/doberman-pinscher-information/kinds-colors/blue-fawn-isabel)

Auburn
Fawn
Nutmeg
Pebbles
Suede
Sunny
Tawny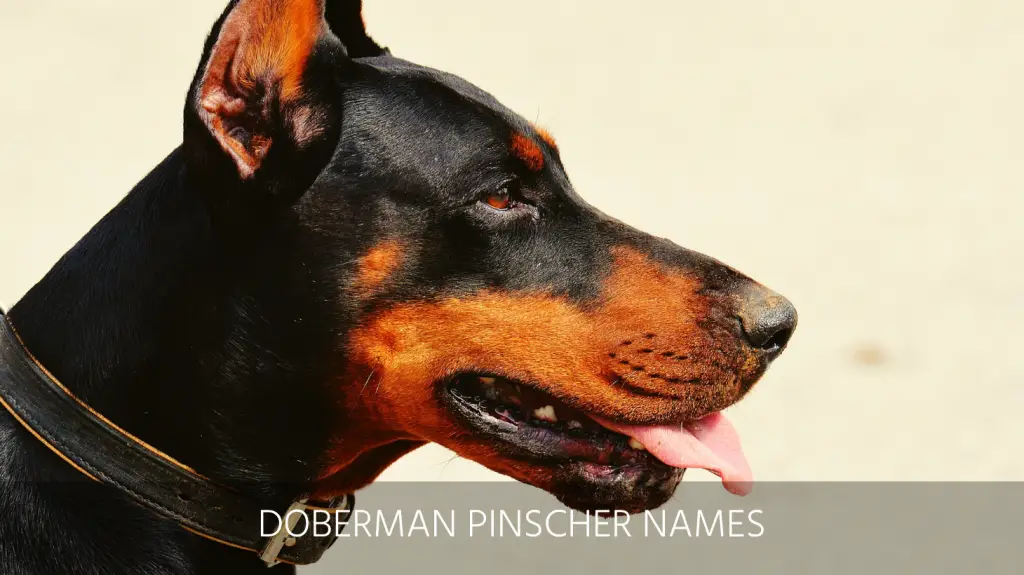 Doberman Pinscher Names
As stated before, the Doberman is a great guard dog and protector but sometimes you just want a cute name for your new puppy.  With that in mind, we've compiled a list of some cute puppy names that may be a bit ironic for your watchdog.

Agatha
Ajax
Alfie
Amazon
Angel
Archie
Aspen
Banjo
Bentley
Betsy
Biggie
Bluto
Bosco
Buddy
Buster
Chester
Chloe
Cosmo
Dixie
Dolly
Elektra
Gatsby
Gidget
Gigi
Guinness
Hagrid
Heathcliff
Homer
Jasmine
Jax
Jinx
Lady
Lennon
Lola
Marvin
Mayhem
Mickey
Nico
Norman
Paco
Pierre
Precious
Rocco
Romeo
Roxy
Sid
Skippy
Sumo
Sweetie
Tao
T-bone
Tess
Tito
Trevor
Uzi
Watson
Whiskey
Yoda
Zeke
Learn More: Top 225+ Australian Dog Names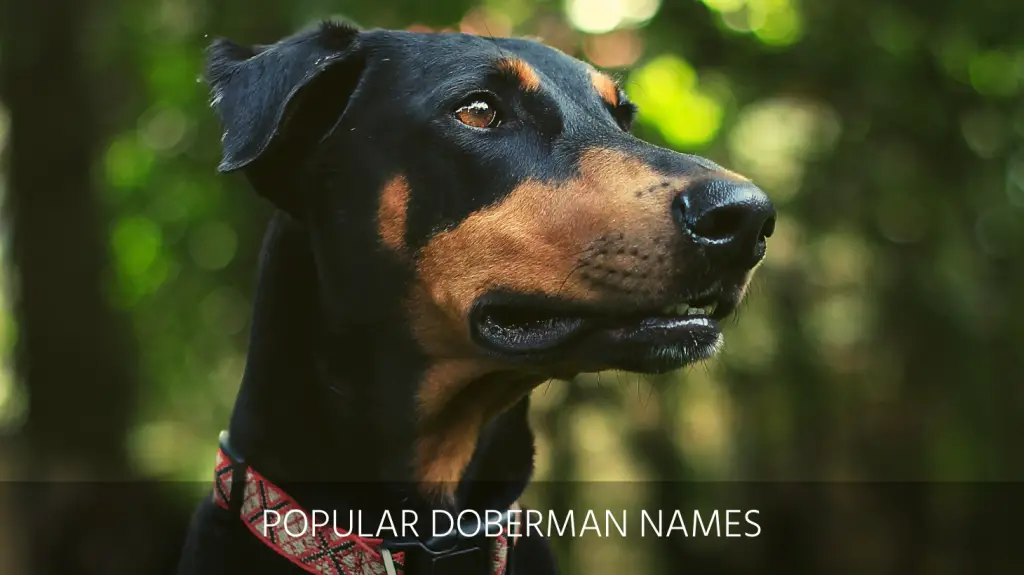 Popular Doberman Names
Here are some of the top name picks for Dobermans.  One of them might be just right for your new pooch!

Bailey
Daisy
Dexter
Finn
Foster
Harley
Izzy
Kona
Luna
Maggie
Milo
Murphy
Nala
Odin
Rosie
Sasha
Stella
Winston
Time to Pick
Now that your new puppy is home it's time to pick his name!  Hopefully, this list has helped narrow down your choices and provided you with several different options.  Happy naming!