Scotland has a culture all its own – as well as plenty of unique dog name ideas. Known for golf, kilts, whiskey, and the Loch Ness Monster, there are many things from Scottish culture that you can use as inspiration when naming your pooch. 
Of course, with so many Scottish dog name possibilities, it can be difficult to sort through them all. We did some of the legwork for you and chose some of our favorite celtic dog names in this article. 
Popular Dog Names in Scotland
We don't have exact statistics on which dog names are being used in Scotland. However, we do know the most popular names in the UK, which Scotland is apart of. Many popular names aren't much different from those used in the United States:
Bailey
Bella
Buddy
Luna
Teddy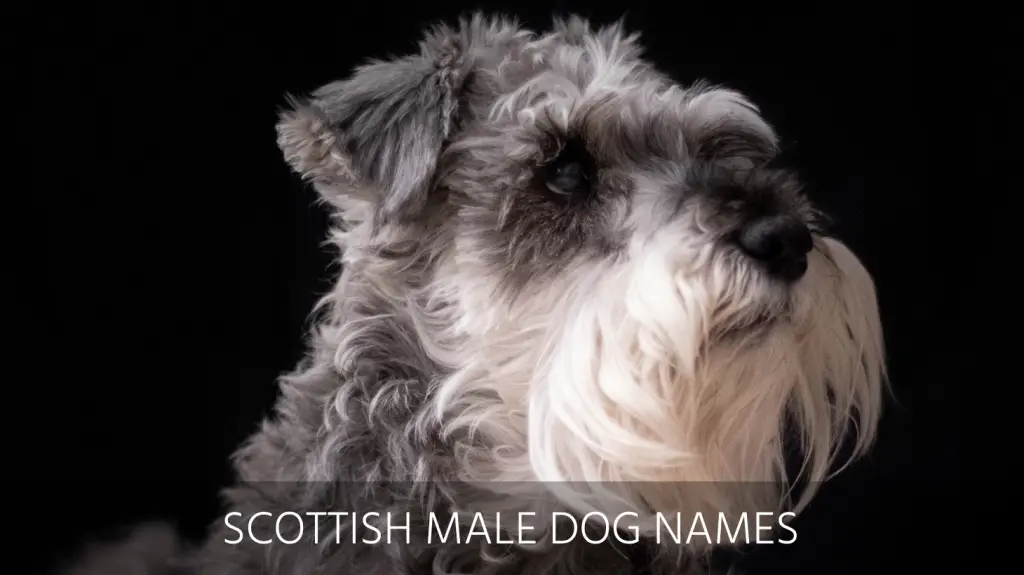 Scottish Male Dog Names
There are hundreds (literally) of Scottish dog names you could name your canine. We gathered some of our favorite names for you to choose from. Whether you want something a little more traditional or unique and modern celtic dog name, there is the perfect name for you on this list. 
Adair: "the ford of oaks"
Ailbeart: "bright nobility"
Aindrea: "warrior"
Ainslie: "hermitage meadow"
Akira: "intelligent"
Alaisdair: "defender of mankind"
Alastair: "defending men"
Alec: short form of "Alastair"
Amhlaibh: "heir of the ancestors"
Angus: "one choice"
Aodhagan: "tiny little fire"
Aogh: "fire"
Archie: "bold"
Artair: "bear-man"
Athol: "ford of the rock"
Augusulus: "venerable"
Baird: "poet"
Balfour: "farm house"
Barclay: "birch tree meadow"
Beathan: "life"
Ben: "son"
Benneit: "blessed:
Bhaltair: "ruler of the army"
Blann: "little yellow one"
Boyd: "yellow-haired"
Brodie: "muddy place"
Bruce: "woods"
Bryce: "pied"
Cailean: "whelp"
Callum: "dove"
Cam: "crooked nose"
Cameron: "crooked nose"
Campbell: "crooked mouth"
Caoidhean: "fifth"
Chrisdean: "christ-bearer"
Cinaed: "born of fire"
Cliamain: "gentle"
Clyde: from the Scottish Clyde River
Coiseam: "steadfast"
Colin: "dove"
Columb: "hound of valor"
Cormog: "son of defilement"
Craig: "rock"
Cuddy: "bright fame"
Cuithbrig: "bright fame"
Dabhaidh: "beloved"
Dallas: "meadow stance"
Dave: "beloved"
Deorsa: "earth-worker"
Dermid: "without envy"
Diarmad: "with no envy"
Dolaidh: "world ruler"
Domhnall: "world ruler"
Donaidh: short for Domhnall
Donald: "world rule"
Doug: "black water"
Dougal: "black stranger"
Drummond: "ridge"
Dubhghlas: "black stream"
Duff: "black"
Dugald: "black stranger"
Duibhshith: "black peace"
Duke: "duke"
Duncan: "brown chief"
Eachann: "brown horse"
Eallair: "superior of a church cell"
Eanraig: "home-ruler"
Eideard: "guardian of prosperity"
Elgin: "noble white"
Eoghan: "born of yew"
Eric: "eternal ruler"
Errol: "to wander"
Erskine: "from the top of the cliff"
Erskine: "upon the knife"
Eudard: "guardian of prosperity"
Eumann: "protector of prosperity"
Fergus: "man of strength"
Filib: "lover of horses"
Fletcher: "maker of arrows"
Foirtchern: "high lord"
Forbes: "district"
Frang: "French"
Fraser: "strawberry"
Fyfe: name used to refer to the Picts, a group of people who settled in Scotland
Gavin: white hawk of battle"
Gilchrist: "servant of Christ"
Glen: "valley
Gordon: "spacious fort"
Graeme: "gravel home"
Grant: "large" and "great"
Greer: "watchful". A perfect name for a watchdog.
Greg: "vigilant"
Hamilton: "flat-topped hill"
Hamish: "supplanter"
Heckie: "defend"
Hector: "holding fast"
Henderson: "son of Hendry"
Hendry: "home-ruler"
Hew: "heart", "mind", and "spirit"
Houston: "Hugh's town"
Iagan: "tiny little fire"
Imhear: "bow warrior"
Innis: "island"
Iomhair: "bow warrior"
Irvin: "green water"
Irvine: "freshwater"
Islay: "island"
Jamison: "son of Jamie"
Jett:  "black"
Keith: "forest"
Kenneth: "born of fire"
Kester: "to grow" or "to thrive"
Lachie: "land lake"
Laird: "landowner"
Lamont: "lawman"
Leith: "flower waters"
Lennox: "place of Elms"
Lewis: "fame" and "war"
Lochlann: "lake" and "land"
Logan: "hollow"
Lyle: "from the island"
Magnus: "great"
Maitland: "bad-tempered"
Martainn: "like Mars"
Melville: "bad settlement"
Monroe: "From the mount of the River Roe"
Moray: "sea warrior"
Muicheachtach: "skilled seaman"
Muir: "sea"
Muireach: "sea warrior"
Munga: "dearest friend"
Murchadh: "sea warrior"
Neacal: "victor of the people"
Nemo: "no one"
Nicol: "people's victor"
Oangus: "excellent valor"
Olghar: "elf army"
Osgar: "deer-lover"
Padraig: "patrician"
Pal: "small"
Quinn: "descendant of Cuinn"
Rab: "bright fame"
Rabbie: "bright fame"
Ramsey: "wild garlic island"
Ranulf: "shield wolf"
Robbie: "bright fame"
Roddy: "renowned island"
Ronald: "wise ruler"
Ronnie: pet form of Ronald
Rory: "red king"
Ross: "headland"
Ruairi: "red king"
Ruiseart: "powerful ruler"
Sachairi: "when Jehovah remembered"
Sawney: "defender of mankind"
Scott: "painted warrior"
Seoras: "farmer"
Seumas: "supplanter"
Sheumais: "supplanter"
Shug: "heart", "mind", and "spirit"
Sim: "hearkening"
Sinclair: "saint Clair"
Sioltach: "fruitful"
Skye: "cloud"
Somerled: "summer traveler"
Steafan: "crown"
Steenie: "crown"
Stu: "house guard"
Stuart: "house guard"
Suidhne: "well-going"
Summerlad: "summer traveler"
Tadhg: "poet"
Tam: "twin"
Tasgall: "divine kettle"
Tearlach: "instigator"
Thorburn: "Thor's bear"
Tocil: "Thor's Cauldron"
Tomachan: "twin"
Uailean: "healthy" and "strong"
Uilleam: "will-helmet"
Uisdean: "island stone"
Vailean: "strong" and "healthy"
Wallace: "foreigner"
Wiley: "will-helmet"
Learn More: Top 600+ Brown Dog Names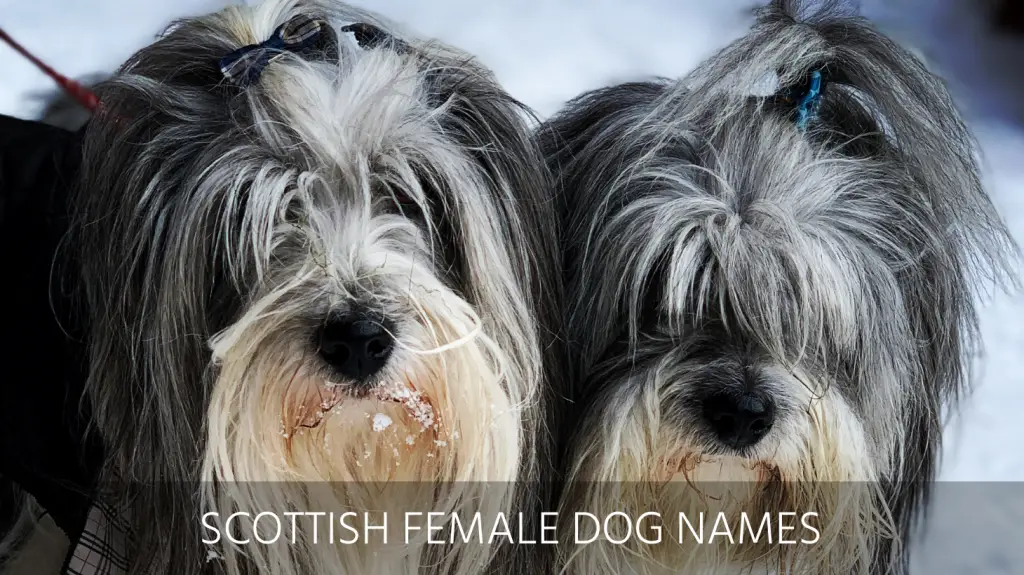 Scottish Female Dog Names
Scottish female names range from graceful to fierce. If you're looking for a name for your new furry friend, you're sure to find something fitting in this list. 
Adamina: "earth" and "red"
Adaminna: "earth" and "red"
Aileas: "noble"
Aileen: "little Eve"
Ailith: "ascending"
Ainsley: "hermitage meadow"
Aithbhreac: "new speckled one"
Alickina: "defender of mankind"
Alison: "noble sort"
Ally: "noble sort"
Alyth: "rising"
Annabelle: "lovable"
Annag: "favor"
Annis: "'holy"
Anstace: "resurrection"
Arabel: "lovable"
Athol: "rock", "stone", and "rock-ford"
Barabal: "foreign"
Bearnas: "bringer of victory"
Beathag: "life"
Beileag: "God is my oath"
Beitris: "voyager"
Blair: "field" or "plain"
Brenda: "sword"
Cait: "pure"
Chirsty: "believer"
Ciorsdan: "believer"
Deoirigh: "pilgrim"
Dina: "sea warrior"
Dioleag: "world ruler"
Diorbhail: "true testimony"
Dolag: "world ruler"
Ealasaid: "God is my oath"
Eamhair: "ready" and "swift"
Edme: "esteemed" and "loved"
Eilidh: "beauty"
Eiric: "new speckled one"
Eubh: "life"
Fenella: "white shoulder"
Frangag: "French"
Gavina: "white hawk"
Glenna: "valley"
Grizel: "grey battle maid"
Ilka: "of the same class"
Ina: short form for longer names ending in "-ina", like Christina
Iona: "island"
Ishbel: "God is my oath"
Isla: "island"
Jamesena: "supplanter"
Jean: "God is gracious"
Jinny: "white"
Kenzie: "comley"
Kyla: "slender"
Kyle: "narrow"
Lachina: "lake" and "land"
Leslie: "a garden of hollies"
Lileas: "lily"
Lorraine: "land of the people of Lothar," as in the French province Lorraine.
Lyall: "shield wolf"
Mackenzie: "finely made"
Maighdlin: "magnificent"
Mairead: "pearl"
Mairi: "their rebellion"
Malvina: "smooth brow"
Marsaili: "of the sea"
McKenna: "born of fire"
Mor: "great"
Morag: "great"
Muireall: "sea-bright"
Murdag: "sea warrior"
Murdann: "sea warrior"
Mysie: "pearl"
Nandag: "favor"
Neilina: "champion"
Nonie: "island"
Normanna: "Northman"
Oighrig: "new speckled one"
Paaie: "pearl"
Paisley: "church"
Peigi: "pearl"
Raghnaid: "battle counsel"
Rhona: "wise ruler"
Rodina: "island"
Rona: "wise ruler"
Sauundra: "defender of mankind"
Senga: "slender"
Seonag: "God is gracious"
Sile: "blind"
Sine: "God is gracious"
Slaine: "health"
Sorcha: "radiant"
Una: "hunger"
Learn More: Top 900+ Australian Shepherd Dog Names
Scottish Terrier Names
Scottish terriers are perhaps one of the most popular Scottish breeds. Any Scottish name would be fitting for one of these adorable canines. However, for other names that might be fitting for these terriers, check out this list:
Apollo
Archie
Bandit
Beau
Bobby
Bruno
Buster
Caesar
Cain
Casey
Chaos
Cody
Dylan
Ezra
Felix
Gaius
Gideon
Gizmo
Gus
Jack
Jagger
Jake
Jesse
Jinx
Jock
Josh
Lucky
Max
Maximus
Mickey
Murphy
Oscar
Pax
Pepper
Pluto
Prince
Ragnor
Riley
Rocky
Rogue
Rufus
Rusty
Sabre
Sam
Samson
Scout
Shadow
Simba
Smoky
Sparky
Teddy
Toby
Tucker
Vulcan
Winston
Wolf
Zeus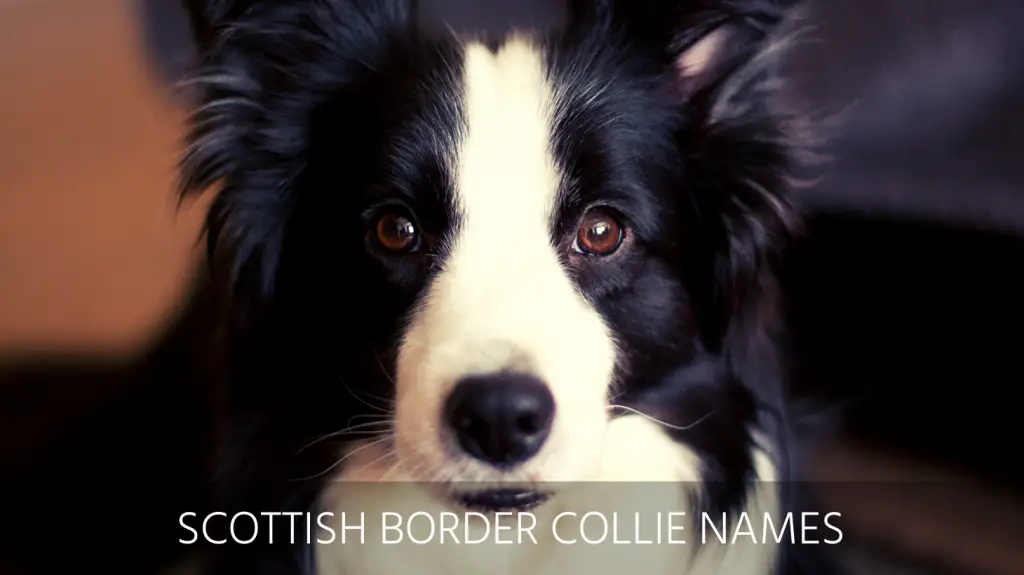 Scottish Border Collie Names
Border Collies are from Northumberland, which is a very thin piece of land that separates England from Scotland, hence the name "Border" Collie. While these canines aren't technically Scottish, they did come from an area where Scottish was commonly spoken. Many of the Scottish dog names we've already listed would fit very well for any of these dogs. However, here are some other names that might work well too:
Abby
Angel
Annie
Baby
Bobbi
Brandy
Candy
Cassie
Charlie
Chloe
Cinders
Cleo
Coco
Daisy
Dixie
Duchess
Emma
Empress
Flora
Ginger
Gracie
Holly
Honey
Jasmine
Juno
Katie
Kishi
Lady
Leah
Lily
Lola
Lucy
Maddy
Maggie
Mara
Missy
Misty
Molly
Penny
Persis
Phoebe
Precious
Princess
Reba
Rosie
Roxy
Ruby
Sadie
Sammy
Sandy
Sasha
Sassy
Sheba
Siouxsie
Sophie
Sugar
Tasha
Venus
Vicki
Zara
Zoe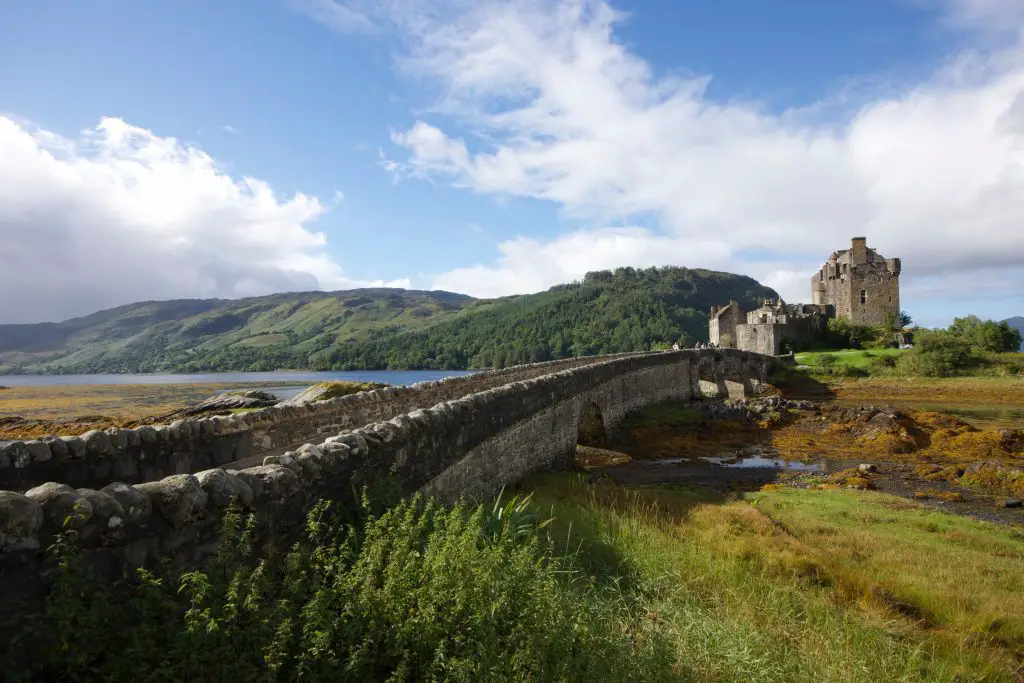 Which Scottish Name Did You Choose?
We've listed tons of Scottish dog names on this list, providing a name for every dog. However, this multitude of names does come with a downside – you have to sort through them and pick just one! Give yourself plenty of time to sort through these names. Save this page to your bookmarks so you can come back to it as you get to know your dog. 

The only real rule you should follow when choosing a name is to select one that you like. You should also try to select a name that is unique from any other name in your house, as well as commands you plan on teaching your canine. Otherwise, your dog can get mightly confused. 

If you have other people in your house, you should enlist their help in choosing a name as well. After all, everyone is going to have to use the new name, so everyone should at least be able to stand it. 

You should avoid longer names as well, or at least those that take longer to say. In a recall situation, you want your dog to come back to you quickly. They won't do that if it takes you forever to say their name.