According to a pet obesity study, over half of all dogs in America are overweight. Just like with humans, dogs being overweight is connected to an array of health problems and can take years off of your pooch's lifespan.
If you canine needs to lose a few pounds, diet can play a huge role. There are various dog food formulas out there designed specifically to help canines lose weight. Of course, not all of these foods are made equal.
Choosing the perfect weight loss food for your dog can be difficult. In this article, we'll look at what makes a good weight loss food and leave you with some of our top picks.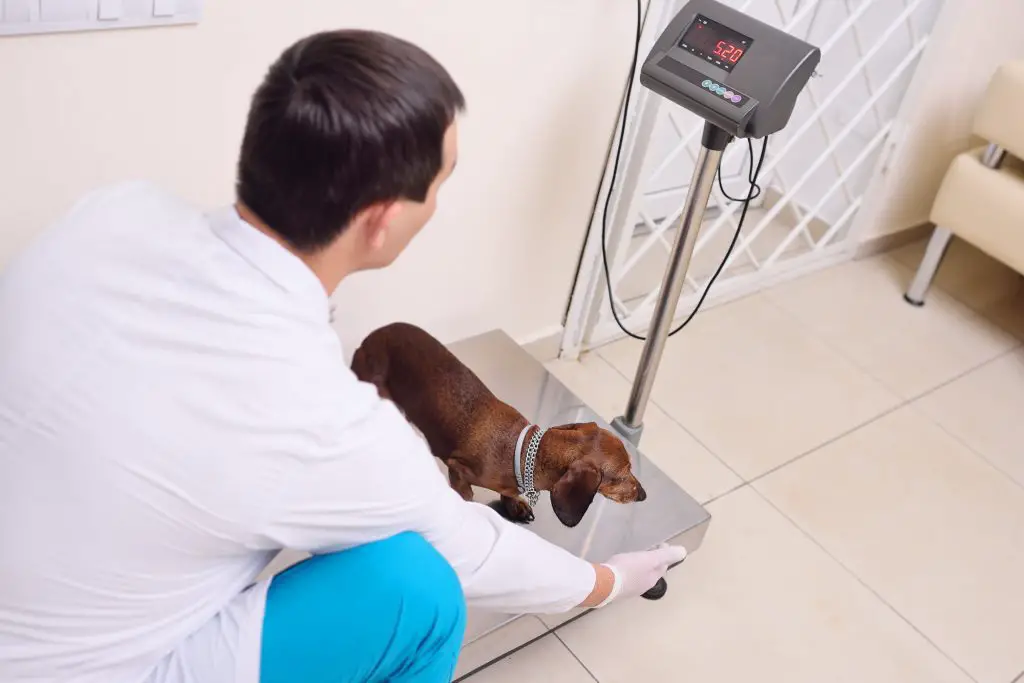 Reviews of the Best Weight Loss Dog Food
Our Pick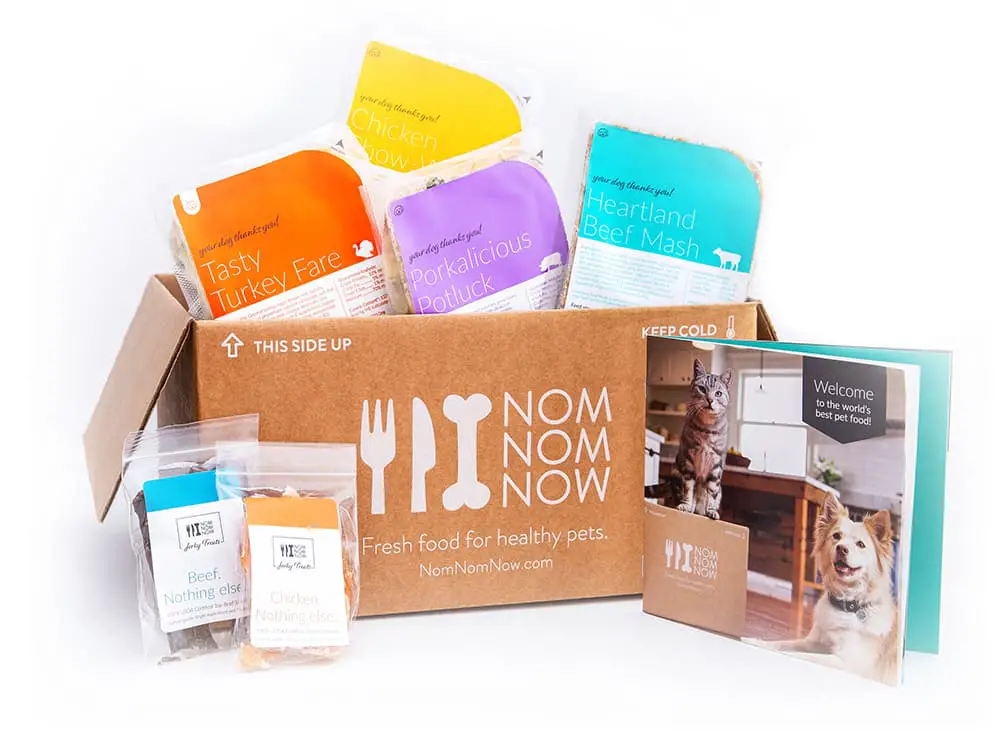 Fresh, human-grade ingredients
Near-perfect macronutrients
Convenient delivery
Doggypedia rating: 5/5
Calorie Content: 1239 kcal/kg
First 5 Ingredients: Ground beef, russet potatoes, eggs, carrots, peas.
Macronutrients (Dry-Matter Basis)
37.04% Protein
18.52% Fat
14.81% Carbohydrates
Best Fresh Grain-Free Weight Management Dog Food
Nom Nom Now provides a variety of fresh dog food formulas. Beef mash is their lowest-calorie option, though there are a few others that don't contain very much more.
Ground beef is the very first ingredient and is one of the only protein sources. Potatoes are the second ingredient. These are a starchier vegetable and wouldn't be our first pick for an overweight dog. However, they are the only starchy ingredient in this formula.
The third ingredient is eggs, which is an excellent option for overweight dogs. Eggs are full of great nutrients, while also being quite low-calorie. The ingredient list rounds off with two more vegetables and a slew of nutritional supplements, including a vitamin E supplement and riboflavin.
The macronutrient content on this dog food is excellent. Protein levels are very high, which is helpful for dogs who need to feel full for longer. Carbohydrates are quite low at under 15%, and there is a decent amount of fat as well.
Plus, the whole formula is grain-free. Highly recommend.
Recall Info: Never been recalled
Our Dry Food Pick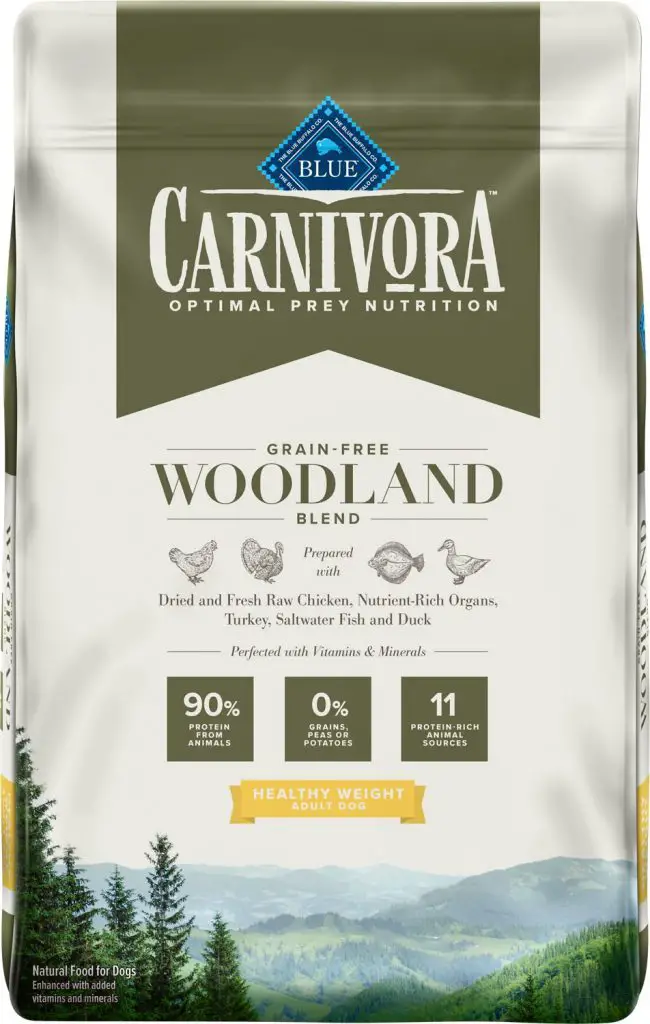 Good macronutrient contents
11 protein sources
High in omega-3s and omega-6s to support your dog's coat
Doggypedia rating: 4.5/5
Calorie Content: 3542 kcal/kg
First 5 Ingredients: Deboned Chicken, Dried Chicken, Deboned Turkey, Chicken Meal, Tapioca Starch.
Macronutrients (Dry-Matter Basis):
48.89% Protein
15.56% Fat
26.67% Carbohydrates
Best Diet Weight Management Dry Dog Food
We typically don't recommend that you choose dry dog food to help your dog lose weight for a variety of reasons. Dry dog food is lacking in the moisture that might otherwise keep your pet full and is often very high in carbohydrates.
However, this dry dog food is different, and one of the few that we recommend wholeheartedly. The macronutrient content is fantastic. Protein is nearly 50%, which is plenty to meet your dog's nutritional needs and keep them full. Carbohydrates are quite low, and under the 30% carbohydrate cap, we usually use when choosing the dog foods to recommend. Fat could be a little higher, but that's a small blimp we can overlook – especially with such a high protein content.
The ingredient list is equally as great. Meat sources take up the first four ingredients, and there is a total of 11 different types of meat on the ingredient list from a variety of different sources. Diversifying your pet's diet by choosing a dog food containing many different types of meats decreases the chance that they'll develop a nutritional deficiency.
The one downside to this dog food is the very high recall rate. While this particular food hasn't been recalled recently, Blue Buffalo is associated with many different recalls. They usually have a few every year, ranging from elevated levels of potentially dangerous chemicals to slight defects on the wrapping. They are a big company with many different formulas, but the amount of recalls associated with their company is quite large.  
Recall Info: Several times
Runner Up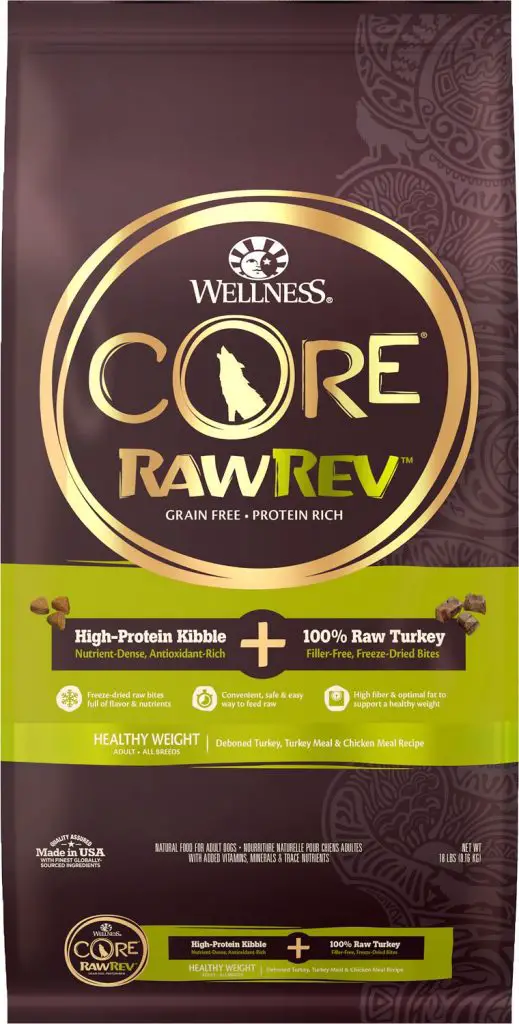 Grain-free
Freeze-dried bites included
13% fiber content
Doggypedia rating: 3.5/5
Calorie Content: 3415 kcal/kg
First 5 Ingredients: Deboned turkey, turkey meal, chicken meal, potatoes, peas.
Macronutrients (Dry-Matter Basis):
38.89% Protein
11.11% Fat
41.11% Carbohydrates
Based on our experience, dry food typically isn't an excellent choice for weight loss. Dry dog food usually has a lower protein content and lacks moisture that would help your pet feel fuller. For these reasons, we usually recommend a different sort of dog food for overweight canines.
With that said, out of all dry dog food out there, this is one of the better ones. It has a protein content of 38.89%, which is plenty high. However, the carbohydrate content is even higher, at 41.11%. Dogs thrive on a carbohydrate content much lower than this. We would have rather seen the carbohydrate content in the teens or even lower – not above 40%. This is the primary reason we ranked this dog food so low.
While the macronutrient content of this food is not very great, we did like the ingredient list of the most part. Deboned turkey is the first ingredient, which is a reliable, healthy choice. The next two ingredients are named meat meals. Meals are not considered to be a low-quality item as long as the animal they come from is named. The rest of the ingredient list is a variety of vegetables and other animal parts, like turkey hearts.
This brand has had many different recalls over the years, but this particular food has never been recalled. This brand also has been in business for a while, so we would expect it to have a large number of recalls.
Recall Info: 5 Recalls
Runner Up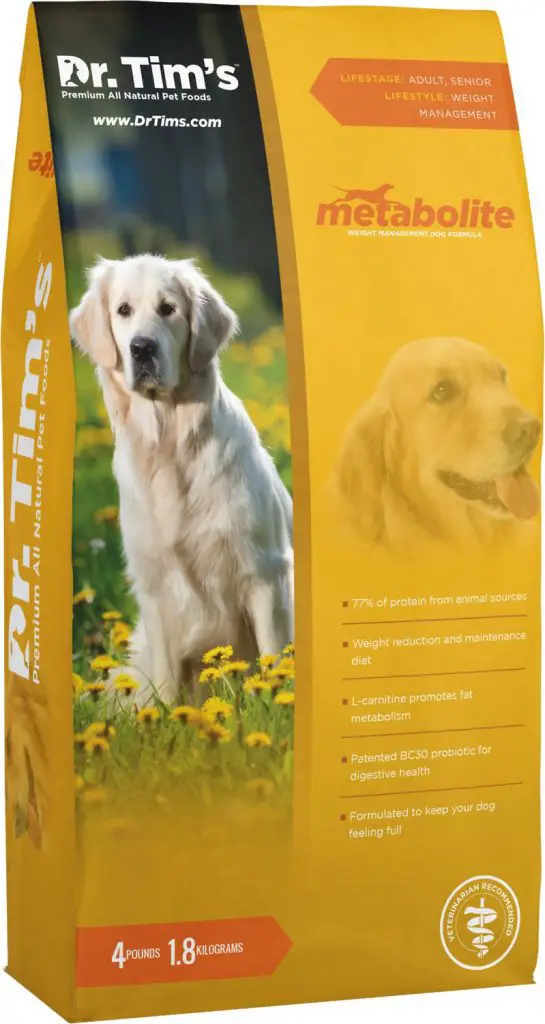 Probiotics included
DHA and EPA from fish oil
High in essential amino acids
Doggypedia rating: 3.5/5
Calorie Content: 3027 kcal/kg
First 5 Ingredients: Chicken meal, brown rice, whole oat groats, dried field peas, powdered cellulose.
Macronutrients (Dry-Matter Basis):
33.33% Protein
11.11% Fat
46.67% Carbohydrates
As we have previously stated, we do not prefer dry food when it comes to helping dogs lose weight. Often, fresh food or even wet food is much better. If you must feed your pet dry food for whatever reason, though, this one is decent.
It is full of probiotics and prebiotics, as well as essential amino acids. It is also lower calorie than many of the dog foods we reviewed, which means your canine will be able to eat more without actually consuming more calories.
Chicken meal is the first ingredient. This is a great quality meat product and includes dried chicken meat that has been ground up. It typically included the flesh, skin, and sometimes smaller bones, making it a nutritious option for your dog.
The rest of the ingredients are veggies, whole grains, and some other meat products, like a salmon meal. The inclusion of whole grains makes this a suitable option for canines who are not allergic to grains and would likely benefit from grain-inclusive dog food. Whole grains can be quite nutritious for canines and are preferable to white grains.
With that said, the macronutrient content of this dog food is greatly lacking. Carbohydrates are far too high, at 46.67%. We would have much rather seen the carbohydrate content in the teens or twenties. Protein is somewhat high at 33.33%, but even it could be higher since we are dealing with overweight dogs. Fat is way to low at only 11%. We would have liked to see the carbohydrate and fat amounts switched.  
Recall Info: no recalls
Best Wet Weight Management Dog Food for Diets
Our Pick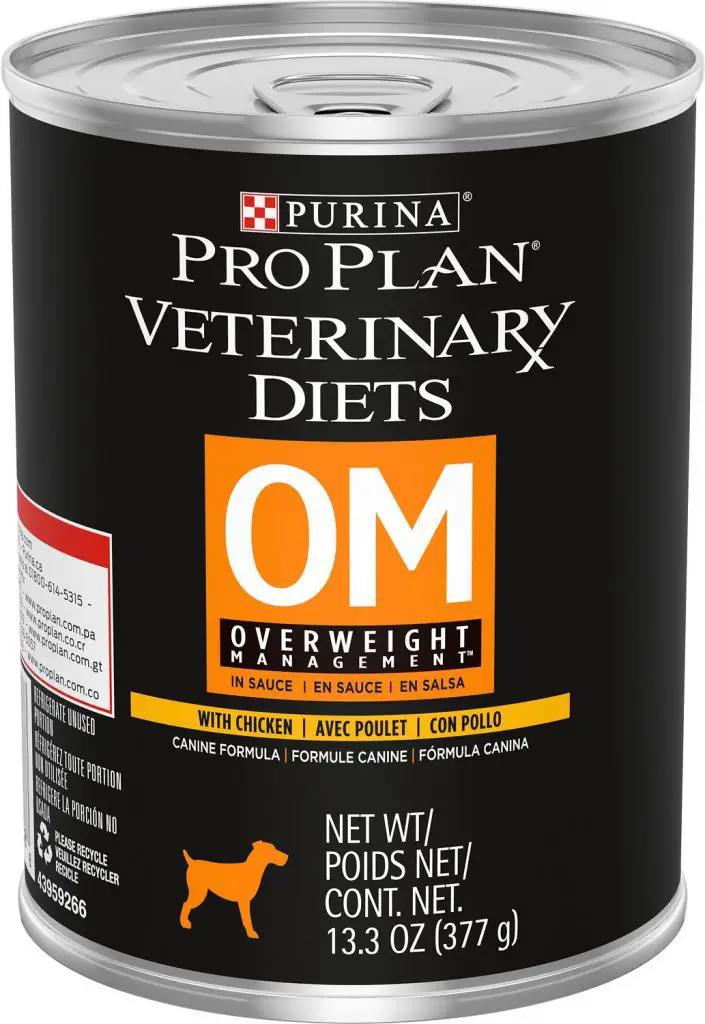 Veterinary formula
Natural fiber included
Supports a healthy urinary system
Doggypedia rating: 5/5
Calorie Content: 652 kcal/kg
First 5 Ingredients: Water, chicken, liver, powdered cellulose, rice.
Macronutrients (Dry-Matter Basis):
41.67% Protein
22.2% Fat
19.44% Carbohydrates
Best Weight Loss Dog Food
If your pet seriously needs to lose weight, this is the dog food to get. It contains one of the lowest-calorie contents on the market, allowing your pet to eat their usual amount still but consume fewer calories. It does require a veterinarian prescription, but this dog food is worth it.
Besides water, the first ingredient is whole chicken. This is a great ingredient to start with, especially if you're trying to get your pooch to lose weight. Right after the chicken is liver. We were a little disappointed that the source of this liver is not specified. However, liver is generally considered a high-quality ingredient that provides plenty of nutrition for your pooch.
Listed fourth is powdered cellulose. This is a non-digestible plant fiber that only adds fiber to the dog food. Typically, we would think twice about recommending a dog food with this much cellulose in it. However, because fiber is essential to help a dog lose weight, we consider it a great ingredient to include in this specific case.
Finally, it includes rice. This isn't the best option for dog food. However, it is a small blimp that can be overlooked when you look at all the other great things regarding this dog food.
The macronutrient content of this food is also stellar. Protein is over 40%, and fat is even higher than most dog foods at 22%. Carbohydrates are only at 22%. While it could be lower, this is a fair amount.
We highly recommend this food if your dog is genuinely overweight. Visit your vet for a prescription and talk with them on the best feeding regimen for your canine.
Recall Info: Few recalls
Also Great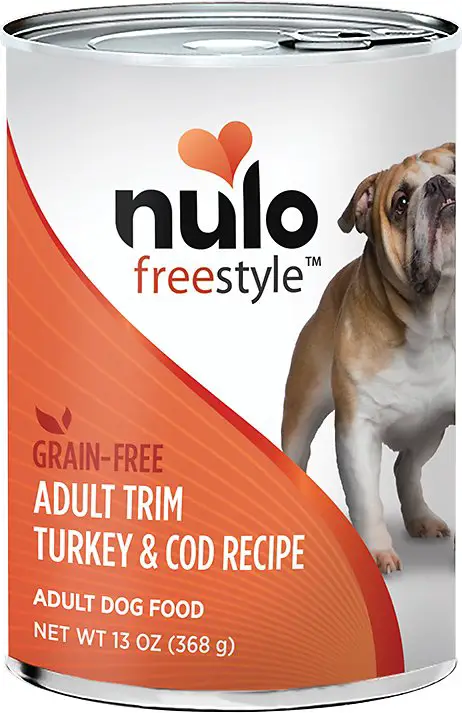 Grain-free
L-carnitine to support healthy fat metabolism
Lean-protein recipe
Doggypedia rating: 4.5/5
Calorie Content: 950 kcal/kg
First 5 Ingredients: Turkey, Turkey Broth, Salmon Broth, Turkey Liver, Cod.
Macronutrients (Dry-Matter Basis):
45.45% Protein
13.64% Fat
27.27% Carbohydrates
low calorie dog food for Weight Control
Nulo is a brand well-known for its high-quality food. They have not had any recalls in the history of their company, and many of their formulas are incredibly high-quality.
The ingredient list on this particular formula is exceptional. The first five ingredients are meat or ingredients derived from meat, such as turkey broth and salmon broth. Whole turkey is the first ingredient, with two broths following up as the second and third ingredient. Turkey liver is the fourth ingredient, providing plenty of nutrition for your pooch.
There is a variety of other meat ingredients throughout the ingredient list as well, including cod and salmon. Besides meat, this food also includes peas and chickpeas. Peas are high in fiber, which is likely why they are included in this formula. The rest of the list is additional nutrition supplements like thiamine and biotin. These supplements ensure that your pooch consumes a complete diet.
The macronutrient content of this food is also quite good. 45.45% of this food is protein. Furthermore, as we can tell from the ingredient list, the vast majority of this protein comes from meat. Peas do contain a small level of protein, but it is not going to be enough to overtake the meat protein in this case. Fat could be a bit higher, but this food is designed to help dogs lose weight, which often includes cutting down fat intake. Carbohydrates are 27% and could be a little lower, but they aren't high enough for us to mark this food's rating down.
Recall info: Nulo
Runner Up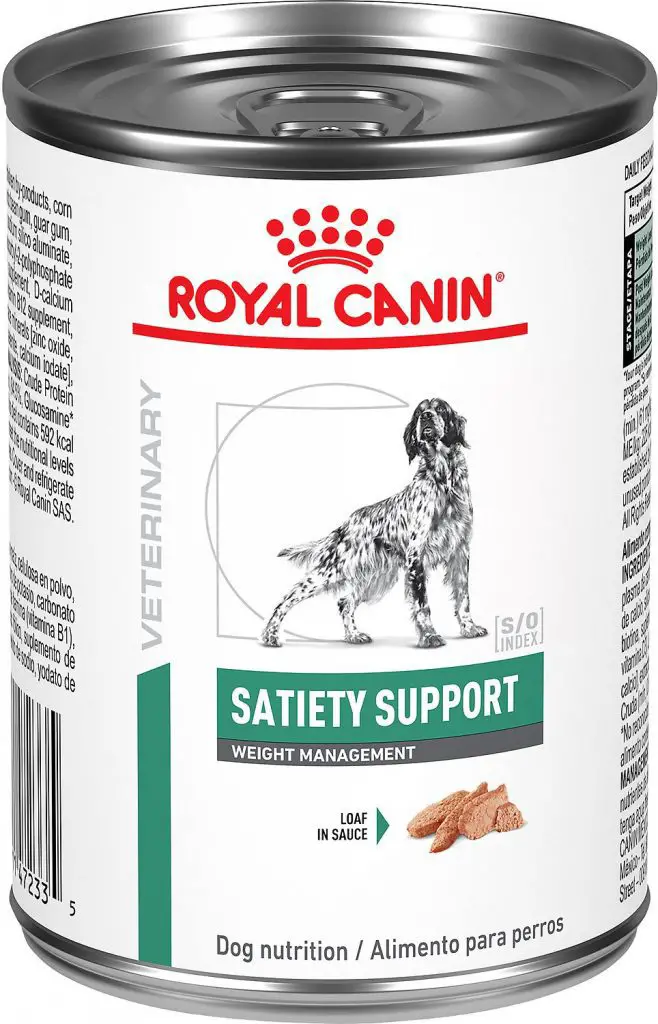 Designed to curb appetite
Prescription required
Includes a blend of fibers
Doggypedia rating: 3.5/5
Calorie Content: 592 kcal/kg
First 5 Ingredients: Water for processing, pork by-products, pork liver, chicken by-products, cornmeal.
Macronutrients (Dry-Matter Basis):
36.67% Protein
6.67% Fat
36.67% Carbohydrates
weight management dog food
This food also requires a veterinarian prescription. Despite this, though, it is not as good as we would have liked. Similarly, to most wet food, this one has water as the first ingredient. The next three ingredients are all meat products. Two of the ingredients are by-products. However, this doesn't necessarily mean they are low-quality.  
By-products are just meat products that contain parts of the animal that humans typically don't eat, like hooves and ears. However, many of these products are very nutritious for our pets. Most would eat them naturally in the wild.
The fifth ingredient is cornmeal. This is not an ingredient that is particularly bad for your dog, but it isn't particularly useful either. It is often used as a filler because it is inexpensive and is used to dilute the formula's more expensive meat ingredients.
This isn't necessarily a bad thing, though, because its inclusion also lowers the overall cost for you.
The macronutrient content of this dog food is also not great. It contains 36.67% carbohydrates, which is far higher than we would have liked. Protein is equally as high, but fat is deficient. We would have preferred carbohydrates and fat to be switched.
Recall Info: Three recalls
Runner Up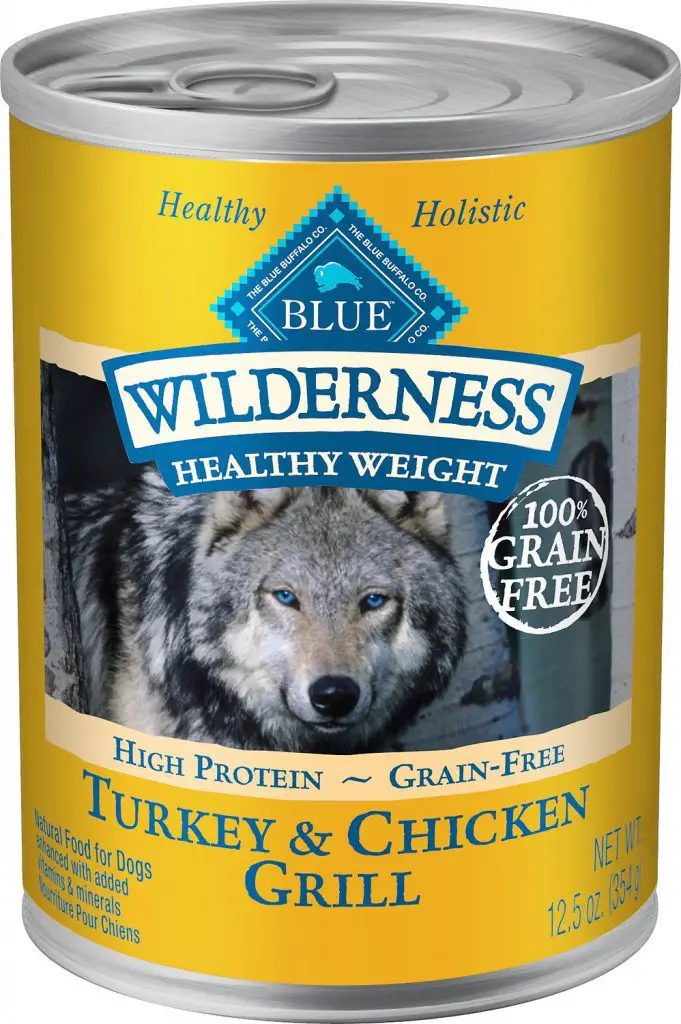 Grain-free
Free of gluten, by-product meals, corn, wheat, and soy
Includes real turkey and chicken
Doggypedia rating: 3.5/5
Calorie Content: 1060 kcal/kg
First 5 Ingredients: Turkey, Chicken, Chicken Broth, Water, Chicken Liver.
Macronutrients (Dry-Matter Basis):
34.09% Protein
18.18% Fat
34.09% Carbohydrates
There are quite a few different things we liked about this dog food. Turkey and chicken are the first two ingredients. These whole meats provide plenty of protein for your pooch, especially as they try to lose a few pounds. The third ingredient is chicken broth. This increases the fat and protein content even more and is often used to raise the nutritional quality of wet food.
There are various other meats and a few veggies on the remainder of the ingredient list. Pea fiber increases the fiber content of the food, which makes your dog feel fuller for longer.
However, the ingredient list is really where the positives regarding this dog food end. The macronutrient content is so-so, and this brand has been recalled many times. Carbohydrates are over 34%. While protein is also 34%, we would have liked to see carbohydrates much lower. Fat is only 18%. Our dogs are designed to eat a diet very high in fat, which this food is not.
Besides the recalls and macronutrient content, this food is decent. However, it isn't one of our favorites, so we would recommend choosing a different food unless there is something specific about this one your pooch needs.
Recall info: Many times
Best Dog Treats For Weight Loss Diets
Our Pick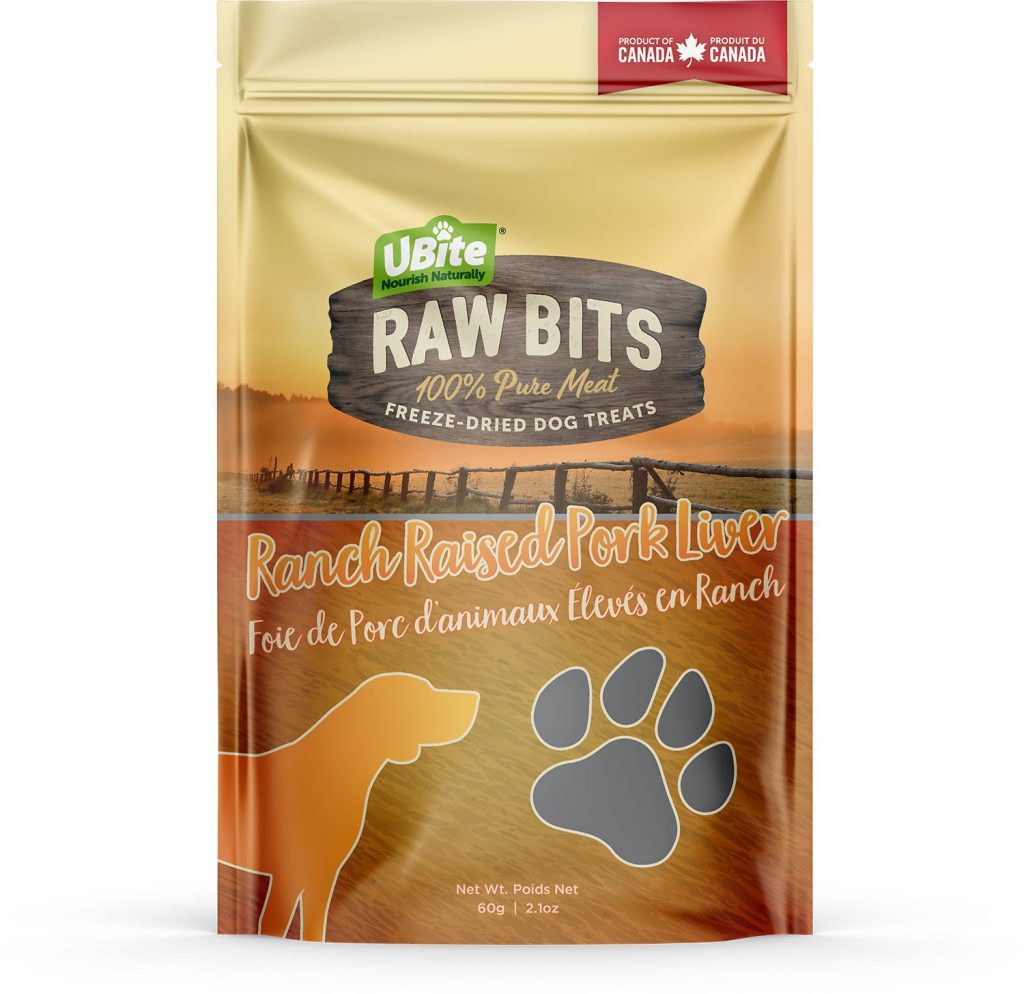 Human-grade pork liver
100% natural
Freeze-dried
Doggypedia rating: 5/5
Calorie Content: 3 kcal/treat
First 5 Ingredients: Pork Liver.
Macronutrients (Dry-Matter Basis):
68.09% Protein
11.7% Fat
11.7% Carbohydrates
Overweight dogs need treats too, and these are the ones to get. They're just freeze-dried pork, which makes them very high in protein and low in pretty much everything else. Pork liver is the only ingredient used and is human-grade.
This company is newer and currently has no recalls. Plus, these treats are one of the least expensive on the market as well, likely because they require very little processing.
Recall Info: None
Runner Up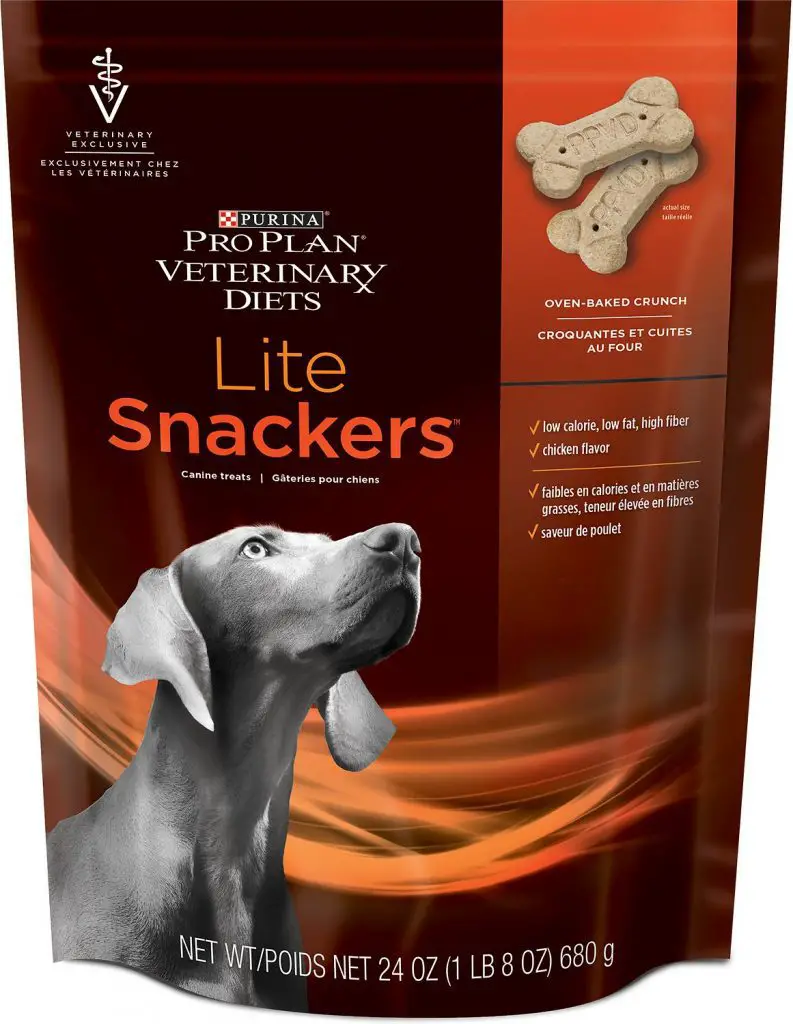 Chicken flavored
15 calories per biscuit
High in fiber
Doggypedia rating: 3.5/5
Calorie Content: 15 kcal/treat
First 5 Ingredients: Wheat flour, powdered cellulose, poultry by-product meal.
Macronutrients (Dry-Matter Basis):
18.39% Protein
3.45% Fat
68.97% Carbohydrates
Old habits are hard to break. Overweight dogs often need treats, too, especially if they're used to getting them. Sadly, most treats are full of sugar and can lead to significant weight gain. We recommend investing in a weight management treat to help your pup lose a few pounds – like these by Purina.
While these treats do not have the best ingredient list or macronutrient content, they do have one of the lowest-calorie contents on the market. Because of this, they can make a suitable, occasional treat for your canine.
They're mostly made out of wheat, which is why their carbohydrate content is up to 68%. They do contain poultry as well as powdered cellulose, which will keep your pooch full. 
Recall info: Various recalls
How to Choose the Best Dog Food for Your Overweight Dog
When it comes to choosing a weight-loss food for your overweight pet, the usual rules become even more critical. Overweight canines tend to be at least a little bit unhealthier than dogs of a healthy weight, so their food must be as healthy for them as possible.
You should aim to choose food that is as near to their natural diet as possible. Studies have found that when given complete control of their diet, dogs will consume a ratio of 30% protein, 63% fat, and 7% carbohydrates. This diet is remarkably similar between all dog breeds.
You should choose a food that has about this same distribution of macronutrients. Sadly, this can be quite difficult, as most foods are much higher in carbohydrates than they need to be. Higher protein levels are specifically crucial for overweight dogs, as studies have shown this helps them lose weight.
Taking a close look at the ingredient list is also essential. Preferably, you want a dog food that contains the highest-quality ingredients as possible. Any dog food you pick should be free of fillers and preservatives. Aim for a food that contains meat as the first ingredient, and preferably as the first few ingredients.
Vegetables should be as high-quality as possible as well. Some veggies are better than others. Especially when you're choosing food for an overweight dog, you want to avoid starchy vegetables like potatoes. Selecting vegetables that are higher in fiber will make your dog feel fuller for longer, without contributing to their overall calorie intake.
The calorie content is specifically essential when it comes to feeding your overweight dog. Not all feeding guidelines on the back of each dog food bag are accurate or right for all dogs. Your dog's activity level and genetics will play a role, and most of these guidelines do not take that into account.
You may also want to choose a dog food that is lower than usual in calories. This allows your dog to eat "more" while still keeping their calorie count to an optimal level.
The rate at which your dog should lose weight depends on how much they weigh and what they're ideal weight is. Dogs that are far above their ideal weight will lose weight slower than dogs who are only slightly overweight.
Much like humans, the weight that counts as "overweight" depends on your dog's height and overall size. A bigger dog is going to weigh more than a smaller dog, but that doesn't mean the bigger dog is overweight.
Why You Should Trust Us
I've been a dog owner my whole life, growing up with puppies to adopting my newest pup, Max. Keeping him at a healthy weight is very important. We have reviewed hundreds of different dog foods over the years, so we have an expert view of what the market currently offers. All of our reviews are based on scientific evidence, not marketing campaigns or ads. We carefully stay up to date on the latest research so that we can recommend only the best to you and your pets. 
Before making it into any article, each dog food has to pass a rigorous review process that involves more than just surface-level information. We calculate all of our own macronutrient data. While we pay attention to the ingredient list, we also consider macronutrient ratios and recall frequency. Additionally, we speak to the dog food brands, vets, and dog trainers to make sure our recommendations are the most healthy options for your dog.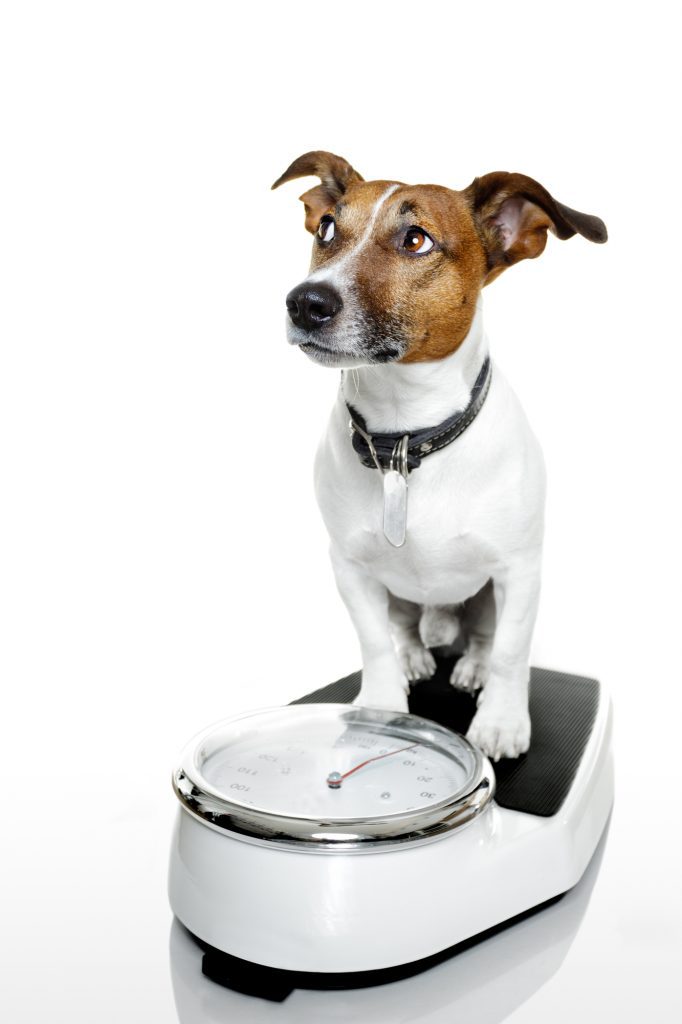 Read More Dog Food Reviews: Best Dog Food for Pitbulls and Best High Fiber Dog Food