Looking for the best dog food brands for your Pitbull? Help your dog stay healthy with our wet and dry food reviews here.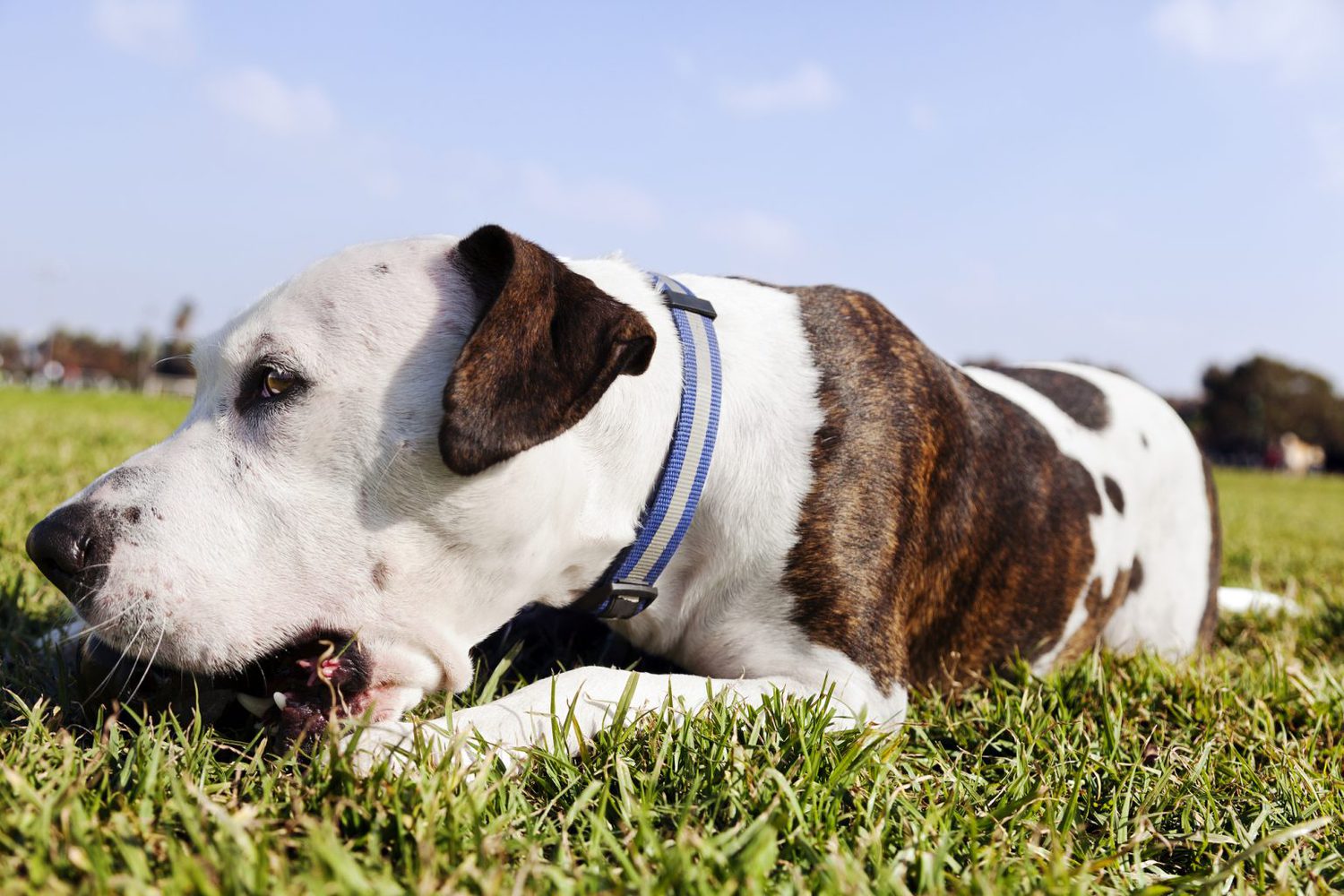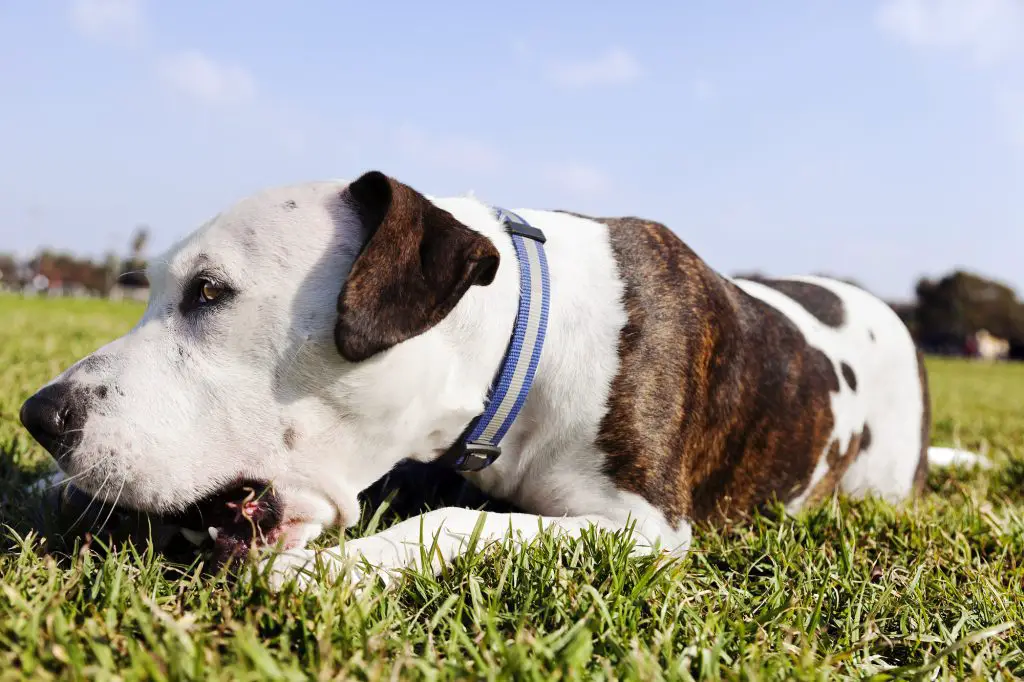 While Pitbulls have a bad reputation in many circles, anyone who's ever owned one before knows what a sweet, loving, and happy dog breed they really are. They have boundless energy and an enthusiasm that makes them nearly impossible to love. However, their muscular builds and love of a high activity lifestyle means that finding the right food to fuel them is of the utmost importance.
Pitties of all kinds benefit from a high-quality dog food immensely. High quality proteins help to keep them in shape, and carefully tailored levels of healthy fats and carbohydrates give them the energy that their lifestyle demands. However, finding a good food for your Pitbull can be difficult. As pitties come in both medium and large-breed varieties, there aren't any hard and fast rules for nutrition that apply to all of them.
Because of this, many owners find themselves uncertain of exactly what their Pitbull requires. Should you prioritise high protein, or go for 'superfood' ingredients? Can your large-breed puppy eat normal puppy food, or will that harm them? How can you distinguish between low-quality by-products and high-quality, natural ingredients?
To help you out, we've listed seven of the very best foods for Pitbulls on the market. Encompassing wet food, dry food, and puppy food and including recommendations for both large and medium-breed Pitbulls, our scientifically-judged selections are sure to keep your beloved pittie happy and healthy.
How To Choose The Best Food For Your Pitbull
To select and rank the best dog foods, we look at a number of different factors. The most important of these is the food's macronutrient profile, which refers to the relative amount of protein, fat, and carbohydrates in the food's recipe. Protein and fat are both essential parts of the canine diet and, as such, are regulated strictly to ensure that every dog food has an adequate amount of them. The Association of American Feed Control Officials sets guidelines that every dog food company in the US must follow (AAFCO, 2014). For adult dogs, these include:
A protein content of over 18%
A crude fat content of over 5.5%
Puppies have different nutritional requirements to adult dogs and, as such, they have a different set of rules. According to AAFCO, medium and small breed puppies require:
A protein content over 22.5%
A fat content over 8.5%
A minimum of 1.2% calcium
However, a unique feature of pitties is that they come in both medium and large breed varieties. If you have a large breed Pitbull puppy, your food selection should be a little bit different:
A protein content over 22.5%
A fat content over 8.5%
A maximum of 1.2% calcium
The third macronutrient, carbohydrates, is a bit more difficult to deal with. As it isn't an essential part of the canine diet, there are no hard-and-fast rules about how much dog food companies should be included in their food (Roberts et. al., 2017). While some sources of carbs can be healthy, generally a lower percentage of carbohydrates indicates a higher proportion of meat and therefore a higher quality. Therefore, we developed the following guideline:
A carbohydrate content under 30%, with preference given to healthy and digestible carbohydrate sources
Nutritional Requirements of Pitbulls
Like all dogs, Pitbulls require quality protein and fats to give them the energy to get them through the day. However, large-breed Pitbulls also have some breed-specific requirements, particularly when they're puppies.
The most important of these requirements is the amount of dietary calcium that your puppy is intaking. This is because high calcium foods speed the rate of puppy growth. While this may seem like a good thing, it's actually very dangerous, as it means that your pittie's joints don't have enough time to develop to keep up with their growing body. This can cause a range of health problems in the future, including hip and elbow dysplasia (Lauten, 2006). As a rule, large breed puppies shouldn't consume foods that have a calcium content greater than 1.2%. Feeding your Pitbull puppy according to this guideline will avoid potential joint problems in the future.
Another important consideration is the energy density of the food. High-energy foods can also speed the rate of growth in puppies, so should be avoided (Kane, 2013). Dry puppy foods shouldn't exceed 400 kcal/100g and wet foods shouldn't exceed 150 kcal/100g.
In addition to this, choosing a food with high quality protein is a must for your Pitbull. Pitties are a muscular breed of dog, and therefore feeding them a high protein food that will support their muscle mass is of great benefit.
Common Pitbull Food Allergies
The good news about Pitbulls is that they're not more susceptible to food allergies than any other breed of dog. However, Pitbulls have been found to be quite susceptible to environmental allergies. This kind of allergy can be likened to hay fever in humans; it's an immune response to a certain substance in the air that can cause an array of symptoms and is also often seasonal. This increased susceptibility is due to the fact that Pitbulls are short-haired, meaning that their skin is more exposed to potential allergens. Environmental allergies most commonly manifest in symptoms such as red, irritated skin, excessive licking, and a patchy or otherwise unhealthy coat (BCSkinVet, 2019).
If you suspect that your Pitbull has an allergy like this, feeding him or her a food that will help to promote skin and coat health is a great way to alleviate some of your dog's suffering. While many of the foods on this list have allergen-friendly main ingredients, there's one particular product that we've labelled as being the best for Pitbull skin allergies.
Reviews of the Best Dog Foods for Pitbulls
Our Dry Pick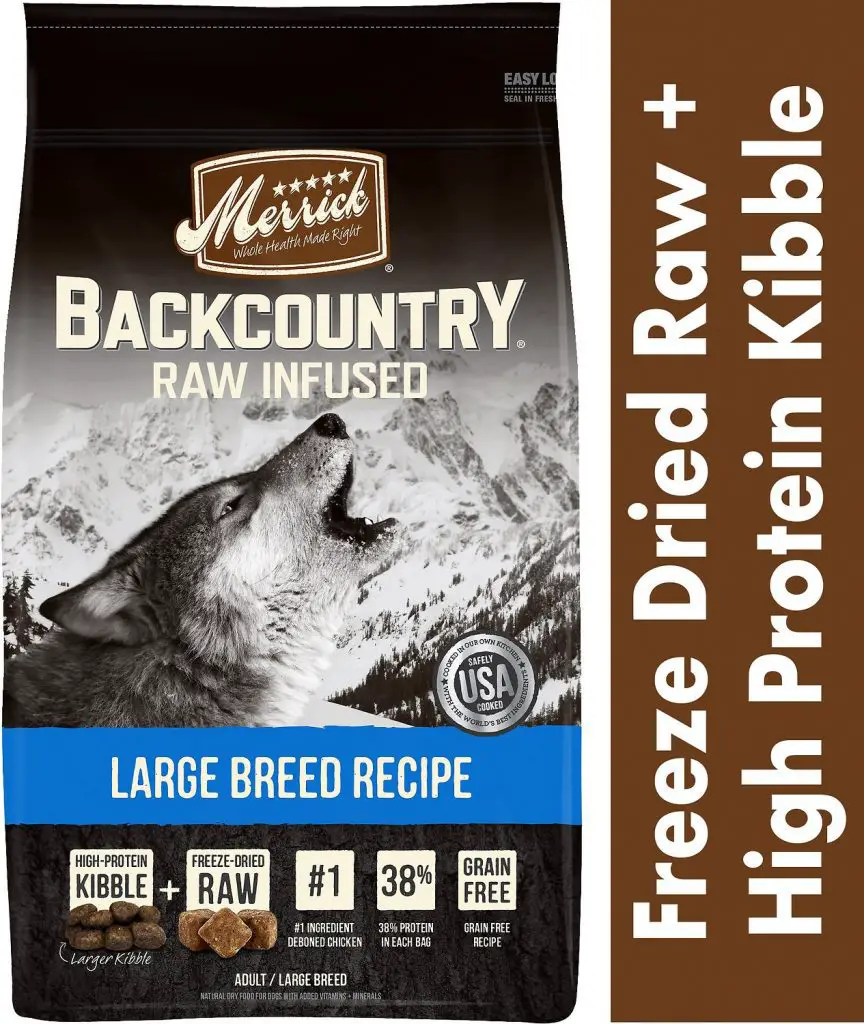 High protein content
Contains healthy carb sources
Great for active pitties
Doggypedia rating: 5/5
Calories/100g: 366 kCal/100g
First 5 Ingredients: Deboned Chicken, Chicken Meal, Turkey Meal, Peas, and Potatoes.
Macronutrients (Dry-Matter Basis):
Protein: 42.7% minimum
Fat: 19.1% minimum
Carbs: 29.2% maximum
The Best Dry Dog Foods For Pitbulls
Our top pick in the dry food section is Merrick's Raw Infused Large Breed kibble. Formulated specifically for large breed dogs, this product has a high meat content, a high protein content, and lots of unique goodness.
While adult Pitbulls don't specifically need a food formulated for large breeds, choosing a food that's formulated specifically for them certainly has its benefits. For example, the quality protein sources in this recipe will help to sustain your pittie's muscular frame. These sources include deboned, freeze-dried chicken pieces, chicken meal, turkey meal, salmon meal, and duck. Having diverse protein sources is great for any dog, but Pitbulls will see an even greater benefit due to the variety of amino acids being offered.
Another feature to note about this recipe is the energy density, which is high. This means that your Pitbull will have enough energy to lead a high activity level, healthy lifestyle without needing to eat masses of a lower energy density food.
In terms of macronutrients, Merrick's Raw Infused recipe is very impressive. It has 42.7% protein, 19.1% fat, and 29.2% carbohydrates. The major carbohydrate sources are peas, potatoes, and sweet potatoes. Peas are a good source of fiber, potatoes contain Vitamin A, C, and B6, and sweet potatoes are highly digestible and easy on doggy digestive systems. Because of this, the carbohydrate content is very reasonable.
Runner Up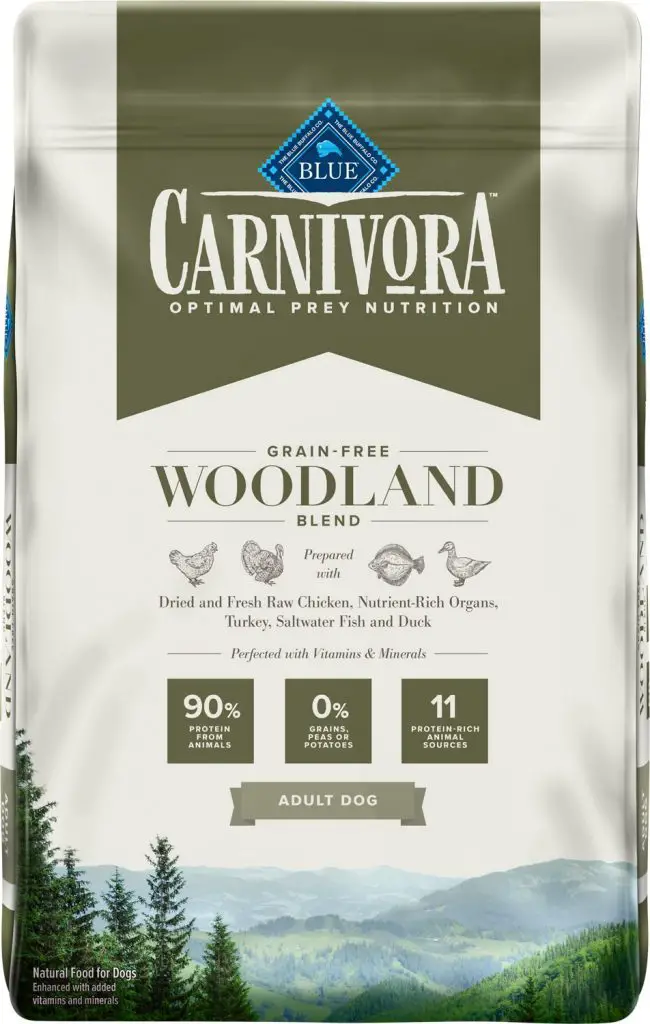 Excellent macronutrient balance
Diverse protein sources
Quality ingredients
Doggypedia rating: 4.5/5
Calories/100g: 393 kCal/100g
First 5 Ingredients: Deboned Chicken, Dried Chicken, Deboned Turkey, Chicken Meal, and Chicken Fat (Preserved With Mixed Tocopherols).
Macronutrients (Dry-Matter Basis):
Protein: 46.7% minimum
Fat: 22.2% minimum
Carbs: 22.2% maximum
Good Food for Pitbulls
Coming in second place is a dog food suited to medium breed Pitbulls, Blue Buffalo's Woodland Blend. With an ingredient list packed full of protein sources and a fantastic macronutrient balance, this food is sure to keep your medium breed Pitbull happy and healthy.
The standout aspect of this product is the sheer amount of protein sources that it contains. The first ingredient is real meat (chicken), followed by turkey, duck, pollock, halibut, cod, sole, pork, sardines, and tuna. Each of these meats has its own strengths, and combined in one recipe they form a sort of 'superfood.'
Largely due to the number of different meat sources, Blue Buffalo's Woodland blend has a fantastic macronutrient content, especially for a dry food. It has 46.7% protein, 22.2% fat, and 22.2% carbohydrates. The major carb sources include fava beans, which are high in protein, chickpeas, which are rich in fiber, and lentils, which are a good source of iron. While none of these ingredients is particularly high in vitamins, the inclusion of small amounts of berries, spinach, pumpkin, and kale help to inject some extra nutrition into the recipe.
The only real concern for owners regarding this food is the energy density, which is quite high. While this is great for active Pitbulls, if your medium-breed pup prefers to lounge in the shade then there's a potential for unhealthy weight gain, unless you're strict about following the feeding guidelines.
Runner Up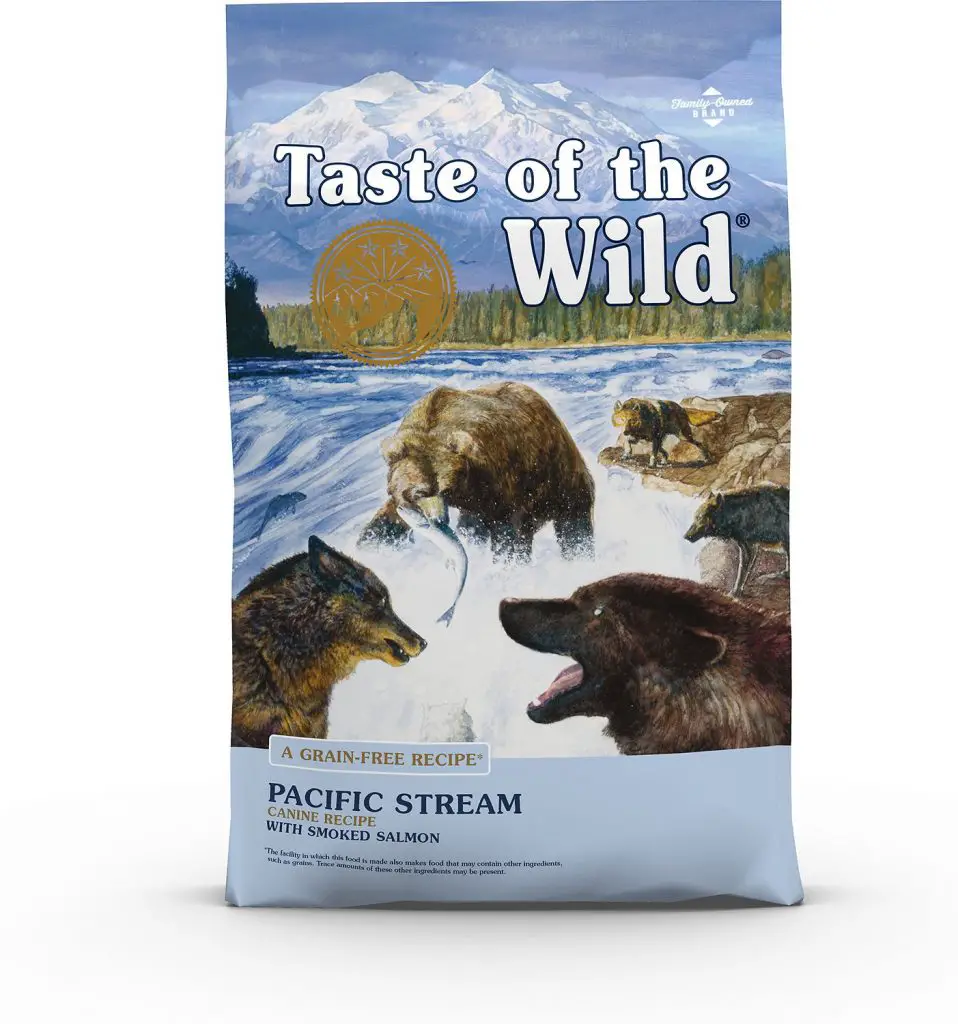 High in Omega-3 fatty acids
Contains prebiotic fiber and probiotic bacteria
Allergy friendly
Doggypedia rating: 3.5/5
Calories/100g: 360 kCal/100g
First 5 Ingredients: Salmon, Ocean Fish Meal, Sweet Potatoes, Potatoes, and Peas.
Macronutrients (Dry-Matter Basis):
Protein: 27.8% minimum
Fat: 16.7% minimum
Carbs: 46.7% maximum
best dog food for pitbulls with allergies
If your Pitbull is susceptible to skin allergies, there's no better dry food than this next pick. Taste of the Wild's Pacific Stream recipe is a grain-free dog food that contains several key ingredients that will help to restore your pittie's skin and coat.
The major benefit to this food is that it's formulated with fish as the primary ingredient. Salmon is a fantastic source of omega-3 fatty acids, which help to soothe your pup's skin and increase the health of their coat (Popa et. al., 2011).
Another plus is the fact that the recipe includes both prebiotic fiber and probiotic bacteria. Prebiotic fiber helps to feed healthy bacteria in your dog's gut, while probiotics help to balance good and bad bacteria and boost your pup's immune system (Xu et. al., 2019). If your Pitbull has a sensitive stomach because of his or her allergies, these inclusions are invaluable.
In terms of macronutrients, Taste of the Wild's Pacific Stream does reasonably well. It contains 27.8% protein and 16.7% fat, which fall within the acceptable ranges defined by AAFCO. The carbohydrate content, however, is significantly too high. It sits at 46.7% and despite being sourced from largely healthy vegetables (sweet potatoes, peas, and lentils) in the ideal dog food it would be reduced.
The Best Wet Foods For Pitbulls
Our Pick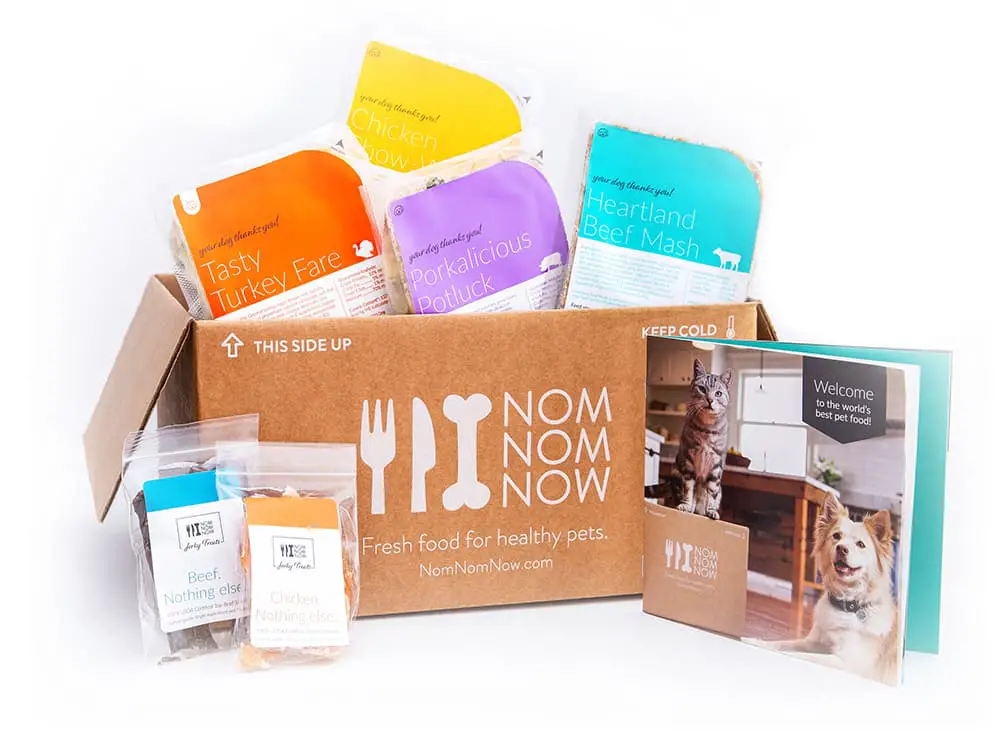 Fresh, human-grade ingredients
Near-perfect macronutrients
Convenient delivery
Doggypedia rating: 5/5
Calories/100g: 125Cal/100g average
First 5 Ingredients: Diced chicken, sweet potatoes, yellow squash, spinach, and sunflower oil.
Macronutrients (Dry-Matter Basis):
Protein: 34.3% average minimum
Fat: 20.4% average minimum
Carbs: 34% average maximum
One of the best food for pitbulls
Taking first place in the wet food section is a very unique product; NomNomNow's variety pack. Featuring four healthy recipes formulated by a veterinary nutritionist, this product is certain to provide diversity and excitement into your Pitbull's diet.
NomNomNow is different from the other dog food brands on this list, in that you won't find their products on the shelves of any normal stores. Instead, ordering is done through their website. Owners simply input their dog's breed, age, and weight into NomNomNow's online ordering system, and a meal plan is generated and shipped directly to your door. For owners who don't want to bother hiking to the local shop to stock up on dog food every week, this is a great convenience.
Aside from its innovative ordering system, another benefit of NomNomNow is the quality ingredients that they use. Each of their recipes is packed full of human-grade meat and high quality, natural fruits and veggies. Selecting the variety pack ensures that your pup gets the unique benefits of each individual recipe, which is a big plus.
In terms of macronutrients, NomNomNow performs admirably. On average, their recipes contain 34.3% protein, 20.4% fat, and 34% carbs. Major carb sources include russet potatoes, which are fantastic sources of potassium Vitamin C, sweet potatoes, which are easy on digestion, and yellow squash, which is rich in vitamin A.
Also Great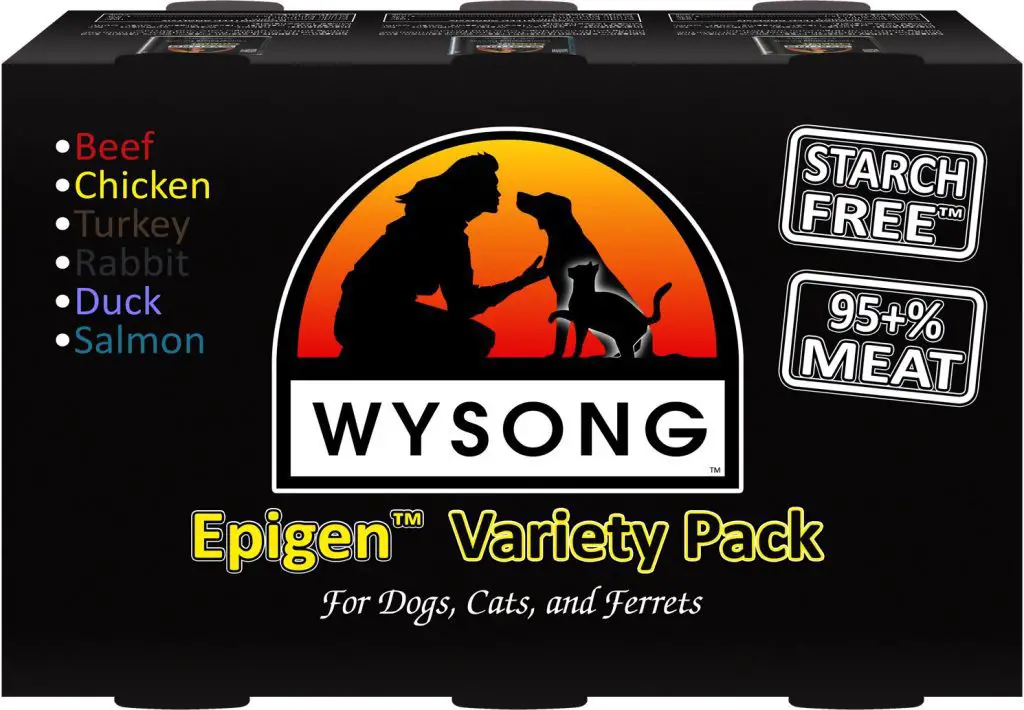 Simple, meat-rich formula (high protein)
6 different recipes
No fruit or veggies
Doggypedia rating: 4/5
Calories/100g: 490 kCal/100g average
First 5 Ingredients: Meat Source (beef, chicken, rabbit, duck, turkey, or salmon), Water Sufficient for Processing, Natural Flavor, Organic Guar Gum, and Mixed Tocopherols.
Macronutrients (Dry-Matter Basis):
Protein: 40% minimum
Fat: 36% minimum
Carbs: 12% maximum
high protein dog food for pitbulls
Taking second place in the wet food category is a simple, natural product. Wysong's Epigen Variety pack contains six interchangeable recipes that all have one thing in common; a recipe that's only five ingredients long.
Each flavour of Wysong's Epigen wet food contains an animal protein source, water, natural flavour, organic guar gum (which acts as a thickening agent) and mixed tocopherols (a natural preservative). That's it. For owners who want a simple dog food with no unpronounceable, confusing ingredients, then this is a perfect pick.
In terms of macronutrients, the big highlight of this product is the protein content. Each of the recipes contains 40% protein, which is reflective of a high meat content and quality meat sources. The fat content, 36%, is on the high side, but is still acceptable, and the carbohydrate content is just 12%.
The only valid criticism of this food is that it doesn't contain any fruit or veggies. Because of this, owners should make sure to complement this food selection with a good dry food that will provide your pup with any minerals, vitamins, and fiber that this product lacks.
The Best Puppy Foods for Pitbulls
Our Puppy Pick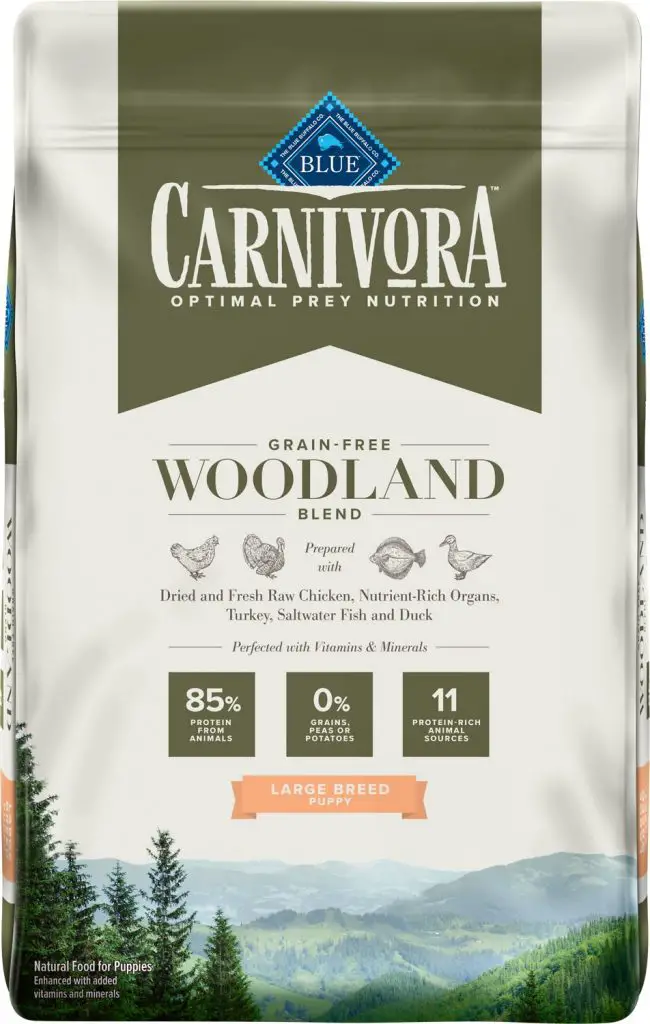 Great macronutrient balance
6Tailored to suit large breed puppies
Diverse protein sources
Doggypedia rating: 4.5/5
Calories/100g: 377 kCal/100g
First 5 Ingredients: Deboned Chicken, Dried Chicken, Deboned Turkey, Chicken Meal, and Tapioca Starch.
Macronutrients (Dry-Matter Basis):
Protein: 44.4% minimum
Fat: 18.9% minimum
Carbs: 27.8% maximum
Another best dog food for bullies
Claiming the title of the best Pitbull puppy dry food is Blue Buffalo's Woodland Blend Large Breed puppy formula. With a similar recipe to its adult counterpart, this product is perfect for large-breed Pitbull puppies.
The ingredients of this recipe are very similar to the adult version of the formula, with ten different animal protein sources and healthy fruit and veg.
The major difference between the adult and large breed puppy recipes are the energy density, which is slightly lower, and the calcium content, which is 1.2%. This percentage sits at the upper limit of what large breed puppies should be eating, but falls within the recommended range nonetheless.
In terms of macronutrients, the large-breed puppy version of Woodland Blend does wonderfully. It has 44.4% protein, which is unprecedented in a dry food, 18.9% fat, and only 27.8% carbohydrates. The major carb sources are tapioca starch, fava beans, lentils, and chickpeas, which are all relatively healthy and nutritious.
Also Great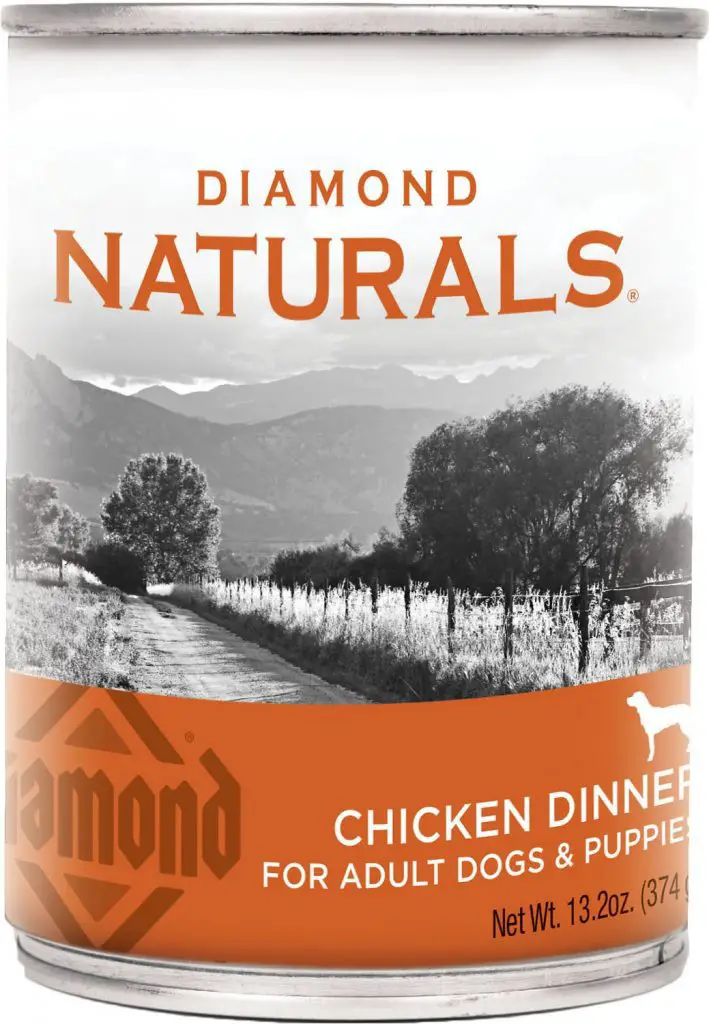 Suitable for both adults and puppies
Good for medium and large breeds
Packed with veggies and healthy grains
Doggypedia rating: 4/5
Calories/100g: 131kCal/100g
First 5 Ingredients: Chicken, Chicken Broth, Chicken Liver, Rice Flour, and Chicken Meal (Preserved With Mixed Tocopherols).
Macronutrients (Dry-Matter Basis):
Protein: 43.2% minimum
Fat: 22.7% minimum
Carbs: 20.5% maximum
good food for adult and puppy pitbulls
Next on the list is Diamond Naturals' Chicken Dinner recipe. Particular care has gone into the formulation of this product, which is loaded with healthy ingredients and superfoods to feed your growing pup.
A particular benefit to this product is the fact that it's suitable for both puppies and adult dogs. This means that you won't need to wean your dog off puppy food as he or she grows, and that owners with multiple dogs don't need to worry about purchasing separate foods.
Diamond Naturals' Chicken Dinner recipe has a solid macronutrient balance, with 43.2% protein, 22.7% fat, and 20.5% carbohydrates. While wet foods typically have a higher percentage of protein and fat and a lower proportion of carbohydrates than this, the carb sources are healthy.
Carrots are high on the list, followed by pumpkin and quinoa. Quinoa is a particularly interesting inclusion and has a high amount of certain essential amino acids, which will help to keep your pup growing healthy and strong.
How Much to Feed your Pitbull (Adult vs Puppies)
The easiest way to determine how much to feed your dog is by looking at the feeding guidelines on the packaging of your chosen food. As each food has a different energy density, the healthy amount to feed your pup varies. This also changes drastically between dry and wet foods and shifts depending on your dog's weight.
If you've been following the feeding guidelines but it seems as if your growing pup is gaining weight too quickly or isn't getting enough energy, it's critical that you talk to your vet. It could be a simple issue, like that your puppy has a higher or lower energy requirement than others, or could be related to something critical like a difficulty with absorbing nutrients and energy.
Similarly, if your adult dog is gaining or losing weight despite you following the feeding guidelines, make sure to talk to your vet. This sort of issue is particularly common as your pooch starts to enter his or her golden years and has a diminished energy requirement due to reduced activity.
Learn More: Best Sensitive Stomach Dog Foods and Best Cheap Dog Foods
SOURCES:
AAFCO sodium, protein, and fat guidelines: The 2014 AAFCO Dog Food Nutrient Profile for Growth and Reproduction. (2019). [ebook] AAFCO. Available at: https://www.aafco.org/Portals/0/SiteContent/Regulatory/Committees/Pet-Food/Reports/Pet_Food_Report_2013_Midyear-Proposed_Revisions_to_AAFCO_Nutrient_Profiles.pdf [Accessed 11 Jan. 2020].
Carbohydrates in dog food: Roberts, M., Bermingham, E., Cave, N., Young, W., McKenzie, C. and Thomas, D. (2017). Macronutrient intake of dogs, self-selecting diets varying in composition offered ad libitum. Journal of Animal Physiology and Animal Nutrition, [online] 102(2), pp.568-575. Available at: https://onlinelibrary.wiley.com/doi/full/10.1111/jpn.12794 [Accessed Jan 10. 2020].
Energy density, fat content, and calcium content for large breed puppies: Lauten, S. (2006). Nutritional Risks to Large-Breed Dogs: From Weaning to the Geriatric Years. Veterinary Clinics of North America: Small Animal Practice, [online] 36(6), pp.1345-1359. Available at: https://evz.ufg.br/up/66/o/Racas_grandes.pdf [Accessed 11 Jan. 2020].
Developmental Orthopedic diseases associated with high-energy diets: Kane, E. (2013). Developmental orthopedic disease in large-breed puppies. [online] DVM360. Available at: http://veterinarynews.dvm360.com/developmental-orthopedic-disease-large-breed-puppies [Accessed 11 Jan. 2020].
Skin allergies in dogs: Bcskinvet.com. (2020). Pitbull Allergies | Pet Dermatology of Vancouver and Richmond. [online] Available at: http://bcskinvet.com/common-pit-bull-allergies [Accessed 11 Jan. 2020].
The benefits of omega-3 and omega-6 fatty acids: Popa, I., Pin, D., Remoué, N., Osta, B., Callejon, S., Videmont, E., Gatto, H., Portoukalian, J. and Haftek, M. (2011). Analysis of epidermal lipids in normal and atopic dogs, before and after administration of an oral omega-6/omega-3 fatty acid feed supplement. A pilot study. Veterinary Research Communications, 35(8), pp.501-509.
The benefits of probiotics in canines: Xu, H., Huang, W., Hou, Q., Kwok, L., Laga, W., Wang, Y., Ma, H., Sun, Z. and Zhang, H. (2019). Oral Administration of Compound Probiotics Improved Canine Feed Intake, Weight Gain, Immunity and Intestinal Microbiota. Frontiers in Immunology, 10.