You have the best dog foods on the market, and then you have the rest. Not all pet foods on the market are good. In fact, there are quite a few on the market that we do not recommend in the least. In this article, we'll go over some of these poor choices that may affect your dog's health. 
There are many qualities bad pet food might have. They may have poor ingredients or a bad macronutrient makeup. Some of the worst dog food brands have additives like colors and flavors. We will review all of these potentially bad dog food brands and look at why you shouldn't choose them exactly. 
Reviews of the Worst Dog Food Brands to Avoid
Worst Dry Dog Food Brands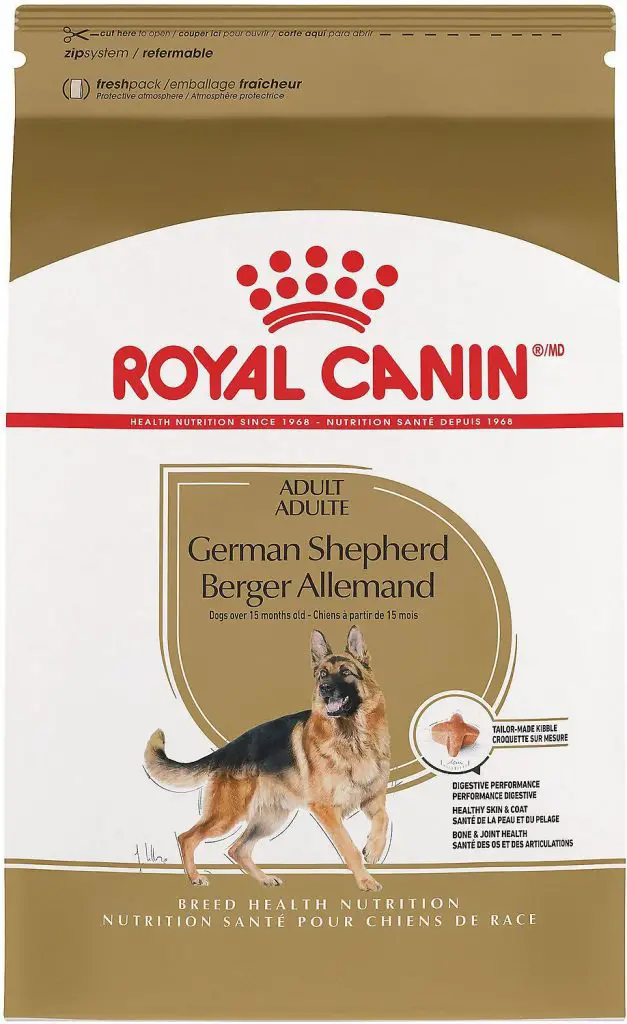 Low Protein and fat
Sub-par ingredients
Expensive
Doggypedia rating: 1.5/5
First 5 Ingredients: Brewer's Rice, Chicken by-product meal, brown rice, oat groats, chicken fat
Calorie Content: 3771 kcal/kg
Macronutrients (Dry-Matter Basis):
24.44% Protein
18.89% Fat
47.78% Carbohydrates
Royal Canin is one of the most expensive dog foods on the market, so you would expect it to be one of the best. However, this is not true in the least. Across the board, this brand uses sub-par ingredients. For example, we pulled the ingredient list from their German Shepherd Adult Dry Dog Food above. As you can see, the very first ingredient is brewer's rice – not meat. Chicken by-product meal is included as the second ingredient. However, this is a sub-par meat option. Pork meal is included, but it is much further down on the list. All the other ingredients are low-quality grains and veggies. 
This dog food brand also does not include very much protein in their dog food. In fact, the protein content of their food is one of the lowest on the market. Obviously, protein deficiency is mostly due to the lack of meat included in the dog food itself. 
This brand is also recalled a lot. Many of their recalls are very serious as well. Dog food that has been contaminated with dangerous materials is not the best option for your canine. 
All these negatives landed this brand as one of the worst on the market. 
Recall Info: Many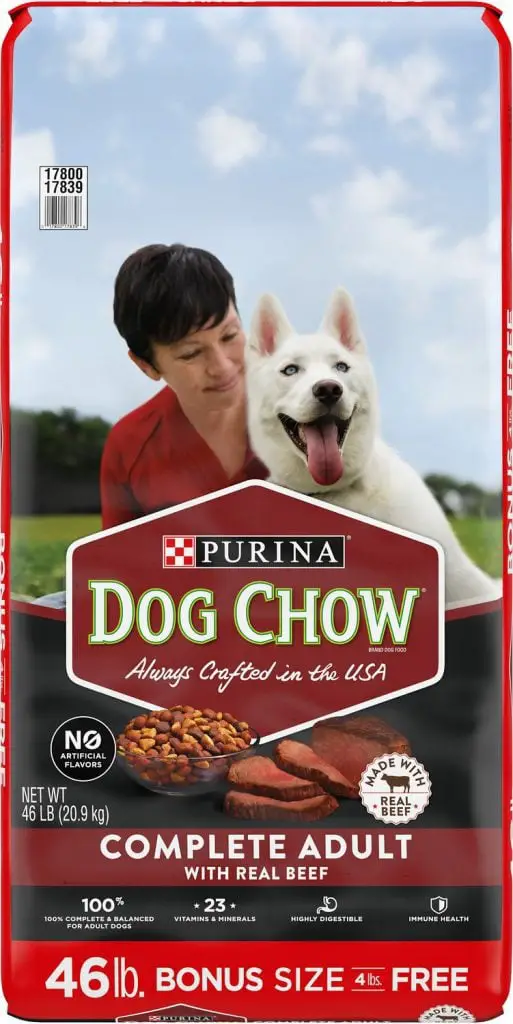 Low protein and fat
Poor ingredients
Little meat
Doggypedia rating: 1/5
First 5 Ingredients: Whole grain corn, poultry by-product meal, corn gluten meal, beef fat, soybean meal
Calorie Content: 3600 kcal/kg
Macronutrients (Dry-Matter Basis):
23.86% Protein
11.36% Fat
55.68% Carbohydrates
Dog Chow is owned by Purina, who owns several low-quality pet food brands. It is very inexpensive. However, you're really getting what you pay for. The ingredient list is one of the worst on the market. Whole grain corn is included as the first option. Whole grains aren't necessarily bad for dogs; they do not need to compromise most of your dog's diet. 
Poultry by-product meal is the second ingredient. Meal is not necessarily bad for dogs, as it just signifies that the meat has been cooked down. However, all meals need to be named, so you know exactly what your dog is eating. "Poultry" is a very vague term. What kind of poultry? For this reason, it is a sub-par ingredient. 
All the other ingredients on the list are poor as well. Corn gluten meal is not very nutritious, to say the least. 
The macronutrient content of this food is also poor. It is extremely high in carbohydrates, which is exactly the opposite of what your dog needs to thrive. Protein and fat are deficient. 
While this dog food is not expensive in the least, it still isn't a good option for your canine, even if you're trying to stick to a budget. 
Recall Info: Some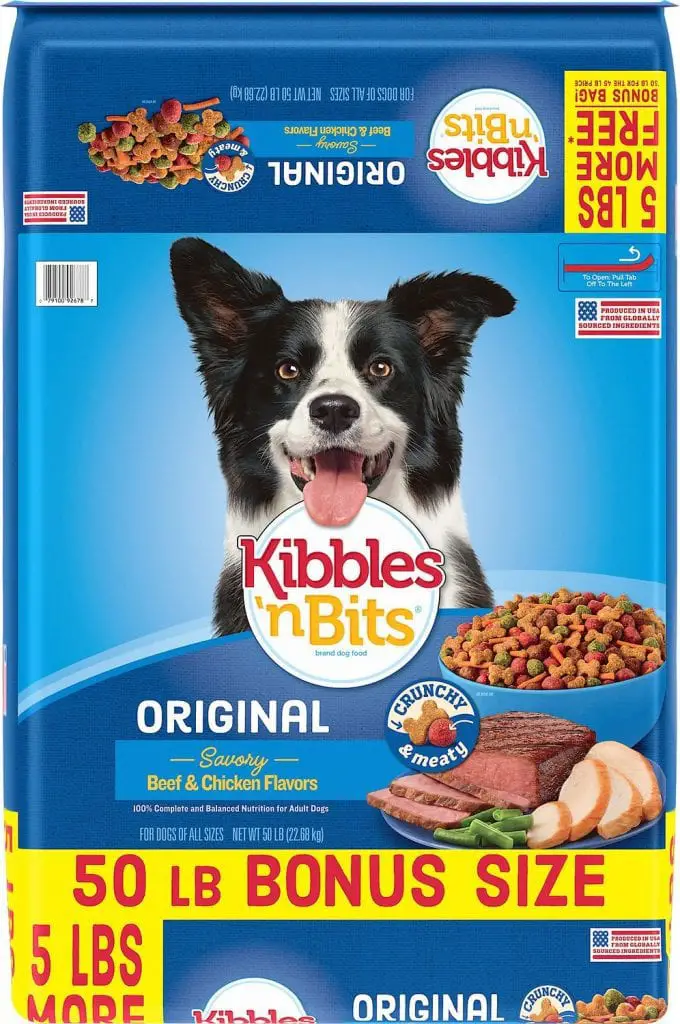 Artificial ingredients included
Deficient protein and fat
Poor ingredients
Doggypedia rating: 1/5
First 5 Ingredients: Corn, soybean meal, beef & bone meal, whole wheat, animal fat
Calorie Content: 3160 kcal/kg
Macronutrients (Dry-Matter Basis):
23.16% Protein
9.76% Fat
57.32% Carbohydrates
Out of all the dog foods we reviewed, Kibble 'n Bits is easily the worst. It is inexpensive. However, we still do not recommend it to dog owners on a budget. It just isn't good for canines in the least. 
This dog food has deficient protein and fat. The carbs are quite high. To thrive, our dogs do not need lots of carbohydrates. Instead, they need a lot of protein and fat. This dog food has just the opposite of that. 
The ingredient list on this dog food is atrocious. Corn is included as the first ingredient, which is not a nutritious option in the least. While a little bit of corn isn't great for dogs, it does not need to be the main ingredient in their dog food. A meat product doesn't appear until the third ingredient. Even then, it is labeled as "beef and bone meal," which is not a high-quality option. 
The ingredient list also includes many artificial ingredients, like artificial colors. Your dog does not care how their food looks. It doesn't matter which dog breed you have, there is no reason to have artificial colors in your pet's food. 
Recall Info: Many
Worst Wet Dog Foods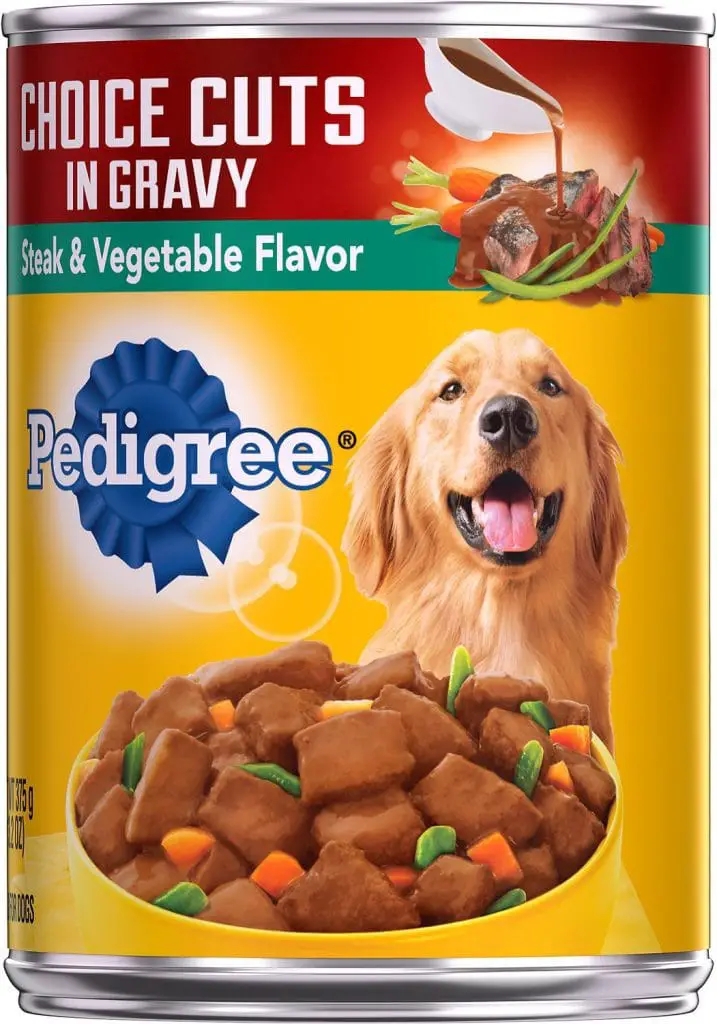 Deficient protein and fat
Poor meat ingredients
Not much fiber
Doggypedia rating: 1.5/5
First 5 Ingredients: Water for processing, chicken, meat by-product, beef, wheat flour
Calorie Content: 750 kcal/kg
Macronutrients (Dry-Matter Basis):
47.22% Protein
16.67% Fat
19.44% Carbohydrates
Pedigree Choice Cuts is this Pedigree's wet food brand. They also make many different kinds of dry dog food, which are also decently low quality. Our main problem with this particular food is that it contains a few sub-par ingredients. Chicken is included as the second ingredient. This is a high-quality option. 
However, a meat by-product is included as the third option. This is low-quality. By-products are all the things left over after processing, like hooves and hair. But, meat could literally be anything. In other words, we have practically no idea what this ingredient even is, which probably means the company doesn't want you to know what it is. For this reason, we have to assume it isn't perfect. 
The protein content is one of the few good things about this dog food. We did appreciate the high protein content. However, the fat was rather low at only 16.67%. Dogs need quite a bit of fat to thrive, as we will discuss later. Carbohydrates are quite high for wet dog food, which tend to have a lower carbohydrate amount. 
Recall Info: Some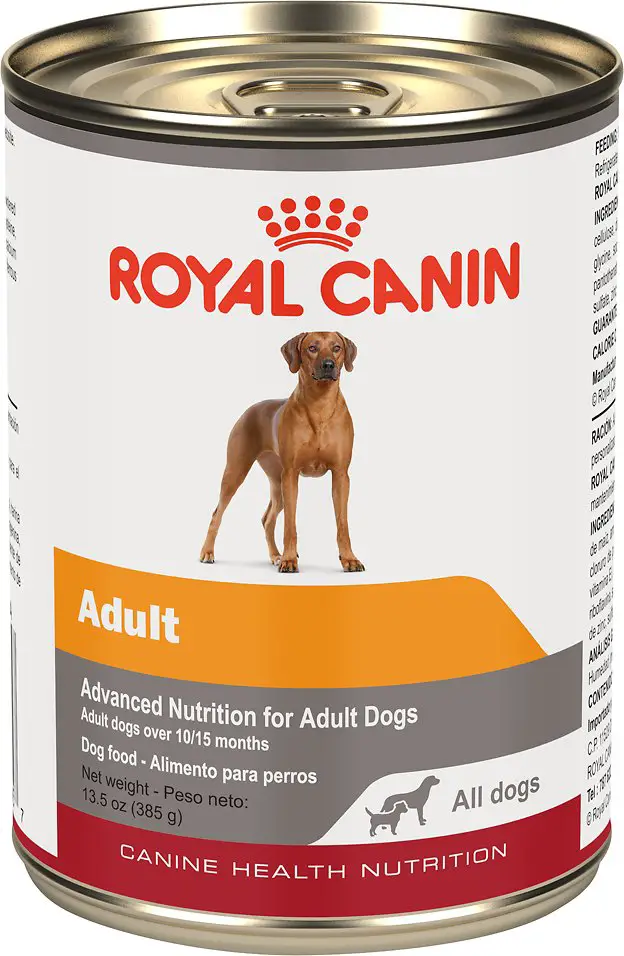 Low-quality ingredients
Low protein and fat content
Expensive
Doggypedia rating: 1.5/5
First 5 Ingredients: Water for processing, chicken, pork liver, chicken by-products, pork by-products
Calorie Content: 1002 kcal/kg
Macronutrients (Dry-Matter Basis):
28.89% Protein
13.33% Fat
44.44% Carbohydrates
Once again, Royal Canin appears on our list. This time, we take a look at their wet food. This food is not much better than dry dog food. Most of the ingredients are terrible. Water is the first option, which is normal for wet food. 
Chicken and pork liver come next. These are both high-quality options. The liver is full of nutrients and is one of the best ingredients you can choose for dog food. However, most of the other ingredients are sub-par at best. By-products are included throughout. A little bit isn't necessarily bad. However, this food contains more than we would like to see. 
Further down the list, there are other unsightly ingredients as well, including brewer's rice. 
While this wet food has more protein than the Royal Canin dry food, it still is not particularly impressive. It is almost 29%, which is not very high, especially as far as wet dog food comes. The fat is very low as well. At the same time, the carbohydrates are very high. In other words, the macronutrient content is backward when compared to what our dogs need. 
Furthermore, this food is also costly. It isn't worth the extra cost at all. Recalls are common and often severe. 
Recall Info: Lots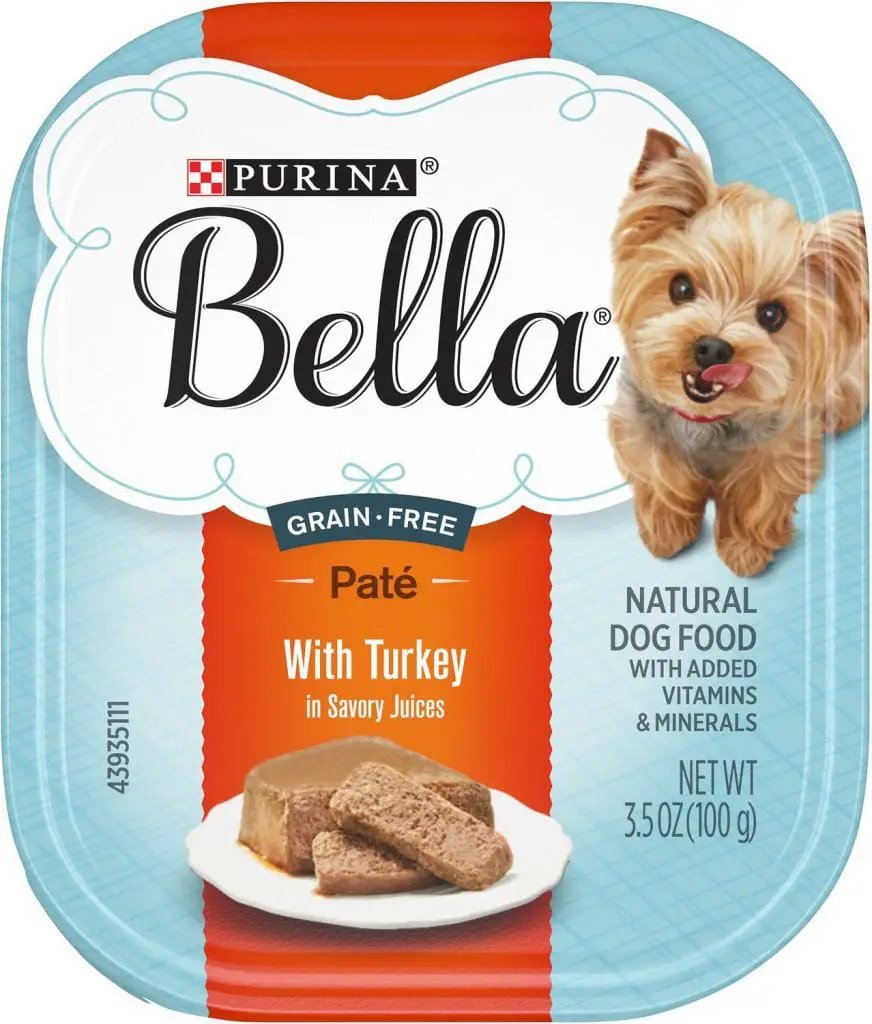 Poor macronutrient ratio
Meat by-products as the first ingredient
Sub-par ingredients
Doggypedia rating: 1.5/5
First 5 Ingredients: Meat by-products, Chicken, Water, Liver, Turkey, Carrageenan
Calorie Content: 989 kcal/kg
Macronutrients (Dry-Matter Basis):
44.44% Protein
19.44% Fat
19.44% Carbohydrates
While this dog food isn't all bad, it generally has more cons than pros. Meat by-products are the first ingredient. This is about as low-quality as meat can get. By-products are the leftovers after production. This isn't always a bad thing. Many by-products have important nutrients in them, and our dogs would likely eat them in the wild. However, this doesn't make them a great first ingredient. 
Furthermore, we have no idea what kind of meat this ingredient is. "Meat" is a very vague label and could literally be anything. This isn't the best choice for our dogs. 
There are a few other sub-par ingredients as well, like carrageenan. This ingredient may cause stomach problems. However, nothing is certain as of yet, which is why many dog foods do include it. It is a product used to thicken up wet dog food to make it more appetizing. However, dogs don't really care how thick their food is, so it seems to be added to benefit their owners mostly. In other words, it is not necessary for the least. 
The protein and fat are decent. However, the fat could be a bit higher. Our dogs rely mostly on fat for their energy needs, so they need quite a bit of it. 
Recall Info: Lots
Designed for small dogs
Includes some vague ingredients
Very low in fat
Doggypedia rating: 2/5
First 5 Ingredients: Water, liver, chicken, wheat gluten, lamb
Calorie Content: 866 kcal/kg
Macronutrients (Dry-Matter Basis):
50% Protein
11.11% Fat
22.22% Carbohydrates
This is not the worst food out there. However, it is not particularly good either. It is designed for very small dogs, hence the very small package. It is also very inexpensive, mostly because you don't get very much food per container. 
At first glance, the ingredient list is not terrible. Water is included as the first ingredient, which is normal for wet foods that contain a lot of moisture. The second ingredient is liver. Organ meat is a very high-quality option in most cases, especially liver. It is nutrient-dense and includes a lot of the vitamins your pet needs to thrive. 
But, the liver in this dog food is unlabeled. It could come from any source; we just don't know. This can be a problem, especially for dogs with allergies. 
Wheat gluten is included as the fourth ingredient. This is a low-quality option that is used to boost the protein content of the food. However, our pets should get meat from meat when possible, and wheat gluten is obviously not a meat product. Lamb is the fifth ingredient. This is a rarer meat option that does contain much of the nutrients our dogs need. 
With that said, lamb is not particularly higher-quality than chicken or beef. It may be better for dogs with allergies, though, as lamb is rarely an included ingredient. 
This food contains quite a bit of protein. However, a lot of this is wheat gluten. This is not a complete source of amino acids, which makes it lower-quality than meat options. The fat is extremely low as well, which is one reason it ended up on this list. 
Recall Info: Some
How to Choose The Best Food For Your Dog
Dog food can be confusing. You have to pay attention to the ingredient list, macronutrient content, brand, and a host of other features. This can get confusing quite quickly. Luckily, if you have a bit of background information, it makes the whole process a lot simpler. 
In this section, we'll help you figure out how to choose the best dog food for your canine. 
Macronutrients
Macronutrients include carbohydrates, fat, and protein. These are found in all the food we eat. Dogs need a specific ratio of these macronutrients to thrive. 
When left to their own devices, animals are pretty good at fulfilling their own needs. One study found that when dogs were allowed to choose their own diet, they eat approximately 30% protein, 63% fat, and 7% carbohydrates. In other words, they need a diet that is high in protein and fat but low in carbohydrates. 
Sadly, it is difficult to find a dog food that fits in this ratio. Most are much higher in carbohydrates than they need to be. This is largely because they include things like grain and veggies, which are quite high in carbohydrates. 
Because it is practically impossible to find a dog food that follows this ratio perfectly, we recommend choosing a food that is at least somewhat high in protein and fat. The higher in fat and protein, the better. 
Many of the dog foods we reviewed  above landed on our worst dog food list because they contained way too many carbohydrates. Typically, you want something with at least 30% protein and under 30% carbohydrates or lower. None of the dog foods on our list fit into this category, which is why we rated them as the worst you can buy. 
Quality Ingredients – Meats
The ingredients and macronutrient content go hand-in-hand. After all, the ingredients included dictate what the macronutrient content will be. If a food is high in real meat, it will likely be high in fat and protein. When you look at the ingredients and macronutrient content together, you can get a lot of information. 
Generally, you want a dog food that contains as much meat as possible. You preferably want the first five ingredients to be meat of some sort. However, you should at least choose a dog food where the first ingredient is meat. This meat should also be a high-quality option.
Truthfully, it doesn't particularly matter what kind of meat you give your dog. Chicken, beef, and other meats are all basically the same. The only time it would really matter is if your canine is allergic to one of these meats. Then, you would want to avoid the ingredient that they're allergic to. 
The way the meat is processed does matter, though. Preferably, you want whole meat where possible. However, meat meal is also a suitable option. Nutritionally, there is not much of a difference between whole meat and meat meals. Meat meal has just been cooked down to remove most of the water. This is required for dry foods, since they can't contain much moisture.
In fact, the inclusion of whole meat may throw off the order of the ingredients and make it seem like there is more meat in it than there is. This is because whole meat contains a lot of water, which is removed during the creation of the dog food. Meat meal already has much of the water removed, so it is in a more accurate location on the ingredient list. 
By-products are often given a bad reputation. However, there isn't anything blatantly bad about by-products. They simply include the parts of the animal that humans in western countries typically wouldn't eat – like ears and snouts. However, these cuts can be very nutritious and our dogs would naturally eat them in the wild. 
The only sort of meat you want to avoid is unnamed meat. For example, "meat meal" could literally be anything. "Meat" is very vague and isn't descriptive in the least. "Poultry" meals have the same problem. What kind of poultry? Instead, we recommend choosing named options, like "chicken meal".
Quality Ingredients – Vegetables and Grains
Besides meat, the other major ingredients in dog food are usually grains and vegetables. Usually, added nutrients and vitamins are included. However, these are usually about the same across the board.
Grain-free dog food is often advertised as a better option for our pets. However, in many cases, it doesn't really matter. Dogs have evolved over thousands to years to eat grains due to their close relationship with people. Whole grains also offer some nutritional value. They aren't just empty carbohydrates. 
The only time a dog should avoid grains is if they are allergic to gluten. This is not extremely common. Dogs are just as likely to be allergic to a meat product as they are grain. Signs of gluten allergies include itching of the paws and face. We will discuss more about allergies below, including how to avoid them. 
Alongside grains, veggies are often included in dog food. Sometimes, you will see fruits as well, especially berries. However, these are less common and usually do not appear very high on the ingredient list when they are used. In almost all cases, berries and similar ingredients are used to add antioxidants to the dog food – not as a primary source of nutrition.
There are many types of veggies out there that are commonly used in dog food. Just because a vegetable is healthy for humans does not make it a good choice for canines, however. For example, the FDA has potentially linked certain veggies like peas, lentils and sweet potatoes to a deadly heart disease called DCM. The research is still ongoing. But, this is a good example of how all veggies are not suitable for canines. 
While veggies hold a lot of nutrition, they should not overtake meat on the ingredient list. Our canines are fully capable of getting most of what they need from a variety of meats, so they don't need to rely on veggies all that much. If a dog food emphasizes all the great veggies it has in it, you should be suspicious of the meat content. 
Ingredients to Avoid
There are a few ingredients that you should take hard passes on. These include preservatives, artificial flavors, and colors. While not all of these ingredients have been associated with some negative health effect, they are completely unnecessary. 
Dogs do not care about the color of their food, and the food should be flavored with real ingredients, not fake ones. If a company is putting fake flavorings in their food, it is because they are trying to cover up the unpleasantness of it. 
Fillers, which are ingredients that add calories but not nutrition, should also be avoided. Fillers include things like beet pulp and refined grains. BHA is a common ingredient that may be linked to some health problems, so we recommend avoiding this additive as well. 
You may also want to avoid things like legumes and peas, which have been associated with DCM by the FDA. 
You should also avoid vague ingredients, like meat and bone meal. 
Vegetable-Derived Protein
On top of regular, whole vegetables, many dog foods on the market include vegetable-derived protein. Simply put, this is the protein of a certain veggie that has been concentrated. Many dog foods use this to increase the protein content of their food in a cost-effective manner. After all, peas are far more affordable than meat protein!
Plant-based protein is not necessarily a good thing. However, it usually does not include all the amino acids our dogs need to thrive, so you cannot rely on them for all of your dog's nutrition.
Furthermore, plant-based proteins can throw off the protein content of the food, making you think the food contains more meat than it does. If a food has a very high amount of protein, you may assume that means it contains more meat. However, when plant-protein is included, this is not necessarily the case. For this reason, we recommend checking for these ingredients on the ingredient list and keeping them in mind when judging the protein content. 
Plant-based protein is very dense. Even if it appears quite low on the ingredient list, it can still be quite a bit of the overall protein content of the food. This is because ingredient lists are listed by weight. Just a little bit of concentrated plant-protein is a lot!
Things may be particularly confusing if whole meat is included in the ingredient list. Whole meat includes quite a bit of water, so the protein content is very watered down. If whole meat is included, it may make up less of the protein content than the plant-based protein, even if it is higher up on the list. 
Cost 
Generally speaking, the more expensive the dog food, the better it is. However, this is not always the case. There are many extremely expensive foods out there that are also not particularly great, as you can easily tell from our reviews. Because of this, you cannot go off of the price alone when rating a dog food. 
At the same time, you can also find quite a few inexpensive options that are quite good. Some more expensive options fluff their ingredient list with rare meats, like bison, and advertise their formula as grain-free. This often drives up the price, though there is no benefit to feeding your canine rare meat or grain-free foods in most cases. 
Pet owners can save a bit of money by seeing around these advertising ploys. There is no reason to spend tons of money on food that doesn't provide any extra benefit. 
By reading our article and knowing what to look for, you could potentially save yourself quite a bit of money. 
Food Allergies
One of the most significant complications that can occur when choosing a dog food is the possibility of food allergies. Allergies in dogs look a bit different than allergies in people. Typically, dogs exhibit itchiness and redness, especially around their paws and ears. While this may seem like a skin problem, it is the most prominent sign of food allergies. 
Symptoms can include things like hives and swelling as well. 
Dogs typically aren't born with food allergies. Instead, they develop over time. After a dog has been exposed to the same type of dog food ingredient for an extended period of time, they can become allergic to it. Dogs have to be sensitized to a certain ingredient to become allergic to it. 
It is important to note that dogs can only become allergic to protein. They may become allergic to gluten – the protein in grains. However, it is equally as likely that they will become allergic to a specific type of meat, like chicken or beef. 
Allergies to chicken and beef are some of the most common, as they are the most common ingredients in dog food. Most foods contain some sort of chicken, even if they are labeled as a different flavor. Because of this, dogs tend to eat chicken quite a bit, which means that they are at a higher risk of developing an allergy. 
The more your dog eats a type of animal protein, the more likely they are to develop an allergy to it. Therefore, the easiest way to prevent food allergies is to cycle between the type of protein your dog is eating. You can choose different flavors of the same brand, or switch brands regularly. Either way, the important part is to ensure that your canine is eating different kinds of protein sources. This will prevent them from becoming sensitive to any one option.
If your dog already has food allergies, you need to avoid their allergen. Remember, dogs are only allergic to proteins. A dog that is allergic to chicken will not react to chicken fat, since it does not contain protein. 
So, Which Food Should You Choose
By the end of this article, you should know which foods to avoid as well as what to look for when choosing a food for your canines. Of course, there are other food brands that you may choose to avoid as well, including Blue Buffalo, Natural Balance, Nutro, Orijen, Taste of the Wild, Iams, and Nature's Variety. Just because a dog food was not listed in this article does not make it a good option necessarily. 
However, we haven't discussed what foods you should choose for your adult dog. 
Out of all the dog food brands currently available Nom Nom Now is by far our favorite. This personalizable subscription service sends fresh quality food to your door each week. It uses very high-quality ingredients and contains a substantial amount of protein. Furthermore, they also include quite a few different recipes, so you can switch between them often. Most of their foods are comparable to human food, so you know they're high-quality.  Here are the best dog foods:
Why You Should Trust Us
I've been a dog owner and health-nut my whole life. We have reviewed hundreds of different dog foods over the years, so we have an expert view of what the market currently offers. All of our reviews are based on scientific evidence, not marketing campaigns or hearsay. We carefully stay up to date on the latest research so that we can recommend only the best to you and your pets.  And we know which foods to avoid!