Whether you have an African dog breed like the Basenji or want to celebrate your own heritage, there are tons of African dog names available for you to choose from. 

From more popular names like Aza to more obscure names like Chandaki, we have created this ultimate list of dog names. There is an option for practically every dog out there on this list, so you should have no difficulties finding a fitting name for your dog. 
Cool African Female Dog Names
Female African dog names vary quite widely. Some are short and sweet like Aysi, while others are more complex like Chidimma. No matter your dog's personality or breed, you'll likely find a suitable dog name for them on this list. 
Abebi: one who wards off
Abena: born on Tuesday
Abeni: suppliant
Abidemi: born when father was away
Adaeza: princess
Adanna: father's daughter
Amar
Arjana: paradise
Ashanti: someone of the Ashanti people
Atieno: born of the evening
Ayotunde: joy has returned
Aysi: born on Sunday morning
Baako: first
Blessing: blessing
Bohlale: Wisdom
Bolah: cow's tail
Chibuzo: God leads
Chidiebere: God is gentle
Chidimma: God is good
Chiemeka: God has done very well
Chinwe: God owns me
Chinwendu: God owns life
Chioma: God is good
Chipo: gift
Chizoba: may God save
Dambudzo: adversity
Dayo: joy arrives
Duma
Efua: born on Friday
Enitan: one of story
Enu: second
Ephigenia: daughter of Iphis
Eshe: immortal
Gbemisola: carry me into honor
Gugu: precious
Ife: love
Ifunanya: love inspires love
Jayde: jade
Joycelin: just and right
Khata
Lindiwe: I watch
Mala: bitter
Malaika: angel
Monifa: I am luck
Mudiwa: beloved
Mwanajuma: child of Friday
Nakato: second born of female twins
Nandi
Ndidi: patience
Ngozi: accident, skin, or snore
Nia: intention, life purpose, or mind
Nkechi: of God
Nkemdilim: belongs to me
Nosizwe: mother of the nation
Nsia: sixth
Nsonowa: seventh
Nthanda: star
Patience: endurance
Rudo: love
Rufaro: happiness
Rumbidzai: praise
Rutendo: faith
Sallinge: nothing but a peep
Salina: has mercy
Sipho
Sylvia: living in a wood
Tafadzwe: we are pleased
Tafari: first-born daughter
Tamake: twin
Tamela: she who basks in the sun
Taonga: we are grateful
Tapiwa: plunderer
Tatenda: we give thanks
Tinashe: the Lord is with us
Titilayo: ever joyful
Totit: a female monkey
Tcholofelo: hope
Udo: peace
Uzochi: good manners
Worknesh: she is gold
Yejide: image of her mother
Zimbabwe
Zola: to love
Zuri: beautiful
Cool African Male Dog Names
Male African dog names are very similar to female names, but often with a masculine twist. 
Abel: breath 
Abidemi: I am reborn
Abimbola: born to be rich
Abioye: born during coronation
Abrafo: executioner
Adegoke: crown-ascending
Anyim: from the Niger river
Bamidele: bring me home
Barasa: rum
Bbwaddene: like a large dog
Bhekizitha: watches for the enemy
Dayo: joy arrives
Duna: lord, master, and headman
Getura: one who excels or surpasses
Gazini: blood
Githinji: butcher
Isoba: walks slowly
Isoke: hairy
Isooba: stealthy
Jengo: materials for building
Kagiso: peaceful
Kamau: quiet warrior
Kibwe: a small pebble
Kobe: tortoise
Lusala: feather
Nawvlee: big devil
Nkosana: a petty chief
Noah: rest
Obi: heart
Ogechi: time-spirit
Paki: witness
Qinisela: persistent
Quanda: an egg
Sango: fire
Simba: lion
Zuberi: strong
Zulu
Zuri: handsome
Swahili Dog Names
Swahili is a particular language in Africa. Here are some of the most popular names from this language:
Buluu: blue
Jambo: "hello"
Kidogo: small
Kidoko: hippo
Kijani: green
Kuaminika: reliable
Leo: "today"
Maji: water
Mbogo: buffalo
Moto: hot
Nyepesi: light
Nzito: heavy
Shupavu: energetic
Soni: shy
Sumaki: fish
Zee: old
South African Dog Names
South African names are somewhat similar to others, but they are unique in their own way. Here are some of our favorites:
Adeola: crown of high estate
Adetokunbo: he will wear the crown of sea
Afolabi: high-born
Akua: born on Wednesday
Akwasibah: born on Sunday
Alaba: their own person
Alala: dreamer
Amaka: noble
Biopuso: self-governing
Boipelo: self-glorifying
Boitumelo: joy
Bolanile: the honor of this house
Bujune: sorrow
Butannaziba: who walks before the night
Buziba: night
Candace: the mistress of Chendi
Chakide: a mongoose or weasel
Chiamaka: the spirit knows or God is noble
Chidi: God lives
Chigaru: like a large dog
Chimola: breaker of things
Chitemo: aze
Dada: nature
Dede: a grasshopper
Dubaku: eleven
Dwanh: to run
Ebele: mourning
Ekua: born on Wednesday
Ekundayo: my sorrow has turned to joy
Eniola: she who is wealthy
Marjani: red coral
Masika: born during a monsoon
Masozi: tears
Olayinka: she who brings salvation
Oluchi: work of God
Olufemi: God loves me
Onyeka: who is greatest
Qhikiza: full-grown girl
Racheal: an ewe
Refilwe: we are given
Remla: a predictor of the future
Sheena: gift
Shukura: be comforted
Simisola: rest in wealth
Sithembile: we have much hope
Ssanyu: the happy one
Subira: patience
Suzanna: a graceful white lily
Learn More: Top 350+ Unisex Dog Names
Rhodesian Ridgeback Names
These somewhat rare dogs are best known for the dark stripe along their back, hence their name. They are native to Africa, where they were bred as tracking and hunting dogs. 
Adowa
Akinyi: born in the morning
Akoko: bird, specifically a hen
Akusua: born on Sunday
Asante: "thank you"
Ayounle: joy fills our home
Azubuike: he has much strength
Baako: first born
Baas: master
Baba: father
Delmar: at the sea
Dube: zebra
Dumisa: honor, worship, or thunder
Dumisani: honorable or thunderous
Ekwueme: a promise kept
Emeka: successful
Emmanuel: God is with us
Enyi
Ffumbe: cook
Fiskal: butcher-bird
Fudu: tortoise
Fumbe: some wild grey animal
Fungai: thinker
Gacheru: spy
Gebhuza: butcher
Gero: builder
Giconi: a kind of bird
Gwala: coward
Idowu: increase
Imamu: spiritual guide
Isingoma: witch doctor
Karibu: "welcome"
Kubwa: big
Kuume
Mhambi
Ndefu: long
Ojiambo: born in the afternoon
Olwenyo: born in wartime
Oni: crocodile
Semi: speak
Thabo
Thando
Tiifu
Basenji Names
These unique dogs are known for being "catlike" and nearly silent. They make good apartment pets, but require quite a bit of exercise. 
Adede: famous
Adhiambo: born in the evening
Adisa: I am grave
Adjoa: born on a Monday
Afia: born on a Friday
Akello: born after twins
Amara: urgent business or someone who is always busy
Anan: fourth
Apio: one who comes quickly
Apiyo: the first-born of twins
Apunda: one who is beside herself
Atodele: joy of the house
Awiti: the child who has been thrown away
Awotwi: eighth
Ayo: joy, value, or born on the road
Ayoo: Born on the road
Babirye: the first-born of twin girls
Bahati: good luck
Bamidele: bring me home
Bapoto: disturbance and noise
Boipelo: proud
Boitumelo: joy
Bolade: honor arrives
Ebele: mourning
Ekene: salute
Ekundayo: my sorrow has turned to joy
Esi: bon on Sunday
Farai: rejoice
Femi: God loves me
Folami: honor me
Fumbe: honor me
Fumnanya: she who inspires love
Funanya: she who inspires love
Kienyeji: local
Lungile: good, right, straight
Makeda: queen of Sheba
Makena: the happy one
Manyara: lucky or rich
Mchumba: sweetheart
Mirembe: peace
Mojisola: I awaken wealth
Ngumu: difficult
Nkiruka: one who is small
Nkosazana: princess
Nkruma: ninth
Nomusa: merciful
Ntombi: girl
Nubia: gold
Nyah: intention, life purpose, or mind
Ogechi: time-spirit
Olabisi: salvation
Opeyemi: I praise and give thanks
Osumare: rainbow
Polepole: slow
Shani: wonder
Tendai: thankful
Thandiwe: I give love
Themba: great in size
Tulivu: quiet
Exotic Dog Names
Most African names sound quite exotic, espeically compared to most mainstream dog names. Still, here are some of the most exotic ones we found: 
Adongo: second-born or twin
Adwoa: born on a Monday
Abeeku
Affrica: alternative spelling to Africa
Ane
Baayo
Bheka
Chafu: dirty
Chebe
Chika: God is the greatest
Chinaza: God answers
Chinedu: God is my leader
Congo
Domme
Hadiya: gift
Hlengiwe: savior
Idowu: increase
Kagiso: peaceful
Kalisha: sorceress
Kamadia: moon
Katlego: she with the boiling stare
Kifaru: rhino
Kirabo: offering
Kunto: morose
Leena: softness
Lesedi: light
Pauline: little
Penina: pearl
Qelhatat: a queen of Nubia
Rahisi: easy
Rehma: merciful
Samanya: ordinary
Sethunya: flower
Shani: wonder
Shanika: young one from the wilderness
Sizwe: country
Tamu: sweet
Tapiwa: plunderer
Tau: lion
Titi
Uje
Wekesa: born during harvest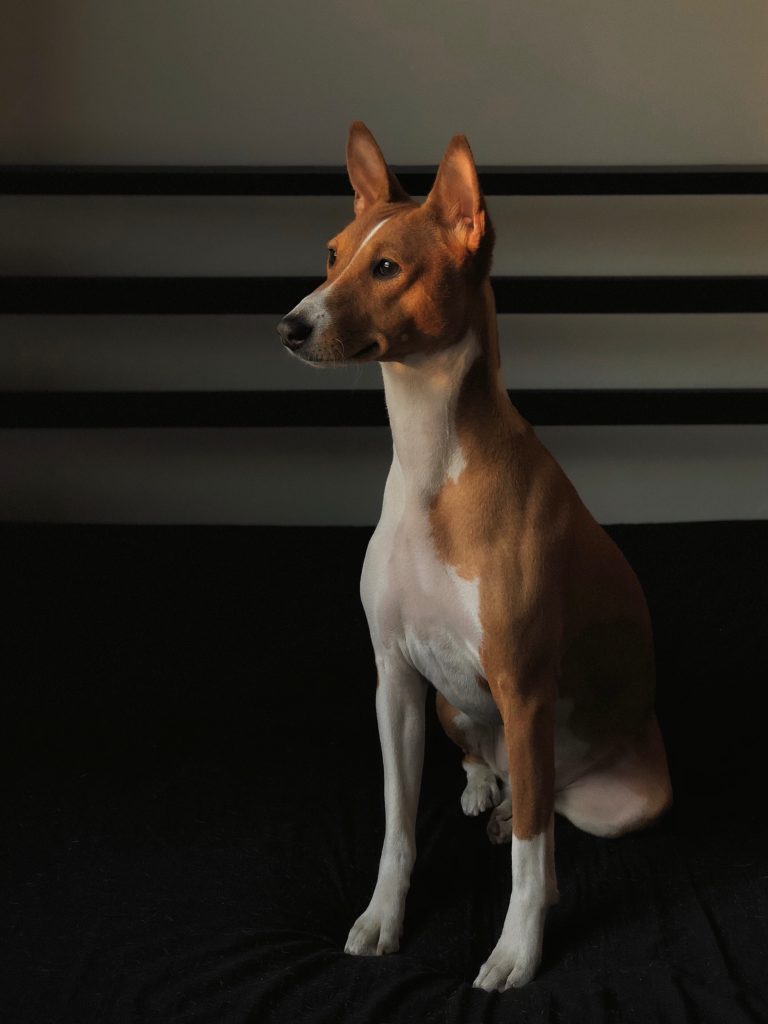 Which Name Did You Decide On?
We included hundreds of names on this list, so we hope that you found the perfect option for your pooch. 

It isn't uncommon to fall in love with more than one name and have a difficult time choosing between them. In these cases, we recommend writing down all the names that you like and trying them out on your dog for a day or two. This won't be long enough to confuse your canine but will give you a feel on whether or not the name is fitting for your new dog. 

If there are multiple people in your household, you should involve them in the decision-making process as well. Have them pick out their own names if they're old enough and try those out on your dog as well. 

While little children can't provide much help when picking out a name, you should make sure that they can at least somewhat pronounce the name you choose. Sometimes, more difficult words are nearly impossible for smaller children to say and should be avoided if you have small children in your household.