Fresh dog food is becoming more and more popular among pet owners. Not only is fresh dog food healthier for our pets, but it is often more convenient. 

We all want what is best for our furry friends, but many of us have busy lives that make cooking or following complicated feeding routines impossible. Luckily, that's where fresh dog food subscription boxes come in. They send everything your pet needs for a healthy meal straight to your door. 

Because of the booming popularity, there have been countless dog food delivery services founded within the last few years, including those like Ollie. Choosing between them can be difficult. 

Out of all of these companies, Nom Nom Now and Farmer's Dog are two of the most popular. We reviewed each company in-depth to help you select the best option for your pooch. We considered the variety, nutritional completeness, ingredient choices, cost, delivery options, and overall quality of each brand. 
Our Pick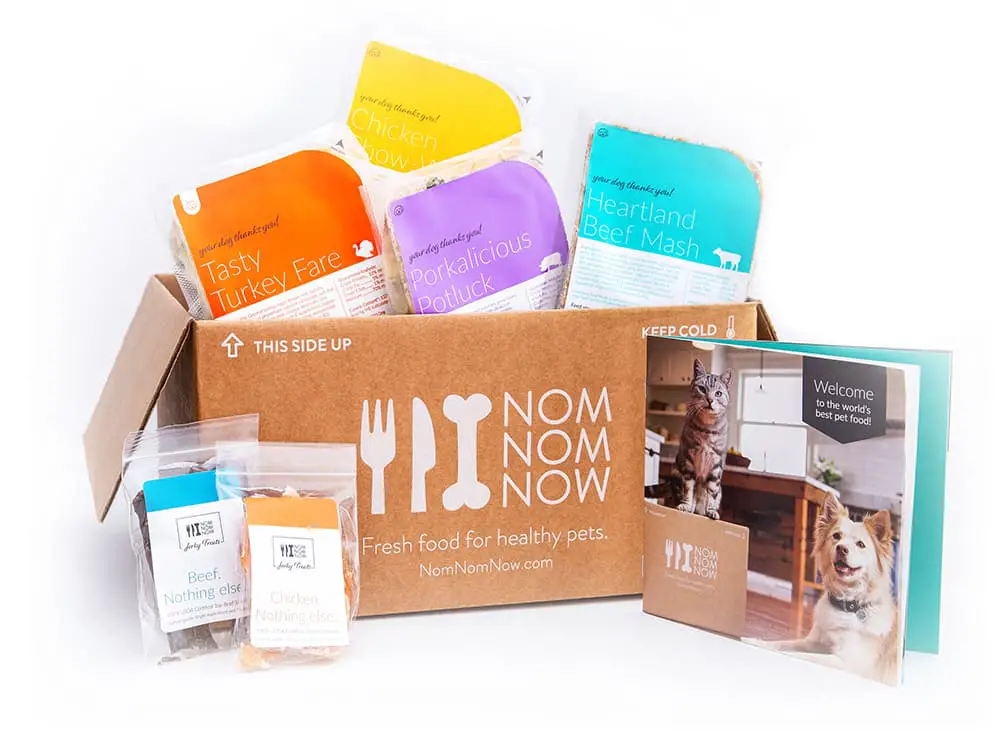 Fresh, human-grade ingredients
Near-perfect macronutrients
Convenient delivery
Doggypedia rating: 5/5
First 5 Ingredients: Diced chicken, sweet potatoes, yellow squash, spinach, and sunflower oil.
Advantages of Nom Nom Now
Nom Nom Now includes greater variety with four different recipes. However, you do have to pay a little extra if you want to receive more than one recipe at once.
Nom Nom Now also provides different shipping options, which we discussed above. 
They have near perfect macronutrients
Advantages of The Farmer's Dog
The Farmer's Dog is slightly cheaper, though they have fewer options in recipes. Still, their pricing system does encourage you to order more than one recipe at once. 
Their packaging is slightly more environmentally friendly.
Fresh Dog Food (Why You Should Buy It)
Healthier Ingredients: Just like choosing fresh options for yourself is often healthier, our dog can get huge benefits from eating fresh dog food regularly. 

No artificial ingredients or preservatives: Firstly, fresh dog food is typically free of most artificial ingredients and preservatives. Because everything is fresh, they simply don't need to have a super long shelf life. Furthermore, most fresh dog foods come in subscription boxes, so they don't even need to sit on the store shelf either. Often, fresh dog foods rely on being refrigerated or frozen to stay fresh. 

No Fillers: These dog foods usually contain better ingredients than your run-of-the-mill kibbles. After all, you can actually see the ingredients in them, so the company can't just pack it full of fillers. 

Personalized meals: Sometimes, these foods also come with personalization options, which requires you to fit the food exactly to your pet's needs.  If your dog needs higher amounts of protein, for example, you can often find suitable fresh options. 

Convenient Delivery: Plus, fresh dog foods are often more convenient. Despite some misconceptions, this sort of dog food doesn't take any more work or time than your average dog food does. Since it is delivered straight to your door, you don't even have to go pick it up at the store. They're that easy. 

Of course, what exactly you need to do to get each fresh food ready varies quite a bit. Some foods require you to add water, while others just need to be thawed out. 

Depending on what you purchase, fresh food can be a little more expensive than the average kibble you'd find at the pet store. However, it is often better, in the long run, to invest in this more expensive dog food. 

Better Health: It is better for your dog's health, so they're less likely to need care from a veterinarian. This can often save you hundreds of dollars over the years. Furthermore, you might also notice little difference in your dog's behavior and appearance when you switch them to a better quality dog food, like lower shedding amounts for example. This means that your dog might need groomed less, which in turn saves you more money. 

Longevity: All of these factors add up to cost less in the long run. While fresh dog food might be more expensive upfront for pet parents, it can potentially save you hundreds of dollars throughout your dog's lifetime. 

Comparison of Nom Nom Now vs. Farmer's Dog
Now that we know why fresh dog food is such a good option for your canines, let's take a look at which specific option is best for your canine. Both of these options have different strengths and weaknesses for each dog owner to consider. 
Price
For both dog foods, you must fill out a form and make a profile and get your meal plans before you can see the price. This is because each company personalizes their food for each dog. If your dog is overweight or underweight, the exact proportions might be a little different than they would be for a dog of ideal weight, for example.

We created a profile for various types and sizes of dogs so we could get a clear overview of the price of both plans. 

On average, Nom Nom Now was about $7 dollars a day. This was calculated for a medium dog of ideal weight with no food sensitivities. If your dog is smaller or larger, your price will be a little different because you'll need less or more food. The same is true for canines who are overweight or underweight. 

Keep in mind, Nom Nom Now ships out two weeks of food at a time, so you will pay more upfront. But, you will have to pay less often. They also charge a little extra if you want more than one recipe in every shipment. 

The Farmer's Dog is just a few cents less per day than Nom Nom Now – around $6.86. This was calculated using the same parameters we used with Nom Nom Now, so you can expect the exact price to differ for your specific dog. 

The Farmer's Dog actually charges you MORE if you just want a single recipe, while Nom Nom Now does the exact opposite. You should keep this in mind depending on how many recipes you want your dog to have, especially if they're picky eaters. 

If you're looking to avoid certain foods in your dog's diet, it is likely cheaper to go with Nom Nom Now. If you'd like your dog to eat more than one recipe at a time (which we recommend for all dogs without food allergies or special diet needs), then The Farmer's Dog will probably be a little bit cheaper. 

Both options also give you money off your first order. 
Ingredients and Recipe Options
Nom Nom Now offers four different options in their subscription service, including porkalicious potluck, chicken chow-wow, and tasty turkey fare. Each recipe also includes different veggies and other ingredients. For example, the beef recipe includes potatoes, carrots, peas, eggs, and fish oil. 

Overall, all their ingredients seem to be high-quality. There are a few ingredients we would have rather not seen, like peas. However, overall, the dog food appears to contain very little fillers and provide complete nutrition for each canine. 

Some of their recipes do contain grain and others are grain-free. Grain dog food is not bad for dogs by any means, especially when it is a whole grain like brown rice. As long as your dog does not have a grain allergy, which is actually quite rare, a grain-inclusive diet is a great option. 

The Farmer's Dog includes three different recipes – turkey, beef, and pork. You cannot see the ingredients of each recipe until you create a profile and are choosing which options you want for your dog. 

The ingredients are the same overall quality as Nom Nom Now. For example, their beef option includes USDA Beef, sweet potato, lentils, carrot, USDA beef liver, water, kale, sunflower seeds, and fish oil, as well as a variety of vitamins and minerals to ensure complete nutrition. 

The only real difference between each brand is that Nom Nom Now has more recipe options and each recipe has slightly different ingredients.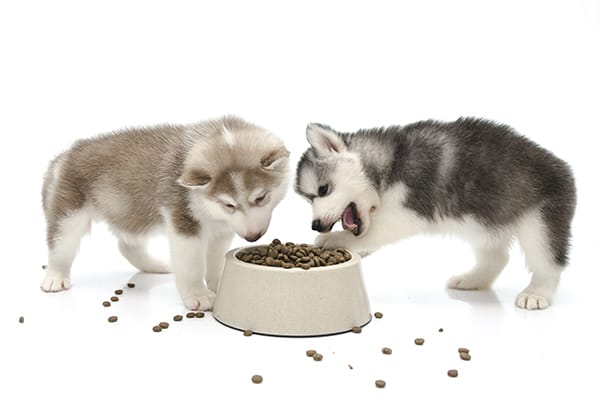 Delivery Options
Nom Nom Now offers free shipping throughout the contiguous states. Every order is freshly prepared just before it ships and comes individually portioned to your pet's needs, completely removing the need for any measuring on your part. 

You can choose to have your dog's food delivered every week, every two weeks, or every four weeks. This doesn't make much difference and is mostly a matter of personal consideration. If you choose to have food shipped less often, you will need to store the excess for longer. If you have food shipped more often, you will be dealing with more packaging. 

The Farmer's Dog works on a similar system. They provide you with complete control over when you receive your shipments as well as how much food you receive. You can change the amount of food and the timing of each shipment. 

The food is shipped in pre-packaged servings sizes for your canine, so you don't have to do any of the measurements yourself. 
Packaging
Both of these meal delivery services offer environmentally-friendly boxes. All of Nom Nom Now's insulating liners, boxes, and meal packs are either recyclable or are made of recycled materials. As we previously stated, all of their meals are pre-portioned for your dog based on things like their activity level. 

The Farmer's Dog ships their meals in recyclable cardboard boxes and their insulators are bio-degradable. It is even compostable, or you can put it in your sink and it will dissolve into the water. The individual food containers are also recyclable. 
Quality
Nom Nom Now's foods meet or exceed the AAFCO standards for nutrition. These standards are top-of-the-line when it comes to dog food, so you can be sure that their fresh meals meet all your pet's nutritional needs. Plus, they are for all life stages, so you won't have to switch to another formula. 

All their formulas are also designed by a veterinarian nutritionist – Dr. Justin Shmalberg. Surprisingly, this is actually quite rare in the dog food industry. Companies do not have to have a veterinarian on staff, and many don't. Because a real vet is formulating all their food, you can bet that it is probably quite high quality and designed to help your pet feel as good as possible. 

Every meal is prepared in one of their kitchens around the country. All foods are cooked in small batches and tested for quality. They do not outsource any of their food preparation to ensure that it meets their strict guidelines. 

Farmer's Dog sources all of its ingredients from local, small farms and reputable human food supplies. They also use human-grade ingredients and meet USDA standards. They don't use feed-grade ingredients or pack their foods with preservatives or similar ingredients. They call their meals "restaurant-quality".

Every recipe includes USDA proteins mixed with simple produce and appropriate vitamins and minerals. They do have board-certified veterinary nutritionists on staff that formulate all of their recipes. All their foods meet AAFCO standards. 
Our Pick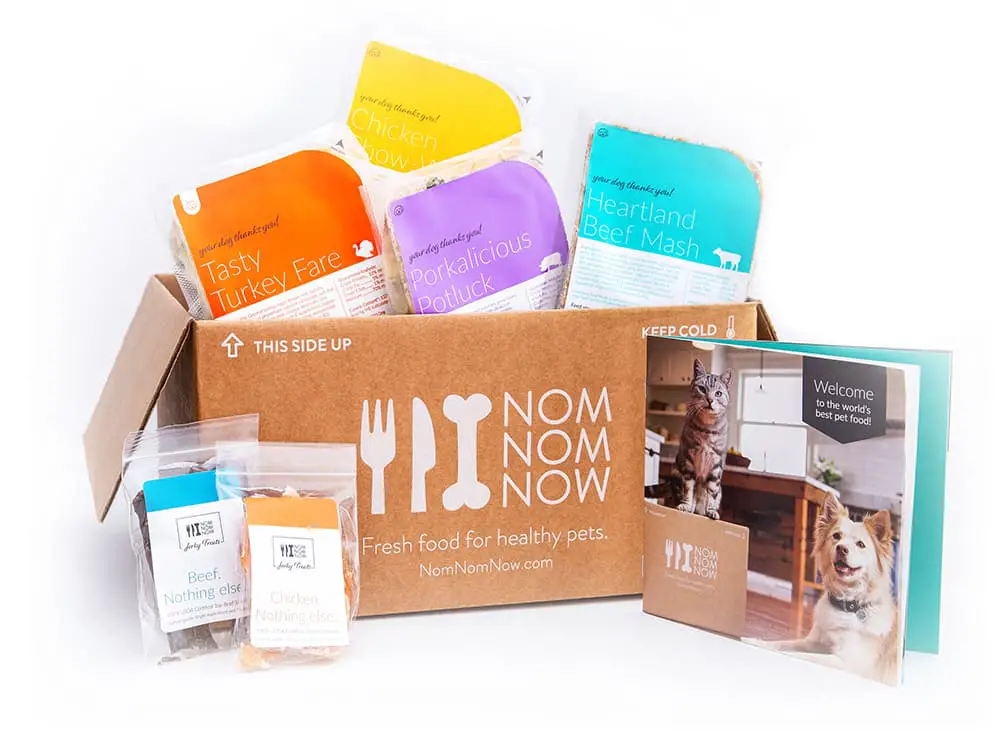 Fresh, human-grade ingredients
Near-perfect macronutrients
Convenient delivery
Doggypedia rating: 5/5
First 5 Ingredients: Diced chicken, sweet potatoes, yellow squash, spinach, and sunflower oil.
Full Review of Nom Nom Now vs. The Farmer's Dog
Here is a full review of the beef option each company offers for comparison.
Nom Nom Now's Heartland Beef Mash
First 5 Ingredients: Ground beef, russet potatoes, eggs, carrots, and peas
Macronutrients (Dry-Matter Basis):
37.04% Protein
16.67% Fat
35.19% Carbs
This formula includes real, ground beef as the first ingredient, which is a great option. It also includes eggs as the third ingredient, which is a wonderfully, nutritionally-complete option for most dogs. 
It does contain peas, though, which have been mentioned in a recent FDA warning. With that said, overall, this food is a great choice for most canines. 
The Farmer's Dog Beef
Meets AAFCO standards
Formulated by a vet
Made with USDA protein
First Five Ingredients: USDA Beef, sweet potato, lentils, carrot, USDA beef liver, water

Macronutrients (Dry Matter Basis):
32.35% Protein
23.53% Fat
35.99% Carbs
With two sources of USDA meat, this dog food is obviously made with high-quality ingredients. It uses decent quality veggies as well, like sweet potatoes and lentils as well. Furthermore, the inclusion of liver is a good choice because it is nutrition-packed.

The macronutrient content is good, though it could be better. We would have liked to see more fat and fewer carbs to make this dog food closer to what canines would naturally eat in the wild. 
Final Verdict: Nom Nom Now vs. The Farmer's Dog
In all honesty, these fresh pet food brands are fairly similar. The only main difference is the recipes they offer. Furthermore, Nom Nom Now is better for those who need only one formula, while The Farmer's Dog is better for those who would like to try multiple formulas. So while they are very close, Nom Nom Now is our pick. Highly recommended.
Why You Should Trust Us
I've been a dog owner my whole life, growing up with puppies to adopting my newest pup, Max. We have tested all the fresh dog food brands and are currently feeding our dog Nom Nom Now because we have seen such great results. All of our reviews are based on scientific evidence, not marketing campaigns or ads. We carefully stay up to date on the latest research so that we can recommend only the best to you and your pets. 
When testing, each dog food has to pass a rigorous review process that involves more than just surface-level information. We calculate all of our own macronutrient data. While we pay attention to the ingredient list, we also consider macronutrient ratios and recall frequency. Additionally, we speak to the dog food brands, vets, and dog trainers to make sure our recommendations are the most healthy options for your dog.
Read More Dog Food Reviews: Best High Fiber Dog Food or Nom Nom Now vs Pet Plate