In this day and age, many dog owners are deciding to choose a unisex name for their pooch.  It can make life so much easier. You can decide on the name you love and not have to worry about the dog's gender.  With that peace of mind, you'll be able to focus on more important things – like puppy-proofing the house!

You may be thinking this sounds great and all but there aren't too many gender-neutral names out there.  That's where this article comes in! We've compiled an exhaustive list to help you find the perfect name for your furry little friend.  From cute to funny, it's all on this list.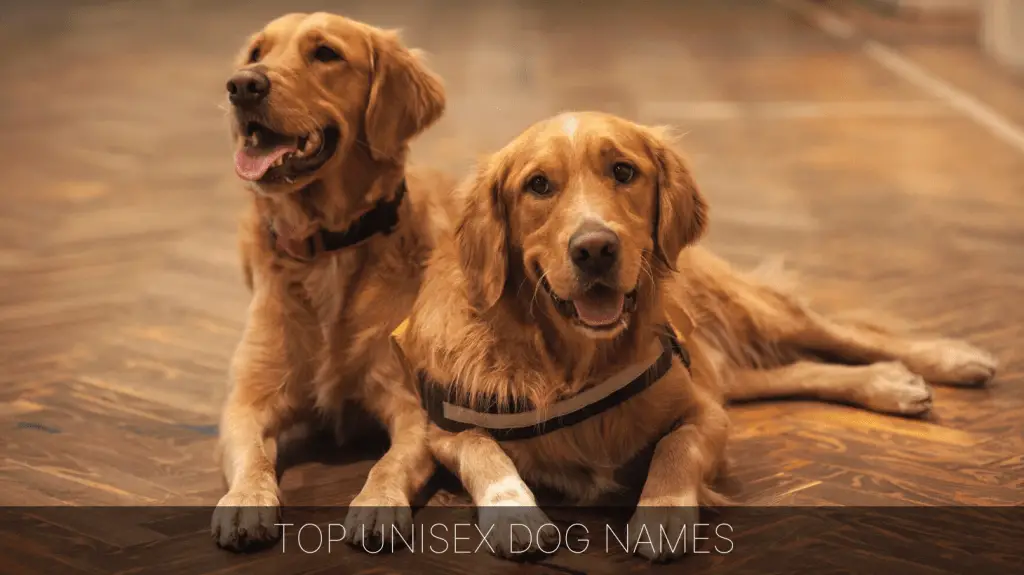 Top Unisex Dog Names
Listed below are 40 of the most popular unisex name ideas for your best friend.  Check it out and see which one fits your dog!

Addison
Alex
Ashes
Avery
Bailey
Billie (Billy)
Blair
Bobby (Bobbi)
Charlie
Chris
Cody
Dakota
Dallas
Dani (Danny)
Delaney
Emerson
Frankie
Harper
Hunter
Jamie
Jessie (Jesse)
Jordan
Lee
Mickey (Micki)
Niki (Nicky)
Parker
Randy
Remy
Rory
Rudy
Ryan
Sam
Sandy
Sasha
Sidney
Stevie
Taylor
Terri (Terry)
Toni (Tony)
Vic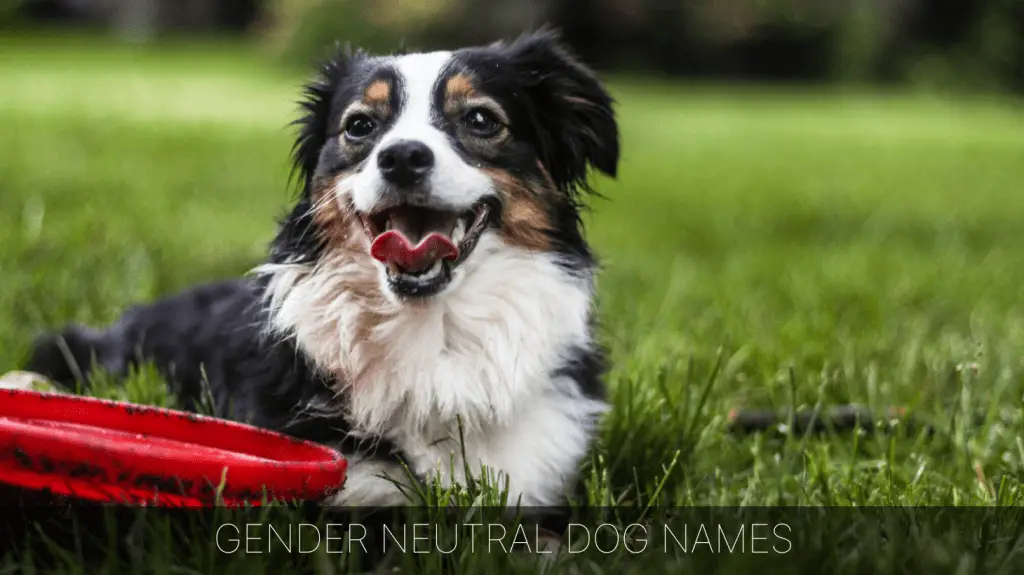 Gender Neutral Dog Names
One of the biggest advantages of a gender-neutral name?  It's sure to be cute. Below are some of the cutest names around that are sure to fit either your male or female puppy!

Amigo
Bandit
Barkley
Biscuit
Bolt
Buddy
Burger
Casper
Chewy
Chip
Clover
Coco
Cookie
Cuddles
Cupcake
Dobby
Fido
Flounder
Fluffy
Freckles
Furball
Furry
Gizmo
Gumbo
Gumby
Hoagie
Jalapeno
Jingles
Jinx
Klondike
Koda
Kona
Lucky
Marley
Marlin
Marshmallow
Milkshake
Moonpie
Moose
Muffin
Munchkin
Nacho
Neptune
Nova
Nugget
Nutmeg
Onyx
Oreo
Ozzie
Patch
Paws
Peanut
Pepe
Pongo
Pudding
Pumpkin
Quinn
Rocket
Ruff
Scout
Shep
Snickers
Snoopy
Sparky
Stromboli
Sunny (Sonny)
Waffles
Wags
Learn More: Top 700+ Boxer Dog Names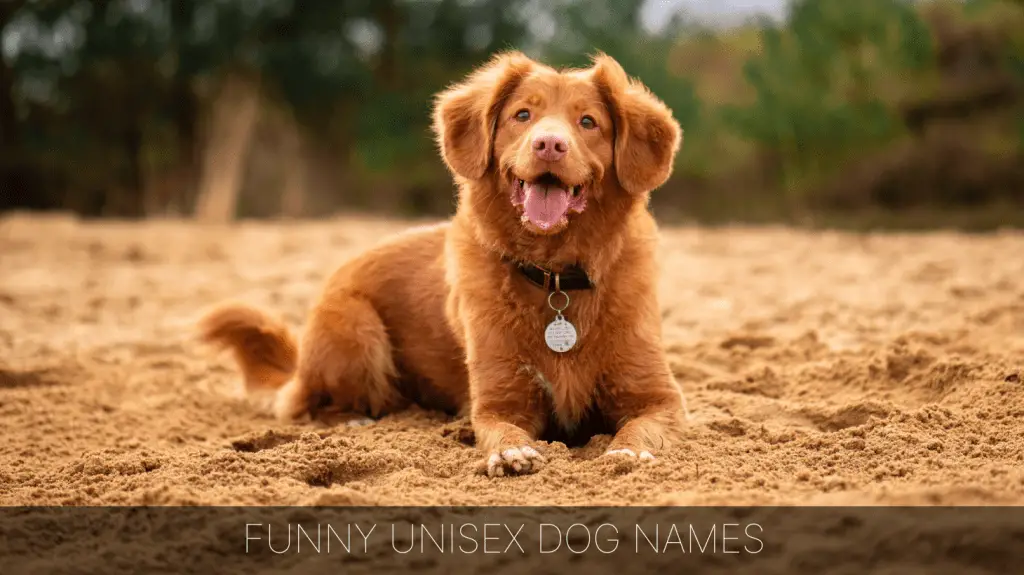 Funny Unisex Dog Names
If you have a great sense of humor than giving your new pet a name that makes you giggle may be the way to go.  There are plenty of ways to come up with funny names – TV characters, movies or music.

You could also be ironic and name your regal poodle dog T-bone.  The great thing about these names is that most of them can be unisex.  Below you'll find a list of some of the funniest names around.

Bacon
Bacon Bit
Bruiser
Bubba
Chalupa
Chaos
Chewbarka
Chunk
Cletus
Cujo
Diablo
Guinness
Gyro
Hamburglar
Jumbo
Kitty
Meatball
Pee Wee
Pikachu
Porkchop
Snoop Dog
Tank
Yeti
Yoda
Cute Neutral Dog Names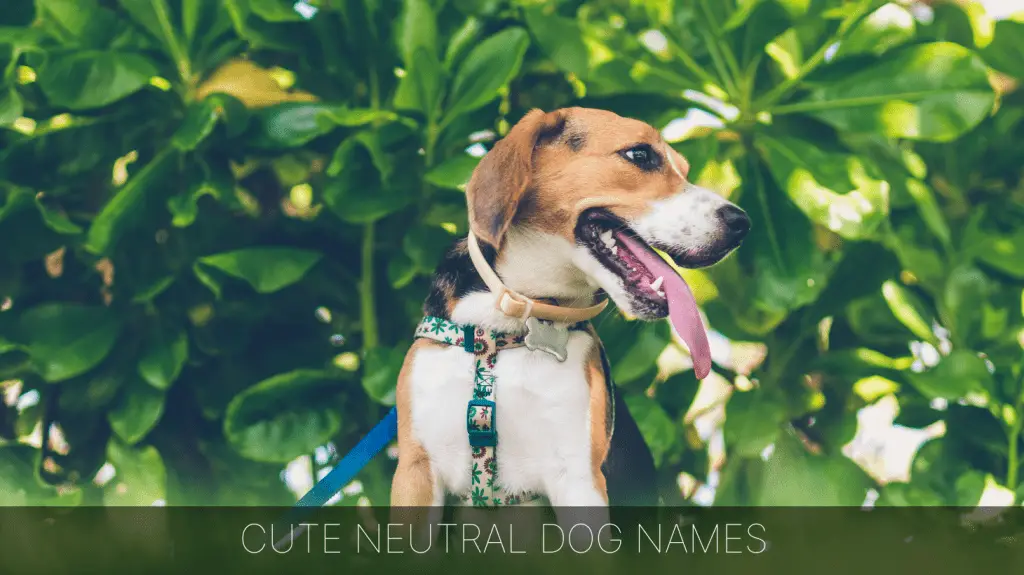 As a pet owner, you know there's not another dog on the planet like your furry little bundle.  With this in mind, it may be important for you to choose from a variety of unique dog names – names that aren't so common at the dog park.  

While these names are sure to be unique, they're also gender-neutral and can fit any boy or girl dog.

Bertie
Champ
Chance
Chips
Clancy
Colby
Cruz
Digby
Digger
Eagle
Figaro
Galaxy
Iggy
Jigsy
Kendall
Kit
Koko
Midnight
Mookie
Penn
Phoenix
Puddles
Rover
Scooter
Shaggy
Shotski
Skylar
Starr
Thumper
Yogi
Learn More: Top 200+ Egyptian Dog Names
Unisex Dog Names With Meanings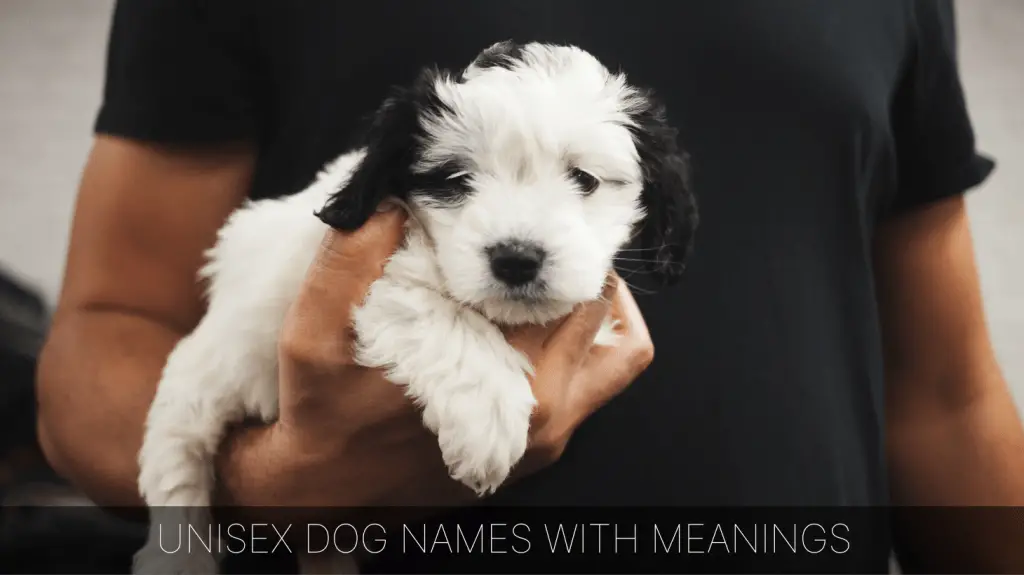 Do you want your dog's name to mean love or happiness?  You know, all the things she makes you feel? If that's the case, look no further than this next section.  Listed here you'll find a large selection of gender-neutral names with their meanings – one is sure to melt your heart.

Abra (mother of a multitude)
Ace (one unit)
Adler (he who is brave)
Adrian (of the sea, dark one)
Andi/Andy (brave)
Arlo (army)
Arron (enlightened)
Asher (happiness)
Ashton (ash tree town)
Auden (old friend)
Austin/Austen (great, magnificent)  The perfect name for large dog breeds.
Bellamy (beautiful friend) A perfect name for your best pal!
Berber (indigenous North African people)
Blaine (slender or thin)  Perfect for a stately dog like a Great Dane.
Blake (dark and attractive) Great for a dog that is black or has dark markings.
Blakely (black, dark and pale)
Blythe (kind and joyous)
Bodhi (awakened and enlightened)
Brady (one with the broad eyes)
Briar (sturdy)
Brighton (one who is loved)
Brooke (small stream)
Campbell (crooked mouth)
Carmen (of the song)
Carter (one who transports goods)
Casey (watchful)
Chandler (the maker of candles)
Channing (young wolf) Do you have a Siberian Husky?  This may be the perfect name!
Costa (little, constant, steadfast one) Perfect moniker for your best pal that's with you every step of the way.
Dale (valley)
Darby (freedom)
Devin/Devon (poet)
Dewey (beloved)  It just may be the best name for your adored pet!
Dylan (of the sea)
Eden (pleasure, delight)
Edison (an Old English last name)
Ellery (from the elder tree island)
Emery (brave, powerful)
Evan (God is gracious, youthful)
Fern (like the leafy green plant)
Finley (fair hero)
Fletch (arrow maker)
Greer (watchful, alert) Fabulous name for a watchdog!
Hadley (from the heather-covered meadow)
Harlow (rocky hill)
Hillary (bringer of joy)  This certainly must be one of the qualities of your precious pooch – may be the best name for him too!
Jackie (God is gracious)
Jade/Jaden (precious stone)
Jazz (based on modern music)
Jetta (Latin meaning black gem)
Joya (to have restraint)
Jude (praised)
Keegan (small fiery one) A great name for your tiny spitfire dog.
Keely (beautiful, graceful) The perfect name for a stately poodle!
Kelly (the warrior)
Kennedy (helmeted warrior)
Kerry (dark-haired one)
Kirby (from the town with the church)
Landry (estate ruler)
Lane (a narrow country road)
Lane (the one who takes the narrow path)
Lennox (elm field)
Logan (dweller in a little hollow)
London (fortress)
Lonnie (ready for battle) Do you have a guard dog?  This could be a contender!
Lumi (light bringer)
Lyric (words of the song)
Mackenzie (of the wise ruler)
Marin (of the sea)
Micah (one who is like the Lord)
Monroe (river delta or red marsh)
Montana (mountainous)
Morgan (traveling or circling the sea)
Mugsy (a gangster sidekick) 
Murphy (sea warrior)
Nico (victory of the people)
Noel/Noelle (born at Christmas)  Was your pup a Christmas present?  This is such a cute reminder of your pup's birth!
Oakley (sturdy and strong)
Oswin (divine friend)  A unique name fitting for your best friend.
Owen (young warrior)
Parker (gamekeeper)
Quincy (to be patient)  For the easy-going, peaceful pooch in your life.
Rayne/Rain (strong counselor)
Reagan (little king)  Is your dog the head of the household?  This may be the perfect fit!
Reed (having red hair)
Reese (enthusiasm, confident or ambitious)
River (tranquil waters)
Robin/Robyn (bright, shining, and famous)
Rowan (of the tree)
Sage (wise and healthy)
Salem (peace)  Great moniker for a calm dog.
Sawyer (woodcutter)
Shane (God is gracious)
Shay (admired and respected)
Silver (lustrous) For the dog with the beautiful mane!
Sloan/Slone (warriors)
Sterling (pure)
Toby (the goodness of God)
Tracy (war-like or fighter) Another great name for a watchdog!
Vesper (an evening star)
Wallis/Wallace (from Wales)
Wren (rule)
Wyatt (to guide) Great name for a service dog.
Wynne (fair and pure)
Yael (strength of God)
Zuri (beautiful)
Cool Androgynous Dog Names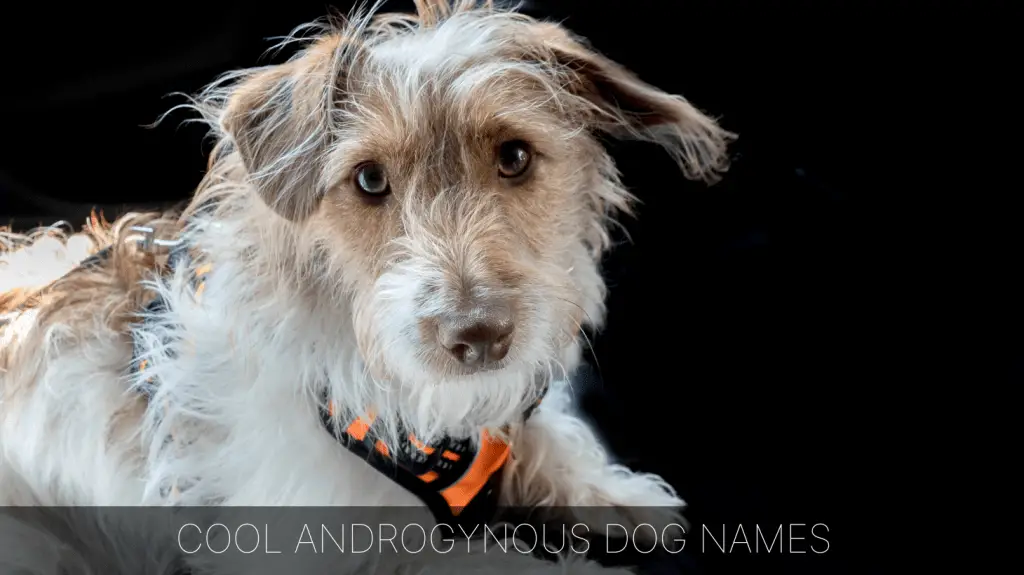 Does your dog just ooze coolness?  Some dogs are just a bit more awesome than others.  If this sounds like your pup, check out this next section of extremely cool dog names.

Alpha
Apache
Archer
Armani
Arrow
Astra
Atom
Baxter
Blaze
Blizzard
Boomer
Boss
Boss Hog
Bullet
Buzz
Cali
Chief
Cobra
Colt
Dash
Dezi
Dior
Flare
Flint
Fury
Hux
Indie
Jabba
Java
Jazz
Kola
Mac
Mercedes
Nebula
Ninja
Paddy
Pepper
Raven
Remington
Rey
Rider
Rio
Royce
Sabre
Sidi
Spike
Stinger
Storm
Swifty
Venus
Vulpix
Zippy
Multi-Sex Names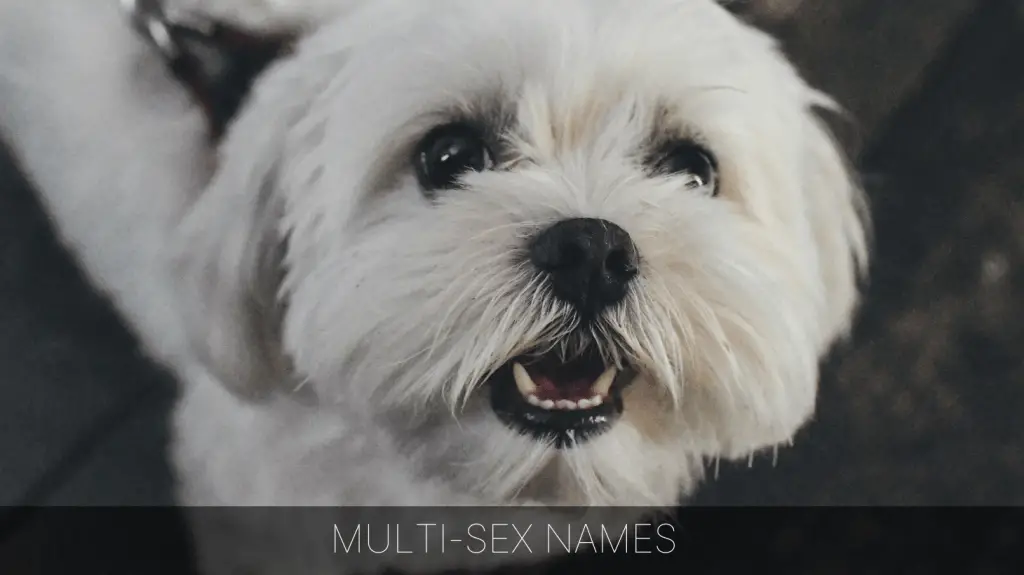 Picking a name can be challenging.  It's stressful and can cause a whole lot of panic and upheaval.  That's definitely not needed when you're welcoming a new puppy into your house.  

The beauty of gender-neutral names is that they can be very unique.  Names that maybe you considered to be only "boy" names may take on a new light if used for a female dog.  

While it still may be difficult to pick your favorite, thinking about naming your pet without the boundaries of gender may open up your mind to exciting new possibilities.

Check out even more names that would be perfect for a male or female dog.

Adley
Alexis
Amry
Angel
Birch
Brett
Brooklyn
Bryce
Cameron/Kameron
Collins
Darcy
Drew
Duff
Elliot
Everest
Ezra
Finch
Gray
Henley
Izzy
James
Jules
Kim
Kyle
Kyrie
Lake
Leslie
Loxley
Mika
Paisley
Reid
Sutton
Tegan
Tully
Yuri
Zion
The Name Game
Since this will be one of the most important decisions you'll make for your dog, be sure to take your time.  You will find a name that will stick out and fit your dog's personality and your family's style. Good luck and happy naming!