Looking For The Best Duck Dog Food Brands? Help Your Pup Stay Healthy With Our Wet And Dry Food Reviews Here.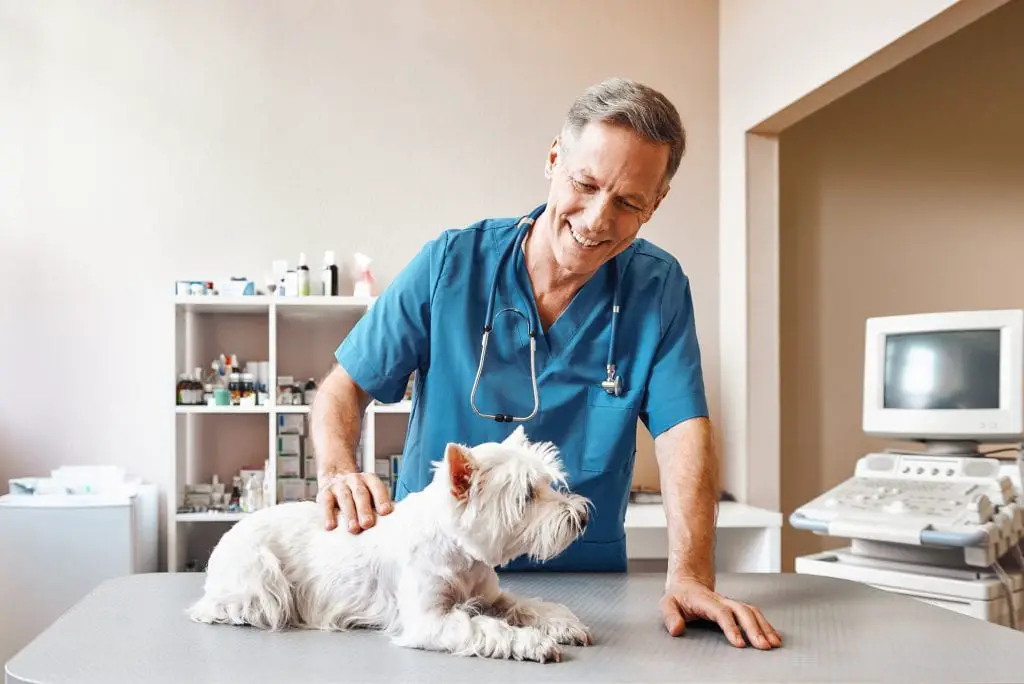 Of all the meats included in dog food, duck remains one of the most misunderstood. In most countries duck is considered a luxury food, only to be eaten at fancy restaurants, and because of this many dog owners automatically think that duck-based dog foods are expensive, unnecessary, and even unhealthy. In reality, this couldn't be farther from the truth.
Duck is one of the healthiest meats for pups out there, with a high protein content and a lower fat content than most traditional meats. It's packed full of vitamins, minerals, and all the other goodies that keep your dog healthy and strong. Duck also has a rich, tasty flavor that even the pickiest of pups have been reported to enjoy.
Because duck dog foods aren't common, duck is also considered a novel protein source, which means that it's fantastic for pups with allergies to more common protein sources. The wide range of duck-based and duck-inclusive foods out there have something to suit every allergy-prone dog.
However, it's important to note that just because duck is a healthy meat doesn't mean that all duck-based dog foods are healthy. The dog food industry is notoriously dodgy, and many companies will try to sell duck dog foods packed with unhealthy grain fillers and processed meat meals while passing them off as a healthy alternative.
To help you sort out the good from the bad, we've compiled a list of the four best dog foods out there. Including both wet and dry options, the foods on this list have great ingredients, a balanced nutrient breakdown, and a great brand reputation to boot!
Why You Should Trust Us
All of our reviews are based on scientific evidence, not marketing campaigns or hearsay. Before making it into any article, each small dog food has to pass a rigorous review process that involves more than just surface-level information. We calculate all of our own macronutrient data. While we do pay attention to the ingredient list, we also consider macronutrient ratios and recall frequency.
Reviews of the Best Duck Dog Foods:
Our Pick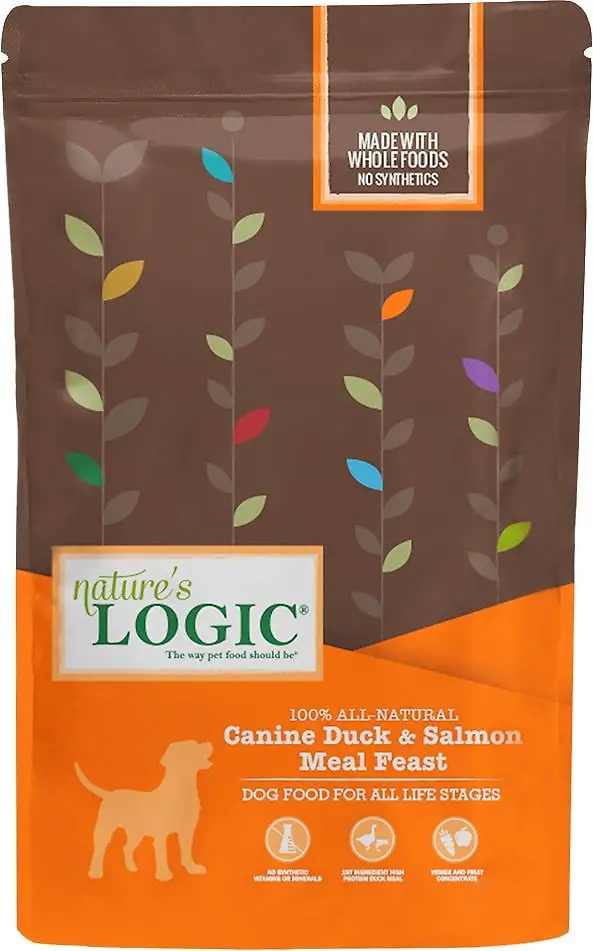 Contains multiple, quality protein sources
Contains probiotics
Fantastic macronutrient profile
Doggypedia rating: 4.5/5
First 5 Ingredients: Duck Meal, Millet, Turkey Meal, Chicken Fat (preserved with Mixed Tocopherols), and Salmon Meal.
Macronutrients (Dry-Matter Basis):
Protein: 41.8% minimum
Fat: 16.5% minimum
Carbs: 33.0% maximum
Best Dry Duck Dog Food
With a fantastic macronutrient profile, mouth-watering ingredients, and probiotics to boot, Nature's Logic's Duck and Salmon dry food is the best of the best when it comes to duck-based kibble.
The ingredient list of this dry food is particularly interesting in several regards. Unlike many allergy-friendly foods, it doesn't shy away from including multiple meat sources. Duck is accompanied by turkey, salmon, and pork. All of these meat sources are low-allergy risks, meaning that they're either novel proteins or aren't a common source of allergy in canines. This means that the food remains safe for allergy-prone pets while still including the diversity of nutrients that multiple meat sources bring. 
Other highlights of the ingredient list include dried kelp, which is a natural source of iodine, fruits and veggies like apples, blueberries, and pumpkin, and various strains of probiotic bacteria. Probiotics help to balance the bacteria in your pup's digestive system and may be particularly useful if your pup has suffered from long-term GI issues due to his or her food sensitivities or allergies (Schmitz et. al., 2016).
The macronutrient profile of this product is exemplary. On a dry-matter basis it contains 41.8% protein and 16.5% fat, which is well within the AAFCO guidelines. The carbohydrate content sits at 33.0%, which is a little higher than ideal but can be fully justified given the wide range of healthy carb sources present in the recipe. 
Owners should note that this product does contain chicken fat. However, most dogs with chicken allergies have no problem eating foods that contain chicken fat, as the fat alone doesn't contain the allergen responsible for allergic reactions. However, if your dog has a very severe chicken allergy, this product still isn't recommended.
Also Great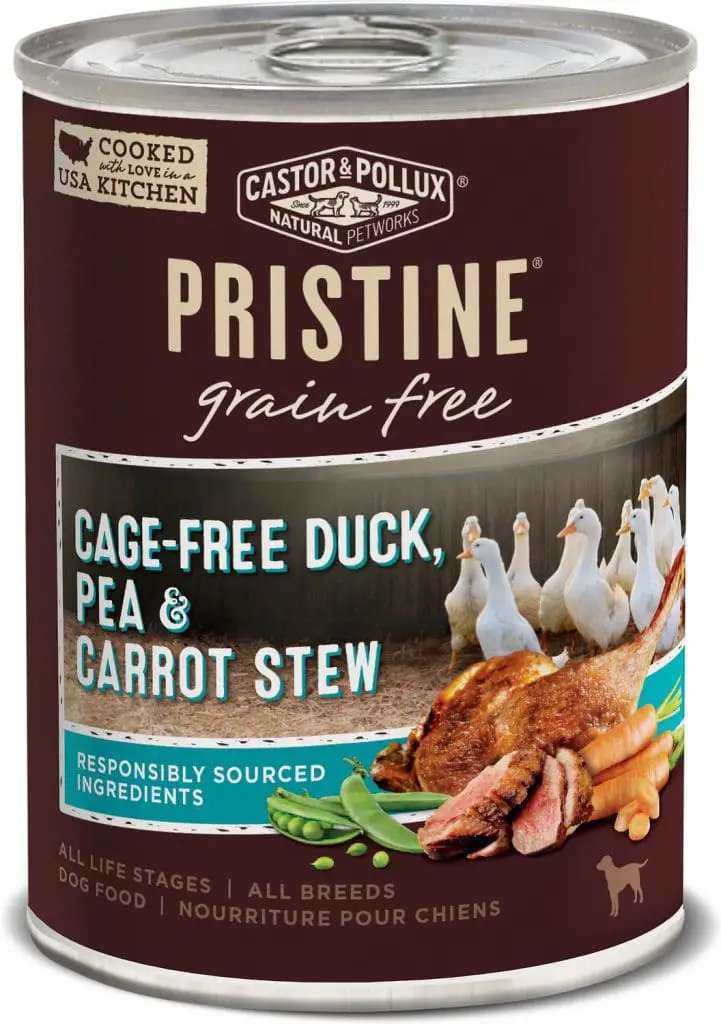 Great macronutrient balance
The first ingredient is cage-free duck
Contains chicken
Doggypedia rating: 4/5
Calories: 106 kCal/100g
First 5 Ingredients: Duck, Chicken Broth, Water Sufficient For Processing, Organic Chicken Liver, and Organic Pea Protein.
Macronutrients (Dry-Matter Basis):
Protein: 39.5% minimum
Fat: 21.1% minimum
Carbs: 23.7% maximum
Novel Protein Dog Food – Best Wet Duck Dog Food
Taking the title of the best duck-based wet food is Castor & Pollux's Pristine Stewed duck formula. With allergy-friendly ingredients, a great macronutrient balance and ethically sourced meat, this product is an easy choice for owners looking for a wet food for their allergy-sensitive pups.
The ingredient list of this product is particularly strong. Cage-free duck is the first ingredient, followed by goodies like organic peas and carrots. Organic flaxseed, which is a source omega-3, and zinc, which has proven efficacy against allergy symptoms, are also present. The only real downside of the ingredient is the inclusion of chicken broth and chicken liver. This means that this product isn't suitable for dogs with chicken allergies.
In terms of macronutrients, Castor & Pollux's canned duck food performs admirably. It contains 39.5% protein and 21.1% fat, which are well within the minimum AAFCO guidelines. The carbohydrate content, 23.7%, is on the high side for a wet food. However, the organic veggies that make up the majority of the carb sources are a good source of vitamins, fiber, and minerals, so this can be overlooked.
Runner-up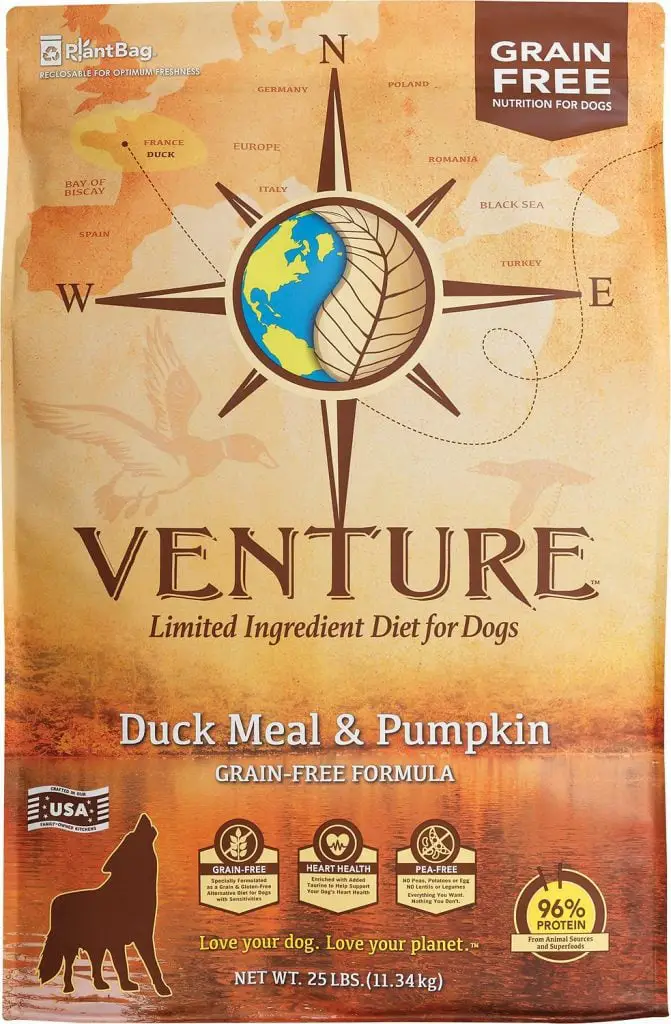 Limited ingredient diet
Contains allergy-friendly ingredients
High carbohydrate content
Doggypedia rating: 3.5/5
Calorie Content: 339 kCal/100g
First 5 Ingredients: Duck Meal, Pumpkin, Tapioca, Sunflower Oil (Preserved with Mixed Tocopherols), and Flaxseed.
Macronutrients (Dry-Matter Basis):
Protein: 31.9% minimum
Fat: 14.3% minimum
Carbs: 45.1% maximum
Best Duck Dog Food for Allergies
For dogs with severe food allergies, sometimes novel-protein foods aren't enough. This is where limited-ingredient diets come in. With a restricted ingredient list, these foods can provide nutrition to even the most sensitive of dogs. Earthborn Holistic's Duck and Pumpkin dry food is one such limited ingredient dog food. With an ingredient list packed full of allergy-friendly foods and a great taste, this product is perfect for pups with severe allergies.
The ingredient list is where this product truly shines. Duck meal is the sole protein source, meaning that owners of pets with multiple food allergies can rest assured knowing that they're not feeding their pup anything harmful. The other major ingredients include pumpkin, which is high in fiber, calcium, vitamin E, and beta-carotene, and tapioca, which is a highly digestible source of carbohydrates.
In addition to this, Earthborn Holistic has packed their product full of allergy-friendly ingredients. Zinc and methionine are present and flaxseed, which is high in omega-3, also makes an appearance. Like the Nature's Logic dry food, several different strains of probiotics are included, which should help to settle your dog's allergy-affected tummy and bost his or her immune system.
In terms of macronutrients, Earthborn Holistic does fairly well. It contains 31.9% protein and 14.3% fat, which sits within the AAFCO guidelines. However, the carbohydrate content, 45.1%, is quite high. While all the carb sources are healthy, ideally the product would contain more meat to balance the carbs better against the proteins and fats.
Best Treats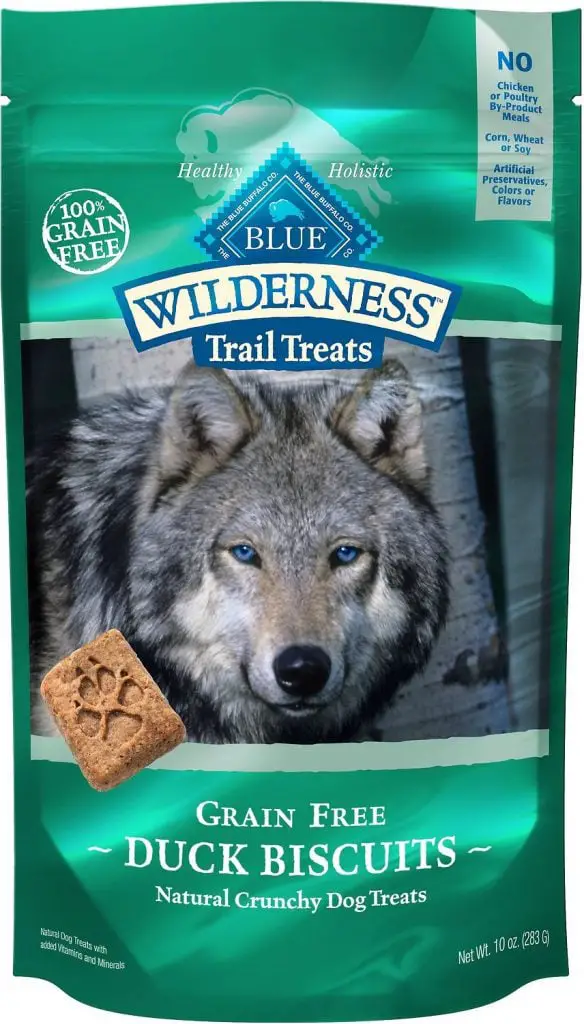 Great flavor
Simple, clean ingredients
High carbohydrate content
Doggypedia rating: 3.5/5
Calorie Content: 375 kCal/100g
First 5 Ingredients: Duck, Chicken Meal, Potatoes, Chicken Fat (Preserved with Mixed Tocopherols), and Flaxseed.
Macronutrients (Dry-Matter Basis):
Protein: 33.7% minimum
Fat: 16.9% minimum
Carbs: 40.5% maximum
Best Duck Dog Treats
Snatching up the last place on this list is a tasty type of treat that your dog is sure to love. Blue Buffalo's Wilderness Trail Treats are a high-quality, crunchy, treat with a grain-free recipe that's perfect for even picky pups.
The ingredient list of this product is short and sweet. Duck meat is the first ingredient, followed by chicken and potatoes. Again, the inclusion of chicken in the recipe makes this product unsuitable for dogs with chicken allergies. However, for pups with other kinds of allergies, the omega-3 rich flaxseed and vitamin supplements included in the ingredient list make these treats a great choice.
The macronutrient balance of this product is fair. The protein content sits at 33.7% and the fat content is 16.9%, which complies with AAFCO guidelines. However, the high carbohydrate content (40.5%) is difficult to justify. The main source of carbs in the treats are potatoes, which do contain some vitamins and minerals, but less than other carb sources do. 
Why Should you Feed Your Dog Duck? 
Duck-based dog foods are uncommon, but this is actually their greatest benefit.  Because most pups don't have duck in their diet, duck meat is considered a 'novel protein.'  Novel proteins are meat sources that are unlikely to cause an allergic reaction in your pup because your dog has only had limited or no exposure to them before. If your pup is allergic to common meats like beef or chicken, allergy symptoms like dry, itchy skin, gastrointestinal upset, hives, and swelling can all be relieved by switching to a novel-protein food (Pask and Scott, 2019).
Of course, there are many different protein sources that can help pups combat food allergies. What makes duck meat stand out from the crowd is its exemplary protein content and vitamin and mineral content, which we've described in more detail below.
Is Duck Good for Dogs? 
Because duck is considered a luxury food in many countries, many people underestimate its nutritional value. In reality, duck meat is packed with nutrients and is a great protein source for your pup.
100g of skinless, uncooked duck meat contains roughly 18g of protein, while 100g of lamb contains only 16g and beef contains 17g. Protein is an essential nutrient for dogs, so even a small difference in the protein content of a meat source can provide huge benefits (FDC, 2020).
Duck tends to get a negative rep as being a fatty meat, but this is only true if the skin is included. Skinned duck is a fairly lean meat, especially in comparison to red meats like lamb and beef. The fat that duck does contain has a high proportion of polyunsaturated fat, which includes omega-3 and omega-6 fatty acids. For dogs that have allergy-affected skin, this is a particularly great benefit, as omega-3 has been found to reduce skin inflammation and promote skin and overall health (Bauer, 2011).
Like other poultry, duck meat is also a great source of vitamins and minerals. It contains iron, selenium, zinc, and essential B vitamins. 
How we Chose the Best Duck Dog Foods 
All of the foods on this list were chosen based on some key, scientifically determined criteria. One of the best ways to sort healthy dog foods from unhealthy dog foods is by looking at the product's macronutrient profile. This refers to the balance of carbohydrates, fats, and proteins in the food. Of the three macronutrients, protein and fats are by far the most important part of your dog's diet. Proteins are made of amino acids, which are the building blocks for muscle development, while fats act as your dog's primary source of energy. Because of the importance of these two nutrients, the American Association of Feed Control Officials (AAFCO) publishes strict guidelines about the minimum amount of fat and protein that must be present in dog foods. For adult dogs, these are as follows (AAFCO, 2014)
A crude protein content of over 18%
A crude fat content of over 5.5%
The third macronutrient, carbohydrates, are a little more complicated. Carbs sourced from whole grains and veggies can act as a great source of fiber, vitamins, and minerals (Souliere, 2014). However, dog food companies will often pack their foods with cheap, processed grain by-products in order to reduce the cost of the ingredients. Too many carbohydrates also leave less room for the more essential animal proteins and fats (Roberts et. al, 2018). Because of this, we developed the following guideline to help rank dog foods:
A carbohydrate content under 30% is ideal, with exceptions given for foods high in whole grains and veggies
In addition to these general guidelines, we looked more closely at the ingredient list of these duck-based dog foods. Because duck dog foods are loved by allergy-prone pups, preference was given to foods that contain other allergy-friendly ingredients. This includes sources of omega-3 fatty acids, novel protein sources aside from duck, and the presence of substances like zinc and methionine, which have proven benefits in relieving allergy symptoms (McFadden et. al., 2017).
Products containing allergy-friendly ingredients were prioritized
Referencing:
Common symptoms of allergies in canines: Pask, E. and Scott, L. (2019). Food Allergies in Dogs. [online] Modern Dog magazine. Available at: https://moderndogmagazine.com/articles/food-allergies-dogs/15131 [Accessed 19 Nov. 2019].
Comparison of the Nutrient Profiles of Duck vs other Meats: Duck, domesticated, meat only, raw. (2020). Retrieved 24 May 2020, from https://fdc.nal.usda.gov/fdc-app.html#/food-details/172410/nutrients, Lamb, ground, raw. (2020). Retrieved 24 May 2020, from https://fdc.nal.usda.gov/fdc-app.html#/food-details/174370/nutrients, Ground Beef, raw. (2020). Retrieved 24 May 2020, from https://fdc.nal.usda.gov/fdc-app.html#/food-details/781867/nutrients.
Omega-3 fatty acids for skin health: Bauer, J. (2011). Therapeutic use of fish oils in companion animals. Journal of the American Veterinary Medical Association, 239(11), pp.1441-1451.
AAFCO 2014 Recommendations: The 2014 AAFCO Dog Food Nutrient Profile for Growth and Reproduction. (2019). [ebook] AAFCO. Available at: https://www.aafco.org/Portals/0/SiteContent/Regulatory/Committees/Pet-Food/Reports/Pet_Food_Report_2013_Midyear-Proposed_Revisions_to_AAFCO_Nutrient_Profiles.pdf [Accessed 28 Oct. 2019].
The benefits of some whole grains in dog foods: Souliere, K. (2014). A Study of the Nutritional Effect of Grains in the Diet of a Dog. University of Maine.
Optimal carbohydrate content in dog food: Roberts, MT, Bermingham, EN, Cave, NJ, Young, W, McKenzie, CM, Thomas, DG. Macronutrient intake of dogs, self‐selecting diets varying in composition offered ad libitum. J Anim Physiol Anim Nutr. 2018; 102: 568– 575. https://doi.org/10.1111/jpn.12794
Zinc and methionine in canine skin health: McFadden, R., Heinrich, N., Haarstad, A. and Tomlinson, D. (2017). A double-blinded, randomized, controlled, crossover evaluation of a zinc methionine supplement as an adjunctive treatment for canine atopic dermatitis. Veterinary Dermatology, 28(6), pp.569-e138.
The benefits of probiotics in canines: Schmitz, S. and Suchodolski, J. (2016). Understanding the canine intestinal microbiota and its modification by pro-, pre- and synbiotics – what is the evidence?. Veterinary Medicine and Science, 2(2), pp.71-94.