The Rottweiler is a robust working breed descended from the mastiffs of the Roman legions – and they need the correct dog food to match their greatness.
With nutritious meals and the correct amount of exercise, these protective dogs can be muscular and playful. Just like humans, dogs often are what they eat – so it is essential to be very careful about the dog food you feed your canine.
However, we know how difficult choosing the right food can be. The diverse amount of terminology and information on each pet food bag can be hard to sort through.
Below, we'll teach you how to pick the best food for your Rottie and provide you with some of our top dog food choices.
Review of The 8 Best Dog Foods for Rottweilers
Our Pick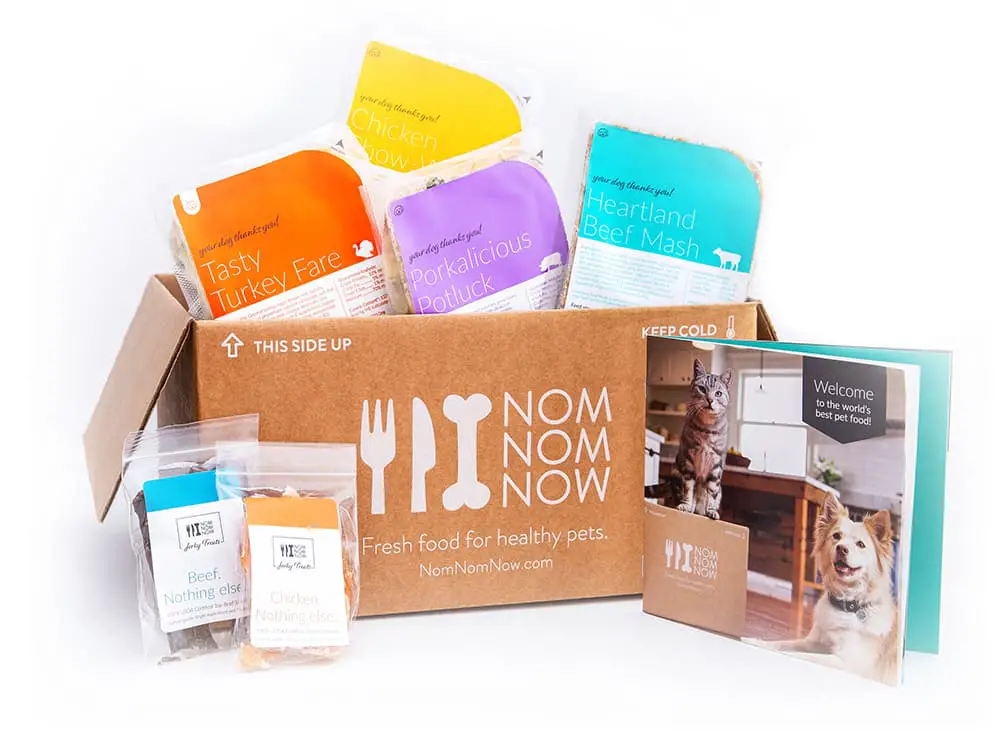 Fresh, human-grade ingredients
Near-perfect macronutrients
Convenient delivery
Doggypedia rating: 5/5
Calorie Content: 1239 kcal/kg
First 5 Ingredients: Turkey, eggs, brown rice, carrots, spinach.
Macronutrients (Dry-Matter Basis):
36.96% Protein
26.09% Fat
23.91% Carbs
Best Fresh Dog Food for Rottweilers
For those with the extra money to spend, this chicken recipe by Nom Nom Now is a fantastic option. This adult Rottweiler food is a bit different from your conventional kibble. It is made with completely fresh ingredients and sent directly to your door in pre-portioned bags! Super convenient.
A board-certified veterinary nutritionist formulates each recipe, so you can rest assured that it'll meet all your dog's nutritional needs.
This dog food's ingredient list is phenomenal. It contains whole diced chicken as the first ingredient. Further exploration on their website also told us that all the meat they use is restaurant-grade. It is the best of the best when it comes to food for your Rottweiler.
This food contains a variety of whole veggies as well, including sweet potatoes and yellow squash. All of the vegetables included are of high quality and full of vitamins and minerals.
The macronutrient content is also pretty good. It contains over 35% protein and under 30% carbohydrates. We had no complaints here.
We have nothing negative to say about this dog food, except that it is cost more than some of the other brands. If you can afford it, this is the best option. Highly recommend.
Best Wet Food for Rottweilers
Also Great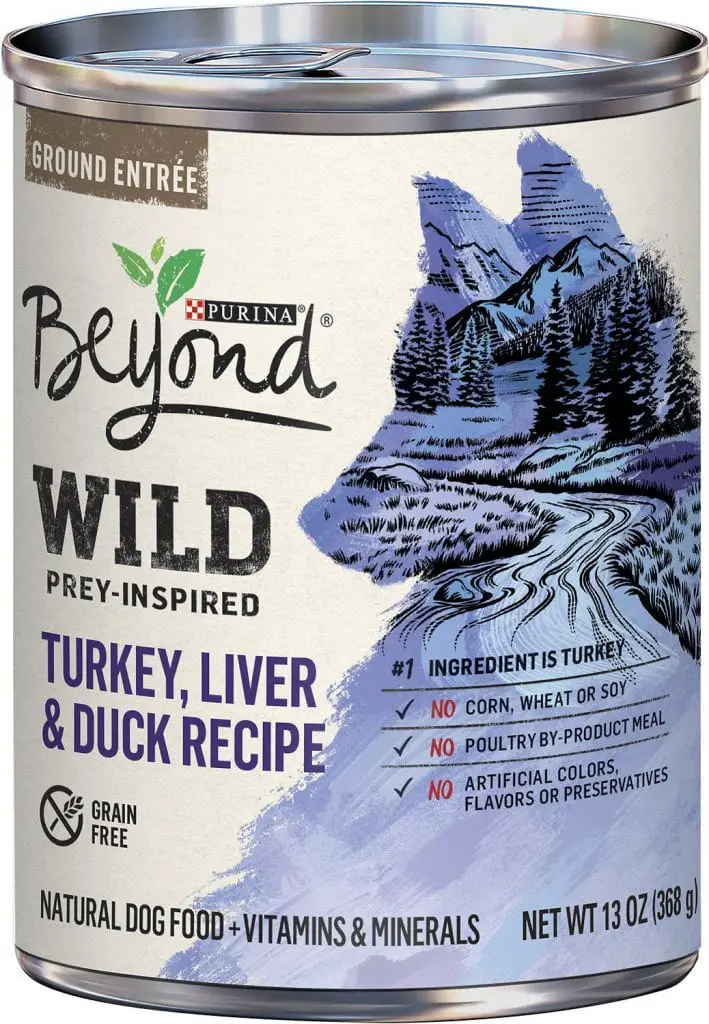 Extra glucosamine for joint health
High protein content
Healthy Organ meat included for extra vitamins and minerals
Doggypedia rating: 5/5
Calorie Content: 1169 kcal/kg
First 5 Ingredients: Turkey, turkey broth, chicken, liver, duck.
Macronutrients (Dry-Matter Basis):
40.91% Protein
31.82% Fat
13.64% Carbohydrates
Best Budget Food for Rottweilers
This is fantastic wet food and is quite a bit cheaper than other high-quality dog foods. We recommend this food for anyone who needs to stick to a budget while still providing their rottweiler with a suitable diet.
This food's ingredient list is excellent. It just includes various kinds of meat and added nutrients. If your dog has a sensitive stomach, this may be the right choice due to its limited ingredient list. However, it does include chicken, which is a common allergen. If your dog is allergic to chicken, this may not be the right choice.
Still, it is a suitable choice for dogs who have other allergies, as this food only contains chicken, turkey, and duck. Dogs who are allergic to beef or grain may thrive on this food, for example.
Because of the high meat content, the macronutrient content of this food is also good. It includes over 40% protein, which is more than almost any other dog food we've seen. It also contains quite a bit of fat at 31%. Our dogs evolved to live off of a diet high in fat, so this high-fat content is excellent. The carbohydrate content was quite low – just like it should be.
We loved the macronutrient content of this food, which is one of the reasons we rated it so high! When paired with the great ingredient list as well, this food is practically perfect for rottweilers.
Purina does have a few recalls. However, they are a big and old company, so this is to be expected to an extent. They do not have a significantly higher recall rate than any other brand, so we do not consider their food to be particularly unsafe. A great alternative to our top pick.
Recall Info: Yes
Also Great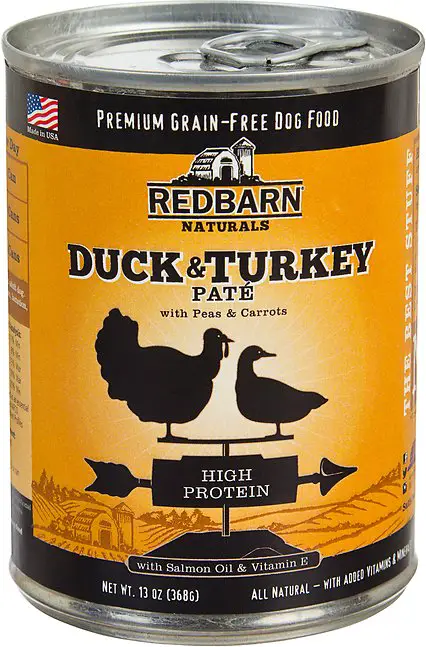 Extra omega-3 fatty acids for healthy skin
No artificial flavors, colors, or preservatives
No grain, gluten, corn, wheat, or soy
Doggypedia rating: 4.5/5
Calorie Content: 1229 kcal/kg
First 5 Ingredients: Duck, turkey, turkey liver, duck broth, peas.
Macronutrients (Dry-Matter Basis)
50% Protein
36.35% Fat
0% Carbohydrates
Best Dog Food for Rottweilers with Skin Allergies
This is another excellent rottweiler food, especially if your dog has allergies. Food allergies in dogs often present as skin problems. Your dog may get itchy, and their scratching may eventually cause sores. While you should always take your pooch to the vet to confirm it is food allergies, the easiest way to treat allergies is to avoid the foods your dog is allergic to.
This dog food avoids common canine allergies, such as chicken, beef, and grains. It is about as hypoallergenic as dog foods come. If your dog isn't allergic to duck or turkey, we recommend this dog food.
Overall, the ingredient list is straightforward. It includes whole duck as the first ingredient and whole turkey as the second. Turkey liver and duck broth are also included for added nutrients. Peas are included as well. This veggie includes a surprisingly high amount of protein, which is one of the reasons this food's protein content is so high.
Speaking of the protein content, this food is 50% protein. That is far higher than most conventional dog foods currently on the market. Extra protein is almost always the right choice for our dogs. Plus, this food contains over 35% fat as well. Carbohydrates levels are so low that our calculator couldn't even pick up a percentage.
All in all, this is a very carefully formulated dog food. If you need a hypoallergenic Rottweiler dog food, this is one of the best options.
Recall Info: Few
Best Dry Dog Foods for Rottweilers
Our Pick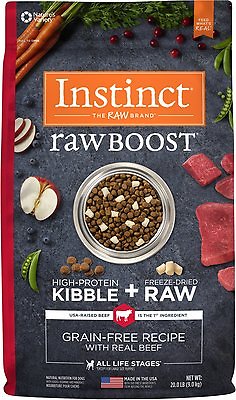 USA-raised beef as the first ingredient
Probiotics included to support your pet's digestive system
Does not contain grain, potatoes, corn, wheat, or soy
Doggypedia rating: 5/5
Calorie Content: 4351 kcal/kg
First 5 Ingredients: Beef, chicken meal, white fish meal, peas, chicken fat.
Macronutrients (Dry-Matter Basis):
42.86% protein
23.08% fat
25.27% carbohydrates
Best Dry Food for Rottweilers
For owners who are looking for dry food, this beef and chicken formula by Instinct is a suitable option. It contains raw, freeze-dried bits of raw meat alongside the usual kibble, which boosts the protein content considerably. For owners who want to try raw but don't want to take the full plunge, this is a good starting point.
The first three ingredients in this dog food are meat. Real beef is included as the first ingredient, which is an excellent option for most dogs. Then, the chicken meal is added. Meal is just concentrated meat that has had most of the water content removed. This can be important for creating kibble, and it is also more nutritious per ounce than whole meat. These facts make it an excellent choice for dogs who tolerate chicken.
Whitefish meal is the third ingredient. The addition of fish increases the amount of omega fatty acids, which may help your dog's coat and skin. Once again, it is a meal, so it is a bit denser than whole meat.
The rest of the ingredients on the list are excellent as well. Peas are included as an inexpensive source of vitamins, and chicken fat is used to increase the overall fat content of the food.
The macronutrient content of this food is pretty good, especially for dry food. The protein content is up at 42%, while the carbohydrate content is down under 30%. We have no complaints here.
We recommend this dog food for practically any dog. It does contain beef and chicken, which are two of the more common allergens. If your dog is allergic to one of these meats, you'll need to look elsewhere. But if your dog can tolerate them, this dog food is a fantastic choice.
Recall Info: Yes
Runner Up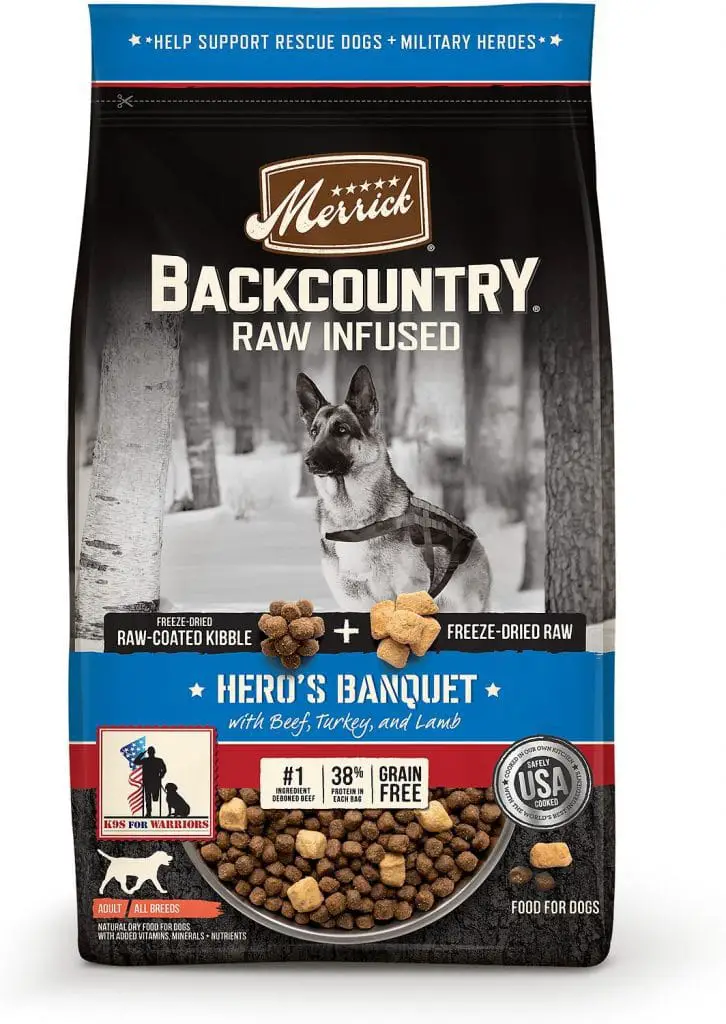 Contains omega fatty acids, glucosamine, and chondroitin
Includes bits of raw food
Deboned beef as the first ingredient
Doggypedia rating: 4/5
Calorie Content: 3739 kcal/kg
First 5 Ingredients: Deboned beef, pork meal, turkey meal, sweet potatoes, potatoes.
Macronutrients (Dry-Matter Basis):
41.76% Protein
18.68% Fat
30.77% Carbohydrates
This is another food that includes freeze-dried, raw pieces of meat. We particularly liked this food because it contains a variety of protein sources. Dogs typically develop food allergies after overeating of a single type of protein. Because of this, we look for foods that contain a variety of protein sources, as dogs are less likely to develop allergies when eating foods with different ingredients.
This food includes deboned beef as the first ingredient. This is one of the more common allergens amongst dogs, likely because it is included in so many foods. If your dog isn't allergic to it, though, then it is a very suitable choice.
Pork and turkey meal are also included. Both of these meats are nutritious and not super common in dog food formulas. Plus, their addition diversifies your pet's diet a bit. Meal is denser than whole meat because it has had much of its moisture removed. This is often a necessary step when making dry dog food, and it increases the vitamins and minerals per ounce, making the food more nutritious.
Because of all the meat ingredients, this food is quite high in protein. It is over 40% protein, which is precisely what we like to see. The fat content could be a bit better, as it is only at just above 18%. The carbohydrate content is quite a bit higher than we would have liked to see as well.
Despite the high-quality ingredients it includes, we had to mark this food down a point because of the skewed macronutrient content. If this food had contained more fat and fewer carbohydrates, it would have been perfect!
Recall Info: Few
Also Great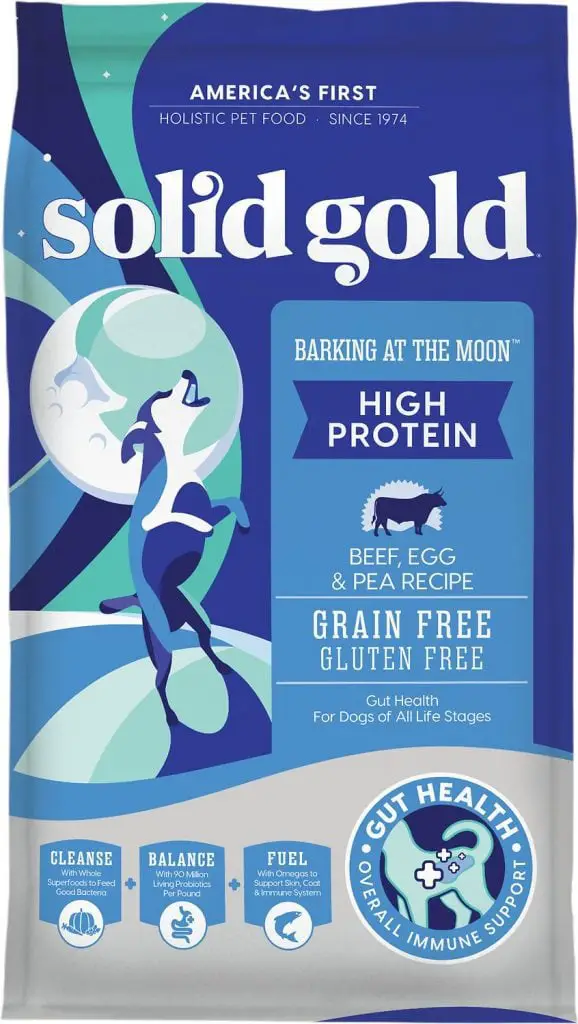 Prebiotics and probiotics for digestion support
100% grain-free
Made in the USA
Doggypedia rating: 4/5
Calorie Content: 3825 kcal/kg
First 5 Ingredients: Beef, ocean fish meal, pea protein, potatoes, dried eggs.
Macronutrients (Dry-Matter Basis):
45.56% Protein
20% Fat
25.56% Carbohydrates
Best Dog Food for Rottweilers with Sensitive Stomachs
This high protein kibble by Solid Gold is the best option if your pooch has a particularly sensitive stomach. It is packed full of prebiotics and probiotics to help support your pet's digestive system. It is also grain and gluten-free, which some dogs might have problems with.
Furthermore, this food also includes quite a few omega-3 fatty acids. This may help with your dog's coat and skin. Dogs with food allergies or skin problems may particularly benefit from this added ingredient.
The ingredient list of this dog food is decent. It includes whole beef as the first ingredient and ocean fish meal for the second. The ocean fish meal is the source of the omega fatty acids and is likely one of the reasons that this dog food is so high in protein. Meat meals are denser in protein than whole meat.
However, pea protein is included as the third ingredient. This ups the protein content of the food substantially. But pea protein is not as good of a protein source as actual meat. It does not contain the same amino acids or vitamins as real meat does. Because of this, we prefer it not to be a significant source of protein in any dog food.
Yet, in this formula, it is the third ingredient, which means they probably used quite a bit. For this reason, we had to mark this dog food down a point.
The rest of the ingredient list is excellent. They also include dried eggs, which are a good source of a variety of nutrients.
The macronutrient breakdown for this formula is pretty good. It is over 45% protein, which is quite high for a kibble. However, you have to remember that a good chunk of this protein is likely derived from peas. The high protein percentage does not mean this food contains more meat than other options.
The fat is good at 20%, and the carbohydrate content is up at 25.56%. We would have liked to see carbohydrates down a little lower with a bit of extra fat added instead. However, overall, it is much better than other options on the market.
Recall Info: Few
Best Puppy Foods for Rottweilers
Puppy Pick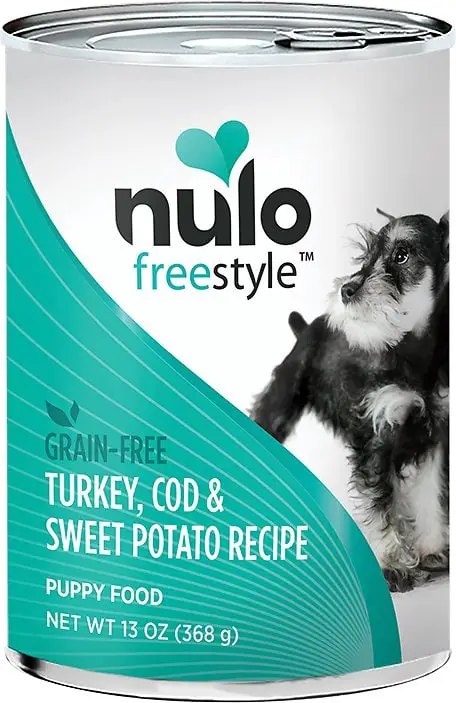 Included antioxidants to support your puppy's immune system
Contains high levels of DHA
Low-glycemic
Doggypedia rating: 5/5
Calorie Content: 1097 kcal/kg
First 5 Ingredients: Turkey, turkey broth, salmon broth, turkey liver, cod.
Macronutrients (Dry-Matter Basis):
43.18% Protein
22.73% Fat
20.45% Carbohydrates
Best Food for Rottweiler Puppies
We liked this puppy food for a couple of different reasons. Firstly, it includes tons of meat. Turkey is the primary source of protein and included as the first ingredient, but salmon and cod are both included high up on the list as well. This diversity of protein sources will prevent your puppy from developing food allergies. Plus, the fish add tons of useful nutrients.
The high amount of meat also makes the protein content very high. The protein content is over 40%. This is perfect for puppy food. The fat content is quite high as well, and the carbohydrate levels are suitable.
Overall, we liked the ingredient list and macronutrient content of this food. Plus, the added DHA and antioxidants are an excellent addition as well.
Recall Info: None
Also Great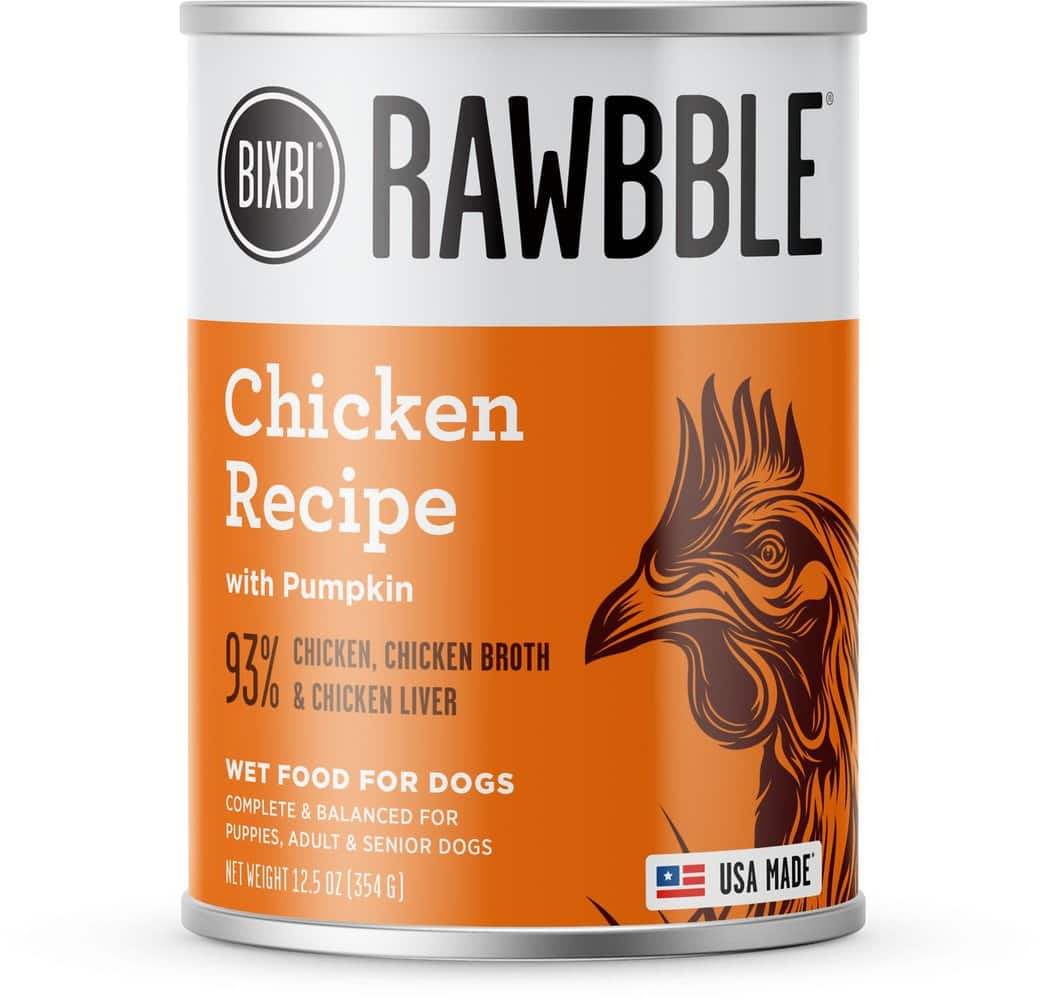 Contains 95% of chicken products
Free from potatoes
Packaged in a BPA-free can
Doggypedia rating: 5/5
Calorie Content: 1239 kcal/kg
First 5 Ingredients: Chicken, chicken broth, chicken liver, pumpkin, sunflower oil.
Macronutrients (Dry-Matter Basis):
38.64% Protein
38.64% Fat
9.09% Carbohydrates
This wet dog food is formulated for all ages, but it is particularly suitable for puppies. It is just made with chicken and pumpkin – that's it! Chicken is an extremely suitable meat source for any dog that isn't allergic to it. This food includes whole chicken, chicken broth, and chicken liver.
The fourth ingredient is pumpkin, which is also an excellent choice for dogs. Pumpkin is a typical treat and Kong-stuffer. However, it is also a fitting part of your puppy's regular diet.
The protein and fat content of this food is great. Both protein and fat are at almost 39%. This is a fantastic range for both of them to be at. Carbohydrates are down at 9%, which we loved.
Recall Info: None
How to Choose the Best Foods for Your Rottweiler
At first glance, choosing a great dog food can seem complicated. However, if you follow a few pointers, you can easily choose a Rottweiler dog food like a pro.
Firstly, pay close attention to the macronutrient content of the dog food. Macronutrients are carbohydrates, protein, and fat. These are the building blocks every animal needs to survive.
Each species needs a different ratio of macronutrients. Luckily, we've figured out precisely what ratio our dogs need to thrive. One study, in particular, found that dogs choose a diet of 30% protein, 63% fat, and 7% carbohydrates. This was astonishingly similar across breeds, ages, and genders.
Typically, when animals are given control of their diet, they choose a diet ratio that is closest to what their body needs to thrive. Because of this, we can bet that this study was pretty accurate.
Sadly, dog food does not list the macronutrients directly on the bag. Instead, they just list the guaranteed analysis. Luckily, this can give us some clue of what the macronutrient content is. You can often find calculators online that can turn the guaranteed analysis into a dry-matter basis, which provides you with the macronutrient content.
We provided the calculated dry matter macronutrient content in all of our reviews for your convenience.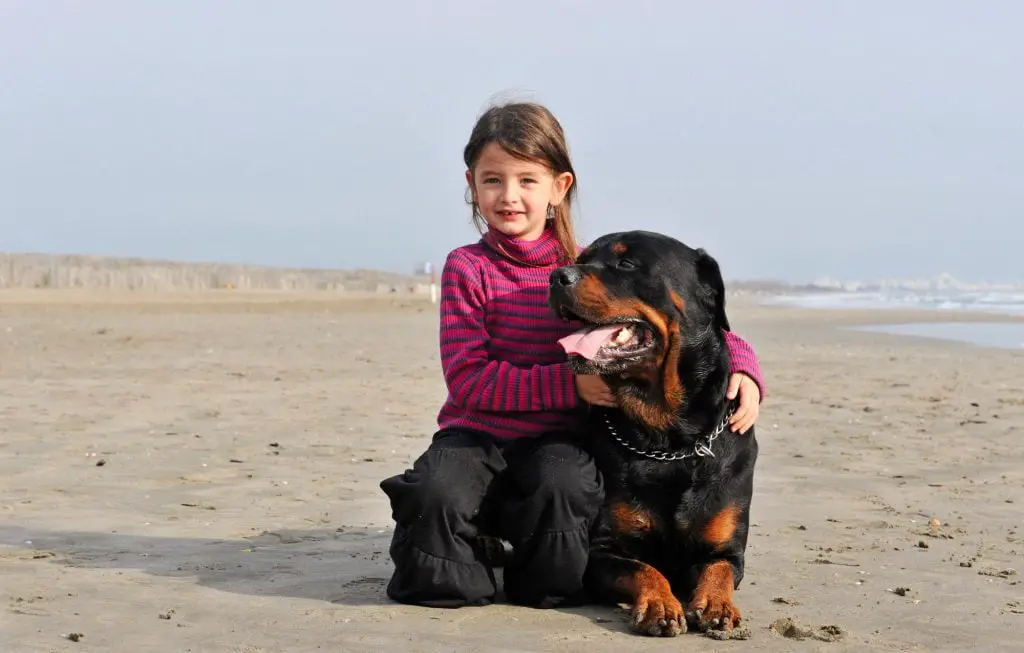 The quality of the meat matters too. Whole meat is preferable. By-products and meals are not necessarily bad options. They are often more nutritiously dense than whole meat. But it is essential to choose foods with only named by-products and meals.
The quality of the veggies, fruits, and other ingredients are also important. Many companies are starting to offer "grain-free" recipes, which are often promoted as being healthier. However, there is no evidence that eating grain is bad for our dogs unless they have an allergy.
It may be better to provide your dog with grain-inclusive food if they aren't allergic. Many "grain-free" formulas are packed full of inexpensive veggies and aren't much more nutritious for our dogs than grain-inclusive foods.
When choosing a grain-inclusive food, be sure it includes whole grain, like brown rice.  We will check that for you.
You should also keep the brand in mind. Some brands have very high rates of recalls, while others don't. You're much more likely to get unsafe food from a brand that commonly has recalls than you are from a brand that doesn't. We avoided high-recall brands when possible. 
Why You Should Trust Us
We have tested hundreds of different dog foods over the years, so we have an expert view of what the market currently offers.
Before making it into any article, each dog food has to pass a rigorous review process that involves more than just surface-level information. We calculate all of our own macronutrient data. While we do pay attention to the ingredient list, we also consider macronutrient ratios and recall frequency. Additionally, we speak to the dog food brands, vets, and dog trainers to make sure our recommendations are the most healthy options for your dog.
How Much to Feed Your Rottweiler
Rottweilers are big dogs. They eat a lot.
However, it is possible to feed your Rottweiler too much. While these dogs aren't particularly prone to obesity, most of the dogs in the United States are overweight, according to Pet Obesity Prevention. Your Rottweiler could quickly become part of that statistic as well.
You must feed your Rottweiler the proper amount. Usually, we recommend following the directions given with your dog food. Most cans and bags of dog food have feeding instructions on the back.
Your pet's weight should determine feeding amounts. Of course, you need to have an accurate number to feed your dog correctly – another reason to keep up with those annual pet visits.
You should keep a close eye on your Rottweiler's body condition as well. Sometimes, the feeding directions provided with your food aren't suitable for whatever reason. Your dog may gain or lose weight, signaling that you need to change the amount of food you offer. 
Activity level can have a significant impact on the amount of food your dog needs, but feeding directions often do not take this into account. 
Of course, if your dog has sudden changes in their weight, it may be best to speak with your vet. Sudden weight change can be a sign of an underlying condition.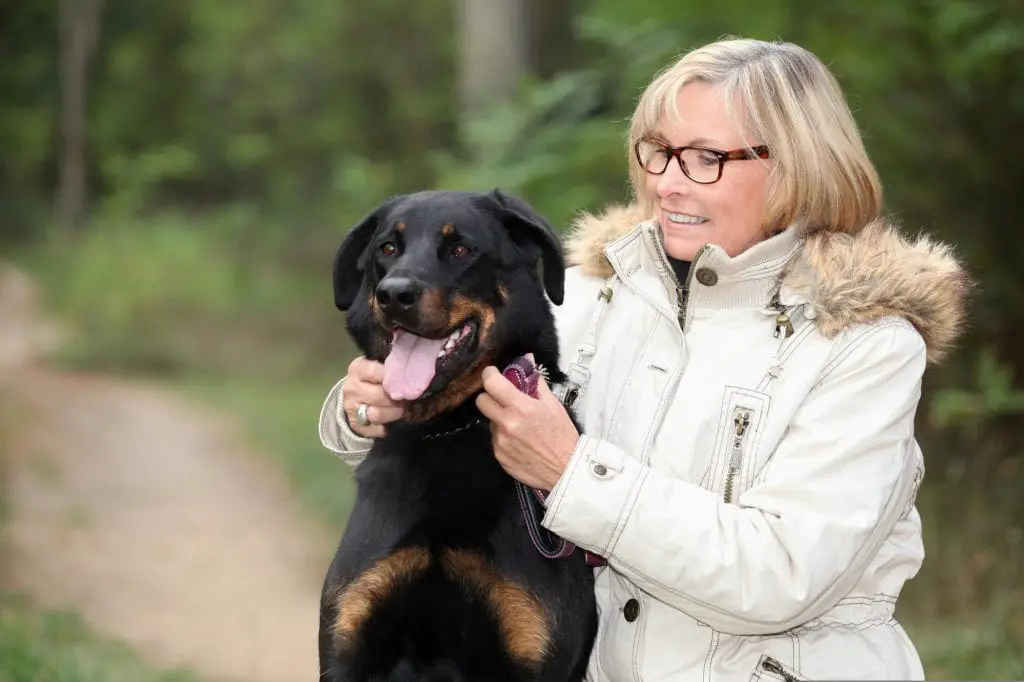 Nutritional Requirements
Rottweilers have the same nutritional requirements as other dogs. They need specific macronutrient content, which we have discussed previously in the article.
The AAFCO sets standards for all dog foods, ensuring that they meet specific nutritional requirements. All dog foods that are marketed as "complete and balanced" have to meet these guidelines. Furthermore, most complete dog foods will have a statement on them somewhere, mentioning that they meet these guidelines.
Not all nutrients are considered "essential" and fall under these regulations. Some unregulated vitamins and minerals are controversial, including taurine. Some experts consider this amino acid to be essential, but it is not included in the AAFCO standards. 
There are different guidelines for adults and puppies. Dog foods will usually state which age group they are for. Dog food can be for "all life stages," which means they are suitable for both adults and puppies.
While some foods are marketed as being for "senior" dogs, there is not a nutritional difference between adults and seniors. These foods usually just contain added vitamins and minerals that may be beneficial for older dogs.
However, the AAFCO does not control these added nutrients, nor is there typically any evidence that they are helpful. If you feel the need to feed your dog a "senior" dog food for whatever reason, that is perfectly fine. There may not be much of a difference in the actual nutritional value, though.
Rottweilers may benefit from foods that contain extra amounts of glucosamine. This added ingredient may provide protection for your pet's joints, which is particularly essential for Rottweilers. This breed is a relatively high risk for hip dysplasia and other joint-related health problems. 
If your dog has allergies or skin problems, added omega fatty acids might be helpful. These are particularly high in fish and fish oil, so look for foods with some sort of fish included. Rottweilers are not particularly prone to these sorts of problems, but they are possible in any breed.
Allergies Information and Best Foods
Rottweilers are not particularly prone to food allergies, but that doesn't mean they aren't affected by them at all.
Food allergies in dogs develop overtime. The more your dog eats a particular type of protein, the higher the chance of a food allergy developing.
Because of this, the easiest and most effective way to prevent allergies is to switch your dog's food often, preferably to a formula that includes a different type of protein than their original food. It is best to have three or four types of dog food you cycle between regularly.
This will keep your dog's diet diverse as well, which prevents the chance that they'll develop diet-related diseases. Your dog will also likely appreciate the changes in flavor. After all, how bored would you be if you only ate one thing your whole life?
Choosing dog foods that include diverse protein sources can also be helpful. If your dog's food only contains chicken, they are only getting their nutrients from chicken. This increases their chance of developing a food allergy to chicken.
If your dog's food contains three or four sources of protein, their chance of developing an allergy is much lower, however.
If your dog already has allergies, your best bet is to avoid their allergen. Sometimes, this can be easier said than done. It is often easiest to look at the food they developed the allergy while eating and then pick a food that doesn't contain the same ingredients.
If your dog is currently eating chicken, for example, choose a dog food that doesn't include any chicken.
There is no real best dog food for those who already have allergies because each dog is allergic to something different. There is no one-size-fits-all solution.
One last important note: animal fats do not cause allergic reactions because they do not contain protein. Dogs only become allergic to the protein in their food. Because of this, if your canine is allergic to chicken, they will not react to chicken fat.  (source)
Dogs also do not develop allergies to vitamins and minerals, such as vitamin E.
Read More Dog Food Reviews: Best Large Breed Dog Food