Looking for the best freeze dried dog food brands? Help your pup stay healthy with our wet and dry food reviews here.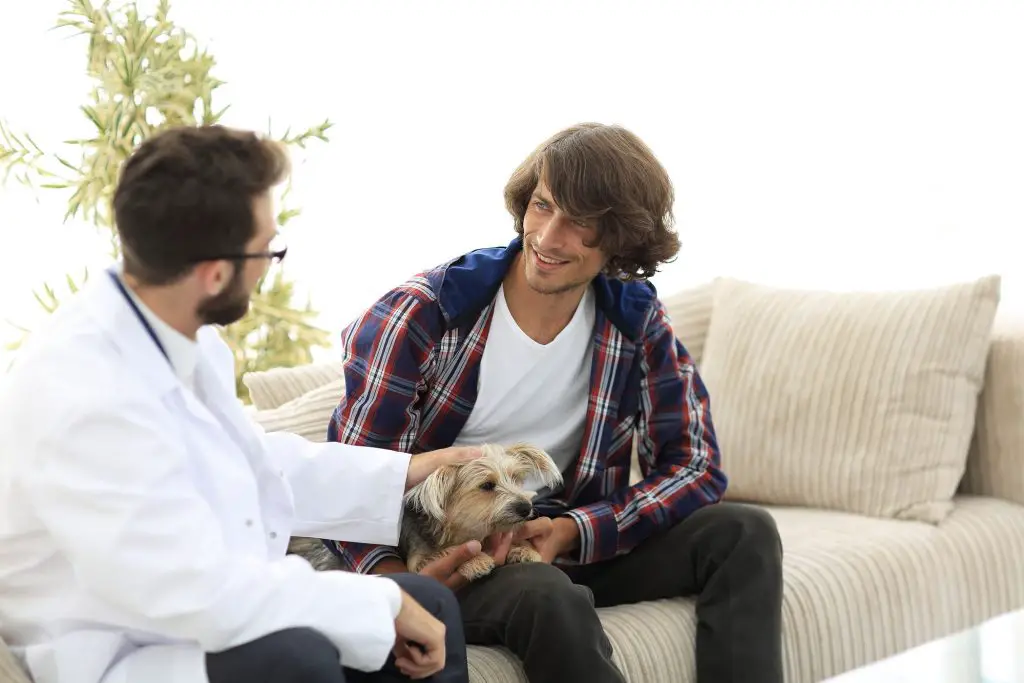 Freeze-dried dog food is a booming industry, with dog owners across the globe swearing by the tasty, nutritionally-packed products. As pet owners, we all want the best for our pups, and when a new type of food that claims to be better than all of the others comes along, most are naturally inclined to try it out.

The hype surrounding freeze-dried dog food is, for the most part, completely justified. Freeze-dried foods are of generally high quality, have a high meat content, are great for pups with allergies or food sensitivities, and have a long shelf life to boot. 

Freeze-dried foods also have plenty of variety, with freeze-dried food toppers, meal-mixers, patties, and treats being available on top of the standard kibble. This extra diversity is great for picky pups who turn their nose up at normal wet or dry dog food formats, and as a consumer it allows you to more precisely choose what you're feeding your precious pooch.

However, that doesn't mean that all freeze-dried dog foods are fantastic. As with every different kind of dog food, there are products out there that are cheaply made, use poor quality ingredients, and yet are still sold using the same 'health forward' marketing that the good, genuine products are. 

For the average consumer, navigating this world of buzz-words and empty promises can be downright frightening. To help you make an informed choice, we've listed six of the very best freeze-dried dog foods on the market. Including different types of foods with different unique benefits and different price-points, at least one of the carefully vetted products on this list is sure to be a hit with your canine companion.

What are the Advantages of Freeze-Dried Dog Food?
There are some major upsides to feeding your dog a freeze-dried diet, many of which are only just now starting to come to light:

Higher Quality: Freeze-dried foods are generally of a higher quality than standard dog foods. As feeding your pup a freeze-dried diet isn't yet the status quo, the owners who feed freeze-dried foods to their pup tend to be ones who've done careful research into the various options. Because of this, companies marketing freeze-dried products will generally use more high-quality, sustainable, nutritious ingredients in order to attract these careful, thorough customers.
Better Nutritional Content: Another major advantage of choosing freeze-dried food is that it has a better nutritional content than most dog foods. Because it's usually made predominantly from meat products, it tends to have a much higher protein content than other foods. Meat is what your pup's digestive tract was designed to handle (Kerns, 2019) and contains lots of essential vitamins, minerals, and amino acids, which gives freeze-dried food a further advantage over other dog foods.
Long-Lasting: The long shelf-life of freeze-dried food is also a positive for pet parents who don't enjoy needing to pick up extra dog food from the store every week. It can be bought in bulk and then stored, sometimes for an indefinite period of time, which most see as a big convenience (FoodAssets, 2014).
Tasty: The simple fact is that most dogs seem to like freeze-dried food. Whether they realise that it's healthier than most main-stream dog foods or they simply like the meaty taste, even the pickiest of dogs seem to enjoy freeze dried food.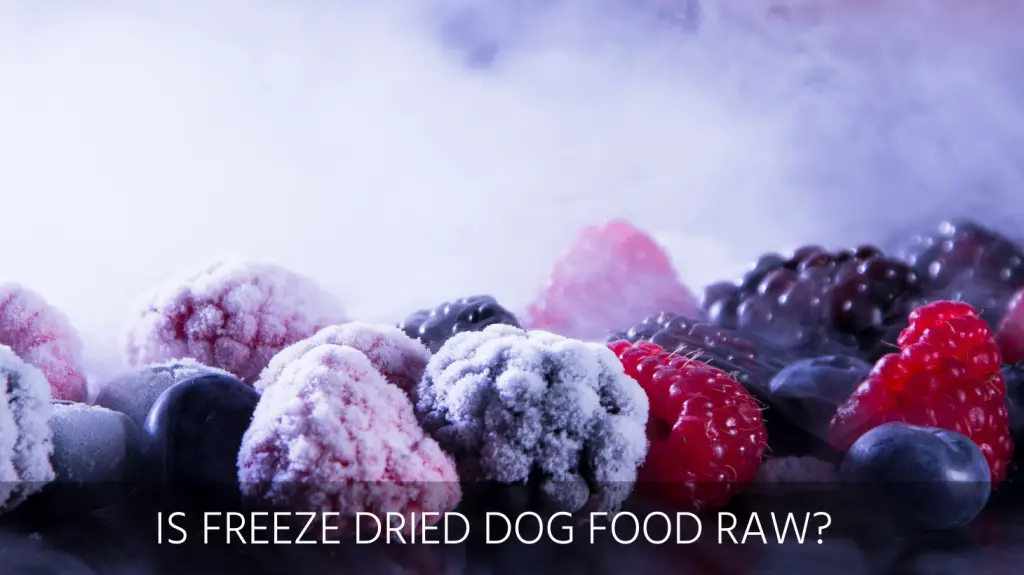 Is Freeze Dried Dog Food Raw? 
Like freeze dried food, there's a lot of buzz surrounding the concept of a raw diet for canines; that is, only feeding your pup raw, unprocessed meats. While freeze dried food isn't necessarily the same as a raw diet, there's certainly some crossover.

Almost all freeze dried foods technically are raw, in the fact that they haven't been subjected to high temperatures during processing. Instead, they're blast frozen and then freeze-dried, which is a process that involves removing all of the water from the food without impacting on the nutritious elements (Becker, 2017).

However, while freeze dried foods are raw in the traditional sense of the term, often they don't align with the principles of a raw diet. No freeze dried foods contain fresh meat. While this is advantageous in that they're shelf-stable and can be stored for extended periods of time, for advocates of the raw canine diet the freshness of the food is a big part of the entire ideology.

Further to this, rather than being made purely of meat, many freeze dried foods contain other ingredients, such as fruits, veggies, fish oil, vitamin supplements, and even sometimes grains. This also goes against the principles of the raw diet, which is all about feeding fresh, raw, animal-based products to your pup.

What are the Advantages of a Raw Diet?
There are some definite advantages to the raw dog food diet, and while freeze dried foods and raw foods aren't exactly the same thing, most of the benefits of feeding raw transfer over to feeding freeze dried.

Many pet owners adopt a raw diet because they want to know exactly what they're feeding their dog. While some freeze dried foods do contain added ingredients, others are completely meat-based and have a short ingredient list that's easy to decipher. This means that owners feeding a freeze-dried diet can rest assured that they're not giving their pup any scary, potentially harmful ingredients.

Another benefit of a raw diet is the quality of the food. Most pet food companies use by-products and pet-grade or even feed-grade meat. While these ingredients can technically still be nutritious, many pet owners feel that feeding their pet human-grade meat is preferable. There's no real scientific evidence to back this up, but many people view their pets as part of their family, so the instinct to want to feed them food that you yourself would eat is natural! Freeze dried products very regularly contain human-grade, or at least high quality pet-grade, meat products.

Nutritionally, the main argument for a raw diet is that because cooking meat often leads to a loss of important nutrients, raw diets are more nutritionally complete (Yong, Amin and Dongpo, 2019). Again, no studies have definitively assessed the validity of this claim, but given that it's true that subjecting meat to high temperatures degrades certain nutrients, it makes sense that raw meat would be more nutrient-rich. Freeze dried food is raw in the sense that it isn't subjected to any high temperatures, so any nutritional benefit of a raw diet is also true of a freeze dried diet.

A major argument against a raw diet relates to the safety of feeding your pooch raw, untreated meat. A study conducted by the FDA found that raw dog food was much more likely to contain dangerous bacteria, including salmonella and listeria (USFDA, 2018). However, the majority of samples tested in this study were commercially available frozen raw foods, rather than freeze-dried foods. Of the 31 freeze dried products tested, only one was positive for salmonella or listeria (Stone, 2018). It's also important to note that just because a food contains these bacteria doesn't mean it's going to make your dog or anyone in your household sick.

Essentially, feeding your dog freeze dried raw food rather than a fresh, raw diet means that most of the benefits of a raw diet are retained and the potential downsides are mitigated. 

How we Chose the Best Freeze Dried Dog Foods
The products on this list were chosen and ranked based on some specific, scientifically-based criteria. These criteria allow us to objectively judge the pros and cons of each of the foods, without being sucked into the marketing buzz-words that dog food companies enjoy using.

The most important aspect of any dog food is its nutritional value; that is, whether it has enough nutrients to keep your dog happy and healthy. When it comes to nutrition, the AAFCO's guidelines are the gold standard. They dictate how much protein and fat is needed for a food to satisfy the requirements of your dog. For adult pooches, the following two rules are outlined and are adhered to by all of the foods on this list (AAFCO, 2014):

A protein content of over 18%
A crude fat content of over 5.5%
There are three main macronutrients in dog food: protein and fat, which were discussed above, and carbohydrates. Because carbohydrates aren't essential in the canine diet (Roberts et. al., 2018) there's no hard-and-fast rule dictating the amount that dog food should contain. Some carbohydrate sources, like whole grains and veggies, are healthy and packed with vitamins and minerals, while others are used as 'filler' ingredients in order to drive down the cost of making a product. Too many carbs also indicates that the protein and fat content of the food is lacking. Therefore, the following rule was developed:

A carbohydrate content under 30%, with preference given to healthy and digestible carbohydrate sources 
Freeze-dried dog foods are usually comprised of over 90% meat, which in terms of the protein and fat content is usually a huge plus. However, the lack of carbohydrate sources means that some of the lower-quality products can be lacking in vitamins and minerals. Despite this problem, there is a way to keep the high meat content while including essential vitamins; organ meats. All organ meats are extremely rich in vitamin B12, while liver is a particularly good source of zinc, riboflavin, and niacin and kidney is particularly rich in iron, thiamin, and folate (Williams, 2007). Therefore, freeze-dried foods that adhered to the following guideline were ranked more highly:

An ingredient list that includes one or more organ meats
Reviews of the Best 6 Freeze Dried Dog Foods
Macronutrients (Dry-Matter Basis):
Protein: 59.1% minimum
Fat: 15.1% minimum
Carbs: 17.2% maximum
Best Freeze Dried Dog Food
Taking first place on the list of the best freeze dried dog foods is Vital Essential's Rabbit Entree. With an incredibly high protein content, a great taste and plenty of healthy organ meats, it's difficult to find freeze dried food better than this.
In terms of macronutrients, the real standout of this product is the protein content, which sits at a whopping 59.1% when corrected for moisture levels. This amount of protein is rarely seen, even in freeze-dried foods, and is definitely a big benefit. Protein is made of amino acids, which are the essential building blocks that your pup needs in order to develop and maintain strong tissue and to repair damage. 
In addition to the high protein, Vital Essential's Rabbit Entre nibs contain 15.1% fat and 17.2% carbohydrates. A problem with many freeze-dried foods is an excessively high fat content, which leads to a high energy density and thus potential for weight gain. Vital Essentials has navigated this problem by using rabbit as their protein source, which is leaner than the more commonly used beef or lamb.
For freeze dried foods, a shorter ingredient list almost always means a higher meat content and a better quality product. This is certainly the case for Vital Essentials' Rabbit Entree nibs, which contain only seven ingredients. The first four of these are rabbit meat and organs, with the others being herring oil (a source of omega-3), mixed tocopherols (a natural preservative) and a vitamin E supplement. 
Another benefit to this product is that it's formulated to meet the AAFCO regulations for all life stages, meaning that it's great for pups and senior dogs as well as adults. For owners with multiple dogs at different life stages and for those who don't want to bother transitioning their pet to a different food as they grow, this is a big plus.
All in all, Vital Essential's Rabbit Entree nibs really is the best of the best when it comes to freeze dried dog food. It has a fantastic macronutrient profile, including a high protein content, a safe energy density, and a short ingredient list that doesn't include any artificial preservatives or flavours. It's a simple, high-quality product that your pup is sure to love.
Macronutrients (Dry-Matter Basis):
Protein: 50.5% minimum
Fat: 29.5% minimum
Carbs: 11.6% maximum
Best Dehydrated Raw Dog Food
Coming in at number two is Stella & Chewy's Chicken Dinner freeze dried patties. With a great macronutrient balance, organic veggies and cage-free chicken, this product is great for those looking for a nourishing and nutritionally complete freeze-dried food to feed their pup.

In terms of macronutrients, this product hits all of the right markers. It has 50.5% protein, 29.5% fat, and 11.6% carbohydrates. The high protein and fat content is due to the fact that the food is comprised of 95% cage-free chicken, while the carbs are sourced from healthy organic fruits and veggies like blueberries, carrots, and broccoli.

The patties can either be fed dry or be rehydrated using cold or lukewarm water. Because the energy density of the product is high, adding water will help to increase the volume of food that you're giving your dog, making him or her feel fuller. Adding water also provides extra hydration which is important, especially considering that many dogs don't drink enough water.

Stella & Chewy have added plenty of organ meats to help inject vitamins into the food, including chicken liver and gizzard. The inclusion of ground chicken bones also adds some nutritional value.

In sum, Stella & Chewy's Chicken Dinner Patties are a great, nutritionally complete freeze dried food to feed your pup. It has all of the meat-rich benefits of a freeze dried food, while also containing organic fruits and veggies and organ meat to help boost the vitamin content.
Macronutrients (Dry-Matter Basis):
Protein: 45.8% minimum
Fat: 37.5% minimum
Carbs: 8.3% maximum
Most Versatile Freeze-Dried Dog Food
Coming in at third place is a rather unique freeze-dried food: Wysong's Archetype Chicken Formula. Being nutritionally appropriate for both cats and all breeds of adult dogs, the versatility of this food is a huge plus for owners of multiple pets who don't want to go through the bother of finding different foods for their cat and dog.
In addition to its useful versatility, Wysong's Archetype Chicken Formula also has a great nutritional profile. It contains 45.8% protein, 37.5% fat, and just 8.3% carbohydrates. 
The main standout of these figures is the fat content, which is very high. Wysong hasn't specified the energy density of the product, but given the fat content it's likely very high, Pet parents who are prone to overfeeding should be extra careful about following the feeding guidelines. 
In terms of the ingredient list, there are some definite highlights. Organic blueberries and organic barley grass, both of which are a source of antioxidants, are listed. Chia seeds, which are high in omega-3 fatty acids, broccoli sprouts, which are high in calcium and vitamin C, and dried kelp, which is a source of iodine, are some other interesting inclusions.
The recipe does contain organs, but in the form of unspecified 'chicken organs.' When a dog food has an unspecified source of meat, it can be a red flag as it can mean that the ingredients are of lower quality. However, considering that this product is packed full of organic and nutritious ingredients, this isn't too much of a concern. 
All in all, Wysong's Archetype Chicken Formula is a great product that's suitable for both dogs and cats. It has a good macronutrient balance and some novel and valuable inclusions on its ingredient list. The unspecified 'chicken organs' is a potential downside, but nothing to be too concerned about.
Macronutrients (Dry-Matter Basis):
Protein: 42.1% minimum
Fat: 37.9% minimum
Carbs: 11.6% maximum
A Freeze Dried Raw Dog Food
Next on the list is another Stella & Chewy Product, their Tantalizing Turkey Meal Mixer. Aside from having a fantastically alliterative name, there are some real benefits to this product, especially when used as a meal topper.

The premise behind dog food meal toppers is to make an average food tastier and healthier by adding a sprinkling of a highly nutritious food on top. While Stella & Chewy's Turkey Meal Mixer can also be used as a stand-alone food, its high price and high energy density make it more suitable to be a food topper.

In terms of macronutrients, this product has 42.1% protein and 37.9% fat. Like Wysong's Archetype Chicken Formula, the high fat content leads to a huge energy density. However, this isn't a problem when using the food as a simple meal topper, provided that you follow the recommended feeding amount. The carbohydrate content, 11.6%, is low and comes mainly from healthy sources.

Like Stella & Chewy's Chicken Dinner Patties, the Tantalizing Turkey Meal Mixer contains a multitude of organic fruit and veggies, including cranberries, broccoli, and spinach. The ingredient list also includes turkey liver, gizzard, and ground bones. 

All in all, Stella & Chewy's Tantalizing Turkey Meal Mixer is a great option for those pet parents who want a freeze-dried meal topper to enhance their pup's food. It's got a great nutritional value and a natural, healthy ingredient list. The energy density is very high, but if it's used correctly then this shouldn't lead to any problems.

Macronutrients (Dry-Matter Basis):
Protein: 49.5% minimum
Fat: 16.1% minimum
Carbs: 25.8% maximum
A Raw Dry Dog Food
Taking fifth place is TruDog's FeedMe Turkey recipe. Designed to be nutritionally complete and consisting almost entirely of turkey, this product is great for those dog owners looking for a simple and effective product.

In terms of macronutrients TruDog does well, with 49.5% protein and 16.1% fat. The estimated carbohydrate content, 25.8%, is the highest of all of the foods on this list and doesn't seem to have a definitive source. This indicates that, as the food is comprised almost entirely of real meat, the formula used to calculate carbohydrates isn't indicative of the actual carb content.

The ingredient list is short and simple, with ground turkey, turkey heart, and turkey liver being the primary three ingredients. Added to this is herring oil, which is a source of omega-3, and mixed tocopherols, which is a natural preservative. The shortness of the ingredient list can be viewed in two different ways. For one, you know exactly what you're feeding your dog and don't need to decipher the names of any complicated additives or novel ingredients. However, the lack of fruit and veg means that vitamins may be lacking, despite the inclusion of organ meat. 

Another downside of this food is the energy content, which at 650 kcal/100g is more than double most dog foods. The product is made to be rehydrated, which decreases this number as the extra weight of the water is taken into account, but pet parents who have difficulty sticking to feeding guidelines should probably steer clear of this product.

In sum, TruDog's Feed Me Turkey recipe is a simple, healthy, freeze-dried dog food. However, the lack of any ingredients besides turkey and the high energy density may make it less appealing than some of the other products on this list.

Macronutrients (Dry-Matter Basis):
Protein: 45.3% minimum
Fat: 28.4% minimum
Carbs: 17.9% maximum
Freeze Dried Organ Meat for Dogs
Placing last on the list is Nulo's Freestyle Duck and Pear recipe. Though it does have its disadvantages, there are some definite benefits that mean that it easily deserves its place on this list.

In terms of macronutrients, Nulo's Freestyle has 45.3% protein, 28.4% fat, and 17.9% carbohydrates. The protein and fat contents are on the lower side for a freeze-dried food, but still completely acceptable. The carbohydrate content comes from healthy fruits and veggies.

The major downside to this product is that it doesn't have as much meat as typical freeze-fried food. Nulo claims that it contains 82% duck and, though this figure might seem high, it's considerably lower than competitors in the freeze-dried market. While a lower meat content isn't necessarily a bad thing, owners looking to feed their dog a freeze-dried diet are typically looking for a food that's almost completely meat-based, and Nulo just doesn't meet this criterion.

In terms of ingredients, the addition of duck heart and liver is a big plus. Other ingredients to note are salmon oil, which is high in omega-3 fatty acids, inulin, which is a source of fiber, and GanedenBC30, which is a strain of probiotic that supports digestive and immune system health.

In sum, Nulo's Freestyle Duck and Pear recipe has a relatively low meat content that isn't in line with what most owners looking for a freeze-dried product are searching for. However, it's still a great and nutritionally complete product, so if you're not fully committed to the freeze-dried diet this is a good product for you!
Read More Dog Food Reviews: Nom Nom Now vs Farmers Dog or Best Rabbit Dog Food
Citations:
Canine Ancestral diet: Kerns, N. (2019). The Ancestral Dog Food Diet – Whole Dog Journal. [online] Whole Dog Journal. Available at: https://www.whole-dog-journal.com/food/the-ancestral-dog-food-diet/ [Accessed 21 Nov. 2019].
Shelf-life of freeze-dried food: FoodAssets (2014). Shelf Life of Freeze Dried and Dehydrated Food. [online] Food Assets. Available at: https://foodassets.com/info/bulk-food-shelf-life.html [Accessed 21 Nov. 2019].
Process of freeze-drying:  Becker, K. (2019). 300 Percent Growth in 3 Years, Watch Out for Poor Knockoffs. [online] Mercola.com. Available at: https://healthypets.mercola.com/sites/healthypets/archive/2017/12/29/freeze-dried-pet-food.aspx [Accessed 11 Dec. 2019].
Nutritional loss as a result of cooking: Yong, W., Amin, L. and Dongpo, C. (2019). Status and prospects of nutritional cooking. Food Quality and Safety, 3(3), pp.137-143.
FDA study into the dangers of raw dog food: U.S. Food and Drug Administration. (2018). Raw Pet Food Diets can be Dangerous to You and Your Pet. [online] Available at: https://www.fda.gov/animal-veterinary/animal-health-literacy/get-facts-raw-pet-food-diets-can-be-dangerous-you-and-your-pet [Accessed 11 Dec. 2019].
Recount of the freeze dried aspect of the above FDA study: Stone, R. (2018). Raw Dog Food Safety: Avoid This Common Mistake. [online] Dogs Naturally. Available at: https://www.dogsnaturallymagazine.com/raw-dog-food-safety-avoid-this-common-mistake/ [Accessed 11 Dec. 2019].
AAFCO 2014 Recommendations: The 2014 AAFCO Dog Food Nutrient Profile for Growth and Reproduction. (2019). [ebook] AAFCO. Available at: https://www.aafco.org/Portals/0/SiteContent/Regulatory/Committees/Pet-Food/Reports/Pet_Food_Report_2013_Midyear-Proposed_Revisions_to_AAFCO_Nutrient_Profiles.pdf [Accessed 28 Oct. 2019].
Optimal carbohydrate content in dog food: Roberts, MT, Bermingham, EN, Cave, NJ, Young, W, McKenzie, CM, Thomas, DG. Macronutrient intake of dogs, self‐selecting diets varying in composition offered ad libitum. J Anim Physiol Anim Nutr. 2018; 102: 568– 575. https://doi.org/10.1111/jpn.12794
Vitamin content of organ meat: WILLIAMS, P. (2007). Nutritional composition of red meat. Nutrition & Dietetics, 64(s4 The Role of), pp.S113-S119.