Dogs are a constant source of amusement. With their funny quirks and peculiar personalities, our beloved pooches are guaranteed to bring a smile to our faces, no matter how bad our day has been. 

What better way to appreciate all the laughs your dog brings into your life than by giving them a deliciously funny dog name? Sure, names like Charlie and Rex are great, but a witty dog name will raise a hearty chuckle from everyone your pup meets!

In this article, we have created a HUGE list of more than 400 of the funniest dog names you could dream of!

From silly dog names like "Bacon" and "Hobbit", to hilarious dog names such as "Andy War-howl" and "Count Droolsbury", you're sure to find the perfect name to keep you and your friends laughing!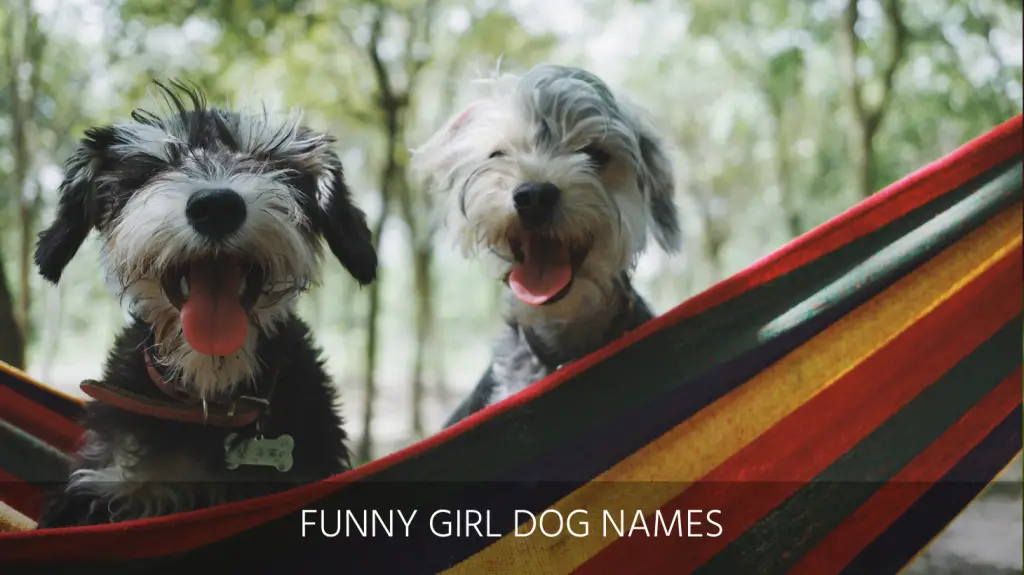 Funny Girl Dog Names
If you have a girly pup who makes you laugh 'til you cry, our list of funny girl dog names is the one for you!
We have worked super hard to collect a comprehensive list of the wittiest and silliest dog names for female pooches. 
So, whether your girl is a "Britney Ears" or a "Catherine Zeta-Bones", you're sure to find the perfect name on our list!

Adonis
Banjo
Big Red
Bilbo
Billie Holidog
Bimmer
Biscuit
Blue (Blu)
Bond
Bone Crawford
Bones
Britney Ears
Brunhilda
Buffalo Billly
Butternut
Byte
Caesar (Ceasar)
Catherine Zeta-Bones
Cha-Cha
Chewie
Chica
Chiquita
Cleopatra
Cletus
Clumsy
Cupid
Cutey
Cutey Honey
Cyrano
Diva
Dynamite
Elf
Ellen Degeneruff
Elektra
Elmo
Emo
Fifi
Flo
Frito
Fuzzball
Goliath
Gonzo
Hamlet
Hansel
Huntress
Jane Pawsten
January Bones
Jennifer Pawrence
Jezebel
JK Growling
Joan of Arc
Katy Hairy
Katy Pawry
Kewpie
Kiki
Kiwi
Lady Dogiva
Ladybug
Lady Rover
Lolita
Ma Barker
Macgyver
Mai Tai
Mariah Hairy
Mary Puppins
Matilda
McFly
Medusa
Miss Beazley
Miss Havisham
Mouse
Monet
Muggles
Mulligan
Myrtle
Olga
Olivia Chewton John
Oreo
Phoebe Ruffay
Pinky
Pluto
Princess
Poet
Pope
Puck
Puddin
Queen Elizabark
Rosa Barks
Sailor
Sarah Jessica Barker
Sheba
Skittles
Slink
Smooches
Snickers
Snowflake
Sorbet
Stinky
Sushi
T-Bone
Tankerbell
Tater
Tina Spay
Tinkerbell
Tizzy
Ursula
Vera Fang
Virginia Woof
Vixen
Waggie Gyllenhall
Winnie the Pooch
Woofie Goldberg
Zippy Zelda
Xena
Learn More: Top 300+ Shiba Inu Dog Names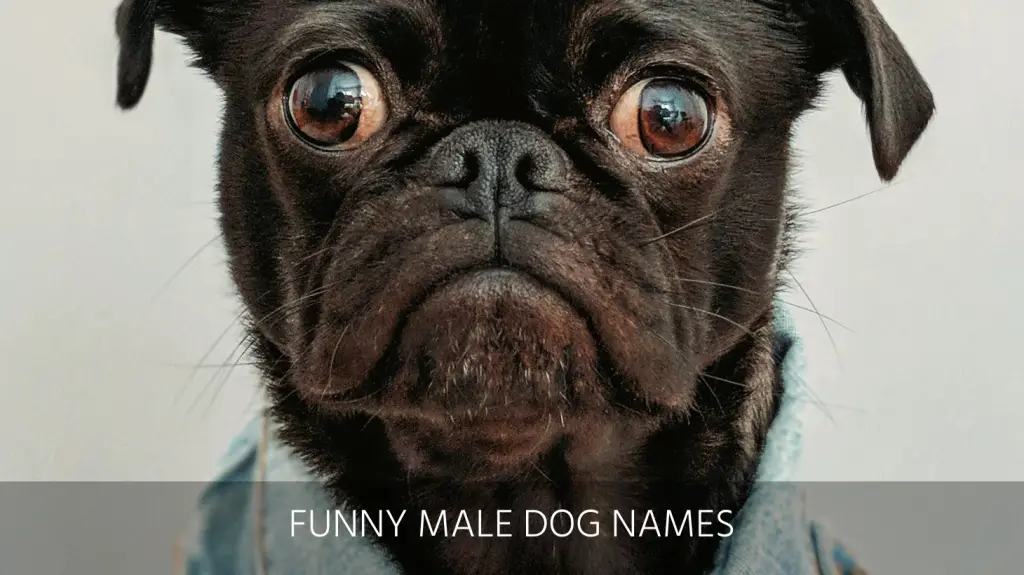 Funny Male Dog Names
Boy dogs are often the kookiest of all. 

If your pooch is a canine comedian, our list of funny male dog names is sure to contain the perfect moniker to honor their humor!

Our favorites are "Sir Barks-a-Lot", "Brian Griffin" and "Hairy Underwood", but what will yours be?

Afro
Archibald
Bambi
Barkley
Barney
Biggie Smalls
Bingo
Bobby (Mcgee)
Boss
Brain
Brian Griffin
Brownie
Bubba
Buckaroo
Bullseye
Burger
Buster
Buttercup
Chi Chi
Chubby
Churchill
Clark Kent
Coconut
Copernicus
Cupcake
Dino
Ewok
Fabio
Farley
Fluffy
Freud
Fuzzy
Gandhi
Gordo
Gumdrop
Honeybear
Jawa
Jeckyll
Jellybean
Jethro
June Bug
K-9
Kerouac
Lancelot
Lois
Lollipop
Macbeth
Mr Magdalene
Marky Mark
Marshmallow
McGruff
Nessie
Ninja
OJ
Peanut Butter
Pee Wee
Picasso
Pickle
Pistol
Porkchop
Pugsley
Quixote
Rogue
Sable
Sir-Barks-Alot
Spud
Squirt
Stewie
Tiger
Tom Servo
Tootsie
Underdog
Yoko
Hairy Underwood
Wagner
Yoda
Learn More: Best Dog Names (By Category)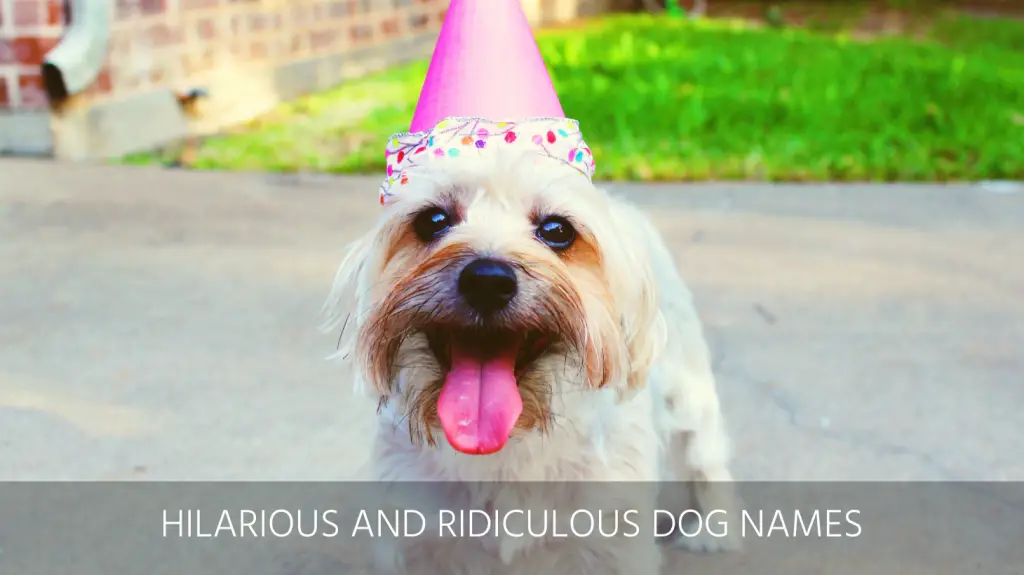 Hilarious and Ridiculous Dog Names
Looking for a truly ridiculous dog name to stand out from the crowd?

You're in the perfect place! Our list of hilarious dog names is ideal for the most eccentric of pups. 

We have gathered seriously funny names such as "Boba Fetch", "Buzz Pawldrin" and "Captain Fluffy" to make sure your dog lifts the spirits of all he meets. 

Ready to pick your favorite?
Alfred von Wigglebottom
Andy War-howl
Artoo Dogtoo
Bacon (Sir Francis)
BamBam
Bamboo
Betty Twiglet
Bitsy
Bob Scratch-It
Boba Fetch
Brian
Butterball
Buzz Pawldrin
Captain Fluffy
Captain Merrylegs
Captain Sniffer
Clive
Count Droolsbury
Deputy Dawg
Django Unleashed
Dobby
Doc McDoggins
Doggy Howlser M.D.
Doodle
Doris
Dumbledog
Eggroll
Elvis
Frodo
Fur-dinand
Hairy Pawter
Hashtag
Hotrod Woofington
Huckleberry
Jim
Jimmy Chew
Kareem Abdul Ja-Bark
Lucky Goodsniffer
Milkshake
Miss Furbulous
Mister Fluffers
Mr. Beagletons
Muffin Chops
Muttley Crue
Nacho
Noodles
Nugget
Otto Von Longdog
Ozzy Pawsborne
Pancakes
Pasty
Prince of Barkness
Princess Pork Chop
Professor Wagglesworth
Pup Tart
Putt Putt
Queen of Barkness
Ratty
Santa Paws
Sergeant Barkowitz
Sherlock Bones
Sir Barks-a-Lot
Sir Waggington
Sneakers
Sniffy Longdroppings
Spark Pug
Sprite
Stompy
Sugar Pie
Terror
Toast
Waffles
Waldo
Waltzing Muttilda
Widget
Winnie (the Poodle?)
Winnie the Poodle
Woofer
Woofgang Amadeus
Yeti
Zippy
Learn More: Top 500+ Country Dog Names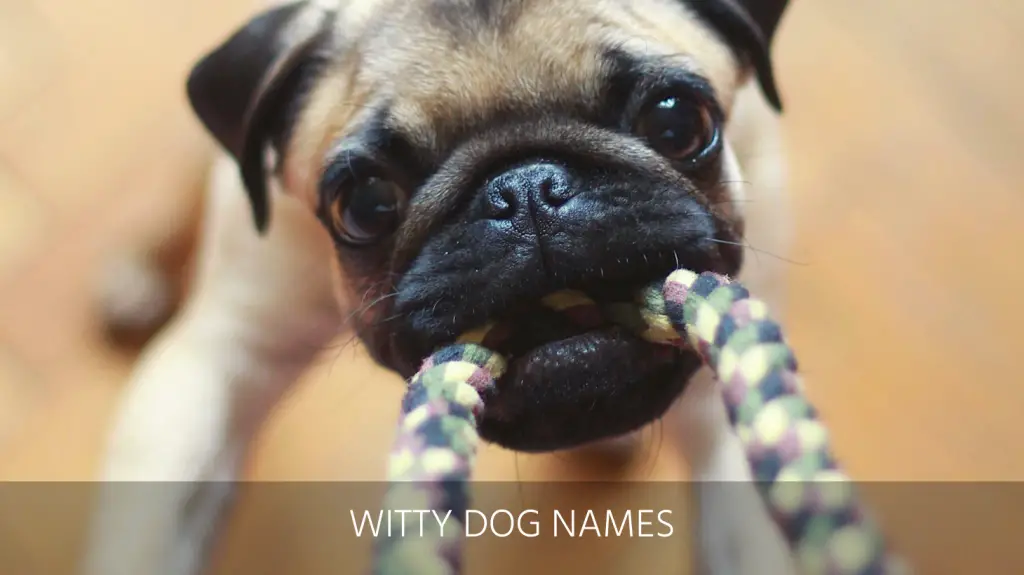 Witty Dog Names
Looking for a witty dog name to give your pooch the edge over their mates? Our list has everything you need!

Perfect for boy or girl pups, our collection of witty names will definitely make your pup memorable. Our favorites are "Calamity Jane", "Lady Dogiva" and "Captain Chaos"!

Which one will you choose? Check out our suggestions to find out!
Bubblegum
Buff Biff
Buffy
Burrito
Bustamove
Butters
Caddylick
Caesar
Calamity Jane
Captain Chaos
Chalupa
Chantilly
Cheeseball
Cheeseburger
Chick'n'noodle
Chief Crazy Horse
Chilipepper
Chuck Norris
Cinder Ella
Clark Griswold
Cookie Jar
Cookie Monster
Coppertop
Crunchie Bones
Dee-Oh-Gee
Derby Girl
Dickens
Dilbert
E.T.
Eager Beaver
Eggs-n-ham
Einstein
El Diablo
El Nina
Encyclopedia Brown
Fang
Fergus
Fido
First Dibs
Fitbit
Fleasy E
Foxy
Fuzzy Toast
Gary
Geronimo
Gimme More
Honeybee
Hooch
Howl-r-you
Jerry Lee
Jersey Girl
Jesse James
Kobe Burger
Lady Dogiva.
Mail Chomper
Paws Away 
Root Beer Float
Ruffcut
Rufus
Rum Runner
Rusty
Seabiscuit
Seuss
Shiner Black
Short Fuse
Toodle Lou
Weinerful
Learn More: Top 900+ Yorkie Dog Names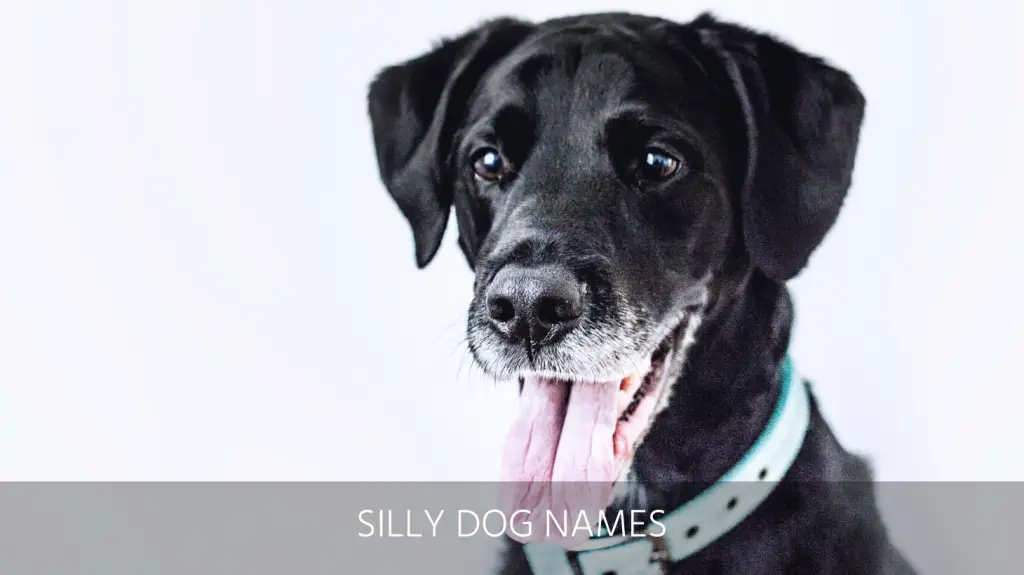 Silly Dog Names
Whether your pup spends hours chasing their tail, has a strange obsession with dirty socks or gets the zoomies at 4 am – giving them a silly dog name is a great way to celebrate their weird ways!

To help you choose, we have put together an awesome list of goofy dog names that are guaranteed to match their unusual personalities.

We really like "Woofles", "Munchkin" and "Homer", but "Dognald Trump" is a favorite!

Babushka
Baby Bark
Bacon
Baloo
Bean
Big Guy
Blueberry
Dognald Trump
Fancy Feet
Goldilicks
Growlilocks
Hobbit
Homer
Loopy Lu
Munchkin
Power Paws
Ricky Bobby
Snookie (Suki)
Sonic Boom
Squatsie
Taco
Toto
Whizz Poop
Whoopi
Woofles
Zoomi
Learn More: Top 200+ Star Wars Names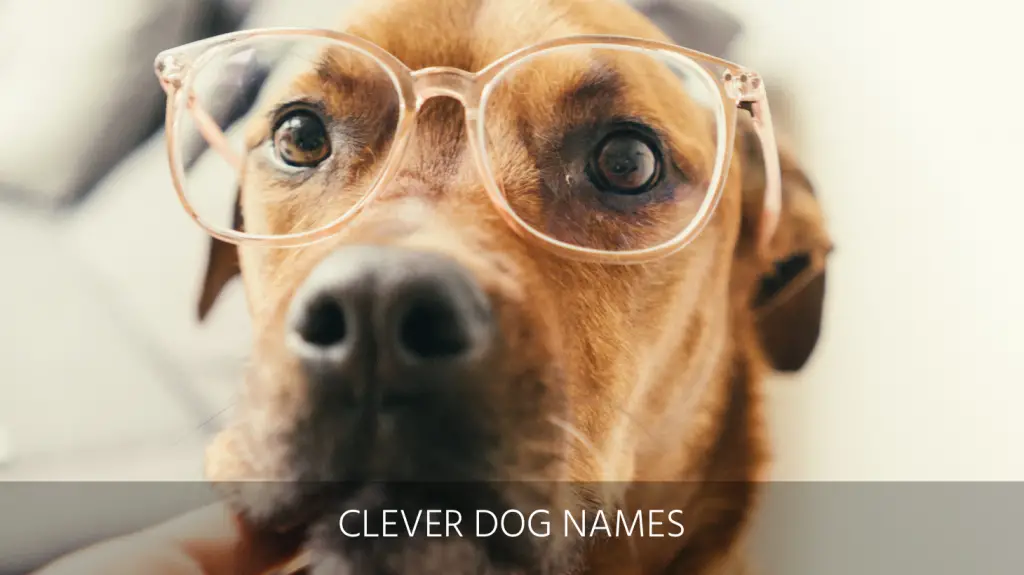 Clever Dog Names
If you're looking for a funny dog name that plays on words, we've got the list for you!

These clever dog names are a twist on famous characters and sure to make an impression on all your friends. With such a unique name, your pup will be the most popular pooch in town!  

Our favorites include "50 Scent", "Chewbarka", "Fuzz Aldrin" and "Bilbo Waggins" – what are yours?
50 Scent
Anderson Pooper
Bark Griswold
Bark Obama
Bark Twain
Bark Wahlberg
Beowoof
Bilbo Waggins
Bill Furry
Bob Scratchit
Bone, James Bone
Chewbarka
Dogstoyevsky
Droolius Caesar
Franz Fur-dinand
Fuzz Alrdrin
Fyodor Dogstoevsky
George Bernard Paw
Groucho Barks
Hairy Paw-ter
Indiana Bones
Jabba the Mutt
Jake Gyllenpaw
James Earl Bones
Jude Paw
Karl Barx
L.L. Drool J
Luke Skybarker
Muttley Crew
Orville Redenbarker
Pablo Escobark
Paw-casso
Ron Fleasly
Ryan Fleacrest
Salvador Dogi
Sir Arthur Canine Doyle
Taylor Pawtner
The Notorious D.O.G.
William Shakespaw
Winston Furchill
Woofgang Puck
Learn More: Top 300+ Black Lab Names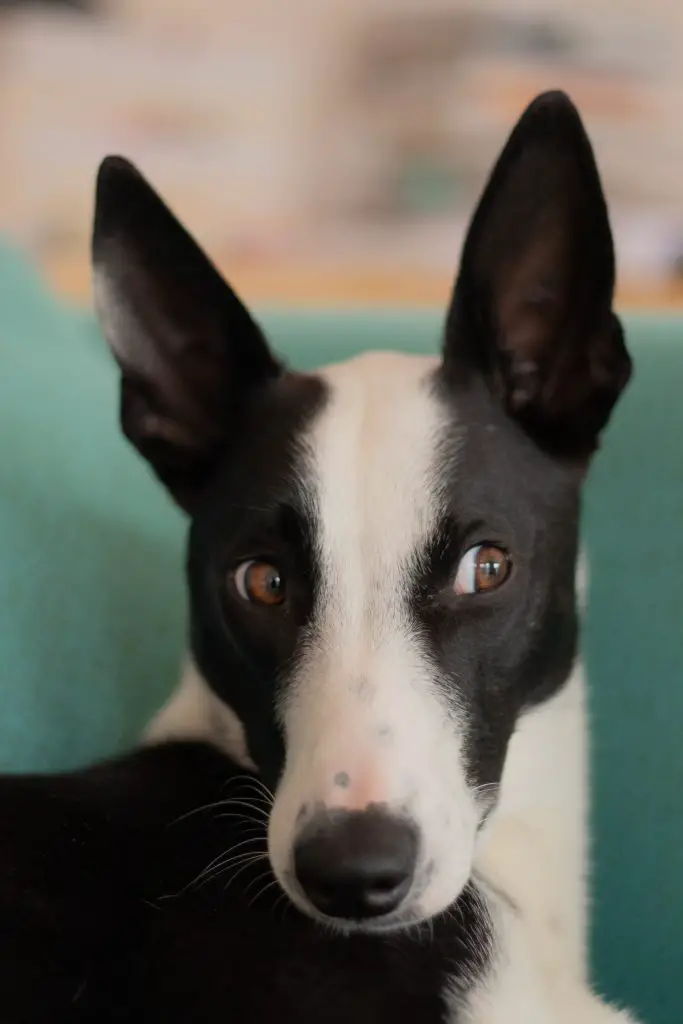 We Can't Stop Giggling. Which Did You Choose?
Phew! Our sides are aching from laughing so much! 

What do you think? Did you pick one of our hilarious dog names for your funny pooch?

If so, please let us know in the comments below – and don't forget to share this list with your doggie friends!