The Shiba Inu is the most popular pet companion in Japan, and with good reason.  This ancient breed, similar looking to a fox, is a lovable pal with its chosen family.  A dog like this needs a name to fit its storied history and confident personality.

The Shiba Inu was originally bred to be a hunter and small game chaser.  Over time the dog has become much more of a companion pup. However, you may want to be careful as these dogs can have a bit of an attitude and act like a surly teenager instead of a lovable pooch. They have a stubborn streak and may be difficult to train – angsty indeed.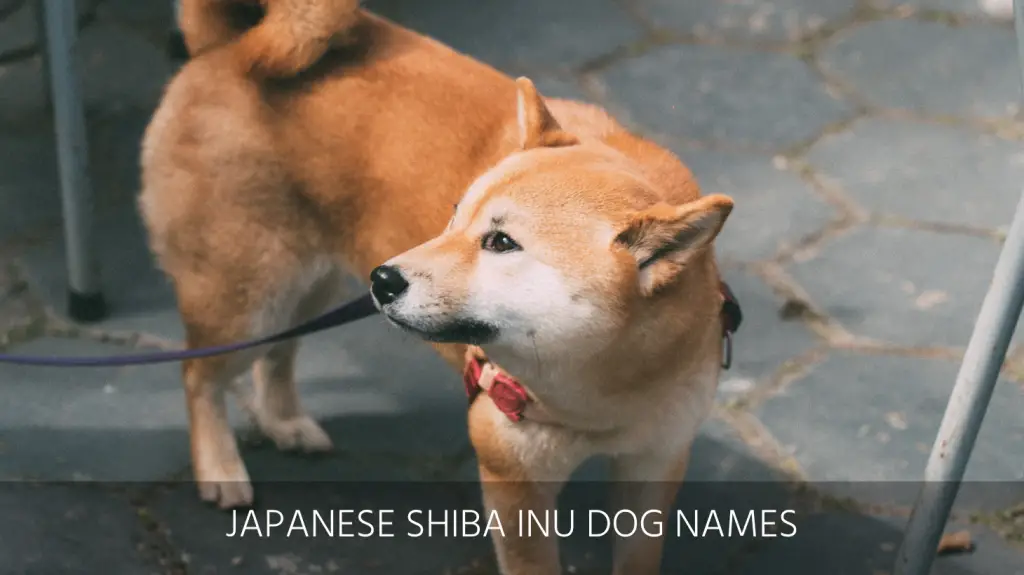 Japanese Shiba Inu Dog Names
With a background stemming from Japan, it's only natural that some of the best names for the Shiba Inu take a nod from its Japanese surroundings.  The following list has some of the most popular and clever Japanese names for your precious little Shiba Inu puppy.  

Aki
Akiko
Akira
Chika
Choco
Hana
Haru
Haruto
Hiraku
Hiro
Hiroki
Hisako
Ichiro
Kaito
Katsumi
Keiko
Kimi
Kiyoshi
Kotaro
Kyo
Mai
Maiko
Makoto
Masa
Masaki
Midori
Minori
Nao
Naoki
Nori
Noriko
Pochi
Riko
Rina
Sakura
Shinju
Sushi
Wasabi
Yoshi
Yoshito
Yuki
Yumi
Yuri
Learn More: Top 300+ Black Lab Names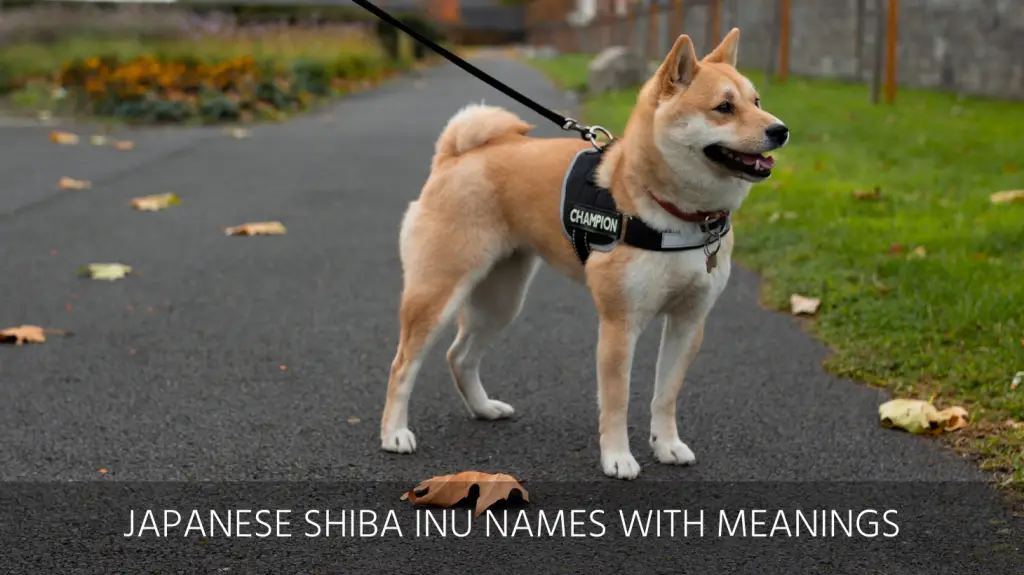 Japanese Shiba Inu Names with Meanings
Sometimes the perfect name needs to have some meaning behind it.  Whether you're looking for a male or female Shiba Inu name, this section is sure to have one to fit your needs. 

Akemi (bright and beautiful)
Aoi (beyond the inside)
Asami (morning beauty)
Ashi (a scenic body of water)
Asuka (tomorrow perfume, fragrance)
Ayumu (dream walker)
Bonsai (small trees shaped with precision and care)
Daichi  (great wisdom)
Daiki (great glory or great nobility)
Emiko (beautiful blessing child)
Fuji (based on another city in Japan)
Fumio (literature, scholarly hero)
Gekido (fury)
Haiku (a poem consisting of a certain amount of lines and syllables)
Hanako (flower child)
Hideki (excellent timer trees)
Hinata (sunflower/facing towards the sun)
Hiroshi (generous)
Hitomi (pupil of the eye)
Hoshi (star)
Igarashi (fifty storms)
Kaizen (a change for the better)
Katashi (firm)
Kazuko (child of harmony)
Kenji (strong, healthy second son)
Kenta (large strong and healthy)
Kitsune (fox)
Kobe (another large city in Japan)
Koinu (puppy or little dog)
Kyoto (a city located in central Japan)
Masato (righteous person)
Mayumi (true gentle beauty)
Miho (protected, guaranteed beauty)
Miyako (beautiful night child)
Momo (peach)
Moriko (child of the forest)
Nemui (sleepy one)
Ramen (a Japanese soup dish)
Renko (lotus child)
Saki (blossom of hope)
Samurai (an ancient Japanese warrior)
Shig (luxuriant)
Shinto (a Japanese religion)
Soba (Japanese name for buckwheat; used for noodles)
Sora (sky)
Tadao (loyal or faithful servant)
Takara (treasure)
Takeshi (fierce warrior)
Tatsuo (dragon man)
Tomiko (child of wealth and fortune)
Toshio (genius leader and hero) 
Touma (top of the mountain)
Tsunami (tidal wave)
Udon (a type of thick noodle)
Wakana (harmonious music)
Yoko (based on the city Yokohama)
Yukiko (child of snow/child of happiness)
Kana (powerful one)
Hibiki (echo or sound)
Junpei (to be pure, innocent and kind)
Koya (a fast and knowledgeable leader)
Shun (talented and fast learner)
Kazuo (man of harmony)
Sumo (named after the powerful Japanese wrestlers)
Akane (Japanese word meaning deep red)
Inu (Japanese word for dog)
Kage (Japanese word meaning shadow)
Mamoru (a guardian or protector)
Mariko (a true village child)
Mayu (true and gentle)
Michio (man on a journey)
Mitsuo (shining hero)
Miwa (beautiful harmony, peace)
Nobuko (faithful, trustworthy child)
Osaka (one of Japan's largest cities)
Rikuto (person of land)
Rin (dignified)
Rio (village cherry blossom)
Ryokucha (a Japanese green tea)
Ryuu (mythical dragon that protects great treasures)
Sashimi (thinly sliced raw fish)
Satoshi (wise, fast learner)
Shizuka (a quiet summer)
Sumiko (child of clarity)
Susumo (to advance or proceed)
Taiki (great radiance, shine)
Takahiro (of great value or nobility)
Tamiko (child of many beauties)
Tomomi (beautiful friend)
Yamato (great harmony)
Youta (great sunlight)
Yua (binding love)
Yuka (gentle flower)
Yukio (blessed hero)
Yuuta (meaning great bravery)
Haruki (shining sun)
Emi (beautiful blessing)
Chiyoko (a child of a thousand generations)
Aya (art or beauty)
Arata (new or fresh)
Airi (jasmine)
Learn More: Top 800+ Mexican Dog Names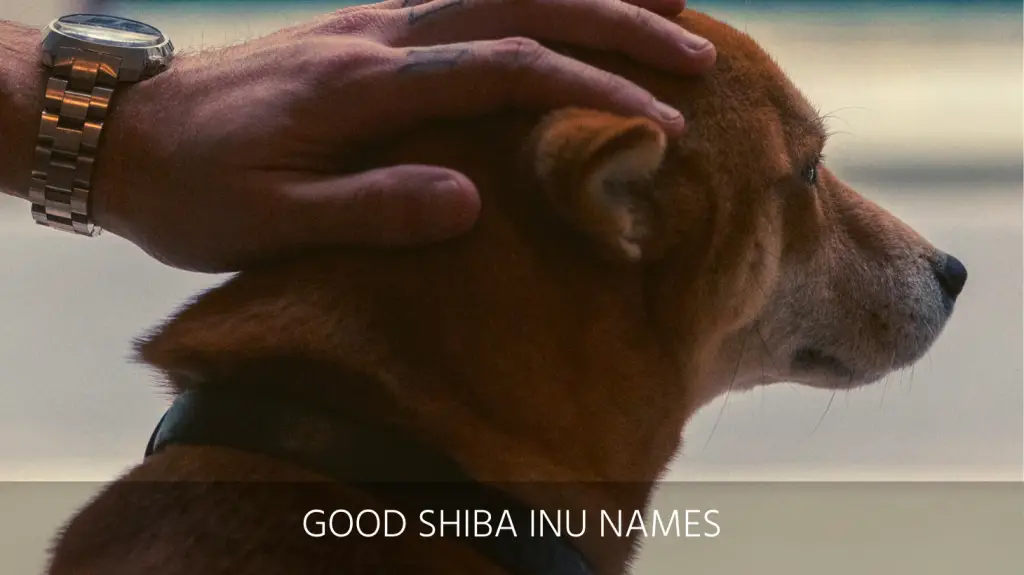 Good Shiba Inu Names
Whether you're looking for a traditional Japanese dog's name, male or female dog names, or just a solid moniker for your Shiba Inu than you've come to the right place.  This next section will list popular name choices for your pooch. With such a large selection you'll be sure to find the right fit for your family.

Arnie
Bailey
Baxter
Betty
Brandy
Carter
Charlie
Chester
Chloe
Cleo
Clyde
Cody
Cooper
Daisy
Dexter
Duncan
Ellie
Ernie
Fido
Finley
Finn
Fiona
Foster
Freddy
Georgia
Gordy
Gus
Harley
Harry
Ina
Jake
Jasmine
Jax
Jojo
Josie
Kaia
Kobe
Koda
Lance
Lance
Larry
Leo
Lily
Loki
Lola
Lucy
Luna
Maggie
Mandy
Max
Mickey
Mika
Miko
Milo
Milton
Minnie
Molly
Monty
Murphy
Nala
Neo
Niko
Nova
Olive
Ollie
Oscar
Otis
Percy
Piper
Polly
Quinn
Randy
Ranger
Reggie
Rex
Riley
Rosie
Roxy
Sadie
Sandy
Sasha
Sebastian
Sheba
Simba
Stella
Teddy
Theo
Toby
Trevor
Tucker
Tyler
Ursula
Willow
Winnie
Wyatt
Zoey
Learn More: Top 500+ Korean Dog Names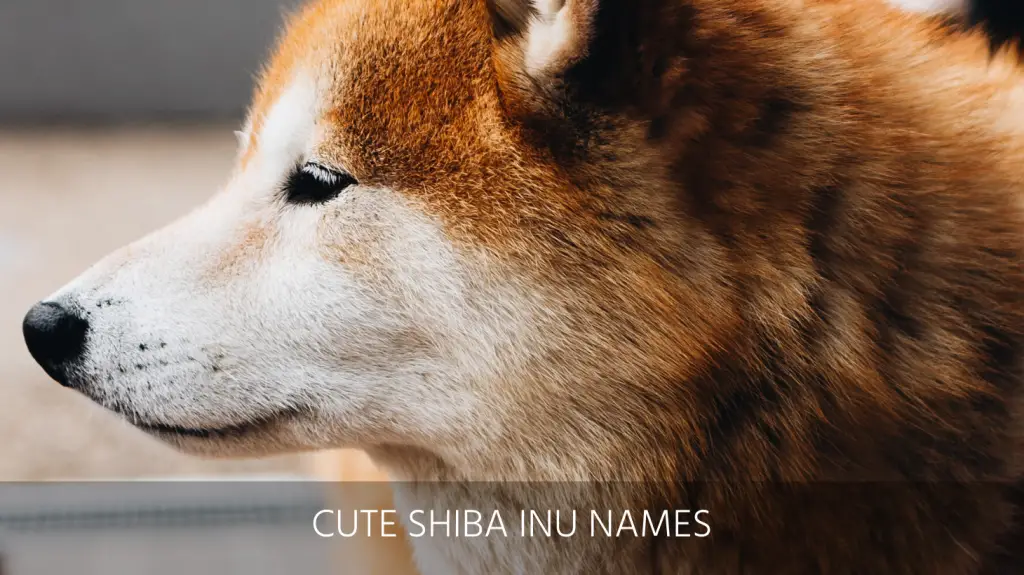 Cute Shiba Inu Names
Make no mistake about it, the Shiba Inu is a very cute dog.  They are small but sturdy with a sweet face that's easy to fall in love with.  With this in mind, we've compiled a list of some of the cutest dog names we could find.  One of them is sure to suit your adorable little fur-baby.

Alfie
Angel
Anime
Archie
Aspen
Astro
Baby
Bear
Benji
Benny
Bingo
Biscuit
Blaze
Blossom
Bootsy
Buster
Buttons
Carmen
Clancy
Clara
Cricket
Cupcake
Daphne
Delia
Dixie  
Dudley
Emma
Fannie
Ferris
Foxy
Fozzy
Fritz
Gidget
Gigi
Gizmo
Grover
Guinness
Harvey
Herbie
Holly
Izzy
Jasper
Jinx
Lacy
Lady
Lexie
Linus
Lottie
Lucky
Lulu
Marley
Murray
Niles
Noodles
Ozzy
Peanut
Pebbles
Poppy
Precious
Queenie
Rudy
Rufus
Sassy
Sawyer
Scooter
Shera
Shiloh
Skylar
Sonja
Tabby
Tess
Tillie
Waffles
Wally
Wilma
Learn More: Top 1000+ Poodle Names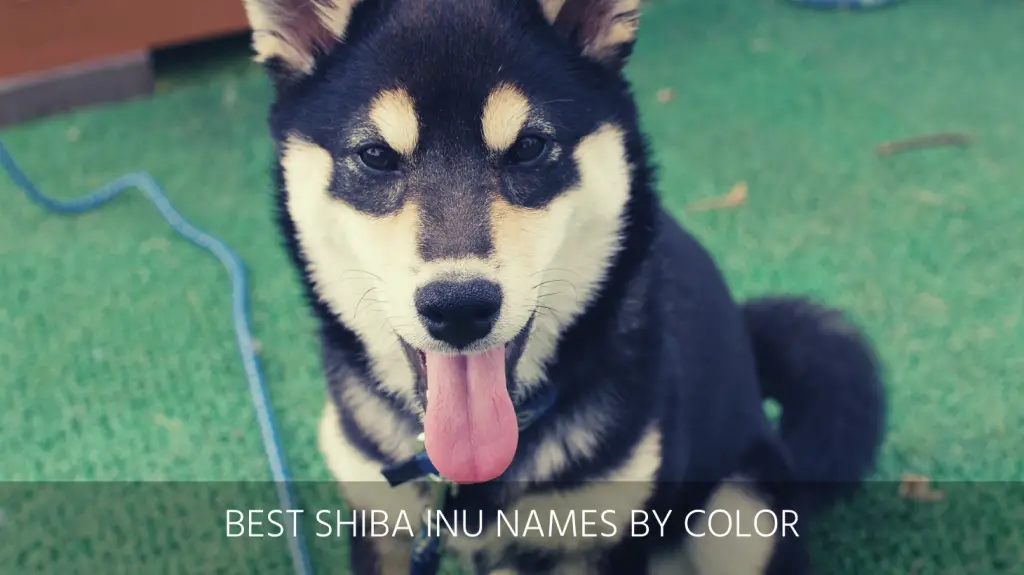 Best Shiba Inu Names
The Shiba Inu can come in a range of colors.  The most common are red, red sesame, black and tan and cream.  There are also some dogs that have white or gray markings. If you're looking for a cute and clever name it may be a good idea to base the name off the dog's colorings.  

Broken down below are some great name ideas based on the different colors of the Shiba Inu.
Red Shiba Inu Dog Names
Apple
Apricot
Autumn
Brick
Cayenne
Conan
Ginger
Goldie
Henna
Mars
Peaches
Pepperoni
Robin
Ruby
Sunny
Twizzler
Sesame Shiba Inu Dog Names
For those not familiar, the sesame coat has a red base with portions of black throughout.  This marbling effect may give you some great naming options.

Freckles
Marbles
Patches
Rainbow
Sesame
Skittles
Speckles
Spot
Sprinkles
Black and Tan Shiba Inu Names
Coco
Cookie
Lager
Moose
Sabre
Snickers
Cream Colored Shiba Inu Dog Names
Almond
Blondie
Buttercup
Butterscotch
Caramel
Chestnut
Coconut
Cream Puff
Nutmeg
Pearl
Sugar
Taffy
Gray Shiba Inu Dog Names
Ashes
Beau
Blue
Chrome
Comet
Dusty
Flint
Grey
Misty
Silver
Smokey
Storm
Wolf
Learn More: Top 325+ Doberman Dog Names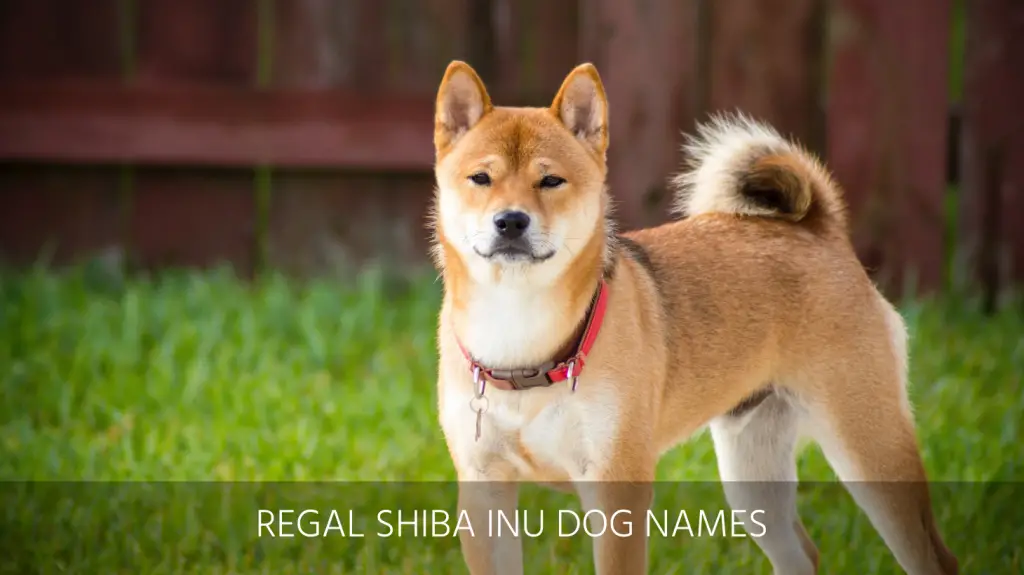 Regal Shiba Inu Dog Names
Due to their heritage as an ancient regal dog, the Shiba Inu needs a name to reflect such a stature.  These following names showcase a dignified side to an elegant pup.

Albert
Alfred
Alice
Allistair
Arthur
Beatrice
Bryce
Camilla
Clive
Edward
George
Helena
Isla
Louis
Lucia
Mary
Olga
Patricia
Redmond
Scarlett
Victoria
Tips for Naming Your Pup
Now that you've gone through this list and (hopefully) found the perfect name, here's a few tips to make that name stick.
Say it out loud – that name may sound great in your head but actually saying it aloud may change your mind.  Pretend you're at the dog park and yell it out – sometimes you don't notice how great a name is until you use it a few times.
Does it fit your dog's personality?  Some names just don't fit a dog's personality or looks.  Calling your Chihuahua Tank may be funny and ironic but there are other times when it won't work.  Take your time and find something that suits your dog and your family.
Keep it simple – The names included above are easy enough to suit any pooch.  Having a name over three syllables can confuse your dog and also frustrate you when you need to yell it constantly!
If you love it, use it – Sometimes you may find the perfect name only to be swayed by family or friends to reconsider.  Just remember, it's your pet and if you love the name then it shouldn't matter what anyone else thinks of it.
The Final Decision
And with that, it's time to decide upon a name for your precious pooch.  Whether it's an iconic Japanese name, a cute and clever name, or something with a little more class, this list is sure to have you covered.