Whether you actually live in the country or not, sometimes Western names are just fitting for our dogs. Perhaps your dog belongs to a working breed that is common in the south, like a Beagle or Golden Retriever for instance. Or, maybe your dog is a Border Collie or Catahoula heeler, which were common with the cowboys. 

Maybe you just like Western dog names! 

Whatever the reason, we've gotten together some of the best country dog names out there for you to choose from.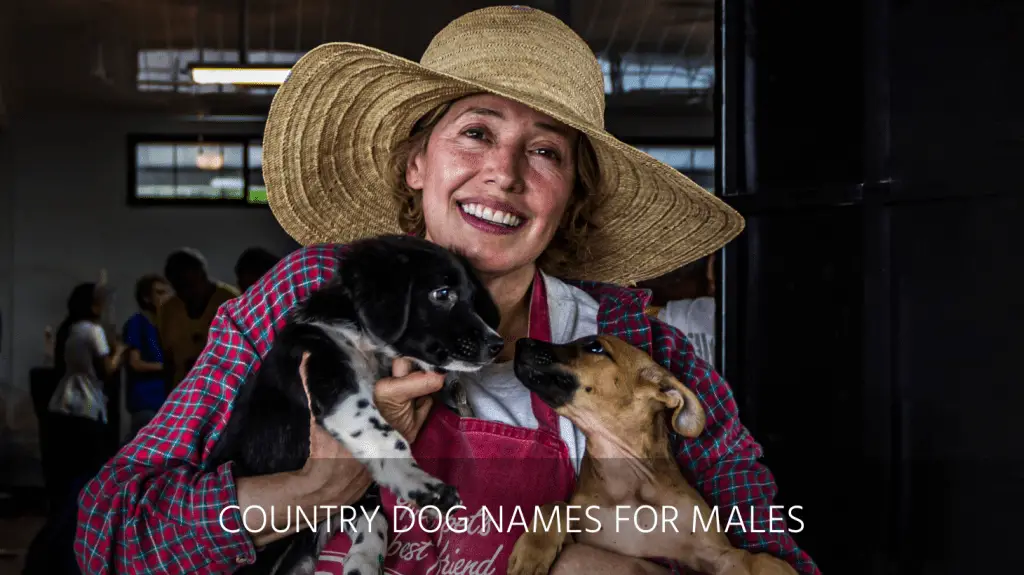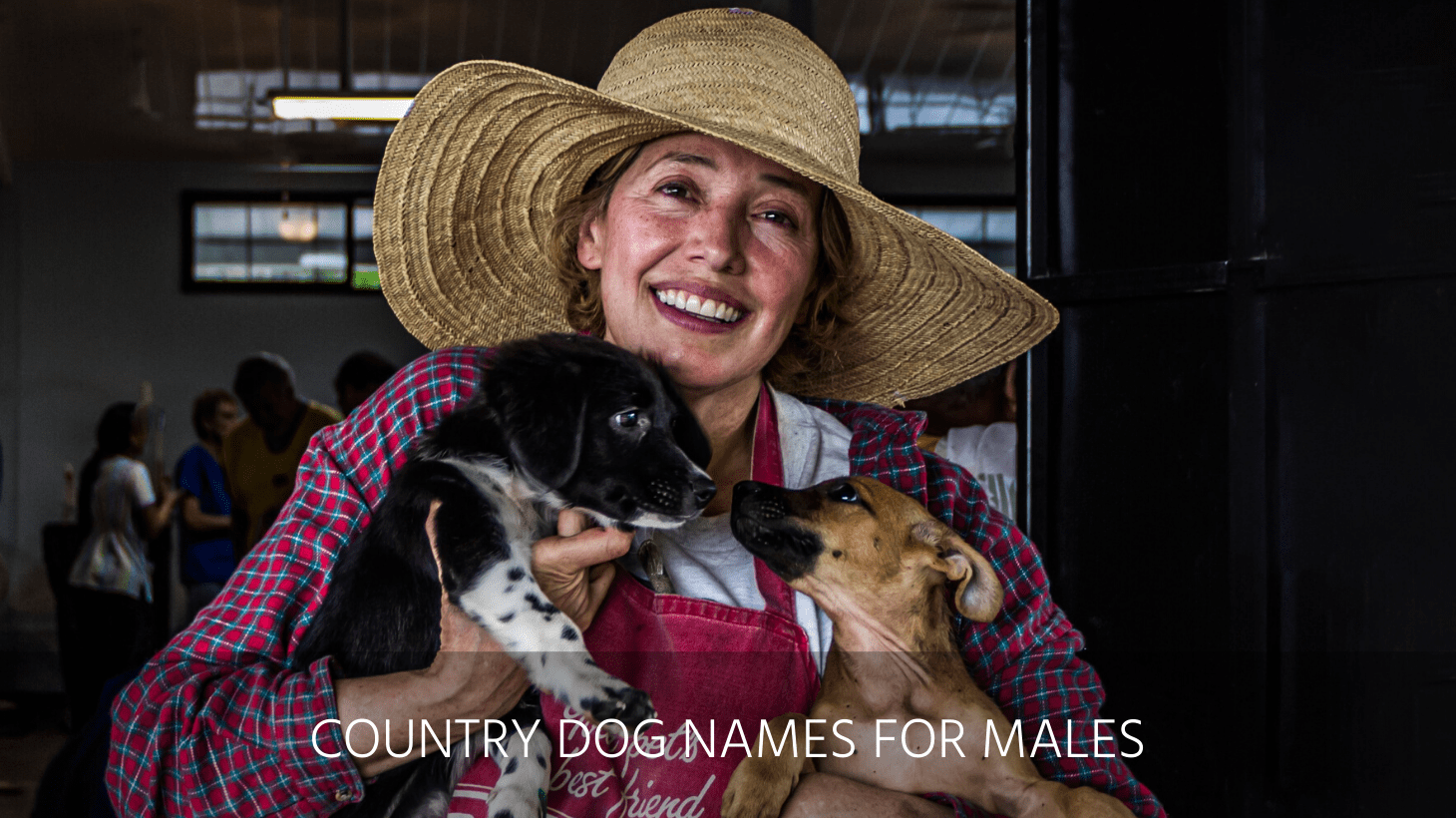 Country Dog Names for Males
In many ways, country dog names really aren't that much different from your average dog names. Names that are common in other parts of the country, like Bella, are also common in the country and southern areas of the U.S. Whether you live in the south or just love country music, you might find these names fitting. With that said, here are some dog names that are somewhat unique to the country areas:
Abbott   
Abe
Ace
Achilles
Aero
Aiden
AJ
Albert
Alden
Alex
Alexander
Alfie
Alford
Ali
Alistar
Alvin
Amos
Andre
Andy
Angus
Apollo
Archie
Aries
Arnold
Arthur   
Artie
Ash
Ashby
Atlas
Augustus
Austin
Axel
Bailey
Bandit
Barkley
Barnard
Barney
Baron
Barry
Barton
Basil
Baxter
Beans
Bear
Beau
Benji
Bennett
Benny
Benson
Bentley
Bernard
Bertrand
Beta
Billy
Bingo
Blake
Blaze
Blue
Bo
Boomer
Bowie
Bradford
Bradley
Brady
Braxton
Bruce
Bruno
Brutus
Bryce
Bryon
Bubba
Buck
Bucky
Buddy
Buster
Butch
Buzz
Byron
Cadence
Caesar
Cain
Calvin
Captain
Carlton 
Carter
Chark
Charlie
Chase
Chester
Chewy
Chico
Chief
Chip
Chips
Cisco
CJ
Clarence
Clark
Clement
Clifford
Clyde
Coco
Cody
Colby
Coleman
Cooper
Corky
Cosmo
Damien
Dane
Davis
Davy
Dexter
Diego
Diesel
Dixon    
Doc
Dodge
Domingo
Donnie
Donovan
Drew
Dudley
Duffy
Duke
Dusty
Dylan
Earl
Easton
Eddie
Edgar
Edison
Edmund
Edward
Edwin
Eldon
Eli
Eliot
Elmer
Elvis
Elway
Emerson
Emmett
Emory
Emory
Ernest
Eugene
Evan
Evander
Everett
Ezra
Fabio
Fang
Farley
Felix
Felton
Fenton
Fido
Fido
Finley
Finn
Fisher
Flash
Fletcher
Floyd
Fonzi
Forrest
Foster
Francis
Frank
Frankie
Franklin
Freddy
Frederick
Freeman
Fritz
Gage
George
Gerald
Ghost
Gilbert
Gizmo
Goose
Gordy
Gracie
Grady
Grady
Graham
Griffin
Grover
Gunner
Gus
Hamilton
Hank
Harley
Harold
Harrison
Harry
Hart
Harvey
Hawkeye
Hayes
Heath
Hector
Henry
Herbert
Herman
High
Hilton
Hogan
Homer
Hooch
Ike
Indy
Ira
Irving
Ivan
Ives
Jack
Jackson
Jacob
Jag
Jake
James
Jameson
Jasper
Java
Jax
Jefferson
Jerry
Jesse
Jet
Jethro
Joey
John
Johnny
Kobe
Koda
Kona
Lambert
Lance
Lane
Langston
Lars
Lawrence
Lawrence
Lemuel
Lenny
Leo
Leonard
Leroy
Levi
Lewis
Liam
Lincoln
Linus
Llewellyn
Logan
Loki
Louie
Mack
Maverick
Max
Maximillian
Maximus
Maxwell
Mccoy
McKinley
Mercer
Meyer
Michael
Mickey
Milburn
Miles
Miller
Milo
Milton
Moe
Mojo
Monroe
Moose
Morris
Mort
Morton
Murphy
Murray
Nacho
Napoleon
Nash
Ned
Nelson
Nero
Newton
Nico
Niles
Noah
Normal
Ollie
Oreo
Orson
Oscar
Otis
Otto
Owen
Ozzy
Pablo
Paco
Parley
Philipe
Pierce
Piper
Pogo
Pongo
Randall
Ranger
Rascal
Raymond
Rebel
Reed
Reese
Reggie
Remy
Reuben
Rex
Richard
Ricky
Rider
Riley
Ringo
Ripley
Robert
Rocco
Rockwell
Rudolph
Rudy
Rufus
Rupert
Russel
Russell
Rusty
Sam
Sammy
Samson
Sarge
Saul
Sawyer
Scooby
Scooter
Scout
Scrappy
Sebastian
Sedrick
Shadow
Shamus
Sheldon
Sheldon
Shelton
Sherman
Sherwood
Shiloh
Sigmund
Silas
Simba
Simon
Skip
Smokey
Snoopy
Socks
Sparky
Spencer
Spike
Spot
Stanlet
Stanley
Sterling
Stetson
Stewie
Stitch
Storm
Stuart
Summer
Sylcan
Sylvan
Taco
Tank
Taz
Tesla
Thaddeus
Theo
Theodore
Thor
Thornton
Thurston
Tiller
Tillman
Titus
TJ
Tobias
Toby
Todd
Tot
Toto
Trapper
Tripp
Tristan
Truman
Tucker
Tyler
Tyson
Ulysses
Vaughn
Vernon
Victor
Vinc
Vincent
Virgil
Wade
Walter
Walton
Wesley
Wheeler
Willie
Wilson
Wilson
Winston
Woody
Wyatt
Wylie
Yogi
Yoshi
Yukon
Zane
Zeus
Ziggy
Learn More: Top 200+ Star Wars Dog Names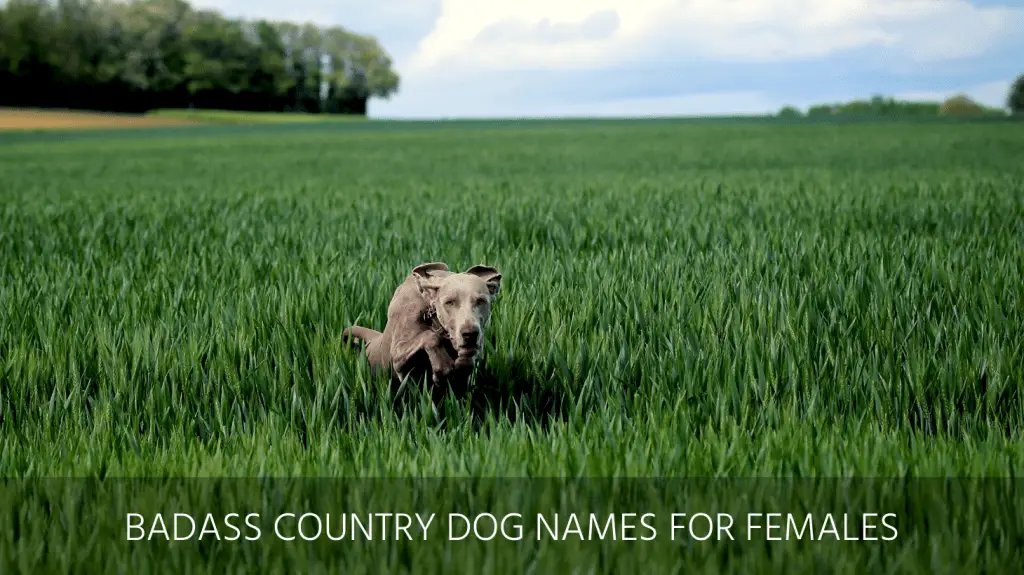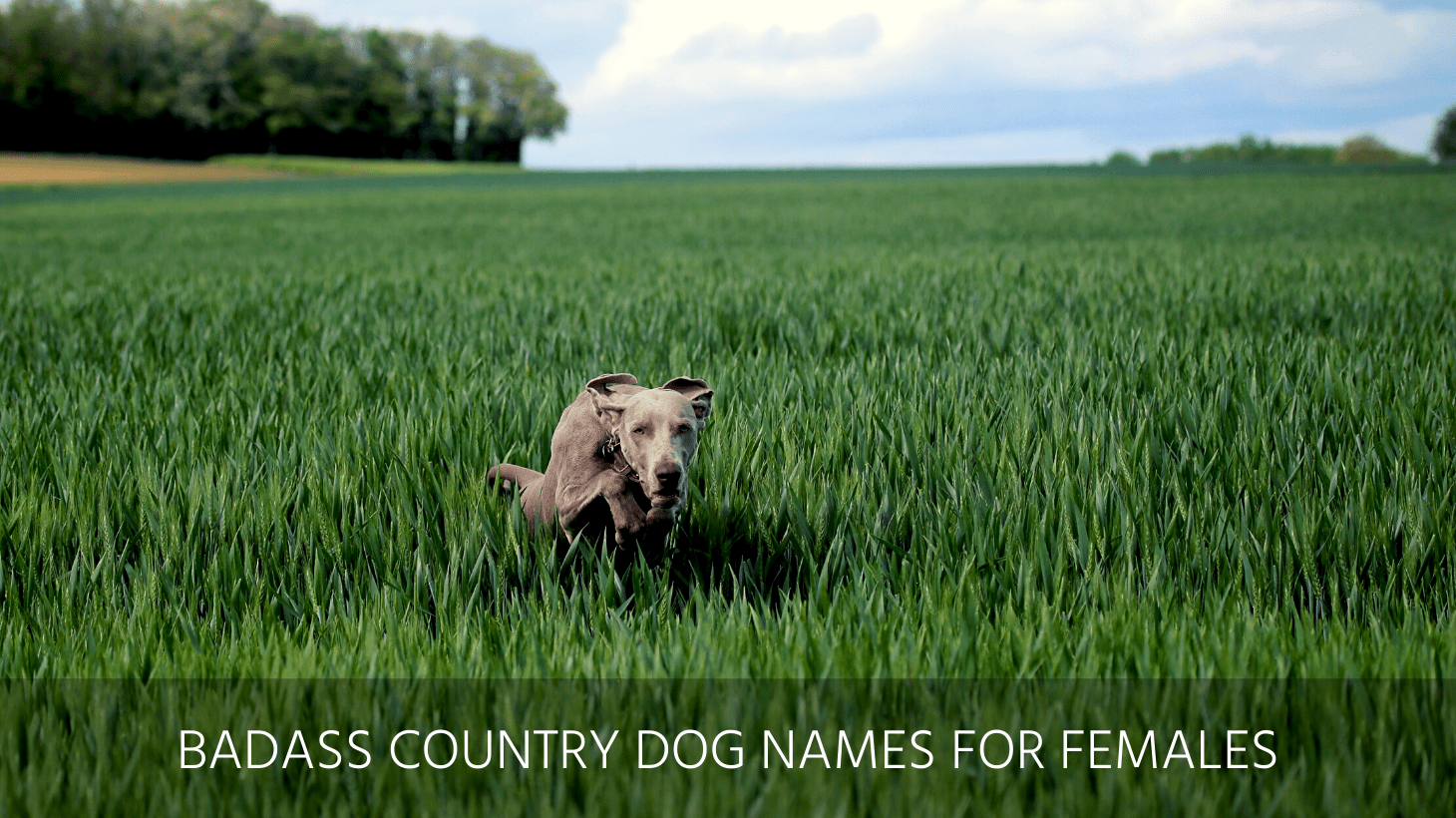 Badass Country Dog Names for Females
Most country-style female dog names are very feminine and dainty. However, some aren't much different from other common dog names. Bella, one of the most popular dog names in the United States, is also very common in the south, for instance. Here are some of the more country-style female names that are quite common in some of the southern states:
Abigail
Ada
Addy
Adelaide
Adeline
Agatha
Agnes
Anna
Anne
Arabella
Arlene
Bernice
Bertha
Bessie
Beth
Betty
Beverly
Billie
Blanche
Bonnie
Camille
Carlotta
Cassandra
Chloe
Claire
Clara
Cora
Coral
Daisy
Darlene
Delilah
Dolores
Doris
Dorothea
Dorothy
Dot
Dottie
Edith
Edna
Effie
Elaine
Ella
Ellamae
Elsa
Elsie
Emily
Emma
Enid
Esme
Esmerelda
Estelle
Esther
Ethel
Etta
Eudora
Florance
Frances
Frida
Gail
Garnet
Gemma
Geneva
Genevieve
Gidget
Ginger
Gladys
Gloria
Glynn
Harper
Harriet
Hattie
Hazel
Hedy
Helen
Holly
Ida
Irene
Iris
Isabella
Isadora
Ivy
Jacqueline
Jane
Joan
Jocelyn
Josephine
Joy
Joyce
Judith
Julia
Juliana
June
Katherine
Kay
Kitty
Lady
Lassie
Layne
Louise
Lousia
Lucia
Lucille
Lucinda
Lucy
Luella
Lula
Mabel
Madeline
Mae
Maisie
Mamie
Mara
Margaret
Marge
Marianne
Marilyn
Marjorie
Maryella
Matilda
Maude
Maura
May
Mazie
Melanie
Melissa
Melody
Meredith
Minnie
Miranda
Missy
Molly
Norma
Olive
Olivia
Opal
Patsy
Pearl
Peggy
Penelope
Phoebe
Polly
Posey
Rudy
Ruth
Sadie
Samantha
Selma
Shirley
Sophia
Sophronia
Stella
Sue
Susannah
Susie
Sylvia
Tabitha
Theresa
Viola
Violet
Virgie
Virginia
Wanda
Waverly
Willa
Wilma
Winifred
Yvonne
Zelda
Zora
Learn More: Top 600+ Brown Dog Names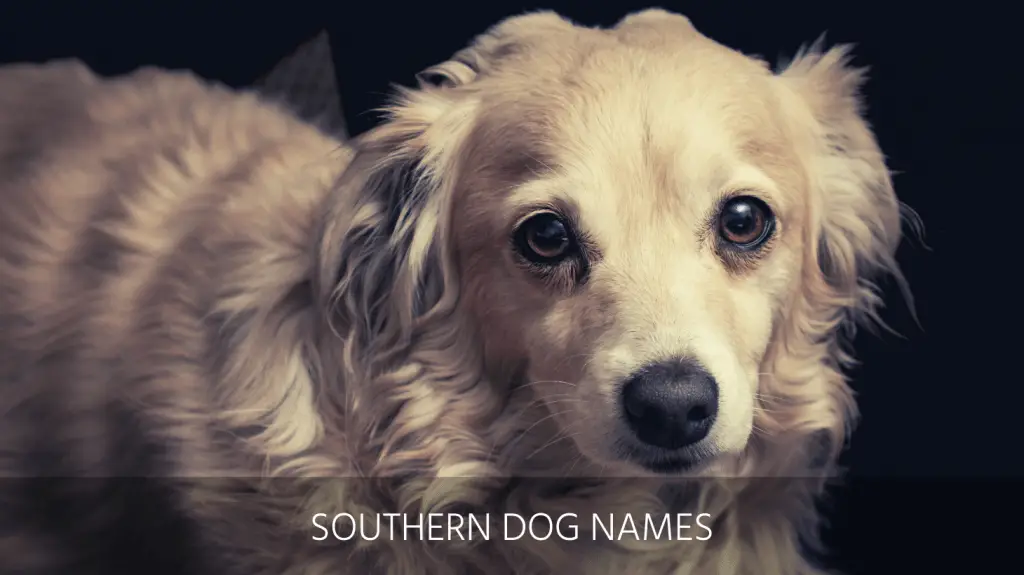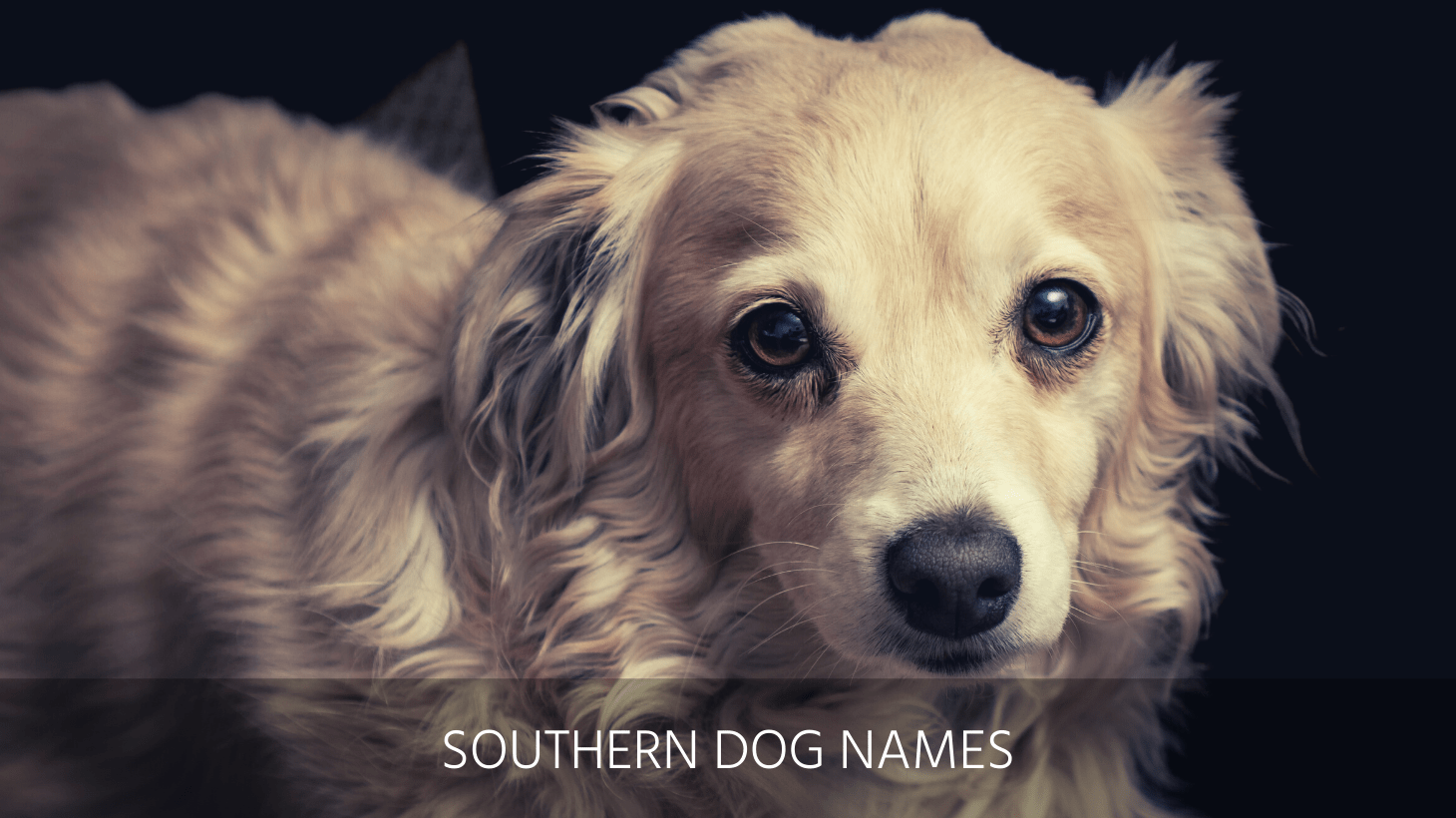 Southern Dog Names
While those living in the south often use similar names as those who live elsewhere, there is a distinctive twang that you can occasionally find in their naming conventions. Names like "Annamae" are quite unique in other areas of the United States, but aren't terribly uncommon in the Southern states. Check out these other names that are quite common in the South. 
Alice
Amelia
Anastasia
Annabell
Annamae
Eva
Evelyn
Fannie
Felicity
Fern
Grace
Gracelyn
Greta
Gretchen
Gwendolyn
Luke
Luther
Mac
Maguire
Major
Malcolm
Marco
Myra
Myrtle
Nanette
Nellie
Nettie
Nora
Porter
Prince
Quincy
Quinton
Radar
Ralph
Rambo
Tillie
Ursula
Velma
Vera
Victoria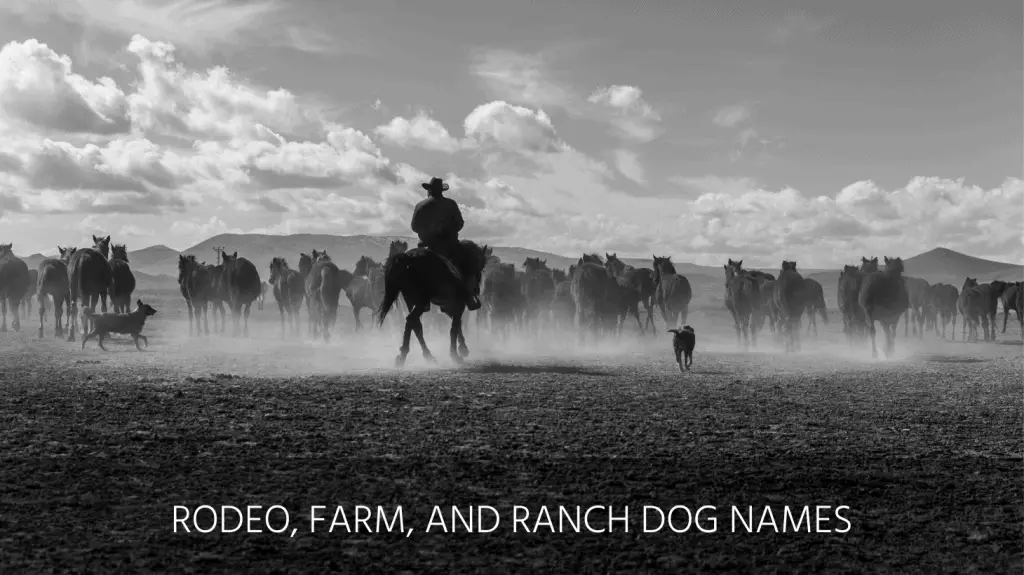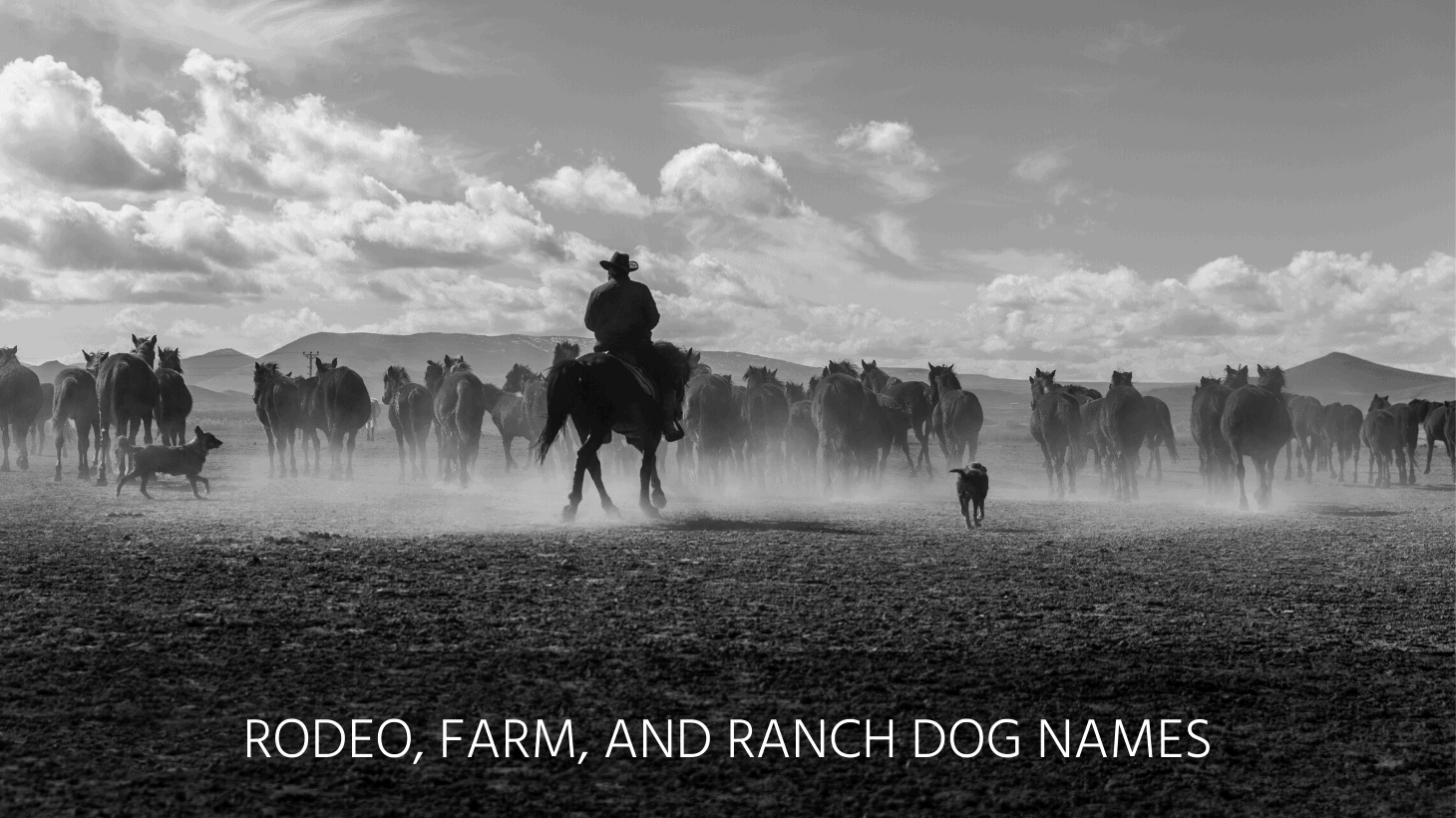 Rodeo, Farm, and Ranch Dog Names
Farms, rodeos and ranches seek to recreate the jobs that were common decades ago when the cowboys were still around. While rodeos involve horses most popularly, dogs are involved in some competitions as well. Whether your dog is actually going to be involved in the rodeo or you just love the rodeo yourself, here are some western-style names that might be fitting for your pooch:
Annie
Catherine
Cecilia
Celeste
Celia
Charlotte
Dolly
Eleanor
Eleanora
Eliza
Elizabeth
Eloise
Norm
Norman
Norris
Oakley
Odie
Odin
Oliver
Patch
Peanut
Pepper
Percival
Percy
Petey
Phillip
Quinnie
Rachel
Reba
Rebecca
Regina
Rhea
Rocky
Romeo
Roscoe
Roselie
Roy
Vinnie
Virgil
Wade
Wallace
Wally
Willy
Redneck & Hillbilly Dog Names
For all of those loyal, all-American dogs out there, here are some fitting redneck, down-home names:
Clarabella
Clarissa
Clementine
Cleo
Constance
Georgetta
Georgia
Geraldine
Gertrude
Hoover
Hoss
Huck
Hudson
Hugh
Hunter
Hyatt
Iggy
Igor
Jonas
Joseph
Judge
Junior
Kane
Kendrick
Kent
Kilo
King
Lucky
Luigi
Mario
Marley
Martin
Marty
Mason
Phyllis
Priscilla
Prudence
Queenie
Quinn
Rose
Rosemary
Roxy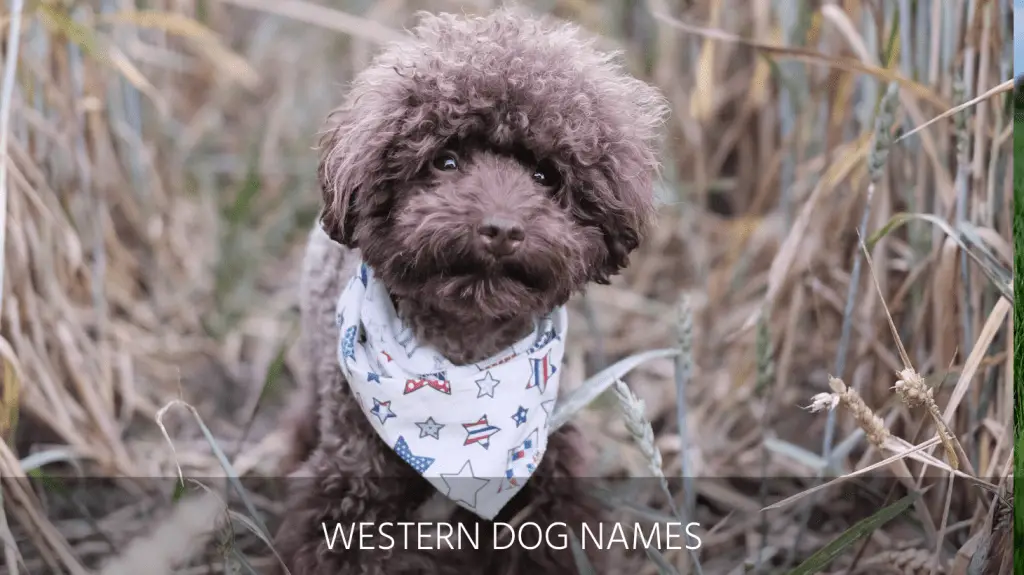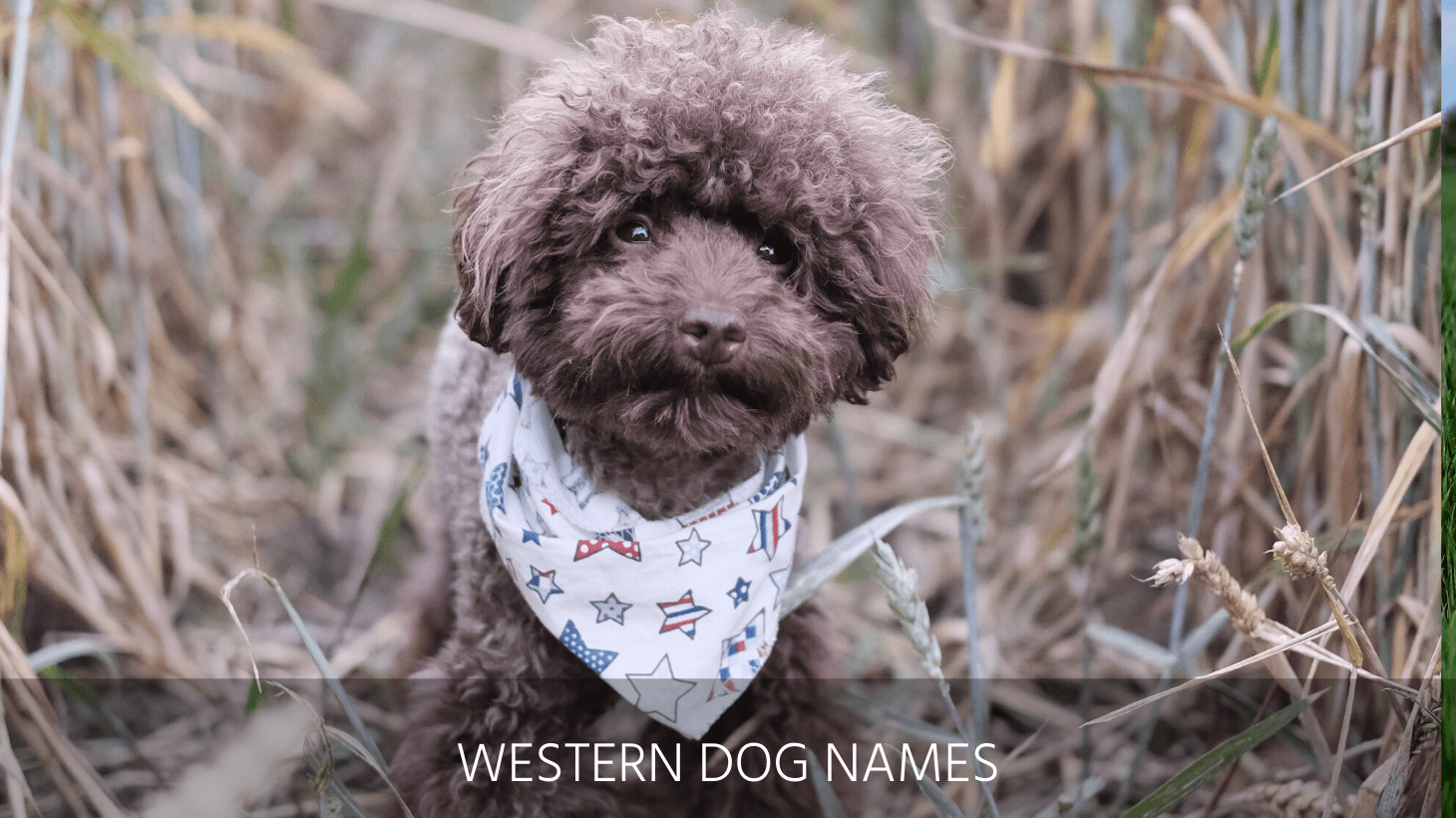 Western Dog Names
Western names are somewhat similar to Southern names. However, they are unique in their own way, and therefore deserve their own section. If you live in the west or just love the idea of cowboys, check out these names for your new pooch:
Ashlyn
Astrid
Audra
Ava
Averill
Bea
Beatrice
Bella
Bernadette
Brigham
Brock
Broderick
Brody
Brogan
Bronson
Brownie
Cash
Casper
Cecil
Cedric
Champ
Chance
Colin
Conrad
Cornelius
Crawford
Daniel
Dante
Darby
Darius
Denver
Jonas
Joseph
Kendric
Leona
Lila
Lilibeth
Lizette
Lois
Lola
Loretta
Lorraine
Michael
Milburn
Miles 
Miller
Otto
Overton
Owen
Park
Parker
Paisley
Tammy
Warren
Watson
Waylon
Weldon
Wesley
Weston
Wheller
Wilbur
William
Willis
Learn More: Top 700+ Boxer Dog Names
Have You Decided On a Name?
Sometimes, a name immediately jumps out at us and we just know that's the right name for our new furry friend. Other times, it takes seemingly forever to choose an outstanding name for our new dog. 

Hopefully, you'll in that first group and already know exactly what you're going to name your new pooch. If you aren't though, here are some tips that might help you along:

Make a list of names. If there are many names that you love, write them all down on a list and then try each one on your pup for an hour or two. This won't confuse your puppy since it often takes a week or two before a dog learns their name. Sometimes we just absolutely love a name, but it just doesn't fit well on our canine. 
Involve others in the process. If there are multiple people in your family, be sure to invovle everyone in naming the new dog. If there are children in your household, be sure they can pronounce your dog's name. The last thing you need is for your dog to get confused by the mispronunciation. 
Choose a shorter name if possible. Short names are easier for dogs to learn, especially in a training context. It is also easier for you to say a shorter name than one that is exceedingly long. It is especially important for dogs to have shorter names in recall situations, where being able to call them quickly can be life-or-death. If your dog is running to a busy road, you're going to need to say their name quickly. You aren't going to be able to do that if your dog's name is "Amarantha". If you're in love with a longer name, give your dog a nickname to use for training purposes.