Harry Potter is one of the most popular book series of all time. If you have a small (or not so small) obsession with Harry Potter, you might consider naming your newly adopted dog after the series.

There are countless Harry Potter names you can choose from. This series contains dozens of characters and other bits of naming inspiration, so you're sure to find something you like. 

We've gathered some of the best and most popular Harry Potter dog names out there, giving you dozens of choices when it comes to naming your next dog.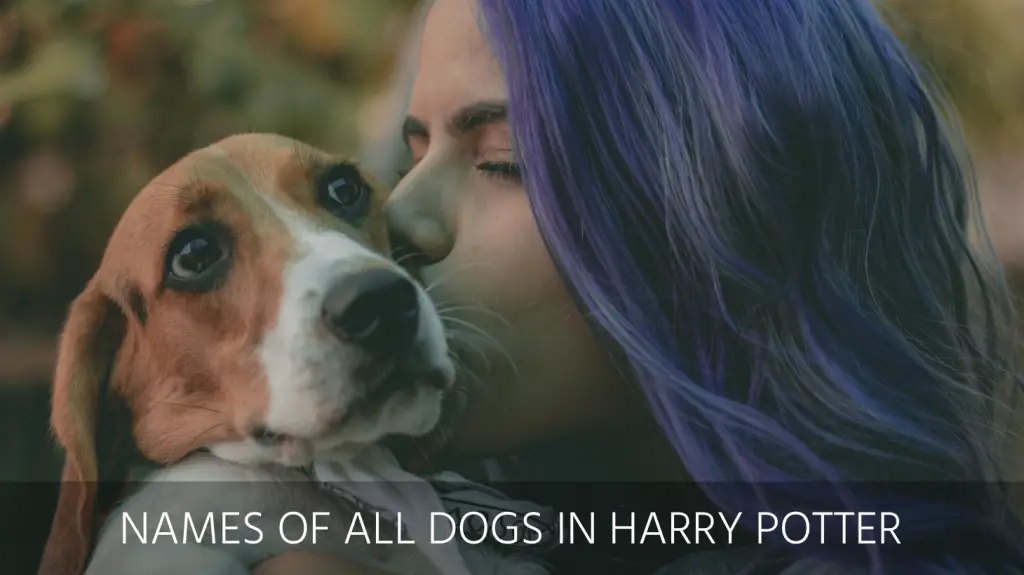 Names of All Dogs in Harry Potter
Truthfully, there aren't a lot of dogs mentioned in Harry Potter. Really, there are only about a handful throughout the whole series. However, you do have quite a few other pets. Here are names of dogs and other animals that show up in the Harry Potter series:
Abraxan: a winged horse that only drinks single-malt whiskey
Aethonan: a chestnut-colored winged horse
Aragog: Hagrid's giant spider
Arnold: A purple Pygmy Puff owned by the Weasleys
Bane: a centaur
Banshee: a female spirit
Bicorn: a cow-like creature
Billywig: an insect whose stings cause levitation
Bogrod
Bowtuckle: a magical wooden creature
Buckbeak: a hippogriff 
Chimaera: a creature with the head of a lion, body of a goat, and tail of a dragon. 
Chinese Fireball: a species of dragon
Cockatrice: a rooster with a lizard tail
Crookshanks: Hermione Granger's Crookshanks
Demiguise: orangutan-like creature
Doxy: a small fairy
Errol: a great grey owl
Eurmpent: a rhino-like creature
Fang: Hagrid's bloodhound
Fawkes: A phoenix that belongs to Dumbledore. 
Fawkes: Dumbledore's pet phoenix
Firenze: a centaur. 
Fluffy: the three-headed dog that belongs to Hagrid.
Frank: a thunderbird who was kidnapped. 
Ghoul: a type of ogre
Gnome: of which there are many in Weasleys' garden
Goblin
Gornuk
Granian: a particularly fast horse
Graphorn: a common mount for mountain trolls
Green: a species of dragon
Grindylow: water demon
Griphook: a goblin and employee of Gringotts
Hebridean: a species of dragon
Hedwig: Harry's owl
Hermes: a screech owl
Hinkypunk: a one-legged creature that looks like smoke
Hippogriff: a half-horse, half-bird creature
Horntail: a species of dragon
Imp: a creature similar to pixies, though more dangerous
Ironbelly: a species of dragon
Kappa: Asian river demon
Kelpie: an aquatic horse
Kneazle: a cat-like creature
Longhorn: a species of dragon
Lupin: A teacher at Hogwarts who is also a werewolf. 
Magorian: a centaur
Mermaid
Merman
Moke: a lizard that is able to shrink at will
Murtlap: hairless creatures that look like hairless rats
Nagini: the giant snake Harry ends up killing
Niffler: a mole-like creature that almost looks like a platypus
Norbert: A baby dragon that belongs to Hagrid. 
Nunda: a large lion creature
Occamy: a winged-snake creature
Opaleye: species of dragon
Padfoot: Sirius' marauder name
Phoenix
Pigwidgeon: an owl
Pixie: A tiny magical creature with wings. 
Puffskein: a round creature with soft fur
Ragnok
Ridgeback: a species of dragon
Ronan: a centaur
Scabbers: a brown rat
Short-snout: a species of dragon
Sirius: Dog who is actually Harry's godfather.
Skrewt: one of Hagrid's pets
Snidget: a small golden bird
Thestral: a black, skeletal horse with wings
Unicorn: I think we all know what a unicorn is.
Veela: semi-humans that are very beautiful
Vipertooth: a species of dragon
Zouwa: elephant-sized cat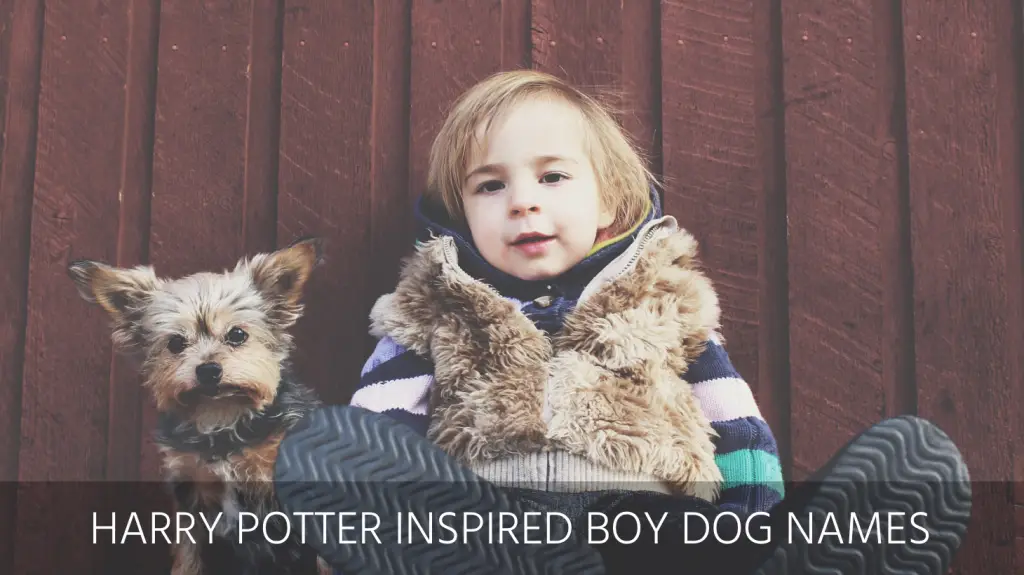 Harry Potter Inspired Boy Dog Names
There are many, many male characters in Harry Potter you could name your dog after, as well as quite a few potions and spells you can use as naming inspiration as well.
Accio: a summoning charm
Aconite
Aguamenti: a spell that creates water
Alastor
Alberto: a spell that unlocks a door
Albus
Alihotsy
Amortentia
Amos
Anthony
Antioch
Arthur
Asphodel Root
Augustus
Bat-Bogey: a spell that causes a person to grow wings, which then attack them
Blaise
Broderick
Bubble-Head: creates a bubble of air in someone's mouth, allowing them to breathe underwater
Bubotuber
Cadmus
Caterwauling: a spell that creates a loud screaming noise
Cedric
Charlie
Cheering Charm: causes happiness
Colloportus: used to magically lock a door
Confringo: blasting charm. It basically sets things on fire. 
Confundo: causes the victim to become confused
Confusing Concoction
Cormac
Crucio: causes the victim extreme pain and is one of the three Unforgiveable Curses banned by the Ministry of Magic
Dean
Descendo: causes something to move downwards
Devil's Snare
Diffindo: causes an object to rip or tear
Dittany
Draco
Dried nettles
Dudley
Edward
Engorgio: causes an object to increase in time
Episkey: heals minor injuries
Ernie
Evanesco: used to make items vanish
Expelliarmus: disarms another wizard
Fabian
Fawkes
Felix
Felix Felicis
Finestra: shatters glass, only appears in Fantastic Beasts
Fred
Garrick
Geoffrey
George
Gideon
Gilderoy
Gillyweed
Ginger
Godric
Harry
Homenum Revelio: detects other human presences
Hugo
Impedimenta: prevents the victim from approaching the caster
Imperio: removes a victim's free will. It is one of the three Unforgivable Curses banned by the Ministry of Magic.
Impervius: repels outside objects, incuding water. (aka. It's a magical umbrella)
Incendio: makes fire
James
Kingsley
Leaping Toadstools
Lee
Levicorpus: causes the target to dangle upside down
Liberacorpus: counters Levicorpus
Locomotor: causes an object to rise
Lucius
Lumos: a beam of light comes from the user's wand
Mandrake
Mandrake root
Mimbulus mimbletonia
Moly
Monkshood
Morsmordre: creates the Dark Mark
Muffliato: fills the ears of those within hearing distance with a buzzing sound to prevent conversations from being overheard.
Nicholas
Nox: creates light out of the user's wand
Obliviate: used to hide memories from other spells
Oliver
Orion
Patronus: a spell that guards against dementors
Percy
Peter
Petrificus Totalus: temporarily makes the victim's body unusable, binding them. It is also called the "full body-bind curse."
Pius
Polyjuice
Portus: turns items into Portkeys
Pretego: counter-curse against minor hexes and spells.
Quentin
Remus
Ron
Rufus
Salazar
Seamus
Severus
Shrivelfig
Sirius
Skele-Gro
Sleekeazy
Sticking: a type of charm that, well, makes an object stick
Tom
Trevor
Venomous Tentacula
Veritaserum
Viktor
Wiggentree
William
Wolfsbane
Wormwood
Zacharias
Learn More: Top 500+ Bulldog Dog Names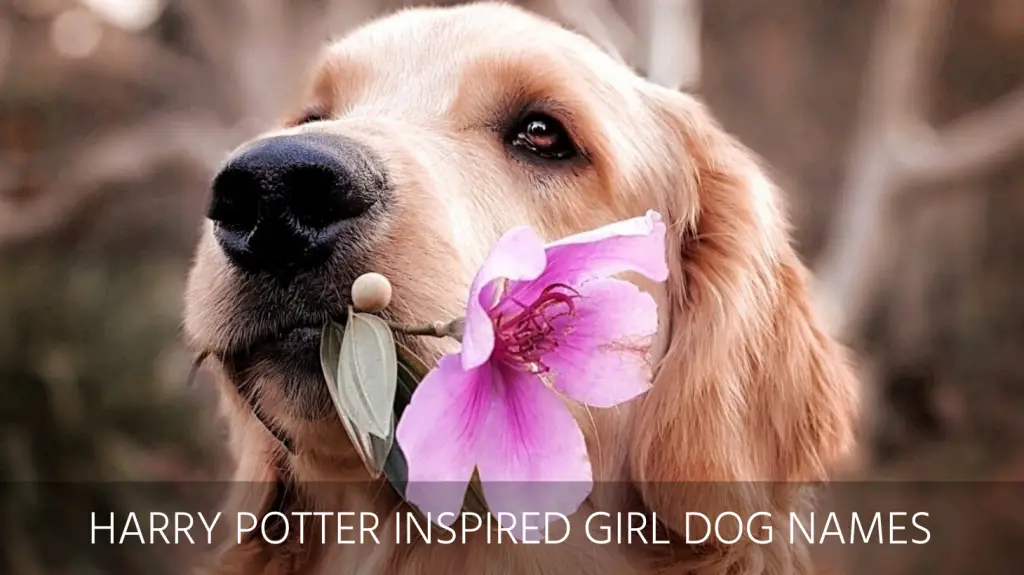 Harry Potter Inspired Girl Dog Names
Just like boy names, there are plenty of female dog names from Harry Potter to choose from. We've included the name of almost every character from the series as well as spells and other words that would make wonderful names for your canine. 
Alberta
Alice
Alicia
Amelia
Andromeda
Angelina
Arabella
Arabella
Ariana
Augusta
Aurora
Avenseguim: turns an item belonging to a missing person into a "magnet" that tracks them down. 
Bellatrix
Cassandra
Cedrella
Celestina
Charity
Daisy
Diabolical: a spell that creates a protective circle that only certain people can pass.
Eileen
Elladora
Emmeline
Fleur
Fleur
Gabrielle
Ginevra
Ginny
Helena
Helga
Hermione
Hestia
Kendra
Lavender
Leviosa: a charm that causes a chosen object to levitate.
Lily
Luna
Lysandra
Marietta
Merope
Minerva
Molly
Myrtle
Narcissa
Nebulus: creates a fog that can stretch out through a whole city.
Nymphadora
Olympe
Padma
Pansy
Papyrus: a spell that repairs paper items, such as letters and postcards.
Parvati
Penelope
Petunia
Pomona
Poppy
Reducto: a spell that breaks objects.
Relashio: causes someone to drop whatever they're holding.
Rennervate: revives those who have been hitting with a stunning spell.
Reparo: used to repair things that are broken.
Revelio: a "revealing spell."
Rictusempra: causes a tickling sensation that disables a victim. 
Riddikulus: a spell used when fighting a Boggart, which takes the form of the victim's worst fear. This spell causes the Boggart to transform into something funny, therefore canceling out its scariness. 
Rita
Romilda
Rosalind
Rose
Rowena
Scourgify: a spell that is used to clean objects. 
Sectumsempra: a spell that causes deep injuries on the victim.
Septima
Sibyll
Silencio: makes someone unable to talk or make noise.
Sonorus: a spell that magnifies someone's voice. This would be a great option for a loud, noisy dog. 
Stupefy: stuns a victim. 
Surgito: counteracts a love spell.
Taboo: places an alarm on a certain word. When the word is spoken, the magical alarm alerts the caster. A good option for a guard or watchdog. 
Tergeo: a spell that is used to remove substances, such as dirt, from an object. 
Ventus: a spell that causes a huge force of wind.
Vestigium: a magical tracking spell. Shows the footsteps or magical traces of mystical animals and people. Used in fantastic beats to track beasts.
Violet
Vow: a spell that binds a wizard to a vow. If the vow is broken, the user dies.
Learn More: Top 250+ Italian Dog Names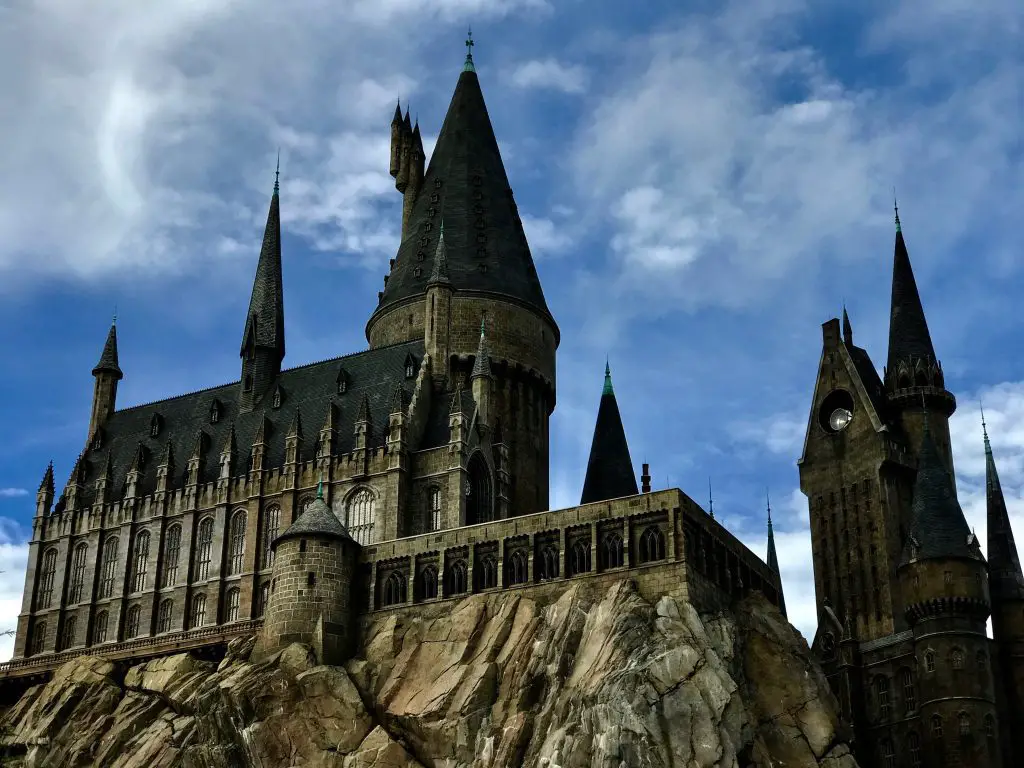 What Harry Potter Themed Dog Name Did You Choose?
Perhaps the most difficult part of choosing a dog name inspired by Harry Potter is choosing just ONE name. We've listed over a hundred names, so take your time sorting through them. Choose a name that you love that also fits your canine's personality, breed, and coloration. 

Try to get your family involved with the naming process as well. If you have small children, make sure they can pronounce whatever name you choose. Many character names are pretty straightforward. However, names inspired by spells and mystical creatures can sometimes be a little more difficult.