Beagles are one of the more popular breeds of hound. They're best known for their floppy ears, loveable personalities, and unique bark. If you've adopted one of these curious canines, check out this ultimate list of dog names for your new pooch. 

We've included names from a wide variety of origins, so you're sure to find something for every beagle, no matter their personality. This huge list is divided into multiple sections, allowing you to skim for names that fit your particular dog's appearance or personality.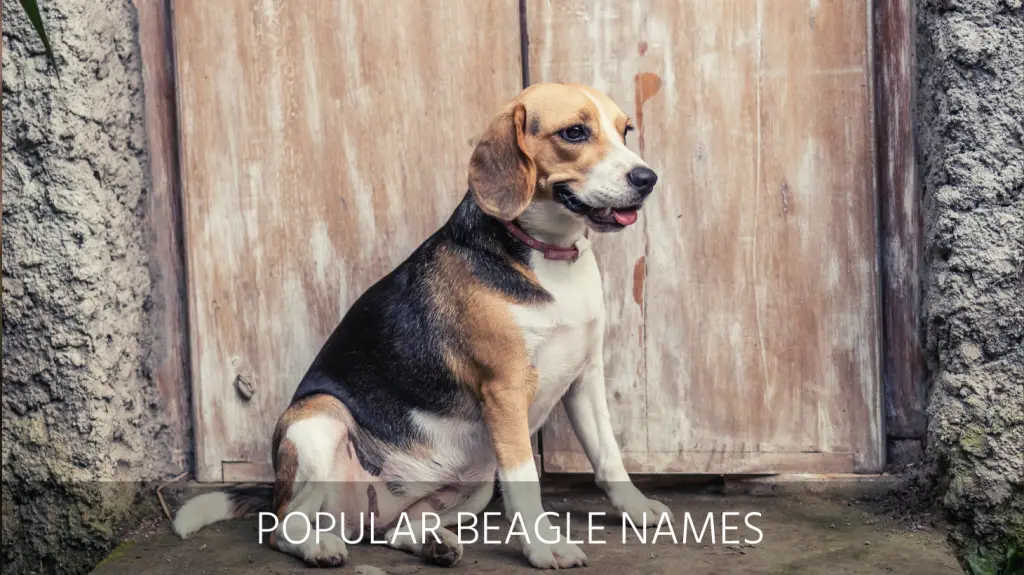 Popular Beagle Names
Beagles are a somewhat popular dog breed. In fact, they ranked number six out of all dog breeds in 2017 according to the American Kennel Club. Here are some of the more popular Beagle names out there:
Abby
Alba
Annie
Astro
Bagel
Bailey
Bandit
Baxter
Beau
Beef
Belle
Benji
Benny
Bentley
Blue
Boomer
Briar
Buddy
Cali
Cherub
Chloe
Clifford
Coco
Cody
Cookie
Cooper
Crush
Delilah
Dexter
Dixie
Eclipse
Ella
Ellie
Emma
Finn
Frankie
George
Ginger
Gus
Hank
Harper
Hazel
Henry
Holly
Izzy
Jack
Jackson
Jake
Jasper
Jax
Joey
Josie
Lady
Layla
Leo
Lexi
Lily
Lola
Louie
Lucky
Luke
Lulu
Luna
Maddie
Maggie
Marley
Maya
Mia
Millie
Milo
Minnie
Minuet
Mixie
Molly
Moon
Murphy
Nala
Olive
Oliver
Ollie
Orion
Oscar
Oswald
Otis
Peanut
Piper
Poet
Remy 
Riley
River
Roscoe
Rosie
Sadie
Sam
Sammy
Shiloh
Sophie
Stella
Toby
Trust
Tucker
Twister
Twyla
Ursa
Wicker
Winnie
Winston
Zoey
Learn More: Top 250+ Italian Dog Names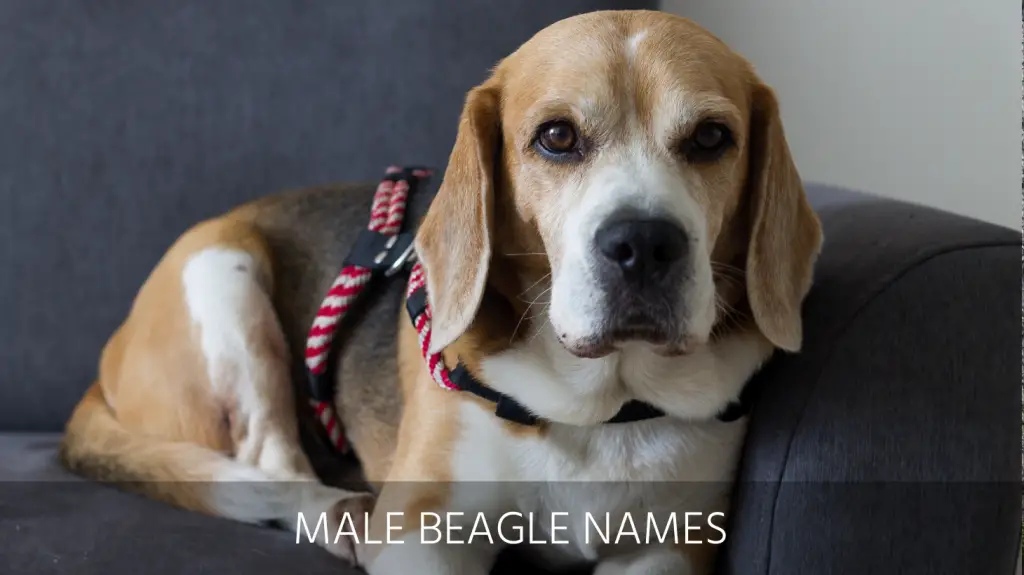 Male Beagle Names
This list of male names includes those on the more traditional side and a few oh-so-unique ones. Whatever sort of name you're looking to give your new boy Beagle, this list has something for you.
Acorn
Ajax
Albertus
Alfie
Alpha
Andre
Angus
Aragog
Arnie
Arnold
Ayden
Barky
Beethoven
Ben 
Bill
Boomer
Brett
Brownie
Bruno
Brutus
Bryan
Bubs
Bugs
Captain
Casey
Casper
Casper
Chance
Chase
Curtis
Dan
Dandy
Daniel
Danny
Dargo
Dart
Donny
Dragon
Drew
Eagle
Earl
Eddie
Egan
Elon
Emerson
Fabian
Falcon
Falstaff
Fang
Flyer
Frankie
Gabe
Galaxy
Garry
Gazer
Gerry
Goofy
Gordy
Growler
Hamish
Han
Hank
Hansen
Happy
Harry
Henry
Horace
Ice
Icon
Iggy
Imp
Jabba
Jago
Jason
Jayson
Jeffrey
Jeremy
Jessie
Joey
Karl
Katerina
Kenny
Kent
Kermit
Lancelot
Laurie
Legend
Lemmy
Lenin
Lennon
Levar
Lolliepop
Marlon
Mars
Mookie
Nacho
Nando
Nano
Napoleon
Oats
Obi
Odin
Pacino
Paddy
Parker
Paulie
Pavlov
Quarz
Quasimodo
Quatro
Quibble
Quick
Rafael
Rags
Raisin
Rambo
Raymond
Richie
Scottie
Scout
Scout
Scrabble
Simba
Speedy
Tacco
Tarzan
Teddy
Tennyson
Titan
Trusty
Tyra
Uber
Ukele
Ulrich
Ultrasonic
Vagabond
Valentine
Vandal
Vanish
Wag
Wally
Warrior
Watson
Xanadu
Xander
Yani
Yarrow
Yeats
Zack
Zappo
Zorro
Learn More: Top 400+ Hunting Dog Names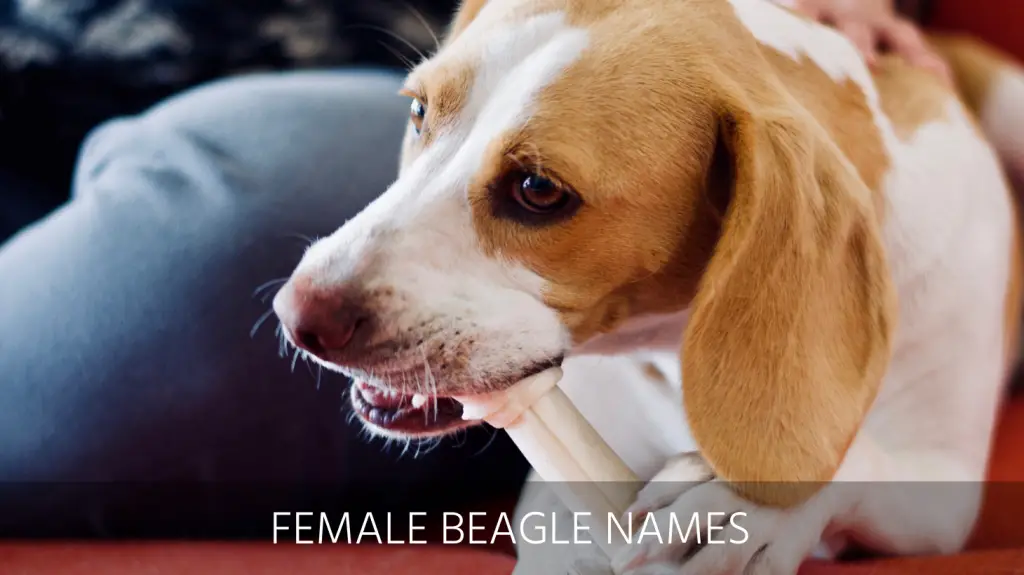 Female Beagle Names
Have a new, adorable female Beagle in your life? You might want to consider one of these more feminine names. While there is no need to rely on your dog's gender when selecting a name if you don't want to, many people will want a more delicate name for their female dog. Here were some of our favorite options:
Adelaide
Adele
Adrianna
Aja
Alia
Alice
Amanda
Amelie
Anya
Apple
Aria
Asia
Astrid
Ava
Beans
Beauty
Beena
Bellatrix
Betty
Blossom
Bridget
Bronwyn
Candy
Cara
Carolina
Carrie
Catalina
Catia
Catie
Cersei
Chatty
Chelsea
Clementine
Cleopatra
Constance
Cruella
Dana
Dani
Davina
Deena
Delila
Dolores
Drusilla
Elisha
Ellie
Emmy
Estelle
Faith
Farrah
Faye
Felicia
Fifi
Fiona
Flicka
Florence
Floss
Frosting
Gale
Geneva
Georgia
Gothel
Grace
Gwen
Harley
Heather
Heaven
Hermione
Hillary
Hope
India
Isabella
Ivy
Jadis
Jenny
Jess
Jewel
Kaia
Kala
Katniss
Lemon
Leona
Lilly
Liz
Lolly
Lolly
Loula
Lucky Charm
Lulu
Madison
Maleficent
Malia
Maria
Martina
Matilda
Mavis
Medusa
Miranda
Mocca
Mochi
Mooka
Muffin
Mystique
Navia
Nena
Nevada
Nugget
Nyla
Odessa
Ophrah
Peach
Peanut
Pearl
Pickle
Plum
Polly
Portia
Pretzel
Princess
Priya
Pumpkin
Raven
Reena
Regina
Rihanna
Robyn
Rosa
Sahara
Sally
Sally
Sara
Sasha
Savannah
Scarlett
Sheena
Sicily
Sofia
Sweetie
Sydney
Tamara
Thera
Tremaine
Truffle
Trunchbull
Ursula
Valencia
Verona
Veruca
Victoria
Vienna
Virginia
Vivi
Willow
Yzma
Zee
Learn More: Top 150+ Harry Potter Dog Names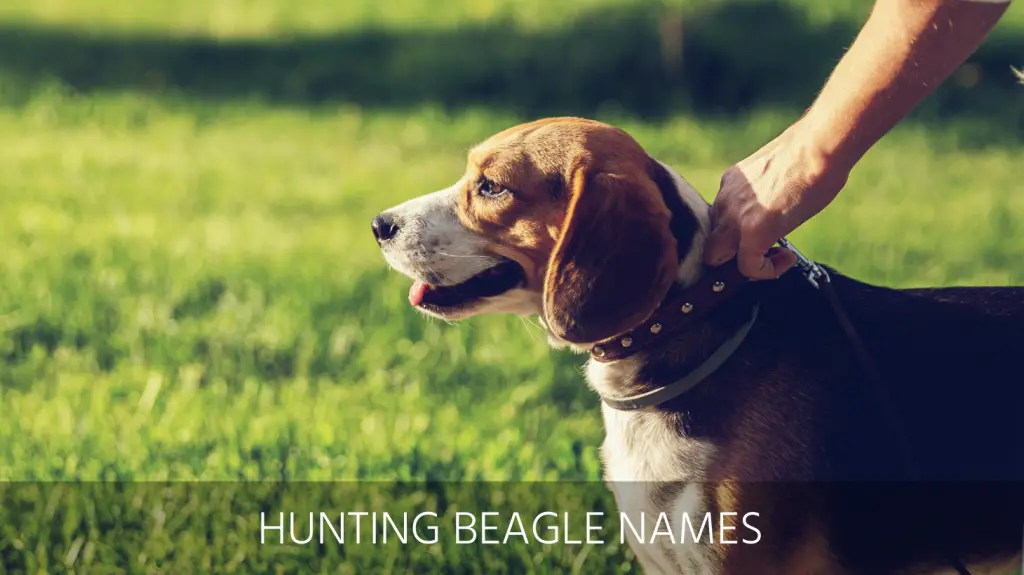 Hunting Beagle Names
Beagles are made for hunting. Their noses are extremely sensitive and they're mostly used to track rabbits, though they can track quite a few other animals as well. If you plan on taking your Beagle hunting or just want to give a nod towards their heritage, here are some names to keep in mind:
Ammo
Apollo
Archer
Arrow
Artemis
Aspen
Athena
Atlas
BB
Beast
Benelli
Beretta
Bess
Blaze
Blitz
Bolt
Browning
Bucky
Bud
Bullet
Cabela
Camo
Copper
Dakota
Dash
Dashiell
Decoy
Deringer
Diesel
Duke
Echo
Gauge
General
Glock
Gunner
Hammer
Hercules
Hunstman
Huntington
Huntley
Huntress
Jag
Jet
Justice
King
Kingsley
Legend
Liberty
Logger
Magnum
Mauser
Maverick
Max
Mulie
Musket
Muzzle
Nyx
Oakley
Olympia
Orion
Outlaw
Pistol
Porter
Powder
Ranger
Rebel
Remmington
Revolver
Rex
Rocky
Ruger
Ryder
Sage
Sarge
Scooter
Scout
Shadow
Sheriff
Smith
Sparta
Spike
Tally Ho
Target
Trigger
Troy
Walker
Weatherby
Wesson
Wilder
Winchester
Wolverine
Wyatt
Ziggy
Learn More: Top 250+ Italian Dog Names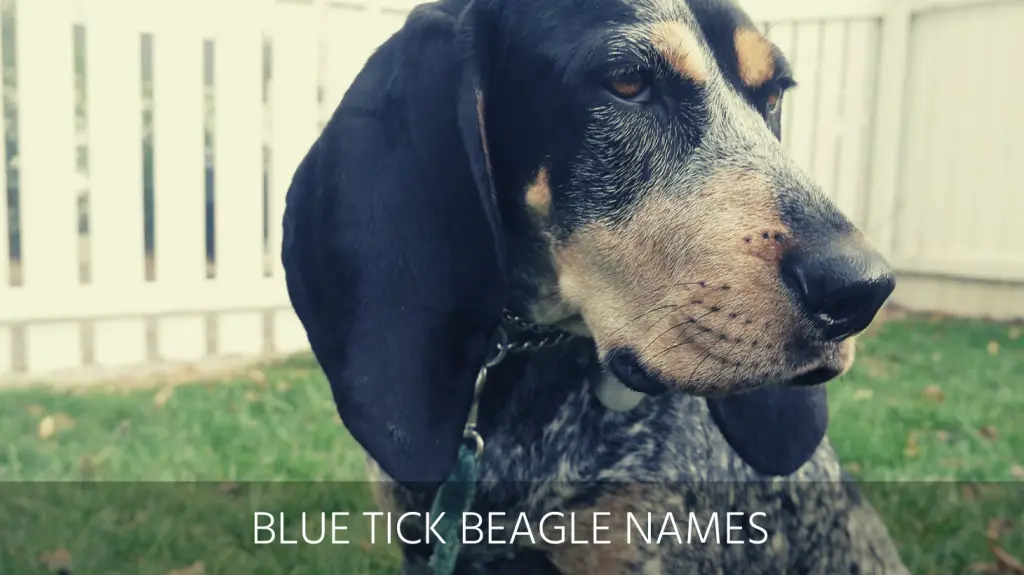 Blue Tick Beagle Names
A blue tick Beagle is a special coloration that involves lots of spotting around the legs and on the belly. Some Beagles have more blue ticking than others. If your furry canine has lots of ticking, you might want to name them after this unique appearance trait. 
Angel
Baby
Beatrice
Bella
Bismarck
Boone
Brawler
Brawny
Buffalo
Burly
Cassie
Chaos
Charlie
Chunky
Cleo
Daisy
Damien
Dante
Dinah
Drachen
Dragon
Drakkar
Dred
Edge
Frankenstein
Genghis
Gladiator
Gnash
Godzilla
Gotham
Gracie
Grail
Grendel
Grizzly
Hannah
Heidi
Honey
Jaala
Jada
Jasmine
Jaws
Jett
Jumbo
Jupiter
Kishi
Kong
Lael
Leah
Lincoln
Lois
Lucy
Lurch
Lydia
Mac
Mack
Maddy
Manley
Mara
Maxi
Missy
Misty
Moose
Muscles
Nikki
Olympas
Penny
Pepper
Persis
Pharaoh
Phoebe
Precious
Princess
Ragnor
Raptor
Rave
Reba
Rebecca
Roxy
Ruby
Rugby
Sable
Sabre
Samson
Sasquatch
Sassy
Satan
Satin
Saturn
Scarlet
Sergeant
Shark
Sheba
Shelby
Sierra
Siouxsie
Sophie
Stryker
Sugar
Sumo
Talon
Tank
Tasha
Tempest
Tex
Thunder
Titan
Tracker
Trapper
Trojan
Twilight
Ulysses
Velvet
Wolf
Wookie
Yukon
Zephyr
Zeus
Zia
Zima
Zoe
Zurie
Learn More: Top 400+ Hunting Dog Names
Famous Beagle Names
There have been a few famous Beagles to grace the world. You might want to consider naming your canine after one of them: 
Him and Her: these were two famous beagles owned by President Lyndon B. Johnson. 
Lou: the beagle from the Cats and Dogs film
Odie: the Beagle who was often in the Garfield comic strip and later the TV show and movies. 
Porthos: from Star Trek Enterprise
Shiloh: from the film of the same name
Shoshine: from the Underdog movie
Snoopy: from Charles Schulz's famous comic strip and later TV show, this is perhaps one of the most famous beagles of all time. Snoopy belonged to Charlie Brown and was often seen with his yellow bird friend, Woodstock.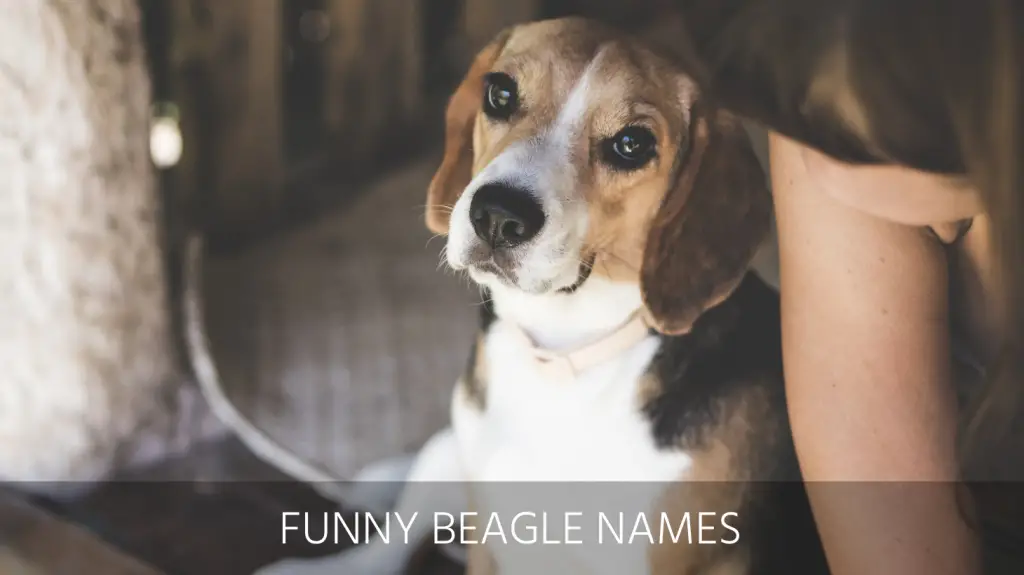 Funny Beagle Names
Funny names have their place and can be especially fitting for some canines. Here are some of the more funny dog names out there. Some are based around clever puns, while others are just funny choices for a Beagle. 
Archibald
Babe
Bacon
Baloo
Banjo
Barney
Big Guy
Big Red
Biggie Smalls
Bilbo
Billy the Kid
Bimmer
Bingo
Biscuit
Bobby
Bond
Bones
Boss
Brain
Brian Griffin
Brownie
Bubba
Buckaroo
Buffalo Bill
Bullseye
Burger
Buster
Byte
Caesar 
Chewie
Chubby
Chuck Norris
Churchill
Clark Griswold
Clark Kent
Cletus
Clumsy
Cookie Monster
Copernicus
Cupid
Cyrano
Deputy Dawg
Dickens
Dilbert
Dino
Donald Trump
Doonesbury
Dude
Dynamite
E.T.
Einstein
Elf
Elmo
Emo
Ewok
Fabio
Farley
Freud
Frito
Fuzzy
Gandhi
Goliath
Hobbit
Homer
Hooch
Jawa
Jeckyll
Jerry Lee
Jethro
K-9
Kerouac
Killer
Macbeth
Macgyver
Marky Mark
McFly
McGruff
Monet
Mr. Muggles
Mulligan
Ninja
Nixon
OJ
Ole
Oreo
Peanut Butter
Pee Wee
Picasso
Rogue
Learn More: Top 350+ Pit Bull Dog Names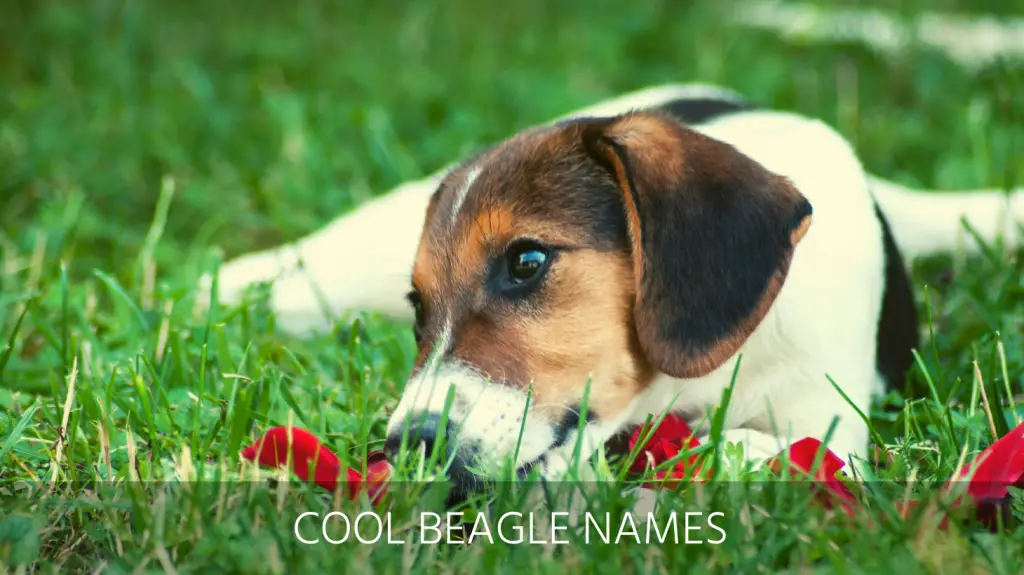 Cool Beagle Names
Looking for something cool and collected for your new dog? If your Beagle is more on the laid-back side of things, one of these names might be fitting. 
Amber
Bambi
Barkely
Bauer
Bear
Blondie
Boots
Bourbon
Brandy
Buck
Bugle
Chocolate
Cinnamon
Colt
Digger
Fawn
Fetch
Flash
Flatfoot
Foxy
Freckles
Gabby
Goose
Growler
Gumshoe
Gunnar
Hawkeye
Hooter
Hopper
Howler
Hunter
Jabber
Jagger
Jumper
Miss Marple
Nosy
Poirot
Quizzer
Radar
Red
Runner
Rusty
Sandy
Scamper
Scotch
Scratcher
Sherlock
Sneezer
Sniff
Sniffer
Snoops
Snowflake
Snuff
Snuffles
Sounder
Spot
Stalker
Stinky
Tanner
Ticker
Tritip
Wader
Wailer
Whiff
Whiskey
Yeller
Yip
And Now It's Your Turn!
We've provided you with plenty of names to choose from, but now it is time for you to actually choose a name. This is often much more difficult than you might expect, especially if you have multiple people in your household who might have their own naming ideas. 

Take plenty of time to choose your new Beagle a name. You want something that is on the shorter said or at least as a suitable nickname to go with it, as well as a name that is easy to pronounce. It should sound different from any other pet's or human's name in your household. Otherwise, things can get somewhat confusing. If should also sound different from any command your dog is going to learn. In other words, do not name your dog "Tally Ho" if you're going to take them hunting. 

Last but not least, have fun! You only get to name your dog once.