Looking for a Hawaiian-inspired name for your pooch? Then you've come to the right place! This ultimate list of dog names has plenty of island inspiration for your dog naming needs. 

These names are perfect for showing off your canine's aloha-spirit or celebrating your heritage. There are even a couple of Hawaiian dog breeds that these fitting names would be very suitable for. 

Whatever your reason for searching out Hawaiian dog names, we've got you covered. Our huge list of names will provide all the inspiration and naming options you need.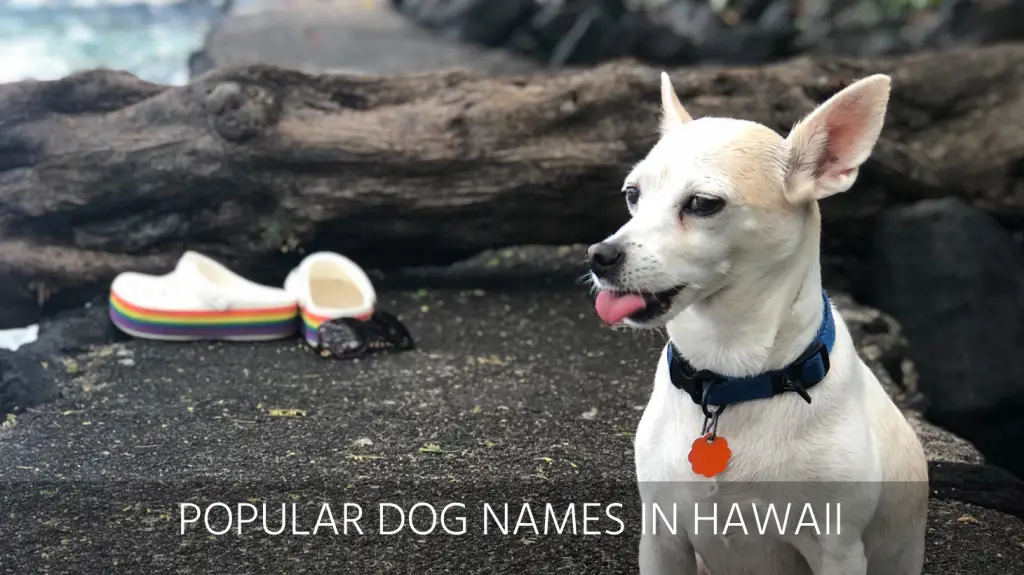 Popular Dog Names in Hawaii
Most of the popular dog names in Hawaii aren't actually Hawaiian at all. In many cases, they're average, English dog names. Still, we've included this list of the most popular dog names in Hawaii. After all, what's more Hawaiian than a dog name currently being used in Hawaii.
Abby
Ace
Angel
Annie
Apollo
Archie
Aspen
Athena
Ava
Axel
Bailey
Bandit
Baxter
Bear
Beau
Bella
Belle
Benji
Benny
Bentley
Blue
Bo
Boomer
Brady
Brody
Bruce
Bruno
Brutus
Bubba
Buddy
Buster
Cali
Callie
Cash
Chance
Charlie
Chase
Chester
Chewie
Chewy
Chief
Chloe
Coco
Cody
Cookie
Cooper
Copper
Daisy
Dakota
Dallas
Dexter
Diesel
Dixie
Dozer
Duke
Ella
Ellie
Emma
Finley
Finn
Frankie
George
Ginger
Gizmo
Gracie
Gunner
Gus
Hank
Harley
Harper
Hazel
Henry
Holly
Honey
Hudson
Hunter
Ivy
Izzy
Jack
Jackson
Jake
Jasper
Jax
Joey
Josie
Juno
Kai
King
Kobe
Koda
Kona
Lady
Layla
Leia
Leo
Lexi
Lilly
Lily
Lincoln
Loki
Lola
Louie
Lucky
Lucy
Luke
Lulu
Luna
Mac
Macy
Maddie
Maggie
Maka: a shortened form of many Hawaiian names. 
Marley
Maverick
Max
Maximus
Maya
Mia
Mila
Millie
Milo
Minnie
Missy
Mocha
Molly
Moose
Murphy
Nala
Nova
Oakley
Odin
Olive
Oliver
Ollie
Oreo
Oscar
Otis
Paisley
Parker
Peanut
Penelope
Penny
Pepper
Phoebe
Piper
Prince
Princess
Ranger
Reese
Remi
Remington
Remy
Rex
Riley
River
Rocco
Rocky
Romeo
Roscoe
Rosie
Roxie
Roxy
Ruby
Rudy
Rufus
Ruger
Rusty
Ryder
Sadie
Sam
Sammy
Samson
Sasha
Scout
Shadow
Shelby
Simba
Sophie
Stella
Sunny
Tank
Teddy
Theo
Thor
Titan
Toby
Tucker
Tyson
Walter
Watson
Whiskey
Willow
Winnie
Winston
Wrigley
Xena
Zeke
Zeus
Ziggy
Zoe
Zoey
Learn More: Top 500+ Cool Dog Names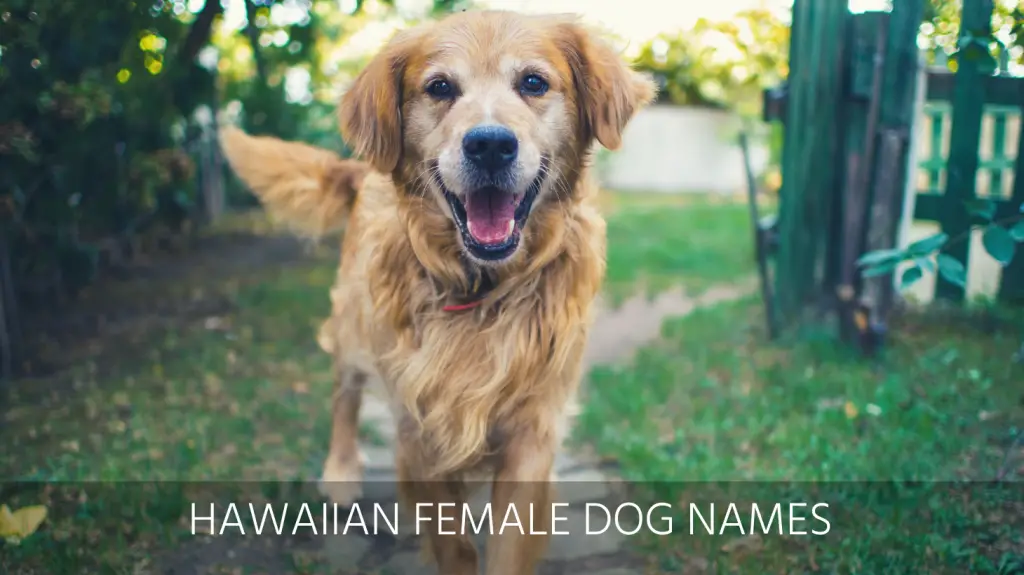 Hawaiian Female Dog Names
Now that we've looked at some dog names currently being used in Hawaii today, let's have a look at some dog names inspired by the Hawaiian language. We've included the meaning alongside each name to help you make the best decision for your pup.
Aineki: "holy"
Akela: "noble"
Akeneki: "holy"
Alamea: "precious"
Alani: "orange tree"
Alaula: "dawn" or "light of daybreak"
Aolani: "heavenly cloud"
Apikapeka: "father rejoices"
Elikapeka: "God is my oath"
Ema: "whole"
Ewa: "life"
Halia: "remembrance of a loved one"
Halina: "resemblance"
Haukea: "snow"
Heiki: "noble"
Iekika: "one who beholds"
Iolana: "soar"
Ipo: "sweetheart"
Kai: "sea"
Kaia: "sea"
Kaikala: "the sea and the sun"
Kaila: "style"
Kailani: "sea and sky"
Kaimana: "diamond" 
Kaiolohia: "calm sea"
Kakalina: "pure"
Kala: "princess"
Kalama: "flaming torch"
Kalani: "the sky"
Kalea:  "bright"
Kalei: "beloved"
Kalena: "pure"
Kali: "hesitation"
Kamea: "the one"
Kani: "sound"
Keala: "the pathway"
Keanna: "gracious"
Keiki: "child"
Kailani: "glorious chief"
Kekepania: "crown"
Kekona: "second-born"
Keona: "God's gracious gift"
Kiana: "divine"
Kiele: "fragrant blossom"
Kilikina: "believer"
Kona: "lady"
Konani: "bright"
Lahela: "ewe"
Lala: "laurel"
Lana: "calm as still waters"
Lani: "sky"
Leia: "child of heaven"
Leilani: "heavenly flowers"
Lilo: "generous one"
Lokelani: "small red rose"
Luana: "leisure"
Luanna: "leisure"
Mahina: "moon"
Maile: the name of a vine used to make leis.
Makala: "myrtle"
Makelina: "of Magdala"
Malana: "light"
Maleah: "rebelliousness" and "rebellion"
Malia: "their rebellion"
Malie: "calm"
Malina: "calming"
Mana: "psychic gifts"
Marama: the name of the Polynesian moon Goddess, translates to "moon."
Maylea: "wildflower"
Mei: "pearl" and "rebellion"
Meka: "eye"
Mele: "song"
Melika: "honey-sap"
Mikil: "quick"
Miliani: "gentle"
Moana: "wide expanse of water"
Nakine: "hope"
Nalani: "the heavens" or "the sky"
Nani: "beauty"
Noe: "mist" and "misty rain"
Noelani: "mist of heaven" and "heavenly girl"
Okelani: "from heaven"
Ola: "life"
Oliana: "oleander"
Olina: "joyous"
Pele: Hawaiian goddess of dance, fire, lightning, and volcanoes. The name likely translates to "lava."
Pololena: "blossoming"
Ulani: "happy"
Wikolia: "conqueror"
Learn More: Top 150+ Harry Potter Dog Names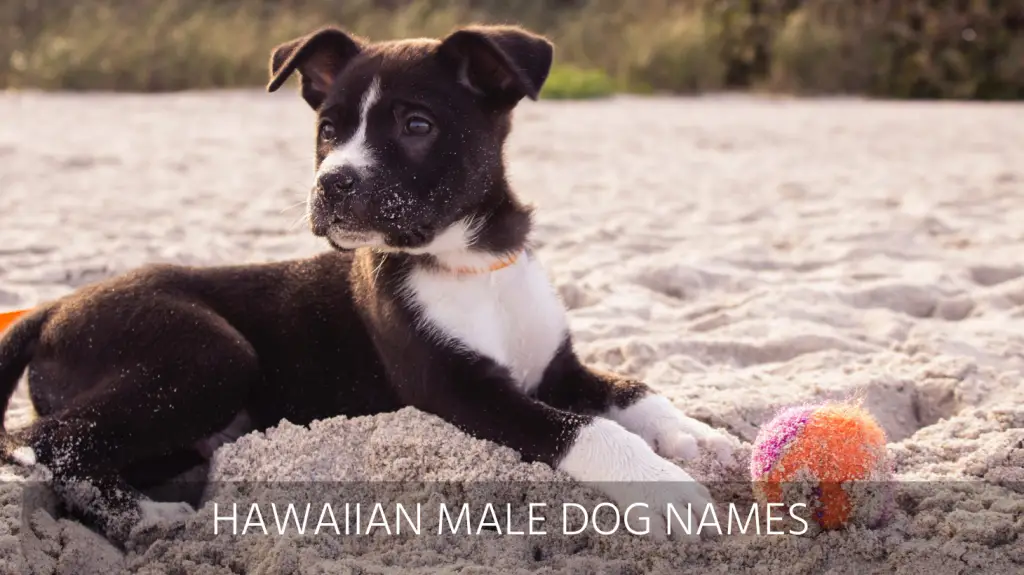 Hawaiian Male Dog Names
There are many different Hawaiian names that are suitable for boy dogs. Here were some of our favorite:
Aalona: "light-bringer"
Akamu: "earth"
Akoni: "invaluable"
Anakoni: "invaluable"
Bane: "long-awaited child"
Ekewaka: "long-awaited child"
Iakopa: "supplanter"
Ikaia: "God is salvation"
Ikaika: "strong"
Iokua: "God is salvation"
Iukini: "well-born"
Kai: "sea"
Kaila: "style"
Kaimana: "diamond" or "sea filled with psychic gifts"
Kaimi: "the seeker"
Kalani: "the sky"
Kale: "man"
Kaleo: "sound" or "voice"
Kana: a Maui demigod who had the power to turn into a very stretchy rope.
Kanoa: "the free one"
Kapena: "captain"
Kapono: "righteous"
Keahi: "flames"
Keanu: "the cool"
Keaweaheulu: "cool breeze over the mountains"
Kekipi: "rebel"
Kekoa: "the brave one"
Kelome: "holy"
Keoki: "farmer" or "someone who works the earth"
Kimo: "supplanter"
Koi: "implore"
Konani: "bright"
Liko: "bud"
Luka: "from Lucania"
Makaio: "gift of God"
Makani: "wind"
Maleko: "defense"
Moke: "drawn out"
Nahele: "forest"
Oke: "god spear"
Peleke: "god spear"
Peni: "blessed"
Pika: "rock"
Pilipo: "lover of horses"
Learn More: Top 500+ Bulldog Dog Names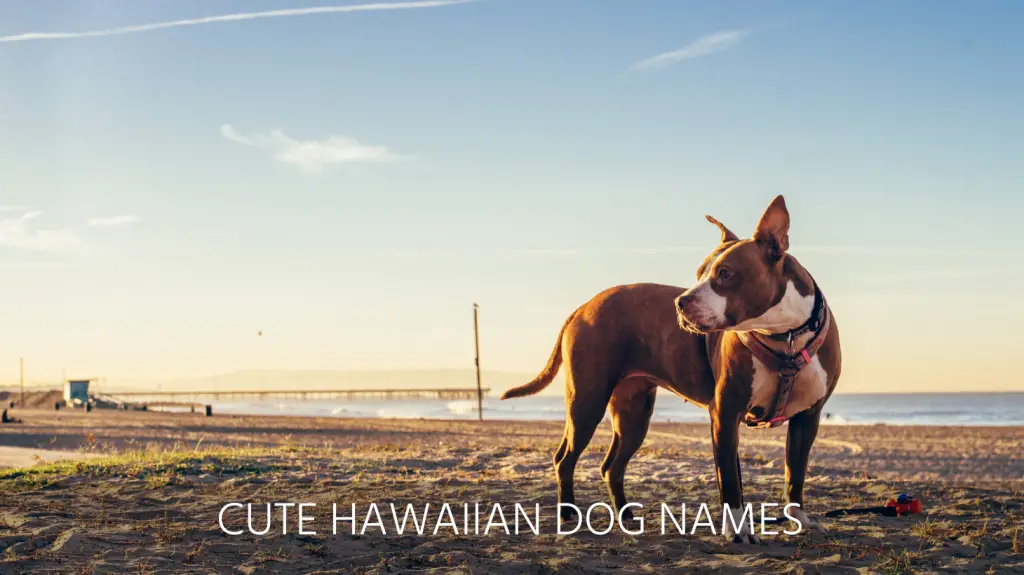 Cute Hawaiian Dog Names
After looking at some of the more traditional Hawaiian names, let's take a look at some of the more modern variants you can use for your pooch. Many of these names are named after islands or places on Hawaii, giving you a Hawaiian-inspired, yet unique name. 
Ailani: "high chief"
Aka: "shadow"
Akamu: "red earth"
Akela: "wisdom"
Alamea: "precious child"
Alana: "awakening"
Alani: "orange fruit tree"
Alaula: "light of daybreak"
Alemana: "warrior"
Aliikai: "queen of the sea"
Alika: "truthful"
Aloha: "hello" and "goodbye"
Amana:  "warrior"
Amoka: "strong"
Anakoni: "valuable"
Analu: "manly"
Anuenue: "rainbow"
Aolani: "heavenly cloud"
Asera: "lucky"
Edega: "wealthy"
Eleu: "agile"
Etana: "strong"
Ewalani: "heavenly woman"
Ezera: "help"
Hae: "to growl"
Haimi: "seeker"
Hanai: "lucky"
Hilo:  A large city in Hawaii county.
Hiwa: "black"
Hoku: "star"
Honi: "kiss"
Honolulu: The capital of Hawaii 
Hula: "dance"
Ilio: "dog"
Inoki: "devoted"
Iolana: "soaring like a hawk"
Kahili: "feather"
Kahoku: "star"
Kahuna "priest"
Kaia: "the sea"
Kailana: "adored one"
Kailua: a popular tourist destination 
Kaimana: "man of the sea"
Kaiolohia: "calm of the sea"
Kaipo: "sweetheart"
Kalama: "the light"
Kalani: "royalty"
Kalani: "the sky"
Kale: "strong"
Kalea: "bright"
Kalei: "beloved"
Kalena: "brightest start"
Kaloni: "sky"
Kalua: a type of cooking style used for pork.
Kanaka: "human"
Kane: "man"
Kani: "sound"
Kanuha: "sullen"
Kapena: "captain"
Kapono: "goodness"
Kapua: "flower"
Kauai: The oldest of the Hawaiian islands
Keala: "pathway"
Kealii: "the chief"
Keanu: "cool mountain breeze"
Kei: "dignified"
Keiki: "child"
Keiki: "child"
Kekipi: "the rebel"
Kekoa: "brave one"
Kekona: "second"
Keoki: Hawaiian version of George.
Keona: "God's precious gift
Kiele: "precious blossom"
Kikokiko: "speckles"
Kimo: Hawaiian version of James.
Koa: "bold"
Kolohe: "little rascal"
Kono: "invited"
Lahela: "innocent lamb"
Laka: "gentle"
Laki: "lucky"
Lalama:  "daring"
Lanai: Pineapple Island
Laulau: pork wrapped in layers of taro root.
Leilani: "royal child"
Liko: "bud"
Lilo:  "generous one"
Lokelani: "red small rose"
Lolo: "crazy"
Lomi-Lomi: a salmon dish popular in Hawaii
Loni: "heaven" or "sky"
Luana: "happy"
Lupo: "wolf"
Mahalo: "thank you"
Mahina: "moonlight"
Makana: "gift"
Malia: "peaceful"
Malina: "soothing"
Malo: "winner"
Mano: "shark"
Mau Loa: "forever"
Maui: The second-largest island
Meka: "eyes"
Meli: "honey"
Melia: "plumeria"
Miki: "quick"
Molokai: Nicknamed "the friendly island"
Nahoa: "bold"
Nalani: "calm skies"
Nani: "great beauty"
Noe: "rainy"
Noelani: "girl from heaven"
Nohea: "handsome"
Nohea: "lovely"
Nui: "important"
Oahu: the third largest of the Hawaiian islands
Ohana: "family"
Okalani:  "heaven" or "sky"
Oke: Hawaiian version of Oscar.
Ole: "fang"
Olina: "joyous"
Palani: "free man"
Palila: "bird"
Paniolo: "cowboy"
Pearl: as in Pearl city
Pekelo: "stone"
Pilikea: "trouble"
Poi: a popular Hawaiian dish made from taro root.
Poke: Hawaiian sushi
Polo: "plump"
Poluna: "chubby"
Polupolu: "flabby"
Pualani: "heavenly flower"
Pualena: "yellow"
Puanani: "beautiful flower"
Pûkini: "pudding"
Pupule: "crazy"
Roselani: "rose"
Uilani: "great beauty"
Ululani: "inspiration"
Waha Nui: "big mouth"
Wahine: "woman"
Waipahu: a former sugar plantation town near Honolulu
Weuweu: "fluffy"
Wiwi: "skinny"
Learn More: Top 350+ Russian Dog Names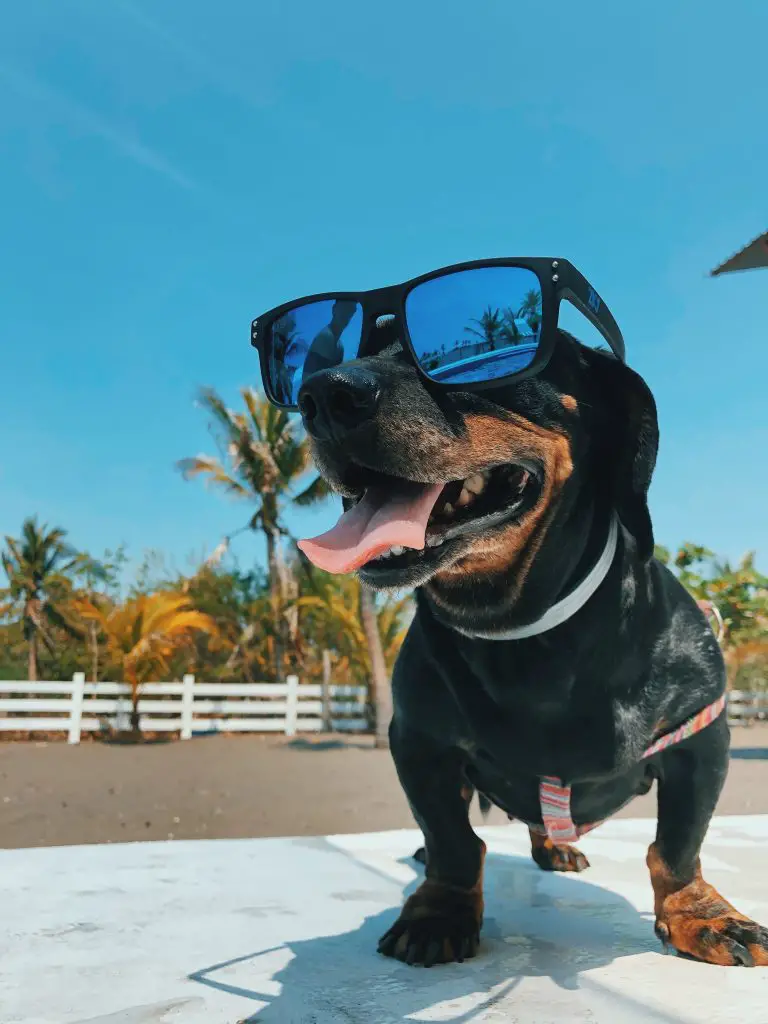 Now it's Time to Choose a Name
As you can see, there are countless different Hawaiian dog names out there for you to choose from. However, the hardest part is certainly choosing just one name!

When selecting a name, it is important to choose one that is unique from anyone else's name in the household. Otherwise, you might create some confusion, especially if you name your pets similar names. Plus, you should also avoid choosing names that sound like any commands you plan on teaching your canine. With Hawaiian names, this should not be a problem unless you're planning on teaching your dog Hawaiian commands as well. 

You should also ensure that the name can be easily pronounced by everyone in your household. Most Hawaiian names can be pronounced easily by most English speakers, but there are a couple of names that are somewhat difficult. If you have younger children in your household, this is something you should take particular care to keep in mind.