Looking for the best high calorie dog food brands? Help your dog gain weight with our wet and dry food reviews here.

When it comes to managing their dog's diet, most dog owners are aiming for weight loss. However, as the owners of working dogs, large-breed dogs, rescue dogs, and dogs with poor appetite know all too well, for many dogs obesity doesn't hold a candle to the more pressing problem; malnutrition.
If your dog uses a massive amount of calories on a day to day basis, finding a food that will give them enough energy for their active lifestyle can be a real struggle. Likewise, if you've rescued an underweight dog or your pooch is recovering from illness or surgery, helping them to avoid health issues related to malnutrition is likely your top priority. This is where high calorie dog food comes in.
High calorie dog food is a niche dog food that aims to pack as much energy into each pound of food as possible. As well as being cost-effective, this ensures that your pup is getting the calories and nutrients that he or she needs, while avoiding health problems like bloating and gastrointestinal upset that can result from wolfing down too much food.
To help you find a high calorie, quality dog food for your pup, we've listed six of the best high calorie dog foods on the market. Each of the foods we've reviewed has been selected and ranked based on a set of scientifically-grounded criteria and will help you to either provide enough energy for your active pooch or get your dog's weight back to normal in no time.
Reviews of the Best High Calorie Dog Foods
Our Pick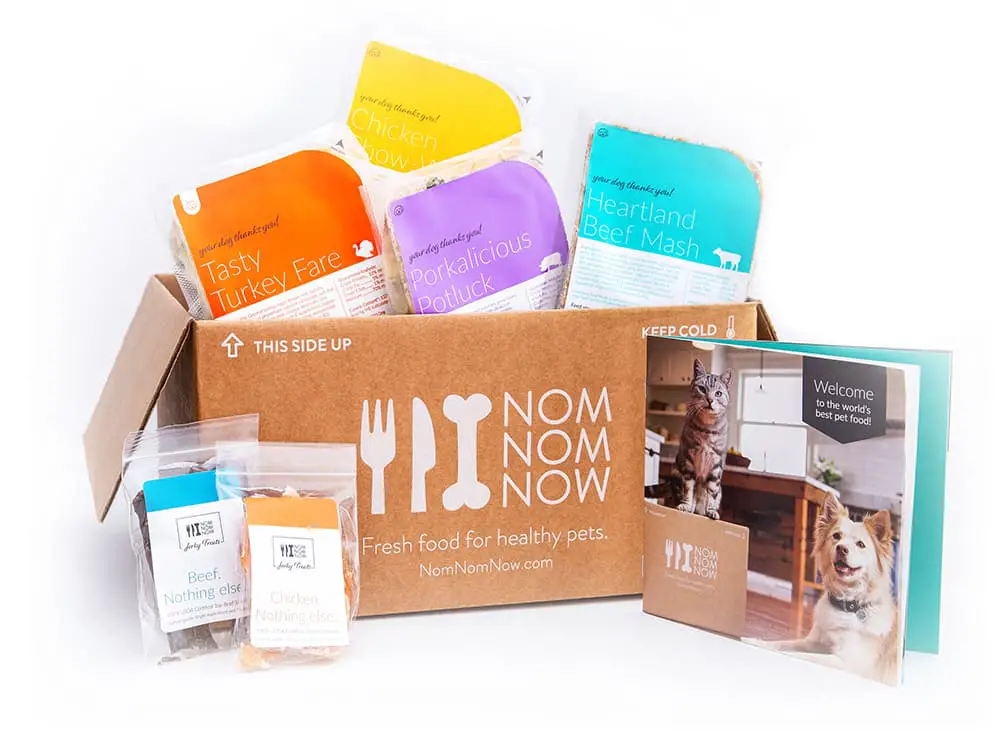 Fresh, human-grade ingredients
Near-perfect macronutrients
Energy Density: 137 kcal/100g
Doggypedia rating: 5/5
First 5 Ingredients: Ground Turkey, Eggs, Brown rice, Carrots, and Spinach.
Macronutrients (Dry-Matter Basis):
Protein: 33.3% minimum
Fat: 16.7% minimum
Carbs: 40.0% maximum
Best Fresh High Calorie Dog Foods
Claiming first place in the high calorie wet food category is NomNomNow's Tasty Turkey Fare recipe. With an energy density of 137 kcal/100g, this recipe is packed full of human-grade meat and high quality veggies, has a great macronutrient balance, and is yummy enough for even the pickiest of pups to enjoy. There is something to be said for giving your dog the most nutrient dense food, and that's why this is at the top of our list.
NomNomNow is very different from traditional dog food brands, in that you won't find any of their recipes on the shelves of supermarkets or pet stores. Instead, owners input information about their dog's breed, weight, and dietary requirements into NomNomNow's website, one or more of their four recipes are recommended, and then ordering is as simple as a click of a button. Pre-portioned meals are delivered directly to your door, which is a massive convenience for pet parents who are on-the-go and don't have time to shop for dog food.
As mentioned before, Tasty Turkey Fare has a great macronutrient balance. It contains 33.3% protein and 16.7% fat, which fall well within the AAFCO guidelines. The carbohydrate content sits at 40%, which is higher than most dog foods, but given that the major carb sources are all healthy veggies and whole grains, this isn't an issue.
Another major benefit to this product is that all of NomNomNow's recipes are formulated by a certified veterinary nutritionist, which means that owners can rest easy knowing that their pup is getting all of the nutrients that he or she needs. While NomNomNow's pricing is higher than most traditional dog food brands, it isn't exorbitant and the high-quality ingredients and careful formulation of their recipes is well worth the extra cost. Highly recommend.
We negotiated a 50% discount off your first order, so it's a great deal too.
Runner Up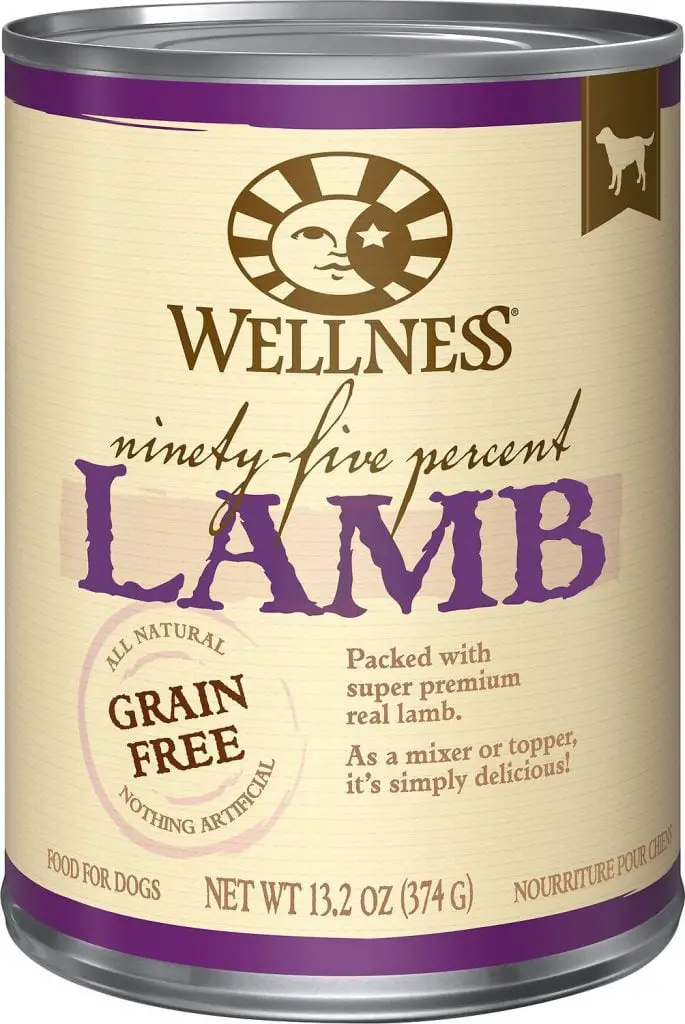 High meat content
Great macronutrient balance
Energy Density: 185 kcal/100g
Doggypedia rating: 4.5/5
First 5 Ingredients: Lamb, Water Sufficient for Processing, Natural Flavors, Cassia Gum, and Carrageenan.
Macronutrients (Dry-Matter Basis):
Protein: 27.3% minimum
Fat: 50% minimum
Carbs: 9.1% maximum
Best High Calorie Dog Food Topper for underweight Dogs
Coming in second place in the wet food category is Wellness' 95% lamb meal topper. As the name suggests, this grain free product is made from a massive 95% lamb meat and contains enough meaty goodness to last your pup a lifetime.
Wellness recommends that this food be used as a topper, which means that it should be mixed with your dog's existing dry or wet food for an added calorie and fat boost. Given that the ingredient list is so short, certain vitamins and minerals that are important for your dog's growth and maintenance aren't present, so using this product in conjunction with another food is a great idea. For picky pups, using a topper helps to inject some yummy goodness into their existing food and make it more palatable, which is also a big plus.
In terms of macronutrients, Wellness' 95% lamb has an interesting profile. It contains 27.3% protein and a massive 50% fat. The high fat content is what boosts this food's energy density and would be concerning if this product was made to be eaten by itself, but given that it's a topper this isn't an issue. The carbohydrate content is 9.1%, which is indicative of the high meat content. 

Best Dry High Calorie Dog Foods for Weight Gain
Our Dry Pick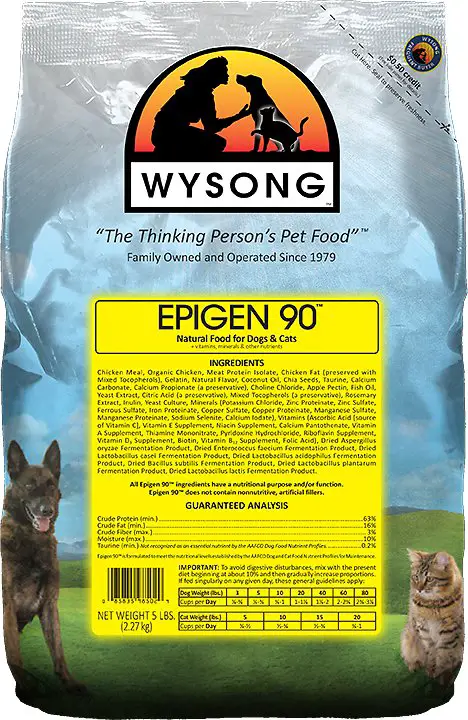 Packed with protein
Includes healthy probiotics
Energy Density: 489 kcal/100g
Doggypedia rating: 4.5/5
First 5 Ingredients: Chicken Meal, Organic Chicken, Meat Protein Isolate, Chicken Fat (preserved with Mixed Tocopherols), and Gelatin.
Macronutrients (Dry-Matter Basis):
Protein: 70% minimum
Fat: 17.8% minimum
Carbs: 6.1% maximum
Best High Calorie Dog Food for Active Dogs
Taking first place in the dry food category is Wysong's Epigen 90 dry food. Suitable for both dogs and cats, this multi-purpose pet food contains a whopping 489 kcal/100g, a protein level that's practically off-the-charts, and a great ingredient list to boot.
In terms of macronutrients, the real stand out of this product is its protein content. It contains a massive 70% protein, which is unheard of in dry dog foods and is incredibly rare even in wet foods. While this protein content is suitable for active dogs, do be wary that this level of protein can be harmful in dogs with kidney disease or in many senior dogs. If you're worried, consult your vet before trying this product. 
In comparison to the protein content, the fat content is relatively small, just 17.8%, but is still sufficient to boost the caloric density considerably. The carbohydrate content sits at just 6.1% and is sourced from ingredients like chia seeds and apple pectin.
This product is potentially the most meat-packed food on this list. It includes chicken meal, organic real chicken, a meat protein isolate that Wysong ensures is 100% pork, and chicken fat. While the diversity isn't fantastic, the proportion of real meat ingredients is incredibly high. Other notable ingredients include prebiotic fiber and probiotic bacteria, which helps to balance your dog's digestive system and boost his or her immune system (Rose et. al., 2017) and rosemary extract, which in small amounts is a great source of antioxidants and stress reduction (Sechi et. al., 2016).

Also Great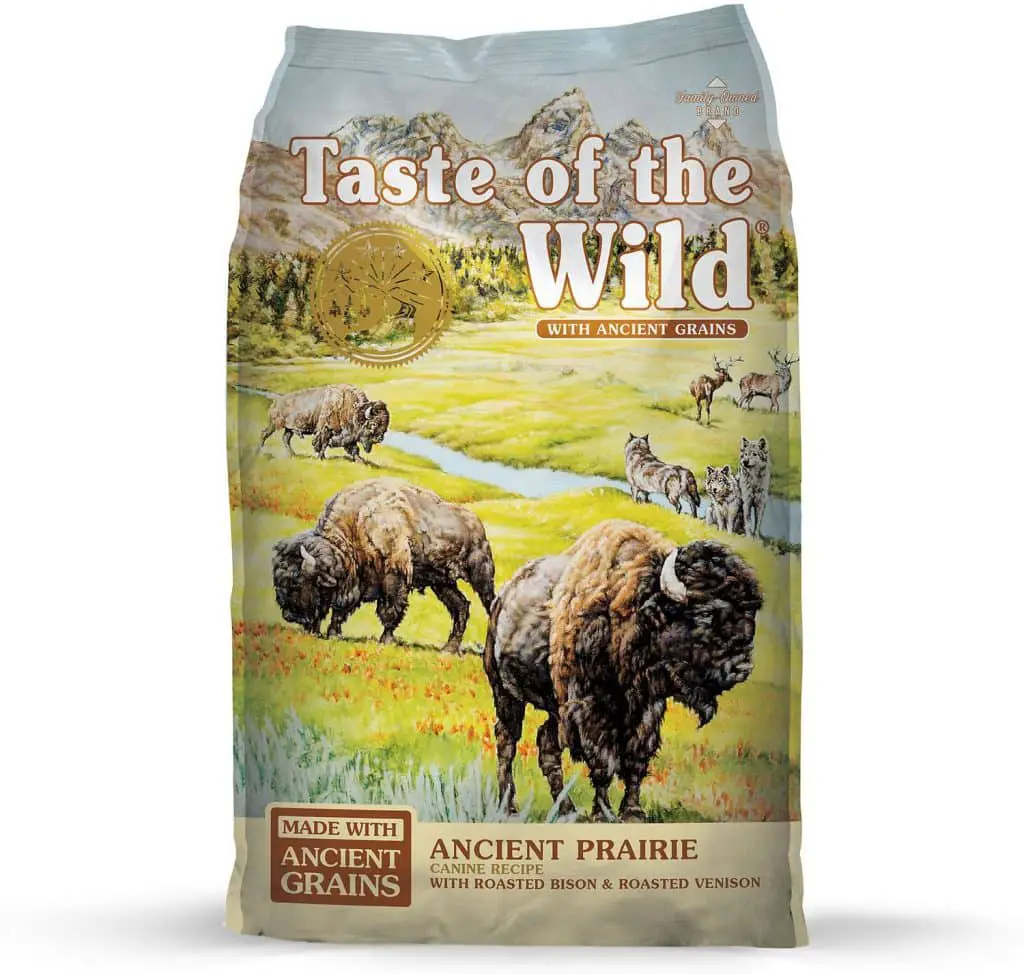 Great diversity of meat sources
Includes healthy grains
Energy Density: 392 kcal/100g
Doggypedia rating: 4/5
First 5 Ingredients: Buffalo, Pork, Chicken Meal, Grain Sorghum, and Millet.
Macronutrients (Dry-Matter Basis):
Protein: 35.6% minimum
Fat: 20% minimum
Carbs: 35.6% maximum
Next in the dry food category is Taste of the Wild's High Prairie Ancient Grains recipe. With a strong focus on adhering to the canine ancestral diet, this high calorie kibble contains multiple sources of meat and is loaded with healthy grains.
The unique, carefully thought-out ingredient list is where this food shines the brightest. Novel meat ingredients like buffalo, roasted bison, and roasted venison are joined with more standard meats like pork and chicken to create a cocktail of diverse, meaty-goodness. Alongside the animal-based ingredients are a variety of different grains, including sorghum, millet, chia seeds, flaxseed, and quinoa. Unlike the standard wheat, corn, and barley used in dog foods, these grains are high in protein, fiber, and various minerals.
The macronutrient profile of this food is quite different to others on this list. The protein and fat content, 35.6% and 20% respectively, are fairly typical, but the carbohydrate content is high. With 35.6% carbohydrates, this product is the most carb-heavy of the foods on this list. However, the grains used in the recipe are of a high quality and contain valuable nutrients like fiber, vitamins, and minerals. The protein content certainly doesn't suffer due to the addition of these ingredients either, so even though the carb content is above 30%, this food is still nutritious and perfectly fine for your dog's health.
Best High Calorie Dog Foods for Puppies
Our Puppy Pick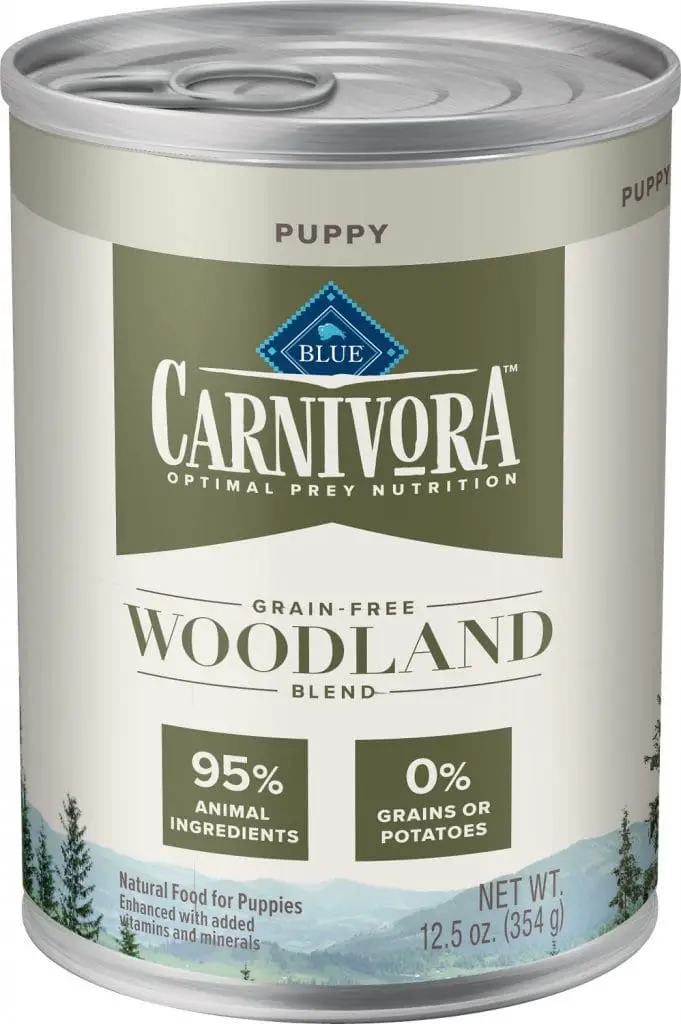 4 different meat sources
Fantastic macronutrient balance
Energy Density: 141 kcal/100g
Doggypedia rating: 5/5
First 5 Ingredients: Chicken, Turkey Broth, Turkey, Chicken Liver, and Turkey Liver.
Macronutrients (Dry-Matter Basis):
Protein: 56.8% minimum
Fat: 34.1% minimum
Carbs: 2.3% maximum
Best High Calorie Canned Food For weight gain
When it comes to high calorie dog foods, puppies are one group that can benefit massively. Puppies have high energy requirements, given their high activity level and the extra fuel needed for growth and development, but they can't eat very much at one time due to their small stomachs. High calorie dog foods provide all of the energy that they need in smaller portions, and when it comes to high calorie puppy wet foods nothing beats Blue Buffalo's Carnivora Woodland Blend puppy formula.
With an energy density of 141 kcal/100g, Blue Carnivora's recipe has a strong focus on animal protein sources and healthy carb sources. The meat sources present include chicken, turkey, duck, and mackerel. This diversity of protein sources means that your growing pup will have all of the amino acids that she or he needs to develop into a strong, healthy adult dog.
In terms of macronutrients, Blue Carnivora Woodland Blend is second to none. It contains a massive 56.8% protein, which reflects the diverse, quality meat ingredients. Protein is particularly important for puppies, so having such a high level is a huge asset. The fat content sits at 34.1% and the carb content is just 2.3%. The major carb sources include pea flour and pumpkin.
As an additional bonus, this product also comes as an adult dog food. This is a massive convenience, as if your puppy likes this food you can simply switch to the adult version as he or she ages into adulthood.

Also Great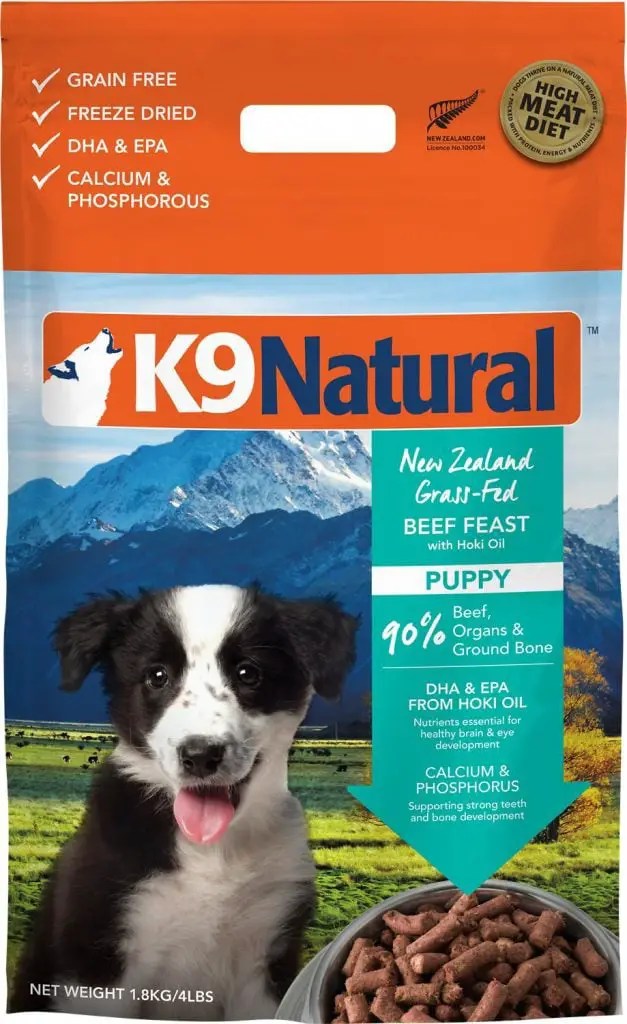 Contains grass-fed beef
More expensive than comparable products
Energy Density: 527 kcal/100g
Doggypedia rating: 4/5
First 5 Ingredients: Beef, Beef Blood, Beef Tripe, Eggs, and Beef Liver.
Macronutrients (Dry-Matter Basis):
Protein: 38.0% minimum
Fat: 40.2% minimum
Carbs: 13.0% maximum
Best High Calorie Dry Puppy Food
Claiming the title as the best high calorie dry food for puppies is K9's Natural Beef and Hoki Recipe. Like Blue Buffalo's Carnivora, this product has a strong focus on providing quality animal protein to your growing pup and, with an energy density of 527 kcal/100g, has plenty of calories to fuel your puppy's active lifestyle.
The primary ingredient in this product is New Zealand grass-fed beef. With seven different beef-based ingredients on the list, K9 has made a massive effort to pack their puppy food full of as much of this quality ingredient as possible. The other staple ingredient in this product is Hoki oil. Again sourced from New Zealand, Hoki oil is high in omega-6 and omega-3 fatty acids. This includes DHA, which is important for puppy brain development (Kelley et. al., 2010).
In terms of macronutrients, K9's Beef and Hoki Oil recipe performs admirably. It contains 38.0% protein and a massive 40.2% fat. While the high caloric intake is appropriate for most puppies, check with your vet if you notice that your puppy is putting on weight too quickly. The carbohydrate content is 13.0% and is sourced from healthy natural ingredients like brown kelp, cabbage, and cauliflower.
The major downside to this food is that it's very expensive. Even with the high caloric density taken into account, the price is still much higher than other puppy foods. However, if you can afford to pay a little extra, the quality is well worth it.

Bonus Pick for weight gain
Also Great

Easy-to-feed, supplemental calories
Fantastic taste for picky eaters
Energy Density: 529 kcal/100g
Doggypedia rating: 4/5
First 5 Ingredients: Soybean Oil, Sugar, Water, Glycerin, and Dried Skimmed Milk.
Macronutrients (Dry-Matter Basis):
Protein: 2.3% minimum
Fat: 58.9% minimum
Carbs: Estimated 35.1% maximum
Best High Calorie Meal Paste
The final product that we've reviewed doesn't fit in either the wet, dry, or puppy food categories. However, it's massive calorie content and usefulness for underweight or highly active dogs means that we've given it a special place on this list.
The Dyne Liquid Supplement is PetAg's answer to a growing market of dog meal replacement pastes. The primary goal of these products is to provide extra calories for those dogs who need it. This could include working dogs, severely underweight dogs, or sick pooches who are unable to tolerate normal food. Liquid supplements can be given by mixing them with wet or dry food, or through an oral syringe for pups who aren't up to eating. 
Given that this product is a supplement, the macronutrient balance looks very different to the other foods on this list. It contains just 2.3% protein, in comparison to a massive 58.9% fat. The protein content clearly doesn't meet AAFCO guidelines, but given that this product is a supplement rather than a full meal, this isn't an issue. The estimated carbohydrate content is 35.1% on a dry-matter basis, but it's important to note that the formula used to calculate the amount of carbohydrates isn't built for meal supplements and therefore may not be correct in this situation. 
The ingredient list of this product is also considerably different from normal dog food. Soybean oil is listed as the first ingredient, followed by sugar, water, glycerin, dried skimmed milk, and a variety of different vitamin and mineral supplements. A particularly interesting addition is an artificial vanilla flavor. While artificial flavours aren't ideal, the inclusion of it in this product makes the otherwise odd combination of ingredients extremely palatable to dogs. Nearly every owner who has tried this product has reported that their dog loves it, which is great news for the owners of picky pups who turn their noses up at normal dog food.
A particular advantage of this product over others is that it can be bought in several different sizes, up to a 1-gallon bottle. Most meal pastes come in small tubes that are poorly designed for pups who may need long-term meal supplementation, but PetAg has circumvented this problem by offering their liquid supplement in larger batches. This product is also extremely affordable, especially when looked at on a price-per-calorie basis.
Read More Dog Food Reviews: Best Dry Dog Food
How Much Should My Dog Eat? 
The amount of food that your dog should be eating depends on two main factors: your dog's size and the energy density of your chosen dog food (Bermingham et. al., 2014)
Dogs come in all shapes and sizes, ranging from tiny chihuahuas to huge greyhounds. Because of this, it's logical that different sized dogs need a different amount of calories to get through the day. For example, a toy breed dog may only need half a cup of dog food while a large breed will need over five cups.
The second factor that determines how much your dog needs to eat is the energy density of your chosen dog food. A product's energy density refers to the number of calories present per unit of measurement. Dog foods are usually measured in kilocalories per 100g (kcal/100g). Your dog will need less of a food that has a higher energy density than they would a food with a low energy density.
Why Feed Your Dog High Calorie Food?
High calorie dog food is a great choice for a number of different reasons. 
For one, as we mentioned before, bigger dogs need to eat a lot more food than smaller dogs. While this isn't a problem for some, for others simply eating enough food to get by can result in uncomfortable bloating and gastrointestinal problems. In extreme cases, this can result in your dog not getting the appropriate amount of energy, high protein, and healthy fats to sustain his or her size. High calorie dog food is an easy remedy for this, as large dogs won't need to eat as much of it as they would a normal dog food and therefore have an easier time getting enough energy.
High calorie dog food is also a great pick for a pooch who needs to pack on extra weight. Malnutrition can be a big problem for rescue pups or dogs who are sick or recovering from a surgery or other procedure (Gerdin et. al., 2016). In such situations, returning your pup to a healthy weight is much easier with high calorie dog food.
On the owner-centric side of things, high calorie dog food can also be a benefit. While most high calorie dog foods are more expensive than low or medium-calorie foods, often the price-per-calorie works out to be much lower. This means that feeding your pup high calorie food will be more economical, not to mention the fact that a bag or can of energy dense food will last longer, which saves on excessive shopping trips.

What Type of Calories Is Your Dog Eating? 
Of course, feeding your dog extra calories is useless unless that extra energy is in a usable form and packed full of protein, fats, vitamins, and other nutrients. To make sure that the foods listed in this article were healthy and nutritious as well as being energy-dense, we looked at each product's macronutrient profile. This refers to the balance of protein, fats, and carbohydrates in the food's formula. 
In terms of doggy nutrition, the two most important macronutrients by far are protein and fats. Because of this, strict guidelines are placed on dog food companies in the U.S to ensure that a safe minimum amount of protein and fat are present in every product. The American Association of Feed Control Officials dictates these guidelines, which are as follows (AAFCO, 2014):
A protein content of over 18%
A fat content of over 5.5%
The third macronutrient, carbohydrates, is a little more tricky to understand. While some sources of carbohydrates can provide vitamins, minerals, and fiber, as a whole carbohydrates aren't actually a necessary part of the canine diet (Roberts et. al., 2018). Dog food companies will often pack their foods full of cheap grain fillers and by-product meals in order to bulk up their food, which means that the proportion of protein and fat-rich meat is lowered. This can be especially true in high-calorie dog foods, as adding grain fillers is an easy way to boost the calorie content of a food. As such, the foods on this list have been chosen and ranked according to the following criteria:
Foods with a carbohydrate content under 30% were given preference, with exceptions made for healthy carb sources.
Why You Should Trust Us
As a lifelong dog owner, I've been talking to vets, buying dog food, and taking care of dogs for my whole life. When researching each dog food, we pay very close attention to the ingredient list and nutritional information of each dog food. There is a big difference between high-quality dog foods that are packed full of fillers and high-calorie dog foods that are full of meat. 
We use scientic backed data to pick the best dog foods, and we do not accept any payments from dog food companies to put their foods first. Instead, your dog is our top priority for every review.
SOURCES:


Energy requirements of dogs: Bermingham, E., Thomas, D., Cave, N., Morris, P., Butterwick, R. and German, A. (2014). Energy Requirements of Adult Dogs: A Meta-Analysis. PLoS ONE, 9(10), p.e109681.
Starvation in dogs: Gerdin, J., McDonough, S., Reisman, R. and Scarlett, J. (2016). Circumstances, Descriptive Characteristics, and Pathologic Findings in Dogs Suspected of Starving. Veterinary Pathology, 53(5), pp.1087-1094.
Optimal carbohydrate content in dog food: Roberts, MT, Bermingham, EN, Cave, NJ, Young, W, McKenzie, CM, Thomas, DG. Macronutrient intake of dogs, self‐selecting diets varying in composition offered ad libitum. J Anim Physiol Anim Nutr. 2018; 102: 568– 575. https://doi.org/10.1111/jpn.12794(Roberts et. al., 2018)
AAFCO 2014 Recommendations: The 2014 AAFCO Dog Food Nutrient Profile for Growth and Reproduction. (2019). [ebook] AAFCO. Available at: https://www.aafco.org/Portals/0/SiteContent/Regulatory/Committees/Pet-Food/Reports/Pet_Food_Report_2013_Midyear-Proposed_Revisions_to_AAFCO_Nutrient_Profiles.pdf [Accessed 15 Feb. 2020].
Efficacy of probitoics for dogs: Rose, L., Rose, J., Gosling, S. and Holmes, M. (2017). Efficacy of a Probiotic-Prebiotic Supplement on Incidence of Diarrhea in a Dog Shelter: A Randomized, Double-Blind, Placebo-Controlled Trial. Journal of Veterinary Internal Medicine, 31(2), pp.377-382.
Properties of rosemary extract: Sechi, S., Di Cerbo, A., Canello, S., Guidetti, G., Chiavolelli, F., Fiore, F. and Cocco, R. (2016). Effects in dogs with behavioural disorders of a commercial nutraceutical diet on stress and neuroendocrine parameters. Veterinary Record, 180(1), pp.18-18.
DHA for puppy brain development: Kelley, R., Lepine, A., Shyan-Norwalt, M., Burr, J. and Reinhart, G. (2010). Nutrition and DHA | Breeding Better Dogs. [online] Breedingbetterdogs.com. Available at: http://www.breedingbetterdogs.com/article/nutrition-and-dha [Accessed 26 Feb. 2020].