Looking for the best dry dog food brands? Help your dog stay healthy with our kibble food reviews here.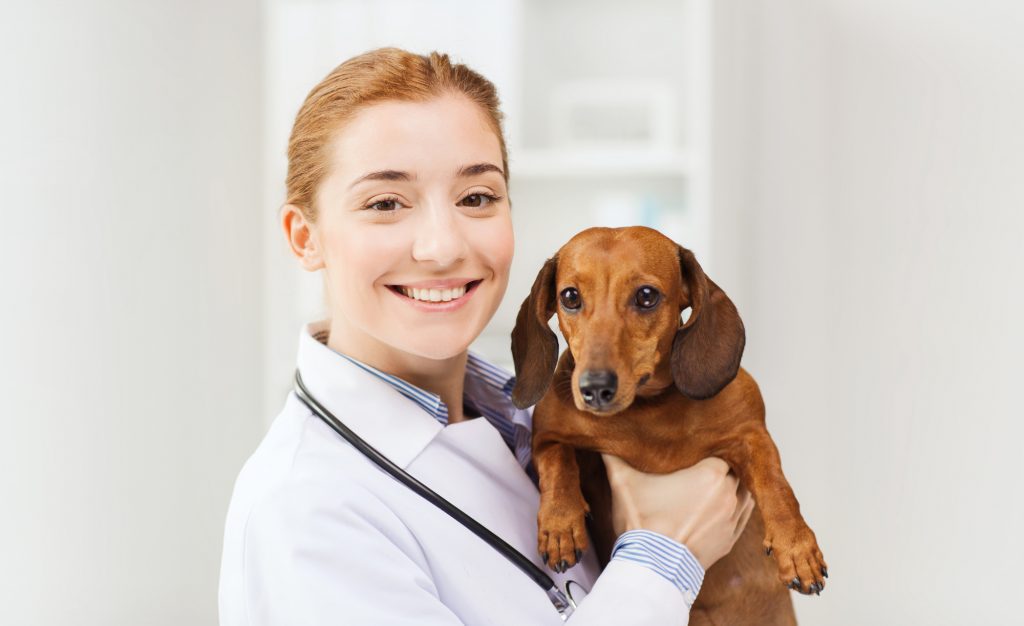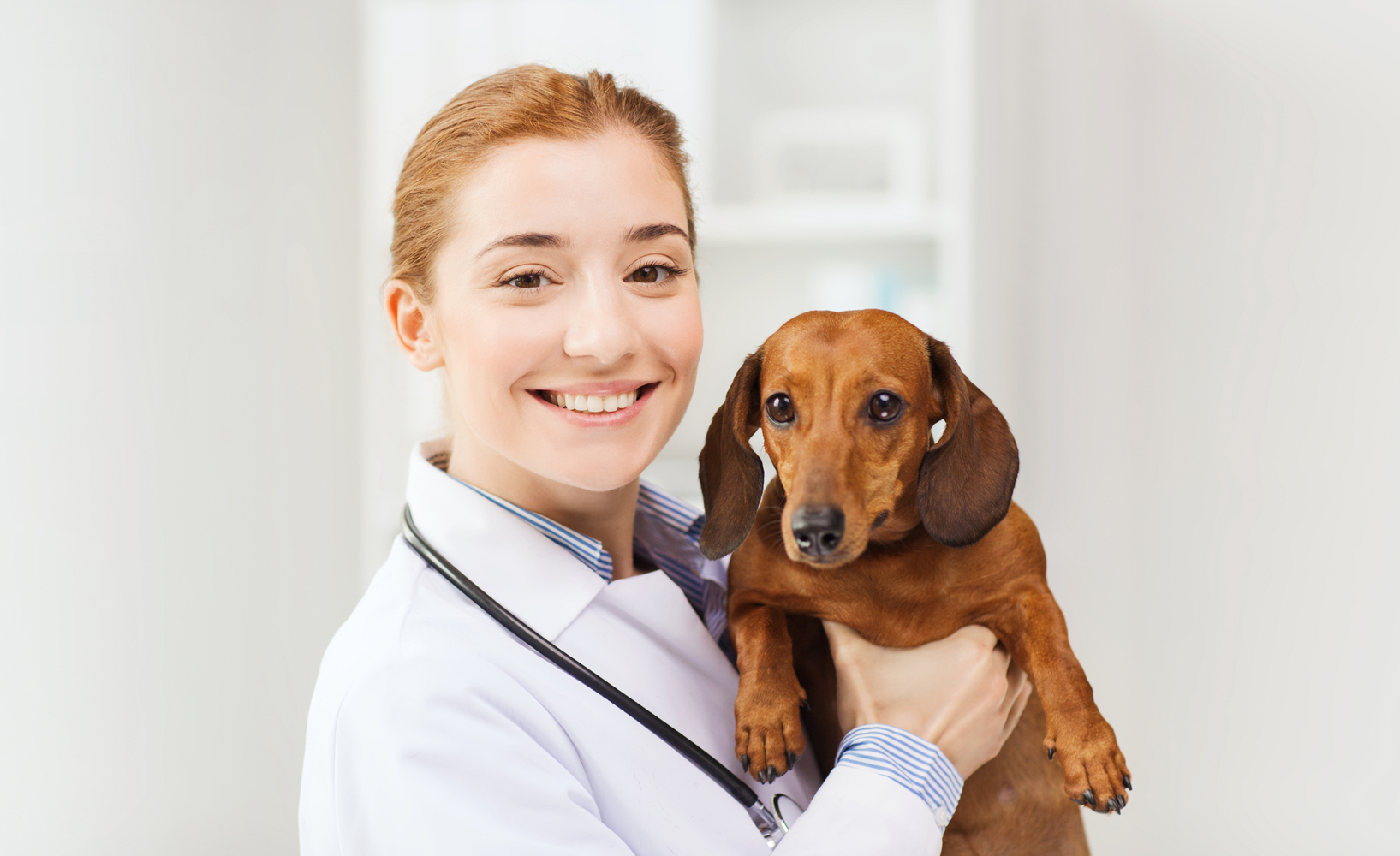 As a dog owner, picking the right food for your pet can be a real challenge. While it's generally known that wet food is better for dogs than dry food, for some the convenience and cost-effectiveness of dry food is simply too good to discount it completely. 
When searching for a suitable dry food for your canine companion, it's easy to get lost in empty marketing promises. The pet food industry is a multi-billion dollar one and, unfortunately, there are a lot of unethical companies out there that are looking to pack their products full of innutritious and downright harmful ingredients. Luckily, there are still some brands that do a fantastic job of balancing their need to make a profit with their ethicality and responsibility to consumers. 
These great brands make some really great dry dog foods that have a carefully tailored macronutrient balance to keep your pet as healthy as possible. Along with this, there are some truly innovative and exciting new movements happening in the world of dry dog food right now. For the average dog owner, though, actually tracking down these elusive products can be difficult.
This article lists seven of the very best dry dog foods out there. These foods are the greatest of the greatest; picked for their balanced nutritional content, innovation, overall quality, and affordability. Each product has its own strengths and weakness, so make sure to read each review in full before making your choice.
How To Choose The Best Food For Your Dog
As mentioned before, choosing the best food for your dog can be a tricky process. When deciding on the right food, it's a good idea to make a list of all of the things that you're looking for in a product.
First, you need to take into account things like your dog's taste preference, the affordability of the food, and how much time that you as an owner can spare to feed your dog each day. Answering these questions will help you to decide whether you'll be prioritising taste, cost, or convenience when making your decision.
Another big factor to consider is whether your dog has any special requirements. If you have a puppy, either look for a specifically formulated puppy food or make sure that any other foods that you consider are suitable for growing pups. If you have a large breed dog, make sure that the food that you select is suitable for large breeds. If your dog is diabetic or overweight, finding a recipe that suits those specific health conditions is a must. 
As an owner, you also need to decide what you want to prioritise. If you care about sustainably sourced ingredients, note that down. If you'd prefer to feed your dog an all-organic diet, there are products for that, too. Another big consideration for many is the ethicality of the company and the working conditions and pay of the employees that manufacture the dog food.
Finally, you need to look at the macronutrient balance. The protein, fat and carbohydrate contents of all of the products on this list fall within a scientifically determined 'ideal range,' however the truth is that different dogs require different nutrient balances depending on their age, breed, and level of activity. Talking with your vet is a great way to learn about the nutritional requirements of your dog, but if this isn't possible then you should make sure to watch your dog closely for any signs of digestive disturbances when switching foods and steer away from any products that don't agree with your pup's stomach.
Reviews of the Best Dry Dog Foods
Our Pick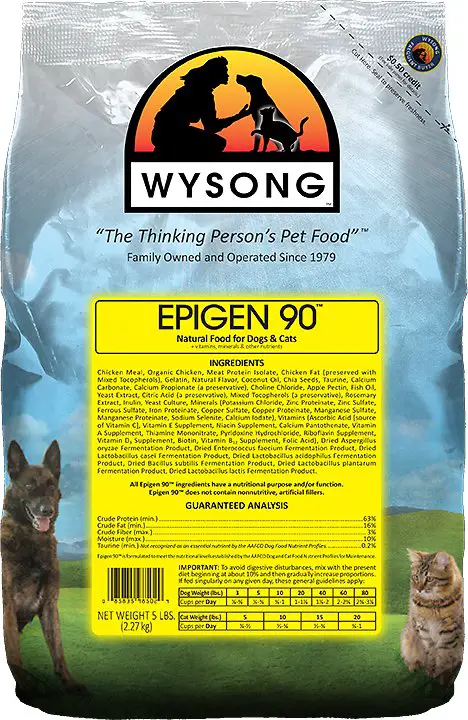 Easily the best dry food available
Nutritionally balanced
Very high protein
Doggypedia rating: 5/5
Calories/100g: 489 kCal/100g
First 5 Ingredients: Chicken Meal, Organic Chicken, Meat Protein Isolate, Chicken Fat (preserved with Mixed Tocopherols), and Gelatin.
Macronutrients (Guaranteed Analysis):
Macronutrients (Dry-Matter Basis):
Protein: 63% minimum
Fat: 16% minimum
Carbs: 5.5% maximum
Protein: 70% minimum
Fat: 17.8% minimum
Carbs: 6.1% maximum
The best dry dog food
Claiming first place on the list of the best dog foods is Wysong's Epigen 90. It has some incredible attributes and unique features that make it a clear stand-out in the field of dry dog food.
The most interesting thing about this product is that it can be used for both dogs and cats safely. This kind of versatility is really difficult to find and is a huge bonus for pet owners who have both a cat and a dog. It saves on the hassle of going through the food-finding process for both of your pets and means that you don't have to strictly separate your dog and cat during mealtime.
Predictably, Wysong Epigen 90 is also suitable for puppies and senior dogs. However, Epigen does stock specifically formulated foods for certain life-stages, so be sure to check out their full line of products before making your decision.
Nutritionally, this food is very hard to beat. The protein content sits at 70%, which is incredibly high and even beats out most wet foods. The animal protein sources are of high quality, too. The fat content is 17.8%, which is also very respectable, and these high proportions of protein and fat lead to a low carbohydrate content of 6.1%. If you're an owner who wants to only feed your dog dry food, this is a great product to use as it has all of the benefits of wet food in a dry food formula, except of course for a high moisture content.
In terms of ingredients, the only real concern is the 'meat protein isolate,' which is listed third. Unnamed meat sources are usually a big red flag, as it means you have no idea what you're actually feeding your dog, but Wysong guarantees that the meat is actually 100% pork and that the 'extracting' process is simply a method used to get the maximum amount of protein out of the pork as possible. While this claim can't be 100% verified, it's comforting that Wysong has even addressed it and the off-the-chart protein levels do indicate that there's at least a degree of truth to it.
The only real drawback of this food is the energy density, which sits at a whopping 489 kCal/100g. This is much higher than a usual dog food, so if you choose this product make sure to stick firmly to the feeding guidelines. Pet owners that are liable to spoil their pup with extra food every now and then should also try to avoid this, as a little bit of overfeeding can lead to a lot of weight gain.
All in all, Wysong's Epigen 90 is a real shining star in the world of dry dog food. It's high in protein, nutritionally balanced, and has almost all of the benefits of wet food in a dry food formula. Whether you've only got one dog or you own both a cat and a dog, this product is a fantastic choice.
Runner-up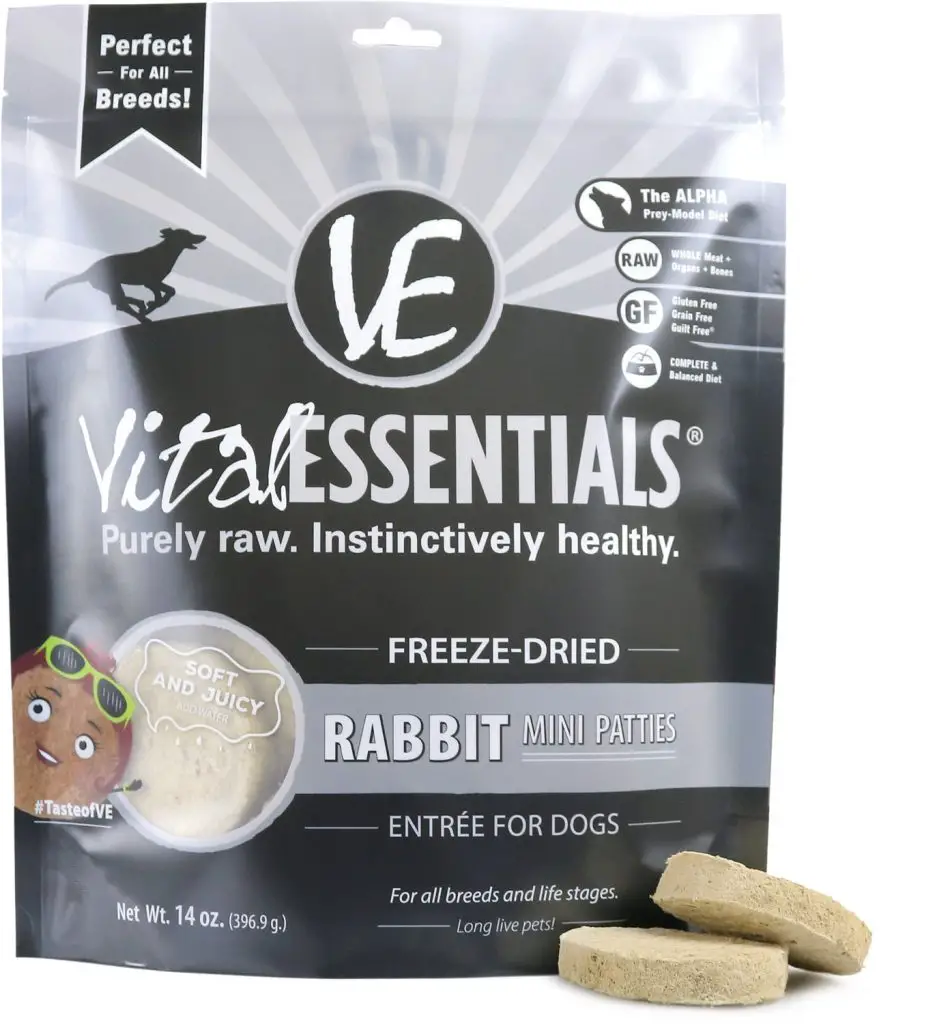 Almost entirely Rabbit meat!
Includes healthy organ meat
Mimics a wild diet!
Doggypedia rating: 4.5/5
Calories/100g: 359 kCal/100g
First 5 Ingredients: Whole Rabbit, Rabbit Liver, Rabbit Heart, Rabbit Lung, and Herring Oil.
Macronutrients (Guaranteed Analysis):
Macronutrients (Dry-Matter Basis):
Protein: 55% minimum
Fat: 14% minimum
Carbs: 13% maximum
Protein: 59.8% minimum
Fat: 15.2% minimum
Carbs: 14.1% maximum
A Great Dry Dog Food Rating
For owners of dogs who don't like dry kibble, shopping for a good dry food can be twice as hard. Almost all reputable dry dog foods are formulated only as a kibble, leaving a fairly narrow selection of alternatives. In amongst that narrow selection, however, is a real stand-out: Vital Essentials' Entree Mini Patties.
The rabbit-based patties can be fed whole or easily crumbled into smaller pieces for your dog to munch on. Portion sizing is much easier than measuring out cups of kibble; Simply feed your dog the number of patties recommended on the packaging. For dogs that have problems with drinking enough water, the patties can be easily moistened to provide extra hydration. Adding water is also a great idea for owners whose dogs prefer soft foods but who want to feed them a dry food diet; soaking the patties in water will soften them and make them easy for your dog to gobble down.
In terms of nutrition, the patties contain a fantastic 59.8% protein. This is sourced from a number of different rabbit meats, including heart, liver, and lung. Organ meat is rich in vitamins and minerals and is a great way to provide extra nutrients to your pooch. Aside from this, the patties have a 15.2% fat content and a 14.1% carbohydrate content, which are both ideal. 
The only ingredients aside from the rabbit meat are herring oil, which is rich in omega-3 fatty acids, mixed tocopherols, which are used as a natural preservative, and a vitamin E supplement. This list is significantly shorter than most dog foods and means that you can know exactly what you're feeding your dog without having to research countless different additives and colourants. When it comes to ingredients, Vital Essentials Patties are simple and straight to the point.
The patties also come in turkey, chicken, beef, salmon, and duck varieties. The rabbit-based product was chosen for its high protein content, but the other recipes are fairly similar in nutritional content, so if your dog has a particular dislike of rabbit meat the other flavours are still great options.
One drawback to this product is that the largest size bag you can purchase is 1lbs, which means that owners with large dog foods will burn through each bag fairly quickly. However, like most things these days, they can be bulk ordered online and stored ahead of time.
Vital Essentials Patties are a fantastic, unique option that are sure to provide a balanced, nutritional diet to your canine companion. 
Grain Free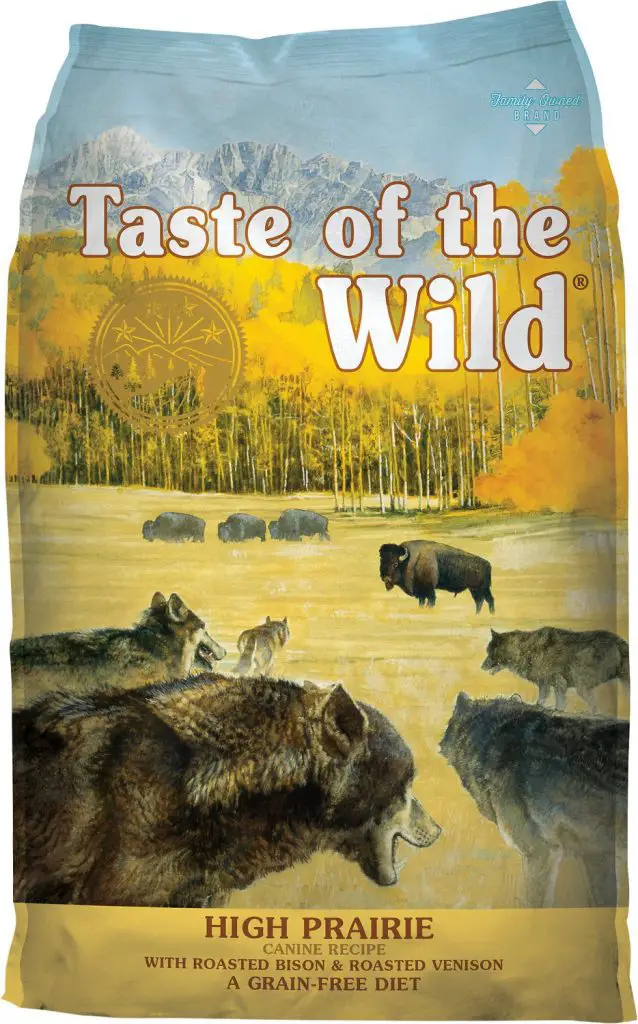 High-quality ingredients
Seven different animal protein sources
No grain fillers
Doggypedia rating: 4.5/5
First 5 Ingredients: Buffalo, Lamb Meal, Chicken Meal, Sweet Potatoes, and Peas.
Macronutrients (Guaranteed Analysis):
Macronutrients (Dry-Matter Basis):
Protein: 32% minimum
Fat: 18% minimum
Carbs: 28% maximum
Protein: 35.6% minimum
Fat: 20.0% minimum
Carbs: 31.1% maximum
Best Grain Free Dry Dog Food
Taking third place on the podium is Taste of the Wild's High Prairie Grain-Free dry dog food. Formulated to mimic the canine ancestral diet, the real stand-out of this product is the ingredients used.
As a general rule, the higher the number of meat sources used in any given dog food the better. Feeding your pup a diet with a range of different meats helps to provide diversity and ensures that if one meat source is deficient in a certain amino acid, another meat source is present to compensate. Taste of the Wild goes above and beyond in this regard, delivering a combination of seven different types of meat in their High Prairie recipe. These meats include buffalo, chicken, lamb, bison, venison, beef, and ocean fish and help to contribute to the impressive 35.6% protein content and the 20% fat content. 
In regards to the other notable ingredients, Taste of the Wild includes both peas and sweet potatoes, which are a highly digestible source of carbohydrates and fiber. The carb content sits at 31.1%, which is on the higher side but isn't a problem considering that the food doesn't contain any unhealthy grain-fillers. Instead, the recipe includes things like blueberries and raspberries (a source of antioxidants), dried chicory root (a source of fiber) and probiotic bacteria (which aids in digestive system health).
In sum, Taste of the Wild's High Prairie food is a great choice for your dog. It has a great ingredient list, including seven separate meat sources, and a healthy nutritional content to boot.
Runner-up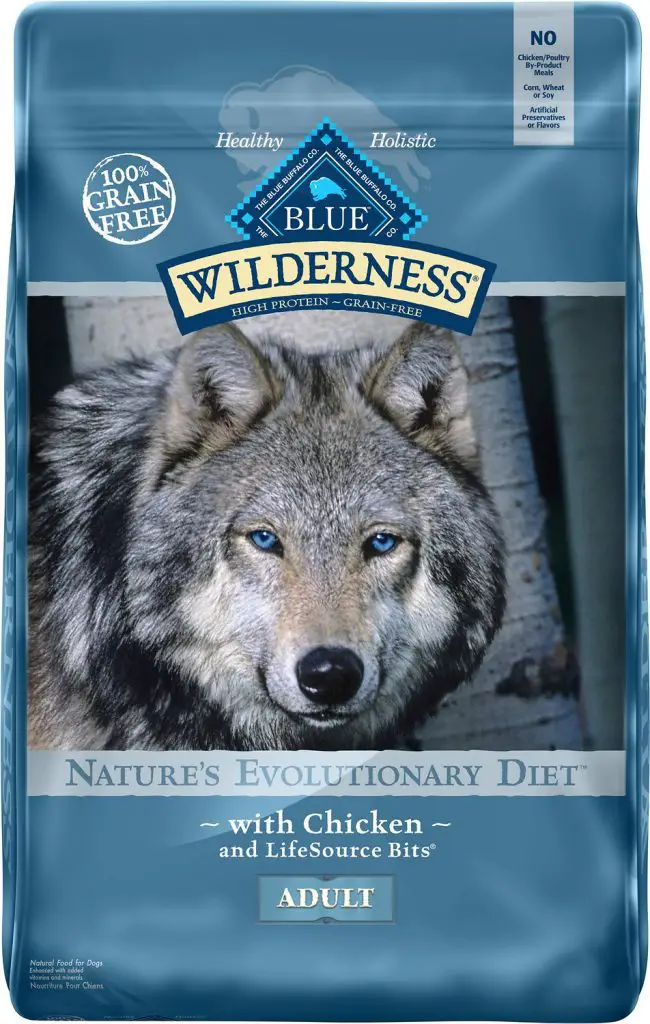 Fortified with vitamins and minerals
Good nutritional content
High in antioxidants
Doggypedia rating: 4/5
Calories/100g: 360 kCal/100g
First 5 Ingredients: Deboned Chicken, Chicken Meal (Source Of Glucosamine), Peas, Pea Protein, and Tapioca Starch.
Macronutrients (Guaranteed Analysis):
Macronutrients (Dry-Matter Basis):
Protein: 34% minimum
Fat: 15% minimum
Carbs: 27% maximum
Protein: 37.8% minimum
Fat: 16.7% minimum
Carbs: 30% maximum
A Good Dry Dog Food
Blue Buffalo's Wilderness Chicken recipe is the dog food that's earned the next spot on the list, and for some good reasons. It's a healthy, nutritious, grain-free recipe with a macronutrient balance that's hitting all the right targets. What makes it really special, though, is the inclusion of Blue Buffalo's innovative 'BLUE LifeSource Bits.'
The 'Bits' are little nuggets dispersed throughout the dry kibble that are high in vitamins, minerals, and antioxidants. According to the brand, this ensures helps to ensure your dog's immune system health is up to par, fulfill life stage requirements, and supports a healthy oxidative balance. Of course, many dry dog foods are fortified with vitamins and other goodies, but physically formulating the extra nutrients into 'bits' that can be seen helps to provide a sense of transparency.
In terms of protein, the food hits 37.8%- not the highest on the list, but certainly high enough to be considered a positive. Fat sits at 16.7%, which is right on target, and carbohydrates are at 30%. 
The quality of the ingredients in Blue Wilderness shouldn't be ignored, either. The first ingredient listed is real, deboned chicken. Other notable additions include menhaden fish meal, which is a source of omega-3 and omega-6, blueberries, cranberries, and carrots, which all supply antioxidants, and dried chicory root, which provides fiber. 
The recipe is totally grain-free and contains no artificial preservatives, colors, or flavours.
If you're looking for a great, 'all-rounder' dry food with plenty of added vitamins and minerals, Blue Buffalo's Wilderness Chicken recipe is a great way to go.
Runner-up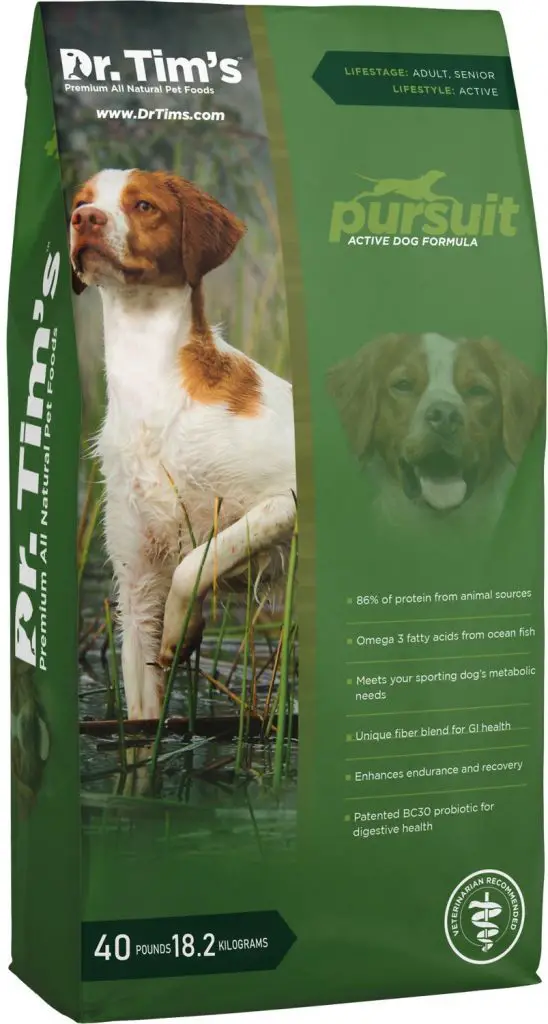 Great for active dogs
Includes whole grains
May cause weight gain for non-active dogs
Doggypedia rating: 4/5
Calories/100g: 384 kCal/100g
First 5 Ingredients: Chicken Meal, Brown Rice, Chicken Fat (Preserved With Mixed Natural Tocopherols, A Source Of Vitamin E), Whole Oat Groats, and Dried Beet Pulp (Sugar Removed).
Macronutrients (Guaranteed Analysis):
Macronutrients (Dry-Matter Basis):
Protein: 30% minimum
Fat: 20% minimum
Carbs: 30% maximum
Protein: 33.3% minimum
Fat: 22.2% minimum
Carbs: 33.3% maximum
Another Top Rated Dry Dog Food
In position number five is Dr Tim's Active Dog Pursuit Formula dry food. It's a great product, but unlike some of the others on this list is completely tailored to one kind of dog; active ones.
To cater to dogs with a higher energy requirement, Dr Tim's is packed full of nutrients. A lot of this comes from fat, which sits at a high 22.2% on a dry-matter basis. While this is perfectly fine for dogs who burn off a lot of energy, it's potentially problematic for less active dogs and may cause weight gain. Because of this, it's important that only owners with active dogs select this food. 
In terms of the other nutritional content, Dr Tim's has a fair 33.3% protein content and a 33.3% carbohydrate content. The carbs are on the higher side but are sourced predominantly from whole grains like brown rice and whole oat groats. 
The other ingredients include chicken, salmon, ocean herring, and catfish. Having four meat products means that your active dog will get all of the amino acids that he or she requires to maintain healthy muscles. Another interesting addition is kelp meal, which is a source of iodine.
All in all, Dr Tim's Active formula is a great choice for dogs who are always on-the-go and expending energy. However, the higher fat content could pose a problem for dogs who aren't as active and may make it difficult for your dog to maintain a healthy weight, so be sure that your dog will actually benefit from this food before making any purchases.
Runner-up: Best Probiotics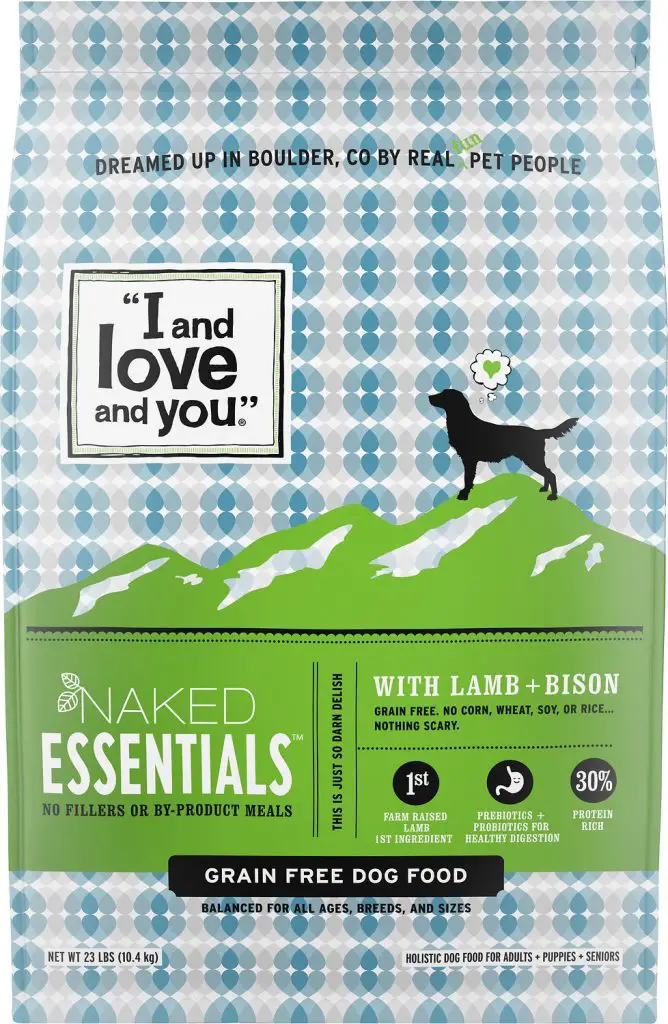 Includes probiotics
Fair nutritional content
More expensive than similar foods
Doggypedia rating: 4/5
Calories/100g: 353 kCal/100g
First 5 Ingredients: Lamb, Chicken Meal, Turkey Meal, Chickpeas, and Peas.
Macronutrients (Guaranteed Analysis):
Macronutrients (Dry-Matter Basis):
Protein: 30% minimum
Fat: 15% minimum
Carbs: 30.5% maximum
Protein: 34.1% minimum
Fat: 17.1% minimum
Carbs: 34.7% maximum
A Top Rated Grain-Free Dry Dog Food
Number six is an interesting product; I and Love and You's Naked Essentials lamb and bison recipe. While its macronutrient content isn't anything special, it contains an impressive level of probiotic bacteria. Probiotics assist in digestive functioning by helping to balance your dog's gut flora. Because of this, products high in probiotics can be great for dogs with a sensitive stomach and can even help to ease their digestive issues.
The main probiotic bacteria included in the recipe is Lactobacillus Aciphophilus, which has been proven to stabilise the digestive functioning in dogs with non-specific dietary sensitivity (Baillon, Marshall-Jones & Butterwick, 2004).  In other words, it helped dogs with sensitive stomachs to tolerate food better.
Aside from the probiotics, I and Love and You's lamb and bison recipe has a fair nutritional profile. It has a protein content of 34.1% and a fat content of 17.1%, both of which are sourced from lamb, bison, chicken, and turkey. The carbohydrate content is 34.7%, which is higher than ideal, but the major sources of the carbs are chickpeas, peas, and lentils, which are all easily digestible and again can be good for dogs with sensitive stomachs.
The recipe is grain-free and doesn't include any by-product meals or artificial colors and flavours. Unfortunately, it's significantly more expensive than other dog foods, but many owners have found the higher price worth it to be able to get their dog's diet on track.
In sum, I and Love and You's Naked Essentials is great for dogs with sensitive stomachs but, given the average nutritional content and high price, may not be worth it for dogs that don't have any issues with digestion.
Runner-up: Best Affordable Option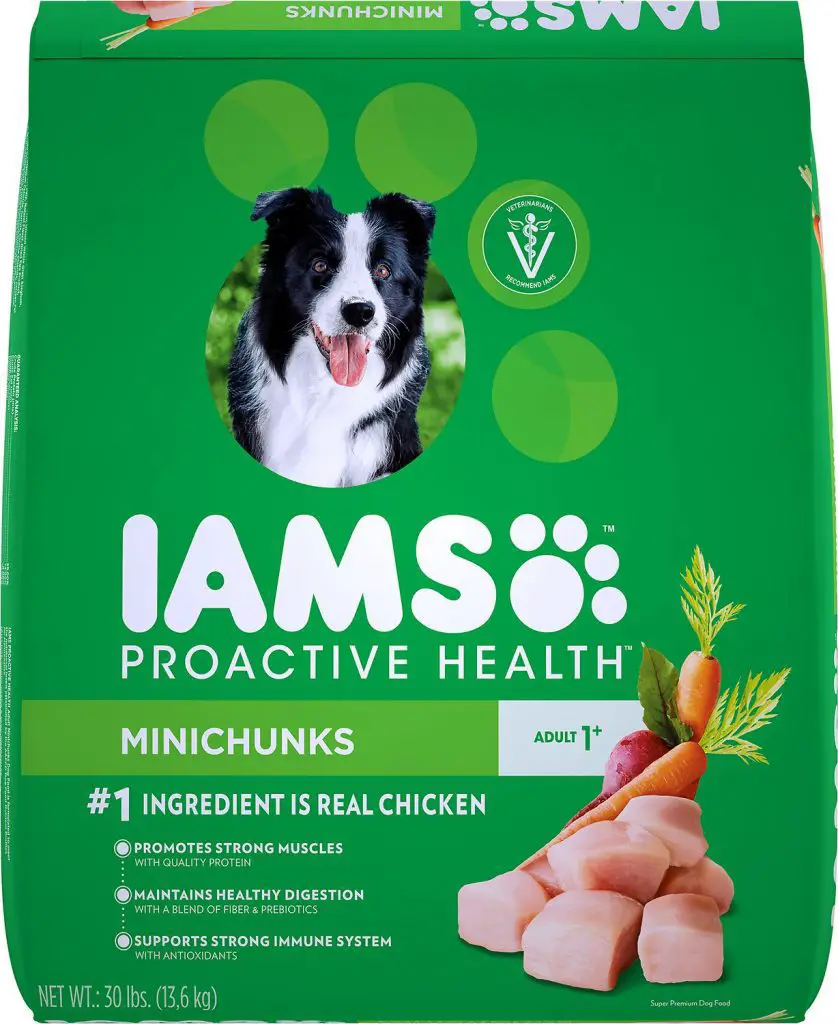 Great affordability
High carbohydrate content
Contains healthy beet pulp
Doggypedia rating: 3.5/5
Calories/100g: 366 kCal/100g
First 5 Ingredients: Lamb, Chicken Meal, Turkey Meal, Chickpeas, and Peas.
Macronutrients (Guaranteed Analysis):
Macronutrients (Dry-Matter Basis):
Protein: 25% minimum
Fat: 14% minimum
Carbs: 39% maximum
Protein: 27.8% minimum
Fat: 15.6% minimum
Carbs: 43.3% maximum
Still, A Healthy Dry Dog Food On The Market
Listed at number seven is Iams' ProActive adult dry food. Many dog owners have a limited budget when it comes to feeding their pets and for those looking for a more affordable option, Iams is a great way to go.
However, the affordability of this option does come with some drawbacks in terms of its nutritional content. While its protein and fat content is fair, if on the lower side, its carbohydrate content is large, sitting at 43.3%. The good news is that the majority of these carbs do come from whole grain sources, which contain vitamins and fiber. In the world of budget dog food, Iams also outshines its competitors, which is why it was able to get a spot on this list, however the carbohydrate content in this food can't be described as anything but 'too high.'
In terms of ingredients, the first ingredient listed is real chicken, which is a positive. Another great inclusion is beet pulp, which aids in digestion and promotes colon health. However, chicken by-products are also listed. As the source of the by-products are named you can be certain that there aren't any nasty surprises like roadkill, but by-products are still generally accepted to be of lower nutritional value than real meat. 
As the name suggests, this product is only suitable for adult dogs, so if you're a puppy owner make sure to steer clear of this option.
Overall, if you're looking for an affordable product that still has a fair nutritional content, Iams is the way to go. However, do keep in mind that if a dog food is cheaper than its competitors, the company is cutting costs somehow. In this case, packing the food with carbs and including chicken by-products is how the price is driven down.
Specific Best Dry Dog Foods:
The dry foods included on this list are all general, healthy options that suit the average dog. However, that doesn't mean that they suit every dog. Some dogs will benefit from a food formulated specifically for them. For example, there are foods that are formulated specifically for small breed dogs, for large breed dogs, for puppies, for senior dogs, for dogs with certain medical conditions, and for dogs with food allergies. If a specific kind of limited ingredient diet caught your interest, for example, grain-free or high-protein, there are products tailored around those specifications as well.
How We Chose The Foods on This List:
The foods on this list were all carefully examined and underwent a selection process based on some very specific criteria. Unfortunately, there's no kind of 'ultimate, infallible, research-backed guide to the optimum dog food,' so in order to develop the criteria multiple different journal articles and scientific papers were combed through.
In terms of protein content, there's a lot of mixed information out there. While some sources claim that higher protein is always better as it's more in line with dogs' ancestral diet (more on this idea later!), some studies also stipulate that if too much protein is present in the dog's diet it's simply excreted unchanged and doesn't actually provide any benefit (Hewson-Hughes, et. al., 2013). The amount of protein that dry dog food requires is also dependent on whether you're feeding your dog a dry-only diet or whether you're supplementing kibble with wet dog food, which tends to be much higher in protein. Because of this, the guideline decided was as follows:
Over 25% protein. Beyond this, the higher the better, as long as it comes from easily digestible, high-quality sources.
Fat content is another metric that needs to be considered when it comes to dry dog food. Fat is the most energy-dense macronutrient, so too high a fat content will push up the calories of the food and could lead to weight gain. However, fat also makes the food tastier, and it's been found that dogs do prefer to eat a diet high in fat (Roberts, et. al., 2017). Because of this, unless otherwise explained, all of the food meets this criterion:
Between 10% and 20% fat, provided that energy density is appropriate
The last macronutrient present in dog food is carbohydrates. In terms of the ideal carbohydrate content in dry dog food, most of the research is in agreement on one point; low carbs is better. This is because carbohydrates aren't actually an essential nutrient in the canine diet, and so packing dog food full of carbs reduces the space left for essential nutrients like protein and fat (Roberts et. al., 2017). Carbs are generally cheaper to include than protein and fat sources for dog food company, especially in regards to dry food, so correctly calculating the carb content is very important. Beyond 'low,' however, the research starts to vary. Some sources suggest that completely grain-free is the way to go (Jones, 2019), while others say that whole grains are important as they provide fiber (Petfood Industry, 2017). Based on all of this information, unless otherwise stated the product choices fell within this guideline:
Under 30% carbohydrates, with a preference towards a lower carb content unless the main carbohydrate source was high-quality whole grains or veggies.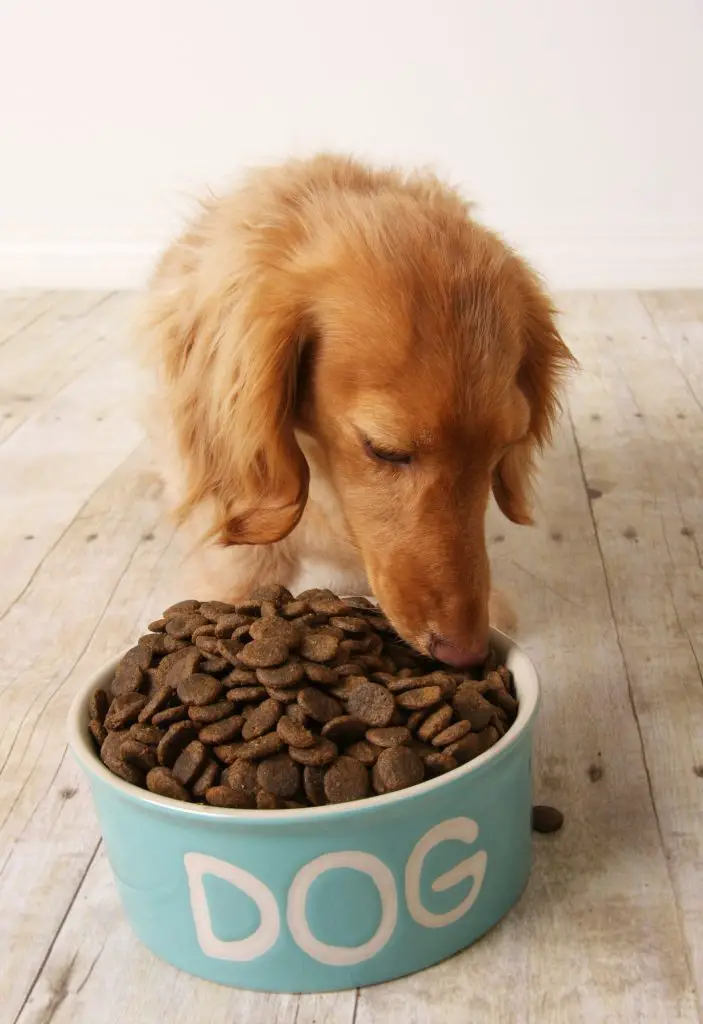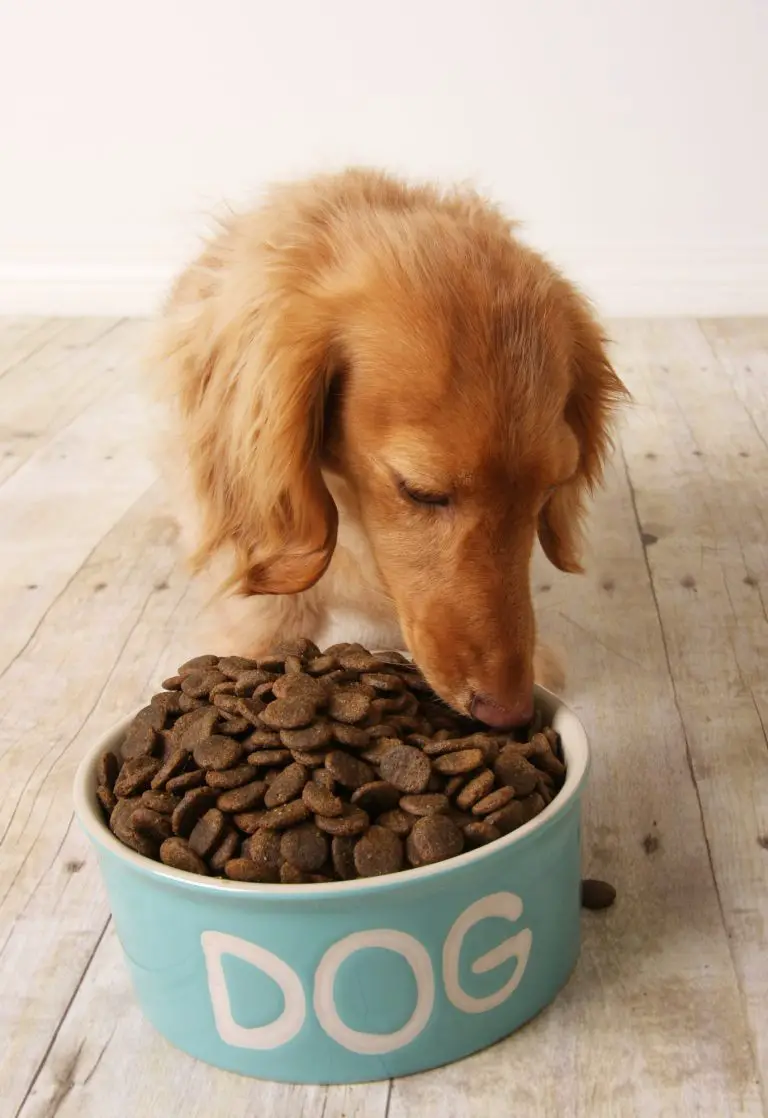 What Do Dogs Really Want To Eat? 
Ancestral diets and wilderness-based dog foods are a hot topic in veterinary research. Recently, there's been a significant focus on what dogs themselves actually want to eat and what we as dog owners can learn from this. 
In a study published in 2017 the Journal of Animal Physiology and Animal Nutrition, fifteen dogs were given three wet food choices that contained included either a high level of protein, a high level of fat, or a high level of carbohydrates. 
The researchers discovered that while most of the dogs initially seemed to prefer the high-fat diet, after a few days they started to steer away from the high-fat option and instead start eating more of the high-protein diet. The high-carbohydrate food, however, wasn't a particular favourite and was only eaten minimally across the entire duration of the study.
This tells us a few things about the behaviour of dogs in relation to their ancestral diet. Firstly, dogs are primarily carnivores. While they do naturally supplement their meat-based diet with plants, they much prefer meat, hence the desire to eat more of the high-fat and high-protein foods while steering away from the carbohydrates
Secondly, the study concluded that the dogs initially displayed a "feast or famine" mentality. What this means is that in the wild, dogs tend to gorge themselves on whatever food they can get while they can get it, as their food supply isn't constant. For the dogs in the study, this meant gravitating towards the high-fat, high-energy food. However, as the food continued to come and the dogs realised that the food supply was constant, they instead switched to the high-protein food. Domesticated dogs have a constant food supply and, by extension, it makes sense that they, like the dogs in the study, would want to stick to food that's high in protein (Roberts, et. al., 2017). 
Read More Dog Food Reviews: Best Hypoallergenic Dog Food and Best Chihuahuas Food
References:
Lactobacillus Acidophilus Probiotic: Baillon, M., Marshall-Jones, Z. and Butterwick, R. (2004). Effects of probiotic Lactobacillus acidophilus strain DSM13241 in healthy adult dogs. American Journal of Veterinary Research, 65(3), pp.338-343.
Optimal protein content: Adrian K. Hewson-Hughes, Victoria L. Hewson-Hughes, Alison Colyer, Andrew T. Miller, Scott J. McGrane, Simon R. Hall, Richard F. Butterwick, Stephen J. Simpson, David Raubenheimer, Geometric analysis of macronutrient selection in breeds of the domestic dog, Canis lupus familiaris, Behavioral Ecology, Volume 24, Issue 1, January-February 2013, Pages 293–304, https://doi.org/10.1093/beheco/ars168
Optimal carbohydrate and fat content and canine self-selecting diet: Roberts, MT, Bermingham, EN, Cave, NJ, Young, W, McKenzie, CM, Thomas, DG. Macronutrient intake of dogs, self‐selecting diets varying in composition offered ad libitum. J Anim Physiol Anim Nutr. 2018; 102: 568– 575. https://doi.org/10.1111/jpn.12794
Positives of the grain-free diet: Jones, S. (2019). Is Grain-Free Dog Food Safe?. [online] Caninejournal.com. Available at: https://www.caninejournal.com/grain-free-dog-food/ [Accessed 14 Oct. 2019].
Whole grains as a source of fiber: Beyond grain free: Ancient grains of wheat in dog and cat diets.(2017, 06). Petfood Industry, Retrieved from https://search-proquest-com.ezproxy.lib.monash.edu.au/docview/2112898433?accountid=12528