We all know that dogs are carnivores. However, based on the current dog food market, you might think otherwise. Many commercial diets for dogs today have high amounts of carbohydrates. Some dog foods have even more carbs in them than protein.
While dogs can eat grain, they do thrive on a diet high in protein. One study found that when allowed to control their macronutrient intake, dogs across all breeds chose to consume approximately 44% protein, 52% fat, and 7% carbohydrates. Another study found that dogs would up their fat intake if they have been previously deprived of a fat-rich diet and instead made to eat the usual, commercial dog food diet for an extended period.
Dogs also have an adaptable metabolism, which means they can switch from consuming lots of fat to consuming very little. This is important for wolves because they never know when their next meal will be or what it will contain. While dogs generally eat the same thing regularly, it is often better for them to switch foods often. This prevents dietary allergies from forming and contributes to a more well-rounded diet.
Most commercial dog foods today contain high amounts of carbs. High-protein dog foods are the only ones that even somewhat resemble a dog's natural diet. Because of this, practically any canine would benefit from switching to high-protein pet food.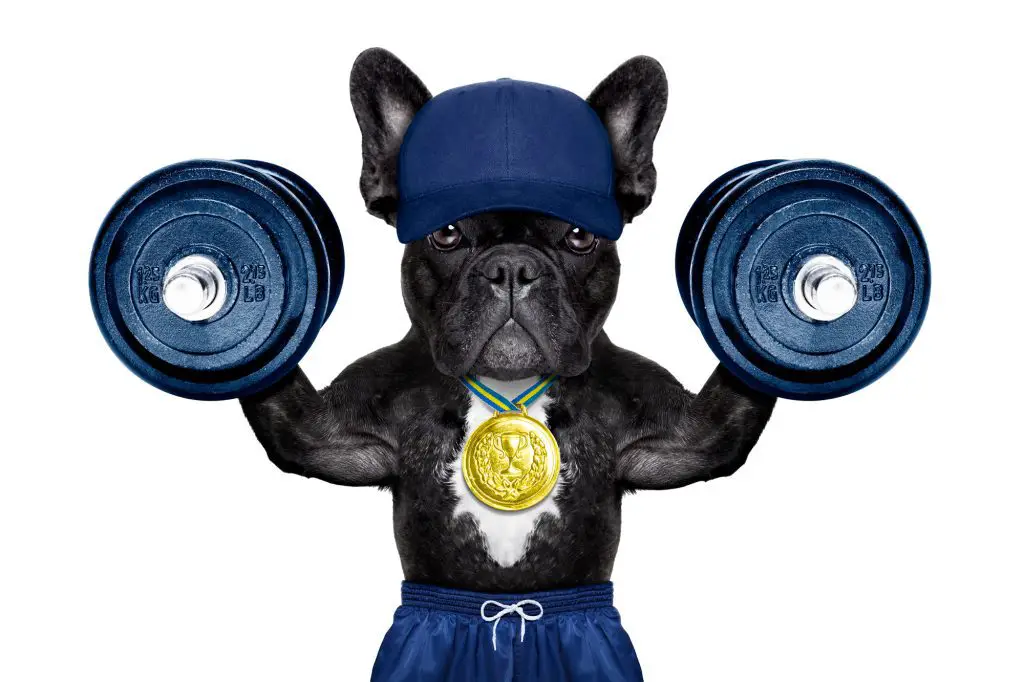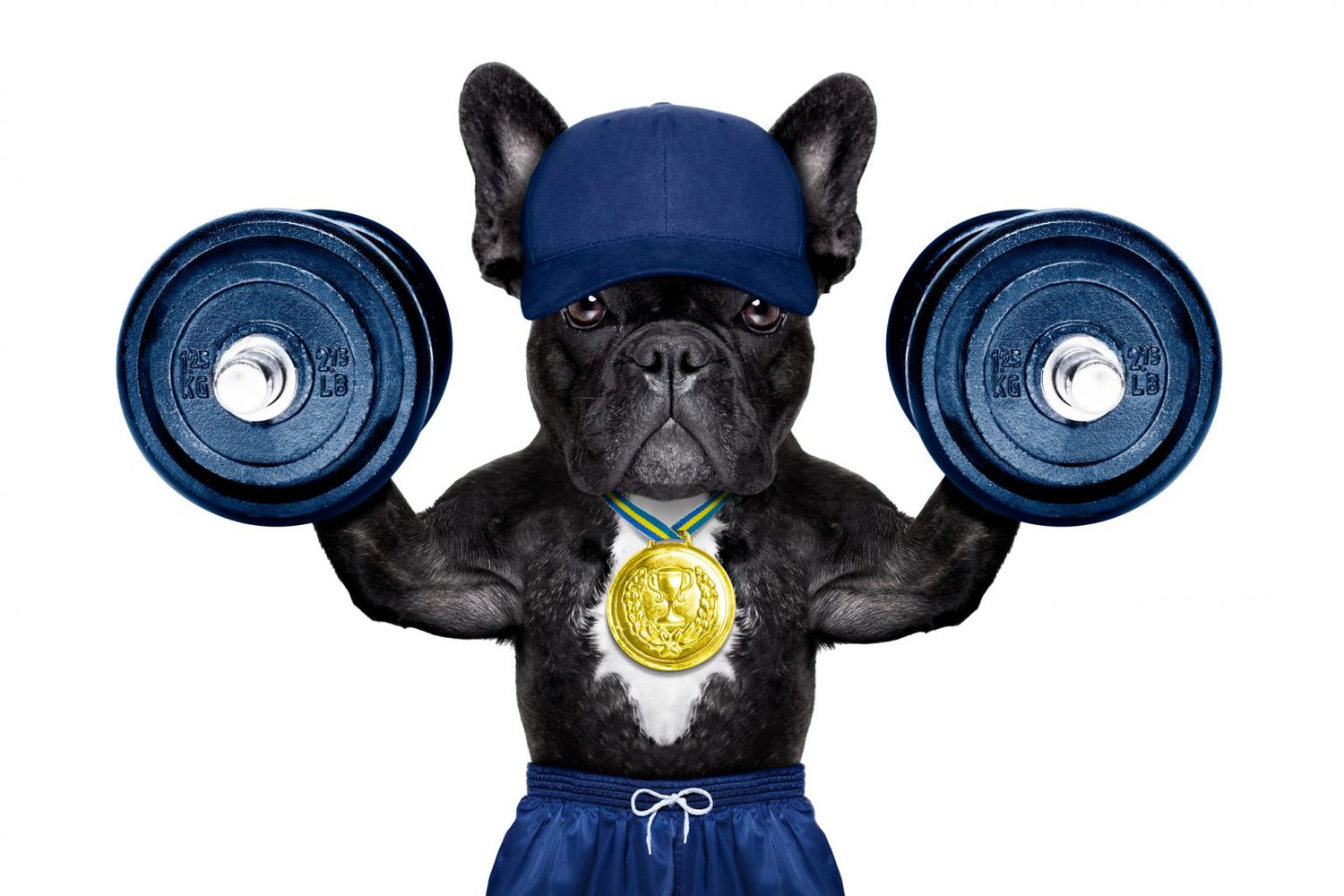 How Much Protein Should Dogs Get and What Types?
Based on previous studies, it appears that dogs choose to eat at least 30% protein in their diet. However, many commercial foods have less than that.  On the high end, the most protein a study ever found a dog eating was 52%.
Throughout nearly every study, dogs kept their carbohydrate level at about 7%. The principal fluctuation was between fat and protein. It seems that when lots of fat is available, dogs will attempt to fill up their fat stores in preparation for a future famine. When that famine didn't come, they lowered the amount of fat they ate and consumed more protein instead. This is called the "feast or famine" mindset.
It is also possible that dogs get some benefits from eating varying amounts of fat and protein that we have yet to understand.
Of course, dogs can eat more or less protein than their optimal amount between 30% and 52%. However, our dogs will thrive and experience health benefits by eating dog food that falls somewhere within this optimal range.
We should take another cue from our furry friends and remember to change their food regularly. Dogs aren't designed to eat the same diet day in and day out. Instead, they benefit from a diet that fluctuates between high-quality dog foods.
With that said, not all protein is created equal. Our dogs should get most of their protein from animal parts, such as meat and organs. Some "high-protein" dog foods will use little meat and instead increase the amount of protein in their food by using plant-based protein. Not only is this protein not in our dog's natural diet, but it is also void of amino acids and other substances our dog needs to thrive.
Furthermore, not all animal sources are made equal either. You should try and stick to proven protein sources, which are those that are most commonly found in dog food. Steer clear from "boutique" diets that use bison, salmon, venison, lamb, duck, kangaroo, and other unusual sources. Not all of these meats contain the required amino acid level and have been linked to health problems by the FDA.
Reviews of the Best High Protein Dog Foods
Our Pick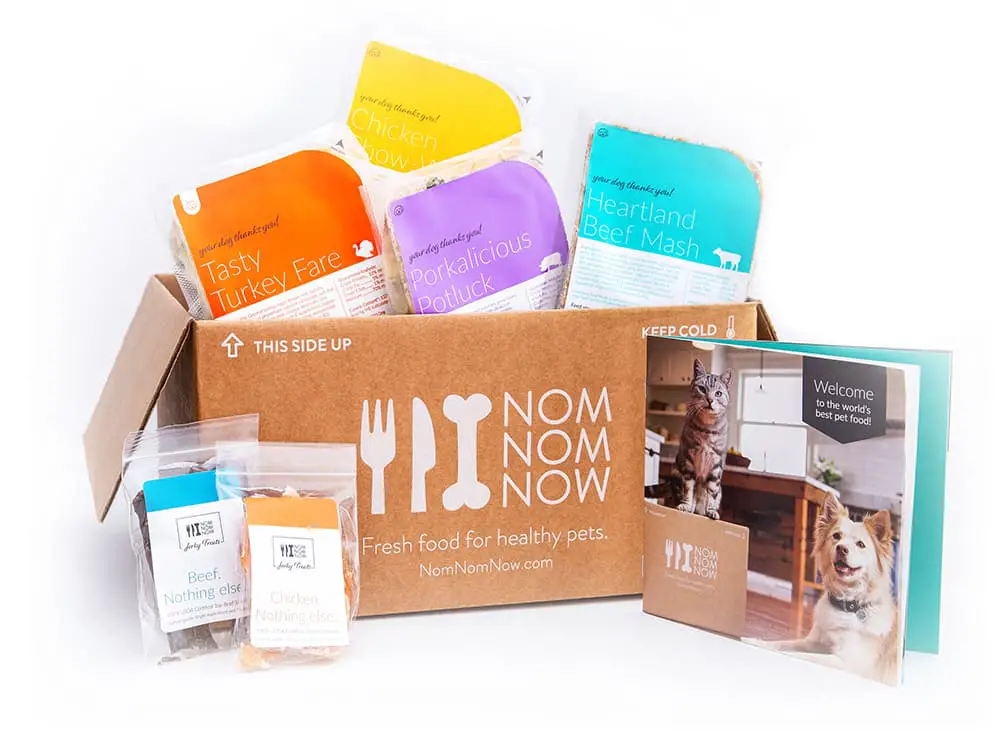 Fresh, human-grade ingredients
Near-perfect macronutrients
Convenient delivery
Doggypedia rating: 5/5
First 5 Ingredients: Diced chicken, sweet potatoes, yellow squash, spinach, and sunflower oil.
Macronutrients (Dry-Matter Basis):
36.96% Protein
26.09% Fat
23.91% Carbs
Best Fresh High-Protein Dog Food for Active Dogs
This grain-free dog food is one of the best on the market. It uses only fresh ingredients and delivers each meal in pre-portioned bags to your door at regular intervals. There are no peas included in the recipe, and all protein comes from chicken, which is an excellent option for many dogs. Protein is within the optimal range at 36.95%. This company also produces a variety of other formulas, though their macronutrient content is different from this one. You can easily subscribe to more than one recipe to help your dog get a complete diet and prevent pesky allergies from forming.
We also liked how this dog food contains added taurine and other essential nutrients for dogs, helping your pooch get a complete diet. It is also formulated by a veterinarian and meets AAFCO standards, a necessary consideration for any pet parent who wants to ensure that their pooch is consuming all the required nutrients. A full explanation of every included ingredient is available on the website in a video format. You can find an appropriate video underneath each food formula.
If you want to try this food out, you will need to subscribe through the company's website. It is not available in-store or through sites like Amazon. Just answer a few questions about your dog, and the website will automatically figure out your canine's optimal portion size. There is also a variety pack available if you want to test the food out before subscribing.
The only downside to this food is that it contains sweet potatoes as the second ingredient. However, we're confident based on the macronutrient content that this food is not merely stuffed with sweet potatoes. However, to be extra safe, we recommend switching your adult dog's diet regularly for healthy variety. Changing foods goes a long way in preventing potential health problems.
The Highest Protein Dog Food
Highest Protein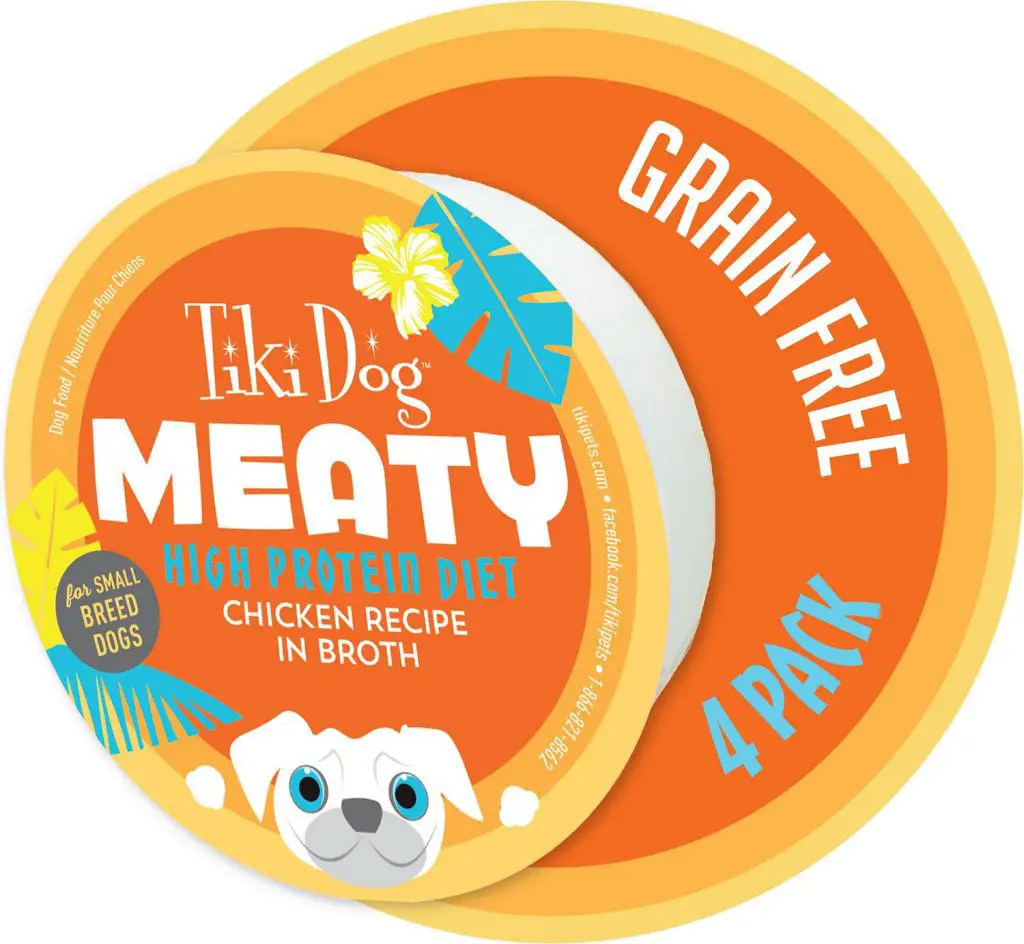 Grain-free
No peas, potatoes, or lentils
Very high amount of protein
Doggypedia rating: 4.5/5
Protein Source: Chicken
First 5 Ingredients: Chicken, Chicken Broth, Sunflower Oil, Calcium Lactate, Dicalcium Phosphate.
Macronutrients (Dry-Matter Basis):
70.00% Protein
10.00% Fat
5% Carbs
highest protein dog food
This wet dog food contains one ingredient – chicken. With real chicken as the first ingredient, you can bet that your canine is getting quality protein. Furthermore, chicken broth is the next ingredient, which is yet another source of protein. Because this is wet food, the chicken broth is the main ingredient that adds moisture. One of the reasons this food is high in protein is because of the use of chicken broth instead of water. While water adds moisture, it does not add much else. On the other hand, the chicken broth adds protein and some essential nutrients to the food.
Sunflower oil is the third ingredient. In this case, it works as a nutritional supplement. This oil is high in omega-6 fatty acids, which are essential for any dog. However, sunflower oil does not contain any omega-3s and is, therefore, less nutritionally complete than flaxseed oil.
After this ingredient, we get into nutritional supplements. For example, calcium lactate is a calcium supplement. We all know that dogs need calcium for healthy bones, so this is an ingredient that almost all dog foods contain. Dicalcium Phosphate is a similar supplement that increases the calcium content in a diet. After the first five ingredients, all the rest are nutritional supplements that make this a complete dog food.
In other words, this supplement contains chicken and nutritional additives. That's it. There are no grains, peas, potatoes, chickpeas, or anything else. Because our dogs would eat almost all meat in the wild, this is a great option. Plus, the carbohydrates are extremely low at only 5%, which is very close to what our dogs would naturally eat.
However, our one complaint about this food is that the protein content is exceedingly high. At 70%, this food contains more protein than most dogs would likely eat if given control of their diet. We would have preferred the fat content to be higher and the protein content to be a little lower. For dogs that struggle to maintain a healthy weight or breeds that are prone to obesity, this might be an excellent choice.
This food is also only designed for small breeds. So, if you have a large breed, you're going to need to look elsewhere for your dog's food.
High-Protein Dry Dog Food
Dry Pick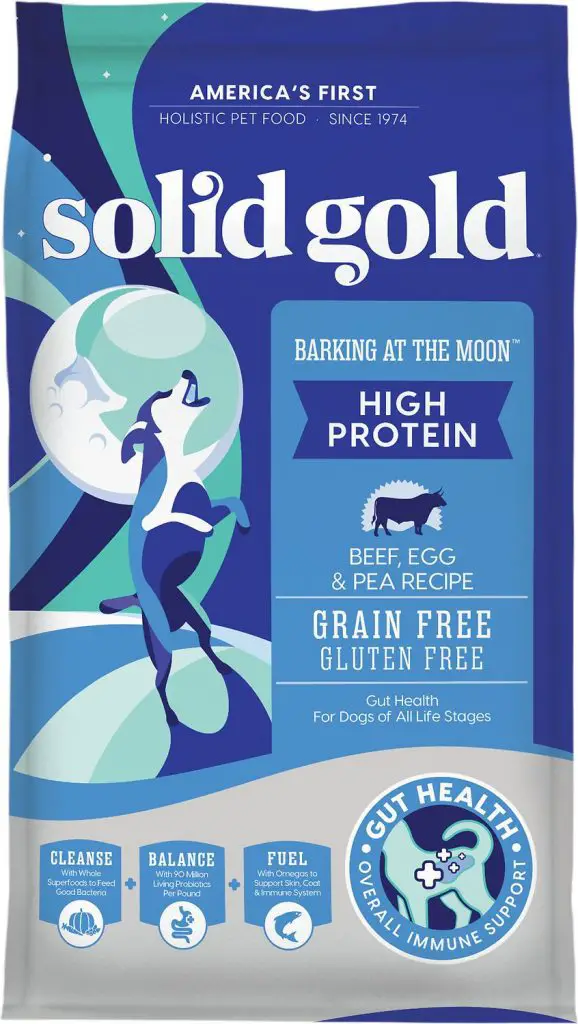 Extremely high amounts of protein
Gluten and grain-free
High levels of Omega 3s
Doggypedia rating: 3.5/5
Protein Source: Beef, Fish, Peas, and Eggs
First 5 Ingredients: Beef, Ocean Fish Meal, Pea Protein, Potatoes, Dried Eggs.
Macronutrients (Dry-Matter Basis):
45.56% Protein
20% Fat
25.56% Carbohydrates
This adult dog food contains perhaps the highest level of protein you're going to find in any commercial dog food. At 45.56%, this dog food is nearly half protein and is approaching the upper limit of the optimal protein range. Much of this food's protein comes from real beef and ocean fish meal. While beef is an excellent meat source for dogs, fish is not a great source because it is low in certain amino acids and is connected with heart problems in dogs.
Furthermore, pea protein is the third ingredient. This is arguably the worst source of protein you could put in dog food. Peas are void of many of the amino acids and other nutrients that dogs often get from meat. They are connected with severe heart conditions through several studies and the FDA. Potatoes, the fourth ingredient, have also been linked with similar, life-threatening heart problems.
Further down in the ingredient list, you'll also find peas listed again – this time in their whole form. This is a significant reason this food only scored a 4. Merely choosing the food with the highest protein content is not always the best option, and this dog food highlights that perfectly.  
Despite including quite a lot of peas and potatoes, this dog food does not include any added Taurine. This is a huge red flag for us. Taurine is essential for heart function, and peas and potatoes are thought to interfere with its absorption. Typically, dogs get this vital nutrients from meat. However, because this dog food includes so much pea protein, dogs may not be getting the amount of taurine they need. In other words, peas are a terrible substitute for meat.
As far as we were able to tell, this dog food was also not formulated by a veterinarian nutritionist, which might explain some of the problems with their formula.
Also Great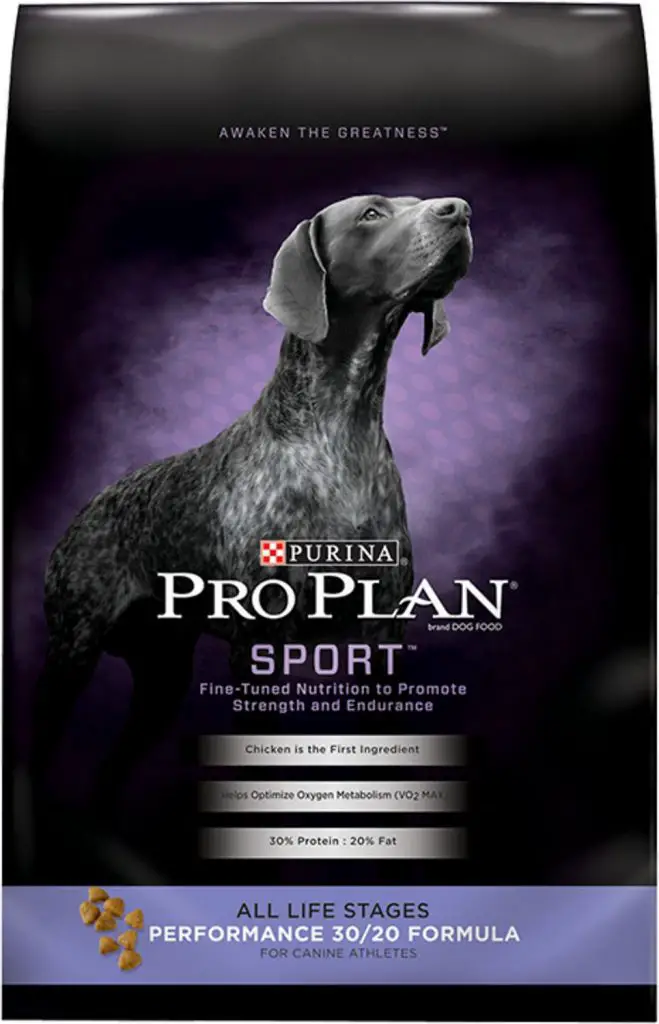 Inexpensive
Widely accessible
No peas, lentils, or potatoes
Doggypedia rating: 4/5
Protein Source: Chicken, Corn, and Poultry
First 5 Ingredients: Chicken, Corn Gluten Meal, Brewer's Rice, Animal Fat, and Poultry by-product meal.
Macronutrients (Dry-Matter Basis):
34.09% Protein
22.73% Fat
34.09% Carbohydrates
A high protein and fat dog food
Purina is a quality dog food brand that is inexpensive and easily accessible to most people living in the United States. In many cases, you can pick up a bag of Purina kibble at your local supermarket. This particular dry dog food formula has an above-average protein content that is within the optimal range for adult dogs. The vast majority of the protein comes from an animal source. For example, the first ingredient in this food is chicken, with various meat-concentrates like poultry by-product meal spread throughout the ingredient list.
There are no potentially dangerous ingredients in this dog food, either. There are no peas, potatoes, lentils or other food items that have been connected to heart disease. Furthermore, there are no unproven meat sources either, with most of the meat ingredients coming from chicken. Of course, grain in the form of corn is included as the second ingredient. However, most dogs are not allergic to grain. They're more likely to be allergic to a meat protein source, like chicken. Furthermore, we see most nutrition problems amongst domestic dogs coming from grain-free dog foods. In nearly all cases, it is better to choose a dog food that includes grain over one that contains peas.
While we do recommend this dog food, it isn't perfect. Some of the protein does come from a plant, which is not as nutritionally complete as animal-protein. Some substandard meat products are included, like poultry by-product meal. However, because the source of this by-product is named, this is an inclusion that we can overlook. The amount of carbohydrates in this dog food is higher than we would like. We would have liked to see more fat inclusion and fewer carbs.
Still, despite these disappointments, this dog food is an excellent choice for man canines, especially when you take price into account.
Also Great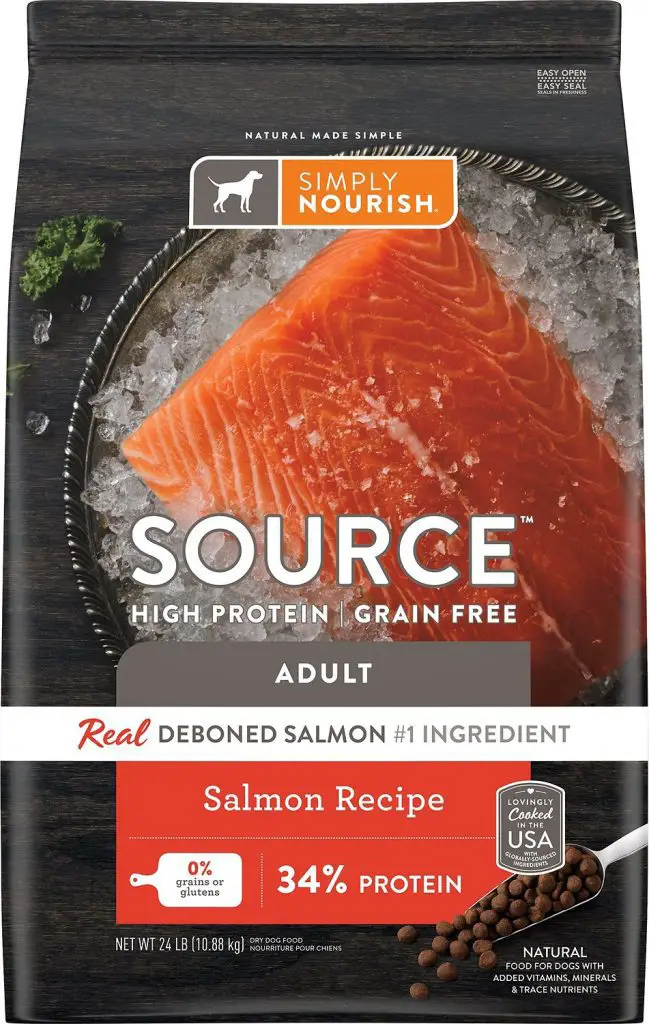 Includes real deboned salmon
Grain-free
Includes added healthy vitamins and minerals
Doggypedia rating: 4/5
Protein Source: Salmon, Salmon Meal, Chicken Meal
First 5 Ingredients: Deboned Salmon, Salmon Meal, Chicken Meal (Source of Glucosamine), Dried Peas, Dried Potatoes.
Macronutrients (Dry-Matter Basis):
37.78% Protein
15.56% Fat
37.78% Carbs
This is a pretty decent kibble that we would recommend for most dogs. It has a high protein content at 37.78%, though the carbohydrate amount is a little high for what we typically look for. We would have loved to see the fat and carb numbers switched. As we have discussed, dogs tend to prefer a pretty even amount of protein and fat with little carbs. Instead of providing those macronutrients, this formula gives us even amounts of protein and carbs with low fat.
With that said, the protein amount is higher than most dog foods. Furthermore, only high-quality protein is used. This food is not stuffed with pea protein or anything of that sort, though peas are included as one of the ingredients. Instead, salmon meal and chicken meal are used. Don't let the "meal" part of these ingredients fool you; both of these protein sources are pretty high-quality. The term "meal" means that it includes many pieces of chicken, including the meat, skin, and bones, are used. This is how a dog would eat their food in the wild, and the bones and other parts of the chicken that are included are excellent sources of many nutrients.
We typically do not recommend having fish as the first source of protein, as these dog foods have been associated with some heart problems in dogs by the FDA. But this dog food also includes quite a bit of chicken, which helps to balance out the fish.
This pet food does include a few items that we aren't impressed by, namely peas and potatoes. Both of these foods do not contain many nutrients that dogs need, and they are thought to interfere with Taurine absorption. Many dogs who eat peas and potatoes end up with heart problems relating to Taurine deficiency. However, this dog food does not contain these ingredients until lower in the ingredient list and they are not relied on for the bulk of nutrition.
All in all, this dog food is far from perfect, but it is much better for your pet than many on the market. We would not feel bad feeding our dogs this food and consider it a good option for most canines.
Runner up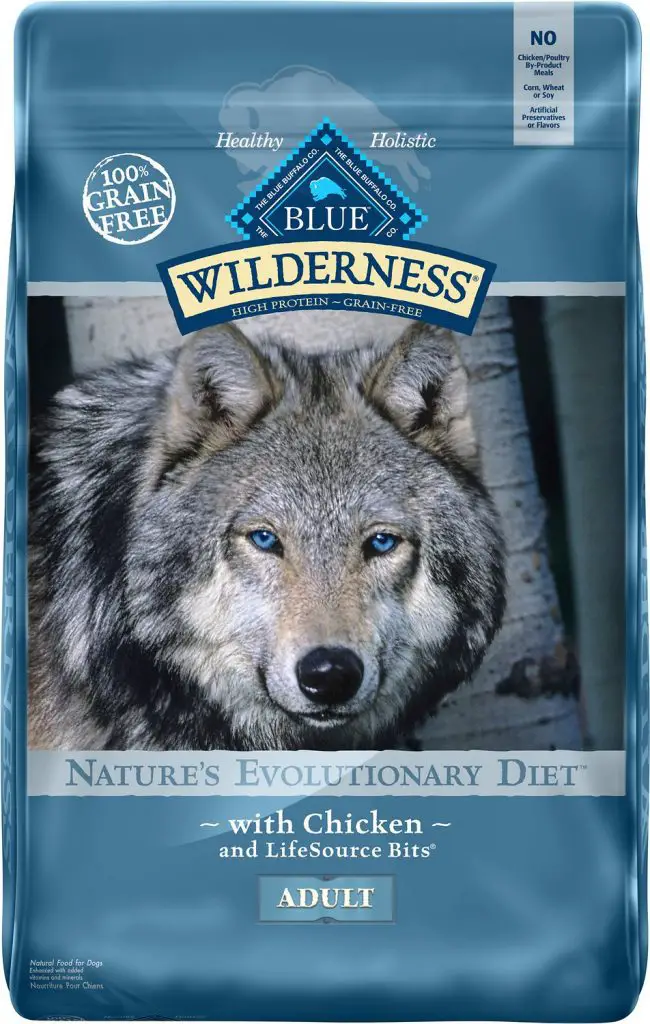 No artificial preservatives, colors, or flavors
Real chicken as the first ingredient
Grain-free
Doggypedia rating: 3/5
Protein Source: Chicken and Peas
First 5 Ingredients: Deboned Chicken, Chicken Meal (Source of Glucosamine), Peas, Pea Protein, Tapioca Starch.
Macronutrients (Dry-Matter Basis):
37.78% Protein
16.67% Fat
36.67% Carbs
We should start this out by saying that Blue Buffalo's kibbles have been connected to various cases of heart problems that are caused by nutrition. At first glance, this dog food seems excellent, it contains deboned chicken as the first ingredient and chicken meal as the first one. Both of these sources are high-quality protein, and the chicken meal includes many vitamins and nutrients dogs would eat in the wild.
However, peas and pea protein follow up as ingredient number three and number four. Peas have been linked to heart disease by various studies and the FDA because they do not contain much Taurine, which is a nutrient found in most meats. Furthermore, because peas protein is only the fourth ingredient, we know that this dog food is not getting all of its protein from a high-protein source. Instead, it is relying on peas, which are not nutritionally complete, for their high protein content. In other words, instead of using more meat in their grain-free recipe, they're just packing their food full of peas.
Further down in the ingredient list, peas are included two more times in the form of pea starch and pea fiber. While there is nothing wrong with these ingredients by themselves, the fact that this formula contains SO MANY PEAS really concerns us. Because peas have been linked to heart problems and this brand has caused a high number of heart problems amongst canine, we cannot recommend it.
Furthermore, the macronutrient content is not where we would like it to be, either. While protein is decently high at 37.78%, carbohydrates are also much higher than we would like. This is probably due to the heavy use of peas as well. Fat is even lower than we would have liked. As we have seen, dogs tend to eat mostly protein and fat when given control over their diet. However, this food is made up of mostly carbs and protein.
High-Protein Wet Dog Food
Wet Pick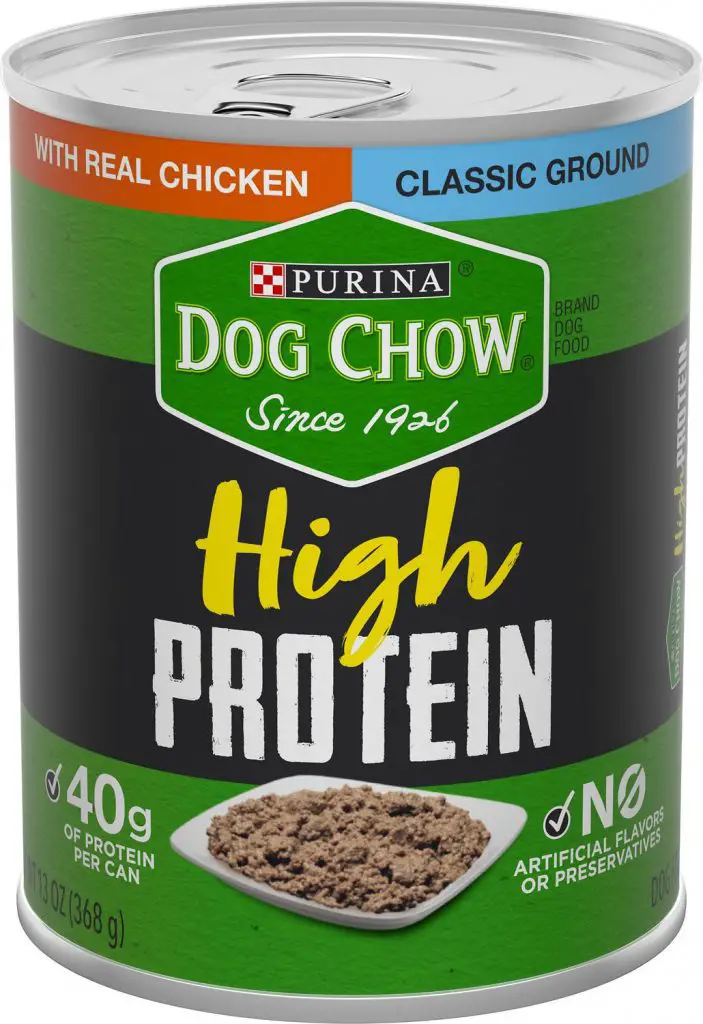 Very inexpensive
Very high amount of protein
Pea-free
Doggypedia rating: 4.5/5
Protein Source: Chicken, Meat By-Products, and Liver
First 5 Ingredients: Water, Chicken, Meat By-Products, Liver, and Soy Flour.
Macronutrients (Dry-Matter Basis):
50% Protein
13.64% Fat
 22.73% Carbohydrates
Best Inexpensive High-Protein Dog Food
This is one of the better dog foods we've reviewed. It has an extremely high amount of protein at 50%, which is excellent. That's very close to the under of the optimal protein threshold, however, so some pets might not need a protein content this high. For extremely active canines and those with certain health conditions, this is a wonderful choice. Plus, in general, more protein is almost always better than lower protein.
One thing that stood out to us about this dog food, however, is that it lists meat by-products as only the third ingredient. By-products are not necessarily harmful. They are often very nutritionally dense and contain high levels of protein, which is why they are usually found in high-protein dog foods. By-products are everything that is left over after the choice cuts of meat have been removed. Think chicken feet, beaks, cartilage, under-developed eggs, etc. In the wild, dogs would naturally eat these parts of the animals they kill and many are a great source for certain nutrients.
However, this dog food does not specify which animal or animals the by-products it includes come from. Firstly, this can be a problem for animals with specific allergies. We have no idea is this food contains any beef, even though beef is not included on the label. Hooves and beef cartilage could easily be included in the "by-products" ingredient. Secondly, low-quality meats like roadkill can be included in this vague meat by-product category. You just don't know.
Besides that one possibly low-quality ingredient, though, this is a great dog food. It is not grain-free, though most dogs do not benefit from avoiding grains in their diet. This dog food also includes a full battery of added nutrients and vitamins, which is essential in ensuring that your dog eats everything they need to. There are multiple flavors available as well, all of which are focused on quality proteins. You can even purchase a variety pack if you'd like, which includes three different high-protein dog food formulas.
Also Great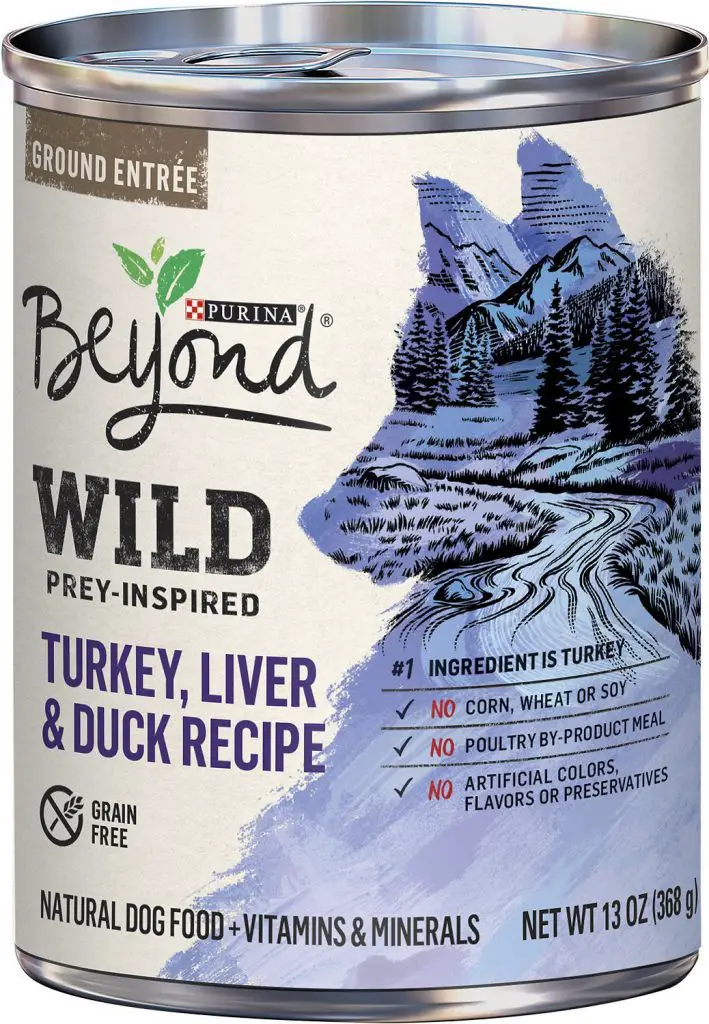 Grain and Pea free
Fairly inexpensive
Near perfect macronutrients
Doggypedia rating: 5/5
Protein Source: Turkey, Chicken, Liver, and Duck
First 5 Ingredients: Turkey, turkey broth, chicken, liver, and duck.
Macronutrients (Dry-Matter Basis):
40.91% Protein
31.82% Fat
13.64% Carbohydrates
Best High Protein and High Fat Dog Food
Out of all the foods we've reviewed, this is one of the best that is also decently inexpensive. It contains a high amount of protein at nearly 41% as well as an appropriately high amount of fat. Carbs are kept low at only 13.64%. This is better than most other dog foods, especially in the canned department. As the description promises, this pet food is similar to what your dog would eat in the wild.
Furthermore, this food only includes meat products in the ingredient list except for the added essential nutrients like B vitamins and potassium. The protein source is varied as well, which can help your pet get a complete diet. When your dog is eating more than one protein, they're getting a well-rounded diet and are more likely to fill all of their dietary needs. With real chicken, duck, and turkey as the protein sources, this food proves to be well-balanced.
We like how various organ meats are included in this recipe. Organs are very nutrient-dense and an excellent source of protein, iron, and many essential nutrients your dog needs to stay healthy. The only complaint we have is that one of the "liver" ingredients does not have a source specified. In other words, we don't know exactly what animal that liver came from. However, because liver is defined specifically instead of something vague like "by-product meal," we can rest assured that this is likely a quality ingredient. 
This recipe does not include any grains, artificial flavors, colors, or preservatives. It is about as clean and protein-dense as it gets, especially at this price point. This food is approved for all life stages, including senior dogs.
Keep in mind; we only recommend this specific flavor in wet food this highly. While all meals in this collection are pretty good, this is the best one. The dry food does include pea protein, however, though the wet food does not contain any. 
Benefits of Protein
A dog's diet matters. Protein is essential for our dogs and us. It is the main building block for all skin, hair, muscle, and tissue in your dog's body. There are quite a few benefits to feeding your dog a protein-rich food.
Lower chance of obesity. Dogs who consume high-protein diets often consume fewer calories than dogs on high-carbohydrate diets. Proteins sit around in the intestines for longer and help your dog stay full for longer. If your dog is obese or needs to lose a little weight, switching to a high-protein diet can be especially beneficial.
Increased skin and hair health. Protein is an essential building block for skin and hair. When your dog consumes enough protein, it will also improve the health of their skin and coat. If your dog sheds a lot, switching them to a high-protein diet might be helpful.
 Improved muscle quality. Protein is used to make muscles. If your dog is a canine athlete or is more active than most dogs, high-protein dog food can help them bounce back from their hours spent exercising. Similarly to humans, dogs who eat more protein will be able to repair their muscles faster.
Why You Should Trust us
I've been a dog owner my whole life, growing up with puppies to adopting my newest pup, Max. We have reviewed hundreds of different dog foods over the years, so we have an expert view of what the market currently offers. All of our reviews are based on scientific evidence, not marketing campaigns or ads. We carefully stay up to date on the latest research so that we can recommend only the best to you and your pets. 
Before making it into any article, each dog food has to pass a rigorous review process that involves more than just surface-level information. We calculate all of our own macronutrient data. While we pay attention to the ingredient list, we also consider macronutrient ratios and recall frequency. Additionally, we speak to the dog food brands, vets, and dog trainers to make sure our recommendations are the most healthy options for your dog.
Read More Dog Food Reviews: Best High Calorie Dog Food and Best Maltese Dog Food