Bernese Mountain Dogs are absolutely huge. They're built to be powerful and work hard. Despite their large size though, they are quite loveable and affectionate. They live to please their owners and are great with children. 

Their thick, silky coat is luxurious but also designed for practical work. They are obviously designed for colder climates and do have some difficulties staying cool in more tropical areas. 

Getting a Bernese Mountain Dog is a huge responsibility. You have to feed such as large canine and take care of their grooming needs. Plus, you also have to come up with a fitting name, which can be rather difficult. 

We've put together this sizeable list of names that are perfect for Bernese Mountain dogs. Some of these names are quite popular, like "Charlie", while others are rarer. Whatever you're looking for, you'll find it on this list.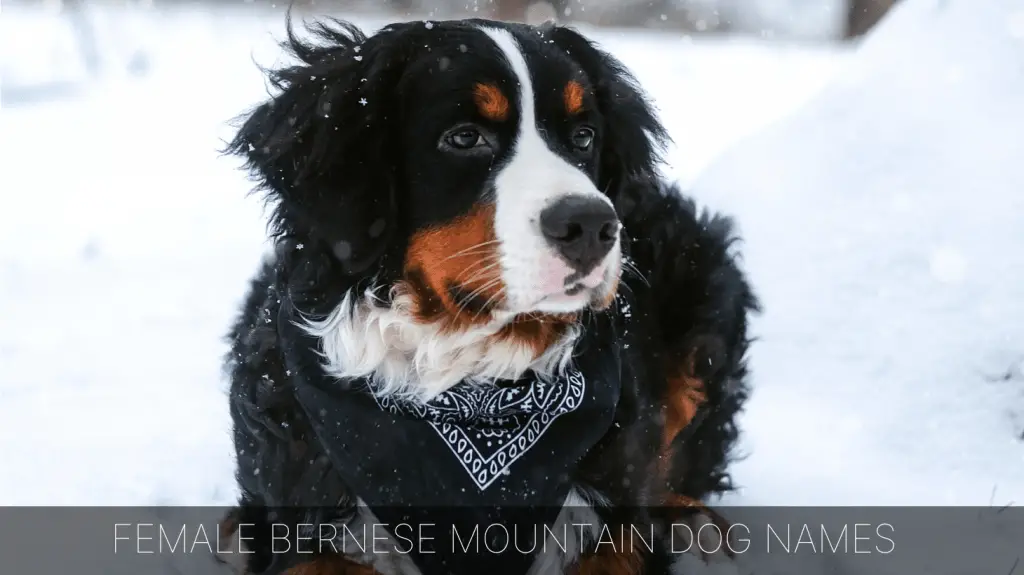 Female Bernese Mountain Dog Names
Female Bernese Mountain dogs are a little smaller than their male counterparts. Still, they grow quite large and can reach nearly 100 pounds. Choosing the perfect feminine name for these hardworking dogs can be difficult. Here is a list of some of our favorites. 
Abby
Ada
Addie
Adelaide
Adeline
Agatha
Agnes
Alexia
Alexis
Alice
Allie
Alyssa
Amari
Amber
Amelia
Amelie
Amina
Angel
Angelica
Angie
Aspen
Athena
Aubrey
Autumn
Bean
Bella
Bertha
Bessie
Betsy
Betty
Bianca
Billie
Bindi
Birdie
Biscuit
Blair
Blakely
Blanche
Blondie
Blossom
Bonnie
Brandy
Brielle
Brooklyn
Brownie
Brynn
Buffy
Cadence
Callie
Cameron
Camilia
Camille
Candy
Carla
Carly
Carmela
Carmen
Carolina
Carolyn
Casey
Cassie
Cecelia
Chance
Chanel
Charlie
Charlotte
Clarissa
Clementine
Cleo
Clover
Coco
Cookie
Daisy
Dakota
Dallas
Demi
Destiny
Diamond
Diva
Dixie
Dolly
Dolores
Dora
Dorothy
Dory
Dot
Dottie
Duchess
Eden
Edie
Edith
Elsa
Elsie
Ember
Erin
Esmerelda
Estelle
Esther
Felecity
Fern
Frida
Gabby
Gemma
Genesis
Geneva
Georgia
Geraldine
Gia
Gidget
Gigi
Ginger
Giselle
Gloria
Goldie
Grace
Greta
Gretchen
Gwen
Gypsy
Hadley
Haley
Halle
Hallie
Hannah
Heidi
Henley
Hershey
Holly
Honey
Hope
Ibby
Ida
Imani
Indigo
Inez
Ingrid
Irene
Iris
Isabella
Isla
Ivory
Ivy
Izzy
Jackie
Jada
Jade
Jamie
Jane
Janelle
Jasmine
Jenna
Jersey
Jessie
Jewel
Joan
Jolene
Jordan
Josie
Journey
Joy
Kamila
Karina
Karla
Karma
Kate
Kay
Kayla
Kelly
Kelsey
Kendall
Kennedy
Kenya
Kiara
Kiki
Kimmie
Kinley
Kinsley
Lassie
Layla
Leia
Lena
Leona
Leslie
Lexy
Liana
Libby
Liv
Lizzy
Lois
Lola
London
Lorelai
Loretta
Lorraine
Louise
Lovely
Lucia
Madison
Mae
Maeve
Maggie
Maisie
Makayla
Malia
Mallory
Mandy
Mango
Maple
Mara
Margaret
Margot
Marianna
Marilyn
Mia
Mika
Mila
Miley
Miriam
Missy
Mitzi
Mocha
Molly
Morgan
Moxie
Muffin
Mya
Myra
Nadia
Nala
Nanette
Naomi
Nell
Nellie
Nettie
Nia
Nikita
Nikki
Nina
Noel
Nola
Opal
Oreo
Paige
Paisley
Pandora
Paris
Parker
Patsy
Pebbles
Phoebe
Piper
Pippa
Pippy
Pixie
Polly
Poppy
Portia
Raven
Reese
Regina
Remy
Riley
Rio
Rita
River
Roxy
Ruby
Ruth
Ruthie
Rylie
Sadie
Sasha
Sassy
Savannah
Sawyer
Scarlet
Scout
Selena
Selma
Serena
Serenity
Shadow
Sheba
Silvia
Snickers
Snookie
Snowball
Sookie
Sue
Sugar
Suki
Summer
Sunny
Susannah
Susie
Sweetie
Sydney
Sylvia
Tabitha
Talia
Taylor
Tessa
Thea
Theo
Tiana
Tilly
Tootsie
Trixie
Trudy
Twinkie
Ursula
Valentine
Valeria
Velma
Venus
Vera
Victoria
Viola
Violet
Virginia
Vivi
Vivienne
Vixen
Whitney
Winter
Wren
Xena
Yasmin
Yvonne
Zara
Zelda
Zia
Zoe
Zola
Zuri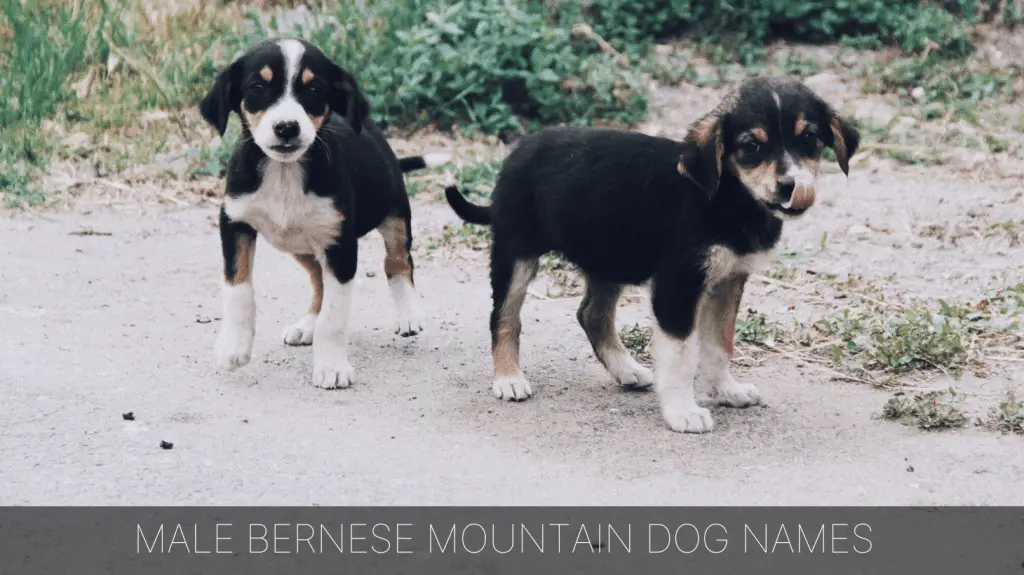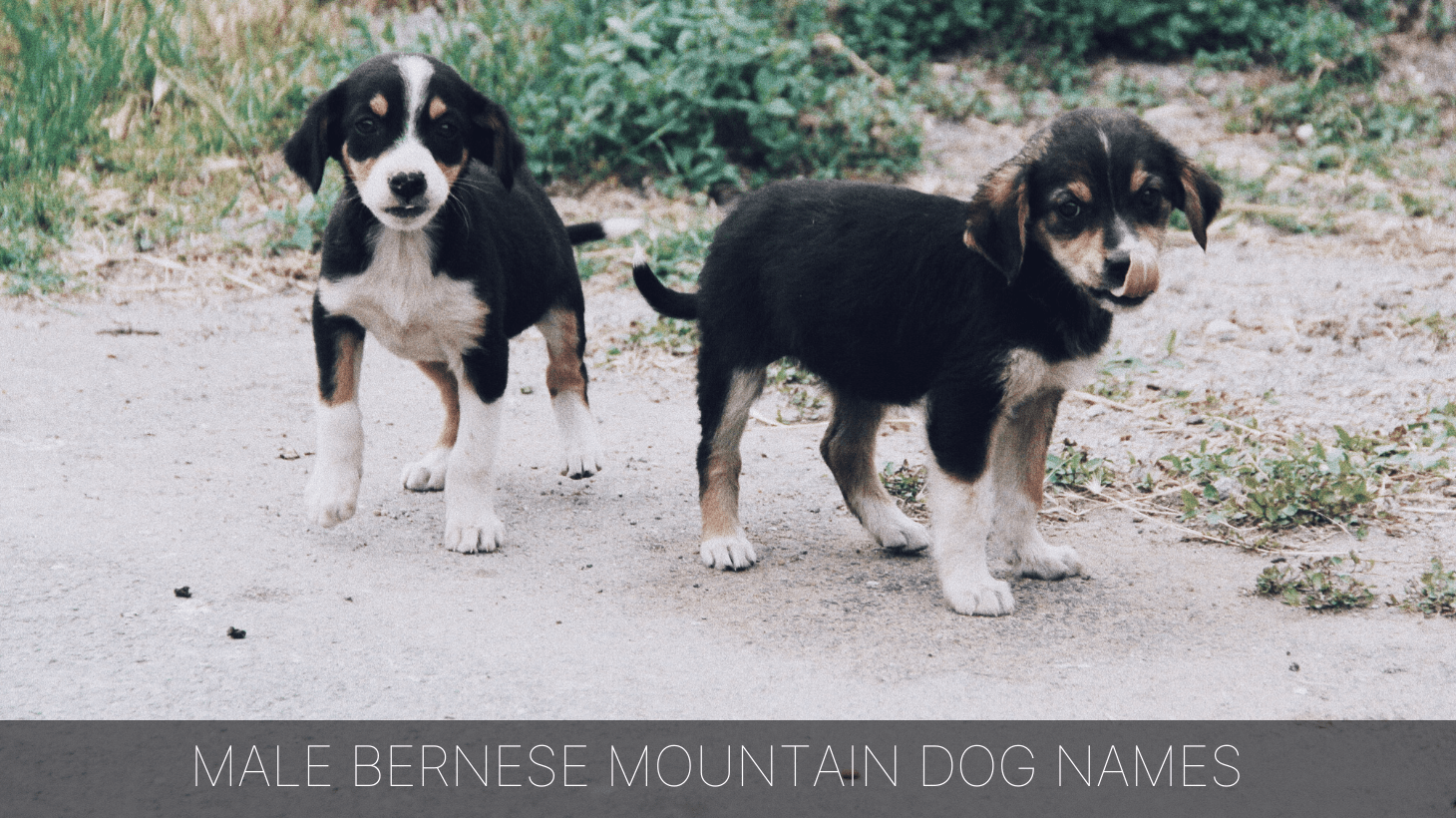 Male Bernese Mountain Dog Names
Male Bernese Mountain Dogs get incredibly large at nearly 115 pounds. They're massive and imposing, but not aggressive by any means. They're built to work in the hardy climate of Switzerland and it shows. Check out these fitting names you might consider for your canine:
Abbott
Alfie
Alford
Ali
Alistar
Alvin
Amos
Andre
Andy
Angus
Apollo
Augustus
Austin
Baron
Barry
Barton
Bruce
Bruno
Brutus
Bryce
Bubba
Buck
Bucky
Buddy
Buster
Butch
Buzz
Captain
Chewy
Chico
Chief
Colby
Coleman
Colin
Conrad
Cooper
Corky
Cornelius
Cosmo
Crawford
Damien
Dane
Daniel
Dante
Darby
Diego
Diesel
Dixon
Doc
Dodge
Domingo
Donnie
Donovan
Drew
Dudley
Duffy
Duke
Dusty
Dylan
Earl
Easton
Eddie
Edgar
Edison
Edmund
Edward
Edwin
Eldon
Eli
Emerson
Emmett
Emory
Ernest
Eugene
Evan
Evander
Everett
Ezra
Fabio
Fang
Farley
Felix
Felton
Fenton
Fido
Finley
Finn
Fisher
Freeman
Fritz
Gage
George
Gerald
Ghost
Gilbert
Gizmo
Goose
Gordy
Grady
Graham
Griffin
Harold
Harrison
Harry
Hart
Harvey
Hawkeye
Hayes
Heath
Hector
Henry
Herbert
Herman
Hilton
Hogan
Hudson
Hugh
Hunter
Hyatt
Indy
Ira
Irving
Ivan
Ives
Jack
Jackson
Jacob
Jag
Jake
James
Jameson
Jasper
Java
Jax
Jefferson
Jerry
Jesse
Jet
Jethro
Joey
John
Johnny
Jonas
Joseph
Judge
Junior
Kane
Kendrick
Kent
Kilo
King
Kobe
Koda
Kona
Lambert
Lance
Lane
Langston
Lars
Lawrence
Lemuel
Lenny
Leo
Leonard
Leroy
Levi
Lewis
Liam
Lincoln
Linus
Logan
Loki
Louie
Lucky
Marty
Mason
Maverick
Max
Maximillian
Maximus
Maxwell
Mccoy
McKinley
Mercer
Meyer
Michael
Mickey
Milburn
Miles
Miller
Milo
Milton
Moe
Mojo
Monroe
Moose
Morris
Mort
Morton
Murphy
Nelson
Nero
Newton
Nico
Niles
Orson
Oscar
Otis
Otto
Overton
Owen
Ozzy
Pablo
Paco
Parker
Parley
Patch
Peanut
Pepper
Percival
Percy
Petey
Phillip
Pierce
Piper
Pogo
Pongo
Porter
Prince
Quincy
Quinton
Radar
Ralph
Rambo
Randall
Ranger
Rascal
Raymond
Rebel
Reed
Reese
Reggie
Remy
Reuben
Rex
Richard
Ricky
Rider
Riley
Ringo
Ripley
Robert
Rocco
Rockwell
Rocky
Romeo
Roscoe
Roy
Russell
Rusty
Sam
Sammy
Samson
Sarge
Saul
Sawyer
Sebastian
Sedrick
Shadow
Shamus
Sheldon
Shelton
Sherman
Sherwood
Shiloh
Sigmund
Silas
Simba
Simon
Skip
Smokey
Snoopy
Socks
Sparky
Spencer
Spike
Spot
Stanley
Stewie
Stitch
Storm
Taz
Teddy
Tesla
Thaddeus
Theo
Theodore
Thor
Tobias
Tucker
Tyler
Tyson
Ulysses
Vaughn
Vernon
Victor
Vince
Vincent
Vinnie
Walter
Warren
William
Wilson
Winston
Woody
Wyatt
Wylie
Yogi
Yoshi
Yukon
Zane
Zeus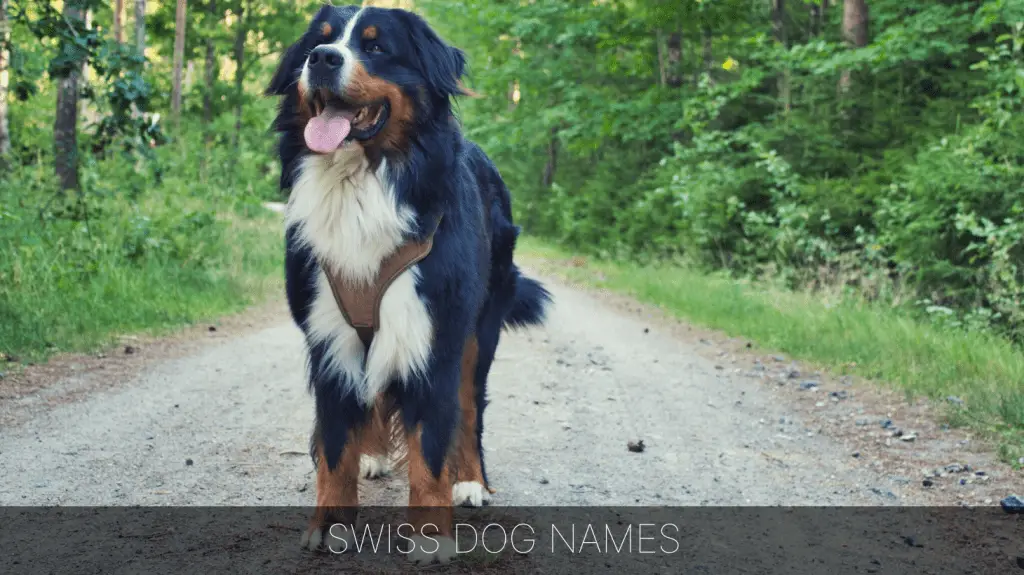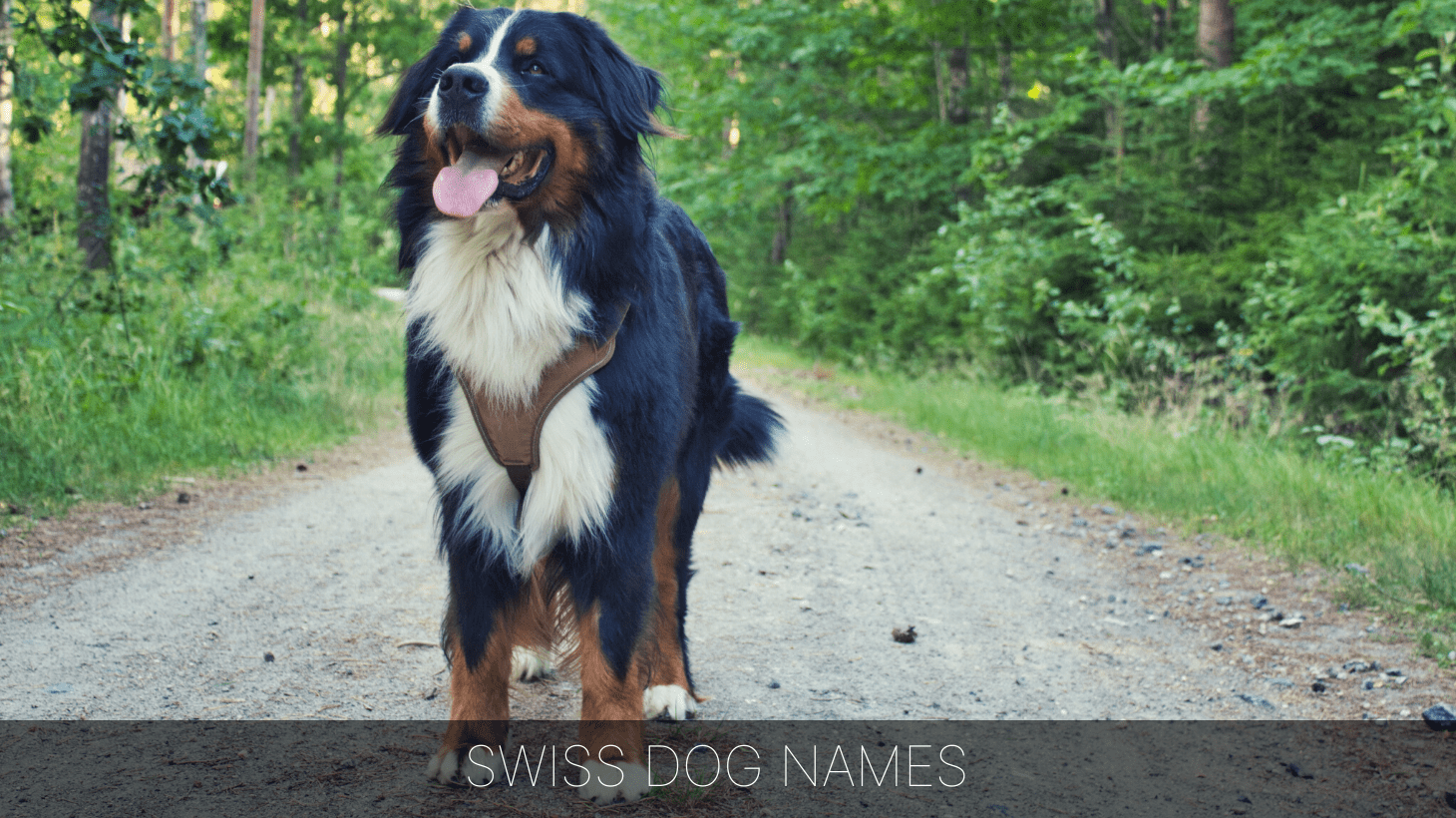 Swiss Dog Names
Bernese Mountain dogs are from Switzerland, so it only makes sense to give them a Swiss name. Here are some names that are currently popular in Switzerland:
Aaron: "high mountain"
Abel: "breath"
Abigail: "my fatehr is joy"
Abraham: "father of many"
Adam: "man"
Adelaide: "noble type"
Adolf: "noble wolf"
Agapito: "beloved"
Agnes: "lamb"
Alan: "little rock"
Alba: "dawn"
Albert: "noble and bright"
Aldric: "ruler"
Baldo: "bold"
Benigno: "friendly"
Benno: "bear"
Bernard: "bear"
Carmen: "song"
Chantal: "stony"
Clara: "clear" and "bright"
Clotilde: "fame"
Conrad: "brave"
Cordula: "heart"
Corinna: "maiden"
Diana: "heavenly"
Dirk: a type of dagger
Dorothea: "gift"
Duilio: "war"
Ebbe: "wild boar"
Edgar: "wealth" and "spear"
Felix: "lucky"
Ferdinand: "journey"
Ferruccio: "iron"
Filibert: "brightness"
Fioralba: "flower" and "dawn"
Fleur: "flower"
Frediano: "cold"
Gero: "pear"
Gilbert: "hostage"
Ginevra: "juniper"
Hartmann: "brave man"
Horst: "wood" as in a forest
Irene: "peace"
Iris: "rainbow"
Korbinian: "raven"
Kriemhild: "mask battle"
Laura: "laurel"
Leo: "lion"
Leonard: "brave lion"
Lili: "lily"
Linus: "flax"
Loup: "wolf"
Luce: "light"
Luna: "the moon"
Manfred: "strength" and "peace"
Martha: "the lady"
Maylis: "mother"
Meine: "strength"
Melanie: "black"
Maria: "mine"
Minna: "love"
Mirabelle: "wonderful"
Mirko: "peace"
Morgan: "sea"
Nevio: "mole"
Norbert: "north"
Olivia: "olive"
Oriana: "gold"
Ornella: "flowering ash tree"
Ortrun: "secret"
Ortwin: "friend"
Oscar: "deer friend"
Palmiro: "pilgrim"
Paul: "humble"
Peter: "stone"
Philomena: "mind" or "strength"
Phyllis: "foliage"
Placido: "calm"
Porfirio: "purple dye"
Primo: "first"
Prosper: "fortunate"
Rachel: "ewe"
Raymond: "protector"
Regina: "queen"
Renard: "fox"
Rubina: "rudy" and "red"
Rudolf: "famous wolf"
Salome: "peace"
Learn More: Top 350+ Nerdy Dog Names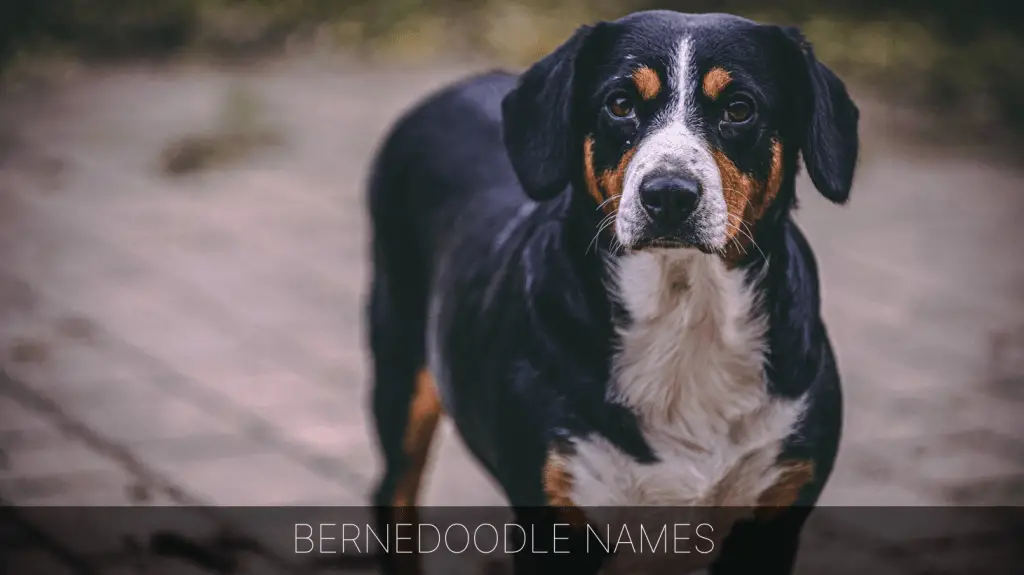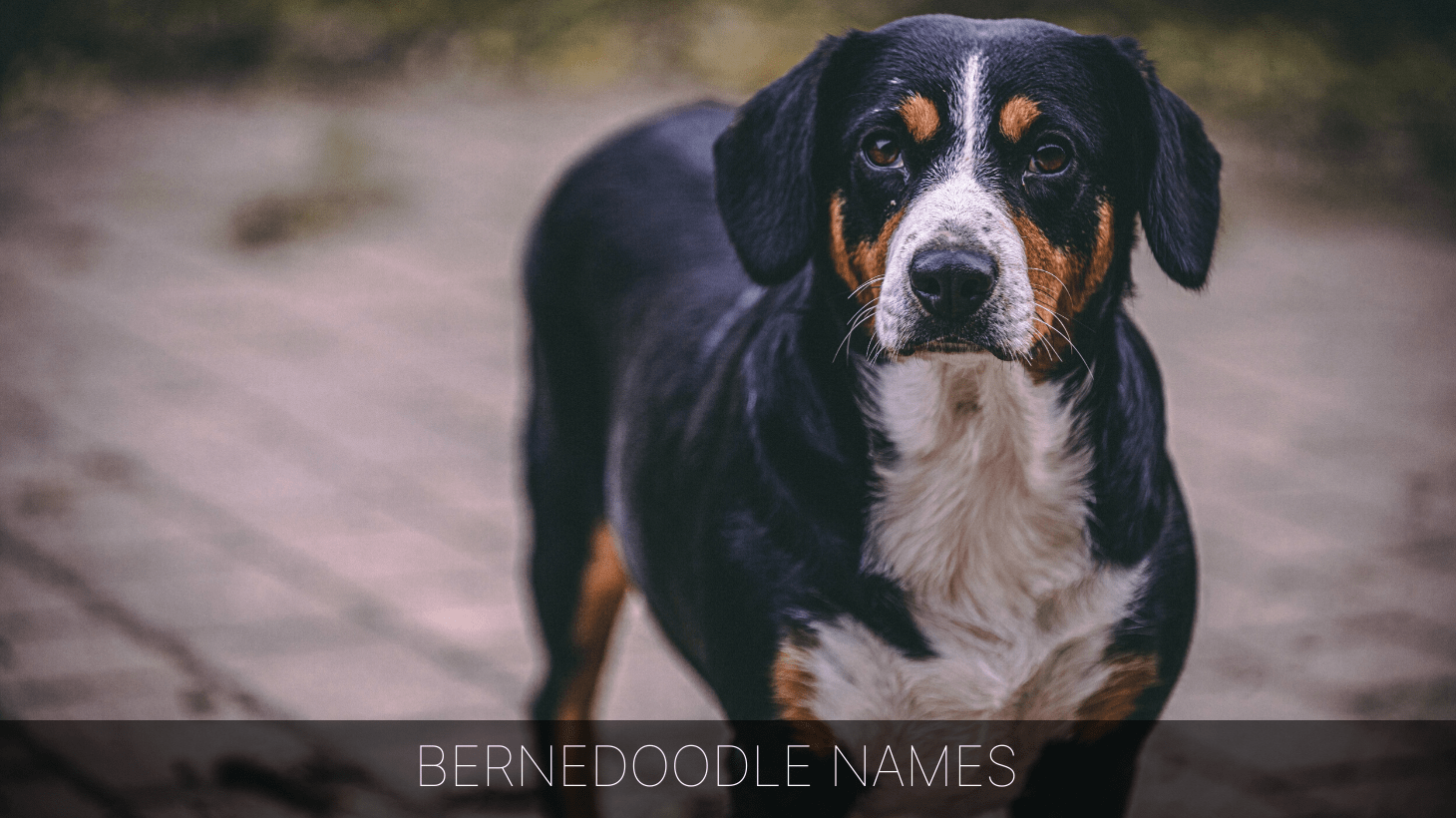 Bernedoodle Names
Bernedoodles are a mixed breed between a Bernese Mountain dog and a Poodle. These canines have gotten increasingly popular over the last few years. 
Stuart
Summer
Sylvan
Taco
Tank
Taylor
Darius
Davis
Davy
Denver
Dexter
Abe
Ace
Achilles
Alexander
Thornton
Tiller
Titus
TJ
Eliot
Elmer
Elvis
Elway
Iggy
Igor
Ike
Axel
Bailey
Bandit
Barkley
Barney
Sissy
Siti
Skye
Skylar
Smokey
Etta
Fannie
Fantasia
Faye
Liberty
Lila
Lily
Adelyn
Adriana
Agate
Amethyst
Virgil
Wade
Wallace
Wally
Toby
Tripp
Tristan
Truman
Learn More: Top 350+ Unisex Dog Names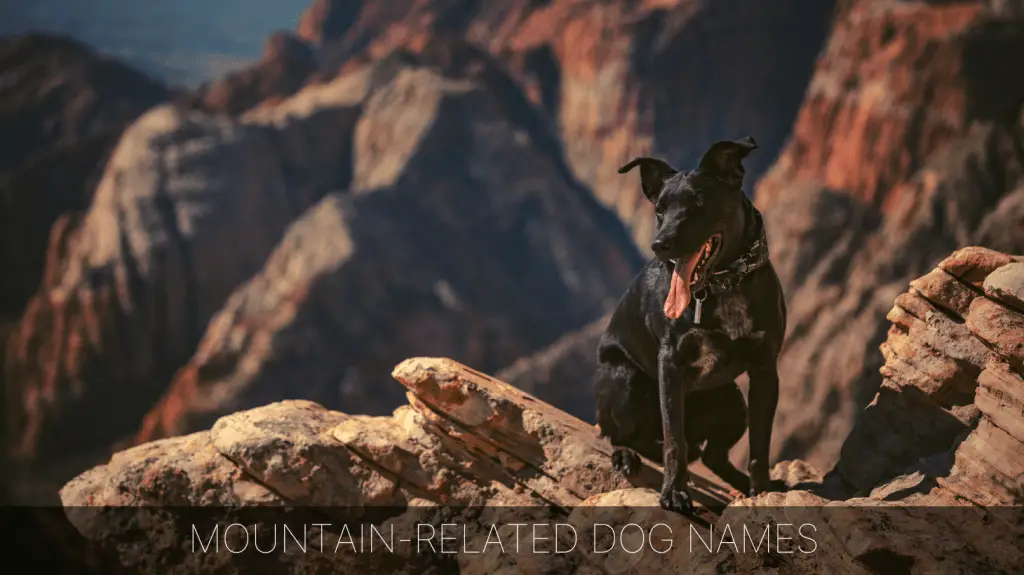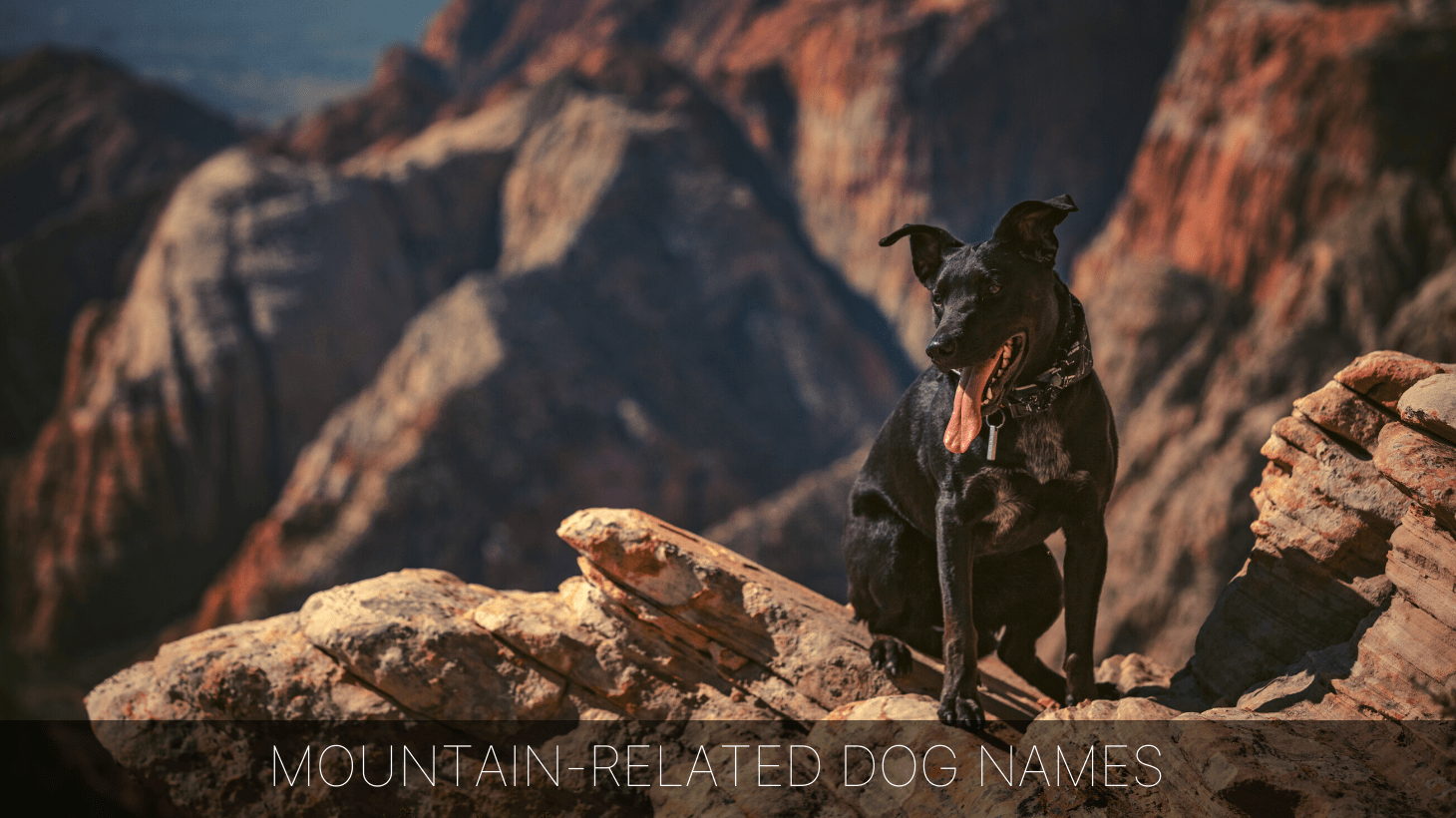 Mountain-Related Dog Names
Because these dogs do come from a mountainous region, it is pretty common for them to be named after mountains. 
Rupee
Everest
Dusty
Denny
Darwin
Major
Cagire
Castor
Api
Balfrin
Anzer
Alcazaba
Dru
Andes
Rocky
Cameroon
Gasherbrum
Eiger
Alborz
Tagh
Matterhorn
Chimborazo
Oyu
Logan
Makalu
K2
Weston
Kidd
Irazu
Elbrus
Kilimanjaro
Echo
Canali
Sierra
Wila
Hope
Nona
Rainer
Denali
Lena
Ipala
Easter
Dana
Preti
Jazzi
Bernina
Benna
Askja
Ailama
Rose
Jaya
Fuji
Kamet
Orizabra
Cascade
Namcha
Pamir
Devi
Lhotse
Tirich
Kea
Learn More: Top 350+ Hawaiian Dog Names
Choosing the Perfect Dog Name
The search for the absolutely perfect dog name can be nearly impossible. There are just so many different names out there. Choosing just one that fits your dog the best is often exceedingly difficult. 

We recommend working through an extensive list like this one and writing down which names you like the best. Then, give each name a trial and try it out on your dog for an hour or two. Sometimes, we can completely fall in love with a name, but later realize that it really doesn't fit our dogs at all. 

Assuming that you just adopted your new dog, it can take them months to warm up to their new surroundings. Because of this, it is basically impossible to choose a name that matches their personality exactly. Before you know it, they'll be acting like a completely different dog!

If you have other people in your household, you should let them be involved with choosing the name as well.