Fresh dog food is currently all the rave – with new fresh food subscription companies popping up every day. In the past, you only had a few companies. Now, you have Nom Nom Now, Pet Plate, Ollies, the Farmer's Dog, and a whole host of other dog food delivery services. 
Fresh dog food is less processed than most other sorts of pet food, and they often contain more whole ingredients. Because of this, they are often considered a healthier option for our pets. 
Plus, many companies deliver pre-portioned fresh meals right to your door, saving you time and money. 
But, not all fresh dog food subscription services are created equal. In this article, we'll look at two of the most popular companies – Nom Nom Now and Pet Plate – to help you choose the best option for you. 
Our Pick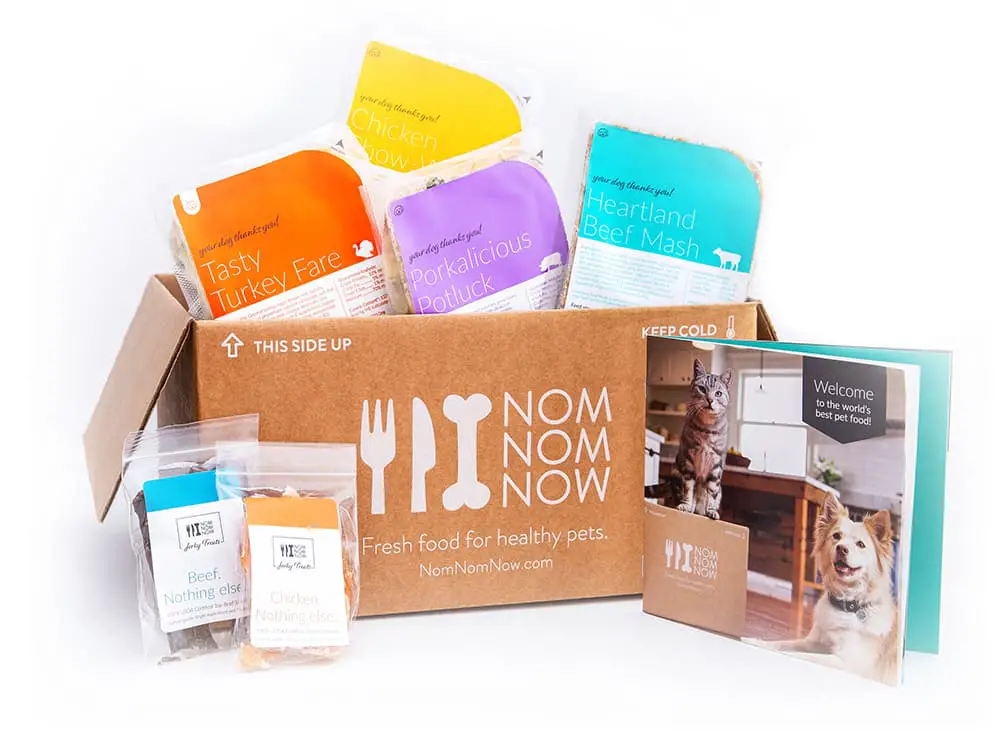 Fresh, human-grade ingredients
Near-perfect macronutrients
Convenient delivery
Doggypedia rating: 5/5
Calorie Content: 1239 kcal/kg
First 5 Ingredients: Turkey, eggs, brown rice, carrots, spinach.
How We Chose the Best Fresh Dog Foods
Selecting the best food can be surprisingly difficult. To make correct decisions, we rely on science. We carefully decode the ingredient list and check the macronutrient content of each food – instead of relying on brand marketing alone. 
When ranking each food, we first took into account its macronutrient content. Macronutrients are the building blocks of all food and the main nutrients we need to survive. Each species needs a particular ratio of macronutrients to survive. 
According to studies, dogs need a ratio of approximately 30% protein, 63% fat, and 7% carbohydrates. 
Sadly, it is quite difficult to find a dog food formula that is close to this ratio. Most are much too high in carbohydrates. We try to only include foods that are below 30% carbohydrates, but even this is difficult sometimes. In general, we preferred foods that are higher in fat and protein. This not only makes the food healthier for your canine, but a high amount of fat also makes the food more palatable. 
Secondly, we also gave the ingredient list a careful review. One of the clearest indications of high-quality dog food is meat content. Dog foods that contain more meat are almost always better than those that contain less. 
Meat is one of the more expensive ingredients that companies can put in dog food. So, if a food contains more meat, you can bet that the company isn't skimping on the nutrients in their food. 
Furthermore, more meat also means that the macronutrient content is more likely to be accurate. Many companies will try to bulk up their protein content by including things like pea protein. While these ingredients are technically protein, they are not complete sources of protein, which means they're missing some of the key ingredients your pet needs to survive. 
This is most clearly exemplified in one report that connected grain-free foods to a condition known a DCM, which is a serious health condition found in dogs. While the jury is still out on why these foods cause this heart condition, it is possible that it is the high number of peas commonly found in grain-free foods. Many of these foods may be bulking up their protein content with pea protein, causing canine to become deficient in an essential amino acid called taurine, which is vital for your dog's heart health. 
Finally, we also considered the price of each food. Fresh food can be a bit more pricy than some other food options. However, this is mostly because it is of higher quality and includes better ingredients. We carefully considered the costs and benefits of each dog food to ensure you're getting a good deal. 
Most dog food delivery services provide a discount on your first box. 
Advantages of Fresh Food Dog Food
There are quite a few advantages to choosing a fresh dog food. While these foods are often more expensive, investing in them can save you money on vet bills in the future. These foods are often much higher quality than other foods on the market – but you're really getting what you pay for. 
Many of these fresh foods are much healthier for your dog than conventional dry food. They contain more whole ingredients and often have fewer fillers. After all, you can really see what's in the food, so the companies can't hide as many bad ingredients in their formulas. 
These foods naturally have fewer preservatives and additives in them as well. There is no need to add colorant to fresh carrots or add preservatives to foods that are going to be frozen. While these foods don't always have a direct, negative health effect on our dogs, they aren't exactly good for them either. 
Believe it or not – these fresh foods are often much easier to feed your canine. Many companies will ship fresh food right to your door in pre-packaged bags. There is no need to go shopping or carefully portion your dog's food yourself.
Instead, you can just open up a bag and go. 
Personalized Macronutrients for Your Dog
Macronutrients are the building blocks for life. While dogs need about the same macronutrients across the board, some may need slightly different macronutrient ratios than others. Most fresh dog food companies personalize their food to match your dog's specific needs. 
Obviously, a personalized diet is going to be better than a one-size-fits-all approach. You can't get this with most conventional dog food brands, but it is the norm with fresh dog food. 
Review of Nom Nom Now vs. Pet Plate
Now that we know why fresh food can be a game-changer for your pooch, we need to figure out exactly which food you should purchase. After all, if you're spending a premium price on fresh dog food, you should be getting the best-of-the-best. 
Price
The price of each dog food is going to depend largely on the size of your pet and their activity level. It is going to cost more to feed a Great Dane than it is to feed a Chihuahua – that's true for any dog food. 
The only way to figure out how much you'll pay is to fill out a profile on each company's website and get a meal plan. Still, in order to provide you with some sort of "guesstimate", we made a few different profiles with different metrics and averaged the prices. 
In general, Nom Nom Now costs about $50 a week. However, for very small dogs, you can pay as little as $21. Larger dogs are going to cost $70 and up. 
For comparison, Pet Plate costs about the same. The plan for our simulated medium-sized dog was about $50. Our smaller dog could eat for $20 a week, which was only slightly less expensive than Nom Nom Now. 
Both companies provide free shipping, so that won't add anything extra to the cost. They also provide a discount o your first order.
Verdict: They cost about the same. 
Ingredients 
Nom Nom Now provides four different recipes: heartland beef mash, chicken chow, porkalicious potluck, and tasty turkey fare. The ingredient list for each recipe is very short and includes meat as at least the first ingredient every time. Each recipe also includes a variety of veggies, such as green beans or yellow squash. 
Pet Plate also includes four different recipes, but they are chompin-chicken, barkin' beef, tail waggin' turkey, and lip lickin' lamb – slightly different than the recipes Nom Nom Now offers. Each meal also includes meat as the first ingredient with a variety of different veggies included as well, such as chia seeds and pumpkin. Pet Plate seemed to have a larger variety of veggies included in their recipes than Nom Nom Now. 
Verdict: The meal recipes themselves are surprisingly similar. They both provided human-grade ingredients and follow AAFCO Dog Food Nutrition Profiles. 
Delivery Options
There are many different delivery options for Nom Nom Now. You can choose to receive your food every week, 2 weeks, or 4 weeks. The longer you go between shipments, the less your food will cost. It is almost always a better option to choose the monthly subscription option, as you can save quite a bit of money. 
On the other hand, Pet Plate only delivers every 2 weeks. 
Both companies allow you to purchase "half meals" to use as toppers. 
Verdict: Nom Nom Now has many more delivery options than Pet Plate. Both allow you to order their food in a topper option to use alongside your dog's current food. 
Packaging
Nom Nom Now uses eco-friendly packages that can be recycled. They have a complete recycling guide on their website so you can dispose of your packages as eco-friendly as possible. 
Pet Plate also uses packages that are 100% recyclable. 
Neither company has any sort of recycling program. Nom Nom Now tired a program at one point, but found that it actually increased their carbon footprint more than it saved. After carefully studying the program, they suspended it. 
Verdict: Both companies use recyclable materials. 
Quality
There seems to be a similar level of quality ingredients between the two companies. 
Nom Nom Now sources their food from whole ingredients that are USA and USDA approved for human consumption. This is about as high-quality as it gets. 
Pet Plate also uses ingredients that are safe for human consumption. 
If you really wanted to, you could eat your dog's food from either company. 
Verdict: Both companies have similar levels of quality. They are both formulated by a veterinarian nutritionist. 
Advantages of Nom Nom Now
More delivery options. Nom Nom Now provides more delivery options, so you can decide how often exactly you want your dog's food to be delivered. If you choose to have it delivered less frequently, you can save a bit of money. 
Pork recipe available. Nom Nom Now also offers a pork recipe, which isn't available from Pet Plate. If you're particularly interested in feeding your pet pork, this fresh food is the one to get. 
Shorter ingredient list. This company seemed to have very short ingredient list of all of their recipes. If your dog is allergic to many different foods, it may be easier to avoid their allergens with this brand, as opposed to others. 
Looks very natural. This food looks extremely natural, even when compared to other fresh dog foods. It is not particularly processed
Advantages of Pet Plate
Lamb recipe available. This company provides a lamb recipe. If you want to feed your pooch lamb for whatever reason, you'll need to go with Pet Plate. 
Resealable containers. Pet Plate's containers were some of the best we've ever gotten. They're pre-portioned and resealable. They look very similar to mini yogurt containers. 
More ingredients. Each recipe includes a wide variety of veggies and fruits. This means your canine will get a larger variety of vitamins and nutrients from the food they're eating – instead of meeting their nutritional needs through additives. 
Nom Nom Now Turkey Fare – Our Pick
Our Pick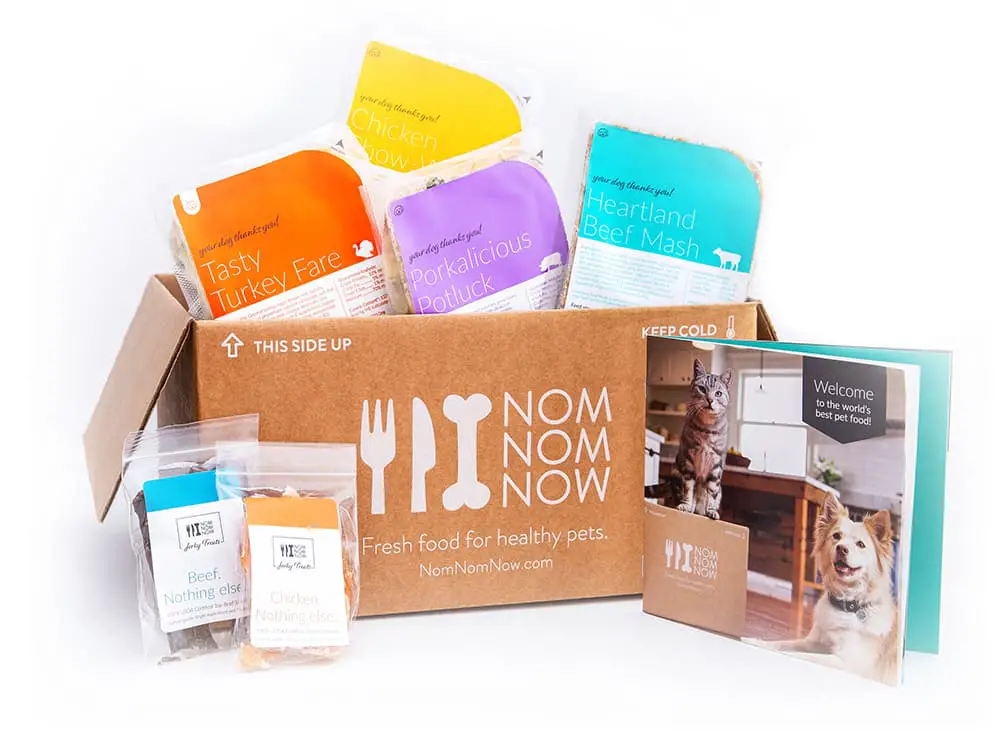 Fresh, human-grade ingredients
Near-perfect macronutrients
Convenient delivery
Doggypedia rating: 5/5
Calorie Content: 1239 kcal/kg
First 5 Ingredients: Turkey, eggs, brown rice, carrots, spinach.
Final Verdict: Nom Nom Now vs. Pet Plate
After careful consideration, Nom Nom Now is a better option than Pet Plate. The big difference is that Nom Nom Now's recipe and ingredients are better than Pet Plate. Nom Nom Now uses fewer veggies in each recipe, which means there is more meat overall. Since our dogs are designed to live off of meat, we considered this to be a huge plus. 
Furthermore, the food is also less ground up and processed, so it looks, feels, and tastes more like real food. Many dogs are going to find this more appetizing. 
Pet Plate is still a good option for any dog, especially compared to most conventional dog kibble. However, Nom Nom Now is clearly better in a few different ways. 
Firstly, Pet Plate's macronutrient content is not as good. It contains over 30% carbohydrates when we prefer to have carbohydrates much lower. Protein and fat are decently high, but they could be higher. 
Nom Nom Now has a simpler ingredient list, which is something for dog owners to consider if their canine has allergies.  So we highly, highly recommend Nom Nom Now, while Pet Plate is still a good runner up. We highly recommend Nom Nom Now.
Read More Dog Food Reviews: