Fresh dog food is getting more and more popular – and for a good reason. Just like humans, dogs often thrive best on real, fresh food, as opposed to heavily processed kibble. Nom Nom Now, Ollie, and the Farmer's Dog are just a few of the most popular fresh meal dog food delivery services. 
Nom Nom Now and Just Food for Dogs are two popular fresh dog food delivery services. On the surface, they might appear to be similar. However, they have a few key differences that make them stand out.
Below, we'll discuss each brand in-depth and help you choose the best one for your furry friend.
Our Pick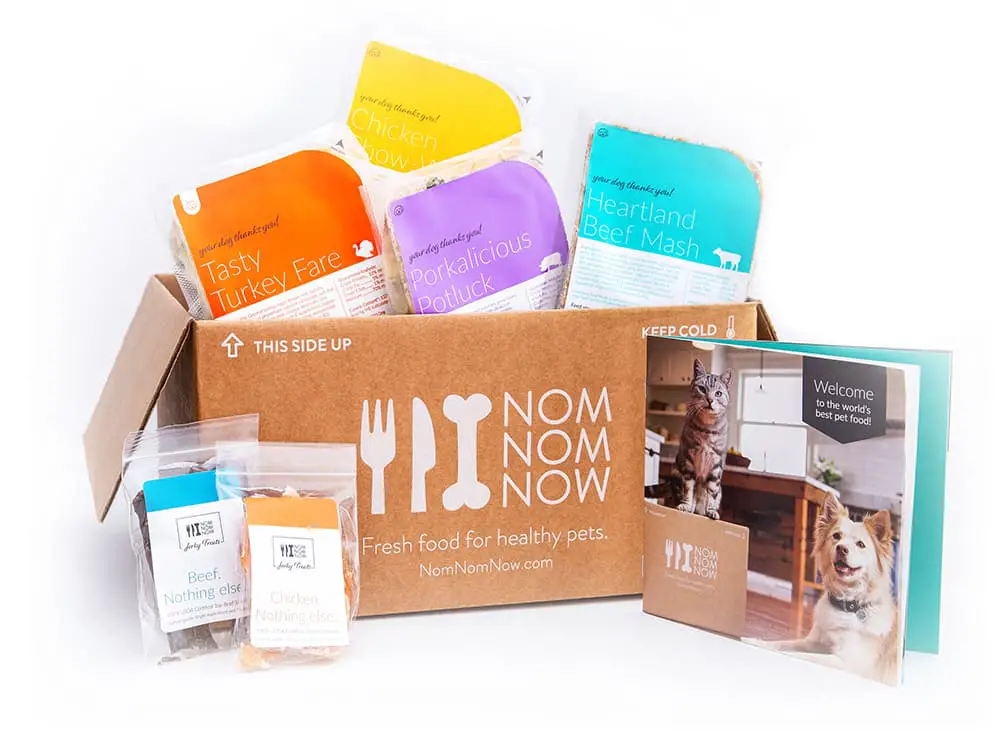 Fresh, human-grade ingredients
Near-perfect macronutrients
Convenient delivery
Doggypedia rating: 5/5
Calorie Content: 1239 kcal/kg
First 5 Ingredients: Turkey, eggs, brown rice, carrots, spinach.
How We Chose the Best Fresh Food Dog Foods
We put each food up against strict guidelines throughout our reviews. We strive only to recommend the best-of-the-best and rely on scientific-evidence to help us evaluate each food. Based on this evidence, we have designed a series of guidelines we follow when comparing each food.
The first guideline consists of a good macronutrient content. Macronutrients are protein, fats, and carbohydrates. These nutrients are the major build blocks every animal needs to survive, including our furry friends.
Not all animals need the same macronutrients, however. Animals evolved to eat different things, and therefore thrive on a different dietary ratio.
Studies have shown us that dogs need a diet consisting of approximately 30% protein, 63% fat, and 7% carbohydrates. Because of this, we try to choose dog foods that get as close as possible to this ratio.
Secondly, we strive to choose foods that contain only real and healthy ingredients. No matter what the ingredients are in the food, they should be as natural and unprocessed as possible. For example, whole grains are always better than processed, white grains.
We prefer whole meat over-processed meat products, like meat meal and by-products. However, meat meals are not necessarily bad if their source is named. For example, chicken meal is okay, but "meat meal" is not. This is simply because "meat meal" could be anything.
Meal is actually denser in protein and calories than whole meat, as it is meat that has been boiled down until most of the moisture has been removed. It is widespread for kibbles to use this type of ingredient since they need to be low-moisture.
When grains were used, we preferred whole grains like brown rice over processed grains. 
Thirdly, we preferred foods with high meat content. Our dogs were made to live on meat for the most part. Sticking with this evolutionary trait is often best for our pets.
We also stayed on a lookout for additives. Some additives are not very healthy, while others can bring major health benefits. Fish oil is a good example of a great additive that can help with your dog's skin and fur.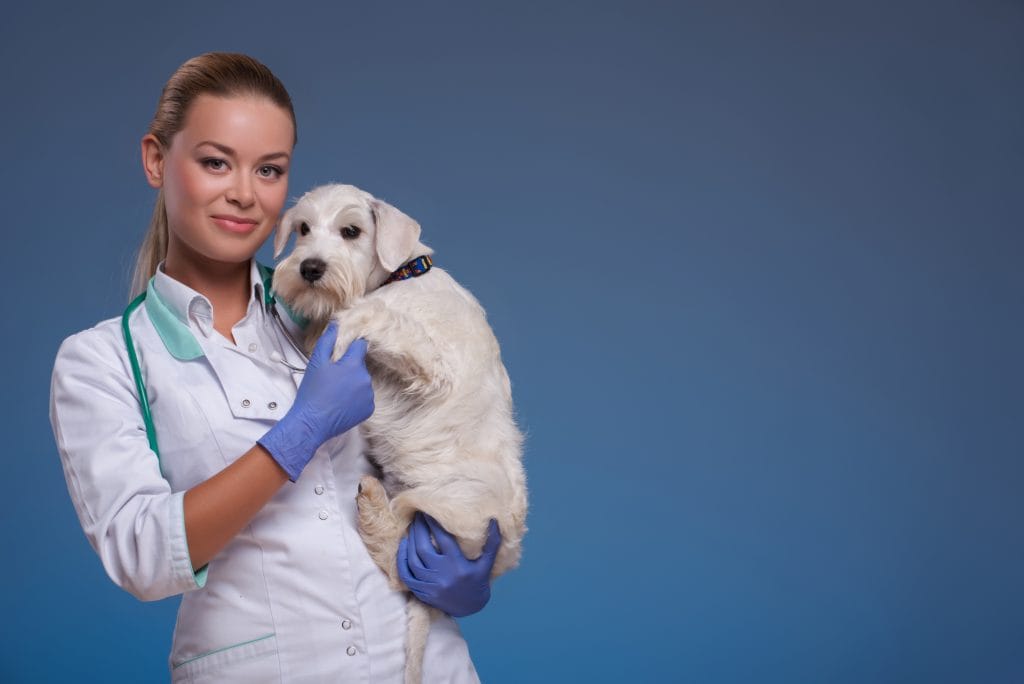 Advantages of Fresh Food Dog Food
Healthier for your dog. Fresh food is often a healthier option. It often includes better ingredients than other options, including dry food. Plus, the lack of over-processed ingredients is almost always a plus for our dog's health. Fresh dog food might cost a bit more up-front, but you'll often save more money in the long run when you invest in high-quality food.
Convenience. Most fresh dog foods work on a subscription basis. This is extremely convenient. No longer will you need to carry a 30-pound bag of dog food through the store.
Personalized macronutrients. Many fresh dog food companies will ask pet parents a series of questions about your dog when you sign up, which provides them the opportunity to adjust the food to fit your dog's specific needs. Some have better customization options than others, but they are almost all more personalized than your average kibble.
Comparison of Nom Nom Now vs. Just For Dogs
These companies are very similar at first glance. However, when you go a bit deeper, you'll find that they are very different and offer different experiences.
Price
The price of both Nom Nom Now and Just For Dogs depends mostly on your particular dog. Both provide some level of customization, which also affects the price. Things like your dog's weight and activity level will have the most significant impact on the overall price.
For smaller dogs, Nom Nom Now costs approximately $3.96 a day. Large dogs can cost up to $11.74 a day.
Just For Dogs charges about $2.50 to $6.49 a day for smaller dogs. The exact price depends on the recipe you choose. Large dogs will cost between $11.54 and $25.35.
Both companies usually give you a discount with your first box. However, you will need to pay the full price after your first order. 
Ingredients
Both companies use ingredients of comparable, human-grade quality. They both use USDA certified meats and high-quality vegetables. These human-grade ingredients are about as good as you can get. 
Nom Nom Now offers beef, chicken, turkey, and pork recipes. Their recipes have unique names like heartland beef mash, tasty turkey fare, and porkalicious potluck. Many include quality meat products, like beef liver. They also make cat food. 
Just for Dogs offers a much more extensive range of recipes. There are seven in total, including beef, chicken, fish, venison, turkey, and more. They do provide some grain-free recipe options. 
Both subscription services' food adheres to AAFCO guidelines. 
Delivery Options
Nom Nom Now allows pet owners to choose from a variety of delivery options. You can have your dog's meal plan delivered monthly, bi-monthly, or weekly. We recommend the monthly option since it comes out to be a bit cheaper than other options.
Just For Dogs has a variety of shipping options as well. They have their delivery vans in specific locations, like New York, where they provide same-day delivery.
Packaging
Nom Nom Now packages are recyclable, including the liner. The liner is also made with renewable plant-based components and paper. The meal packs are also recyclable.
Just For Dogs also uses recyclable materials. If you live in one of their same-day delivery locations, they can reuse your insulated bag – just leave it on your doorstep!
Advantages of Nom Nom Now
Nom Nom Now will be cheaper in most cases. All of their recipes cost the same. This is especially obvious for more substantial dogs when some of the Just for Dogs recipes start getting quite expensive.
Nom Nom Now also has an excellent macronutrient content, which we will discuss in-depth later in this article. The content of their various recipes was decently close to what our dogs would eat naturally in the wild. The same could not always be said for Just for Dogs.
Nom Nom Now also personalizes the amount of food your dog gets based on their breed and activity level. 
Advantages of Just For Dogs
Just For Dogs has a wider variety of proteins and recipes than Nom Nom Now. They have one of the highest recipe counts out of all the fresh dog foods currently available. As you might imagine, this makes it easier for dogs with allergies to find something they can eat. It also allows you to diversify your pet's diet a bit better.
If you live near one of the Just For Dogs kitchens, you may be able to get it same-day delivery. There are a couple of other perks as well if you live near one of their locations, including recycling your insulated bag by only leaving it on your front porch.
Nom Nom Now Dog Food Review
Our Pick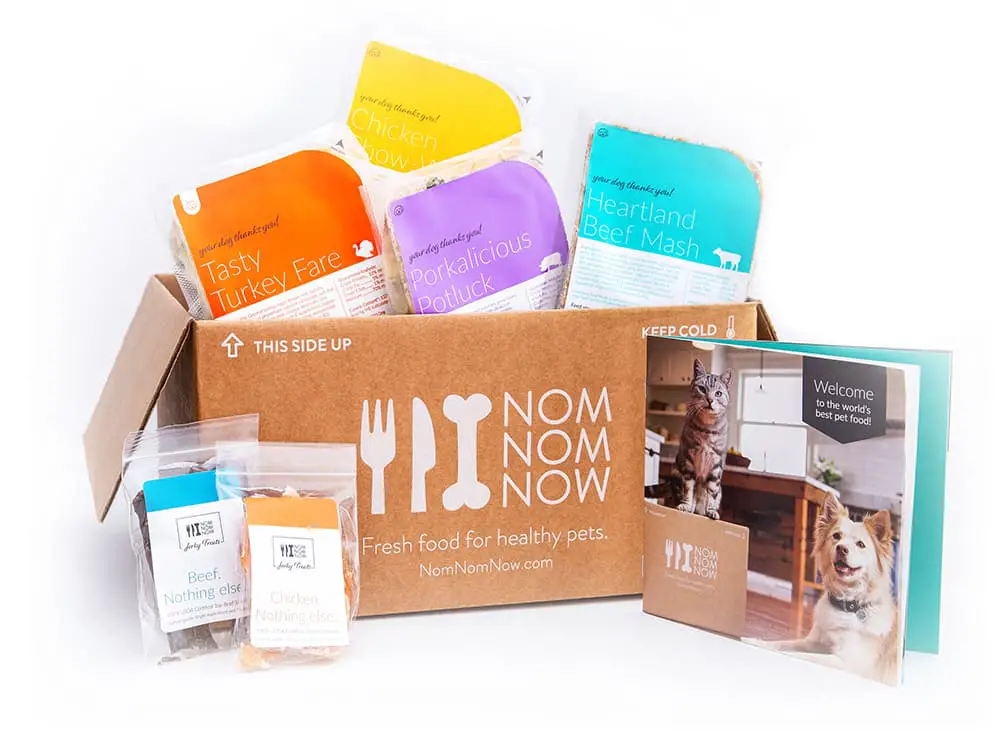 Fresh, human-grade ingredients
Near-perfect macronutrients
Convenient delivery
Doggypedia rating: 5/5
Calorie Content: 1239 kcal/kg
First 5 Ingredients: Turkey, eggs, brown rice, carrots, spinach.
Macronutrients (Dry-Matter Basis):
36.96% Protein
26.09% Fat
23.91% Carbs
Nom Nom Now offers a variety of different recipes, as we have previously discussed. However, we decided to review their chicken recipe in particular. Chicken is one of the most common ingredients in pet food, so odds are, your pet has had a chicken dog food before.
This food includes diced chicken as the first ingredient, which is a great choice. You can even see diced pieces of chicken in the food. Next come a variety of veggies, including sweet potatoes and yellow squash. All of these vegetables are high-quality and a good choice for our pets.
Sunflower oil is also included as the fifth ingredient. Sunflower oil is a healthy additive. It contains high levels of linoleic acid, which can improve your dog's skin and coat. Sunflower oil is one of the most effective sources of this acid. While it might seem like a strange ingredient, we believe it is a healthy choice.
The macronutrient content of this food is quite good. It contains over 35% protein and a decently high amount of fat as well. Carbohydrates could be a bit lower, but we aren't complaining since all the carbs come from a high-quality source.
All in all, we didn't have any complaints about this dog food.
Just For Dogs Chicken & White Rice Review
Macronutrients (Dry-Matter Basis):
45.45% Protein
13.64% Fat
27.27% Carbohydrates
The macronutrient content of this food is fantastic. It contains over 45% protein, which is much higher than most dog foods. The fat content is a bit low for our liking, however. It is only at 13.64%. It could be much, much higher. As we have seen, dogs prefer to eat diets very high in fat, likely because they evolved to eat mostly animals, including a high amount of animal fat.
Instead of high-fat content, this food contains a decently high carbohydrate content. This is less-than-perfect.
With that said, though, the carbohydrate content is much lower than most other dog foods. So, the macronutrient content isn't harmful, it just isn't as good as we would like.
The ingredient list is also only so-so. Whole chicken is included as the first ingredient. This is fantastic and exactly what we like to see. However, the second ingredient is white rice.
Grains are not necessarily bad for dogs. Studies have shown that dogs evolved to eat grain. Some grain can be quite nutritious.
However, white rice is not one of these nutritious grains. White rice has been processed to remove most of the nutrients from it. Because of that, it is one of the worst grains you can include in the dog food. It does not provide many benefits to our canines. It is mostly a filler.
The next three ingredients are vegetables and fruits. They are all high-quality, so we have no complaints here.
However, the macronutrient content combined with the inclusion of white rice forced us to mark this food down half a point.
Final Verdict: Nom Nom Now vs. Just For Dogs
While both dog food brands were decently high-quality and had many similarities, Nom Nom Now clearly stood out as the best choice after an in-depth look.
Both companies are subscription-based and use high-quality ingredients. Just For Dogs has more recipe varieties, but Nom Nom Now produces higher-quality recipes overall. In general, Nom Nom Now's food has a better macronutrient content and better ingredient choices.
The cost of each food varies greatly depending on your pooch. Nom Nom Now appears to personalize dog foods to a higher degree, so their cost varies quite a bit. Just For Dogs' price varies depending on the recipe you choose. The high-quality recipes cost quite a bit more – to the point that they're more expensive than Nom Nom Now's recipes.
Because of this, we just recommend settling on Nom Nom Now. Just For Dogs has some exciting recipes. However, Nom Nom Now's recipes are just better and more personalized.