Looking For The Best Turkey Dog Food Brands? Help Your Pup Stay Healthy With Our Wet And Dry Food Reviews Here.
For most people, thoughts of turkey meat bring to mind Thanksgiving dinner, not dog food. Despite this, turkey-based dog food is a flourishing industry, with more options going up for sale by the day.
As a novel protein for the majority of dogs, turkey-based foods can be a great way to combat food allergies. While there are other protein sources that are even less likely to produce an allergic reaction, turkey-based foods are already well-established in the dog food industry, meaning that there are many more good options to pick from.
In addition to this, turkey is one of the most nutrient-packed meats out there, with a great protein content, low fat content, and nutrients that have been found to reduce the risk of cancer and lower aggression and stress in dogs. 
To help you out, we've compiled a list of the four best turkey dog foods out there. Including both wet and dry options, these four foods represent the best of the best of the hundreds of turkey-based dog foods on offer. 
Reviews of the Best Turkey Dog Foods
Macronutrients (Dry-Matter Basis):
Protein: 36.7% minimum
Fat: 16.7% minimum
Carbs: 36.7% maximum
Best Wet Turkey Dog Food
When it comes to turkey-based wet foods, nothing beats NomNomNow's Turkey Fare. With a delicately crafted ingredient list, strong macronutrient profile, and fantastic brand reputation, it's difficult to find anything to critique about this food.
NomNomNow is a boutique dog food brand, meaning that you won't find any of their products on the shelves of normal stores. Instead, they function through an online-ordering system tailored to suit your pup. Enter information about your pup's breed, weight, and health requirements into NomNomNow's website and they'll hand you back a recommendation of one or more of their dog food recipes and ship it straight to your door.  For pups with allergies, however, their turkey recipe is inarguably the best.
The place where this product shines brightest is in its ingredient list. NomNomNow's recipes are formulated by a veterinary nutritionist and they prioritize the quality of their ingredients over all else. The first ingredient is human-grade ground turkey, followed by goodies like eggs, brown rice, and vitamin-packed veggies. Fish oil acts as a source of omega 3 fatty acids, while various vitamin and mineral supplements fortify the food with extra goodness.
In terms of macronutrients, Turkey Fare does well. On a dry-matter basis, it contains 36.7% protein and 16.7% fat, which is well within the AAFCO guidelines. The carbohydrate content is a little high, sitting at 36.7%, but because the main carbohydrate sources are whole grains and veggies this can be fully justified. Highly, highly recommend.
Macronutrients (Dry-Matter Basis):
Protein: 52.3% minimum
Fat: 22.7% minimum
Carbs: 11.4% maximum
Best Hypoallergenic Turkey Dog Food 
As mentioned previously, turkey-based dog foods are a great choice for pups suffering from food allergies. Some foods, however, are more suited for this role than others. Zignature's Limited Ingredient grain free dog food is one such product.
The major benefit of this food is the fact that it's a limited ingredient diet. This means that the ingredient list is short, simple, and devoid of potential allergens. Four out of five of the main ingredients are turkey, with peas added in as an extra source of fiber and vegetable protein. The inclusion of turkey liver as a main ingredient is also a big plus. Organ meats are high in essential B-vitamins as well as protein, making them a tasty and nutritious inclusion in any pet food (Williams, 2007). Other ingredients include vitamin-filled chickpeas, fibrous alfalfa meal, and a variety of different vitamin and mineral supplements.
The limited ingredient list only serves to boost this product's macronutrient profile. This food contains a whopping 52.3% protein and just 22.7% fat. The carbohydrate content is low, sitting at only 11.4%, which signifies a high meat content. 
Macronutrients (Dry-Matter Basis):
Protein: 40.0% minimum
Fat: 17.8% minimum
Carbs: 33.3% maximum
Best Turkey Dry Dog Food
Of the hundreds of turkey-based dry foods on offer, Wellness' CORE RawRev food provides the most unique benefits and the best macronutrient profile.
The real stand-out point of this dry food is the inclusion of raw, freeze-dried pieces of turkey amongst the kibble. This significantly boosts the food's protein content while also giving it a great taste. Aside from the freeze-dried pieces, deboned turkey, turkey meal, chicken meal, and chicken liver act as the primary animal protein sources. Fruit and veg like blueberries and kale help to up the vitamin content, while several different strains of probiotic bacteria help to balance your pooch's gut microbiome and provide a boost to the immune system (Schmitz et. al., 2016).
The multiple, quality protein sources translate to a high protein content, 40.0%. The fat content sits at 17.8% and the carbohydrates come in at 33.3%. While this is slightly over the ideal limit, the healthy carb sources make up for this.
Macronutrients (Dry-Matter Basis):
Protein: 36.7% minimum
Fat: 20.0% minimum
Carbs: 34.4% maximum
Best Turkey Puppy Food
Adult dogs aren't the only ones that can benefit from turkey-based foods. Turkey provides all of the nutrients needed for puppies to grow into strong, healthy dogs. Of the turkey-based puppy foods on the market, Nulo's turkey, cod, and sweet potato kibble is a clear standout.
The ingredient list of this dry food is unparalleled. Deboned turkey is the first ingredient, with turkey meal, salmon meal, chicken fat, and deboned trout also making an appearance. Multiple protein sources are always a positive in dog food, as it allows for a diversity of nutrients, but this particular mixture of protein sources is especially good. Fish is a novel protein for many dogs and chicken fat doesn't contain the main allergen that provokes a response in pups allergic to chicken, meaning that this product is highly allergy-friendly. Other ingredients include healthy fruit and veg, highly digestible sweet potato, and various vitamin and mineral supplements.
The macronutrient profile of this product is exemplary, with 36.7% protein and 20.0% fat. The AAFCO guidelines for the minimum amount of nutrients in puppy foods are slightly different from that of adult foods, but this product still easily fulfills the requirements (AAFCO, 2014). The carbohydrate content sits at 34.4%, but given that the main sources of carbs are fruit, veggies, and sweet potato, this isn't a concern.
Why Should you Feed your Dog Turkey?
Turkey sits in an in-between space in the dog food industry; it hasn't quite broken ground to become recognized as a 'mainstream' protein source, but it's popular enough that a huge range of products is available. For pups with allergies to more common protein sources, this is a massive advantage. For many dogs, turkey can be considered a novel protein. Novel proteins are meats that your dog hasn't been widely exposed to before and, because of this lack of exposure, are unlikely to have an allergic reaction to.
Why You Should Trust Us
We have reviewed hundreds of different dog foods with Turkey over the years, so we have an expert view of what the market currently offers. All of our reviews are based on scientific evidence, not marketing campaigns or ads. We carefully stay up to date on the latest research so that we can recommend only the best to you and your pets. 
Before making it into any article, each dog food has to pass a rigorous review process that involves more than just surface-level information. We calculate all of our own macronutrient data. While we pay attention to the ingredient list, we also consider macronutrient ratios and recall frequency. Additionally, we speak to the dog food brands, vets, and dog trainers to make sure our recommendations are the most healthy options for your dog.
Is Turkey Good for Dogs?
Even if your pup doesn't have allergies, turkey-based dog foods are still a great option.
When looking at a meat source in dog food, evaluating its relative protein and fat content is very important. Protein is an essential nutrient for every dog, so the more that can be packed into a serving of meat the better. Fats are also important, but for the owners of dogs who need to lose weight, it's important to choose a meat source that doesn't contain too much of it. In both regards, turkey excels. Raw ground turkey contains 19.7g of protein and just 7.7g of fat per 100g of meat. In comparison to equivalently prepared beef and lamb, turkey has more protein and far less fat (FDC, 2020)
Because of the lower fat content, a particular benefit of turkey is that it's much lower in calories compared with other meats. For example, an average 100g of raw, ground turkey contains 148 kcal, while an equivalently sized portion of beef contains 247 kcal. Therefore, for pups who need to lose a few pounds, turkey-based dog food can be a good choice.
In addition to protein and fat, turkey contains some other unique substances. Turkey meat is high in both selenium, which has been found to reduce the risk of cancer in dogs (Sharadamma et al., 2011), and tryptophan, which reportedly reduces stress and aggression in dogs, and is also why you feel sleepy after Thanksgiving turkey. (Nutravet, 2017).
How We Chose the Best Turkey Dog Foods
When choosing and ranking the best dog foods, the main factor that we take into consideration is the food's macronutrient profile. This refers to the balance of proteins, fats, and carbohydrates in a dog food product. Of the three macronutrients, proteins and fats are by far the most important. Fats provide an essential source of energy for your pup, while proteins supply essential amino acids that are needed for the growth, maintenance, and repair of your dog's body. Because of the importance of protein and fat, the American Association of Feed Control Officials (AAFCO) provides strict guidelines as to the minimum amount of protein and fat that need to be included in a dog food. All of the foods on our lists follow these guidelines, which are as follows (AAFCO, 2014):
A crude protein content of over 18%
A crude fat content of over 5.5%
The third macronutrient, carbohydrates, are slightly more difficult to deal with. Some carbohydrate sources, such as veggies, fruit, and whole grains, are a great source of vitamins, minerals, and fiber for your doggy (Souliere, 2014). However, many dog food companies pack their products full of unhealthy grain by-products, which have little to no nutritional value and only serve to 'bulk up' the final product so that less meat can be used (Roberts et. al, 2018). Even too many healthy carbohydrate sources indicate that not enough meat is being used. Because of this, we developed the following guideline when choosing and ranking our top foods:
A carbohydrate content under 30% is ideal, with exceptions given for foods high in whole grains and veggies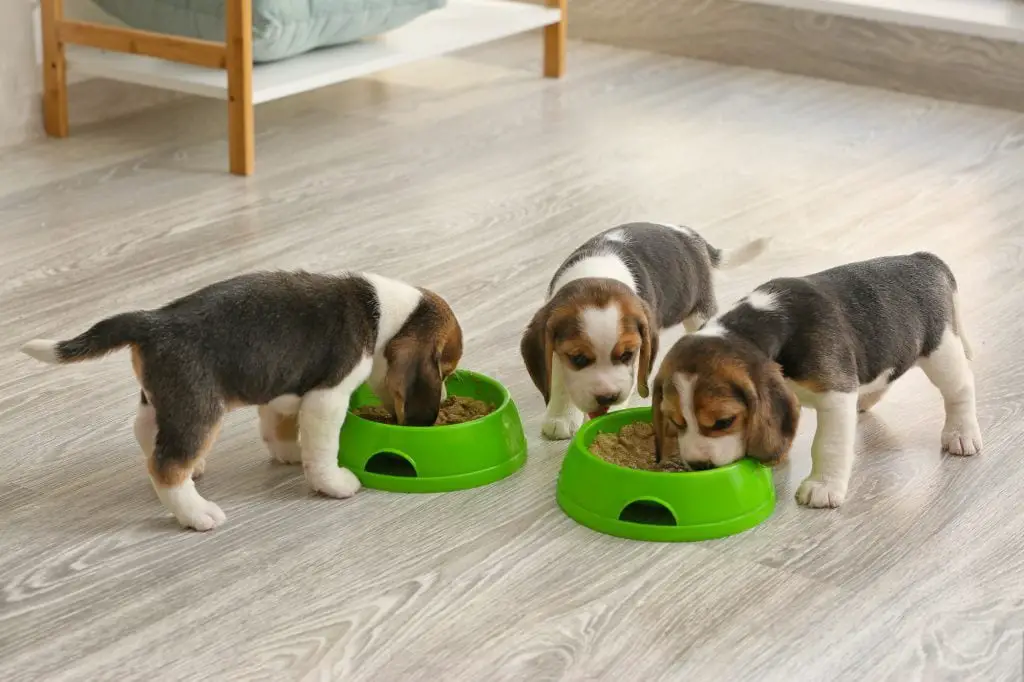 Read More Dog Food Reviews: Best Maltese Food
Sources and Further Reading:
Nutrient Content of Turkey in comparison to other popular meats: FoodDataCentral. 2020. Turkey, Ground, Raw. Available at: <https://fdc.nal.usda.gov/fdc-app.html#/food-details/171505/nutrients> [Accessed 29 June 2020], Lamb, ground, raw. (2020). Retrieved 24 May 2020, from https://fdc.nal.usda.gov/fdc-app.html#/food-details/174370/nutrients, Ground Beef, raw. (2020). Retrieved 24 May 2020, from https://fdc.nal.usda.gov/fdc-app.html#/food-details/781867/nutrients.
Selenium in Dog Food: Sharadamma, K., Purushotha, B., Radhakrish, P., Abhilekha, P. and Vagdevi, H., 2011. Role of Selenium in Pets Health and Nutrition: A Review. Asian Journal of Animal Sciences, 5(1), pp.64-70.
Tryptophan in Turkey: Nutravet.co.uk. 2017. L-Tryptophan For Dogs And Cats. [online] Available at: <https://www.nutravet.co.uk/articles/L-Tryptophan-for-dogs-and-cats#:~:text=L%2DTryptophan%20for%20dogs%20and%20cats%20is%20important%20as%20it,help%20reduce%20aggression%20and%20stress> [Accessed 25 June 2020].
AAFCO 2014 Recommendations (Adult and Puppy): The 2014 AAFCO Dog Food Nutrient Profile for Growth and Reproduction. (2019). [ebook] AAFCO. Available at: https://www.aafco.org/Portals/0/SiteContent/Regulatory/Committees/Pet-Food/Reports/Pet_Food_Report_2013_Midyear-Proposed_Revisions_to_AAFCO_Nutrient_Profiles.pdf [Accessed 28 Jun. 2020].
The benefits of some whole grains in dog foods: Souliere, K. (2014). A Study of the Nutritional Effect of Grains in the Diet of a Dog. University of Maine.
Optimal carbohydrate content in dog food: Roberts, MT, Bermingham, EN, Cave, NJ, Young, W, McKenzie, CM, Thomas, DG. Macronutrient intake of dogs, self‐selecting diets varying in composition offered ad libitum. J Anim Physiol Anim Nutr. 2018; 102: 568– 575. https://doi.org/10.1111/jpn.12794
B Vitamins in Organ Meat: Williams, P. (2007). Nutritional composition of red meat. Nutrition & Dietetics, 64(s4 The Role of), pp.S113-S119.
The benefits of probiotics in canines: Schmitz, S. and Suchodolski, J. (2016). Understanding the canine intestinal microbiota and its modification by pro-, pre- and synbiotics – what is the evidence?. Veterinary Medicine and Science, 2(2), pp.71-94.