Looking for the best dog food brands for sensitive stomachs? Keep your pup's tummy happy with our wet and dry food reviews here.
All good dog owners want their precious pooch to be happy and healthy. Most of the time, this can be easily achieved by paying regular visits to the vet and choosing a high-quality, nutritious dog food. However, sometimes things aren't so simple.
Many dogs are prone to developing a sensitive stomach and like in humans, the cause of this can be difficult for vets to identify. Symptoms like vomiting, diarrhea, flatulence and uncomfortable bloating are common and can leave well-meaning dog owners at a loss for how to relieve their pup's suffering.
Luckily, there are certain measures that you can take to alleviate your dog's digestive discomfort. Taking actions like purchasing a limited ingredient diet or looking for foods with certain tummy-friendly ingredients are great ways to start.
Unfortunately, information surrounding exactly how to treat your pup's sensitive stomach is murky at best. To help you navigate the complicated terms and avoid the pseudo-science, we've developed a comprehensive guide to dealing with your pup's digestive issues. 
This article lists seven fantastic dog foods that help combat each of these problems. Each product on this list has been carefully chosen and ranked according to a set of research-backed criteria, which means that you can rest easy knowing that you've done all that you can to keep your dog's tummy comfortable and healthy.
Reviews of the Best Sensitive Stomach Dog Foods 
Macronutrients (Dry-Matter Basis):
Protein: 33.3% minimum
Fat: 16.7% minimum
Carbs: 40% maximum
Best easily digestible dog food
Placing first in the wet category is NomNomNow's Tasty Turkey Fare recipe. With a strong focus on quality, healthy ingredients, a recipe that's low-risk to allergy-prone dogs, and a convenient online ordering system, there's little to fault in this product.
NomNomNow is an unconventional dog food brand, in that the majority of their business takes place through their website. You simply input your dog's details into their online ordering system (including breed, weight, age, and dietary requirements) and then NomNomNow recommends and ships one or more of their recipes to you. 
In the case of dogs with sensitive stomachs, their Tasty Turkey Fare recipe is easily the best of the four recipes that they offer. Turkey is a low-risk ingredient for dogs with allergies, meaning that they're very unlikely to have a reaction to it. The ingredient list is short and simple and all of the meat and veg is human-grade, rather than the pet-grade or even feed-grade ingredients that many other companies use.
In terms of macronutrients, Tasty Turkey Fare hits every mark. It contains 33.3% protein, 16.7% fat, and 40% carbohydrates. While the carb content is higher than many of the other foods on this list, the major carb sources are all healthy veggies and whole grains, meaning that this isn't too much to worry about.
Macronutrients (Dry-Matter Basis):
Protein: 40.9% minimum
Fat: 18.6% minimum
Carbs: 27.3% maximum
A Good sensitive stomach dog food
Coming in at second place in the wet food category is Zignature's Kangaroo wet food. With just about the most unique protein source out there and a great macronutrient content to boot, this food is perfect for those looking for a novel-protein pet food.
As the name suggests, this product features kangaroo as its primary protein source. Kangaroo meat is high-protein and fairly lean, making it a great source of nutrition for your pup. In addition to this, kangaroo meat is a novel protein, which means that as your dog likely has never been exposed to it before, they're extremely unlikely to have an intolerance or allergy to it. This is great for pups with allergies to the more common kinds of meat, and can even be useful for pups that have generally sensitive stomachs.
In terms of macronutrients, Zignature's Kangaroo recipe is impressive. It boasts 40.9% protein, which is the highest of the wet foods on this list, and 18.6% fat. The carbohydrate content sits at 27.3% and is mainly due to the inclusion of peas, carrots, and chickpeas in the recipe.
Other notable ingredients include cranberries and blueberries, which are high in antioxidants, and sunflower oil, which is a source of omega-6 fatty acids. One potential downside is the inclusion of alfalfa meal. While alfalfa is high in fiber, it can cause bloating in some dogs, so if you select this food make sure to watch for any symptoms of this in your pup.
Macronutrients (Dry-Matter Basis):
Protein: 27.3% minimum
Fat: 18.2% minimum
Carbs: 40.9% maximum
canned dog food for sensitive stomachs
Snapping up the last place in the wet food section is Natural Balance's Sweet Potato and Venison dog food. While this recipe is a great one for upset stomachs, with the inclusion of digestible sweet potato being a particularly big plus, there are some downsides to it that means it places third.
Natural Balance's Sweet Potato is a limited ingredient diet, which means that it's great for pups who have an allergy or intolerance to beef, chicken, dairy products, or grains. In addition to being a limited ingredient food, the major meat source used in this product is venison, which means that it's also considered a novel protein diet.
In terms of macronutrients, Natural Balance does decently. It contains 27.3% protein and 18.2% fat, which are both well within AAFCO's standards. The major protein source, venison, is high in B-vitamins and a great choice for your pup.
The only real criticism that can be applied to its recipe is that the carb content is too high. At 40.9%, it's even higher than NomNomNow's. While the major carb source is sweet potatoes, that are a great, digestible source of energy that's particularly good for your sensitive dog's stomach, the balance between meat and veg should still be tipped further towards the meat end of the scale.

Best Dry Dog Foods for Sensitive Stomachs
Macronutrients (Dry-Matter Basis):
Protein: 34.1% minimum
Fat: 17.1% minimum
Carbs: 39.8% maximum
easily digestible dog food
The first product in the dry food category is a great, cover-all dog food that has the potential to treat dogs with a number of different issues. I and Love and You's Whitefish and Sweet Potato recipe is a limited ingredient diet with a clean, natural recipe, probiotics, and several additions that also make it good for pups suffering from stress.
The ingredient list is where this food really shines. The major source of protein and first ingredient is whitefish, with menhaden fish meal also making an appearance. Both of these foods are high in omega-3, which has been proven to help relieve dogs of stress
Rosemary extract, which has also been proven to be soothing, is also included. The addition of probiotics, which help to balance your pup's stomach, is another positive. Other ingredients to note are chicory root, which acts as a prebiotic fiber, and sunflower oil, which helps to balance all of the omega-3 in the recipe with omega-6.
In terms of macronutrients, the Whitefish and Sweet Potato recipe performs admirably. It has 34.1% protein, 17.1% fat, and 39.8% carbohydrates. While the carb content is a little higher than ideal, this is mitigated by the fact that the major carbohydrate sources (peas, chickpeas, and sweet potatoes) are healthy and full of vitamins and fiber.
Macronutrients (Dry-Matter Basis):
Protein: 35.6% minimum
Fat: 20.0% minimum
Carbs: 35.6% maximum
Good dog food for sensitive stomach and diarrhea
Taking second place in the dry food category is CANIDAE's Salmon and Sweet Potato dog food. Offering probiotic support, a good macronutrient balance, and a healthy ingredient list, this food is a great choice for pups with sensitive stomachs.
The real stand-out feature of this product is the probiotics included in the recipe. Probiotics are bacteria that help to balance your pup's digestive system by promoting the growth of other 'good' bacteria and culling 'bad' bacteria. While the results of this vary from dog to dog, the general benefits include smoother digestion, a reduction in issues like constipation and diarrhea, and a boost to the immune system. For dogs who have sensitive stomachs that aren't caused by a particular allergy or other condition, these kinds of general, all-round benefits are perfect.
In terms of macronutrients, CANIDAE's Salmon and Sweet Potato has 35.6% protein, 20% fat, and 35.6% carbohydrates. The major carbohydrate source is sweet potato, which is gentle on stomachs and easy to digest, so the slightly elevated carbohydrate content isn't much of a problem. Aside from salmon, other ingredients include canola oil, which is high in omega-6 fatty acids, and menhaden fish meal, which is high in omega-3s. 
Macronutrients (Dry-Matter Basis):
Protein: 32.6% minimum
Fat: 17% minimum
Carbs: 41.7% maximum
Next on the list is Forza10's Neutraceutic Sensitive Behavioural kibble. With a strong focus on stress reduction and plenty of scientifically backed ingredients that help to facilitate this, this product is great for pups who suffer from a sensitive stomach due to stress.
As mentioned before, if your pup is stressed due to a life event or a sudden change in environment, switching his or her food isn't the answer. However, if your dog has a generally anxious nature, you may find that specialty foods made to reduce stress have a significant effect. 
Of these stress-reducing foods, Forza10's is a standout. It includes pomegranate, valerian root, rosemary extract, and sources of omega-3, all of which have been found to help reduce stress in dogs. Customer reviews indicate that owners have had widespread success feeding this food to overexcitable or anxious pups.
Aside from its stress-reducing properties, Forza10's dry food is decent in its own right. It has 32.6% protein, 17% fat, and 41.7% carbohydrates. The major protein sources are anchovy meal and pork meal, both of which are generally gentle on dogs' stomachs. The carb sources include peas and fava beans. While these aren't the most nutritious of veggies, they're certainly better than grain fillers.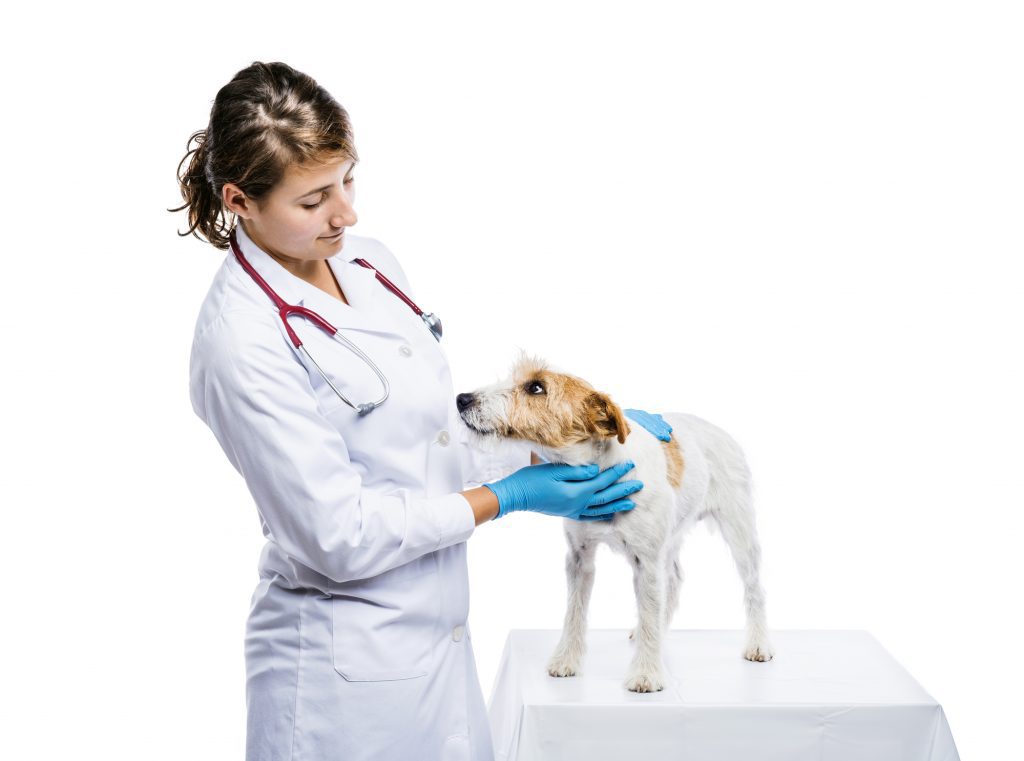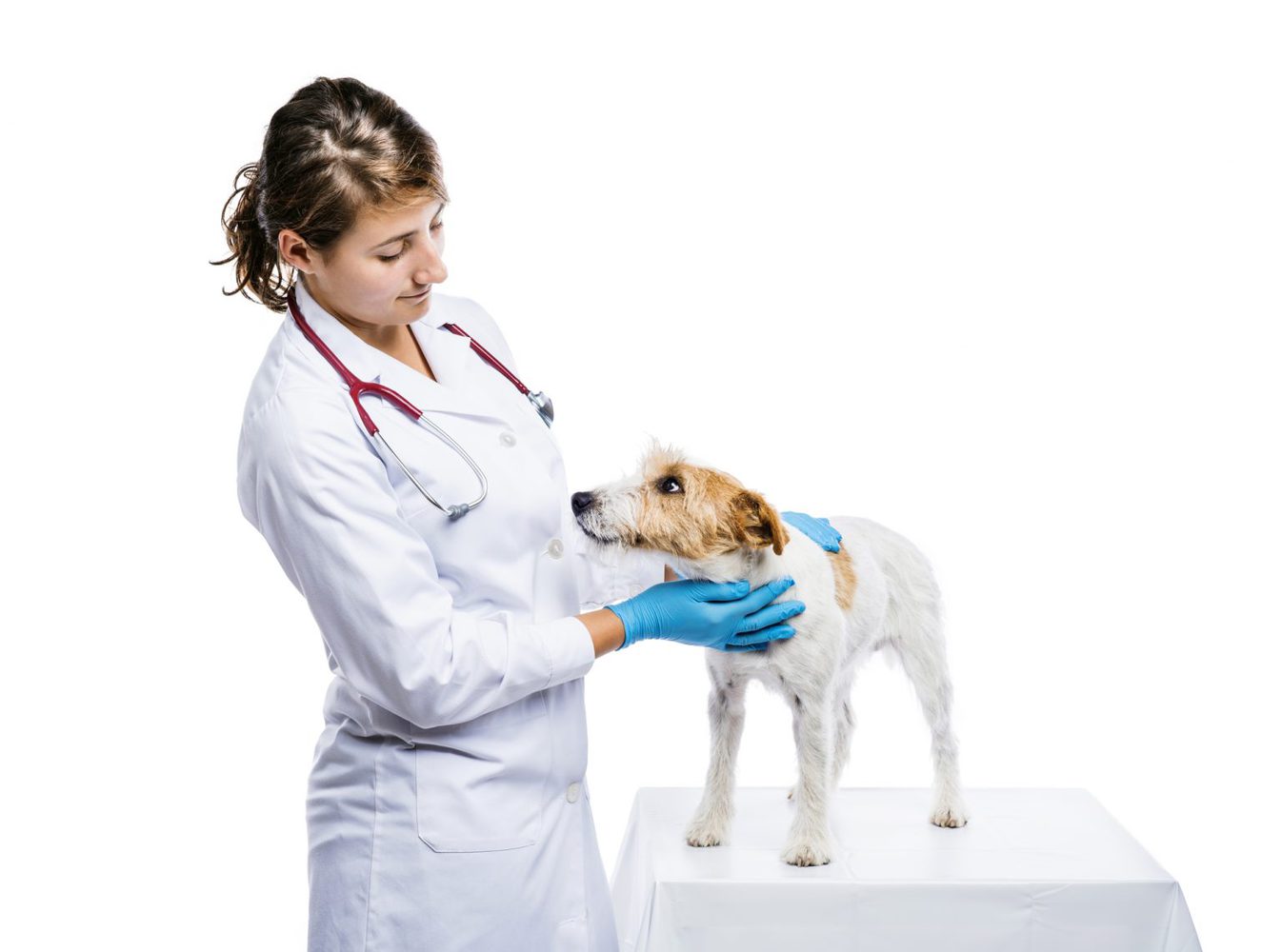 Best Puppy Food for Sensitive Stomachs
Macronutrients (Dry-Matter Basis):
Protein: 37% minimum
Fat: 39.1% minimum
Carbs: 10.9% maximum
Placing first in the puppy category is K9's Grass-Fed Beef Canned food. With a simple ingredient list and fair macronutrient balance, this is a good fit for pups who prefer natural ingredients in their food.
The great thing about this recipe is the caliber of the ingredients. The first six ingredients are all various cuts of grass-fed beef. High-quality animal protein sources are particularly important for pups with sensitive stomachs, so as long as your puppy doesn't have an allergy to beef, this is a huge plus. 
Another interesting feature is the absence of any gelling agents in the food. Gelling agents are usually used to hold wet dog food together, but K9 foregoes this and uses pure New Zealand spring water instead. If your pup seems to have a food intolerance but you haven't been able to work out what it is, it's possible that they've been reacting badly to the gelling agent in the previous foods you've tried. If so, this product is a great pick.
The macronutrient content of this product is decent, with 37% protein and just 10.9% carbohydrates. The only real issue with this food is the fat content, 39.1%, which is very high, especially relative to the protein content. While puppies do need extra energy, if your pup tends to be less active or lives in an apartment, it may be best to steer clear of this product, as the energy density may not line up with your dog's requirements.
Common Causes of Sensitive Stomachs for Dogs 
There are five major causes of food sensitivity in dogs. These include:
Like humans, dogs can be allergic to certain foods. The most common allergies in dogs are beef, dairy products, chicken, and wheat (Mueller, Olivry and Prélaud, 2016). A reaction to an allergen most commonly results in reddened or sensitive skin, ear infections, and digestive issues like vomiting and diarrhea.
Food intolerances are similar to food allergies and cause the same general symptoms. The main difference between the two is that food intolerances are more mild, meaning that your pup can tolerate small amounts of the allergen ingredient without having any problems. However, if the intolerance is towards something like chicken, and chicken is the main protein source in your dog's food, the effects will likely still be disruptive.
Though dogs are generally thought to be forever optimistic and playful, the truth is that they can be severely affected by stress and anxiety. Interestingly, research has shown that they can pick up on the negative moods of their owners (Tiira, Sulkama, and Lohi, 2016), and this can be compounded by stressful and disruptive events such as moving house or the introduction of a new animal into the household. This stress has been found to cause gastrointestinal interruption, which is most often characterised by constipation and/or diarrhea.
Some dogs have perfectly functioning digestive systems, but tend to be 'wolfers;' that is, they wolf their food down as fast as possible come dinner time. This can lead to bloating, as they accidentally ingest air with their food, and can also cause vomiting.
The last possible cause of your pup's sensitive stomach is general sensitivity, which basically means that the problem doesn't have a diagnosable or directly treatable cause. While this may seem like an impossible situation, there are definitely some general measures that you can take and things that you can look for in a dog food that will help ease your pup's stomach.
Foods That Can Help With These Causes 
Food Intolerances and Allergies:
Food intolerances and allergies can be combated in several different ways. The most popular of these is to feed your pup a limited ingredient dog food, which means a food that purposely excludes one or more of the common allergens (Clinical Nutrition Service, 2017). This list features several of these kinds of foods to help combat your pup's sensitivity.
Another method is to feed your pup a food that contains a novel protein; a source of meat that usually isn't used in dog foods. This might include venison, bison, kangaroo, or a range of other meats. The purpose of this is to give your pup a meat that they're not likely to be allergic to, thus alleviating their symptoms.
The final method, which is used to treat only serious and multiple allergies, is to feed your dog a food made from hydrolysed protein. This kind of dog food is usually only available with the recommendation of a vet. Check out our article on The Best Hypoallergenic Dog Food Brands for Allergies for more information and recommendations of hydrolyzed protein diets.
Unfortunately, changing your dog's diet alone isn't going to cure him or her of all stress, especially if that stress is due to an external issue. However, there are certain ingredients that have been found to reduce stress and anxiety in dogs and, subsequently, alleviate the stomach issues that come with it. These include omega-3, rosemary, pomegranate, valerian, tilia, Crataegus Oxyacantha, and tryptophan supplements (Sechi et. al., 2016). While some of these aren't ever found in commercial dog foods, sources of omega-3, rosemary, pomegranate, and tryptophan can definitely be found on the ingredient list of some products.
Rapid eating can't necessarily be fixed by choosing a different food for your dog. However, there are certain dog feeders that can be bought that force your pup to take their time when chowing down. One great example is the Frisco Slow Feeder Dog Bowl, which has a maze-like interior that means your pup can't wolf down big mouthfuls in one go.
As general sensitivities don't have a diagnosable cause, they're more difficult to deal with. However, there are some general measures that you can take to ensure you find a good food for your dog. 
Choosing low-risk ingredients like turkey and lamb, which rarely have any allergies or sensitivities associated with them, may help some dogs. Others respond well to foods that contain probiotics, which help to balance the gut and support healthy digestive functioning, as well as boosting the immune system (Schmitz and Suchodolski, 2016). 
Another useful tip is to look for products that have a range of different recipes. For example, one brand might produce a line of dog foods that includes a chicken-based recipe, a beef-based recipe, a turkey-based recipe, and a fish-based recipe, but are otherwise similar in their nutrient profiles and quality. You can switch between these kinds of foods to find one that works for your pup's stomach without needing to find a whole new product and brand each time.
How We Picked the Best Dog Foods for Sensitive Stomachs
When identifying and ranking the best foods, the most important thing to consider is the food's macronutrient profile. Of the three macronutrients present in dog food, protein and fat are the most important. They're essential for your pup's daily functioning and must be present in large enough quantities to be able to fuel your dog's daily life. The Association of American Feed Control Officials publishes a series of guidelines that dictate the minimum percentage of these nutrients in every dog food (AAFCO, 2014). All of the foods on this list follow these guidelines, which for adult dogs are as follows:
A protein content of over 18%
A crude fat content of over 5.5%
While the above percentages stand for adult dogs, they're a little different for puppies. Puppies have growing to do on top of the usual canine requirements, which means that they need extra fuel. According to AAFCO, all puppy foods should have these minimum protein and fat values:
A protein content over 22.5%
A fat content over 8.5%
A minimum of 1.2% calcium
The third macronutrient present in dog food is carbohydrates. While some sources of carbs, particularly whole grains and veggies, can be great for providing fiber and vitamins to your pup, carbohydrates as a whole aren't actually an essential part of the canine diet (Roberts et. al., 2017). On top of this, many dog food companies pack their products full of grain fillers and by-products, which are a non-nutritious ingredient and simply a source of 'empty energy.' Because of this, foods with a lower percentage of carbohydrates are generally more nutritious, as they have more room for protein and fats. Therefore, foods that satisfied the following requirement were given preference:
A carbohydrate content under 30%, with allowances made for healthy carbohydrate sources
In addition to these general factors, we looked even more closely at the ingredient lists of the products on this list than we usually do. This is because dogs with sensitive stomachs benefit from clean, natural, quality ingredients and high-quality proteins even more than the average dog does. For pet owners trying to figure out what ingredients their pup is sensitive to, it also helps to have a shorter, simpler ingredient list. Therefore:
Foods with high-quality, simple and natural ingredients were given heavy preference
Why You Should Trust Us
All of our reviews are based on scientific evidence, not marketing campaigns or ads. We carefully stay up to date on the latest research so that we can recommend only the best to you and your pets. 
Before making it into any article, each dog food has to pass a rigorous review process that involves more than just surface-level information. We calculate all of our own macronutrient data. While we pay attention to the ingredient list, we also consider macronutrient ratios and recall frequency. Additionally, we speak to the dog food brands, vets, and dog trainers to make sure our recommendations are the most healthy options for your dog.
Read More Dog Food Reviews: Best Low Sodium Food and Best Small Breed Dog Foods
SOURCES:
Most common allergies in dogs: Mueller, R., Olivry, T. and Prélaud, P. (2016). Critically appraised topic on adverse food reactions of companion animals (2): common food allergen sources in dogs and cats. BMC Veterinary Research, 12(1).
Canine anxiety: Tiira, K., Sulkama, S. and Lohi, H. (2016). Prevalence, comorbidity, and behavioral variation in canine anxiety. Journal of Veterinary Behavior, 16, pp.36-44.
Limited-ingredient diets: Clinical Nutrition Team, (2017). What every pet owner should know about food allergies. [online] Clinical Nutrition Service at Cummings School. Available at: https://vetnutrition.tufts.edu/2017/01/food-allergies/ [Accessed 12 Jan. 2020].
Stress-reducing ingredients: Sechi, S., Di Cerbo, A., Canello, S., Guidetti, G., Chiavolelli, F., Fiore, F. and Cocco, R. (2016). Effects in dogs with behavioural disorders of a commercial nutraceutical diet on stress and neuroendocrine parameters. Veterinary Record, 180(1), pp.18-18.
The benefits of probiotics in canines: Schmitz, S. and Suchodolski, J. (2016). Understanding the canine intestinal microbiota and its modification by pro-, pre- and synbiotics – what is the evidence?. Veterinary Medicine and Science, 2(2), pp.71-94.
AAFCO nutrient guidelines: The 2014 AAFCO Dog Food Nutrient Profile for Growth and Reproduction. (2019). [ebook] AAFCO. Available at: https://www.aafco.org/Portals/0/SiteContent/Regulatory/Committees/Pet-Food/Reports/Pet_Food_Report_2013_Midyear-Proposed_Revisions_to_AAFCO_Nutrient_Profiles.pdf [Accessed 12 Jan. 2020].
Optimal carbohydrate content in dog food: Roberts, MT, Bermingham, EN, Cave, NJ, Young, W, McKenzie, CM, Thomas, DG. Macronutrient intake of dogs, self‐selecting diets varying in composition offered ad libitum. J Anim Physiol Anim Nutr. 2018; 102: 568– 575. https://doi.org/10.1111/jpn.12794