Sometimes, we don't have the money to spend hundreds on dog food each month. Circumstances change and more pets are added to our family. For many people, feeding three large dogs expensive food isn't possible. Often, feeding one tiny dog a premium, expensive food isn't even practical either!
While there are many affordable dog food options on the market, many are astonishingly low-quality. They're full of cheap, unhealthy preservatives, void of the meat our dogs crave, and lacking in many essential nutrients. Some aren't even formulated by a veterinarian or crafted according to AAFCO standards. Some dry dog foods are also full of by-products and other unsavory ingredients.
But don't fret. We're here to help! There are a few dog foods out there that are available at an affordable price and of decent quality. Plus, when you compare the prices on different sites like Amazon and Chewy, you can potentially save quite a bit.
We'll help you sort through the rubble to find that astounding, inexpensive dog food.
Reviews of the Best Cheap Dog Foods
Best Cheap Dry Dog Foods
Our Pick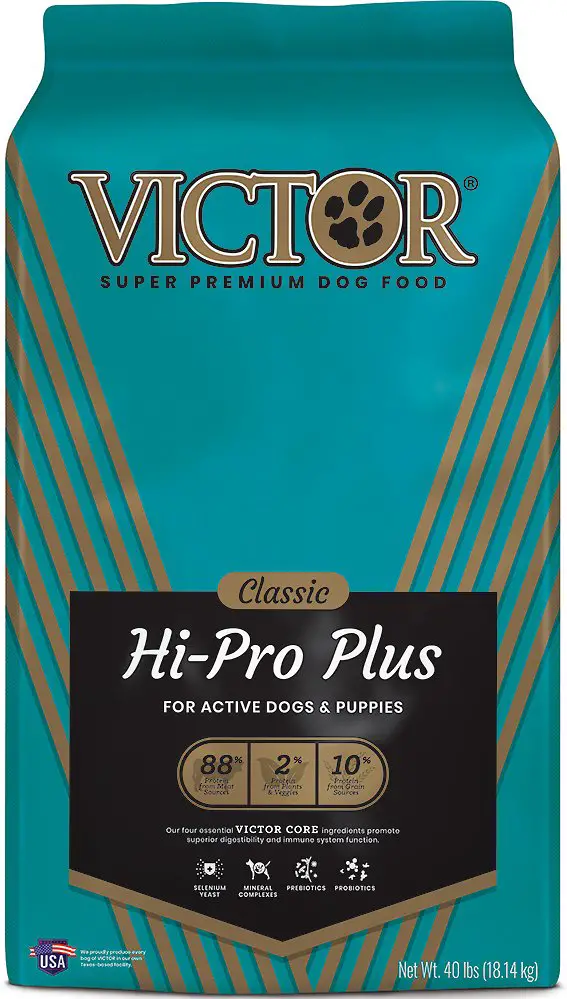 Good macronutrients
Pea-free
88% of the protein comes from meat
Doggypedia rating: 5/5
Cost per 100 grams (as of the date published): 24 cents
First 5 Ingredients: Beef Meal, Grain Sorghum, Chicken Fat (preserved with mixed Tocopherols), Pork Meal, Chicken Meal.
Macronutrients (Dry-Matter Basis):
32.97% Protein
21.98% Fat
36.26% Carbs
best inexpensive dog food
This kibble surprised us. It contains absolutely no peas, potatoes, or other ingredients that have been linked to health problems by the FDA. Four out of five of the first ingredients are real meat products. The only ingredient in the first five that doesn't come from meat is grain sorghum. This is a whole grain that is similar to corn, except that it is gluten-free. Because it does not contain gluten, it does not have a significant effect on blood sugar and is therefore considered better for our dogs than most grains.
Furthermore, this food is exceedingly cheap at only 24 cents per 100 grams. That works out to just over a dollar a pound. With that said, the calorie content of this food is a little lower than most dog foods. However, the difference isn't so massive that you'll see significant changes in how much you feed your dog.  It is also formulated for most life stages so that you could feed it to your puppy as well.
The macronutrient content of the food isn't the greatest, but it is beautiful for this price point. The protein is above average from what we typically see in dog foods and the carb content is lower. Overall, this is pretty high-quality dog food.
Runner Up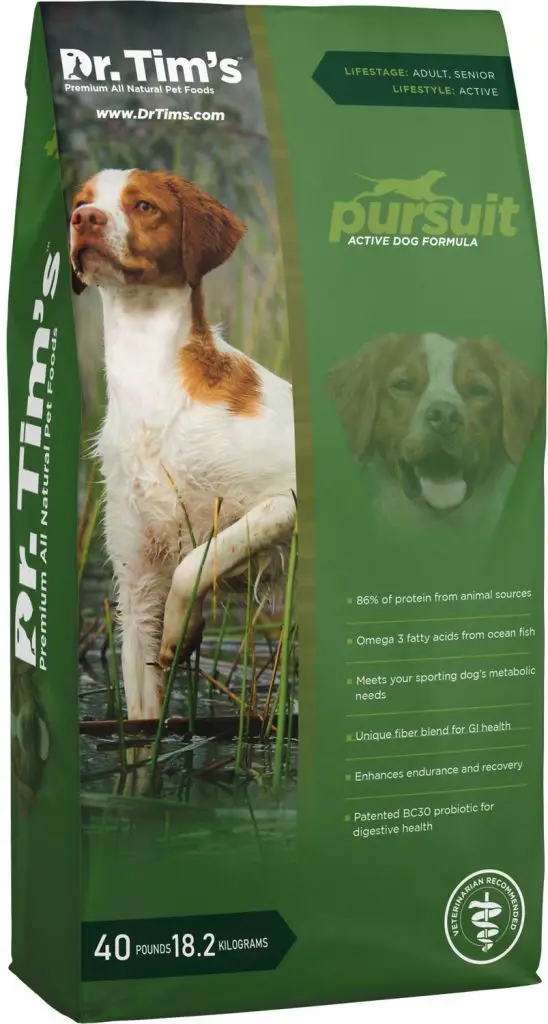 No Peas
High protein content
Contains a probiotic blend
Doggypedia rating: 4.5/5
Cost per 100 grams (as of the date published): 38 cents
First 5 Ingredients: Chicken Meal, Brown Rice, Chicken Fat (Preserved With Mixed Natural Tocopherols, A Source Of Vitamin E), Whole Oat Groats, Dried Beet Pulp.
Macronutrients (Dry-Matter Basis):
33.33% Protein
22.22% Fat
35.56% Carbs
budget dog food
You can't beat this pet food when it comes to getting the most quality for your dollar. While this kibble is not the cheapest out there, it is far less expensive than other brands of similar quality. Plus, it comes in huge bags, so you can save by buying them in bulk.
This dry food contains no peas. This is extremely hard to find in inexpensive dog food, so we were delighted. It does contain grains as the second ingredient in the form of brown rice. However, this is a complex carbohydrate and a whole grain, making it a decent quality ingredient. This grain adds calories to the food, though it doesn't contribute much nutritionally speaking.
While it might not seem like it, chicken fat is another quality ingredient. This fat is high in fatty acids and helps provide critical nutrients for dogs. All other components are of high or average quality as well.
The macronutrient content was outstanding for what we usually find at this price point. With carbs at only 35% and protein at 33%, this food is closer to the optimal consumption than most dry dog foods out there.
Runner Up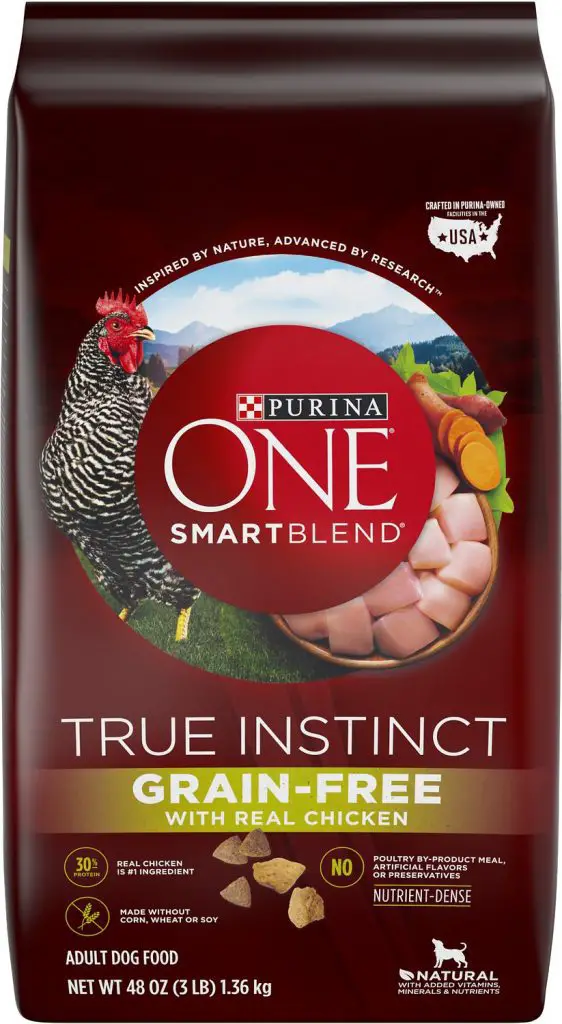 Grain-free
Chicken as the first two ingredients
Decent macronutrient breakdown
Doggypedia rating: 4/5
Cost per 100 grams (as of the date published): 36 cents
First 5 Ingredients: Chicken (Source of Glucosamine), Chicken Meal (Source of Glucosamine), Canola Meal, Lentil Flour, Pea Starch.
Macronutrients (Dry-Matter Basis)
affordable dog food
If you're looking for inexpensive dry food that is still of decent quality, Purina is a good brand to look at. This particular blend is grain-free and has chicken as the first two ingredients. Both chicken and chicken meal are considered high-quality ingredients that provide our dog with plenty of protein.
The third ingredient is somewhat controversial but has not been shown to harm dogs in anyway. Canola meal is a by-product of creating canola oil for human consumption. In other words, it's the left-over part. This ingredient is very high in protein, which is likely why this dog food's protein level is higher than average. It also contains vitamins that help your dog's coat stay shiny and healthy.
Lentil flour is a powder made from lentils that are high in protein, while pea starch is a substance derived from peas. We were disappointed that peas were used in this dog food. However, they are further down on the list than you would find in other inexpensive dog foods.
We were also somewhat disappointed with the macronutrient breakdown. We would have liked to see a lower carbohydrate concentration. However, we understand that this is often hard to find in a low-cost food. 37.5% is still decent and about the average for commercial dog foods.
In the end, this kibble is a decent choice for your dog, which is also quite cheap at only 36 cents per 100 grams.

Best Cheap Wet Dog Foods for the money
Runner Up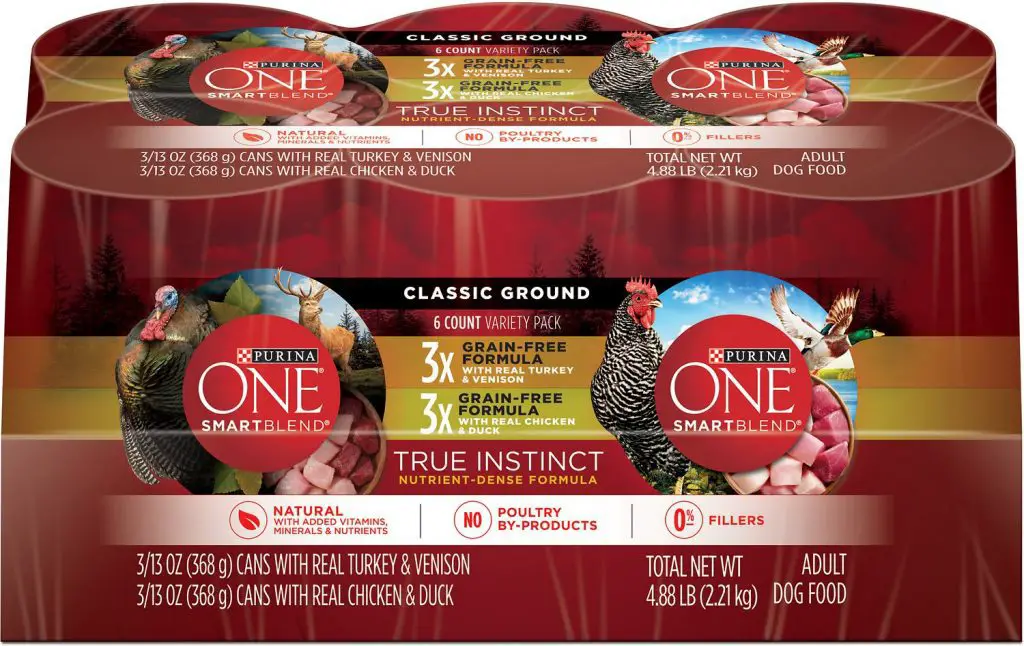 Near-perfect macronutrient content
Limited-ingredients
Uses healthy natural ingredients
Doggypedia rating: 5/5
Cost per 100 grams (as of the date published): 28 cents
First 5 Ingredients: Turkey, Turkey Broth, Chicken, Pork Lungs, Liver.
Macronutrients (Dry-Matter Basis):
40.91% Protein
36.36% Fat
 9.09% Carbs
cheapest high quality dog food
Out of all the inexpensive foods we reviewed, this is one of the best ones. It has near-perfect macronutrient content and one of the lowest carbohydrate levels. Protein is up at nearly 41% and fat is a healthy 36.36%. This is very close to what adult dogs would eat naturally in the wild, and we were happy to see such a high protein content at this price point.
The ingredient list is also stellar. It pretty much only includes meat and added vitamins. All of the first five ingredients are quality meat products, including to whole turkey and real chicken. Turkey broth is used instead of water, which raises the protein and amino acids amount considerably. This quality food includes no peas or other controversial ingredients.
Runner Up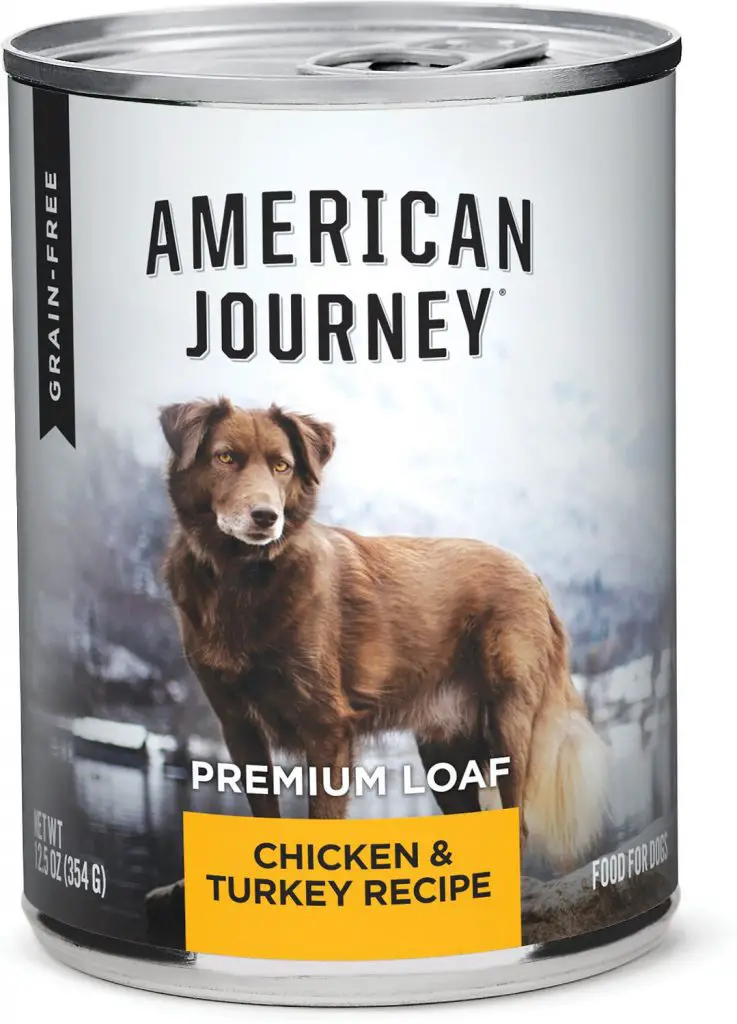 Grain-Free
Pea-Free
Contains real chicken and turkey
Doggypedia rating: 5/5
Cost per 100 grams (as of the date published): 42 cents
First 5 Ingredients: Chicken, Chicken Broth, Turkey, Chicken Liver, Potatoes.
Macronutrients (Dry-Matter Basis):
40.91% Protein
27.27% Fat
18.18% Carbs
Best value dog food
This is another quality dog food, though it is a little bit more expensive than the others we've suggested. It is about 42 cents per 100 grams with an average calorie density. That means you'll be paying about a dollar and a half per 15 pounds of body weight to feed your canine every day. Of course, this amount can vary depending on how much your dog ends up eating and how active they are. We recommend following the feeding instructions and using your dog's weight as a guide.
With 40.91% protein, this adult dog food has an excellent macronutrient content. Carbohydrates are at 18.18% and fat is at 27.27%. This is much better than about every other dog food available, though it still isn't perfect. We would have liked to see carbohydrates a little lower and fat content a little higher. Of course, for this price point, we can't complain.
The ingredients included are mostly right. The first four ingredients come from an animal source, with both whole chicken and whole turkey included. However, further down in the ingredient list, potatoes are covered. For reasons we previously mentioned, this isn't an excellent choice for a vegetable. This ingredient can cause heart problems in some dogs, though to a lesser extent than peas. Potatoes are mostly used as a filler and an alternative to grains in grain-free dog food. They don't have much nutritional value.
Runner Up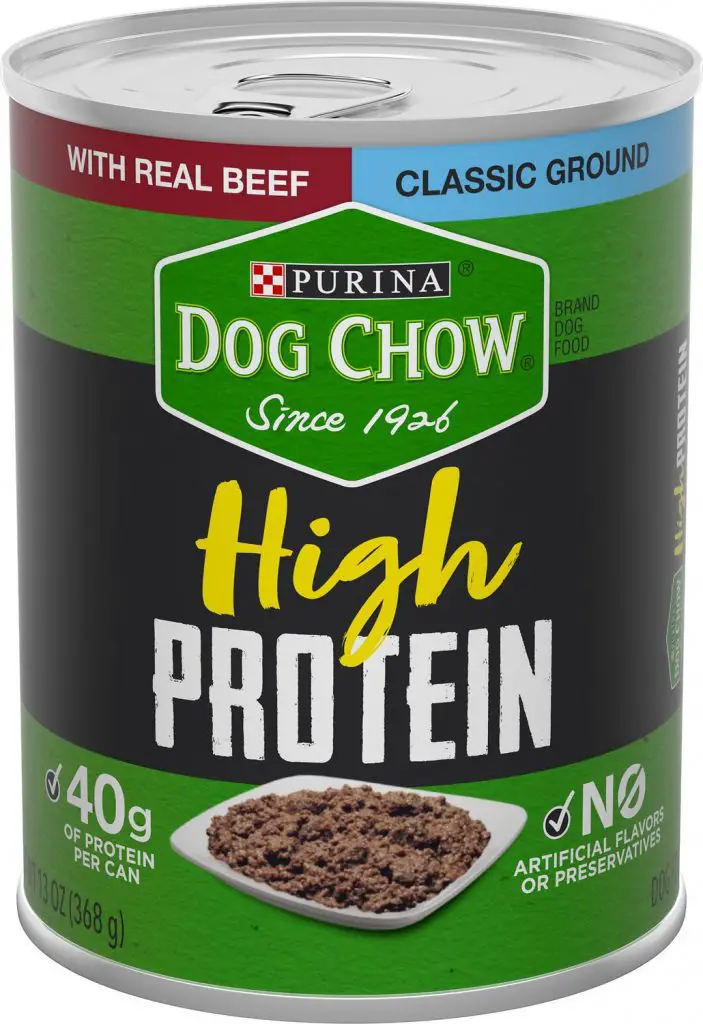 High amounts of protein
No peas
No artificial flavors or preservatives
Doggypedia rating: 4/5
Cost per 100 grams (as of the date published): 28 cents
First 5 Ingredients: Water Sufficient For Processing, Chicken, Meat By-Products, Liver, Soy Flour.
Macronutrients (Dry-Matter Basis):
47.83% Protein
17.39% Fat
21.74% Carbs
good affordable dog food
With 47.83% protein, this dog food contains one of the highest protein concentrations out of any food we reviewed. Much of this protein comes from meat-based ingredients. The first ingredient besides water is chicken. This is a good, quality protein we can stand behind.
However, the next ingredient is meat by-products. While we don't consider by-products to be innately bad, naming the source as "meat" is a little vaguer than we would have liked. This ingredient could be from any animal, including roadkill or other dead pets. You don't know.
On the bright side, this dog food is pea-free and decently inexpensive. It is decent wet food, especially for those looking to save a little money.
Best Reasonably Priced Dog Food For Puppies
Runner Up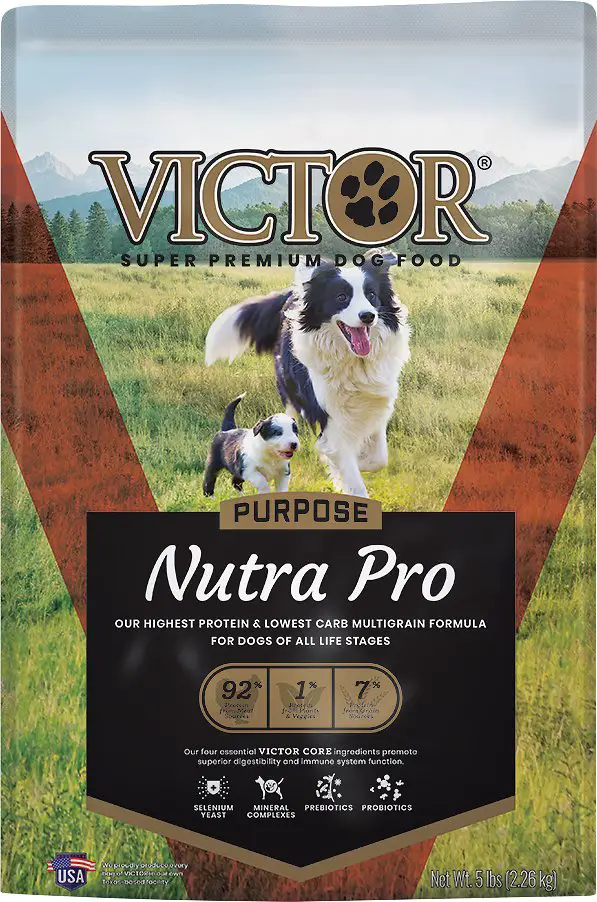 Free of artificial colors
Promotes a healthy immune system
Pea-free
Doggypedia rating: 4.5/5
Cost per 100 grams (as of the date published): 30 cents
First 5 Ingredients: Chicken Meal, Blood Meal, Whole Grain Millet, Chicken Fat, Yeast Culture.
Macronutrients (Dry-Matter Basis):
41.76% Protein
19.78% Fat
29.67% Carbs
cheap grain free dog food
Puppy food tends to be quite expensive. This is one of the cheapest puppy foods out there that is not full of low-quality ingredients and carbohydrates. It contains chicken meal and blood meal as the first two ingredients, which are both quality proteins that come from animals. The other ingredients in this dog food are of high or moderate quality. There are no peas or other potentially dangerous ingredients included.
The macronutrients for this product are very good. Protein is high at 41.76%, though carbohydrates are just barely under what we generally recommend. We would have liked to see fat higher and carbohydrates lower, but otherwise, this product is a pretty good choice.
Runner Up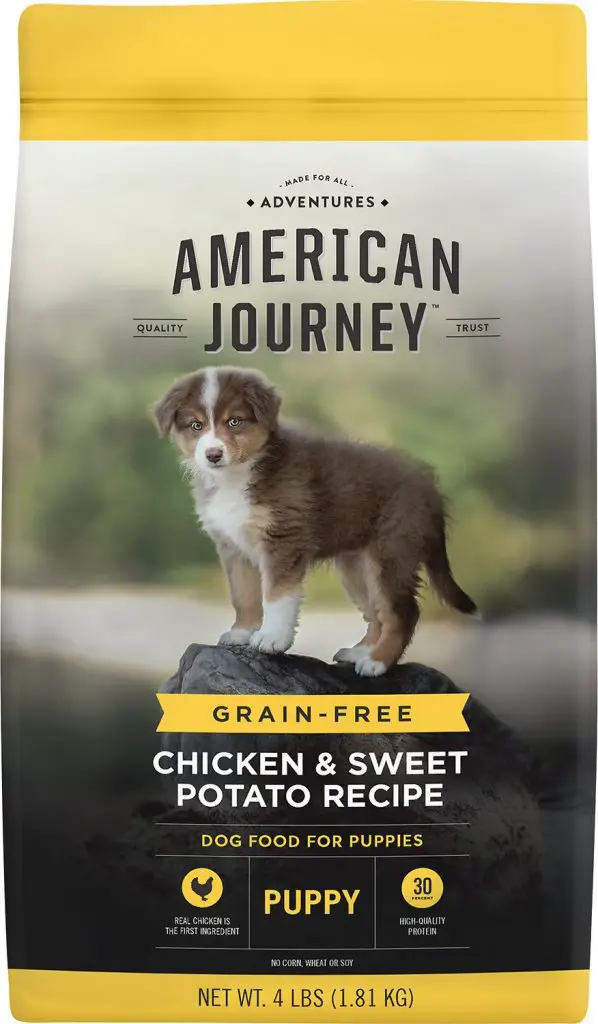 Grain-free
High protein
High in omega-3 and omega-6 fatty acids
Doggypedia rating: 3.5/5
Cost per 100 grams (as of the date published): 33 cents
First 5 Ingredients: Deboned Chicken, Chicken Meal, Turkey Meal, Peas, Chickpeas.
Macronutrients (Dry-Matter Basis):
33.33% Protein
13.33% Fat
44.44% Carbs
This kibble isn't excellent, but it is slightly better than most of the other puppy foods out there. Deboned chicken is the first ingredient, with chicken meal and turkey meal behind that. These are quality ingredients for any canine, especially a small, growing puppy.
However, peas are the next ingredient. This veggie has been strongly linked to DMC, a heart condition that can be caused by nutritional deficiencies. Dogs of any age can develop this disorder, including puppies. So, it is essential to be careful about your dog's food their whole life, not just as they approach their senior years.
We prefer dog food that contains no peas at all or at least no peas in the first five ingredients. This dog food has peas listed as number four. Furthermore, sweet potatoes are listed further down on this list – -+another ingredient linked with heart problems.
The macronutrient content of this dog food is not wonderous. Protein is high at 33.33%, but carbs are even higher at 44.44%. We would have preferred a higher amount of fat instead of so many carbs.
With all that said, this food isn't terrible. The first three ingredients are high-quality, and protein content is higher than most. However, this food was not the absolute best. 
What to Look Out For
Before we jump into our reviews, let's take a minute to figure out what we need to watch for in cheaper food.
As you can imagine, many dog food brands attempt to cut corners when they create a low-quality dog food. They might use unsavory meats or even no meat at all. Their food might be bulked up with corn or wheat.
A common misconception is that food labeled "grain-free" must be high-quality. However, this is quite far from the truth. Often, dog food companies will switch out the grains in their dog food formulas with a low-quality vegetable like peas or sweet potatoes. Then, they'll label it as "grain-free," sometimes jacking up the price even though peas are one of the cheapest dog food ingredients out there. Unexpectant pet parents will purchase the food, assuming it must be great because it doesn't contain any grains.
However, most grains are much better for dogs than peas. Peas have been linked to severe heart defects by the FDA. 93% of dogs who developed diet-induced DMC, a life-threating heart condition, ate a dog food with peas in it. On the other hand, dogs have evolved alongside humans to eat grains. While grains aren't the best option for them, they are much better than peas or potatoes.
Another common misconception is that vast numbers of dogs are allergic to grains, but this isn't true. More dogs are allergic to meat proteins like chicken than grains.
Now that we've cleared up a few common misconceptions let's look at what we want in our cheaper dog food.
You should select a dog food that has as close to the optimal macronutrient content as possible. According to one study, this optimal intake is around 44% protein, 52% fat, and 7% carbohydrates. Of course, finding a dog food with these exact macronutrients is impossible, especially when you're talking about inexpensive dog food. In general, dog owners want protein and fat to be high, which carbohydrates are not more than 30%.
The dog food you choose should be void of fillers. Just because a dog food advertises that it is a yummy "lamb dinner with peas" doesn't mean that the peas are playing a role in the nutritional content of the food. Not all fillers sound scary or inexpensive. Often, dog food companies will choose fillers like cheap vegetables, cereal by-products, mill run, hulls, and other similar products. It is important to note that just because something sounds strange or comes from a plant doesn't mean it is a filler. "Corn gluten mill" is a good source of protein and nutrients for dogs, especially in inexpensive dog foods that are trying to keep costs down.
The dog food should contain high-quality ingredients. Meat should preferably be the first few ingredients on the label, and the meat should not contain any controversial ingredients like peas. By-product ingredients with the source named, like "beef by-product," for example, aren't necessarily bad. By-product means that it includes the parts humans don't typically eat, like organs and cartilage. Many by-products are relatively nutritious and packed with protein.
Why You Should Trust Us
I've been a dog owner my whole life, growing up with puppies to adopting my newest pup, Max. We have reviewed hundreds of different dog foods over the years, so we have an expert view of what the market currently offers. All of our reviews are based on scientific evidence, not marketing campaigns or ads. We carefully stay up to date on the latest research so that we can recommend only the best to you and your pets. 
Before making it into any article, each dog food has to pass a rigorous review process that involves more than just surface-level information. We calculate all of our own macronutrient data. While we pay attention to the ingredient list, we also consider macronutrient ratios and recall frequency. Additionally, we speak to the dog food brands, vets, and dog trainers to make sure our recommendations are the most healthy options for your dog.
How We Picked the Top Dog Foods
We considered quite a few different factors when selecting the best dog foods possible. Here are some of the things we considered:
The cost per serving. The serving size is vital to understand when choosing an inexpensive dog food. A food might cost cheaper upfront, but if you have to feed your dog more of it, it isn't going to be more affordable. We checked the serving size on each product to ensure that it was on the inexpensive side.
Good macronutrient breakdown. We also carefully considered the actual macronutrient content of each pet food. To do this, we figured the "dry-matter" content of each meal. This is the macronutrient content of the food minus all the water and moisture that is included. This is the only way you can compare foods accurate. Otherwise, the amount of water in the diet would gravely throw off the macronutrient calculation. We aimed for foods with fewer than 30% carbohydrates and at least 30% protein. Of course, this was not possible in all cases. Sometimes, food was extremely quality in every other aspect, but the macronutrient count.
Free of dangerous ingredients. Dog foods preferably shouldn't contain any hazardous or potentially hazardous ingredients. With that said, nearly every dog food on the market today includes peas, potatoes, or something of that sort. Because of this, we aim to choose foods that have these ingredients as far down in the ingredient list as possible.
Minimal fillers. Fillers are cheap and do not have any nutritional value. They should be avoided as much as possible. They're basically "empty calories." Plus, no one wants to pay for a filler that provides nothing for their dog.
Contains quality ingredients. We opted for whole meat instead of by-product where ever possible, selected whole grains instead of refined, and choose foods with quality veggies instead of starchy fillers. The protein sources in the diet should also be high-quality and be a "proven" protein, like chicken, beef, or pork. Boutique proteins like buffalo and kangaroo have not been thoroughly tested on dogs.
Brand. The brand of dog food is essential. Some are connected to regular recalls, while others like Taste of the Wild have been linked to specific disease outbreaks. Instead, we want to choose brands like Merrick that do not have many recalls or connections to disorders. The company making the food does matter.
Read More Dog Food Reviews: Best Large Breed Dog Food or Best Dachshund Dog Food