Maltese are adorable. These small toy dogs were bred to sit in the laps of queens and other officials. They typically weigh less than seven pounds and are best known for their long, silky coats.
Most describe these dogs as playful and hardy. They are mostly used as companion dogs today. However, they are also known as excitable alert dogs. They can be quite yappy.
Unlike most smaller dogs, Maltese are not particularly prone to health problems. Still, like all dogs, they benefit from high-quality dog food.
We all want our Maltese to be happy and healthy. Their diet plays a massive role in this. Below, we'll review some of the best wet and dry dog foods for Maltese and explain how to pick the best one for your pooch.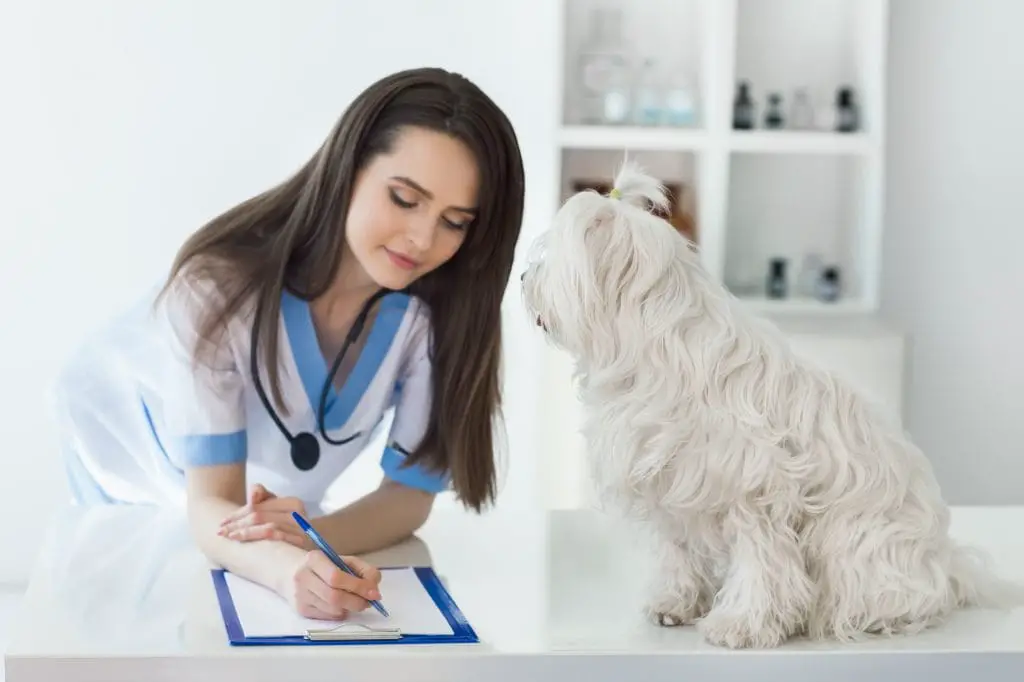 Reviews of the Best Dog Foods for Maltese Dogs
Our Pick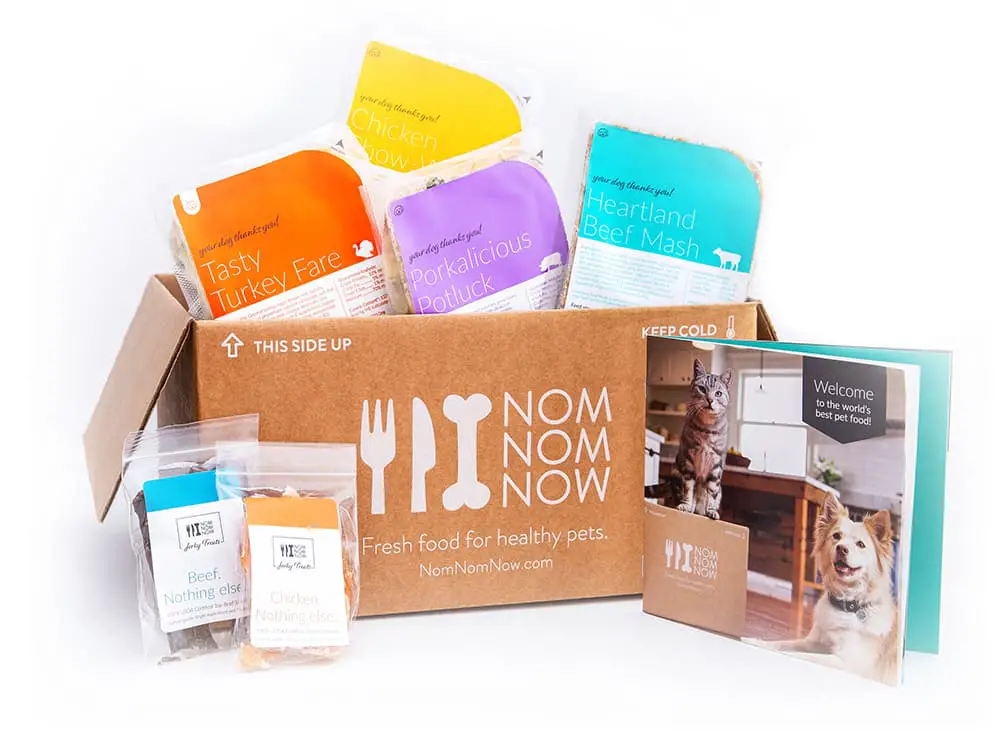 Fresh, human-grade ingredients
Near-perfect macronutrients
Convenient delivery
Doggypedia rating: 5/5
Calorie Content: 1239 kcal/kg
First 5 Ingredients: Ground beef, russet potatoes, eggs, carrots, peas.
Macronutrients (Dry-Matter Basis):
37.04% Protein
18.52% Fat
14.81% Carbohydrates
Best Dog Food for Maltese Dogs
For those with expendable income, fresh dog food is the way to go. Not only is it made with better ingredients, but it is also easier – believe it or not. After you create an account and submit your order, Nom Nom will send pre-packaged servings of pre-cooked fresh dog food to your door at a regular interval. These packs are simply stored in the fridge until your dog is ready to eat them.
This company specially tailors each food to fit your canine based on the information you fill out when creating your account. Serving sizes are based on metrics like your dog's size, weight, activity level, and age. Because of this, feeding your Maltese just the right amount is effortless.
There are a few different flavors of Nom Nom available. But we reviewed the beef mash specifically. This recipe includes ground beef as the first ingredient, followed by some veggies and eggs. We were pleased with the ingredient overall and loved that they used human-grade meat.
The macronutrient content of this food is also pretty good. Protein is high at over 37%, and carbohydrates are decently low at under 15%.
Overall, we have absolutely no complaints about this dog food. However, it is a bit more expensive than most. For some people, the convenience and improved ingredient quality are worth the extra cost. Highly, highly recommend for Maltese dogs.
Recall Info: None
Best Wet Foods for Maltese Dogs
Also Great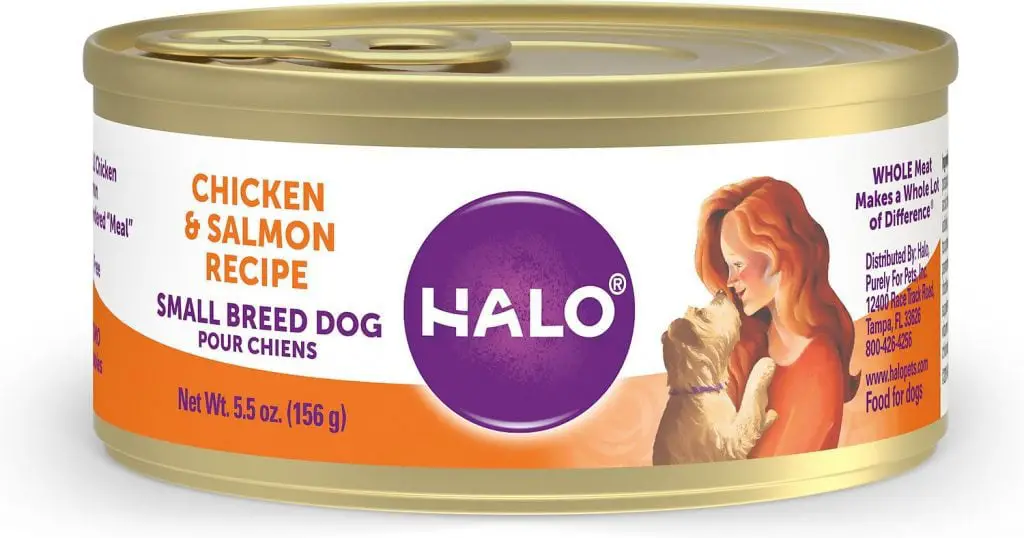 Formulated for adult dogs
Only includes humanely-raised, antibiotic-free meats
Non-GMO vegetable
Doggypedia rating: 5/5
Calorie Content: 1179 kcal/kg
First 5 Ingredients: Chicken, chicken broth, chicken liver, salmon, carrots.
Macronutrients (Dry-Matter Basis):
43.18% Protein
22.73% Fat
20.45% Carbohydrates
Best Wet Dog Food for Maltese Dogs
This wet dog food by Halo is one of the best for small dogs on the market. Firstly, it is particularly formulated for smaller dogs and comes in a smaller can as well – so you won't be awkwardly keeping half-empty cans of dog food in your refrigerator for days on end.
Secondly, this company does not have any recalls that we could find. This means they likely follow strict safety guidelines when creating all their recipes, reducing the risk that you'll purchase a potentially dangerous food from this company.
Furthermore, the macronutrient content of this food is fantastic. It is over 44% protein and has a decently high amount of fat as well. Carbohydrates are well under the 30% cut off we recommend.
The ingredient list is quite good, as well. Chicken is the first ingredient. Elsewhere on the can, we learn that they use only antibiotic-free chicken that has been humanely raised, so we know the meat used is high-quality. Chicken broth is used to add moisture and extra vitamins to the food. It is likely the cause of the high protein content as well.
Chicken liver is also included. Almost all organ meat is exceptionally vitamin-rich, including chicken liver. Finally, salmon is included as the fifth ingredient. Salmon is high in omega-3 fatty acids, so it may help your dog's coat stay shiny and improve the health of their skin.
A variety of other vegetables are included in the food as well, but they come after the meat. This food is grain-free.
Recall Info: None
Also Great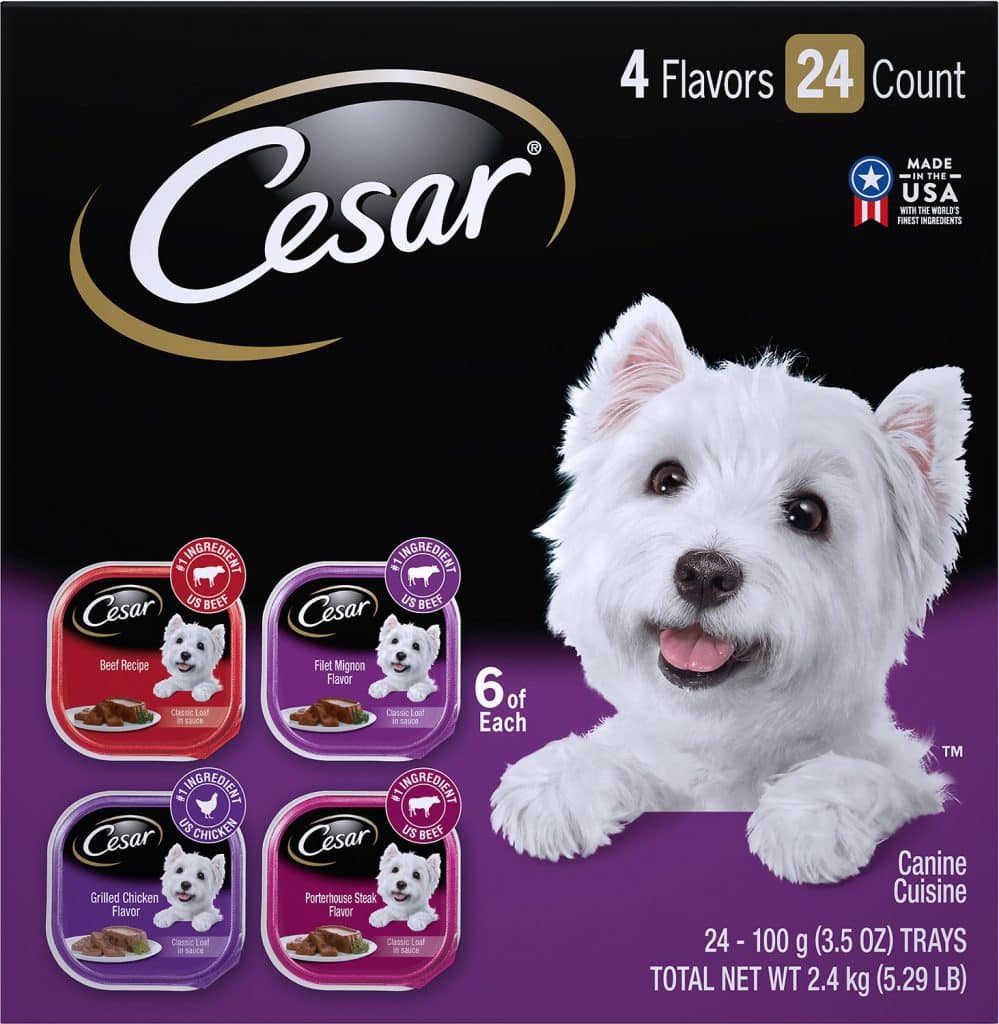 Real beef as the first ingredient
Includes all the vitamins and nutrients required for a complete diet
Very palatable – perfect for picky Maltese
Doggypedia rating: 5/5
Calorie Content: 877 kcal/kg
First 5 Ingredients: Beef, chicken liver, beef lung, chicken broth, water.
Macronutrients (Dry-Matter Basis):
50% Protein
22.22% Fat
11.11% Carbohydrates
Best for Picky Maltese Eaters
We loved this food as well. It includes real beef as the first ingredient, followed by chicken liver, beef lung, and chicken broth. All of these meats are excellent options for any canine. The organ meat is extra-nutritious and packed full of essential vitamins your pet needs.
Plus, it also makes the food tastier and smellier, which is a good thing when you have a picky canine.  If you have a problem with your Maltese regularly turning their nose up to your meal offerings, this food is an option to try.
This food also includes chicken broth alongside water. Both of these add moisture to the food and make it "wet" (literally). The inclusion of chicken broth brings up the nutritional and protein content of the food.
Speaking of the protein content, this food contains much more protein than most. It is 50% protein. Fat is also quite high at over 22%, and the number of carbohydrates is down at 11%.
We could not recommend this food enough, especially to those with picky dogs.
Recall Info: Yes
Also Great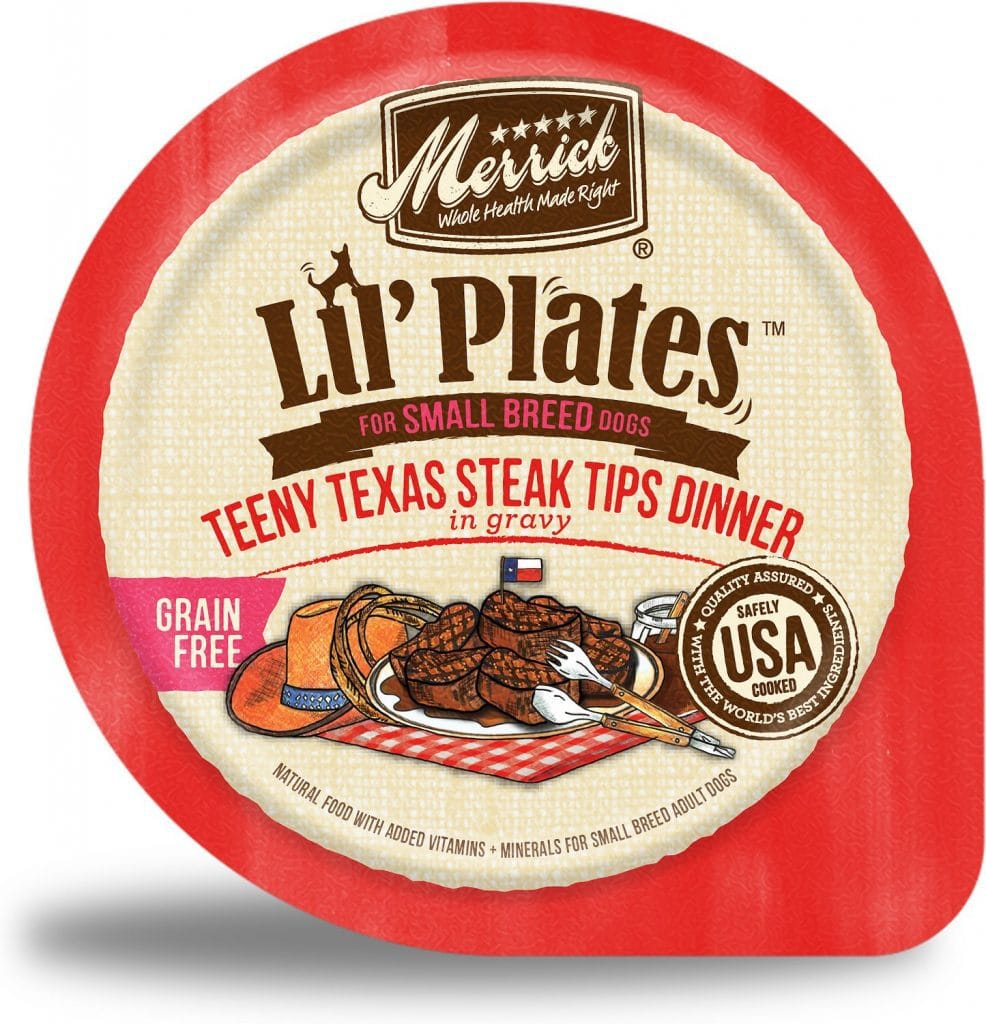 Formulated with high levels of omega fatty acids
Crafted and cooked in the USA
Includes real beef as the first ingredient
Doggypedia rating: 5/5
Calorie Content: 910 kcal/kg
First 5 Ingredients: Beef, beef broth, venison broth, beef liver, dried egg whites.
Macronutrients (Dry-Matter Basis):
44.44% Protein
16.67% Fat
22.22% Carbohydrates
This is another excellent wet dog food that almost every Maltese is sure to thrive on. It includes beef as the first ingredient. This beef is whole and deboned. It is not clear whether it is human-grade or not, so it might be slightly lower quality than the other wet dog foods we reviewed. Either way, though, it is better than most other dog foods on the market.
Beef broth and venison broth take the second and third spots on the ingredient list. Both of these ingredients are an excellent choice for dog food. They add extra vitamins and moisture to the formula and are a better choice than plain water.
Beef liver and dried egg whites are also included. Both of these are nutritious and good ingredients to include. Nearly all organ meat is a fabulous choice for most dogs, and egg whites are full of vitamins as well.
The macronutrient content of this food isn't the best on this list, but it outdoes the vast majority of dog food recipes currently on the market. The protein content is extremely high at almost 45% protein. The fat is 16%. It could be a bit higher, but the high level of protein balances this out. Carbohydrates are below our suggested 30% cut off.
Overall, this is another solid wet dog food for your Maltese.
Recall Info: Some
Best Dry Dog Food for Maltese Dogs
Our Pick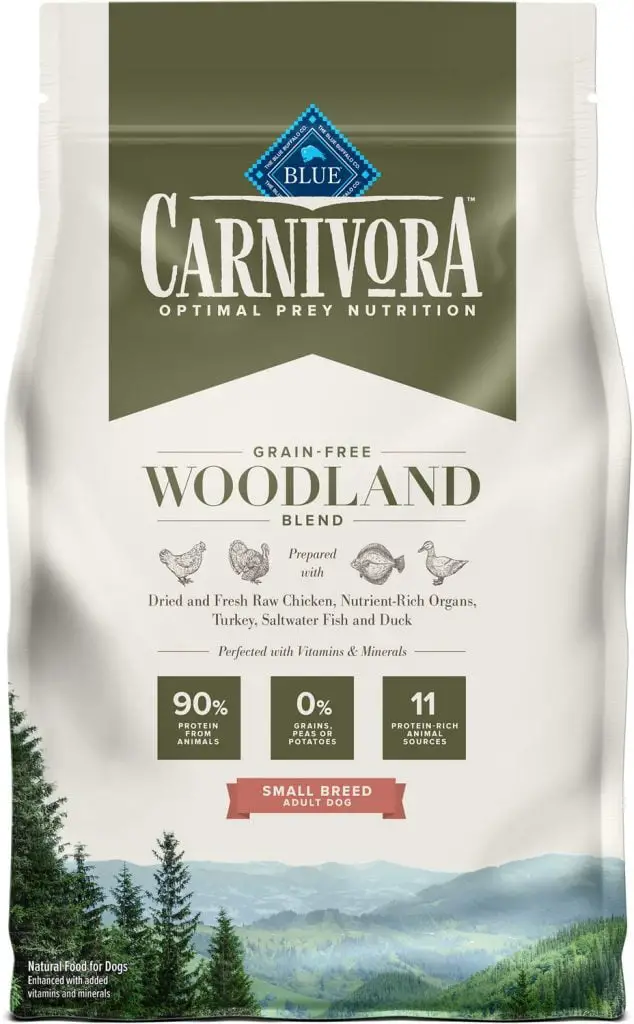 90% of the included protein comes from animal sources
Omega 3 fatty acids included for a healthy coat
Organ meat for added nutrients
Doggypedia rating: 5/5
Calorie Content: 3,934 kcal/kg
First 5 Ingredients: Deboned chicken, dried chicken, deboned turkey, chicken meal, tapioca.
Macronutrients (Dry-Matter Basis):
48.89% Protein
22.22% Fat
20% Carbohydrates
The Best Dry Food for Maltese
There are surprisingly not that many high-quality kibble recipes out there for small breed dogs. We searched high and low for a dry dog food that would meet our strict standards. This one by Blue Buffalo was one of the very few that stood up to our criticism.
One of our favorite things about this adult food is that it contains many different animal ingredients. It includes deboned chicken as the first ingredient, but other animals such as turkey and duck are included as well. This large variety of ingredients ensures your dog is getting all the proper nutrients they need. We always recommend choosing a different recipe like this one when possible. It prevents your dog from developing allergies since they aren't relying on a single source of protein.
This dog food does contain more ingredients than most of the options on the market. However, this is not necessarily a bad thing. Many of the ingredients are high-quality animal products. There wasn't a single ingredient we didn't like.
The macronutrient content of this food is excellent. It has almost 50% protein and a high level of fat as well. The carbohydrates are well below our 30% cut off point.
We highly recommend this dog food to anyone that is set on feeding their Maltese kibble.
Recall Info: Lots
Runner Up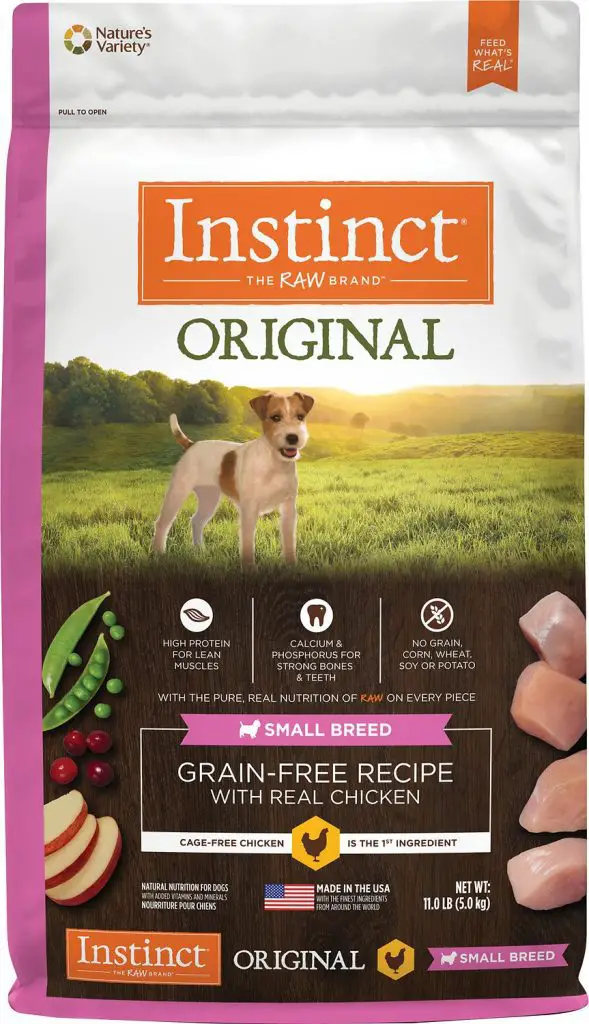 Cage-free chicken as the first ingredient
Tailored to small breeds specifically
High level of natural probiotics, glucosamine, and omega fatty acids
Doggypedia rating: 4/5
Calorie Content: 4,262 kcal/kg
First 5 Ingredients: Chicken, chicken meal, chickpeas, tapioca, chicken fat.
Macronutrients (Dry-Matter Basis):
38.89% Protein
21.67% Fat
30.56% Carbohydrates
The Best Dog Food for Maltese Shi Tzu
Sadly, there is not a huge variety of suitable dry dog foods for smaller dogs out there. Most of them are incredibly high in carbohydrates and contain low-quality ingredients. Out of all the dry dog foods on the market that we looked at, this one by instinct was one of the best.
It includes cage-free chicken as the first ingredient followed by chicken meal. Chicken meal isn't a harmful ingredient in the least. It is just "concentrated" chicken, with most of the moisture removed. Because of this, it is more nutritionally dense than a whole chicken.
Chickpeas are a decent vegetable for dogs. They are quite high in protein, though they do not offer all the vitamins and amino acids real meat does. They are not a substitute for meat by any means, but they are a decent addition to dog food.
Tapioca is an excellent choice for most dogs. It is a dense energy source and acts like fiber, which can help with your dog's digestion. It also improves the flavor and texture of kibble. All kibble needs some sort of starch to hold it together. Tapioca works as that starch in this recipe.
The macronutrient content of this food isn't the greatest. It contains a decently high amount of protein and fat, but the carbohydrate count is just over our usual 30% cut off range. We marked this food down a bit for this reason. However, due to the general lack of quality small breed dry food on the market, we decided to include it on this list despite the higher carbohydrate amount.
While it is above what we would like to see, the carbohydrate content of this food is much lower than most dog foods currently available. It is a decent choice for your Maltese, even if we would have liked to see a lower carbohydrate content.
Recall Info: Yes
Why You Should Trust Us
We have reviewed hundreds of different dog foods over the years, so we have an expert view of what the market currently offers. All of our reviews are based on scientific evidence, not marketing campaigns or ads. We carefully stay up to date on the latest research so that we can recommend only the best to you and your pets. 
Before making it into any article, each dog food has to pass a rigorous review process that involves more than just surface-level information. We calculate all of our own macronutrient data. While we pay attention to the ingredient list, we also consider macronutrient ratios and recall frequency. Additionally, we speak to the dog food brands, vets, and dog trainers to make sure our recommendations are the most healthy options for your dog.
How to Choose the Best Food for Your Maltese
Many factors go into choosing the perfect dog food for your Maltese. However, if you keep only a few key concepts in mind, sorting through the confusing world of dog food will be much easier.
Firstly, the macronutrient content is significant. Macronutrients are fats, proteins, and carbohydrates. All food is made out of these macronutrients, and all animals need a mixture of them to survive.
Each species thrives on a particular ratio of these nutrients. Studies have shown that dogs naturally eat a diet that contains approximately 30% protein, 63% fat, and 7% carbohydrates. In a perfect world, you should feed your canine a diet that is aligned with this ratio.
However, it is incredibly challenging to find a dog food recipe that matches up with this perfect ratio. Because of this, we generally recommend choosing a dog food with under 30% carbohydrates and high levels of fat and protein.
Secondly, the ingredient quality is also something essential to consider. Dog food recipes are made with a wide variety of ingredients. Some are great and human-grade, others are extremely low quality.
When possible, we recommend choosing food that lists whole meat as the first ingredient. If this is not possible because of your budget or just the foods available in your area, then named meals and by-products are your next top choices. In other words, you want to know the animal source of the meal.
"Chicken meal" is a solid choice, while "meat meal" is not. Vaguely named meals could be anything, including roadkill and diseased animals.
Meals and meat by-products that are named can be a nutritious part of your pet's diet.
The vegetables included also matter. Choose high-quality vegetables, like sweet potatoes.  
Grain-free is not necessary unless your pooch is allergic to grain. When possible, choose whole grains like brown rice over refined grains.
You should also avoid artificial flavors, fillers, preservatives, and additives. These are unnecessary in your dog's diet. They are not all harmful or bad for our pets. However, most have not been studied for safety and may prove to be harmful.
Either way, they are not a crucial part of our dog's diet, and truthfully don't have anything positive to bring. It is always best to choose real ingredients over fake ones.
Of course, not all added ingredients are bad. Some like chondroitin can improve your pet's joints. Often, things like flaxseed and even small amounts of fruits like blueberries are added too for their nutritional content. These natural additives usually do something helpful, like support your pet's immune system. Only artificial additives should be avoided.
Maltese are notorious for being picky eaters. This means you may have to be particularly mindful about how palatable the food you purchase is. This is especially true for Maltese that aren't particularly active, as they tend to be less hungry as well.
High amounts of fat will often make food more palatable. Most of these small canines also benefit from wet food. This prevents the necessity of purchasing based on kibble size and increases the palpability of the food as well.
Maltese also tend to have dental problems. It is not uncommon for them to miss a few incisors or experience other dental ailments. If your Maltese has some of these problems, a diet of wet food may be helpful.
It is a common myth that dry kibble cleans dog's teeth. However, this is mostly untrue. There may be some slight benefit, but it is not enough to make a significant impact, according to the AAFCO.
To keep your dog's teeth clean, brushing them is far more effective than relying on dry dog food.
How to Feed Your Maltese
Now that you've picked out dog food, you must feed it to your Maltese currently.
Maltese are tiny dogs. Only a few extra pounds of body weight can throw them off. It does not take much for a Maltese to count as obese.
To make matters worse, these dogs are not well-known for their love of exercise. When given a chance, most older Maltese will lay around all day. This leads to many of them missing out on the exercise they need and likely putting on some extra weight. To avoid this, it is essential to take your Maltese on walks, even if he doesn't ask for them.
Because Maltese are small, feeding them multiple times a day is often helpful. Occasionally, these small dogs can have trouble with their blood sugar, which can drop dangerously low if they go too long without eating. Particularly small Maltese will particularly benefit from frequent, small meals for this reason.
Luckily, these dogs do not usually have as much trouble as other toy breeds like the Chihuahuas. Still, some Maltese are tiny and can have difficulties. This is especially true for puppies, which are smaller than adults.
You should always follow the feeding directions on the back of the bag. Different foods have different caloric amounts and different levels of nutrients. Most companies have carefully researched the amount of their food a dog needs, so we generally recommend following their instructions.
However, unless you're getting a food formulated for your pet, your pet's specific dietary needs may differ from what the company suggests. It is essential to keep an eye on your pet's weight to determine whether or not they are eating the correct amount of food. This may change throughout your pet's life, so an aware eye is always necessary.
Always feed your pooch based on weight, not age. Of course, if your pet is not currently their ideal weight, you may have to increase or decrease their food intake to compensate. You should not feed your obese dog based on their current weight, or they will never reach a healthy weight, for example.
Choosing the best dog food for your Maltese puppy is also important. The puppy food your dog eats at this stage can have an effect on them later.
Nutritional Requirement
Maltese have about the same nutritional requirement as any other dog breed. Of course, because they are small, they generally need less food overall. You can often afford to purchase them a high-quality food because of this. It only costs less to feed a Maltese than it does a larger dog.
In general, Maltese do not have any special nutritional requirements.
They are somewhat prone to being overweight, simply because they are smaller. It doesn't take much to overfeed them. You should pay particular attention to the amounts you feed them. Even a 1/4th cup of extra food can have a significant effect on their weight.
They are also more prone to hyperglycemia, as we have already discussed. This is naturally low blood sugar, which is caused primarily when they go too long between meals. We highly recommend spreading out your Maltese's food throughout the day because of this. This is particularly important for puppies, which are smaller and, therefore, more prone to low blood sugar.
It is also essential to avoid feeding your Maltese table scraps for two reasons. Firstly, just a few extra calories can have a significant effect on their weight. They need tiny portion sizes. Just a few bites off of your plate could make them gain excess weight.
Secondly, many of the seasonings and foods we eat every day are toxic to dogs. Usually, with bigger dogs, there are not enough of these seasonings on our food to matter. However, Maltese are tiny and it does not take much at all to cause an allergic reaction. Just a few raisins or that garlic you used to season your steak could be all that is necessary to injure your Maltese gravely.
Some Maltese have sensitive stomachs. This is true of any dog, but Maltese appear to be particularly sensitive because their stomachs are so small. It doesn't take more than a few bites of food to upset their stomachs.
It may be useful to choose food with probiotics or prebiotics. These can help calm your pet's stomach and prevent tummy troubles. Many dog foods are fortified with probiotics, so this is not difficult to find.
Allergy Information and Best Foods
All dogs can get allergies. Maltese are not particularly prone to food allergies, but they can still happen.
Allergies are caused when a dog is repeatedly exposed to a particular protein source. If your dog eats nothing but chicken for the first half of their life, the odds of them developing a chicken allergy are quite high.
Most dog owners are not aware of this and continue to feed their pets the same food for as long as possible. However, this increases your pet's chance of allergies substantially.
The best way to avoid allergies is to change your dog's food often. You may want to choose a few different dog foods and cycle them out. Preferably, they should contain different primary sources of protein.
Many dog food brands create different flavors, though each flavor has about the same macronutrient content. Switching between the flavors can be a great way to mix up your pet's diet. Some companies even offer a variety pack, which is an easy and effective way to accomplish this as well.
For dogs who already have allergies, your best option is to avoid the ingredient they're allergic to. You may have to choose a rarer protein, like salmon or turkey, as these are less likely to cause an allergic reaction – simply because dogs don't tend to be exposed to them as much.
However, dogs can still develop allergies to the "hypoallergenic foods." No protein won't cause an allergy if your pet eats enough of it.