If hunting is in your dog's future, they deserve a fitting hunting dog name. Some names just work better for hunting dogs than others. After all, there are just some names you don't want to be yelling into the woods at dawn. 
Hunting dog names also have a few unique characteristics. They should be short and sweet, easy to pronounce, and distinguishable for whatever commands your dog is going to be learning. The last thing you need is a confused canine. 
We've picked out some of the top hunting dog names for this list. You'll find everything from unique, Russian names to common coon dog names. 
Best Hunting Dog Names
There are some names that just sound great for hunting dogs. Many of these names are quite popular, but that doesn't mean you can't use them. We've separated this list into both male and female hunting dog names to help you find what you're looking for faster.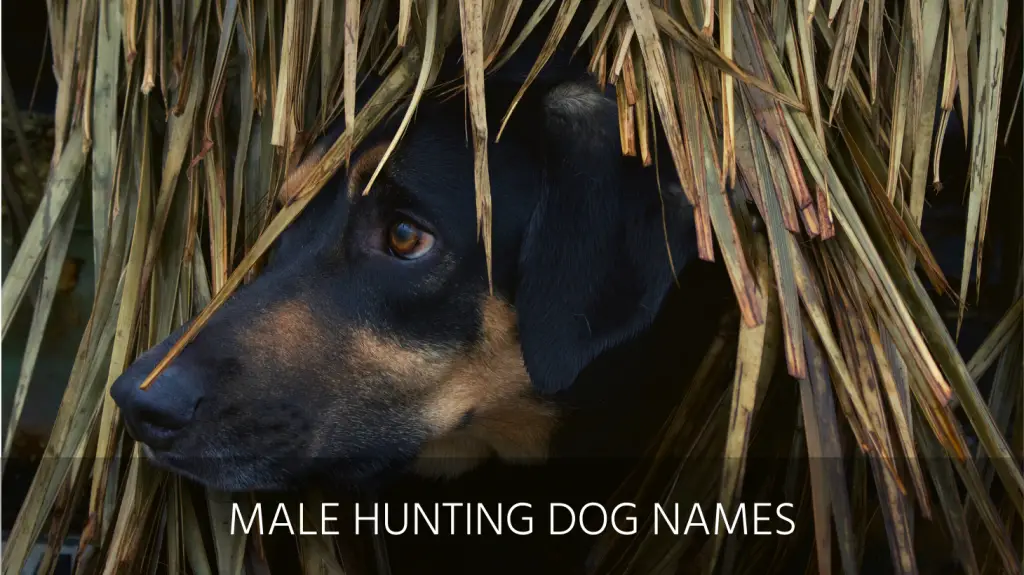 Good Male Hunting Dog Names
These male hunting dog names come from a variety of sources. Some are common and obvious, like "Hunter", while others are inspired by Greek mythology and languages from around the world.
Ace
Acteaeon: A hunter in Greek mythology.
Ammo
Apollo
Archer
Beast
Beau
Benelli
Blaze
Blitz
Bolt
Boomer
Brutus
Bucky
Bud
Buddy
Bullseye
Camo
Chase
Colt
Cricket
Dashiell
Decoy
Deringer
Diesel
Duke
Echo
Gauge
General
Glock
Gunner
Hammer
Hawkeye
Hercules
Huckleberry
Hunstman
Hunter
Huntington
Jag
Jagger
Jet
King
Kingsley
Legend
Logger
Magnum
Mauser
Maverick
Musket
Musket
Muzzle
Orion
Outlaw
Pistol
Porter
Powder
Radar
Rain
Ranger
Remmington
Revolver
Rex
Rocky
Ruger
Sarge
Scout
Sheriff
Smith
Spike
Sundance
Tally Ho
Tank
Target
Teddy
Texas
Thaddeaus: Greek for "courageous heart"
Thunder
Trapper
Trigger
Troy
Walker
Weatherby
Wesson
Wilder
Willow
Winchester
Wolverine
Yukon
Zeus
Ziggy
Learn More: Top 250+ White Dog Names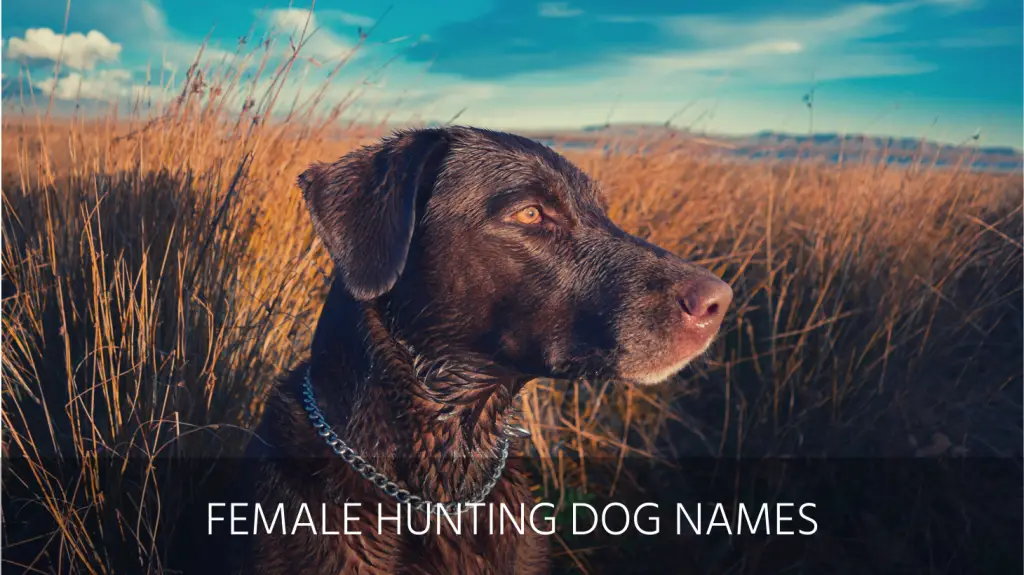 Female Hunting Dog Names
These popular female hunting dog names are a great option for anyone that doesn't want something too unique. They're easy to pronounce and common enough for others to understand what you're saying, while also being just unique enough that you can bet you won't run into another hunting dog with the same name. 
Abby
Amber
Angel
Annie
Artemis
Ashley
Aspen
Athena
Babe
Bailey
Bella
Belle
Beretta
Bess
Boo
Brandy
Brook
Cabela
Cali
Casey
Cheyenne
Chloe
Cookie
Cotton
Daisy
Dancer
Dee
Dixie
Dot
Duffy
Echo
Eli
Elsa
Elwood
Emma
Fancy
Feather
Gabby
Gander
Gemma
Georgia
Gina
Ginger 
Grace
Gypsy
Hailey
Hannah
Heather
Heidi
Holly
Hope
Huntress
Ivy
Jade
Jane
Jenny
Jessie
Jill
Joy
Justice
Katie
Kay
Kitty
Lacey
Lady
Lakota
Lexi
Liberty
Lucy
Lulu
Mabel
Maddie
Maggie
Maggie
Marlee
Maxwell
Millie
Minnie
Missy
Misty
Mocha
Molly
Molly
Nala
Nellie
Nyx
Ollie
Olympia
Peaches
Penny
Sable
Sadie
Sage
Shiloh
Skye
Sparta
Velvet
Learn More: Top 400+ Female Dog Names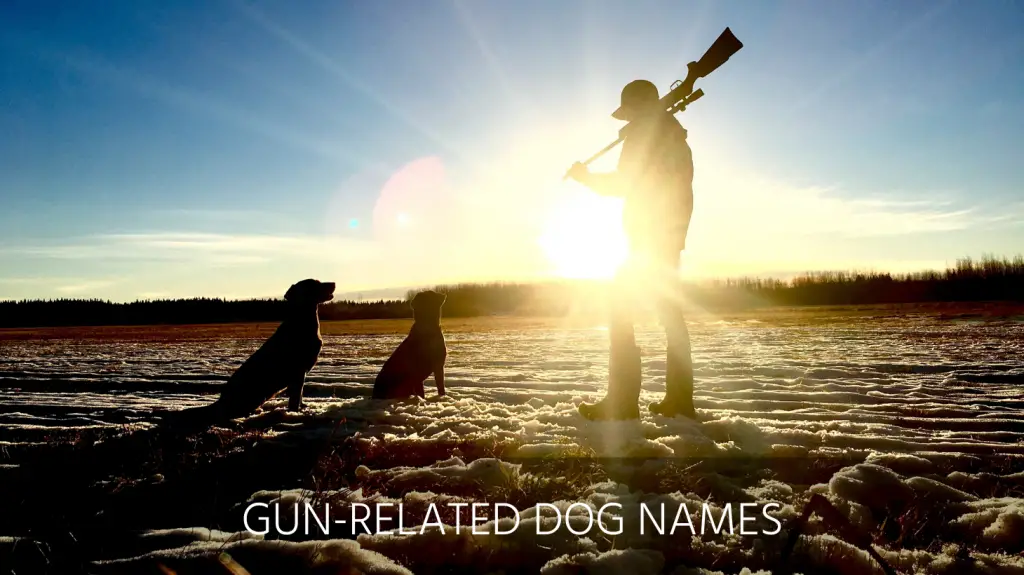 Gun-Related Dog Names
If you're like most hunters, you use a gun to take down your prey. Choosing a firearm-inspired name for your hunting dog is a sure way to give them a fitting and unique name. Of course, not all gun-related names make much sense, so we did some digging and pulled out the best names for you to choose from. 
AK
Ammo
Ammunition
Anderson
Arquebus
Assault
Avenger
Baffle
Ballistic
Barrel
BB
Benelli
Beretta
Bersa
Big Bore
Birdshot
Blackhawk
Blank
Blaser
Blunderbuss
Bolt
Brass
Browning
Buckshot
Bullet
Bullpup
Bushmaster
Butt
Caliber
Carbine
Cartridge
Chamber
Charter
Chiappa
Clip
Colt
Crickett
Crosman
Cylinder
Damascus
Derringer
Desert Eagle
Diplomat
Dummy
Ejector
Extractor
Flintlock
Franchi
Friendly Fire
Garand
Gatling
Glock
Guage
Gunpowder
Half-cock
Hammer
Hangfire
Heckler
Hollowpoint
Holster
Hush Puppy
Hydra-Shok
Iceman
Infidel
Iron Sight
Jacket
Kimber
Koch
Laser
Linx
Lock
Machine
Magazine
Maggie
Marlin
Matchlock
Mauser
Misfire
Momentum
Mossberg
Musket
Musketoon
Muzzle
Navy
Nexter
Noveske
PB
Pellet
Picatinny
Pin
Pistol
Pivot
Plink
Plug
Point Blank
Powder
Powerhead
Propellant
Pump
Ramrod
Recoil
Red Dot
Remington
Revolver
Rhino
Rib
Ricochet
Rifle
Rimfire
Rounder
Rounds
Ruger
Sauer
Savage
Scope
Sear
Seraphim
Shell
Shelly
Shotgun
Sig
Silencer
Slide
Slug
Smith
Spitzer
Spring
Springfield
Stag
Stock
Strut
Sturm
Submachine
Swage
Switchblock
Taurus
Tikka
TOZ
Trajectory
Trigger
Underlug
Uzi
Velocity
Vulcan
Wadcutter
Walther
Weatherby
Wesson
Wildcat
Winchester
Learn More: Top 100+ Badass Dog Names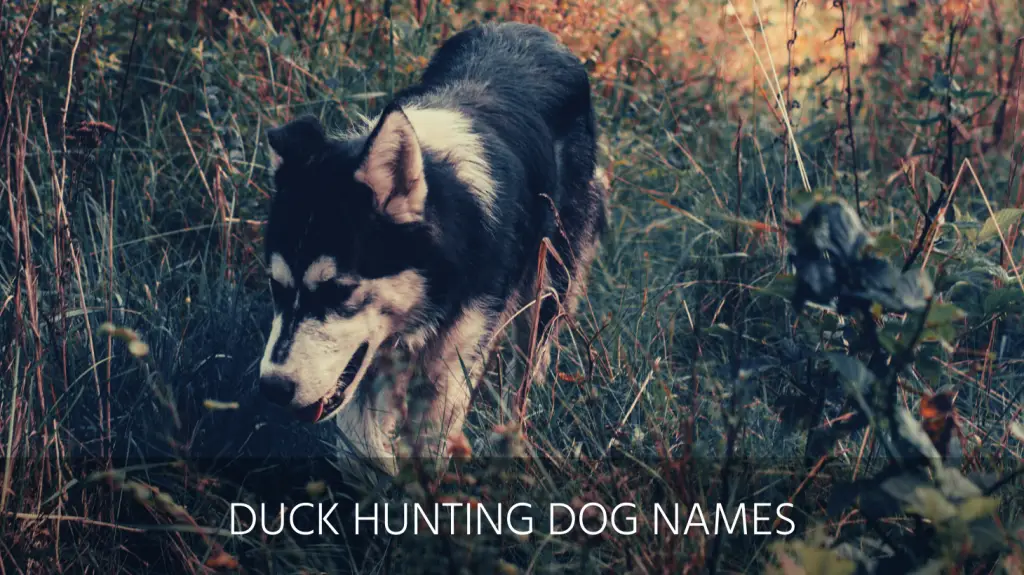 Duck Hunting Dog Names
If you've recently adopted a duck-hunting dog, consider choosing one of these suitable names. No matter what breed of dog your new canine is, these names will fit their new occupation quite well. 
Aalya
Algoma: Native American name meaning "lake."
Amadahy: Native American name meaning "forest water."
Amos
Anana
Apricot
Aqua
Ari
Aurelie
Beach
Beck
Benji
Beverly: English surname meaning "stream"
Brook
Budgie
Canary
Cara
Cassidy
Channel
Chicken
Chuck
Clementine
Cliff
Cloud
Cockatiel
Constance
Costa
Cove
Crow
Darya: Persian name used to refer to a large body of water. Can mean "lake", "sea", "river", or any other large amount of water. 
Doug
Drake: English word meaning "male duck."
Dream
Drippy
Elias
Emi
Fiachra: Irish name meaning "bird."
Ford
Gabby
Gogil: Russian name meaning "golden-eyed duck."
Goose
Green
Gully
Harbor
Harry
He: Chinese name meaning "river."
India
Isla
Jenesse
Jonah
Jordon
Julien
Laguna
Lake
Lamisa
Linda
Loire
Lovebird
Luca
Melba
Mermaid
Micah
Michel
Milder
Millie
Milo
Morgan
Nectar
Nevada
Nile
Nixie
Nurse
Ocean
Oceania
Paddle
Parrot
Peach
Petal
Petrel
Puddle
Rain
Reef
Reuben
River
Rooney
Ry
Saba
Sailor
Sasha
Sebastian
Sgaire: Scottish Gaelic name meaning "sea-mew", which means "sea bird."
Shannon
Shelly
Shore
Skari: Old Norse name meaning "sea-mew" or "sea bird."
Sonia
Starling
Swan
Swimmer
Theta
Trent
Wader
Warbler
Waverley
Winnie
Wren
Zachery: An Anglicized form of the Scottish Gaelic name "Sgaire", which roughly translates to "sea bird."
Zeke
Learn More: Top 450+ Unique Dog Names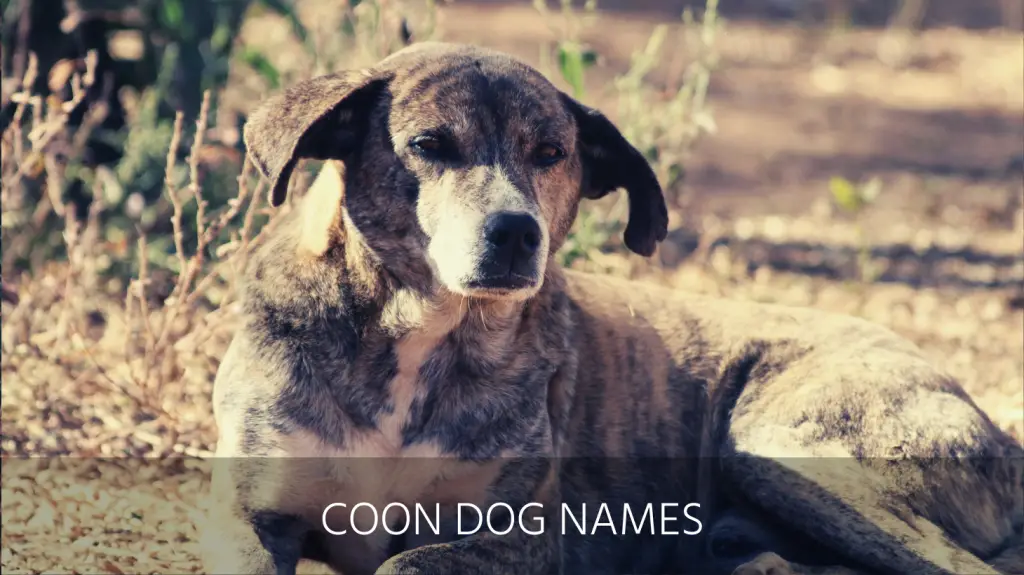 Coon Dog Names
Coon dogs deserve a unique name that fits their profession. Whether your canine is hunting raccoons or other small game, like rabbits and squirrels, many of these names should be very appropriate. 
Acadia: the name of an Egyptian tree which is often thought to symbolize immortality.
Aghaveagh: Irish name meaning "from the field of the old trees."
Ash
Ayla: "oak tree"
Bolt
Dakota
Duff
Ebony
Fox
Hawk
Leah: "meadow"
Lee: "meadow"
Legend
Lin: "forest"
Lindsey: "wetland"
London: "place at the unfordable river."
Loreley: "murmuring rock"
Manju: Hindi unisex name meaning "clouds" and "snow."
Mare: Latin word for "sea"
Mead: The alcoholic beverage and also an English name meaning "lives by a meadow."
Misty
Monta: "pointed hill"
Moriko: Japanese name meaning "forest child."
Nero
Neta: Hebrew name meaning "plant."
Opal: a type of precious gem
Penka: Bulgarian name meaning "rock."
Rex
Trapper
Learn More: Top 300+ German Shepherd Dog Names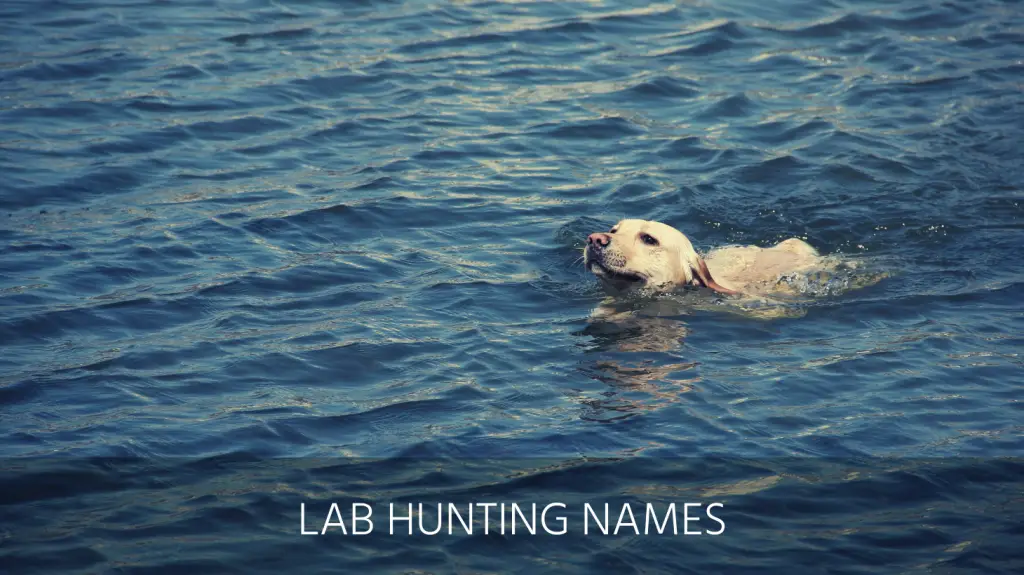 Lab Hunting Names
Labrador Retrievers are very common hunting dogs. In fact, they are the most popular dog in the United States according to the AKC. Their unique coat and webbed feet make them perfect for retrieving waterfowl, and their trainable and calm temperament makes them great around the family as well. 
Abby
Ace
Annie
Apollo
Bailey
Bear
Bella
Belle
Bentley
Blue
Bo
Boomer
Brody
Bruno
Buddy
Buster
Cal
Cash
Chance
Charlie
Chase
Chloe
Coco
Cody
Cooper
Daisy
Dakota
Dexter
Diesel
Dixie
Duke
Ella
Ellie
Emma
Finn
Ginger
Gracie
Gunner
Gus
Hank
Harley
Harper
Hazel
Henry
Hershey
Hunter
Izzy
Jack
Jackson
Jake
Jax
Koda
Kona
Lady
Layla
Leo
Lexi
Lily
Loki
Lola
Louie
Lucky
Lucy
Luke
Luna
Maddie
Maggie
Marley
Maverick
Max
Maya
Mia
Millie
Milo
Molly
Moose
Murphy
Nala
Oakley
Olive
Oliver
Ollie
Otis
Penny
Pepper
Piper
Ranger
Remy
Riley
Rocky
Rosie
Roxy
Ruby
Ruger
Sadie
Sam
Sammy
Sasha
Scotty
Scout
Shadow
Sophie
Stella
Tank
Thor
Toby
Tucker
Willow
Winnie
Winston
Zeus
Zoey 
Learn More: Top 400+ Golden Retriever Dog Names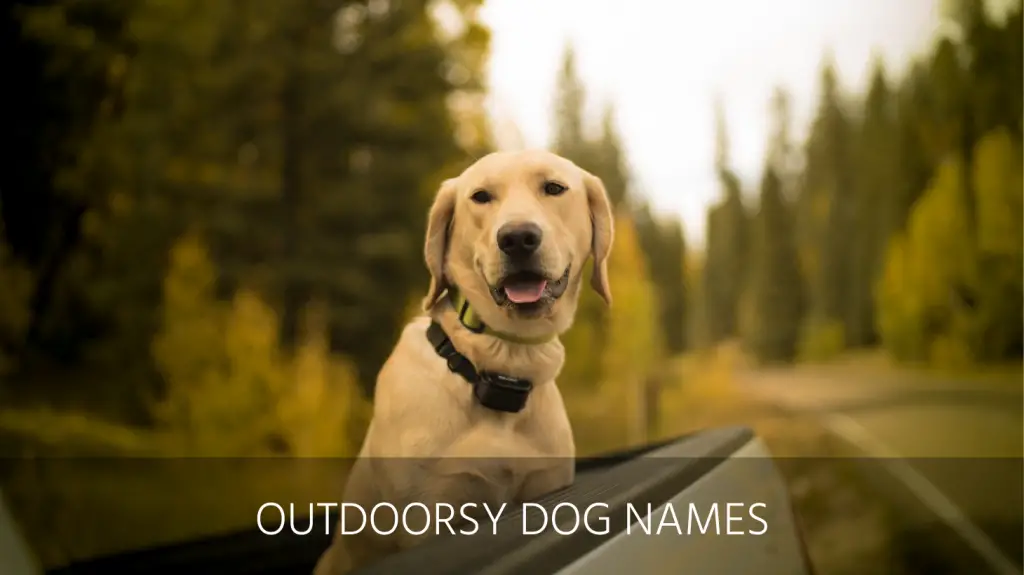 Outdoorsy Dog Names
If you haven't found the perfect name for your pooch yet, give one of these a try. Instead of focusing on hunting dog names, this list includes nature-inspired names for your pooch – not all of which directly relate to hunting.
Acorn
Ash
Aspen
Aspen
Aster
Aurora
Autumn
Bandit
Barley
Berry
Blaze
Blizzard
Blue
Breeze
Cameo
Cedar
Cedar
Cherry
Chestnut
Chestnut
Chief
Chives
Cirrus
Clay
Clover
Clover
Coal
Colt
Copper
Copper
Cosmos
Cricket
Crystal
Cypress
Cypress
Dahlia
Dahlia
Daisy
Dakota
Dawn
Elm
Elm
Everest
Fern
Fern
Flint
Forrest
Frost
Gale
Garnet
Ginger
Gold
Granite
Gust
Gypsum
Harmony
Hazel
Hazel
Holly
Holly
Hosta
Ice
Indigo
Iris
Iris
Ivy
Ivy
Jade
Jade
Jasmine
Jasper
Jewel
Kelvin
Laurel
Laurel
Lily
Lotus
Luna
Mango
Maple
Maple
Marble
Meadow
Mica
Mist
Montana
Nessie
Nickel
North
Nutmeg
Olive
Onyx
Opal
Opal
Orion
Pansy
Peaches
Pearl
Pearl
Polar
Poppy
Pumpkin
Quake
Radar
River
Rose
Rose
Ruby
Ruby
Sage
Sage
Sapphire
Scout
Silver
Slate
Spring
Sunny
Topaz
Tulip
Violet
Willow
Winter
Wren
Zircon
Learn More: Top 200+ Black Dog Names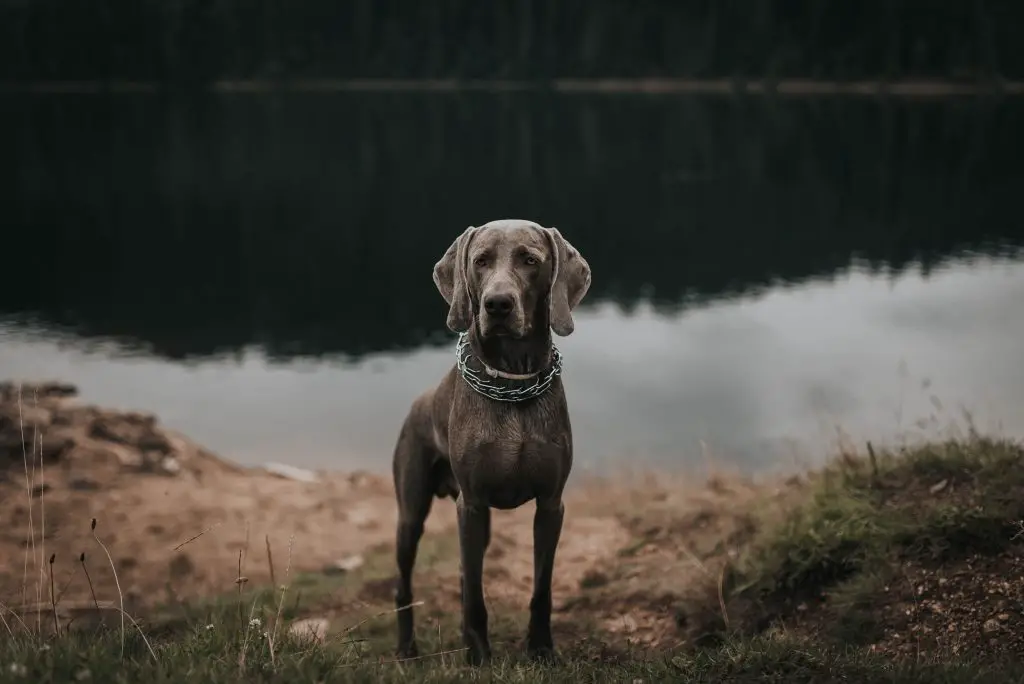 Which Name Did You Choose?
Now that you've gotten to the bottom of our ultimate hunting dog name list, hopefully, you have a few names picked out for your canine. Of course, narrowing down your list to only one is often the hardest step.
Remember to choose a name that sounds distinctive enough to avoid any confusion. You don't want your dog confusing their name with another canine's or a command. If you have members of your family who go hunting with you, be sure that your new dog's name sounds unique from their's as well.