Looking for the best large breed puppy food brands? Help your pup grow up strong with our wet and dry food reviews here.
Large breed dogs are some of the most lovable out there. Defined as any puppy with an eventual adult weight of over 50 pounds, large breeds encompass some of the most popular pets in the world, including retrievers, boxers, and collies. 
However, properly caring for large breed puppies comes with some added complications. One major challenge that many puppy-parents face is choosing the right dog food.
Since large breed puppies have some big paws to fill, they have more growing to do than small and medium breed puppies. This means that they need great, nutrient-packed food to give them enough energy to grow while still having enough left in the tank for playtime. 
However, there's a fine balance between choosing a dog food that will ensure your pup is getting enough nutrients and choosing one that will deliver too many calories. Big puppies can develop big amounts of joint stress if they grow too fast, which in later life leads to growth-related issues such as elbow and hip dysplasia (Brooks, 2019). To avoid this, large breed puppies need to be fed a very specific type and amount of food. This ensures that they grow at a rate proportional to the development of their joints.
All of these considerations may seem like a lot to think about. Because of this, we've listed six excellent large breed puppy foods that you can trust to keep your precious pup growing healthy and strong.
Why You Should Trust Us
I'm a lifelong dog owner who has experience caring for labradors, retrievers, and some large mixed breeds. Large and giant breeds require different nutrition than smaller breeds! Because of their fast growth as puppies, they can be prone to joint disorders, elbow dysplasia, and similar skeletal problems. To find the best large breed dog food, we use scientific research to figure out what large breed dogs truly need, and then applied that information when reviewing each dog food. 
We looked beyond the surface-level marketing and carefully considered the ingredients, macronutrient ratio, and nutritional content when ranking each food. We have only your pet in mind when reviewing each food – we do not accept payments by dog food companies to rate their food higher than others.
Best Dog Food For Large Breeds
Our Pick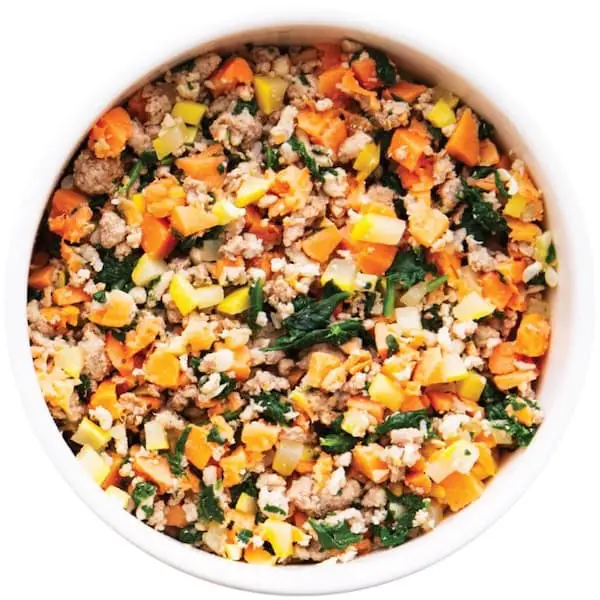 Fresh, human-grade ingredients
Near-perfect macronutrients
Convenient delivery
Doggypedia rating: 5/5
First 5 Ingredients: Diced chicken, sweet potatoes, yellow squash, spinach, and sunflower oil.
Calories/100g: Average of 125 kCal/100g
Macronutrients (Guaranteed Analysis)
Macronutrients (Dry-Matter Basis):
Protein: 9.1% average minimum
Fat:  5.4% average minimum
Carbs: 8% average maximum
Protein: 34.4% average minimum
Fat:  20.4% average minimum
Carbs: 30.2% average maximum
A Fresh, top rated large breed puppy food
NomNomNow is an exciting, concept-based dog food brand with a great philosophy that puts the health of dogs at the forefront. They stock four different food recipes, which you can buy all at once in their variety pack. As per their own research, all of NomNomNow's recipes are suitable for all life stages and for large breed dogs.
In terms of nutrients, NomNomNow's recipes place a big emphasis on diversity of ingredients. They use quality, human-grade ingredients like veggies and whole grains to supplement the meat content and are also fortified with vitamins, minerals, essential amino acids, EPA, and DHA. The fresh ingredients with no additives is easy on your dog's digestive health too.
The average dry-matter protein content of their recipes is 34.4%, which is a little lower than other wet foods on this list but is still respectable. Because of the lower protein content, the carbohydrate content is elevated to 30.2% on average, which is high for a wet food but still within the limits dictated for healthy dog foods. 
The calcium content has an average of 1.7%, which is higher than the recommended amount for large-breed puppies. With that said, when we spoke to the company, they told us that each of their recipes are designed to support all life stages and are a great option to support the development of a growing puppy, including smaller dogs and large breed puppies!
Their calcium to phosphorus ratios are within the recommended ranges for large breed puppies as they grow (between 1-1.8:1), and their meals include highly digestible proteins for lean muscles and healthy fats that support puppies as they develop.
This will help to ensure that your puppy's joints are protected while still allowing him or her to get all of the benefits of NomNomNow's creations.
One of NomNomNow's biggest selling points is its convenience. The variety pack can be shipped to your door in an insulated box and comes in easy, vacuum-sealed 150g pouches.
In sum, NomNomNow is a great, nutritious, and convenient choice for any large breed dog..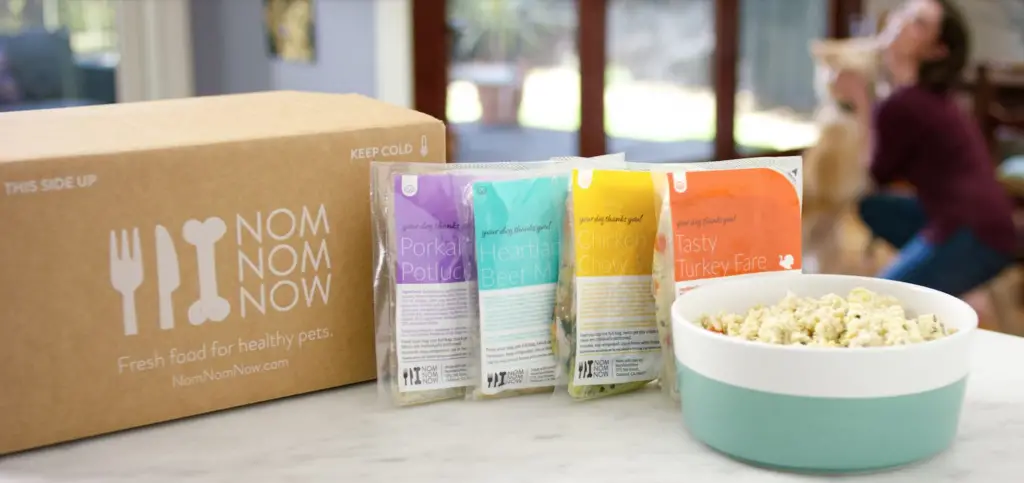 Top 3 Large Breed Puppy Dry Foods:
Our Pick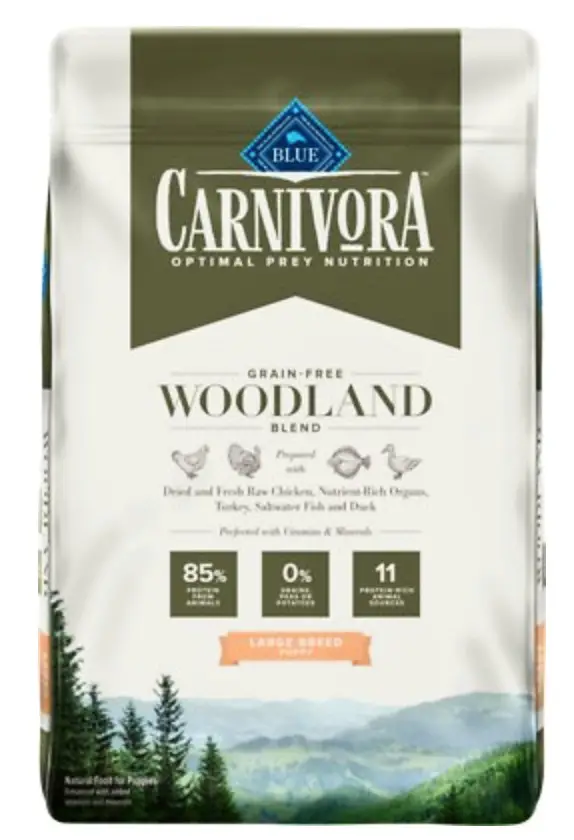 Protein from 11 different animal sources
Low carbohydrate content
High Quality Meats
Doggypedia rating: 5/5
First 5 Ingredients: Deboned Chicken, Dried Chicken, Deboned Turkey, and Chicken Meal.
Calories/100g: 377 kCal/100g
Macronutrients (Guaranteed Analysis)
Macronutrients (Dry-Matter Basis):
Protein: 40% minimum
Fat: 17% minimum
Carbs: 20% maximum
Protein: 44.4% minimum
Fat: 18.9% minimum
Carbs: 23.1% maximum
A Great giant breed puppy food
When it comes to specialty large breed puppy foods, Blue Buffalo Carnivora Dry Food is the best of the best. 
The food is formulated specifically for large breed puppies and carefully designed to simulate a dog's natural, ancestral diet. This means that it favours highly-quality meat and animal-based natural ingredients over empty carbs and also prioritises diversity and variety, with eleven different animal sources being used to pack the food full of protein-y goodness. It contains no fillers, no artificial colors, no artificial flavors, and no GMO ingredients.
In terms of macronutrients, Blue Buffalo Carnivora hits every benchmark. The 40% protein content is almost unheard of in dry food and comes from 11 different animal sources, helping to provide your pup with a varied and complete diet. The fat content is a little high at 17%, but this is expected given the amount of meat that the dry food contains and shouldn't have any negative effects. The fiber content sits at 5%, which is more than sufficient to keep your pup's digestive system functional. The food only contains 20% carbohydrates, which means that there's plenty of extra room for the dietary essentials like protein and fats. The energy density sits within the recommended guidelines to help your large breed puppy grow at a safe and healthy rate, while still having enough energy left over for playtime.
The dry food also contains 1.2% calcium (minimum estimate) which is right on target for how much the best puppy food should contain. However, the manufacturer doesn't give a maximum estimate, which is potentially problematic as the food could theoretically contain much more than 1.2%.
Blue Buffalo Carnivora is even recommended for large breed pups with sensitive stomachs and picky palates, so if you've tried other dry foods without success this product is a great one to substitute in.
In terms of nutritional value and appeal, this product really is the best large breed puppy dry food out there.
---
Runner-up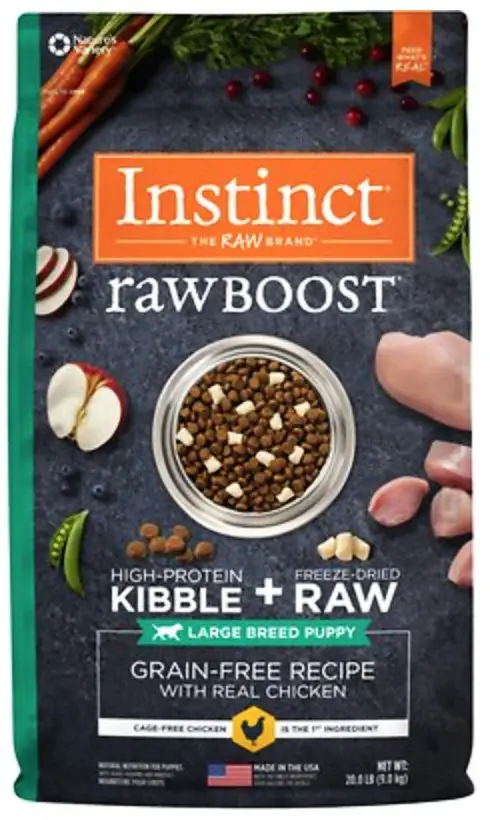 Contains healthy probiotics
Uses cage-free, real chicken ingredients
Great taste for picky pups
Doggypedia rating: 4.5/5
First 5 Ingredients: Chicken, chicken meal, peas, and egg product.
Macronutrients (Guaranteed Analysis)
Macronutrients (Dry-Matter Basis):
Protein: 33.5% minimum
Fat: 18.5% minimum
Carbs: 26% maximum
Protein: 36.8% minimum
Fat: 20.3% minimum
Carbs: 29.41 maximum
Instinct Raw Boost is one of the tastiest pet foods out there, no doubt due to its high fat content and high-quality ingredients. The first ingredient listed is chicken, which the manufacturer ensures is cage and cruelty-free. On top of this, the kibble also contains morsels of pure, freeze-dried meat throughout, which your puppy is sure to love. If your puppy is rejecting other kinds of dry food then this product is perfect for you.
Another great feature of this food is the addition of probiotics. Research has found that probiotics have a variety of health benefits for dogs, including healthy digestion and a boosted immune system. Additionally, Instinct Raw Boost contains glucosamine and chondroitin, which help to support your puppy's developing joints.
The protein and fiber content of Instinct Raw Boost fall within the desired range for a large breed puppy. The fat and carbohydrate contents are on the higher end but are both still acceptable. However, the calorie content of this food, 423 kCal/100g is higher than the recommended guidelines for large breed puppies. Because of this, smaller portions of this food should be fed to ensure that your puppy's rate of growth is slow and steady. While this is fully outlined in the company's feeding guidelines, it may present a problem for puppy parents who enjoy spoiling their pooch with extra food. If you decide that this food is for you, make sure to stick rigidly to the feeding guide!
The minimum calcium content of Instinct Raw Boost is 1.2%. The maximum content isn't stated, which means again that there's a possibility that the food contains too much calcium.
All in all, this tasty food is a perfect choice for fussy puppies, but the high energy content means that you need to stick firmly to the feeding guidelines.
---
Also Great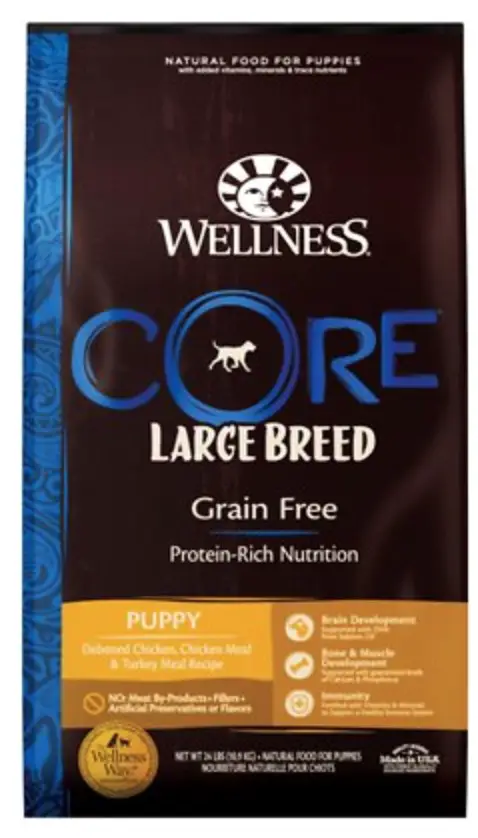 Chock-full of superfoods
Gluten-free
Healthy non-gmo ingreidents
Doggypedia rating: 4.5/5
First 5 Ingredients: Deboned chicken, chicken meal, peas, and ground dried potatoes.
Calories/100g: 362 kCal/100g
Macronutrients (Guaranteed Analysis)
Macronutrients (Dry-Matter Basis):
Protein: 35% minimum
Fat: 14% minimum
Carbs: 27.5% maximum
Protein: 38.9% minimum
Fat: 15.6% minimum
Carbs: 31.4% maximum
Wellness CORE is a great choice for your large breed or giant breed puppy, especially when it comes to nutrition.
The macronutrient contents of this food are all fairly standard: 38.9% protein, 15.6% fat, and 5.5% fiber are all within the acceptable range for large breeds. The carbohydrate content sits at 31.4%, which is slightly higher than the optimal 30% but is still exceptional when it comes to dry dog food. However, what really makes this food special is the other non-gmo, quality ingredients.
Wellness CORE's dry food contains a multitude of seeds, veggies, and fruits, all of which are packed full of vitamins and antioxidants. Some of the notable natural ingredients include flaxseed, which is a source of omega-3 fatty acids, blueberries, which are high in antioxidants, and lentils, which are digestible and easy on puppies' stomachs. The other inclusions, like bananas, cranberries, spinach, broccoli, chickpeas, sweet potato, and carrots, help to introduce high levels of fiber, vitamin A, vitamin E, and beta-carotene.
The calcium content of the food sits at 1.6%, which is higher than the recommended amount. However, this value is the maximum estimation, which means that the food may contain substantially less calcium. 
All in all, this food is a great choice when it comes to your large breed puppy's nutritional needs.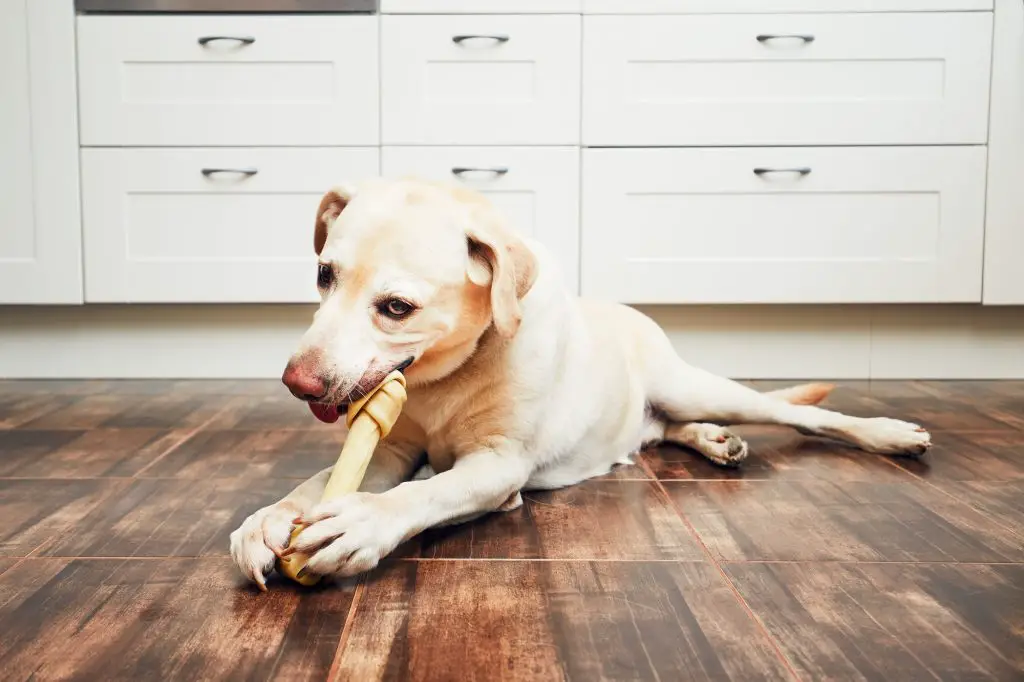 Best Large Breed Adult & Puppy Wet Foods:
Our Pick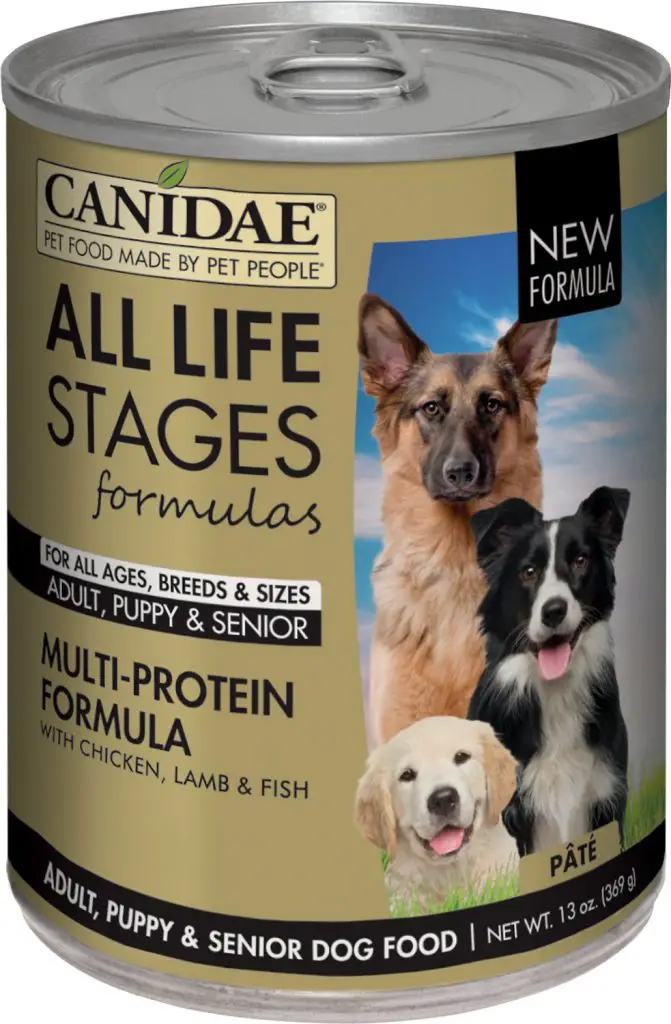 Great for multi-dog homes
Includes omega-3 and omega-6
No added corn, wheat, or soy
Doggypedia rating: 4.5/5
First 5 Ingredients: Chicken, chicken broth, lamb, and chicken liver.
Calories/100g: 128 kCal/100g
Macronutrients (Guaranteed Analysis)
Macronutrients (Dry-Matter Basis):
Protein: 9.0% minimum
Fat: 6.0% minimum
Carbs: 2.5% maximum
Protein: 40.9% minimum
Fat: 27.3% minimum
Carbs: 11.4% maximum
Taking the number one slot in the wet food section is Canidae's fantastic multi-protein formula wet food. 
One of the most attractive things about this food, aside from its great nutritional content, is its versatility. The life-stages range can be used for all ages, all breeds, and all sizes. This means that if you live in a multi-dog home, you don't need to worry about dishing up different foods for each different pet and making sure they all stick to their own bowl. This is a huge plus, particularly for on-the-go puppy parents.
Now to the nutritional content. The Canidae Multi-Protein formula is packed with 40.9% protein, which is perfect for your growing large breed or giant breed puppy. Its fat content, 27.3%, may seem huge compared to dry foods but is actually fairly standard for wet foods and isn't going to present any problems for your puppy. There's 6.82% fiber as well, which is an added bonus because wet foods usually contain a lower fiber content. The absence of wheat, corn, or soy helps reduce the carbohydrate content, which sits at approximately 11.4%. Basically, this product hits all of the nutritional targets you're looking for when it comes to a great food for your large breed puppy.
While Canidae's Life Stages range includes chicken and rice, lamb and rice, and 'platinum' products, the multi-protein formula includes chicken, lamb, and fish and has the lowest percentage of grain content and thus the highest protein content of all the recipes. Because of this, it really is the best of the lot.
This product is tried and tested and nearly all pet owners who've used it have reported having no problems getting their dog to eat it. The inclusion of three different types of meat and the fact that it's cooked in broth makes it a tasty option that even the pickiest of pups is likely to enjoy. 
In sum, Canidae's multi-protein wet food has everything that it takes to keep your large breed puppy happy and healthy and is one of the best dog foods out there.
---
Runner-up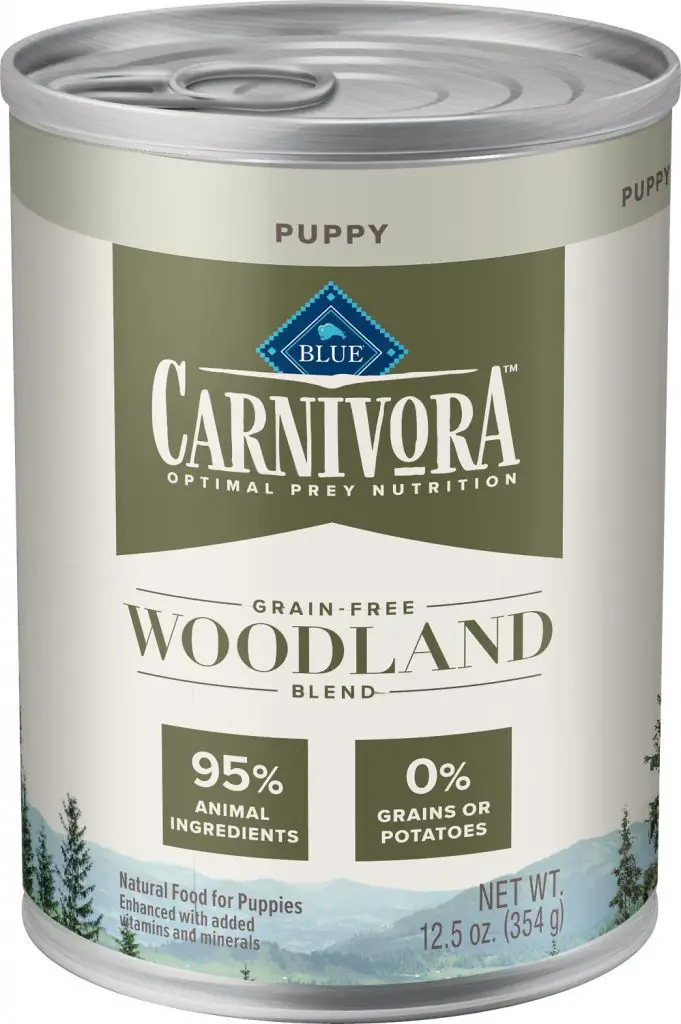 Packed with protein
First 5 ingredients are meat
0% grain, 95% animal-based ingredients
Doggypedia rating: 4.5/5
First 5 Ingredients: Chicken, Turkey Broth, Turkey, Chicken Liver, and Turkey Liver.
Calories/100g: 141 kCal/100g
Macronutrients (Guaranteed Analysis)
Macronutrients (Dry-Matter Basis):
Protein: 12.5% minimum
Fat: 7.5% minimum
Carbs: 0.5% maximum
Protein: 56.8%
Fat: 34%
Carbs: 2.3%
Best Large Breed Grain Free Puppy Food
If dog food was a neighbourhood, Blue Carnivora puppy formula wet food would be the new kid on the block. This product is packed with protein (56.8%!) and is almost completely formulated from animal-based products. Like its dry food counterpart, it boasts 11 different high-quality protein sources and a completely grain-free recipe.
In terms of the other nutrients, Blue Carnivora has an impressive 34% fat content. Again, while this may seem like a negative, fats are important in a dog's diet and are far preferable to carbohydrates. The fiber content is 6.82%, which is high enough to keep your pup's digestive system happy and healthy. The energy density is 141kCal/100g, which falls within the recommended energy content for wet foods.
Another exciting feature of this food is the inclusion of DHA in the formula. DHA, or docosahexaenoic acid, is great for brain development in puppies and will help to ensure that your pup's mind stays sharp and alert as he or she gets older.
But if this food is so perfect, then why wasn't it put in first place? The simple answer to this is that it hasn't been tried and tested yet. As it's still a new product it hasn't stood the most important test of all, which only comes with thousands of dog owners across the globe trying it on a thousand different dogs. Whether it's good for picky eaters or doesn't agree with certain breeds is yet to be determined, and for that reason, Blue Carnivora misses out on the first place in this list. Despite this, Blue Carnivora Woodland Blend has everything that your puppy needs!
---
Budget Pick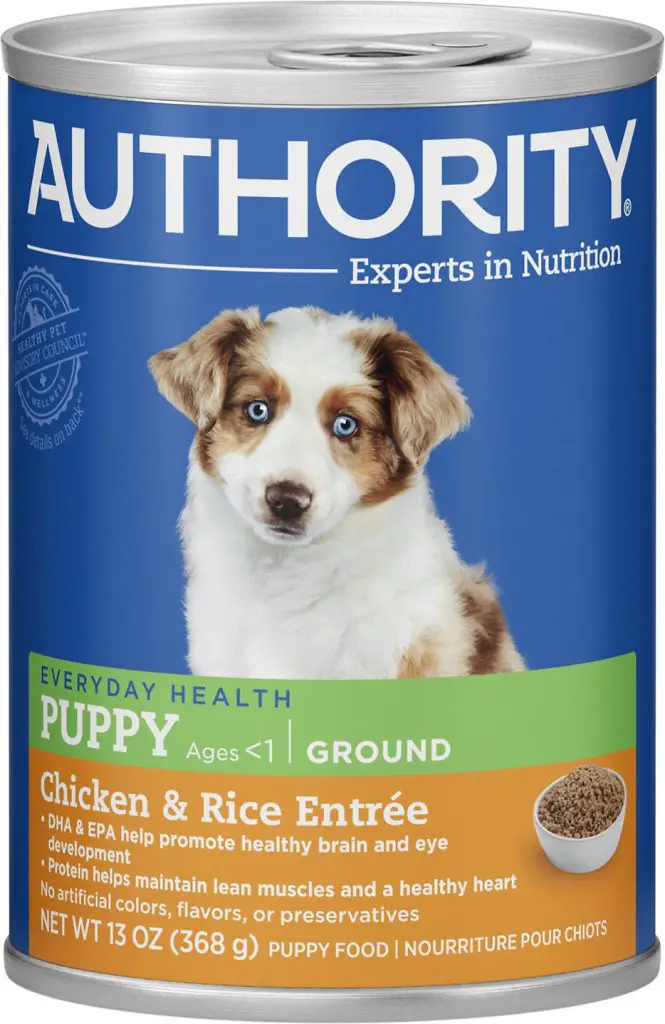 More affordable than most puppy foods
Contains DHA and EPA, which aid development.
No added glucosamine, chondroitin, L-carnitine, or taurine
Doggypedia rating: 4/5
First 5 Ingredients: Chicken, chicken broth, chicken liver, and dried ground peas.
Calories/100g: 116 kCal/100g
Macronutrients (Guaranteed Analysis)
Macronutrients (Dry-Matter Basis):
Protein: 10% minimum
Fat: 5% minimum
Carbs: 3% maximum
Protein: 45.5%
Fat: 22.7%
Carbs: 13.6%
This food is a great choice for those puppy parents who want the best for their pooch, but want it on a budget. It's significantly cheaper than other comparable foods without sacrificing any of the nutritional content, which is a huge plus.
Authority Chicken and Rice contains salmon oil, which provides EPA (Eicosapentaenoic acid) and DHA (docosahexaenoic). EPA and DHA assist with brain and eye development respectively. These sorts of ingredients aren't found in normal adult dog food and while not strictly necessary, are great additions to large breed puppy food especially, since large breeds have more growing to do than most.
Despite being more affordable than most, this food still boasts great nutritional content. It's protein-rich, has a mid-range fat content, and an energy density that falls within the recommended guidelines. The fiber content, 4.6%, is a little on the lower side, but if you supplement this food with a more fiber-rich choice of dry food then you shouldn't see any negative outcomes.
As its name suggests, this puppy food does contain rice, and more specifically brewers rice. Unlike brown rice and other whole-grains, brewers rice is a by-product and doesn't offer any nutritional value beyond carbohydrates which, as discussed previously, aren't essential in any dog's diet. However, the meat content of the food far outstrips the rice content. Peas, which do offer dietary fiber and beneficial vitamins, are also included. 
All in all, Authority Chicken and Rice is a great, affordable choice that will still supply all of the right nutrients to your large breed puppy.
What Makes Up The Best Large Breed Puppy Food?
As mentioned before, large breed puppies thrive when they're fed a diet with some specific requirements.
When it comes to the best dry foods, calories are a big consideration. Studies have found that big puppies who have excess energy intake are more susceptible to developmental orthopedic disease (Kane, 2013). Because of this, the ideal large breed puppy dry dog food should have a caloric density of 350 to 400 kcal/100g, which is a significant reduction from the average 450kcal/100g density in normal puppy foods (Lauten, 2006). 
In terms of nutrients, one of the most important components of pet food is protein. High protein intake doesn't have any effects on large breed puppies, but low protein intake can lead to insufficient energy and a thinning coat. Protein is particularly important for puppies, as it provides the amino acids that help to facilitate the growth of strong lean muscles and tissue. Large-breed puppy dry foods should have at least a 30% protein content (Buzhardt, 2017).
When it comes to dog food in general, a lower carbohydrate content is better. Dogs, including puppies, don't actually require any carbohydrates in their diet, which means that carbs can simply be empty calories that take up the space where more essential nutrients such as protein should be (Roberts, et. al., 2017). For large breed puppies, the carbohydrate content of food ideally shouldn't exceed 30% and the lower it is the better.
Fat is another macronutrient that's important in dog food. As dogs don't require carbohydrates, traditionally they get a significant portion of their energy from burning fat. Fats also provide fatty acids, which help to keep a dog's coat shiny and supports healthy skin. Because of this, an ideal large breed puppy dry dog food should contain about 12% fat, with anything from 10-20% being acceptable (Lauten, 2006). 
Fiber helps to keep your dog's digestive system functioning smoothly. The standard level of fiber in dog food is 2-4%, with anything from 4-10% being considered as high-fiber. Some large dogs thrive on high fiber food, but do note than some pets with more sensitive stomachs will experience constipation or diarrhea when being switched to a new, high fiber food (Whole Dog Journal, 2018).
Another consideration when choosing dog foods is the calcium content. It might be a little bit counterintuitive, but to help your dog have healthy joints it's better to find a food with a lower calcium content. Calcium helps to develop healthy bones, but it also speeds up the rate of growth. Sticking to foods that have under 1.2% calcium is important for keeping your puppy's growth rate slow enough for their joints to catch up with them (Lauten, 2006).
Large-breed puppy wet foods have similar requirements to dry food. Over 30% protein content is again recommended, especially as wet food is likely to be your puppy's main source of protein. A carbohydrate content under 30% is again needed, as well as a fat content over 10%, fiber over 3% and calcium under 1.2%. In terms of energy density, stick to a food that has between 100 and 150 kcal/100g (Tal, et. al., 2018).
Of course, a puppy food product could have all of these fantastic attributes and still not be a healthy choice for your dog. In addition to the above guidelines, your selected large breed dog food shouldn't include the following ingredients:
Butylated Hydroxyanisole, a carcinogenic preservative
Butylated Hydroxytoluene, a carcinogenic preservative
4-methylimidazole, a carcinogenic food dye
Rendered fat, a mix of different meat by-products with the moisture squeezed out.
Corn and wheat gluten, poorly digestible ingredients used to artificially raise a food's protein level.
Learn More: Best Small Breed Dog Foods
How Much Should Large Breed Puppies Eat?
Like humans, when given free choice dogs don't always eat the right amount of food to maintain a healthy weight. Large dogs can be particularly susceptible to overeating and tend to wolf down whatever food is put in front of them. Because of this, it's important as a dog owner for you to carefully monitor the amount of food you're giving your pup.
Because different pet foods have different energy densities, it's impossible to give a generalised estimate of how many scoops of dry food or cans of wet food you need to be feeding your dog. Dog food companies are required to provide a feeding guide on the backs of their product that will let you know exactly how much you should be feeding your puppy. Make sure to read and follow this guideline. The lure of spoiling your pets by slipping them a little extra food can be tempting, but remember that large breed puppies can suffer serious developmental problems if they're fed too much and start to grow faster than their joints can keep up with.
Read More Dog Food Reviews: Best Fresh Dog Food, NomNomNow vs Ollie or Best Tasting Dog Food
---
Sources:
Joint dysplasia in large breed puppies: Brooks, W. (2019). Hip Dysplasia in Dogs – VeterinaryPartner.com – a VIN company!. [online] Veterinarypartner.com. Available at: http://www.veterinarypartner.com/Content.plx?P=A&A=1916&S=0&EVetID=300145 [Accessed 11 Oct. 2019].
Developmental Orthopedic diseases associated with high-energy diets: Kane, E. (2013). Developmental orthopedic disease in large-breed puppies. [online] DVM360. Available at: http://veterinarynews.dvm360.com/developmental-orthopedic-disease-large-breed-puppies [Accessed 3 Oct. 2019].
Energy density, fat content, and calcium content: Lauten, S. (2006). Nutritional Risks to Large-Breed Dogs: From Weaning to the Geriatric Years. Veterinary Clinics of North America: Small Animal Practice, [online] 36(6), pp.1345-1359. Available at: https://evz.ufg.br/up/66/o/Racas_grandes.pdf [Accessed 3 Oct. 2019].
Protein Content: Buzhardt, L. (2017). Nutritional Requirements of Large and Giant Breed Puppies. [online] vca_corporate. Available at: https://vcahospitals.com/know-your-pet/nutritional-requirements-of-large-and-giant-breed-puppies [Accessed 3 Oct. 2019].
Carbohydrates in dog food: Roberts, M., Bermingham, E., Cave, N., Young, W., McKenzie, C. and Thomas, D. (2017). Macronutrient intake of dogs, self-selecting diets varying in composition offered ad libitum. Journal of Animal Physiology and Animal Nutrition, [online] 102(2), pp.568-575. Available at: https://onlinelibrary.wiley.com/doi/full/10.1111/jpn.12794 [Accessed 3 Oct. 2019].
Fibre Content: Whole Dog Journal. (2019). The Facts You Need Before Feeding Your Dog a Fiber Regiment – Whole Dog Journal. [online] Available at: https://www.whole-dog-journal.com/food/the-facts-you-need-before-feeding-your-dog-a-fiber-regiment/ [Accessed 3 Oct. 2019].
Nutritional Content of Dry Food: Tal, M., Parr, J. M., MacKenzie, S., & Verbrugghe, A. (2018). Dietary imbalances in a large breed puppy, leading to compression fractures, vitamin D deficiency, and suspected nutritional secondary hyperparathyroidism. The Canadian veterinary journal = La revue veterinaire canadienne, 59(1), 36–42.