Salmon can be a positive addition to most dog foods. It is a decently uncommon food ingredient, which can make it a helpful base protein source for dogs with sensitive stomachs and allergies. 
Plus, salmon is very nutritious in itself. Because it is chocked full of things like omega-3 acids and other similar components, it is considered a good ingredient. 
Of course, though, not all salmon dog food is made equal. Despite what the front of the bag would have you believe, not all salmon flavored food even has a high amount of salmon in it. We carefully reviewed a number of different salmon foods and chose the best ones based on their ingredients and nutritional value. 
Reviews of the Best Salmon Dog Foods
Best Dry Salmon Dog Food
Our Pick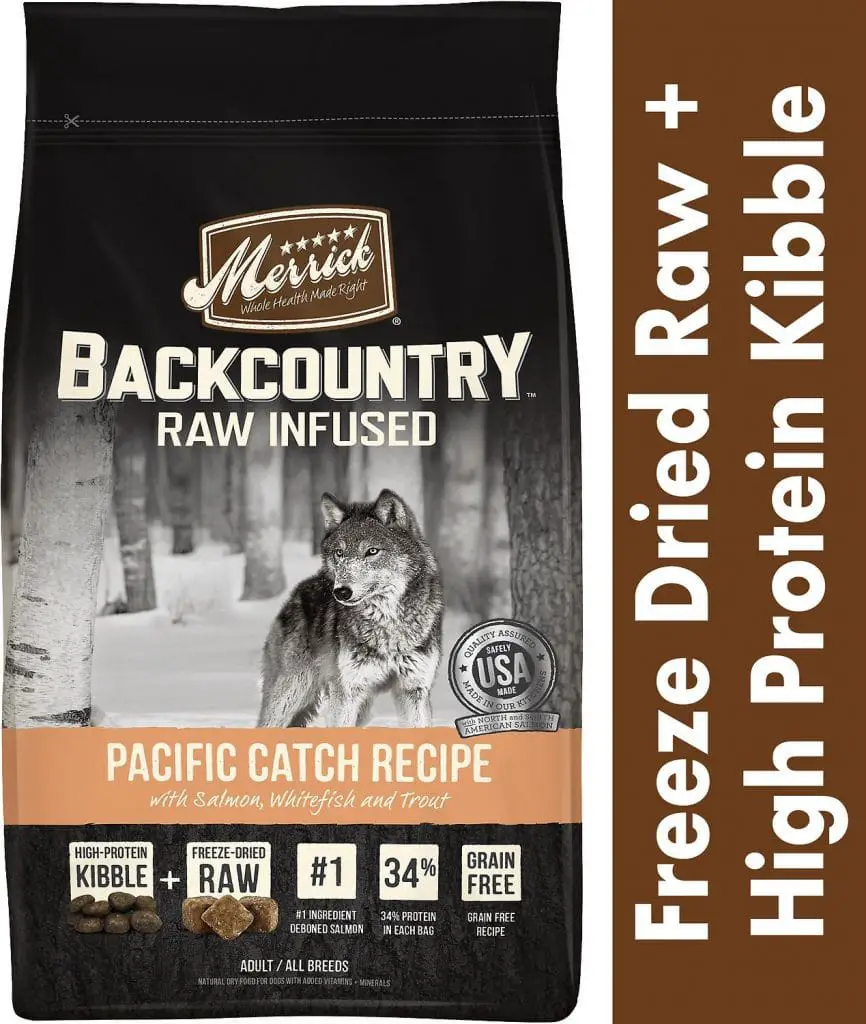 Limited Ingredients
Includes kibble and raw pieces
Contains no corn, wheat, or soy
Doggypedia rating: 4.5/5
First 5 Ingredients: Deboned Salmon, Salmon Meal, Whitefish Meal, Sweet Potatoes, Potatoes.
Macronutrients (Dry Matter Basis):
38.2% Protein
17.98% Fat
34.83% Carbs
best salmon and sweet potato dog food
This food includes real, deboned salmon as the first ingredient, as well as salmon meal as the second ingredient. This means that this food contains more salmon than practically any other salmon-flavored food on the market. Despite salmon foods being quite common, many don't contain much salmon at all. Instead, they get the bulk of their protein from a cheaper source, like chicken. However, this food does not appear to do that. 

Furthermore, this food only contains meat products from fish. Salmon is the most occurring ingredient on the list, but Whitefish and Trout both occur as well. If your dog is allergic to other common animal products, this food might be something worth trying. There isn't any chicken or beef hidden within the ingredient list. 

The macronutrient content of this food is exactly what we would like to see. The carbohydrate content is a little higher than what we like to recommend. We would have much rather seen fat a little higher and carbs a little lower. However, the balance is still much better than you would find in other foods. 

This food also contains quite a few peas. Peas are associated with heart disease in canines and are often used as a cheap source of protein. In fact, further down the list of ingredients, this food does contain pea protein, which is one reason the protein content is so high. 
Runner-Up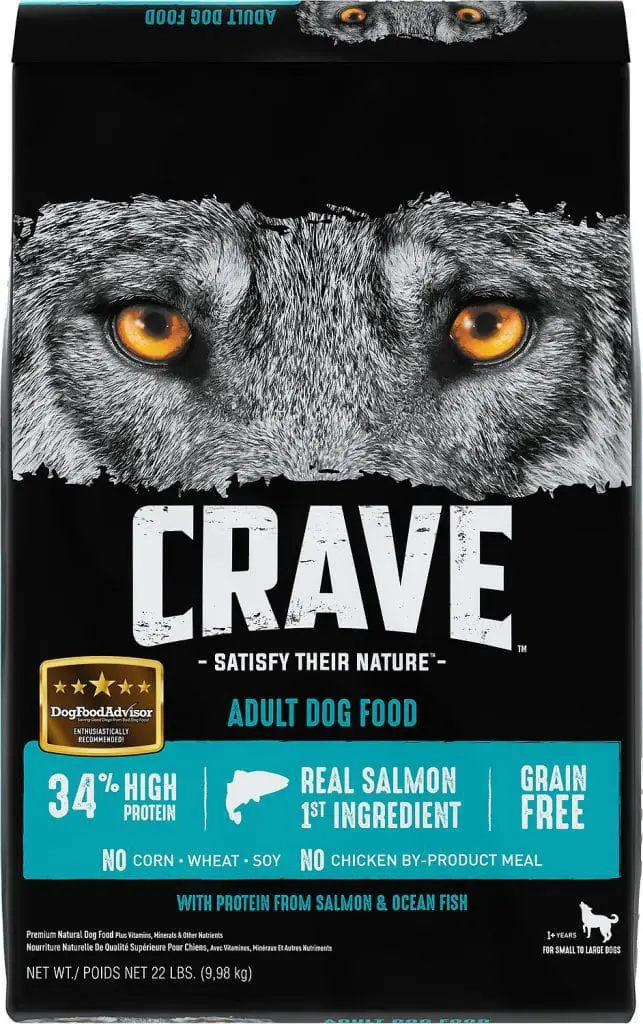 Contains real salmon meat
Grain-free formula
Contains no corn, wheat, or soy
Doggypedia rating: 4/5
First 5 Ingredients: Salmon, Chicken Meal, Chickpeas, Split Peas, Chicken Fat.
Macronutrients (Dry Matter Basis):
37.78% Protein
18.89% Fat
34.44% Carbohydrates
This food includes high-quality ingredients throughout. Salmon is the first ingredient, which is what you would expect from a salmon-flavored food. Chicken meal comes in number two. While this isn't a bad ingredient by any means, it might be a downer for those whose dogs are allergic to chicken. However, the chicken meal is likely why this food's protein content is so high. 

Chickpeas and split peas come in at ingredients three and four. While these foods aren't necessarily bad, we would have rather seen an animal product instead. This food does not contain any grain or soy products. 
The macronutrient content of this food is not exactly what we would like to see. The carbohydrates are somewhat high, and the fat could be a little higher than what it is. However, it is better than most of the foods on the market today. 
Runner-Up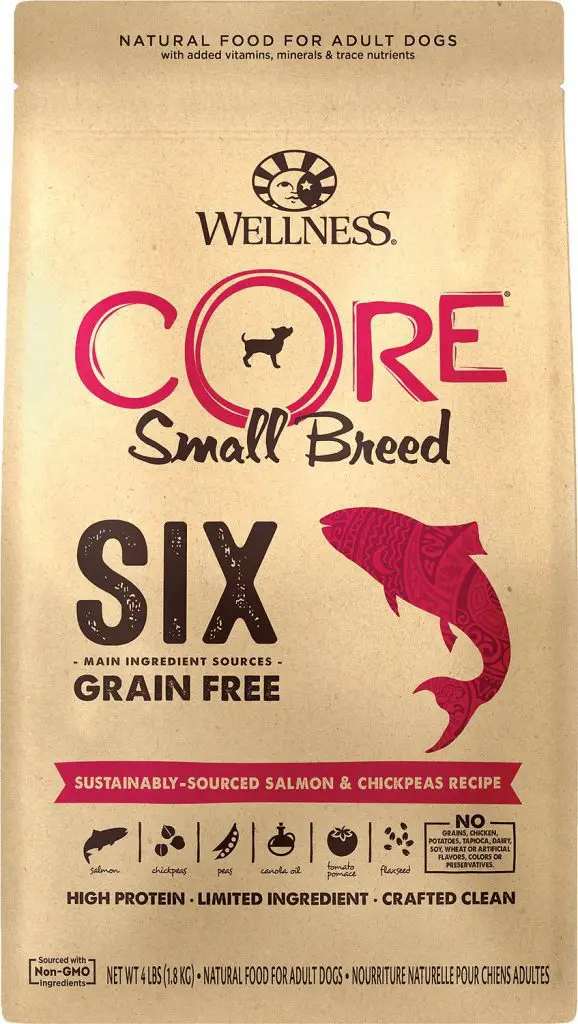 High quality ingredients
Omega fatty acids for healthy skin
Includes glucosamine for healthy joints
Doggypedia rating: 3.5/5
First 5 Ingredients: Salmon, Salmon Meal, Chickpeas, Peas, Pea Protein.
Macronutrients (Dry Matter Basis):
38.89% Protein
17.78% Fat
34.44% Carbs
dog food high in omega 3
This food by Wellness is made with only six main ingredients. This makes it a good option for adult dogs with allergies to many different kinds of food, especially since salmon is the only source of animal ingredients in this food. There is no hidden chicken or other animal sources in this food. With that said, there are a few ingredients in this shortlist that aren't high-quality choices. 

Peas are listed as only the fourth ingredient, with pea protein listed as the fifth. Peas are a poor choice for any food because they are related to dietary health problems. Furthermore, peas contain a lot of protein, but do not have many of the amino acids our dogs need to stay healthy. While this food is high in protein, much of that protein likely comes from peas – which is a lower quality source than animal protein because it is missing these essential acids. We would always rather see animal protein rather than pea protein for this reason. 

The macronutrient content of this food is pretty good. Protein is high and carbohydrates are close to 30%. However, we would have liked to see carbohydrates lower and fat higher, especially considering dogs in a natural setting prefer foods that are high in fat. 
Learn More: Best Dry Dog Foods
Best Wet Salmon Dog Food
Our Pick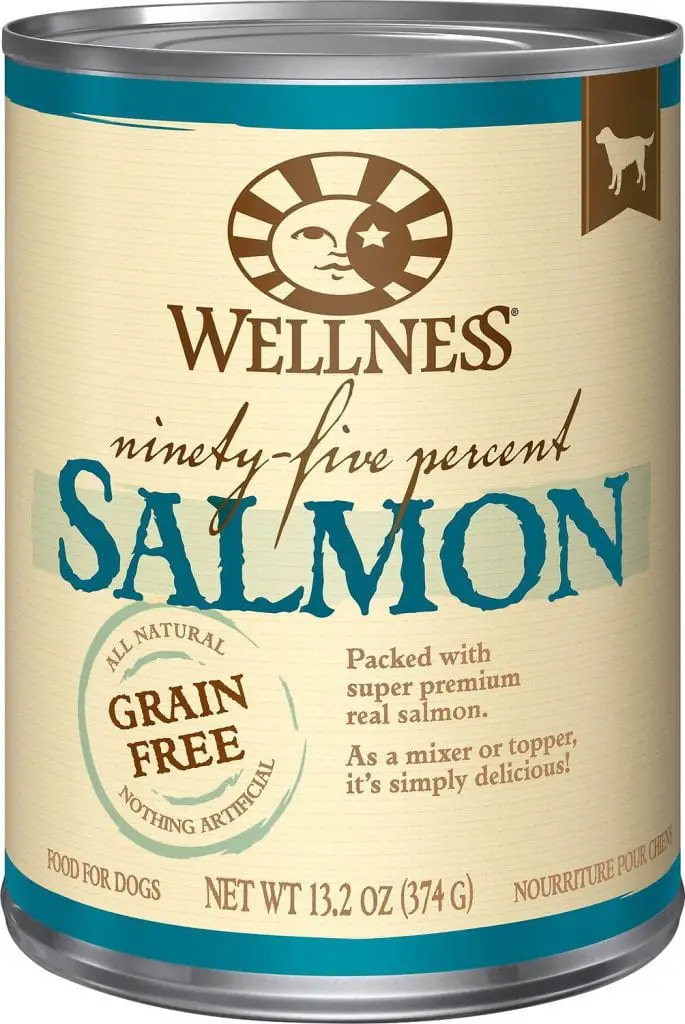 Grain and pea-free
Almost all salmon
No artificial flavors, colors, or preservatives
Doggypedia rating: 5/5
First 5 Ingredients: Salmon, Water, Natural Flavors, Cassia Gum, Carrageenan.
Macronutrient (Dry-Matter Basis):
36.36% Protein
27.27% Fat
22.73% Carbs
A fish based dog food
If you're just looking to add a little bit of salmon to your dog's diet, this food is the way to go.  It pretty much just contains salmon as well as enough water for processing. It is completely grain-free as well as pea-free. There is no corn, wheat, or soy as well. The first ingredient is salmon, and the other ingredients are mostly just small supplements. 

The macronutrient content of this food is excellent, with protein and fat both quite high. Carbohydrates are under 30%, which is the range we prefer for most diets. 

With all of that said, this food is not made to be a complete diet. It does not contain many of the supplements we find in the other foods and might not provide all the nutrients your dog needs to develop. However, this canned food is a great way to add a little bit of salmon to your dog's diet, brighten up their food, or diversify the animals that get their protein from. We particularly recommend this food to dog breeds that are prone to developing allergies or those who don't have much of an appetite for whatever reason. This is also a nice treat that you can freeze in a ball to keep your pooch busy for a little while. 
Runner Up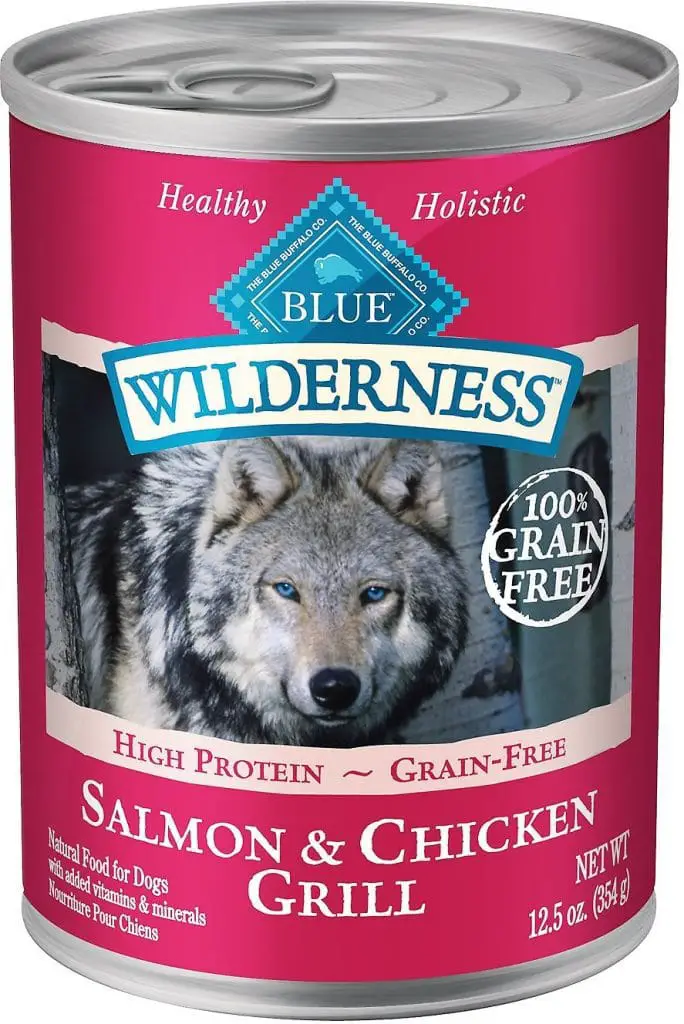 Vitamin B12 supplement for an immune system boost
No corn, wheat, soy, artificial flavors, colors, or flavors
Made without any grain
Doggypedia rating: 4/5
First 5 Ingredients: Chicken, Fish Broth, Chicken Liver, Salmon, and Potatoes.
Macronutrients (Dry-Matter Basis):

45.45% Protein
43.15% Fat
1% Carbs
A canned salmon dog food
We loved the macronutrient breakdown of this dry food. Protein is extremely high as over 45% and fat is almost equally as high. 1% of the food is carbohydrates, which is one of the lowest we've seen. This macronutrient breakdown is very similar to what dogs would naturally eat in the wild. 

Furthermore, this food does not contain any peas, which are a common ingredient in food that is generally considered a low-quality filler. With that said, this food does contain potatoes. This ingredient has been subtly linked to certain heart problems by the FDA. However, the correlation is not nearly as strong as it is for peas, so we consider potatoes a better option than peas in this case. Potatoes are also fairly low on the list, especially considering that this dog food doesn't contain many ingredients, to begin with. 

This food does contain chicken as well as salmon, which it clearly states on the ingredient list. In fact, chicken is actually the first ingredient, with salmon not appearing until number four. Fish broth is the second ingredient, but it isn't clear whether this broth comes from salmon or a different type of cheaper fish. 
Learn More: Best High Calorie Dog Food
Runner Up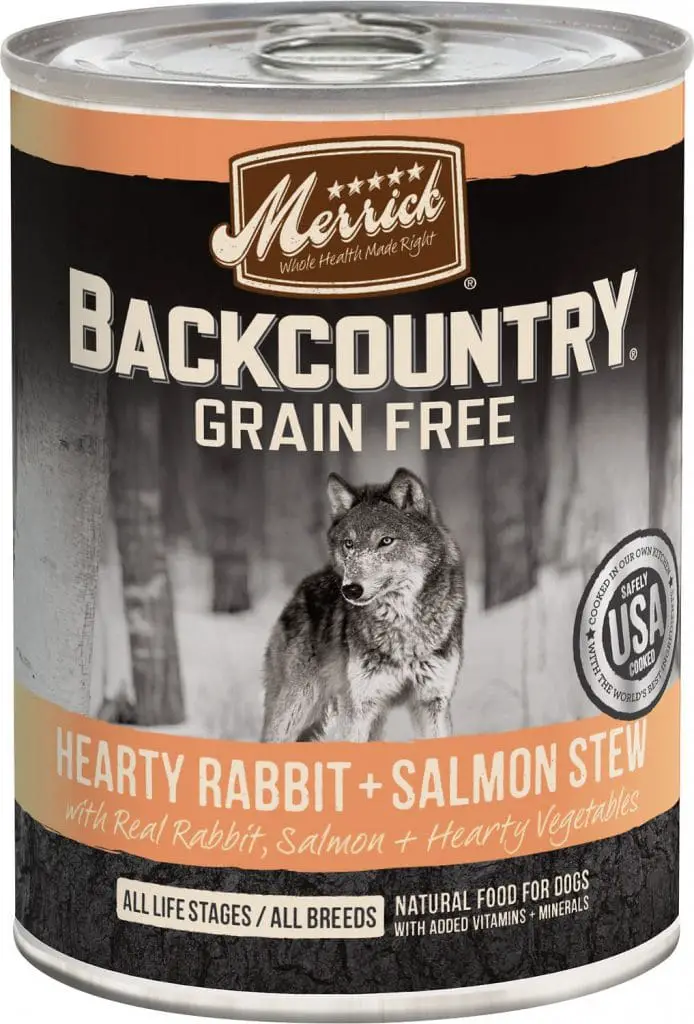 Contains deboned rabbit and salmon
Grain-free
Includes a fish broth for added flavor and moisture
Doggypedia rating: 3.5/5
First 5 Ingredients: Deboned Rabbit, Fish Broth, Deboned Salmon, Dried Egg Product, Carrots.
Macronutrient (Dry-Matter Basis):
50% Protein
16.67% Fat
16.67% Carbs
This grain-free food includes an exotic blend of rabbit and salmon, as well as a few veggies and eggs. We do not have much information about whether or not rabbit is a high-quality protein source for canines. It has been pointed out by the FDA as being possibly linked with some health problems in dogs, but we do not currently know if it is the rabbit that causes this or the other ingredients rabbits are often paired with, like peas. With that said, salmon is a good source of protein and is listed as the third ingredient. 

This formula is grain-free, though it does contain a range of vegetables, like carrots and peas. While carrots are a quality ingredient for foods, peas are not. Peas are often used as a filler to raise the overall protein content of the food. While peas are high in protein, they do not contain essential ingredients like Taurine, which are common in animal meats. This can cause heart problems. However, peas are really low in the ingredient list of this food, so they are likely to have any major effect on your canine. 

The macronutrient content of this food is great. Protein is one of the highest we've seen in nearly every other food, and carbohydrates are very low at under 20%.
Best Salmon Puppy Foods
Our Pick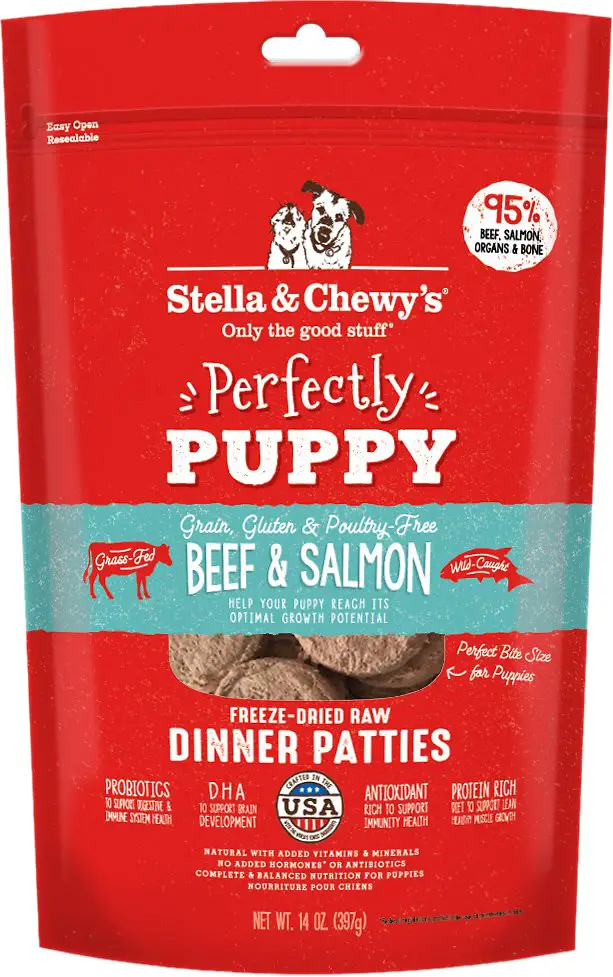 Grain-free
No peas, soy, corn, or wheat
Freeze-dried
Doggypedia rating: 5/5
First 5 Ingredients: Beef, Salmon, Beef Liver, Beef Kidney, Beef Tripe.
Macronutrients (Dry-Matter Basis): 
48.42% Protein
36.32% Fat
6.84% Carbs
This freeze-dried puppy food is absolutely phenomenal. It contains meat products as the first five ingredients, including whole salmon. Many ingredients are beef organs, which help provide a natural, complete diet for your puppy. However, because beef is included as well as salmon, this food might not be appropriate for puppies with allergies. If you canine is allergic to beef, this formula is obviously not for them. 

After the first five ingredients of animal products, a list of veggies and fruits follows. Despite the long list of vegetables included, this pet food does not contain any peas or other low-quality ingredients. In fact, many of the inclusions are organic. 

The macronutrient breakdown of this product is pretty much perfect. Carbohydrates are hovering at around 7% and fat and protein are both very high. This is extremely close to what a dog would be eating in the wild. 
Runner Up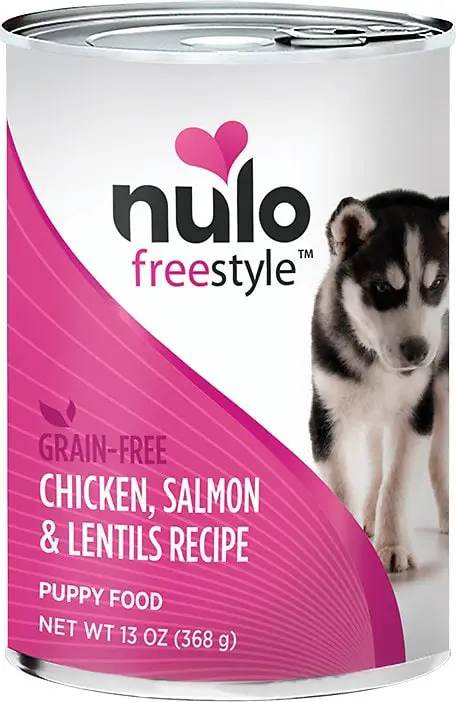 Includes a variety of protein sources
Free of grain, corn, wheat, and soy
Low-glycemic
Doggypedia rating: 4/5
First 5 Ingredients: Chicken, Chicken Broth, Salmon Broth, Chicken Liver, Salmon.
Macronutrient (Dry-Matter Basis):

43.18% Protein
22.73% Fat
20.45% Carbs
Made with both chicken and real salmon, this puppy food gets its protein from a variety of sources. If you're looking to prevent food allergies, grain-free dog food is a great option. However, if your pooch is allergic to chicken already, you should look elsewhere for your food. Furthermore, salmon doesn't appear until the fifth ingredient, which is disappointing considering this is described as a salmon-flavored food. Both chicken and salmon broth are included, helping bring the protein content of this food up to a huge 43.18%. 

The macronutrient content of this food is in the optimal range. It only includes about 20% carbohydrates, making it lower than most of the other foods on the market. Fat could be a little higher at only 22.73%. However, the extremely high protein makes up for this small deficit. 

This food does contain a few veggies and fruits, like blueberries and cranberries. However, it does contain peas as the seventh ingredient. Peas are linked with a few health implications. But, they are so low in the ingredient list that we would not worry about them in this particular situation.
Why Should you Feed Your Dog Salmon?
Not all canines would benefit from a salmon food. However, salmon is somewhat unique in the dog food world because it is relatively uncommon. If you feed a dog the same food for years on end, it isn't uncommon for them to develop an allergy. Things like chicken and beef are very common and therefore sensitive canines tend to get allergic to these common proteins. 

However, the only place you really find salmon is in salmon-flavored food. While you're likely to find chicken even if the food that advertises it's a flavor as "lamb with peas", this isn't the case with salmon. This rarity means that dogs who have been given a chicken or beef-based diet for years might find their stomach sensitivities lessened by switching to a salmon dog food. 

Similarly, salmon dog foods also play a great role in food rotations. If at all possible, you want to avoid giving your dogs the same food for years at a time. This prevents them from developing allergies and provides them with a varied diet full of varied nutrients. Your dog is much less likely to encounter diet-linked disorders if you change their food often. 

We recommend switching between three or four quality foods throughout the year. Because salmon is so unique from other protein sources, it is a good contender for a spot in a food rotation. 
Is Salmon Good for Dogs?
Salmon is full of ingredients that dogs can benefit from, like omega-3 fatty acids. However, just like with any ingredient, salmon can not provide all your dog's nutrition by itself. It is just as important to consider all the ingredients in the bag on top of the main protein source. 

A piece 4-ounce piece of salmon contains about 26 grams of protein and 5 grams of fat, as well as zero carbohydrates. As you can see, it is very protein-dense as well as containing plenty of healthy fats. 

Studies have shown that a dog's natural diet is about 44% protein, 52% fat, and 7% carbohydrates. Furthermore, when deprived of high amounts of fat for a longer period, dogs will gorge themselves on fattening food before lowering their fat consumption. 

In other words, dogs need about an even amount of fat and protein in their diet, with very little carbohydrates. If they aren't given healthy fats, they'll eat all of it they can get next time they find it. Based on this information, it becomes clear that salmon meets up with a dog's dietary needs. 

Of course, not all salmon is the same. While some food formulas will use whole salmon, others will use salmon meal.  

Salmon meal is not necessarily a bad ingredient. In fact, when it comes from a high-quality source, it can actually be a better ingredient than whole meats. Basically, meat meal is just dehydrated meat. It is meat that has been rendered, or boiled, into a highly concentrated protein powder. This process removes most of the water from the food, making it more usable in dry kibble and more nutritionally dense. 

With that said, you do want to make sure that the source of the meal is made. "Salmon meal" would be considered a quality ingredient, since you know that the meal comes from salmon. However, something vague like "meat meal" could come from absolutely anything. If you wouldn't eat some vague mystery-meat, you probably shouldn't give it to your dog either. Furthermore, even something like "fish meal" can be problematic, because you really don't know what fish it came from. 

Learn More: Best Kangaroo Food for Dogs
How We Chose the Best Salmon Dog Foods
We carefully selected each food based on a few key points. Keep these in mind while you're reading our reviews and choosing your dog's food:
The first thing you should pay attention to is the ingredients. You should only select dog food with quality, safe ingredients. If you're set on choosing salmon-based food for whatever reason, be sure the food actually contains high amounts of salmon. Preferably, you want meat in the first few ingredients as well as good quality vegetables and grains throughout. By-products and by-product meals are not necessarily low-quality as long as they have the source listed. 
We chose food that were as free as possible of obvious fillers. Sometimes, fillers are plainly obvious. Other times, they're innocent-sounding vegetables like sweet potatoes and peas. Both of these ingredients are linked to serious health problems by the FDA, though they don't sound particularly harmful when you read them on an ingredient list. 
Check the macronutrient content. What your dog is eating should line up with what they were made to eat in a wild setting. Sadly, this is somewhat harder said than done. Dog food companies are not required to list their macronutrient content down and most don't even list the number of carbohydrates their food contains on their bag. Luckily, we did all the math for you on all the products we reviewed. 
You should also keep breed-specific points in mind, like kibble size. Some dog foods are designed specifically for small or large dogs. Others aren't specifically designed for any dog at all, but still might not be suitable for some breeds. You should also keep things like the life stages the food was designed for in mind. 
Check for extra additions to the food as well, such as vitamin e supplements, chondroitin, and probiotics.
The brand of dog food does matter. Certain brands are prone to recalls and misleading information on these labels. Other brands, like taste of the wild, have been linked to health problems by the FDA. 
Read More Dog Food Reviews: Best Freeze Dried Dog Food and Best Sensitive Stomach Dog Food