Looking for the best fish dog food brands? Help your pup stay healthy with our wet and dry food reviews here.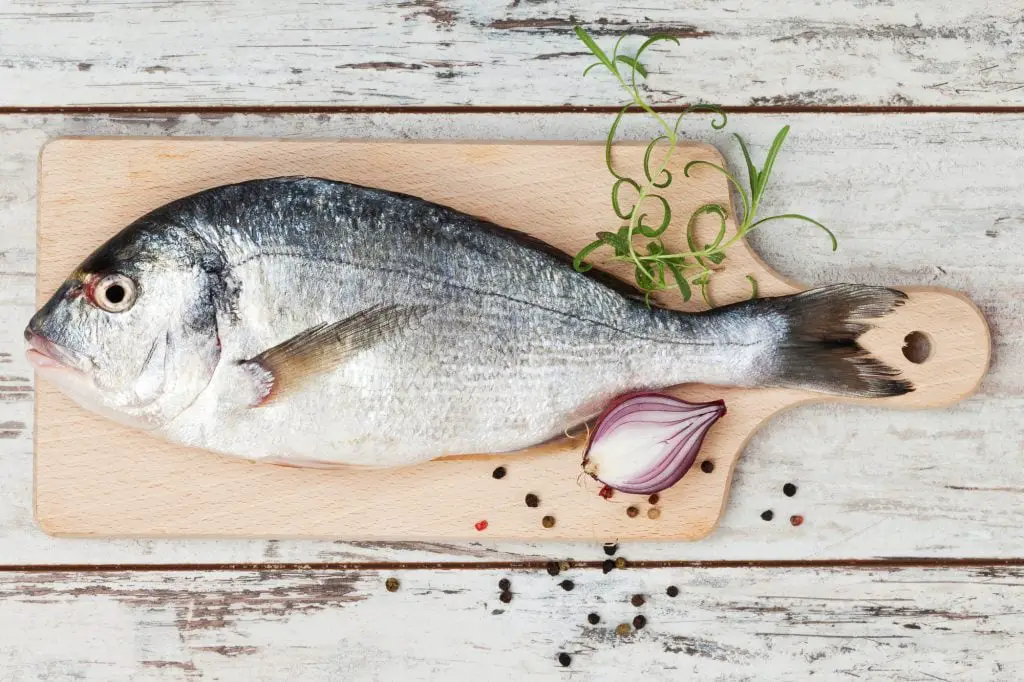 When it comes to fish-based pet foods, most people only think of cats. But the truth is that fishy dog foods are a thriving, growing market, with many owners opting for salmon or whitefish over the more traditional beef and chicken. 
There are a few reasons why owners are making the switch. For one, fish-based dog foods are fantastic for pups with food allergies or sensitivities. Some owners also like the wide variety or fish dog foods on offer, some are simply looking to switch it up and, most importantly, many recognize that are some key health benefits that make fish a great, nutritious, and healthy protein source for their pooch.
However, many owners have some questions about fish-based foods, and rightly so. Does fish really contain more omega-3 than other meats? Is it a viable source of protein? What's the difference between whole fish and fish meal? The dog food industry is a notoriously shady business and getting clear answers from companies can be difficult.
To help take some of the pressure out of picking a fish-based dog food, we've compiled a list of our six favorite wet, dry, and puppy options. Our picks are made using scientifically-based criteria, so you can rest assured knowing that you're serving your pup a healthy food that will meet all of his or her nutritional needs.
Reviews of the Best Fish Dog Foods
Our Pick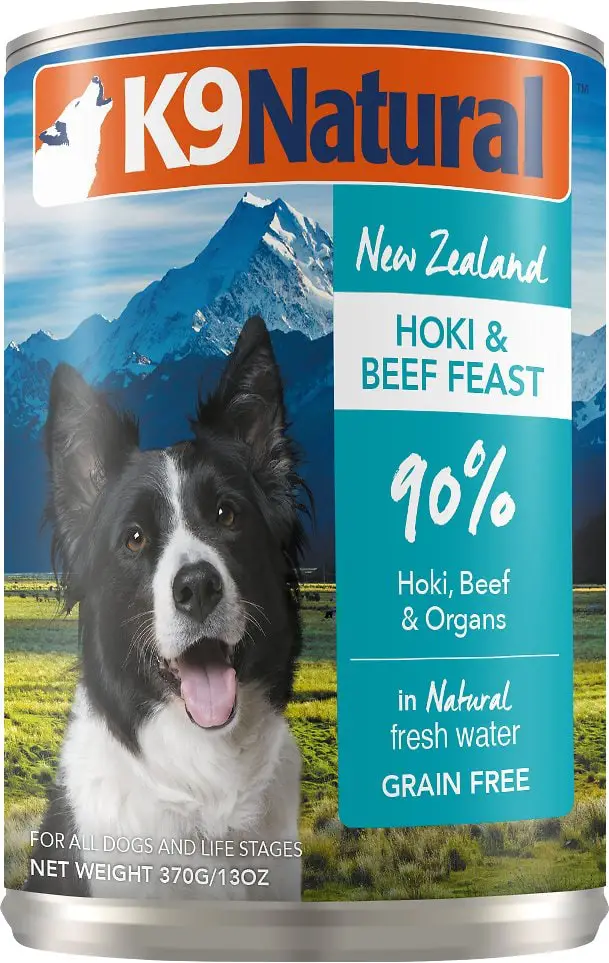 90% fresh Hoki and Beef
High-quality ingredients
High protein content
Doggypedia rating: 4.5/5
Calorie Content: 121 kCal/100g
First 5 Ingredients: Hoki, Beef, Beef Tripe, Beef Liver, and Beef Spleen.
Macronutrients (Dry-Matter Basis):
Protein: 50% minimum
Fat: 35% minimum
Carbs: 2.5% maximum
Best Fish-Based Wet Dog Food
Taking the title of the best fish-based wet food is K9 Natural's Hoki and Beef canned food. With a strong focus on natural, quality ingredients, this protein-packed product is the best of the best when it comes to healthy dog food.
The real strength of this product lies in its exemplary ingredient list. The first ingredient is sustainably-caught Hoki, followed by various cuts of New Zealand grass-fed beef. This is about as high-quality as it gets when it comes to dog food ingredients and for pet parents who care where the meat they're feeding their pup comes from, knowing the exact sources is a big relief. Other ingredients include New Zealand green-lipped mussels, which are a natural source of the nutrients glucosamine and chondroitin, which have been found to relieve joint pain in dogs (Bhathal et. al., 2017), and brown kelp, which is a natural source of iodine. On top of these goodies, K9 has packed their formula full of healthy fruit and veggies like pumpkin, broccoli, cauliflower, apples, and pears. 
The high-quality ingredients translate into a superb macronutrient profile. The protein content is about as high as it gets, sitting at a whopping 50% on a dry-matter basis. The fat content is similarly high, at 35%. This leads to quite a high caloric density, 121 kcal/100g, so if you choose this product make sure to stick strictly to the feeding guidelines to avoid overfeeding your dog. The carbohydrate content is estimated at just 2.5%, with the main carb sources being fruit and veg.
Another point of interest is the fact that K9 elects not to use gelling agents in its canned food products, instead opting for fresh New Zealand water to bind the ingredients together. This may be a big plus for pet parents who don't want to feed their pup anything artificial. However, it should be noted that customers have reported the food having a consistency quite different to most other canned foods, and some picky dogs may not respond well to this.
One potential drawback of this food is its price, which is definitely on the higher end of the scale. The quality ingredients justify the price tag completely, but it's up to dog owners to decide if they're comfortable forking out the extra cash in exchange for better quality.
Also Great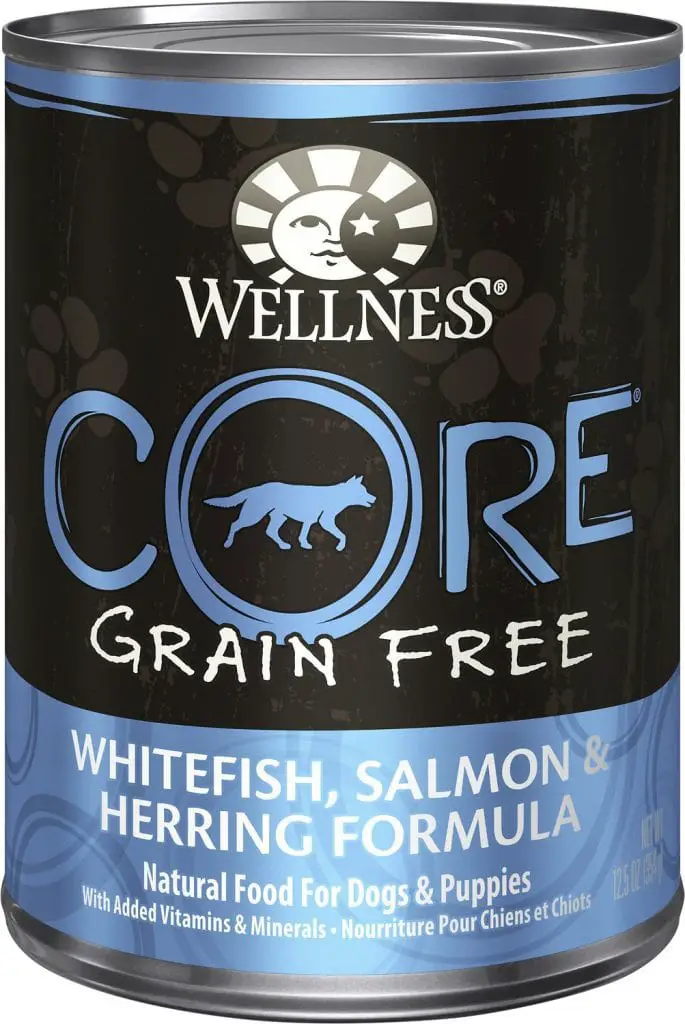 Contains five different protein sources
Great macronutrient profile
Contains chicken
Doggypedia rating: 4/5
Calorie Content: 122 kCal/100g
First 5 Ingredients: Whitefish, Chicken, Chicken Liver, Salmon Broth, and Salmon.
Macronutrients (Dry-Matter Basis):
Protein: 45.5% minimum
Fat: 27.3% minimum
Carbs: 13.6% maximum
Best Fish-Based Dog Food with Multiple Protein Sources
Just like humans, dogs benefit from eating a variety of different foods. No singular protein source can contain every single beneficial nutrient, which means that switching up your dog's food regularly is a great idea. However, if you're not keen on researching and selecting a new dog food several times a year, picking a food with multiple different protein sources is a great way to go. When it comes to these sorts of foods, Wellness' CORE Whitefish, Salmon, and Herring grain-free dog food is one of the best.
The key feature of this product is the five different protein sources it contains. Whitefish, chicken, chicken liver, real salmon, and herring all make an appearance at the top of the ingredient list. Other ingredients include ground flaxseed, which is a source of omega-3, yucca schidigera extract, which helps reduce the odor of your dog's waste, and chicory root extract, which is a source of fiber. Fruits and vegetables like antioxidant-rich blueberries and vitamin-packed spinach and broccoli also make an appearance, as does a variety of different mineral and vitamin supplements. 
Together, these ingredients provide a strong macronutrient profile. The protein content sits at 45.5% and the fat content is 27.3%, both of which easily pass the AAFCO guidelines. The carbohydrate content, 13.6%, is on the high side for a wet food but can be fully justified given the amount of healthy fruit and veg in the formula.
One drawback of this food is that it contains chicken, one of the most common allergy-inducing ingredients, and it doesn't specify this anywhere on the can except for the ingredient list. While it's a good practice to thoroughly read the ingredient list before purchasing a product, the fact that Wellness hasn't included chicken in the name of the product is a bit misleading. If your pup is allergic to chicken, make sure to steer clear of this food!
Best Dry Fish Dog Foods
Dry Pick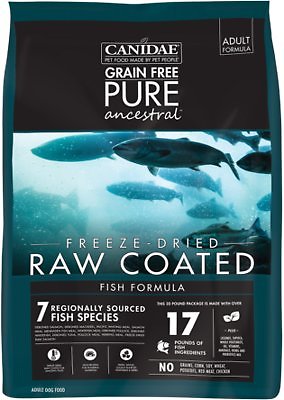 Freeze-dried kibble
Includes probiotics
Contains 8 different types of fish
Doggypedia rating: 4.5/5
Calorie Content: 336 kCal/100g
First 5 Ingredients: Salmon, Mackerel, Pacific Whiting Meal, Salmon Meal, and Menhaden Fish Meal.
Macronutrients (Dry-Matter Basis):
Protein: 40% minimum
Fat: 13.9% minimum
Carbs: 37.2% maximum
Best Dry Fish-Based Dog Food 
Many dry dog foods have little to no fresh ingredients, relying on processed meat meals as the main source of protein. Canidae's PURE Freeze-dried fish formula, however, has no such flaws. It contains eight different species of fish, most of them present as whole ingredients as well as means. Not only that, but each piece of kibble is covered with freeze-dried, raw salmon in a process known as raw-coating, to help improve the flavor of the food and fortify it with extra proteiny goodness.
The main staple of the ingredient list of this Canidae product is the numerable different types of fish products included. Salmon, mackerel, pollock, whitefish and tuna are all included, with pacific whiting, menhaden, and herring also present in meal form. In total, eight different fish species are included, which means that the food contains a wide variety of different nutrients. Aside from the fish, sun-cured alfalfa meal (a good source of fiber) and garbanzo beans (which are high in protein) are also included, as well as a variety of vitamin and mineral supplements. Canidae also adds a concoction of probiotic bacteria, which they've dubbed HealthPLUS. Probiotics help to balance your dog's gut microbiome, which can prevent or relieve digestive issues and even boost your dog's immune system (Schmitz et. al., 2016). 
While the ingredient list is strong, it could be improved by the addition of more fruit and veg. The range of supplements included means that the food is nutritionally complete, but fresh, healthy vegetables and fruit could have achieved this in a more natural way.
The macronutrient profile of this food is strong, with 40% protein and 13.9% fat. The carbohydrate content is a little high, sitting at 37.2%, but the variety and amount of meat ingredients makes up for this. The food has a moderate energy density for a dry food, which means that it shouldn't be hard for your pup to maintain a healthy weight.
Runner Up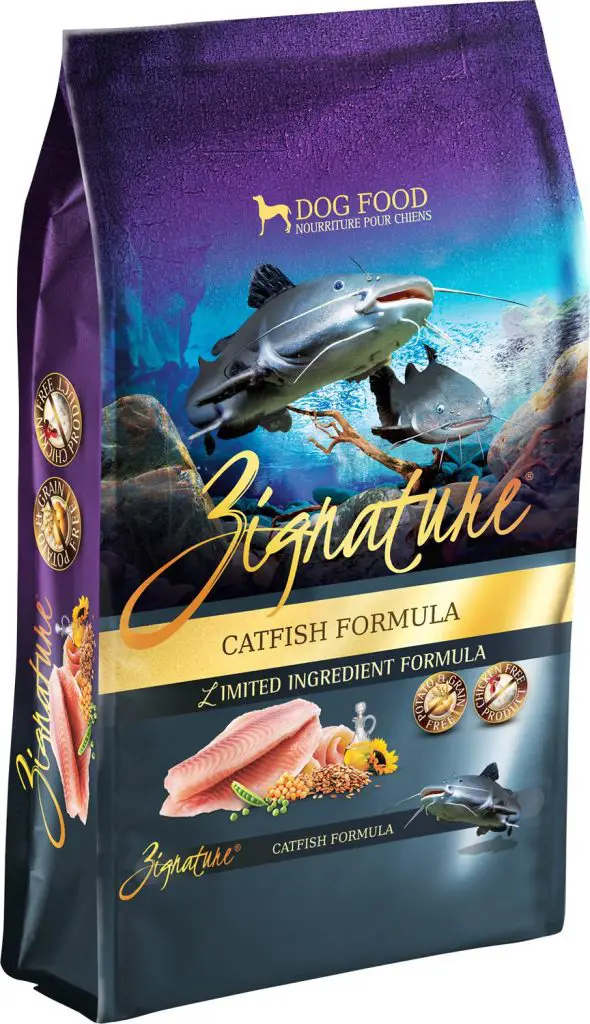 Allergy-friendly ingredients
Interchangeable with similar recipes
High carbohydrate content
Doggypedia rating: 4/5
Calorie Content: 380 kCal/100g
First 5 Ingredients: Catfish, Catfish Meal, Peas, Pea Flour, and Chickpeas.
Macronutrients (Dry-Matter Basis):
Protein: 35.6% minimum
Fat: 15.6% minimum
Carbs: 40% maximum
Best Hypoallergenic Fish-Based Dog Food 
As mentioned previously, fish-based dog foods can be a great option for pups with food allergies and sensitivities. Unfortunately, many fishy dog foods also include meats like chicken and beef or other allergy-inducing ingredients like wheat and dairy products. With a limited, allergy-friendly ingredient list, however, this problem can be avoided. A great product with one such ingredient list is Zignature's Catfish kibble.
As implied by the name, the main ingredient in this product is catfish. Though it's less common in dog food, catfish is actually one of the most nutrient-dense fish out there. An average, 100g serving of catfish contains roughly 18g of protein and just 2.9g of fat (USDA, 2019). The vitamin content is also impressive, with a high amount of vitamin D, vitamin B1, and vitamin B3. 
Aside from catfish, this recipe boasts some other interesting ingredients. Pea flour, which is rich in iron and calcium, flaxseed, which is high in omega-3, and sunflower oil, which is a good source of omega-6, all make an appearance.
The macronutrient profile of this product is fair. 35.6% protein and 15.6% fat mean that it easily clears the AAFCO recommendations. However, the carbohydrate content is high, sitting at 40%. The main carbohydrate sources are peas which, while not completely nutritionally devoid, aren't the most beneficial of vegetables. Ideally, there would be a higher proportion of meat in the recipe, or at least a broader range of veggies.
Another particular positive of this food is that it comes from a trusted brand. Zignature includes several other fish-based limited ingredient dry foods in its product line up. The catfish formula is arguably the best, but if your pup doesn't enjoy the taste you can switch to one of their alternative products easily (we recommend the trout and salmon recipe).
Best Fish Puppy Foods:
For Puppies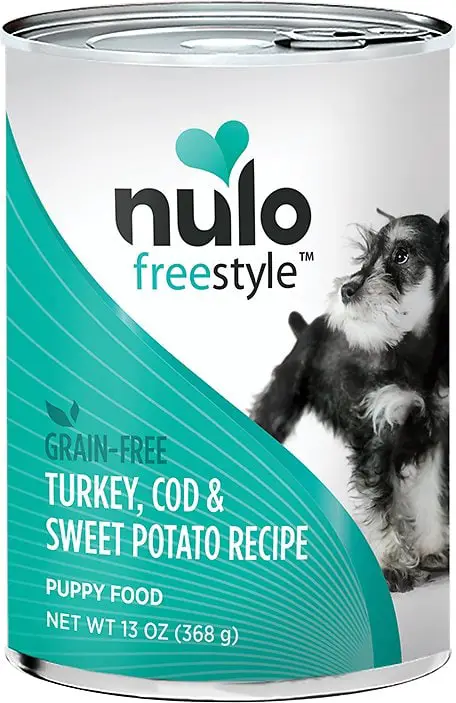 Includes brain-developing DHA
Good macronutrient profile
Doesn't contain much fish
Doggypedia rating: 4/5
Calorie Content: 110 kCal/100g
First 5 Ingredients: Turkey, Turkey Broth, Salmon Broth, Turkey Liver, Cod.
Macronutrients (Dry-Matter Basis):
Protein: 35.6% minimum
Fat: 15.6% minimum
Carbs: 20.5% maximum
Best Wet Fish-Based Puppy Food
It's not only adult dogs that can benefit from fish-based dog foods; puppies can enjoy them just as much. When it comes to fishy wet foods formulated specifically for puppies, there's none better than Nulo's Turkey, Cod, and Sweet Potato canned food.
The ingredient list of this product is an interesting one. Turkey is the first ingredient, followed by turkey and salmon broth, turkey liver, and cod. This variety of protein sources is a definite positive. Some owners may be put off by the inclusion of turkey, but it's a solid protein source and is generally allergy-friendly too. Other ingredients include sweet potato, which is a highly digestible form of energy, and fish oil, which is high in omega-3. This is a particularly good inclusion as DHA, an omega-3 fatty acid, is essential for brain development in puppies. Cranberries and blueberries provide a boost of antioxidants and various vitamin and mineral supplements put the icing on the proverbial cake.
The ingredient list translates into a good macronutrient profile, with 35.6% protein and 15.6% fat. The carbohydrate content is a little high for a wet food, sitting at 20.5%, but because the main carb source is sweet potatoes this can be forgiven.
For all its merits, there is a drawback to this product. The actual amount of fish it contains is quite small. Cod is the fifth ingredient, meaning that the amount of turkey and broth outstrips the amount of actual fish. This isn't necessarily a bad thing, but for owners looking for a purely fish-based food, it may come as a disappointment.
For Puppies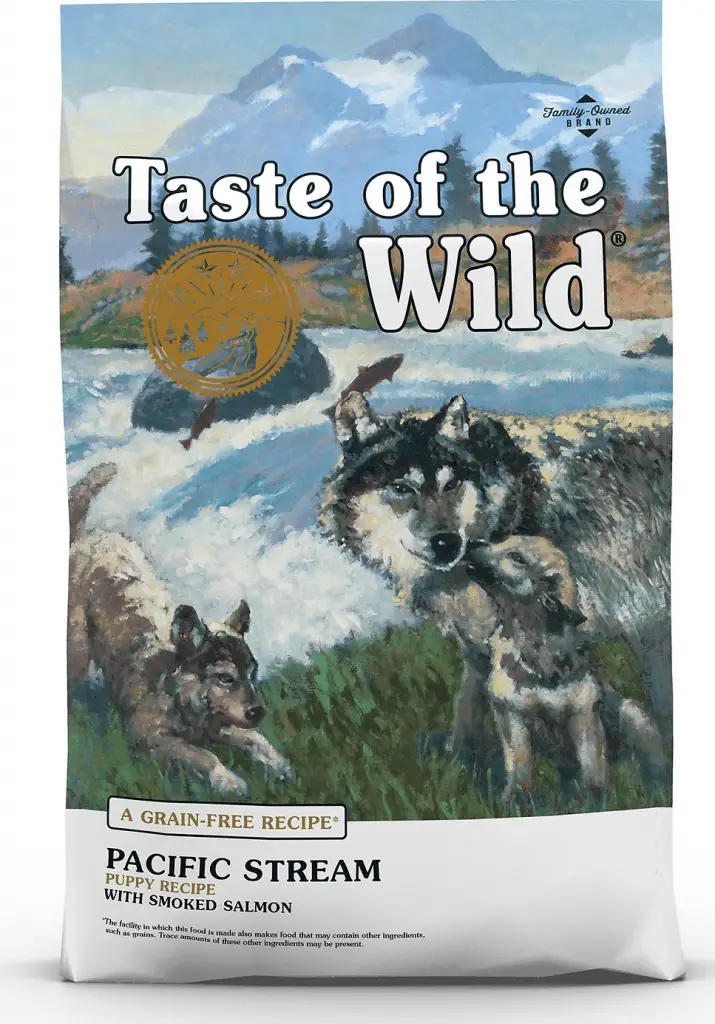 Allergy-friendly
Great taste
High carbohydrate content
Doggypedia rating: 4/5
Calorie Content: 360 kCal/100g
First 5 Ingredients: Salmon, Ocean Fish Meal, Sweet Potatoes, Peas, and Potatoes.
Macronutrients (Dry-Matter Basis):
Protein: 30% minimum
Fat: 16.7% minimum
Carbs: 44.4% maximum
Best Dry Fish-Based Puppy Food
Taking the title of the best fish-based dry puppy food is Taste of the Wild's Pacific Stream formula. With a great ingredient list and solid macronutrient profile, this food is a great choice for any pup.
Pacific Stream contains two different types of fish; salmon and ocean fish. The former is present in a range of forms, including whole salmon, smoked salmon, salmon meal, salmon oil, while the latter is only in its meal form. There are no other meats included in the recipe, which makes it ideal for pups with an allergy to any of the more common meat sources. Other key ingredients include digestible sweet potatoes, fibrous chicory root, and antioxidant packed blueberries and raspberries. Additionally, five different strains of probiotics are present, which provides a nice boost to your puppy's developing digestive system.
The macronutrient profile of this product is fair, with 30% protein and 16.7% fat. The carbohydrate content, however, is too high. Even though all of the carb sources are healthy, 44.4% is too high to be easily justified. However, the added carbs do help to boost the food's energy density to 360 kcal/100g, which is a benefit for active puppies.
As an added bonus, most puppies seem to adore the taste of this recipe. If you have a picky pup who turns his nose up at other foods, this is a great option to try.
Why You Should Trust Us
I've been a dog owner and health-nut my whole life. We have reviewed and tested hundreds of fish dog foods, so we have an expert view of what the market currently offers. All of our reviews are based on scientific evidence, not marketing campaigns or hearsay. We carefully stay up to date on the latest research so that we can recommend only the best to you and your pets. 
Before making it into any article, each fish dog food has to pass a rigorous review process that involves more than just surface-level information. We calculate all of our own macronutrient data. While we do pay attention to the ingredient list, we also consider macronutrient ratios and recall frequency.
Why Should You Feed Your Dog Fish?
The benefits of feeding your pet fish-based dog food are numerous and convincing. Perhaps the clearest of these benefits is the fact that fish can be a great meat source for dogs with food allergies and sensitivities. While allergies to meats like chicken and beef are now worryingly commonplace amongst dogs, it's rare to come across a dog with an allergy to fish meat. This is because for most dogs, fish is a novel protein: a meat source that they haven't been widely exposed to yet and are therefore more likely to be able to tolerate well. 
If your pup isn't saddled with a food allergy, there's still plenty of reasons to consider switching up his or her diet. Like humans, pups benefit greatly from a balanced and varied diet. Many well-meaning owners will find a good, healthy food that their dog likes and then feed it to them for the rest of their life, not realizing that this can contribute to the development of allergies, restrict the variety of nutrients that they have access to, and generally lead to poorer health. In addition to this, many pups simply become bored of their food eventually. Switching things up by picking out a healthy fish-based food is a great solution to this (DFA, 2008).
The main reason you chose a new sort of food for your dog should, of course, be because of the health benefits. There are many nutritional benefits to fish-based dog foods, which we've outlined further in the next section.
Is Fish and Whitefish Good for Dogs?
When asking the question of whether fish is good for dogs, the first thing that we need to do is define 'fish.' While this may seem like a simple task, when it comes to dog food it's actually a little more complex. The language used to describe fish-based dog foods is different from human fish products and can trip up the unwary pet parent.
When looking at the ingredient list of fish-based food, more often than not you're going to see the term 'fish meal.' It could be salmon meal, trout meal, whitefish meal, or the more general oceanfish meal. These sorts of meat meals in dog food usually indicate a lower standard of product, but in fishy dog foods this isn't necessarily the case. Fish meat is made up largely of water, which means that dogs need to eat a lot of it to get the appropriate nutrition. Fish meal, on the other hand, has the water squeezed out of it and therefore has a much higher nutritional density. In order to pack their food full of enough protein and fats, this means that companies often have no choice but to include fish meal in their formulas. 
When looking at fish-based dog foods, it's also important to look out for the term 'Whitefish.' This isn't a specific species of fish, but rather a class of fish that has white flesh and is typically less oily than fish like salmon. Popular species dubbed 'whitefish' include halibut, pollock, and Hoki. The nutritional value of whitefish varies across different species, but broadly it can be said to have the same benefits as other types of fish. However, one point of difference is that whitefish-based dog foods tend to have a milder flavor, so if you have a dog who shies away from 'fishy' tasting foods, whitefish might be a great compromise (WWF, 2012).
Fish is a fantastic source of protein for dogs. A small, 3-ounce serving of fish contains between 16 and 26 grams of protein (depending on the species), which is much higher than most meat sources (Martinac, 2018). Therefore, it comes as no surprise that many fish-based dog foods have much higher protein content than similar beef, chicken, lamb, or turkey-based foods. As nutrients go, fats tend to get a bad reputation, but they're actually of key importance in the canine diet. Fish is packed full of healthy fats that will fuel your dog's every activity.
Aside from protein and fats, one of the most beneficial substances present in fish is omega-3 fatty acids. Omega-3s have a great reputation in human nutrition and can be beneficial for dogs too. For example, one omega-3 acid, DHA, has been found to help with brain development in puppies and brain function in older dogs (Ziker et al., 2012). Omega-3 is also widely believed to be beneficial to canine skin and coat health (Logas and Kunkle, 1994), and several studies have found that omega-3s can help to prevent heart problems in dogs (Laurent et. al., 2008, Billman et. al, 1999).
How we Chose the Best Fish Dog Foods
To select the best dog foods, we developed a range of criteria to judge each product. The most valuable information about a dog food can be found in its macronutrient profile; that is, the balance of fats, proteins, and carbohydrates found in it. Of the three macronutrients, fats and proteins are by far the most important for dogs. Fat is the main source of energy in dog food, and proteins are built of the amino acids essential for building, maintaining, and repairing healthy muscles and organs. Because these two nutrients are so essential to dogs, the American Association of Feed Control Officials publishes strict guidelines that force dog food companies to include a certain amount of proteins and fats in their food. All of the foods on our lists comply with these regulations which, for adult dogs, are as follows (AAFCO, 2014):
A crude protein content of over 18%
A fat content of over 5.5%
Puppies require slightly different amounts of nutrients to adult dogs and AAFCO publishes separate guidelines that apply to foods catering to puppies. These are the following:
A crude protein content of over 22.5% 
A fat content of over 8.5%
The third macronutrient, carbohydrates, are a little more tricky to deal with. Some healthy carbohydrate sources like veggies and whole grains serve as a fantastic source of vitamins and minerals (Souliere, 2014). However, many dog food companies will try to cut costs by bulking their foods up with cheap unhealthy grain fillers and by-products, which have little to no nutritional value. Additionally, even too many healthy carbohydrate sources can indicate that the food doesn't have a high enough meat content (Roberts et. al., 2018). For this reason, we developed the following rule to help rank foods:
A carbohydrate content under 30% is ideal, with exceptions given for foods high in whole grains and veggies
The above guidelines are applicable to nearly all kinds of dog foods, but there are a few extra things to consider when looking at fish-based dog foods. As mentioned previously, many fishy dog foods will include fish meal as a key or even primary ingredient, and while this isn't necessarily a bad thing, it's also not particularly desirable. Therefore, we applied the following rule when ranking our foods:
If fish meal is present in the ingredient list, it should be from a named source and should be accompanied by whole fish
Sources and Further Reading:
What is whitefish? WWF, 2012. Whitefish | Industries | WWF. [online] World Wildlife Fund. Available at: <https://www.worldwildlife.org/industries/whitefish> [Accessed 28 July 2020].
Protein in fish: Martinac, P., 2018. How Much Protein Does Fish Have?. [online] Healthy Eating | SF Gate. Available at: <https://healthyeating.sfgate.com/much-protein-fish-have-6418.html> [Accessed 28 July 2020].
The role of DHA in brain development: Zicker, S., Jewell, D., Yamka, R. and Milgram, N., 2012. Evaluation of cognitive learning, memory, psychomotor, immunologic, and retinal functions in healthy puppies fed foods fortified with docosahexaenoic acid–rich fish oil from 8 to 52 weeks of age. Journal of the American Veterinary Medical Association, 241(5), pp.583-594.
Omega-3 in the prevention of canine atrial fibrillation: Laurent, G., Moe, G., Hu, X., Holub, B., Leong-Poi, H., Trogadis, J., Connelly, K., Courtman, D., Strauss, B. and Dorian, P., 2007. Long chain n-3 polyunsaturated fatty acids reduce atrial vulnerability in a novel canine pacing model. Cardiovascular Research, 77(1), pp.89-97.
Omega-3 in the prevention of canine ischemia-induced ventricular fibrillation: Billman, G., Kang, J. and Leaf, A., 1999. Prevention of Sudden Cardiac Death by Dietary Pure ω-3 Polyunsaturated Fatty Acids in Dogs. Circulation, 99(18), pp.2452-2457.
Omega-3 in canine skin and coat health: LOGAS, D. and KUNKLE, G., 1994. Double-blinded Crossover Study with Marine Oil Supplementation Containing High-dose icosapentaenoic Acid for the Treatment of Canine Pruritic Skin Disease. Veterinary Dermatology, 5(3), pp.99-104.
The importance of omega-6: DiNicolantonio, J. and O'Keefe, J., 2018. Importance of maintaining a low omega–6/omega–3 ratio for reducing inflammation. Open Heart, 5(2), p.e000946.
Why switching your dog's food regularly is important: DFA, 2008. How Often Should I Change Dog Foods?. [online] Dogfoodanalysis.com. Available at: <http://www.dogfoodanalysis.com/how-often-should-i-change-foods.html#:~:text=Minimally%2C%20at%20least%20every%20three,time%20the%20bag%20runs%20out> [Accessed 22 July 2020].
AAFCO 2014 Recommendations (Adult and Puppy): The 2014 AAFCO Dog Food Nutrient Profile for Growth and Reproduction. (2019). [ebook] AAFCO. Available at: https://www.aafco.org/Portals/0/SiteContent/Regulatory/Committees/Pet-Food/Reports/Pet_Food_Report_2013_Midyear-Proposed_Revisions_to_AAFCO_Nutrient_Profiles.pdf [Accessed 28 Jun. 2020].
The benefits of some whole grains in dog foods: Souliere, K. (2014). A Study of the Nutritional Effect of Grains in the Diet of a Dog. University of Maine.
Optimal carbohydrate content in dog food: Roberts, MT, Bermingham, EN, Cave, NJ, Young, W, McKenzie, CM, Thomas, DG. Macronutrient intake of dogs, self‐selecting diets varying in composition offered ad libitum. J Anim Physiol Anim Nutr. 2018; 102: 568– 575. https://doi.org/10.1111/jpn.12794
Glucosamine and chondroitin for joint pain in canines: Bhathal, A., Spryszak, M., Louizos, C. and Frankel, G., 2017. Glucosamine and chondroitin use in canines for osteoarthritis: A review. Open Veterinary Journal, 7(1), p.36.
The benefits of probiotics in canines: Schmitz, S. and Suchodolski, J. (2016). Understanding the canine intestinal microbiota and its modification by pro-, pre- and synbiotics – what is the evidence?. Veterinary Medicine and Science, 2(2), pp.71-94.
The nutritional content of Catfish: USDA, 2019. Fish, Catfish, Channel, Wild, Cooked, Dry Heat. [online] FoodData Central. Available at: <https://fdc.nal.usda.gov/fdc-app.html#/food-details/173714/nutrients> [Accessed 25 July 2020].