Looking for the best puppy food brands for your lab? Help your dog grow strong and healthy with our wet and dry food reviews here.
Labradors are one of the most popular dog breeds in the world, and anyone who's ever had the pleasure of owning a lab knows why. They're loving, playful, intelligent, and the perfect size to curl up on the couch with after a long day.
Because they're a large breed dog, labrador puppies have some specific dietary requirements that need to be met to ensure that they grow healthy and strong. Like all large breed puppies, foods that are too high in calcium can be dangerous for them. This is because higher calcium density in foods results in an accelerated growth rate, which can put stress on their joints. Similarly, foods that are too energy dense cause faster growth and further joint stress (Brooks, 2019). In the long term, this can lead to issues such as elbow and hip dysplasia, which are painful and in severe cases require expensive surgery to fix (ACVS, 2019).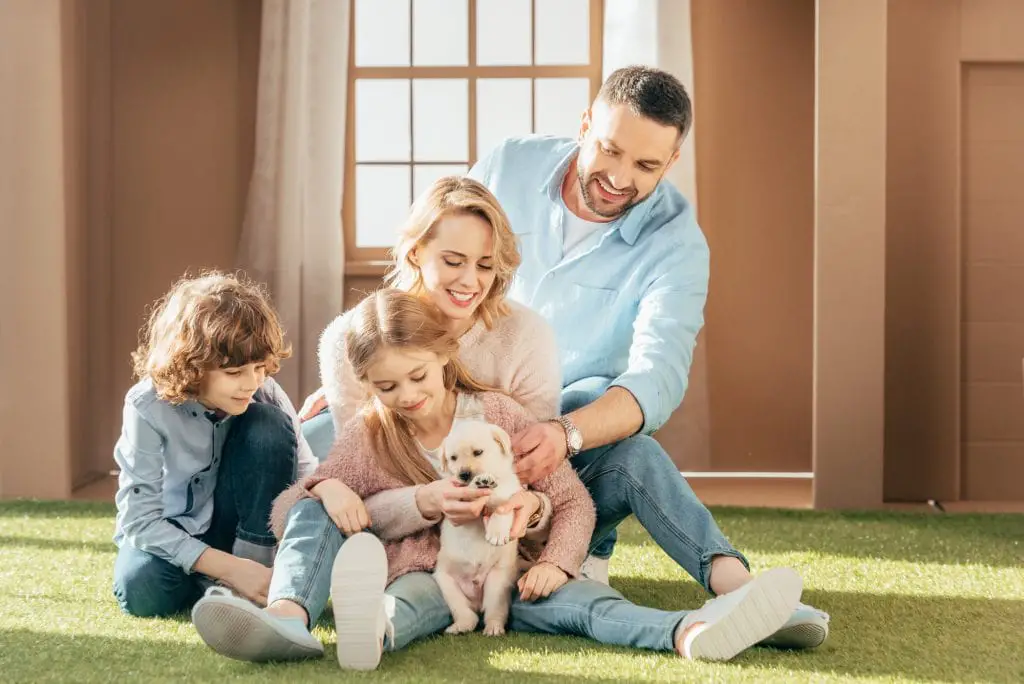 There are also certain ingredients that are missing from normal puppy foods that are really beneficial to labs. For example, chondroitin and glucosamine. Along with easing joint pain in dogs that already have arthritis, these two substances are thought to be beneficial for breeds that have a particular susceptibility to joint issues, like labs do (Bhathal et. al, 2017).
Navigating the world of pet food can be intimidating for the average dog owner, but fear not! This list includes six great puppy foods, both wet and dry, that are perfectly suited to labrador puppies. Each one has been rated against a series of scientifically-based guidelines and then ranked, to help you take the guess-work out of choosing a food for your new pup.
How To Choose The Best Food For Your Lab Puppy
As mentioned before, all of the foods on this list were selected based on some key criteria. Some of them relate specifically to labrador puppies, while some apply more broadly to puppies in general.
Labradors are susceptible to joint problems and because of this regulating the rate of their growth when they're puppies is essential. Therefore, the two most important criteria that all of these foods follow are:
A caloric density of under 400 kcal/100g, which is a big reduction in comparison to the average 450kcal/100g density in small and medium breed dry puppy foods (Lauten, 2006). 
A calcium content under 1.2% (Lauten, 2006).
While glucosamine and chondroitin aren't essential nutrients for dogs, they have been found to be beneficial. For example, one study found that administering glucosamine and chondroitin to dogs with arthritis resulted in a significant reduction in joint pain after 70 days (Bhathal et. al, 2017). While no study has really looked at the effects of giving these two substances to puppies who haven't yet developed arthritis, there is speculation that it would reduce the likelihood of your lab developing arthritis, as glucosamine and chondroitin are both important structural parts of cartilage (Jerosch, 2011). Therefore:
Preference was given to foods containing glucosamine and chondroitin
Two other beneficial additives to labrador puppy food are taurine and L-Carnitine. Taurine is an amino acid found in meats but is often added separately to dog food as it aids heart functioning, improves eye function, and has a range of other great benefits (Kaplan et. al., 2018). L-Carnitine is also an amino acid and is found predominantly in red meat. It helps regulate energy production and is also partially responsible for building healthy, lean muscle (Varney et. al., 2017). Like taurine, it's often added to dog foods to supplement the natural levels provided by the meat ingredients. Therefore:
Preference was given to foods containing taurine and L-Carnitine.
Aside from the specific nutritional needs of labradors, each food had to have a healthy macronutrient balance. The macronutrient balance of a dog food is the relative percentages of fiber, fat, and carbohydrates present in the recipe. The Association of American Feed Control Officials, or AAFCO, has published a detailed report on the right amount of macronutrients in puppy foods (AAFCO, 2014) which includes the following:
A minimum of 22.5% crude fiber content
A minimum of 8.5% fat content
The last nutritional factor to take into consideration is the carbohydrate content of dog food. The general rule of thumb in regards to this is that a lower carbohydrate content translates to a better food. Carbs aren't a necessary part of the canine diet, and therefore carb-heavy dog foods often don't leave enough space for protein and fat. However, sources of carbohydrates like whole grains and veggies can be a benefit, as they're a good source of dietary fiber and vitamins (Roberts et. al., 2017 ). Therefore, foods that adhere to the following guideline were given preference:
A maximum of 30% carbohydrates, with a greater preference for healthy carb sources
Reviews of the Best Wet Puppy Food for Labs
Macronutrients (Dry-Matter Basis):

Protein: 56.8% minimum
Fat: 34.1% minimum
Carbs: 2.3% maximum
Best puppy food for labs
Coming at number one in the wet food section is Blue Buffalo's Carnivora Woodland Blend Puppy Food. With a high protein content and quality ingredients, this product is sure to keep your lab puppy happy and healthy.
The stand-out feature of this product is its high meat content. The first five ingredients listed are meat-based, with chicken, turkey, duck, and mackerel all making an appearance. There's also plenty of organ meats included, which is a huge positive as organ meats tend to be far richer in vitamins than non-organ meat (Williams, 2007).
The high meat content leads to a truly impressive macronutrient balance, with 56.8% protein, 34.1% fat, and just 2.3% carbs. This composition has proven to be popular with customers, with reports of even the pickiest puppies loving this food.
There are no added glucosamine, chondroitin, L-carnitine, or taurine sources in this food. However, since it's a wet food and has a high meat content, this is likely just because the existing meat provides enough of these nutrients to be sufficient without requiring additives.
The only real downside to this product is that the calcium content isn't stated. However, Blue Buffalo does ensure that the food is suitable for "the growth of large dogs (70 lbs. or more as an adult)," indicating that the calcium levels are appropriate for lab puppies. 
All in all, Blue Buffalo's Carnivora Puppy Food is one of the best puppy food for labs out there. It has an exceptional macronutrient balance with a high meat content, it's great for picky puppies, and while there are no added nutrients the quality and diversity of the meat sources used make up for this.
Macronutrients (Dry-Matter Basis):
Protein: 40.9% minimum
Fat: 27.3% minimum
Carbs: 18.1% maximum
Canidae's Multi-Protein All Life Stages Formula places as the second-best wet food for lab puppies, and for a very good reason.
The major selling point of this product is that it's versatile. Canidae has carefully formulated their 'all life stages' range to be suitable for puppies, adults, and senior dogs. For multi-dog homes, this is a huge plus, as you don't need to worry about your puppy getting into your adult dog's food, or vice versa. 
In terms of macronutrients, because this product has multiple different high-quality proteins it has a high protein content (40.9%). The fat content, 27.3%, is similarly high, and this leads to a low carbohydrate content of 18%. These values hit all of the AAFCO guidelines for growing puppies and for adult maintenance, which means that it isn't just a marketing strategy when Canidae claims that this food is suitable for all life stages.
The energy density of the food is 128kCal/100g, which is about standard for a puppy food. Unfortunately, the calcium content isn't listed, but like Blue Carnivora it's guaranteed to be suitable for large breed puppies and therefore it can be assumed that it's reasonable.
Also like Blue Carnivora, this product doesn't have any added glucosamine, chondroitin, L-carnitine, or taurine. Again, the high meat content means that these additives likely aren't needed, as the food already has sufficient levels of them.
Macronutrients (Dry-Matter Basis):
Protein: 45.5% minimum
Fat: 22.7% minimum
Carbs: 18.1% maximum
Authority's chicken and rice puppy recipe is a great choice for labrador owners who want to feed their pup a healthy food, but want to do it on a budget. 
The nutritional value of this food is remarkably good, considering the lower price. Most dog food companies cut down on costs by packing their foods full of non-nutritious carbs, but Authority has somehow managed to avoid this. The protein content is an impressive 45.5%, with chicken being the predominant source of this. The fat content is 22.7% and the carb content is only 18%. 
As its name suggests, this puppy food does contain rice as a main ingredient. Brewers rice is listed as the fifth ingredient and, unlike brown rice and other whole-grains, it doesn't really offer any nutritional benefit beyond carbohydrates. However, Authority has managed to keep the proportion of rice down and elevate the chicken content, which is the first ingredient, so this isn't too much of a drawback.
In terms of other ingredients, the inclusion of Menhaden Fish Oil leads to a high DHA content. DHA is important for brain development in puppies, so this is a huge plus.
Like the other two wet foods listed, there isn't any added glucosamine, chondroitin, L-carnitine, or taurine. This presents a little bit more of a problem in this product that in the other two, as it only contains one meat source and therefore may not have a significant amount of each of the four substances.
Best Dry puppy Food For Labs:
Macronutrients (Dry-Matter Basis):
Protein: 44.4% minimum
Fat: 18.9% minimum
Carbs: 27.78% maximum
Claiming first place in the dry food category is Blue Buffalo's Carnivora Woodland Blend Large Breed Puppy Food. With a strong macronutrient balance, great natural ingredients, and high suitability for lab puppies, there are plenty of reasons that this product nabbed the top spot.
The most notable feature of Blue Buffalo Carnivora is the high protein content; 44.4%, to be precise. While this is fairly average for a wet food, it's an almost unprecedented amount of protein packed into a dry kibble. Therefore, for puppy parents who want the benefits of feeding their dog a wet food but prefer the convenience of dry food, this product is great.
The sources of the protein are of high quality, too. The first four ingredients are meat-based and a big range of different meats are included in the recipe. Chicken, turkey, pork, duck, cod, tuna, and sardines all make an appearance. More numerous meat sources generally translates to better diversity of the nutrients provided to your pup, so having so many different meats on the ingredient list is a huge plus.
The fat content of the food is 18.9% and the carbohydrate content is 27%. This balance translates to an energy density of 377kCal/100g, which is suitable for lab puppies. The calcium content is 1.2%, which is right on target.
The only real downside to this product is that it doesn't include any extra added glucosamine or chondroitin. However, it's important to remember that both of these substances are found in meat already. Because this product already has a high meat content, it may just be that Blue Buffalo decided that the existing levels of glucosamine and chondroitin were sufficient. L-Carnitine and Taurine do make an appearance on the ingredient list, which is a plus.
All in all, Blue Buffalo's Carnivora Large Breed Puppy recipe is just about the best dry food you can find that suits labrador puppies. It has a fantastic macronutrient balance, diverse protein sources, and its calcium content and energy density make it ideal for labs. 
Macronutrients (Dry-Matter Basis):
Protein: 34.4% minimum
Fat: 13.3% minimum
Carbs: 43% maximum
Coming in at the number two spot in the dry food category is Royal Canin's Labrador Retriever Puppy Formula. This product is the only one on the list that's formulated specifically for labs, and because of that it has some really outstanding features.
The main positive of this food is the inclusion of glucosamine, chondroitin, L-Carnitine and taurine in the recipe. No other food in this selection manages to include all four of these ingredients, which means that Royal Canin really is a cut above the rest when it comes to labrador-specific nutrients.
The calcium content is also appropriate, sitting at 0.85%. This is lower than any of the other foods on this list and makes the food ideal for large breed puppies. The energy density sits at 358 kCal/100g, which is also within the guidelines.
While Royal Canin excels in the requirements tailored specifically towards labs, it lags behind a little bit in other areas. The macronutrient balance is fair: 34.4% protein and 13.3% fat. However, the carbohydrate content sits at a high 43% and can't be justified by being derived from healthy sources. In fact, Royal Canin includes corn gluten meal, wheat gluten, and brewers rice within the first five ingredients, which are all fairly non-nutritional carbohydrate sources. The inclusion of chicken by-products is also of concern.
In sum, while Royal Canin has clearly made a huge effort to tailor its product directly towards labrador puppies, it does still have its disadvantages, namely the inclusion of wheat and corn products and chicken by-products in its recipe.
Macronutrients (Dry-Matter Basis):
Protein: 32.22% minimum
Fat: 14.4% minimum
Carbs: 44% maximum
Claiming the third and final place in the dry food section is Wellness Large Breed Complete Health Puppy Food. With a good macronutrient balance and quality ingredients, just because this food is last on the list doesn't mean that it doesn't have its advantages.
Wellness Large Breed Complete Health includes glucosamine, chondroitin, and taurine as additives. While L-Carnitine doesn't make an appearance on the ingredient list, it's likely that it should still be present in the meat products included in the recipe.
In terms of macronutrients, Wellness Large Breed contains 32% protein and 14% fat. While these figures aren't outstanding, they do comply with AAFCO regulations. However, what's not outstanding is the carbohydrate content, which is a high 44%. The majority of these carbs are sourced from healthy ingredients like brown rice and peas, but even so, this figure is still less than ideal.
Other notable ingredients include Yucca Schidigera extract, which assists in stool odor control, blueberries, which are high in antioxidants, and chicory root extract, which aids in digestion. 
A potential disadvantage of this food is the calcium content, which is 1.3% and therefore too high to fall within the AAFCO guidelines. It's a small deviation, but considering all of the negative effects associated with overfeeding calcium it's a consideration that potential customers should take into account. 
All in all, Wellness Complete Health is a solid food with a fair macronutrient profile. However, the high carbohydrate and calcium content may pose a problem.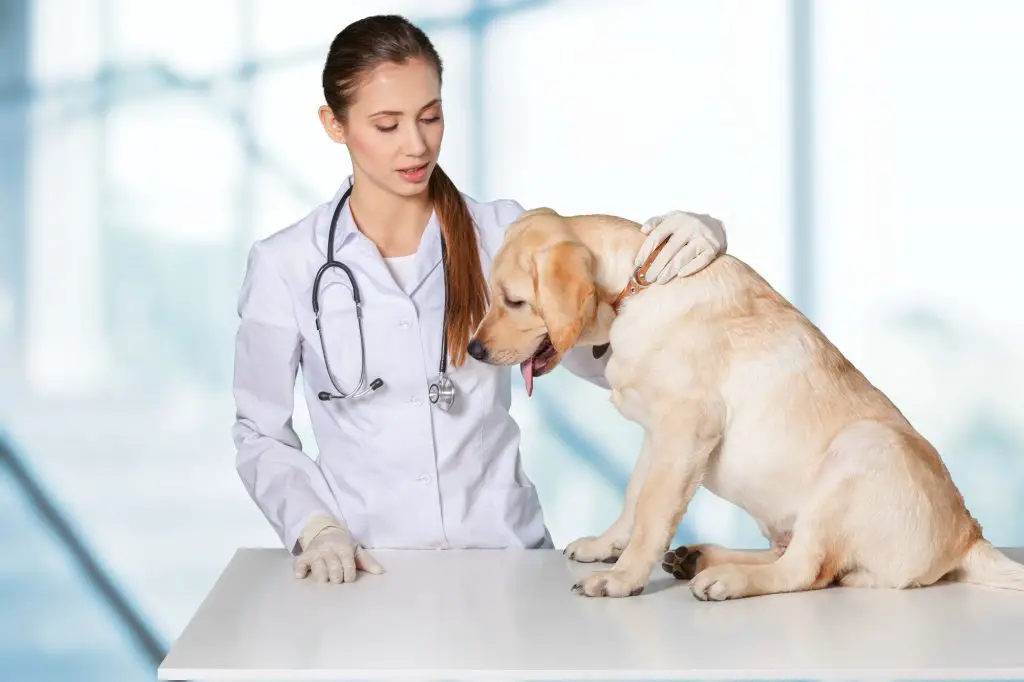 Can My Puppy Eat Dog Food and When Should I Transition?
Puppy food is marketed separately from adult dog food for a reason. Puppies have different nutritional requirements than fully grown dogs do, and therefore only a specifically formulated puppy food is going to satisfy your pup's needs.
For example, to be in line with AAFCO standards puppy food must contain a minimum of 22.5% crude protein by dry matter basis, whilst adult dog food only needs to have 18%. Fat is similarly decreased from 8.5% for puppies to 5.5% for adult dogs (AAFCO, 2014).
Once you've successfully chosen a puppy food for your lab, it's likely that the next question that you'll have regards when you need to transition your dog from puppy food to dog food. 
Labradors are almost always fully grown by the time they reach twelve months of age. However, every puppy is different, and some have been known to have reached full-size by just six months, whilst others are a little bit slower and aren't grown until over a year. 
Because of this variation, the best way to decide if your puppy is fully grown and ready for adult food is to visit your vet. Your vet will be able to tell whether your puppy's growth plates have sealed, which indicates that he or she is full-grown, and if they're not finished growing yet will be able to give an estimate of when they will and, by extension, when they should be switched over to adult labrador dog food. 
Many dog owners bypass this step and simply start feeding their pup adult food at a year old, but if your puppy isn't ready for adult food this can lead to serious problems with proper development (Mansourian, 2019).
Read More Dog Food Reviews: Best High Protein Dog Food and Best Lamb & Rice Dog Food

References
Growth related issues in large breed puppies: Brooks, W. (2019). Hip Dysplasia in Dogs – VeterinaryPartner.com – a VIN company!. [online] Veterinarypartner.com. Available at: http://www.veterinarypartner.com/Content.plx?P=A&A=1916&S=0&EVetID=300145 [Accessed 11 Oct. 2019].
Hip dysplasia surgery: Acvs.org. (2019). Canine Hip Dysplasia | American College of Veterinary Surgeons – ACVS. [online] Available at: https://www.acvs.org/small-animal/canine-hip-dysplasia [Accessed 30 Oct. 2019].
Benefits of Glucosamine and Chondroitin: Bhathal, A., Spryszak, M., Louizos, C. and Frankel, G. (2017). Glucosamine and chondroitin use in canines for osteoarthritis: A review. Open Veterinary Journal, 7(1), p.36.
Energy density, fat content, and calcium content: Lauten, S. (2006). Nutritional Risks to Large-Breed Dogs: From Weaning to the Geriatric Years. Veterinary Clinics of North America: Small Animal Practice, [online] 36(6), pp.1345-1359. Available at: https://evz.ufg.br/up/66/o/Racas_grandes.pdf [Accessed 3 Oct. 2019].
AAFCO 204 Guidelines for Growth and Pregnancy: The 2014 AAFCO Dog Food Nutrient Profile for Growth and Reproduction. (2019). [ebook] AAFCO. Available at: https://www.aafco.org/Portals/0/SiteContent/Regulatory/Committees/Pet-Food/Reports/Pet_Food_Report_2013_Midyear-Proposed_Revisions_to_AAFCO_Nutrient_Profiles.pdf [Accessed 28 Oct. 2019].
Glucosamine and Chondroitin in cartilage: Jerosch, J. (2011). Effects of Glucosamine and Chondroitin Sulfate on Cartilage Metabolism in OA: Outlook on Other Nutrient Partners Especially Omega-3 Fatty Acids. International Journal of Rheumatology, 2011, pp.1-17.
The benefits of taurine for dogs: Kaplan, J., Stern, J., Fascetti, A., Larsen, J., Skolnik, H., Peddle, G., Kienle, R., Waxman, A., Cocchiaro, M., Gunther-Harrington, C., Klose, T., LaFauci, K., Lefbom, B., Machen Lamy, M., Malakoff, R., Nishimura, S., Oldach, M., Rosenthal, S., Stauthammer, C., O'Sullivan, L., Visser, L., William, R. and Ontiveros, E. (2018). Taurine deficiency and dilated cardiomyopathy in golden retrievers fed commercial diets. PLOS ONE, 13(12), p.e0209112.
The benefits of L-carnitine for dogs: Varney, Jessica L., et al. "Utilisation of Supplemented l-Carnitine for Fuel Efficiency, as an Antioxidant, and for Muscle Recovery in Labrador Retrievers." Journal of Nutritional Science, vol. 6, 2017.
Carbohydrates in dog food:  Roberts, M., Bermingham, E., Cave, N., Young, W., McKenzie, C. and Thomas, D. (2017). Macronutrient intake of dogs, self-selecting diets varying in composition offered ad libitum. Journal of Animal Physiology and Animal Nutrition, [online] 102(2), pp.568-575. Available at: https://onlinelibrary.wiley.com/doi/full/10.1111/jpn.12794 [Accessed 28 Oct. 2019].
Benefits of organ meat: WILLIAMS, P. (2007). Nutritional composition of red meat. Nutrition & Dietetics, 64(s4 The Role of), pp.S113-S119.
Why puppies need to be fed puppy food:  Mansourian, E. (2019). Feeding Your Puppy: Full Guide & Timeline. [online] American Kennel Club. Available at: https://www.akc.org/expert-advice/health/puppy-feeding-fundamentals/ [Accessed 30 Oct. 2019].