Looking for the best puppy food brands? Help your dog grow strong and healthy with our wet and dry food reviews here.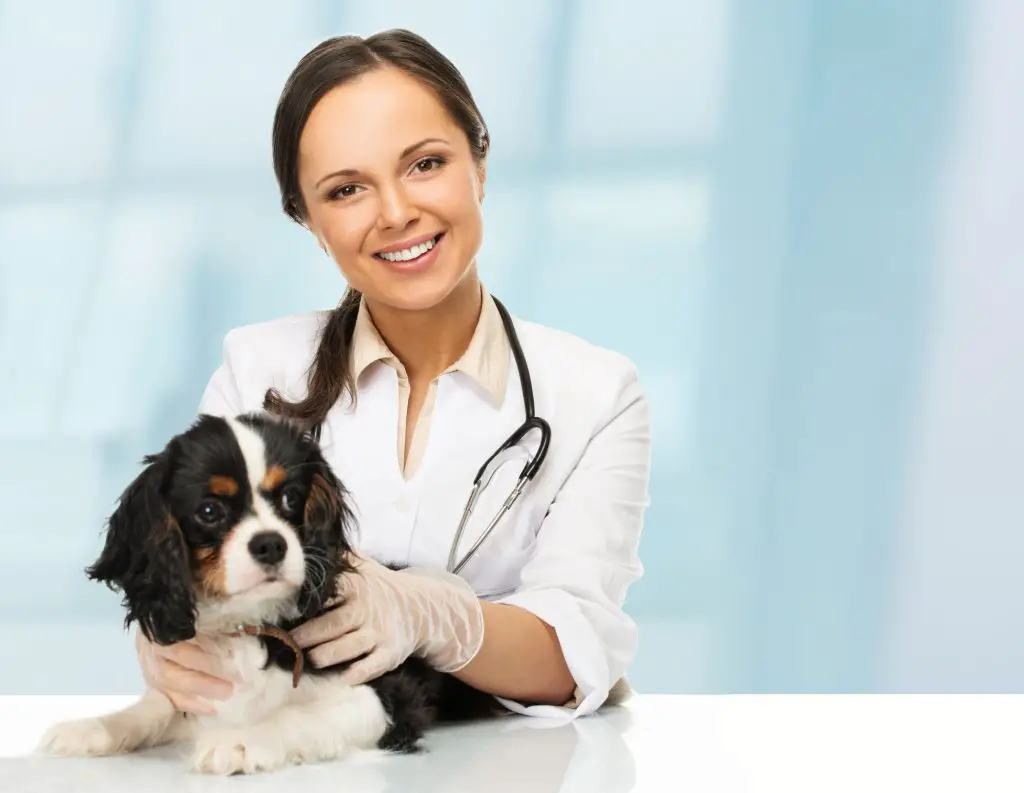 The day that you pick up your new puppy is usually filled with adoration, chaos, joy, and a little bit of fear. Inducting a new member into your family is equal parts exciting and daunting. Have you bought everything that you need to get your puppy settled? Have you got an appropriately-sized mountain of toys? A dog bed? Treats for training?
The last thing that any new dog owner needs is to be agonizing over what kind of food you need to feed your new best friend. There are thousands of options out there and for owners who care about the health of their pet, the thought of picking them all over can be downright frightening. 
Puppies have very specific nutritional needs that are distinct from fully grown dogs. For example, they require a higher amount of calories per day than adults, along with enough calcium to keep their bones growing strong and healthy (Kronfeld, 1985). Many dog food companies will purposefully mislead consumers about the nutritional value of their products, which can leave many well-meaning owners either accidentally buying unhealthy products or being forced to scan the fine print of every dog food label that they look at. 
Luckily, there is a solution to this problem. This list contains reviews of only the very best, healthiest, most nutritious puppy foods out there. Each selected product has been rigorously vetted and judged against a variety of scientifically-based criteria and each one has its own strengths and weaknesses. Choosing from the selection on this list means that you'll be making a safe, healthy, and well-informed decision about your new puppy's food. 
Reviews Of The Best Wet Puppy Foods:
Macronutrients (Dry-Matter Basis):
Protein: 50% minimum
Fat: 29.55% minimum
Carbs: 6.82% maximum
best wet dog food for puppies
Coming in at number one on this list of the best puppy foods is Wellness Core Grain-Free Puppy Formula. This product has some truly outstanding qualities as well as a great macronutrient balance and truly deserves its place at the top of this list.
Wellness Core's recipe offers a great, diverse range of nutrients for your pup. As meat sources, it includes turkey, chicken, and herring. While some owners are mistaken in thinking that buying a food with just one meat source is the better option, in fact adding a variety of different meats to a dog food formula allows for better diversity of nutrition. For example, some meats don't contain all of the essential amino acids that your pup needs to grow strong and healthy. The inclusion of herring in Wellness Core's puppy formula also adds a boost of DHA to the food, which is great for puppy brain development. 
Other ingredients in the food include sweet potatoes, which are a great source of digestible nutrients for dogs, kale, which in small amounts provides a great boost of vitamins and calcium, and blueberries, which are packed with antioxidants. By packing the recipe full of these fruits and veggies, Wellness has created a great product that provides the necessary nutrition for puppies to grow healthy and strong.
In terms of macronutrient balance, Wellness Core hits every target. It contains 50% protein and nearly 30% fat, which are both within the AAFCO guidelines, and 7% carbs. While some foods on this list do have a lower carb content, Wellness Core is a grain-free formula and sources all of its carbohydrates from healthy fruits and veggies, and so the carb content really isn't a problem.
Wellness Core also contains a good amount of calcium, 1.62%, which is over the 1.2% calcium required. The fiber content, 2.3%, isn't anything extraordinary but should keep your dog's digestive system happy and healthy.
Another great, unique thing about this product is the transparency that Wellness has provided in regards to its nutritional content. While all of the other carbohydrate and dry-matter corrected percentages in this list are approximations, Wellness provides a full nutritional breakdown on their website of a representative sample of their product. This sort of honesty is unusual in a dog food company and is a great sign that they aren't trying to deceive their customers, as they know that their product is good enough to speak for itself.
Overall, Wellness Core really is the best of the best when it comes to wet puppy foods. It has a macronutrient balance that exceeds all expectations, diversity of ingredients, and the company manufacturing it is transparent about its nutritional value. If you're looking for a good, all-round puppy food, it doesn't get better than this.
Macronutrients (Dry-Matter Basis):
Protein: 56.8% minimum
Fat: 34.1% minimum
Carbs: 2.3% maximum
A Top puppy food
Stepping up to claim second place on the podium is Blue Buffalo's Woodland Blend Puppy Wet Food. The high protein content and the focus on aligning the food's recipe with the canine ancestral diet is what sets this product apart from the others in its category.
The first five ingredients in Blue Buffalo's Woodland Blend are all meat. However, the meat content stretches much further than the first five ingredients. Along with chicken and turkey, the food also contains duck and mackerel. The addition of liver and heart meat is also a big plus, as organ meat is much higher in vitamins, particularly B-vitamins (Williams, 2007). The inclusion of fish in the product means that there are plenty of omega-3 fatty acids, particularly DHA.
All of this meat translates to a high protein content of 56.8%, which really is off-the-charts when compared to the majority of other dog foods. The fat content is also high, sitting at 34.1%, and the estimated carbohydrate content is just 2.3%. 
Another benefit of the high meat content is that this product is great for puppies who are picky eaters. However, a drawback of the high fat content is that the product is a little more energy-dense than most. In puppies, this shouldn't be too much of a problem, provided that you stick to the feeding guidelines, because pups need extra energy for growing anyway. Adult dogs are much more susceptible to unhealthy weight gain, so make sure to transition your dog off this food as soon as he or she is fully grown. 
For those who are more ethically minded, Blue Buffalo's Carnivora range includes only farm-raised duck. However, the chicken and turkey aren't necessarily farm-raised and there's no mention of how the fish is obtained, which is a potential red flag. 
Another potential drawback of Blue Buffalo's Carnivora Puppy Food is that it's a very new product. This means that it hasn't yet been completely tried and tested by a large number of consumers. However, the customer reviews that have trickled in so far have all been extremely positive, which is a definite plus.
All in all, Blue Buffalo's Woodland Blend recipe is a great choice for your growing puppy. It has a high meat content that translates into a high protein content and a great taste.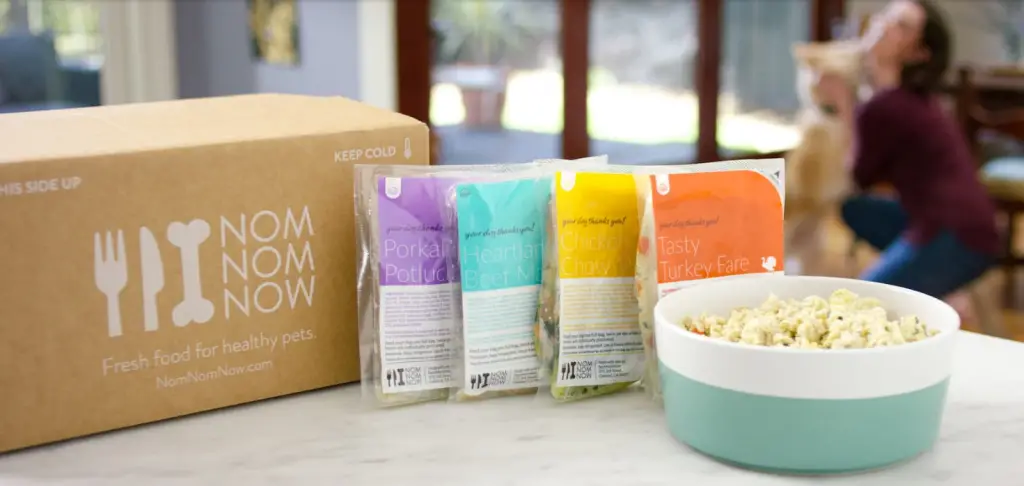 Macronutrients (Dry-Matter Basis):
Protein: 34.4% average minimum
Fat:  20.4% average minimum
Carbs: 30.2% average maximum
best natural puppy food Brand
Next on the list is a product developed by NomNomNow, a boutique dog food brand that features recipes developed by veterinary nutritionist Dr Justin Shmalberg.
NomNomNow places the nutritional value of their food before anything else. There are four recipes available; beef, turkey, chicken, and pork, and each one is suitable for the needs of growing puppies. These four recipes can be bought together in a 'variety pack,' which is great for providing variety to your puppy's diet.
A huge benefit of NomNomNow is the quality of its ingredients. All of the products used in the food are of human-grade, which means that they're of a higher quality than the pet-grade ingredients that most companies use in their products. 
In terms of macronutrients, the average protein content across all four recipes is 34.4%, which is the lowest of the wet dog foods on this list but is still within the acceptable range. The fat content is 20.4% and the carbohydrate content is 30.2%. The sources of the carb content include whole grains like brown rice, sweet potatoes, and spinach, which are all easily digestible and great sources of vitamins and minerals. The average calcium content is 1.7%, which again is within the guidelines.
In this review, we are docking some points because unfortunately, the quality ingredients do come at a high cost. Puppies need to eat a lot, so some owners may find that NomNomNow is simply too expensive. The good news is that NomNomNow offers several different meal plans, one of which being the option to purchase 'half meals' which are cheaper and can be supplemented with an alternative food.
In sum, NomNomNow is a fantastic and healthy option, with four distinct recipes that help to provide variety in your pup's diet. Being a boutique dog food brand, it's more expensive than most mainstream products, but it's really worth the extra expense if you can afford it for your dog.
Get 50% Off Your First Nom Nom Now Order!
Macronutrients (Dry-Matter Basis):
Protein: 40.9% minimum
Fat: 29.7% minimum
Carbs: 15.9% maximum
A Premium Puppy Food
In terms of puppy wet food, there are certainly cheaper options out there than Canidae's Pure Foundations formula. However, there's no cheaper option that provides the same balanced nutritional profile or the same quality and that's why this product has secured a spot on this list.
Canidae Pure Foundations has a great macronutrient profile, with 40.9% protein, 29.7% fat, and only 15% carbohydrates. This combination gives a calorie density of 121kcal/100g, which is fairly standard for puppy foods.
In terms of ingredients, the big downside to this product is that it only contains one meat source; real chicken. However, Canidae has somewhat compensated for this lack of variety through the addition of salmon oil, which provides omega-3 and omega-6, and through fortifying the food with vitamin supplements. This replaces the nutrients that have been excluded through not including any fish or organ meats in the formula.
One particular advantage that Canidae's Pure Foundations has over other budget dog foods is that it's a grain-free formula. The way that most dog food brands cut costs on their products is by packing their food with wheat and corn. Canidae's Pure Foundations doesn't have any of these inclusions, and instead makes up bulk with dried egg and peas. These ingredients aren't the most nutritious inclusions out there, but they do provide a certain level of protein and vitamins that grain by-products can't.
All in all, Canidae's Pure Foundations puppy food is a nutritionally balanced choice for those pet parents looking for good quality on a budget. While the product does lack certain important elements, for example multiple meat sources, it makes up for it with the inclusion of other elements like supplementary vitamins.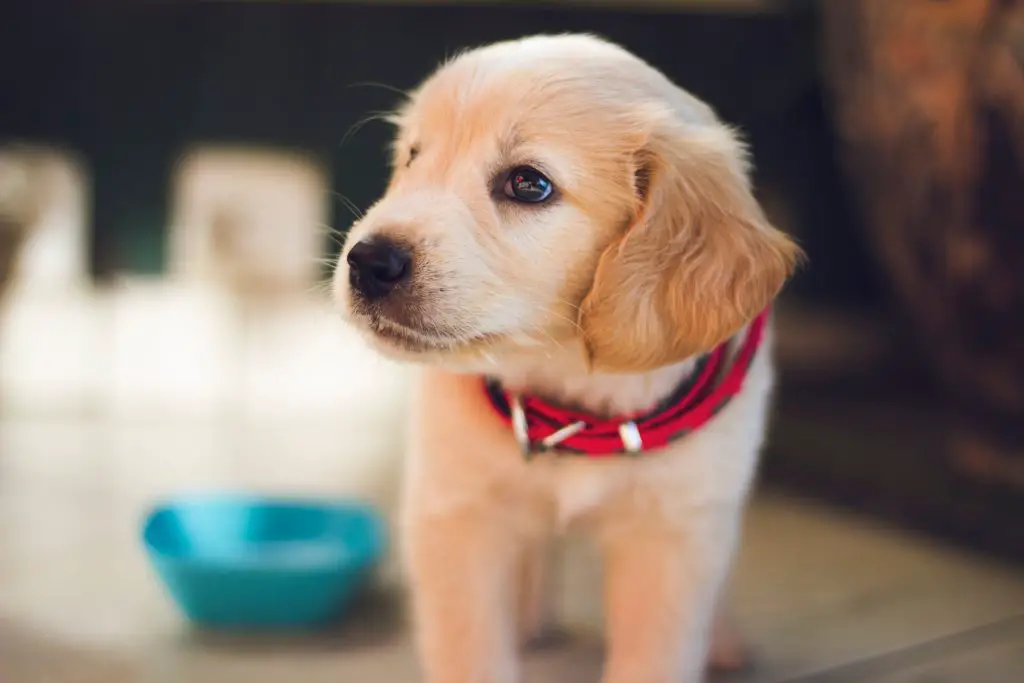 The Best Dry Puppy Foods
Macronutrients (Dry-Matter Basis):
Protein: 40% minimum
Fat: 20% minimum
Carbs: 31% maximum
Best Dry Dog Food for Puppies. The Best Puppy Kibble!
Taking first place in the dry foods category is Go! Solutions Carnivore puppy food. This product has a great macronutrient profile, but the real stand-out about it is that it features six different animal protein sources.
Duck, salmon, herring, chicken, turkey, and trout all make an appearance in the ingredients list of this recipe. Having such a high number of meats in a dog food helps to provide diversity to your puppy's diet early on and ensures that they have all the essential amino acids that they need. A particular benefit of the inclusion of three different types of fish is high levels of omega-3 and omega-6 acids, including DHA and EPA, which are important for brain and cartilage development respectively.
The expansive ingredient list doesn't just stop at the meats, though. Go! Solutions is packed with fruits and veggies like carrots, bananas, blueberries, cranberries, and broccoli, which provide an array of vitamins and antioxidants. There are also some more exotic ingredients listed, such as chamomile, which helps with digestion, and a small amount of licorice, which is thought to ease upset stomachs and sore throats. 
In terms of macronutrients, the most notable thing about this product is that it has a high protein content: 40%, to be exact. While this is fairly standard in wet food, it's almost unprecedented in dry kibble and reflects the high meat content of the recipe. The fat content sits at 20%, which is high enough for the food to be tasty for your pup, and the carbohydrates are at 31%. Another notable element is the calcium content, which is a high 2%.
A very important note about this food is that it isn't suitable to feed large breed puppies. Large breed puppies suffer when given foods high in calcium too young, as it causes their growth to accelerate faster than the proper development of their joints. In later life, this can lead to a higher chance of acquiring developmental issues, particularly hip dysplasia. Go! Solutions has a high calcium content, and so it could be particularly dangerous to large-breed pups.
Go! Solutions Carnivore puppy formula contains no added growth hormones or artificial preservatives, which is a definite comfort for those puppy parents that prefer to feed their dog natural ingredients.
All in all, Go! Solutions Carnivore is a fantastic product, particularly in regards to its impressive ingredient list and the number of different meat sources that it provides. The calcium content is very high, so it's important to note that it isn't a suitable large breed puppy food, but other than this consideration it's the perfect choice for any pup out there.
Macronutrients (Dry-Matter Basis):
Protein: 37.4% minimum
Fat: 23.6% minimum
Carbs: 30% maximum
A High Quality Puppy Food
Coming in at number two is Nature's Variety Instinct Raw Boost dry kibble. With a heavy focus on natural, healthy ingredients, this product is ideal for those dog owners who want to know exactly what goes into their dog food and exactly where it comes from.
The first entry on Instinct Raw Boost's ingredient list is chicken, which Nature's Variety claims is cage-free. For ethically-minded dog owners, this is a great addition. Cage-free chicken is a rarity amongst dog foods, mostly because the majority of owners don't even think to check where the meat in their dog's food is coming from. 
Other ingredients include fish oil, which is a source of omega-3 and omega-6, dried kelp, which provides iodine, and cranberries, which are high in antioxidants. Raw Boost Puppy doesn't contain any artificial colours or preservatives. Instead, natural alternatives like rosemary extract, which is a natural preservative, and montmorillonite clay, which is a natural caking agent, are used.
This mix of ingredients translate into a great macronutrient profile. Raw Boost Puppy contains 37.4% protein, 23.6% fat, and 30.22% carbohydrates, which are all outstanding for a dry dog food. The calcium content is 1.2%, which is just within specification.
A definite downside to this product is the cost, which is much higher than most dry dog foods. If you can afford it, however, the focus on natural ingredients means that it's certainly worth the extra cash.
Nature's Variety Instinct Raw Boost is a great product with a focus on natural, healthy ingredients. While it's a little more expensive than most dry dog foods, it's definitely worth the extra cost for puppy parents that are passionate about feeding their dog a natural diet.
Macronutrients (Dry-Matter Basis):
Protein: 31.1% minimum
Fat: 18.9% minimum
Carbs: 41.11% maximum
A good dog food for puppies
Taste of the Wild's High Prairie Puppy Formula is an innovative recipe that focuses on aligning with the canine ancestral diet. 
One of the most interesting things about this product is the inclusion of buffalo meat as the first ingredient. Aside from being a great protein source, buffalo meat is generally considered to be more environmentally friendly than beef or lamb. This is because buffalo don't congregate around water sources and erode the banks of rivers or lakes, while cows and sheep do tend to do this. Therefore, for pet parents who are worried about the environmental impact of their dog's food, this product could be a great fit.
Another high-point of this food is the number of animal protein sources included. Along with buffalo, this product includes lamb, bison, venison, chicken, and ocean fish. Aside from providing variety, this mix of different meats seems to be an instant favourite with nearly all puppies that try it. Because of this, if you've got a picky puppy on your hands then this product is a great fit for you.
In terms of macronutrients, this product boasts a 31.1% protein content and an 18.9% fat content, both of which exceed the guidelines provided by AAFCO. Unfortunately, the carbohydrate content is high, sitting at 41%. However, these carbs come from healthy sources like sweet potatoes and peas, so while this percentage isn't ideal, it's certainly still acceptable.
All in all, Taste of the Wild's High Prairie Puppy Recipe has a good macronutrient balance and includes some unique ingredients, such as buffalo and bison. The carbohydrate content is higher than any of the other foods on this list, but as it comes from digestible, healthy sources this isn't too much of a problem.
Macronutrients (Dry-Matter Basis):
Protein: 32% minimum
Fat: 20% minimum
Carbs: 38.89% maximum
A recommended puppy food
Snatching the last available place on this list is Wellness Complete's Health Puppy recipe. While the carbohydrate content comes in a little high, there are certainly some benefits to this food.
There are two meat sources in this product; chicken and salmon. This results in a respectable protein content of 32.2% and a fat content of 20%. The calcium content is 1.3%, which is within the AAFCO guidelines. However, like Taste of the Wild, the carbohydrate content of the food is fairly high (39%). 
One notable ingredient in the recipe is Yucca Schidigera extract, which has been found to help reduce the odor in your puppy's stool (Lowe and Kershaw, 1997). If you're someone who's particularly sensitive to smell, this should definitely be of benefit to you.
Another positive of Wellness Complete's puppy formula is the inclusion of probiotics. Probiotics help to maintain a healthy balance of gut bacteria in your puppy's stomach, which aids in digestive function and will help with issues like constipation, diarrhea, and flatulence.
The major negative of this food in the inclusion of ground barley in the recipe. While barley isn't harmful to dogs and does contain some fiber, it's not particularly nutritious and is often seen to be a source of empty calories.
In conclusion, Wellness Complete's Puppy Formula is a decent food with a good protein, fat, and calcium content. However, the inclusion of ground barely in the recipe drives the carbohydrate content up and, aside from adding fiber, doesn't really provide any nutritional value to your puppy beyond calories.
How To Choose The Best Food For Your Puppy
As mentioned before, all of the foods on this list were subject to some key selection criteria. This includes the following nutritional guidelines, which are recommended in the 2014 AAFCO Dog Food Nutrient Profile for Growth and Reproduction (AAFCO, 2014):
A minimum of 22.5% crude fiber content
A minimum of 8.5% fat content
A minimum of 1.2% calcium content
Along with these three guidelines, there are a few extra considerations that were taken into account. The carbohydrate content of puppy food is an important metric to look at. The canine diet doesn't actually require any carbohydrates at all, and while whole-grains can be a good source of fiber and vitamins, in general a lower carbohydrate content means that there's more room for important macronutrients like fat and protein (Roberts, 2018). For that reason, foods with under 30% carbohydrates were given priority.
Aside from selecting a food with the best macronutrient balance, as an owner there are a few other factors that you should be taking into consideration. Cost is obviously an important aspect of buying any product for the majority of people, but something even more important than this is the cost-benefit relationship. Are you willing to pay a higher price for a better product, or do you want an option that is more affordable but only just brushes the nutritional requirements needed? Both of these approaches are valid and before you go any further in your dog food selection journey you should decide which one is for you.
Another factor to take into consideration is whether you're passionate about the ethical and sustainable sourcing of ingredients. For example, some meat products, like bison, are regarded to be more sustainable than more common meats like beef, because bison don't erode waterways (Wall, 2019).
Finally, one of the most important things to consider if your dog's likes and dislikes. Of course, if you're buying food for your puppy the first time, you're going to need to experiment a little bit before you discover what your pup enjoys eating. However, if you're a more experienced dog owner and have already tried your puppy on a few foods, you'll likely have an idea of what they like and don't like. Dogs are just like humans, in that they all have different taste palettes and likes and dislikes when it comes to flavour and texture. Some of the foods on this list are specifically great for puppies who are picky eaters, so make sure to read the full review before you make your decision.
How Long Should You Feed Puppy Food Before Transitioning to Dog Food?
Puppy food is formulated to meet the nutritional requirements of a growing dog. On average, dogs reach their full size within 12 to 18 months. However, for large and giant breed dogs, this time frame can sometimes be extended, while for small breed dogs it can be shortened (PPS, 2019). Because of this, when your puppy starts approaching a year old it's important to go see your vet. 
Your vet will be able to tell whether your puppy's growth plates have sealed, which indicates that he or she is full-grown, and if they're not finished growing yet will be able to give an estimate of when they will and, by extension, when they should be switched over to adult dog food. 
Many dog owners bypass this step and simply start feeding their pup adult food at a year old, but if your puppy isn't ready for adult food this can lead to serious problems with proper development (Mansourian, 2019).
Another important consideration is how you transition your puppy to adult dog food. This should be a slow, gradual process. Most dog foods will have a guide that explains how to transition your pet from an old food to the new food on the back of the packaging. However, this generally describes how to switch from one adult dog food to another, not from puppy food to adult food, so a good general rule is to go even slower than what this guide suggests. If the guide tells you to mix a little bit of the new food in with your dog's old food each day, until by day 7 it's completely the new food, then try it over a 14 day period instead. Basically, the slower the better. 
During transition, make sure to monitor your puppy closely and watch for any signs of digestive discomfort, ie. vomiting or diarrhea. If you notice these things, you're likely either not transitioning slowly enough or have picked an adult dog food that doesn't agree with your puppy's stomach. You should consult with your vet about either slowing the transition or picking a food that's better for dogs with sensitive stomachs.

Can My Puppy Eat Dog Food?
There are a lot of people out there who think that it's alright to feed a puppy dog food and, in the very short term, this is technically true. If you've run out of puppy food unexpectedly, one or two meals of adult food won't kill your puppy. However, in the long term it really is important to buy your pup a properly formulated, puppy-specific food.
The reason behind this is because puppies need a different balance of nutrients than fully grown dogs do. Puppies expend a lot more energy, as they're growing and playing, and puppy food generally reflects these requirements (VCA, 2019).
For example, to be in line with AAFCO standards puppy food must contain a minimum of 22.5% crude protein by dry matter basis, whilst adult dog food only needs to have 18%. Fat is similarly decreased from 8.5% for puppies to 5.5% for adult dogs (AAFCO, 2014).
If you have an adult dog and a puppy living under the same roof and you'd rather feed them the same food, look for dog foods formulated to be suitable for all life stages. There are plenty of foods out there that have been specifically tailored to fit puppies, adult dogs, and senior dogs at the same time. 
Why You Should Trust Us
I've been a dog owner my whole life, growing up with puppies to adopting my newest pup, Max. We have reviewed hundreds of different dog foods over the years, so we have an expert view of what the market currently offers. All of our reviews are based on scientific evidence, not marketing campaigns or ads. We carefully stay up to date on the latest research so that we can recommend only the best to you and your pets. 
Before making it into any article, each dog food has to pass a rigorous review process that involves more than just surface-level information. We calculate all of our own macronutrient data. While we pay attention to the ingredient list, we also consider macronutrient ratios and recall frequency. Additionally, we speak to the dog food brands, vets, and dog trainers to make sure our recommendations are the most healthy options for your dog.
Read More Dog Food Reviews: Best Cheap Dog Food or Best Bison Dog Food
References
 Overview of puppy nutrition: D. Kronfeld, Newton, C. and Nunamaker, D. (1985). Textbook of small animal orthopaedics. Ithaca, N.Y.: International Veterinary Information Service, Chapter 58.
AAFCO 2014 Puppy Recommendations: The 2014 AAFCO Dog Food Nutrient Profile for Growth and Reproduction. (2019). [ebook] AAFCO. Available at: https://www.aafco.org/Portals/0/SiteContent/Regulatory/Committees/Pet-Food/Reports/Pet_Food_Report_2013_Midyear-Proposed_Revisions_to_AAFCO_Nutrient_Profiles.pdf [Accessed 28 Oct. 2019].
Optimal carbohydrate and fat content and canine self-selecting diet: Roberts, MT, Bermingham, EN, Cave, NJ, Young, W, McKenzie, CM, Thomas, DG. Macronutrient intake of dogs, self‐selecting diets varying in composition offered ad libitum. J Anim Physiol Anim Nutr. 2018; 102: 568– 575. https://doi.org/10.1111/jpn.12794
Bison in dog food: Wall, T. (2019). Bison: sustainable and novel pet food protein. [online] Petfoodindustry.com. Available at: https://www.petfoodindustry.com/articles/6879-bison-sustainable-and-novel-pet-food-protein [Accessed 13 Oct. 2019].
Benefits of organ meat: WILLIAMS, P. (2007). Nutritional composition of red meat. Nutrition & Dietetics, 64(s4 The Role of), pp.S113-S119.
Yucca Schidigera Extract for odor control: Lowe, J. and Kershaw, S. (1997). The ameliorating effect of Yucca schidigera extract on canine and feline faecal aroma. Research in Veterinary Science, 63(1), pp.61-66.
Why puppies need to be fed puppy food:  Mansourian, E. (2019). Feeding Your Puppy: Full Guide & Timeline. [online] American Kennel Club. Available at: https://www.akc.org/expert-advice/health/puppy-feeding-fundamentals/ [Accessed 29 Oct. 2019].
Growth rate of puppies: Planetpet.eu. (2019). Life stages of dogs | Planet Pet. [online] Available at: http://www.planetpet.eu/nutrition/dogs/life-stages/ [Accessed 29 Oct. 2019].
Energy requirements of puppies: vca_corporate. (2019). Nutrition – General Feeding Guidelines for Dogs. [online] Available at: https://vcahospitals.com/know-your-pet/nutrition-general-feeding-guidelines-for-dogs [Accessed 29 Oct. 2019].