When you decide to get a new pup, choosing the right name feels like a huge decision. 
You may spend hours thinking up popular, well-known dog names and writing them down – before driving yourself crazy trying to pick the perfect choice for your furbaby's personality. 
But why not think outside the box a little? While the most popular dog names have certainly stood the test of time, many of them have become overused and overdone. 
After all, everyone knows a "Rover", a "Rex" or a "Rosie". We think your pup is special, and deserves a unique name to match! 
Love the idea but not sure where to start? Don't worry! In this article, we're bringing bring you a HUGE list of more than 450 unique dog names to choose from. 
With choices like "Chinook", "Presley", "Cricket" and "Marmite" you're sure to find perfect, quirky dog names for your pooch!
So, what are you waiting for? Grab your notepad and get stuck into our list. We can guarantee your pup will have the most unusual dog name on the block!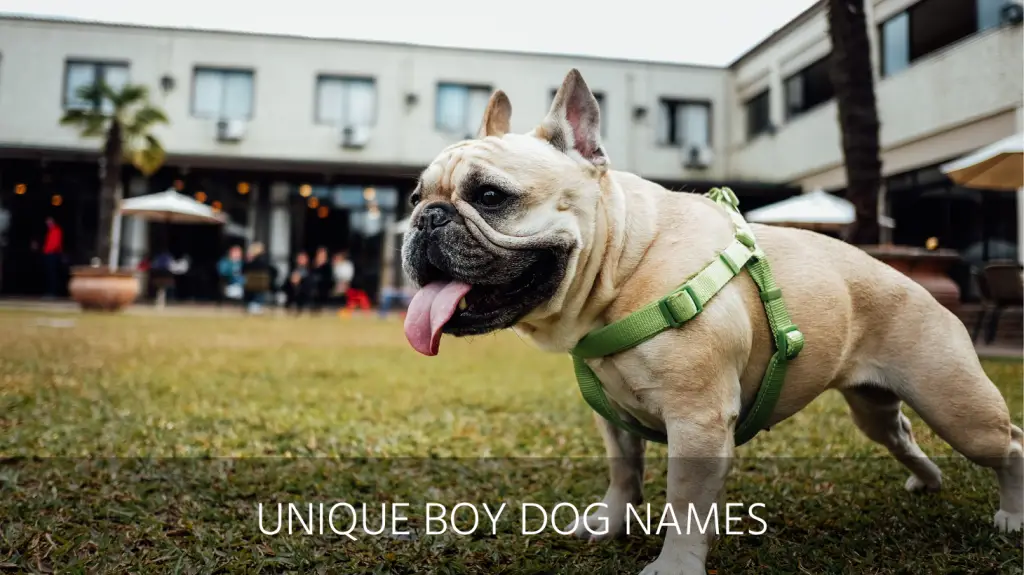 Strong, Tough, Unique Boy Dog Names
Got yourself a little boy pup but struggling to decide on his new name? This list is the place to start!
We've spent hours collecting some of the coolest, odd dog names for male pooches to help you find the perfect match for your new furry family member. 
Move over "Charlie" and "Buddy", we've got some of the best unique dog names for male dogs! Our favorites are "Bolts", "Gadget" and "Grimsby" – but what will yours be?
Check out our list below to find out!
Ainsley
Arlo
Ash
Beauregard
Bertram
Bolo
Bolts
Brauts
Cannoli
Cerberus
Chablis
Chinook
Cinder
Clooney
Coal
Codex
Conan
Corky or Corks
Damon
Dibbs
Dillinger
Dino
Doodle
Dozer
Drax
Dredd
Dutch
Emery
Espresso
Exley
Fabs
Fenway
Finn
Fletcher
Frex
Gadget
Giblet
Granite
Griffin
Grimsby
Hans
Hunter
Ink
Jagger
Jezzy
Kane
Kees
Keke
Kelby
Kolpin
Komet
Kutcher
Lamont
Landon
Latka
Liquorice
Obsidian
Onyx
Panther
Parker
Presley
Reese
Sable
Shadow
Sirius
Stealth
Vanta
Watson
Wes
Xander
Learn More: Top 100+ Badass Dog Names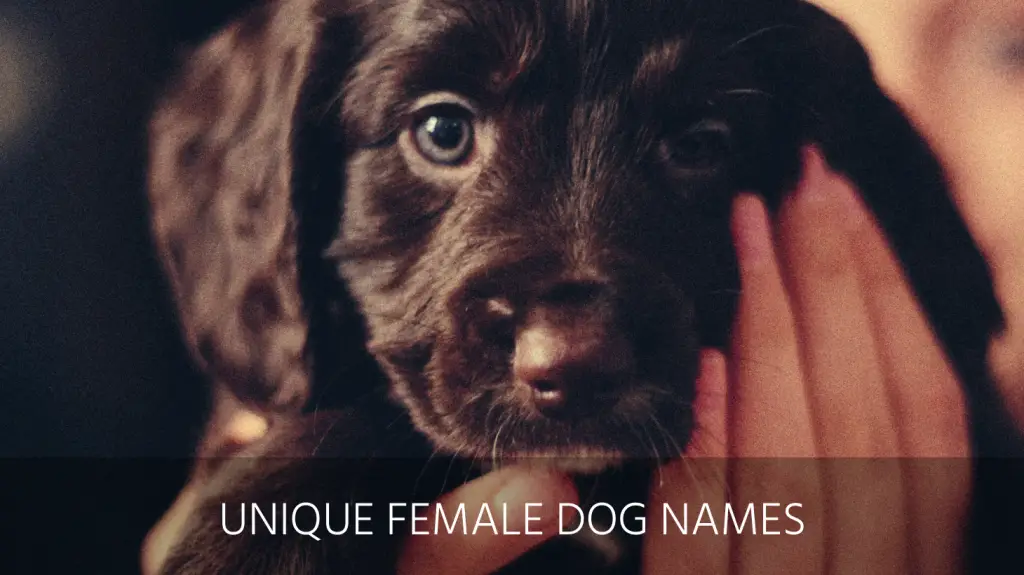 Unusual & Unique Female Dog Names
Looking for a special name for your girl pup? We've got everything you need!

Whether your dog is a lovable little lady or a frisky furball, our list of unique girl dog names is sure to include the perfect moniker for their personality.  We even have some unique female hunting dog names on the list!
We think names like "Autumn", "Luna", "Macaroni" and "Hobnob" are great, quirky choices for lady pups that deserve an unusual name which stands out from the crowd. 
Check out our list below for more inspiration!

Autumn
Avalon
Barley
Blondie
Cacao
Caramel
Cheddar
Cricket
Daffodil
Ebony
Etta
Gail
Godiva
Harvest
Hobnob
Jasmine
Kendall
Lemon
Luna
Macaroni
Marmite
Moana
Moon
Morticia
Ochre
Ophelia
Pickle
Pimms
Prairie
Raisin
Raven
Ribena
Sappho
Saskia
Sedge
Sepia
Shea
Straw
Vanilla
Won Ton
Wotsit
Ziv
Learn More: Top 300+ German Shepherd Dog names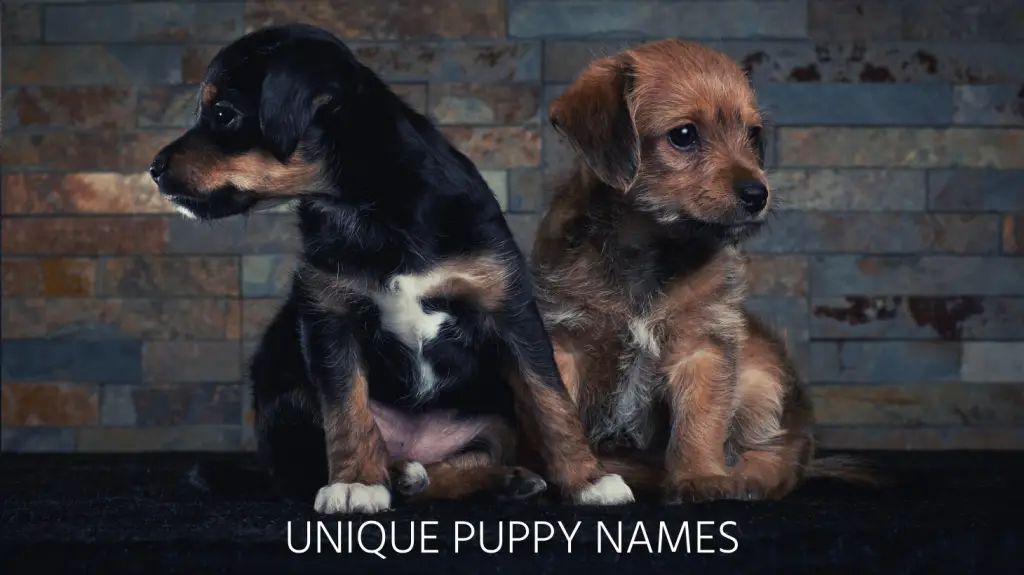 Unique Puppy Names
Puppies are undeniably cute little bundles of fun. But they're also a tonne of work!

If you've welcomed a new furball into your home, you'll likely be doing a lot of running around after them, calling their name. And that's before puppy training classes start!
So, when it comes to choosing the right name for your pint-sized pup – it's important to choose a name that truly honors their unique nature and lovable individuality. 
Our list below includes super cute and interesting dog names such as "Bounce", "Chaplin", "Flash", "Peanut" and "Pudgy" among many others. 
We've also included some unique, funny dog names like "Pupperoni" and "Badger" which are sure to raise a smile from your puppy school classmates! 
Badger
Banjo
Bijo
Binks
Boots
Bounce
Bronco
Brooklyn
Bubbles
Chaplin
Chief
Cherokee
Clyde
Coco
Cookie
Court
Cutie
Czar
Dagger
Dakota
Dante
Data
Doc
Eagle
Echo
Eddison
Eddy
Edmonton
Elanor
Eli
Elroy
Emmett
Eric
Ernie
Eze
Fadi
Felix
Fen
Finch
Flash
Flynn
Paws
Peanut
Puddles
Pudgy
Pue Dog
Pumper
Punky Pup
Puplet 
Pupperoni
Pursia 
Puschkin
Qittee
Quarter
Qwerk
Raianne
Rain
Rainbow
Scruff
Learn More: Top 150+ Japanese Dog Names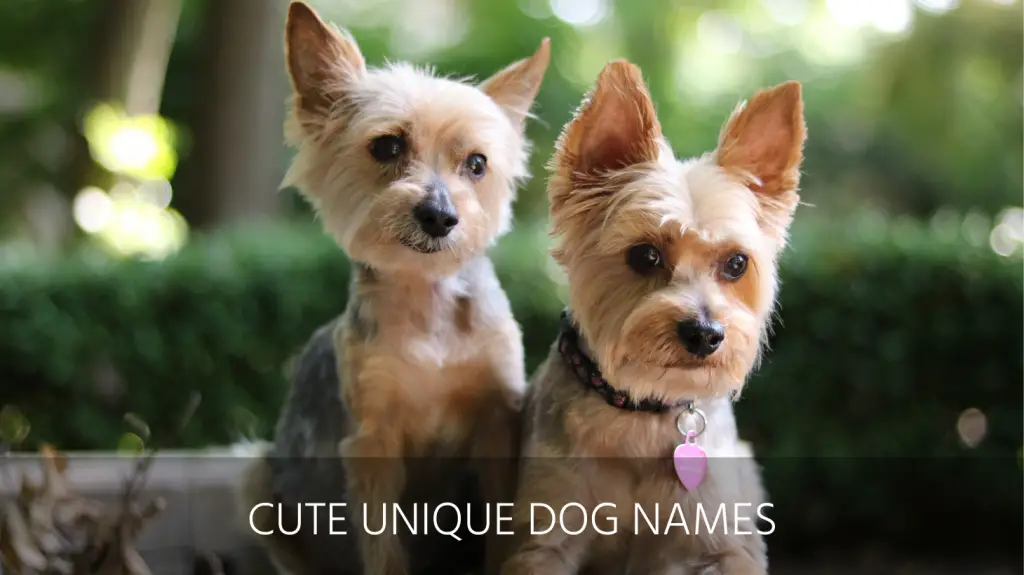 Cute Unique Dog Names
Of course, ALL dogs are cute, but some of our furry friends suit a cute unique dog name more than others. 
So, if you have a fluffball which deserves a heart-meltingly cute name, but you're looking for something a little more unusual – you're in the right place!
Our list below includes sweet and quirky names which are sure to be the perfect match for your adorable pup. 
We particularly like "Parsnip", "Porkchop", "Sudoku" and "Bagel" – what are your favorites?
Read on to find out!
Africa
Bagel
Baobab
Button
India
Kai
Muffin
Oswald
Paget
Parsnip
Peaque
Pokemon
Poker
Polaris
Policemutt
Pollyanna
Polo
Pooh bear
Poopsie
Poppet
Poppy
Porkchop
Porsche
Port
Portia
Posey
Pots
Potter
Puck
Queso
Quigley
Radley
Randle
Reed
Reginald
Revis
Ritz
River
Rolo
Rooney
Rusky
Ryder
Salem
Samus
Sasha
Scout
Sherwood
Shrub
Sinead
Sniff
Socrates
Soho
Sudoku
Sweeny
Talulah
Thor
Tippie
Tito
Tornado
Tsunami
Tumbleweed
Learn More: Top 400+ Female Dog Names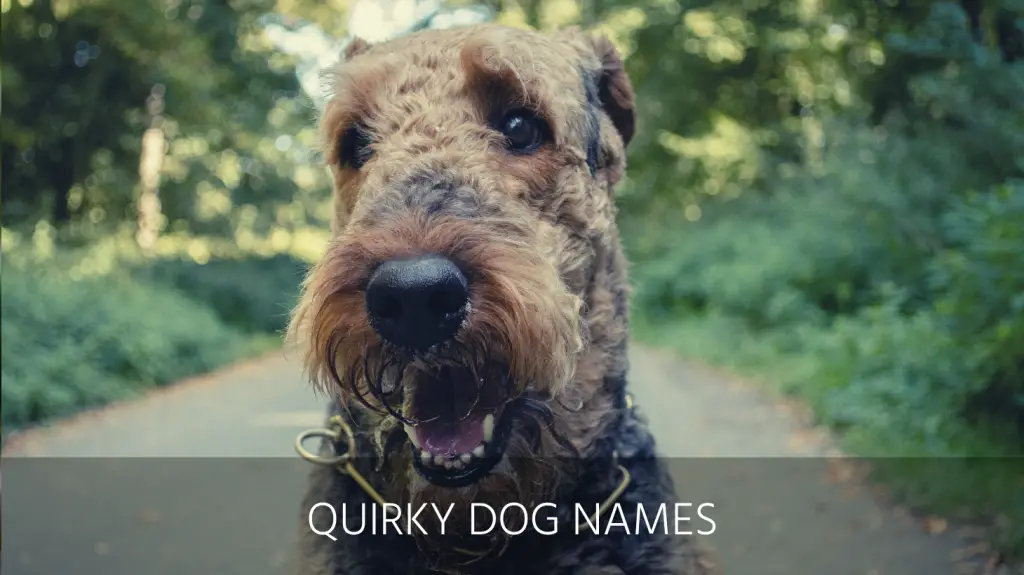 Quirky Dog Names
Looking for a cool and quirky name for your pooch which will make them truly unforgettable? This list of quirky dog names has everything you need!

Offering super-memorable names like "Anderson Pooper", "Chewbacca", "PepperPotts" and "Wolfgang" – your pooch will make a lasting impression upon everyone he meets! 

Which is your favorite? Read on to find out!

Ajay
Alba
Anderson Pooper
Bear
Blade
Bruce Wayne
Chewbacca
Dzuwa
Eastwood
Harley Quinn
Jackal
Kal-El
Knight
Krypto
Neo
Ocean
Orion
Pepper Potts
Princess Leia
Riddick
Sabre
Shasta
Spectre
Tyrion
Wolfgang
Wonder Woman
Yeti
Zeus
Learn More: Top 200+ Big Dog Names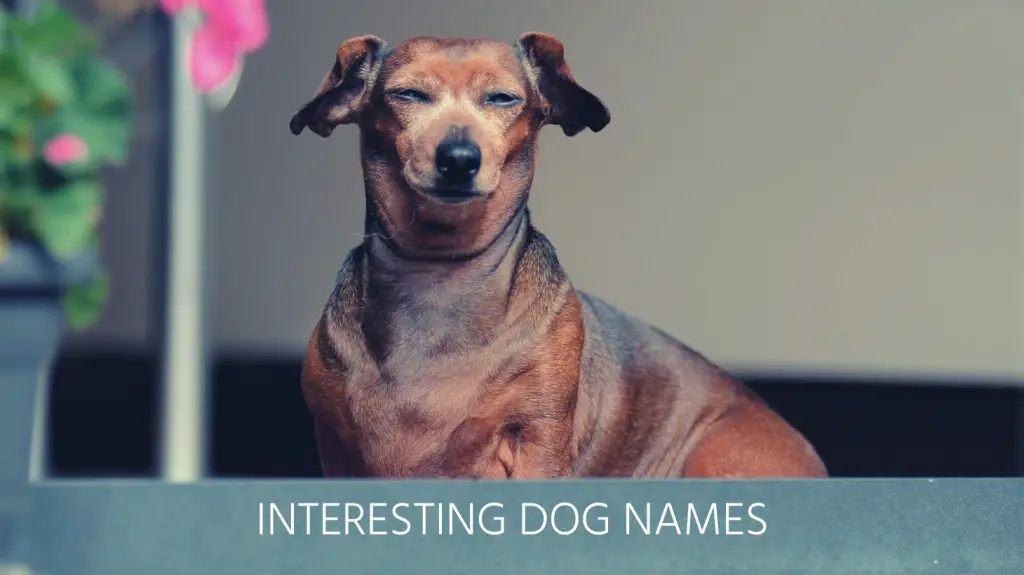 Interesting Dog Names
If you're seeking an unusual name for your pooch, this list of interesting dog names is the perfect place.
We've gathered names such as "Ferrari", "Chanel", "Excalibur" and "Vienna" which are sure to turn heads when you call your pup!
Whether they're the names of cool locations, such as "Paris", "Vegas" and "Oslo", or interesting characters such as "Mulder", "Dickens" and "Jedi" – these unique dog names will make an exciting choice for your pooch.
Check out our other suggestions below!
Bluegrass
Carmel
Cassidy
Chanel
Chaunce
Chelsy
Chevalier
Clancy
Claudius
Comanche
Cromwell
Cypress
Dallas
Danica
Delancey
Desirae
Devereau
Dezi
Dickens
Domino
Draco
Dubya
Eclipse
Elton
Ely
Emo
Enya
Evita
Excalibur
Fabio
Fawn
Fergus
Ferrari
Geordi
Gertrude
Gaia
Gidget
Gildo
Gimpie
Jango
Jedi
Juno
Khan
Leia
Macgyver
Maverick
McFly
Meadow
Milan
Minne
Mulder
Oslo
Paris
Rio
Tahiti
Tex
Vegas
Venice
Vienna
Learn More: Top 300+ German Shepherd Dog Names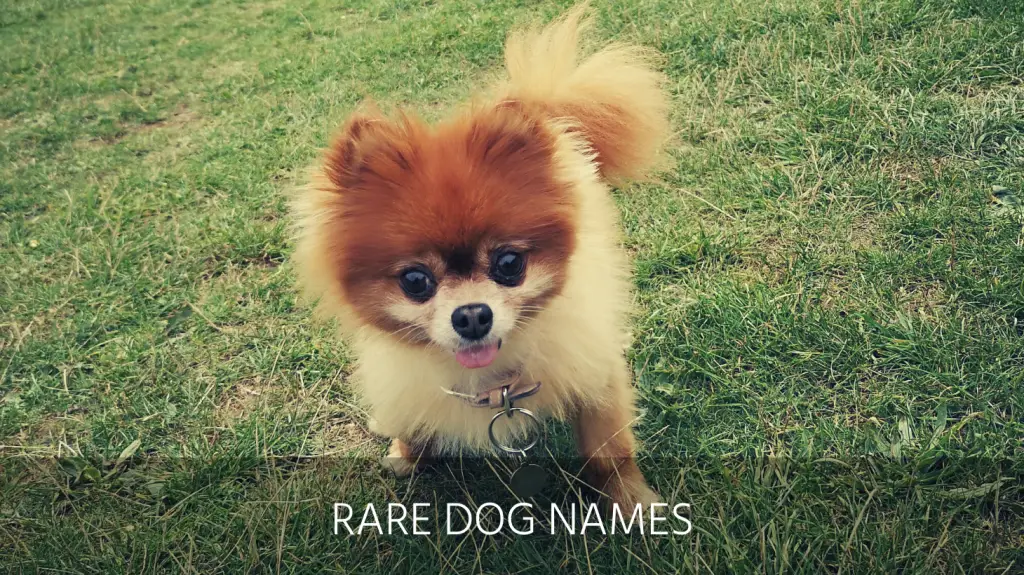 Rare Dog Names
Looking for something completely off-the-wall? Our list of rare dog names has it all!
These options are for pup-owners seeking a name that is so unique, you'll likely never meet another pooch with the same identity.
With choices like "Aristotle", "Geisha", "Tempo" and "Zenith" – this list is jam-packed with monikers like no other! Your pup is sure to feel super special!
Check out our selection below to find your ideal match. 
Ari
Ariel
Aristophanes
Aristotle
Arizona
Gaby
Gambler
Gandalf
Geisha
Genesis
Gimp
Gin
Ginny
Ginx
Gump
Hado
Halo
Hamlet
Harajuku
Hariette
Harper
Hobbit
Holt
Laika
Lampi
Lancelot
Leanora
Leesha
Liberty
Lightning
Limp
Link
Locale
Loki
Lone Star
Lotus
Magee
Majic
Mowglie
Niathrium
Nighthawk
Nix
Noah
Note
Novac
Oakley
Octavia
Ogden
Olive
Oreo
Ostia
Otis
Outlaw
Ovall
Ox
Pagoda
Palto
Pandora
Papi
Para
Pockets
Polk
Potus
Sachi
Sage
Sahara
Sake
Salsa
Sanka
Sashimi
Savannah
Schnapps
Schooner
Targa
Tempo
Texas
Thatcher
Thyme
Tirza
Tissot
Topaz
Yogi
Yorkie
Yukon
Yule
Yuma
Yummy
Zenith
Zephyr
Zesty
Zing
Zion
Zoom
Zork
Zuma
Learn More: Top 500+ Male Dog Names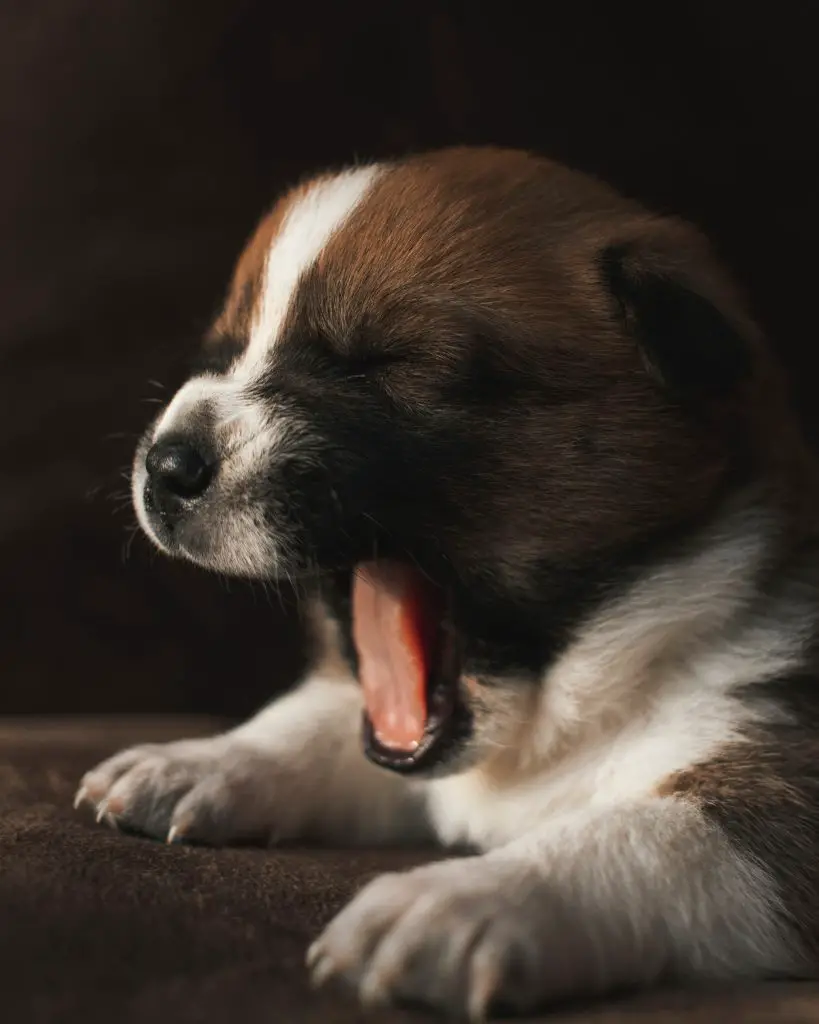 So, Which Did You Choose?
Wow! We've finally reached the end of our long list of unique dog names – there's so many to choose from! 
What do you think? Did you pick one of our quirky dog names for your special furbaby?
If so, please let us know in the comments below – we'd love to hear from you!