Owning a dog is surely one of life's great pleasures. 

Deciding to get yourself a loyal canine of your own will set you on the path for years of unconditional love, licks and wonderful memories. 

But first of all, you'll need to decide upon the right name for your male pooch! 

And when it comes to picking the perfect moniker, many new pup owners find it isn't as easy as first thought. 

Should you go for one of the traditional, top dog names like Rover? Or should you opt for a more edgy, cool or funny male dog name, such as Marlboro, Carlton or Muttley Crew?

Choosing the best male dog name can feel a little overwhelming. For the rest of your pooches life, you'll be using their name a lot! When you're in the park, at the beach or taking your new pooch to the Vet's office – so you'll want to make sure their name matches their personality!

But don't panic! We're here to help you pick the right name for your new boy pup. 

We've compiled a HUGE list of more than 500 male dog names, so you can find the perfect match! Our list is split up into multiple sections to help you navigate all our suggestions. From popular male dog names, to tough or cute male dog names, we have it all. 

So, let's do this! Read on to find the perfect name for your new pooch!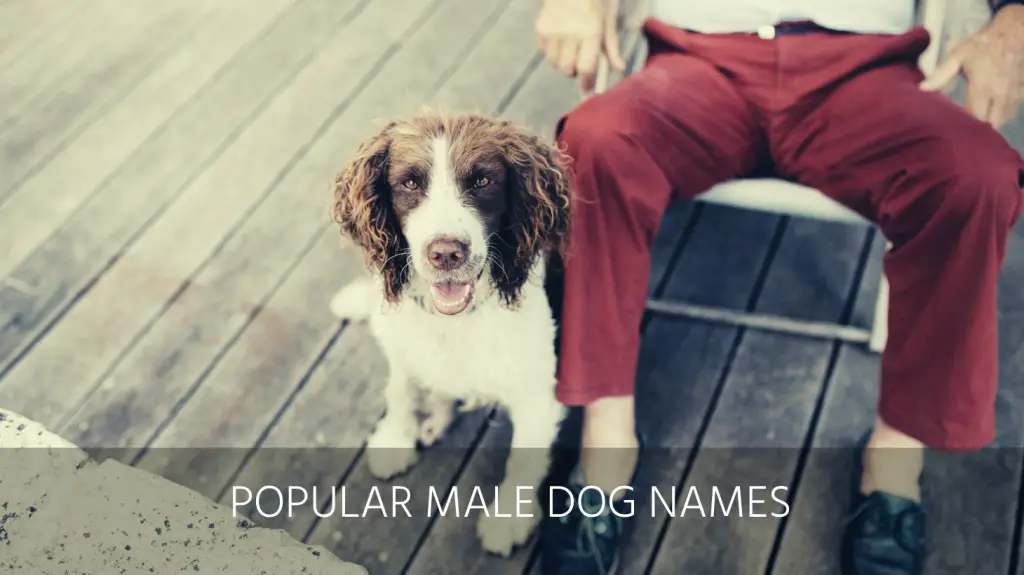 Popular Male Dog Names
They may be commonly used, but popular male dog names are popular for a reason!

These classic boy dog names have stayed in fashion over the years because they make great names for male pooches. 

Names like Max, Jasper, Jake and Buddy are well-loved by boy dog owners across the globe, and are just some of the reliable choices on our list for your new pup. 

So, if you're looking for a time-tested name for your lovable canine – check out our suggestions below!

Abbott
Abe
Abraham
Ace
Albert
Alden
Alexander
Alfred or Alfie
Amos – Hebrew origin which means "Carried by God"
Apollo – Greek god of truth and prophecy
Archie
Arthur
Ashby
Augustus – Latin name which means "great" or "magnificent"
Bailey
Baxter
Bear
Beau
Benny
Bertrand
Blue
Bo
Boomer
Broderick
Brody
Bruce
Buddy
Buster
Butch
Byron
Calvin
Cecil
Cedric
Chance
Charles
Charlie
Chase
Chester
Chewy
Chico
Clarence
Clement
Coco
Cody
Conrad
Cooper
Copper
Dexter
Diesel
Duke
Earl
Emmett
Eugene
Ezra
Felix
Finn
Fletcher
Frankie
Frederick
Fritz
George
Gunner
Gus
Harley
Harold
Harry
Harvey
Henry
Hugh
Hunter
Jack
Jake
James
Jasper
Jax
Joey
Kobe
Koda
Langston
Lawrence
Leo
Leonard
Leroy
Levi
Lewis
Loki – Nordic God, known for playing tricks
Louie
Lucky
Luke
Mac
Marley
Max
Miles
Monroe
Moose
Morris
Murphy
Murray
Ned
Norman
Ollie
Oreo
Orson
Oscar
Otis
Otto
Peanut
Percy
Pierce
Porter
Prince
Quincy
Raymond
Reed
Rex
Riley
Rocco
Rocky
Romeo
Roscoe
Roy
Rudy
Rufus
Rupert
Rusty
Sam
Sammy
Samson
Saul
Scout
Shadow
Sherwood
Sigmund
Smokey
Stanley
Sylvan
Tank
Teddy
Toby
Tristan
Tucker
Tyson
Vincent
Virgil
Wallace
Walter
Warren
Wesley
Wilbur
William
Wilson
Winston
Zeke
Learn More: Top 400+ Female Dog Names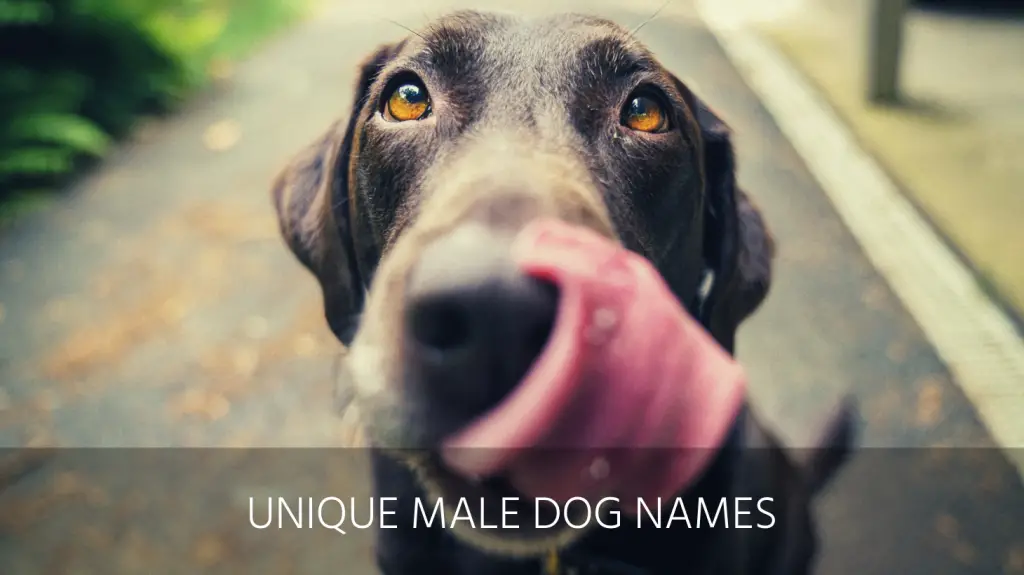 Unique Male Dog Names
Popular male dog names are great, but sometimes a pup's personality calls for something a little more unique. 

So, if you think your furball deserves an awesome male dog name that won't be called every 5 minutes in the park – we have the perfect list for you.

We think names like Dusty, Diego and Shamus are great and unusual dog names for your new best friend – which will surely match their individuality!

Check out our list below for more inspiration!

Aero
Andy
Bradford
Brigham
Carlton
Corky
Davis
Diego
Dodge
Duffy
Dusty
Fonzi
Foster
Graham
Hayes
Igor
Irving
Jackson
Jag
Johnny
Joseph
Macbeth – Famous fictional character and Shakespeare play
Overton
Reuben
Robert
Sedrick
Shamus
Wheeler
Learn More: Top 250+ White Dog Names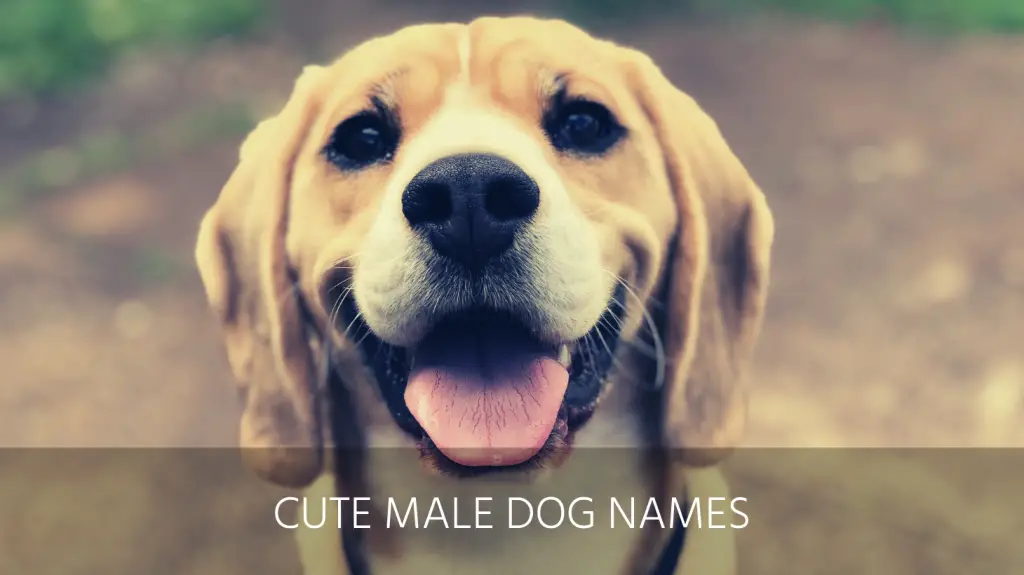 Cute Male Dog Names
Even if your new pooch is a huge, lumbering St Bernard who drools uncontrollably – we think he's still a right cutie!

In our eyes, cute boy dog names aren't just for little Chihuahuas in sparkly handbags. Oh no. Every male dog has a soft center which is undeniably cute, right? And what better way to honor their heart-melting demeanor than with a cute male dog name.

Our list below includes sweet and fun-loving names such as Biscuit and Bubbles, which are sure to give you some great ideas for your new boy! We've also included some ironically cute names, like Rags, King and Pistol – which we think are sure to raise a smile!

Aladdin – Story and cartoon star
Albo
Alfie
Alpaca
Andre
Balboa
Baldwin
Baron
Basil
Bentley
Benz
Beowoof
Berber
Biscuit
Blizzard
Bobo
Bogart
Bookie
Borat – Comedy film character
Boris
Brewster
Bubbles
Buckwheat
Cameo
Cappy
Casey
Caspian
Chauffeur
Chewbacca
Clapton
Conan Dog
Crockett
Dale
Dane
Diddley
Dilbert – Cartoon character
Dingo – Wild Australian dog
Dingus – Silly person
Divot
Donner
Donnie
Doodle
Dynamo
Eddard
Eddie
Edison
Edward
Elvis
Emerson
Euphrates – Famous river
Fabian
Fender
Fergus
Fisher
Fletch
Frankie
Gabe
Gage
Gannon
Garrett
Ginko – Type of Chinese tree
Gizmo – Gadget
Griswold
Guinness
Gulliver
Gyro
Hinkley – A town in the California
Homer
Horace
Hugo
Hyde
Iggy (Iggy Pop)
Indiana
Jabba – Star Wars villian
Jax
Jay
Jetta
Jojo
Jumbo
Kahuna  – A medicine man
Kazoo
King – Ruler
Kirby
Kite
Kodak
Lance
Larry – A famous basketball player
Lux – Short for "Luxury"
Magee
Malcolm
Marco
Melvin – Irish name which means "the chief"
Merc
Milo – Quiet and peaceful 
Monk
Mugsy
Mustafa – Chosen One
Nacho
Nike – Greek word for victory/Also a famous sportswear brand
Nitro 
Noodle
Odie
Oliver
Ozzie
Paddington – Famous cartoon bear/ London train station
Pagoda – A type of Asian temple
Paladin – A chivalrous man
Panda
Picasso – A famous painter
Pistol – A small hand gun
Pixel – The tiniest piece of a digital image
Popeye – Famous fictional sailor
Quark – A particle in Physics
Rags – Torn clothing
Ramstein – German band
Rascal – A naughty trouble maker
Rasta – Jamaican origin
Reece
Remington
Ringo
Royce
Scooter
Seal
Simba
Sinatra – Famous musician
Slicker
Sonata
Strider
Tamale – Kind of Mexican food
Taz
Thumper
Tiller
Tonka
Valentino
Venga – means "hurry up"
Vesper – The evening star
Waddles
Wanderer – Loves to explore
Warhol – A famous artist
Wicket – Small entryway
Woodsy – Loves the outdoors 
Xander
Xavier
Xerxes
Xing
Yo-Yo
Yodel
Zazu
Zed
Zephyr – Gentle breeze
Zero
Ziggy
Zoomer
Learn More: Top 200+ Black Dog Names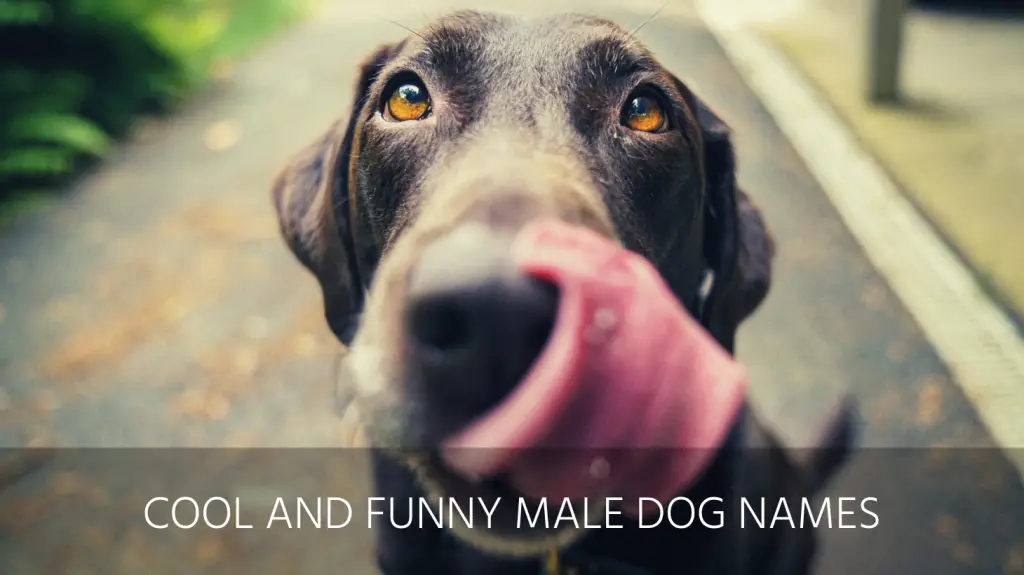 Cool & Funny Male Dog Names
Looking for an uber-cool or funny male dog name for your pup? We have just the list for you!

These names are guaranteed to either make your pooch the coolest hound in the dog park, or make all your friends and family chuckle when they meet him. Either way, your pup will be unforgettable!
We particularly like Cookie Monster, Big Mac and Major Butt-Sniffer, but the choice is yours!

Check out our other suggestions below. 
Alabaster
Anderson Pooper
Ansel
Artoo Dogtoo
Atticus – Ancient philosopher
Bacon 
Banksy  – Elusive political graffiti artist
Basquiat
Beau Dacious
Big Mac
Blade – From the Vampire Movies
Boba Fett – From the Star Wars Movies
Bodhi – Sanskrit name which means "enlightened"
Boo Radley
Boone
Brushy 
Buster Brown
Buzz Pawldrin
Canvas
Charlie Brown
Chiffon
Chronic
Cookie Monster
Crayola
Darth Vader
Degas (Edgar)
Diego (Rivera)
Edgar
Enzo
Emoji
Ernest Hemingway – Famous writer
Fozzie Bear
Francis
Fresco
George Michael – Famous singer and musician
Goya (Francisco)
Graffiti
Gryffindor – A house in the Harry Potter stories
Han Solo – A character from the Star Wars Movies
Hashtag
Hendrix (Jimmy)
Huckleberry
Indiana Jones – Famous fictional explorer
Indigo
Jack Jack
Jazz
Johnny Cash
Jon Snow – Well-known character from the Game of Thrones series
Judd (Donald)
Kai
Kingston
Kylo Ren
Leonardo (Leo)
Luca
Lucian (Freud)
Luke Skywalker
Lupin
Major Butt-Sniffer
Malteser
Marlboro
Marty McFly
Mateo
Matisse
Michelangelo – Famous artist
Miles Davis
Muse
Muttley Crue
Obi-Wan – Character from the Star Wars movies
Ochre – A type of red paint
Onyx – A tough black mineral
Optimus Prime – A character from the transformers movies
Pawblo Picasso
Pooh Bear
Prince Pooper
Raphael
Reeses Puppycups
Rembrandt – Famous Dutch painter
Remy
Romeo
Rockwell (Norman)
Salvador (Dali) – Famous painter which created weirdly disturbing pieces. 
Sativa – A type of Cannabis
Sawyer
Scooby Doo – Well-known cartoon dog
Sir Dig-a-lot
Silas
Sitka
Slate
Tater Tot
The Furry Fart Machine
Theo
Thor – A Germanic hammer-wielding god
Tony Romo
Topaz – A type of crystal
Tyrion
Ultra
Vincent (Van Gogh) – A famous painter (who cut off his own ear!)
Waggy Walker
Weiwei 
WiFi
Willie Nelson
Yazzie 
Yeti
Yogi Bear
YOLO
Learn More: Top 800+ Dachshund Dog Names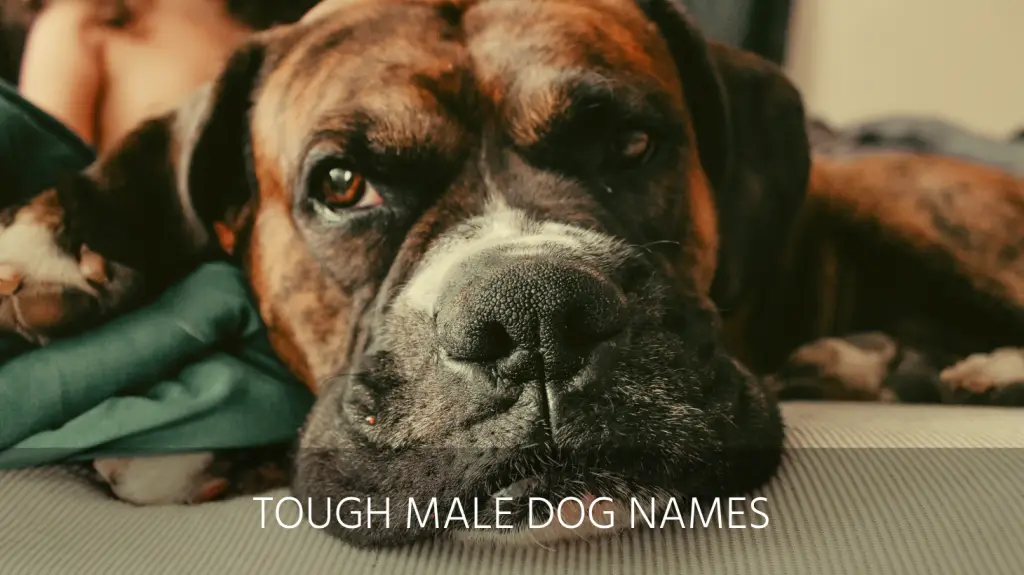 Tough & Masculine Male Dog Names
Is your pooch a ferocious ball-catcher? Does he defend you from the dastardly mailman with his best scary bark? 

If your new boy has a fearless personality no matter his size, he truly deserves one of our manly dog names!

Perfect for all breeds from German Shepards to Jack Russell terriers; our list of tough and masculine dog names is sure to have the ideal moniker for your attitude-filled pooch!

Alcatraz – Famous prison in the USA
Ajax
Apex
Atlas
Axel
Barbarian
Bandit
Bengal
Brady
Bruce Lee – Famous martial artist
Bruce Wayne – Famous tough guy
Bruno
Brutus – Julius Caesar's assassin 
Boa
Bomber
Bouncer
Canyon
Captain
Cash
Cassius
Champ
Chomp
Clyde
Crusher
Courage
Dante
Dash
Denver
Diesel
Dragon
Doyle – Irish name that means "dark" and "stranger"
Eliot
Falcon
Fang
Frank
Frankenstein – Famous zombie
Gangster
Genghis – Famous Mongolian leader
Ghost
Grinder
Grover
Hank
Hogan – Famous wrestler
Hooligan – Slang for troublemaker
Huck
Hulk – Like the superhero
Jailbait
Jagger
Jinx – To bring bad luck or ill fortune
Judge
Kevlar – Type of armor
Khan
Kodiak
Legend
Maverick
Muscles
Neo
Odin – Norse God of battle
Pablo
Paco
Pharaoh – A ruler of Ancient Egypt
Putin – Tough Russian leader
Rage
Ranger
Rider
Ronin
Ryder
Sergeant
Slash
Sting
Tank
Tempest
Tiger
Timber
Titan
Trooper
Trojan – Trick horse used to invade
Vaughn
Victor
Watson
Warlock
Wolf
Wilder
Wrangler
Wyatt
Vladimir – The Impaler
Yukon – Wild region of Canada
Zeus – Powerful Greek God of the sky and lightning
Learn More: Top 150+ Harry Potter Dog Names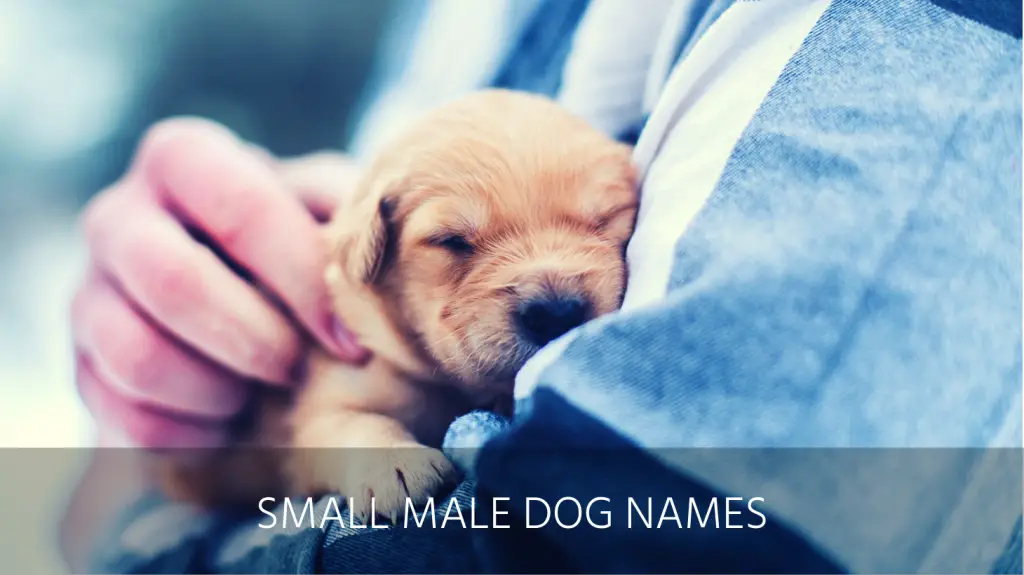 Small Male Dog Names
Little dogs are so often the ones with the biggest personalities. Maybe it's because they feel they have some making up to do, or perhaps it's because what they lack in size, they gain in attitude. 

Either way, small dogs are a tonne of fun – and they deserve a name that matches their individuality while honoring their small, yet mighty demeanor!

Our personal favorites are Napoleon, Junior, Biggie Smalls and Sir Barkley. 

Which one will you choose? Check out our suggestions below!

AJ
Alistar
Ash
Austin
Biggie Smalls
Billy
Blake
Bryce
Buck
Caesar (Julius) – Roman leader
Chip
Coleman
Drew
Espresso – Short, strong coffee
Evander
Franklin
Grommet
Gargoyle
Herbert
Hilton (Paris)
Hoover
Junior
Kilo
Kona
Liam
Major Barkalot
Marty
Maxwell
McKinley
Meyer
Mickey
Micro
Napoleon – A famously short French military leader
Nero
Nico
Noah – Built the Ark in the Bible
Oakley
Radar
Mr Scrappy
Sir Barkley
Stitch
Stuart Little – Famous mouse character from the movie
Squidge
Squish
Tiny
TJ
Yogi
Whizzy
Ziggy Stardust
Zippy
Learn More: Top 300+ Black and White Dog Names
That's a Wrap! Which Name Did You Pick?
Phew! 

We've reached the end of our Ultimate Guide to the Best Male Dog Names – there's so much choice!

What do you think? Did you pick one of our suggestions for your new boy pup?

With more than 500 male dog names to choose from, we're confident that you did! If so, please let us know in the comments below – we'd love to hear from you!