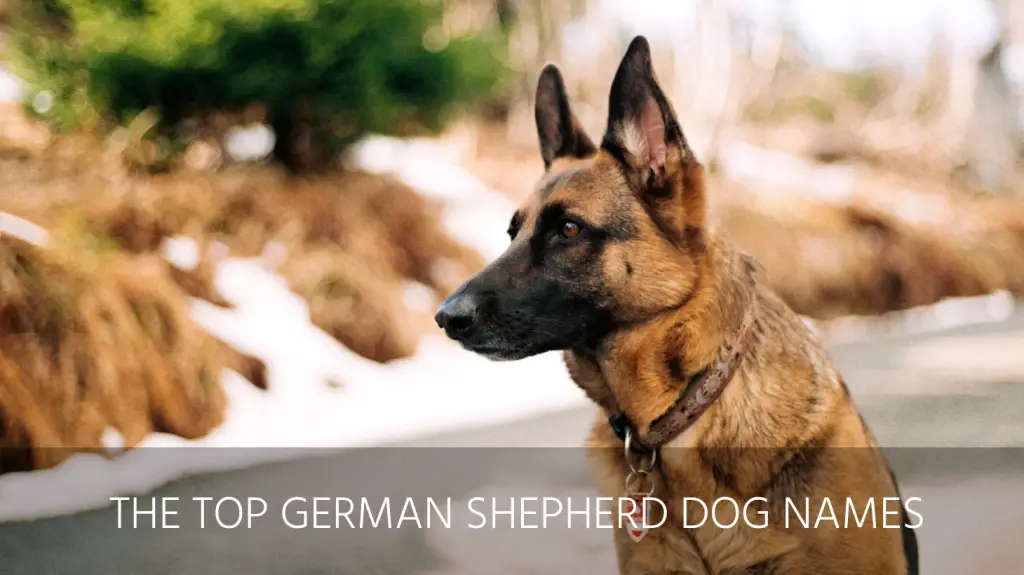 Welcome to the ultimate list of German Shepherd names. Here, you'll find the cutest, strongest, and most badass names out there for your German Shepherd. 

Naming your new pet is probably the hardest part of adopting a new canine. There are countless options out there. Finding just the perfect name can be near impossible! 

To help you choose a great name for your new German Shepherd, we created this extensive list of possible naming options. We've included police dog names, badass names, and even cute names that might be fitting for your new pooch. 
Best Dog Names For German Shepherds
In the case of naming, following the crowd isn't always a bad thing. While we might live in a society that currently favors unique names, the crowd usually knows what it's doing when it comes to choosing the best names. Some of the most popular and fitting names for German Shepherds include: 
Apollo
Bailey
Bear
Bella
Bentley
Biscuit
Cooper
Dakota
Darcy
Dexter
Duke
Finn
Frankie
Ginger
Gracie
Hank
Harley
Harper
Hazel
Henry
Izzy
Jack
Jackson
Jasper
Jax
Kona
Lola
Luke
Luna
Maddie
Maggie
Marley
Max
Mia
Milo
Moose
Nelly
Oreo
Peanut
Penny
Pip
Piper
Riley
Rocco
Rocky
Roxy
Ruby
Sadie
Scout
Sergio
Shadow
Sheba
Sophie
Stella
Tank
Teddy
Willow
Winnie
Winston
Zeus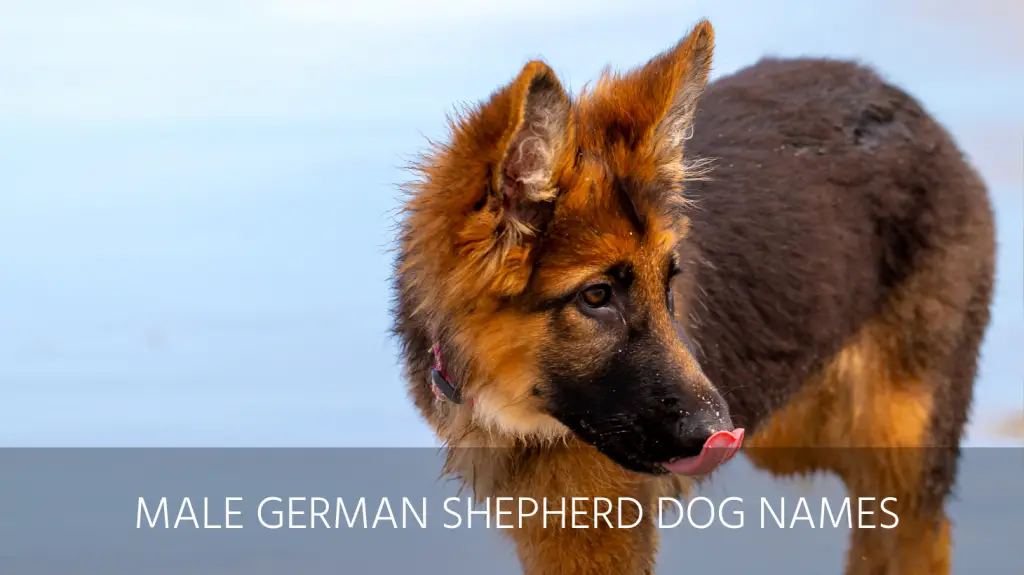 Boy Names
There are lots of names out there for male German Shepherds. So many, in fact, that it can be difficult to choose between them all. We've narrowed down the search a little bit and have featured some of the top male German Shepherd names in this section. You can choose something common or a little more unique. Some of our favorite ones include:
Ace
Arlo
Armageddon
Arnold
Atlas
Bernard
Caesar
Caleb
Casanova
Comet
Dedrick
Dimitri
Dino
Epic 
Ernie
Fido
Fireball
Flash
Frank
Franz
Fudge
Goliath
Guther
Hammer
Hans
Hawk
Hercules
Hudson
Josh
Keanu
Kip
Leonard
Major
Manfred
Mister
Monkey
Neutron
Newton
Nova
Omega
Orion
Otto
Pluto
Polo
Popeye
Prince
Radar
Renegade
Rex 
Rolf Stein
Romeo
Rudy
Scrappy
Spud
Tarzan
Thor
Ulf
Viking
Wilson
Yang
Yin
Yogu
Zodiac
Zorro
Learn More: Top 300+ Black & White Dog Names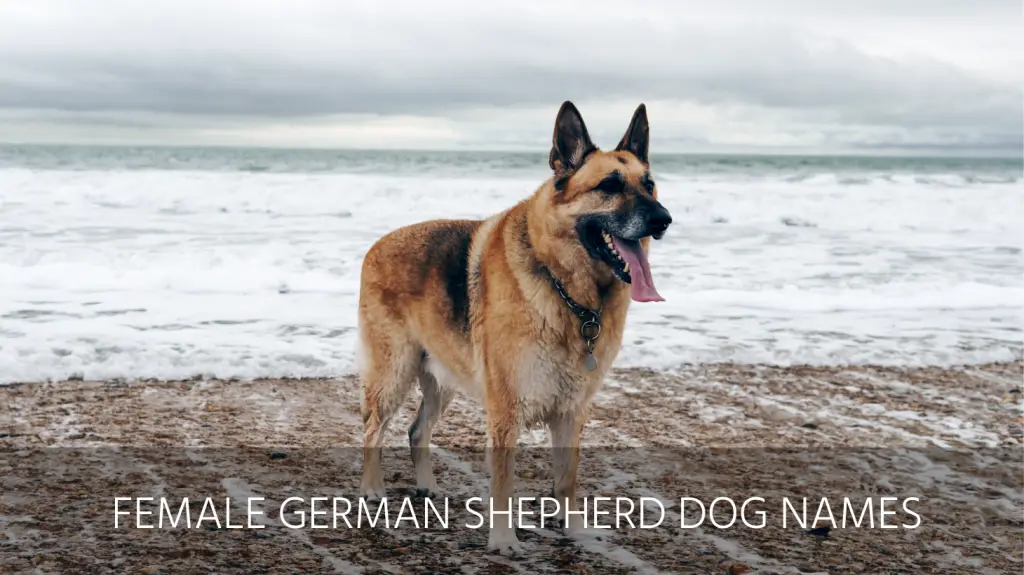 Girl Names
Female German Shepherds can be a little bit more difficult to name. On one hand, you want something feminine and cute. On the other hand, though, you want something that truly exemplifies the German Shepherd spirit of confidence and strength. Luckily, there are quite a few common female names out that that fit this bill. Some of the ones we like the best are: 
Aba
Abey
Angel
Anya
Asia
Athena
Autumn
Belle
Blair
Blondie
Breeze
Brownie
Cassia
Champagne
Charm
Chocolate
Cleopatra
Cookie
Coral
Courtney
Dawn
Diamond
Dixie
Ella
Erika
Evita
Finger
Flower
Foxy
Gloria
Gretel
Hailey
Hedi
Helena
Kasha
Kiki
Lady
Lovey
Maxie
Meadow
Mia
Missy
Muffet
Mya
Nora
Pumpkin
Rose
Roxanne
Ruby 
Ruby
Sabrina
Sage
Sage
Tamra
Tamra
Ursula
Val
Venus
Learn More: Top 300+ Disney Dog Names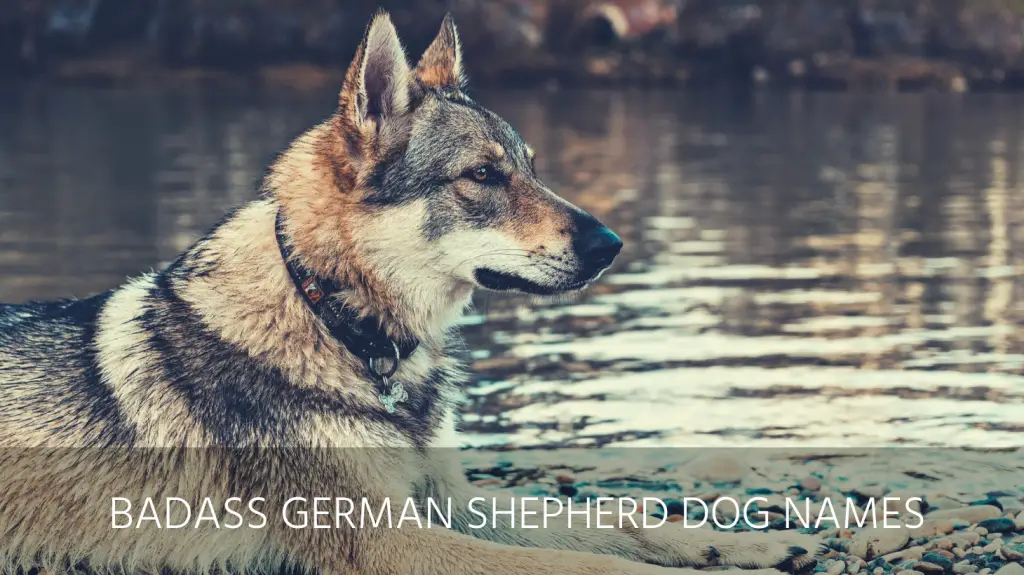 Badass German Shepherd Dog Names
German Shepherds have a reputation for being strong and confident. These canines are intensly loyal and heavily involved in the military and police work. A dog like that deserves a badass name that truly describes their personality. Try some of these names on for size:
Achilles
Ada
Agustine
Alaric
Apollo
Aragorn
Axel 
Bandit
Beast
Bench
Bones
Brock
Bruiser
Bruno
Brutus
Conquest
Crush
Diesel
Django
Dodge
Dozer
Earl
Ethel
Felisberta
Gorilla
Graham
Gunner
Hash
Holle
Jethro
Khan
Knuckles
Kort
Leon
Luigi
Mars
Minne
Napoleon
Pistol
Rambo
Reaper
Rita
Sailor
Sigmund
T-Bone
Wolfgang
Learn More: Top 300+ French Dog Names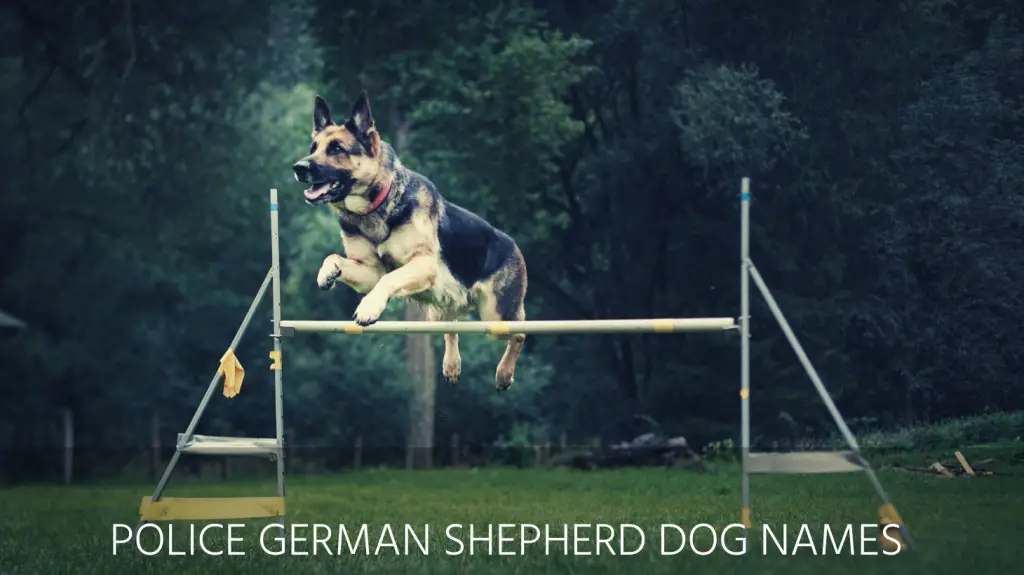 German Shepherd Police Dog Names
German Shepherds are commonly used as police dogs across the world. This breed excels at police work because they are confident, loyal dogs. They are easily trained and not excessively aggressive, though they are not friendly to the point that it would interfere with their work. Plus, these canines are also quite intelligent, which means they can learn more commands faster than other dogs. 

All these traits make this breed common in the police and military across the world. If you're trying to name a police or service dog, here are some names you might want to consider: 
Achtung
Avalanche 
Badge
Bane
Baton
Blitz
Blue
Bomber
Bud
Bullet
Buzz
Captain
Chief
Courage
Crash
Detective
Donut
Flash
Fuzz
Gator
Gunner
Holster
Honor
Joan
Justice
K9
King
Krypto
Leia
Liberty
Lieutenant
Major
Moose
Noble
Officer
Partner
Prowler
Ranger
Rango
Rifle
Rogue
Sarge
Snoop
Storm
Thunder
Tiger
Tracker
Unit
Learn More: Top 400+ Hunting Dog Names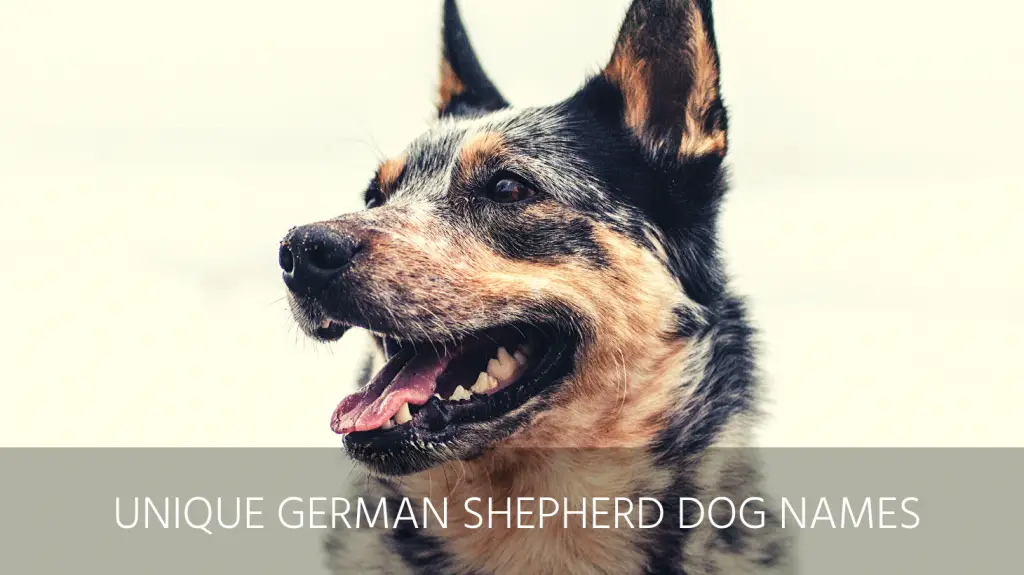 Unique German Shepherd Names
Wanting to stand out from the crowd with a unique name for your new pooch? In today's world, pretty much anything can be a name – opening the gate for a slew of one-of-a-kind, unique dog names. 

Of course, just because a name is unique does not necessarily make it good. It is hard work coming up with a distinct name for your new German Shepherd! Take a look at some of these quirky names if you need some inspiration:
Arizona
August
Baldwin
Beethoven 
Berlin
Bratwurst
Cairo
Fergie
Frankfurt
Frau
Gunther
Heinrich
Herr
Hund
Indiana
Kaiser
Kaya
Kentucky
Leonard
Ludwig
Macchu
Monet
Montana
Monticello
Mozart
Nevada
Panzer
Paris
Rainer
Spatzle
Stein
Taj
Zelda
Learn More: Top 600+ Pug Dog Names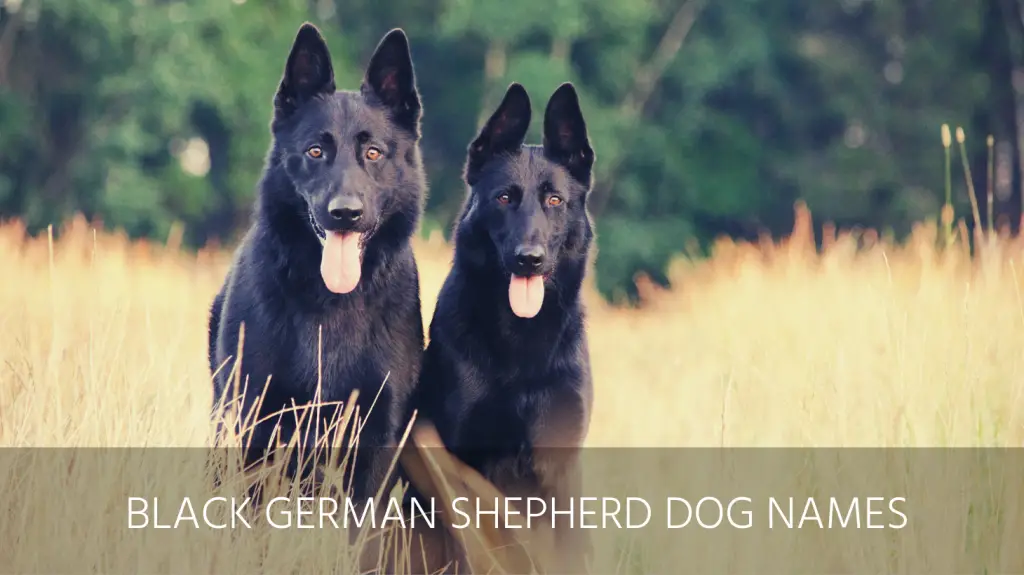 Black German Shepherd Names
It is possible for German Shepherds to have a black coat, though this is rarer than their usual coat pattern. Many puppies in this breed are born darker in color, but then lighten and assume their true coat pattern. However, black German Shepherds will be born black and stay black. If your dog has this rare coat, here are some names you might want to consider:
Amaya
Artemis
Ash
Bamboo
Bean
Black
Blackberry
Blackjack
Bran
Celeste
Chocolate
Cocoa 
Coke
Cola
Cosmos
Darth Vader
Deva
Domino
Dr. Pepper
Dunkel
Emery
Espresso
Flint
Hersey
Kodiak
Licorice
Luna
Midnight
Moon
Night
North
Nyx
Oliver
Ophelia
Oreo
Oso
Panther
Pearl
Pepsi
Pirate
Poppy
Schwarz
Selkie
Shadow
Sirona
Smoky
Star
Steel
Stella
Storm
Turtle
Twilight
Velvet
Wilder
Yukon
Learn More: Top 300+ French Dog Names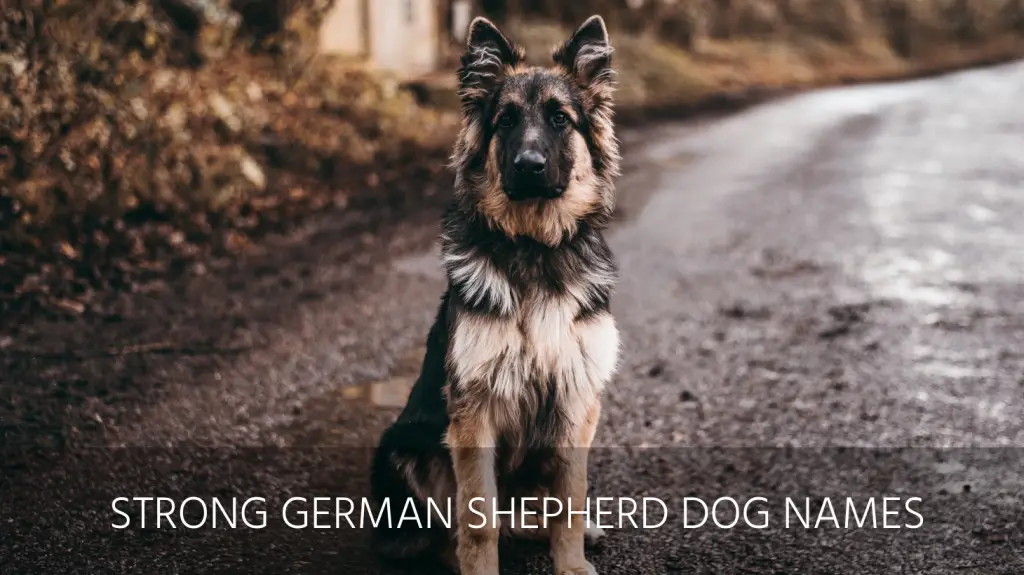 Strong German Shepherd Names
German Shepherds are known for their impressive work ethic and strong sense of loyalty. Stong names typically fit these canines very well, especially if your dog seems to be the strong, silent type. While many of the names we already mentioned can easily be considered "strong" names, here are some of our favorites that really stood out:
Amber
America
Archer
Boulder
Bouncer
Briana
Brick
Bridget
Charlotte
Dane
Diablo 
Dragon
Eisenhower
Elk
Fender
Fighter
Ghost
Goblin
Grant
Graphite
Griffin
Heath
Helm
Helmet 
Holt
Ike
Jax
Jet
Kahlan
Knox
Leonardo
Marine
Marshal
Matilda
Navy
Nina
Ogre
Preston
Private
Roxie
Samson
Sentinel
Serpent
Shield
Soldier
Specter
Steak
Stone
Stump
Tank
Trigger
Truck
Ulysses
Ursa
Valkyrie
Warden
Wolf
Wrath
Learn More: Top 250+ White Dog Names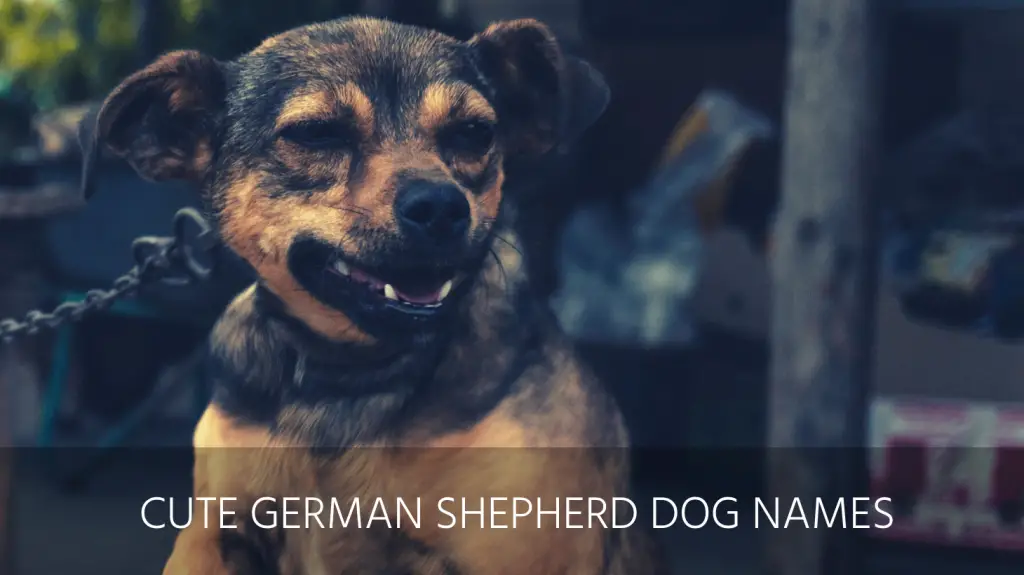 Cute German Shepherd Names
Not all German Shepherd names have to be tough and strong. Depending on your dog's personality, a sweet, cute name might be the way to go. Here are some sweeter names that are still quite fitting for a German Shepherd:
Barkley
Baxter
Beau
Benji
Blossom
Boots
Bubba
Buttons
Captain
Champ
Chewy
Chico
Clover
Daisy
Dakota
Dash
Dora
Dory
Dylan
Eli
Eloise
Elsa
Faye
Fifi
Finley
Flash
Gadget
Goldie
Gus
Harley
Hiccup
Honey
Jasmine
Jesse
Jewel
Josie
Kiwi
Koda
Lance
Lenny
Lexi
Lilly
Luna
Mabel
Mac
Maisie
Minnie
Missy
Mocha
Mustard
Nikka
Niles
Noodles
Oakley
Ollie
Oscar
Otis
Rooster
Socks
Squirt
Toby
Todo
Waffle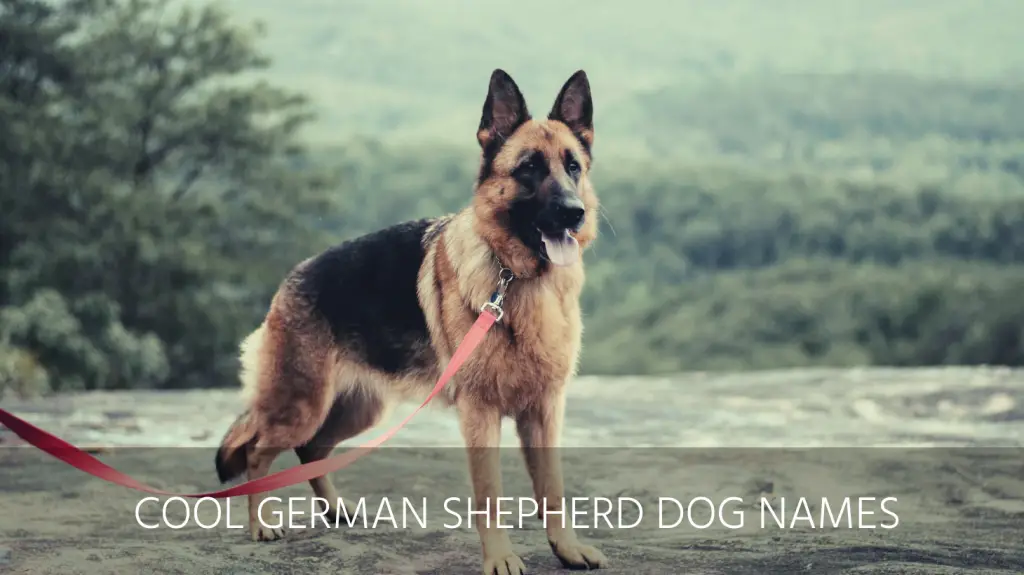 Cool German Shepherd Names
For some dogs, cool names are just the way to go. Of course, exactly what if cool is highly subjective. To keep everyone's specific tastes in mind, we've included this long list of German Shepherd names that could easily be considered cool:
Apache
Atari
Axl
Bowie
Bowser
Buffy
Chicago
Clash
Denver
Doc
Dre
Escobar
Floyd
Gatsby
Groot
Hendrix
Indie
Java
Jazz
Jupiter
Kenrick
Khan
Kobe
Lennon
Mars
Payton
Pixel
Porter
Quartz
Queen
Remy
Ringo
Ripley
Rock
Saffron
Shaq
Tex
Thor
Whiskey
Winchester
Wrigley
Xena
Learn More: Top 600+ Brown Dog Names
Your turn!  Which name did you pick?
The name you end up choosing for your new canine is completely up to you. We've listed plenty of names to help you find just the one that fits your new German Shepherd. Hopefully these names provided you with some ideas of your own and inspiration. 

If your dog is going into any field that requires intense training, like police or rescue work, for example, we do recommend choosing a shorter name that doesn't sound similar to any commands they will be learning. The last thing you need is a dog with a name it takes forever for you to say. You also don't want you canine confusing their name with a command. If you have other animals, you should also make sure their names sound dissimilar enough so they aren't confused when you yell for them from the other room. 

Furthermore, if you have children in your house, be sure you choose a name they can pronounce! When we got my dog, we ended up having to change his name because my toddler just couldn't pronounce it. 

In the end, the name you choose should be fitting for both you and your dog. No matter what you pick, your dog will probably grow into it.