So the time has finally come, you've decided to get yourself a new puppy! 

Welcoming a new furry family member is a big responsibility, but also incredibly rewarding. A lifetime of memories, adventures and endless love from your new pooch is about to begin, but first of all, you'll need to choose the perfect name!

Whether you have adopted a strong female pup, or you've rescued a lovely lady from a shelter, choosing your girl puppy name is a huge decision. After all, you'll be calling their name A LOT over the years, and you'll want to pick one which honors her unique personality. 

Luckily for you, we're here to help you find the best name for your female pooch. We've rounded up an incredible list of more than 400 names for you to choose from. 

Looking for the most popular female dog names? We've got it. Searching for cute girl dog names? We have that too. Tough female dog names? You guessed it! Short female dog names? C'mon, you must have worked this out by now!

So, what are you waiting for? Read on to find the perfect name for your new furbaby!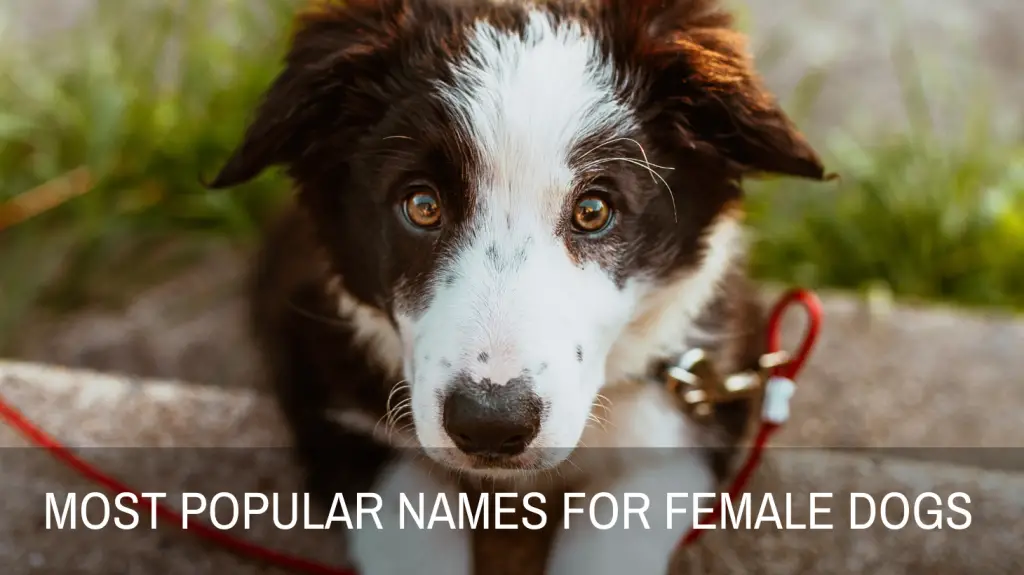 Most Popular Names for Female Dogs
While there are plenty of unique girl dog names out there, sometimes a classic name is just the ticket. These names have stood the test of time for a reason, making popular choices ever since man and pooch came together all those centuries ago. 

Bella, Bonnie, Ginger & Rosie are just some of these timeless favorites that never go out of fashion. Whether they originated from popular culture, famous women over the ages or simply sound beautiful when spoken –  these wonderfully feminine names make reliable choices for your new family member. 

Check out our list below for inspiration! 

Abby
Allie
Angel
Ava
Baby
Bailey
Bella
Bonnie
Cali
Callie
Charlie
Charlotte
Chloe
Delilah
Dixie
Ella
Ellie
Emma
Fiona
Georgia
Gigi
Ginger
Gracie
Harper
Hazel
Heidi
Honey
Izzy
Josie
Layla
Lilly
Lily
Maya
Mia
Mila
Millie
Missy
Mocha
Molly
Nala
Nina
Nova
Olive
Oreo
Paisley
Penelope
Phoebe
Riley
Rosie
Roxie
Ruby
Sadie
Sandy
Stella
Learn More: Top 450+ Unique Dog Names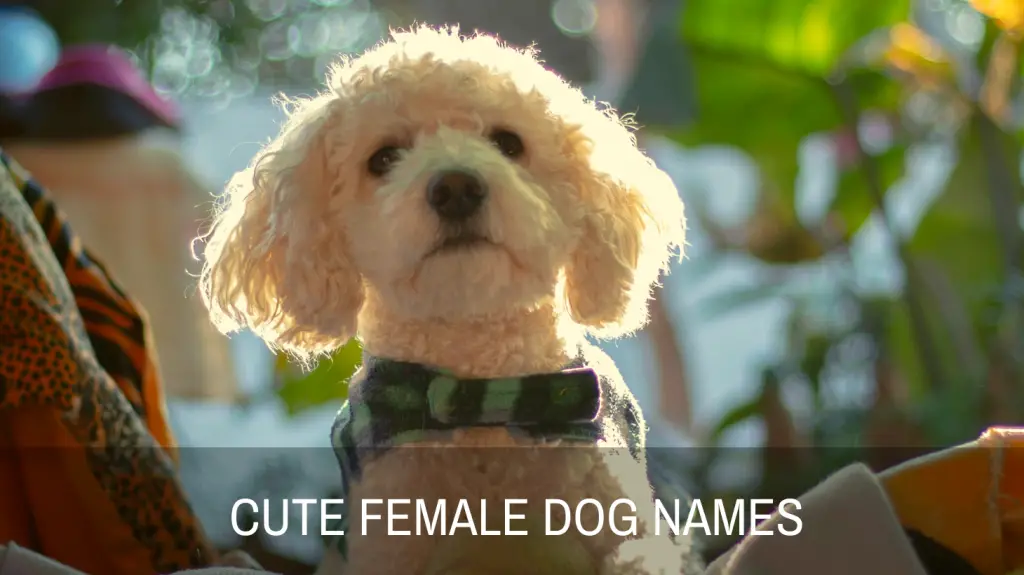 Cute Female Dog Names 
No matter what anyone else says, your little girl is the cutest furball on Earth – period. 

So, why not honor her heart-meltingly sweet demeanor with a cute female dog name that really shows your love?  

We have compiled a list of the cutest, most sugary-sweet names for you to choose from. Featuring everything from food-inspired monikers to innocent girly favorites, you're sure to find the perfect fit below!

Annie
Betty
Candy
Charleston Chew
Crouton
Cupcake
Eggroll
Fluffernutter
Katie
Kewpie
Kiki
Kit
Kit Kat
Kiwi
Kona
Kumquat
Lacey
Lady
Lady Rover
Latke
Leela
Leeloo
Lena
Lexie
Lila
Lilly Bell
Lily (Lilly)
Lizzie (Lizzy)
Lo
Lois
Lollipop
Loretta
Love
Lucky
Lucy
Lucy Lu
Lulu
Lyric
Mabel
Macy
Madden
Madonna
Magdalena
Maggie
Mai Tai
Maisie (Maisy)
Mamba
Mamie
Maple
Maple Sizzup
Marley
Meatball
Minnie
Nacho
Nellie
Noodles
Nutella
Pickle
Pup Tart
Sally
Shelby
Snow-pee
Sparkle
Stardust
Sugar
Sunny
Sunshine
Sweet Pea
Sweetie
Sydney
Taffy
Tahiti
Tallulah
Tasha
Tater
Tater Tot
Tabitha
Zoey or Zoe
Learn More: Top 300+ Spanish Dog Names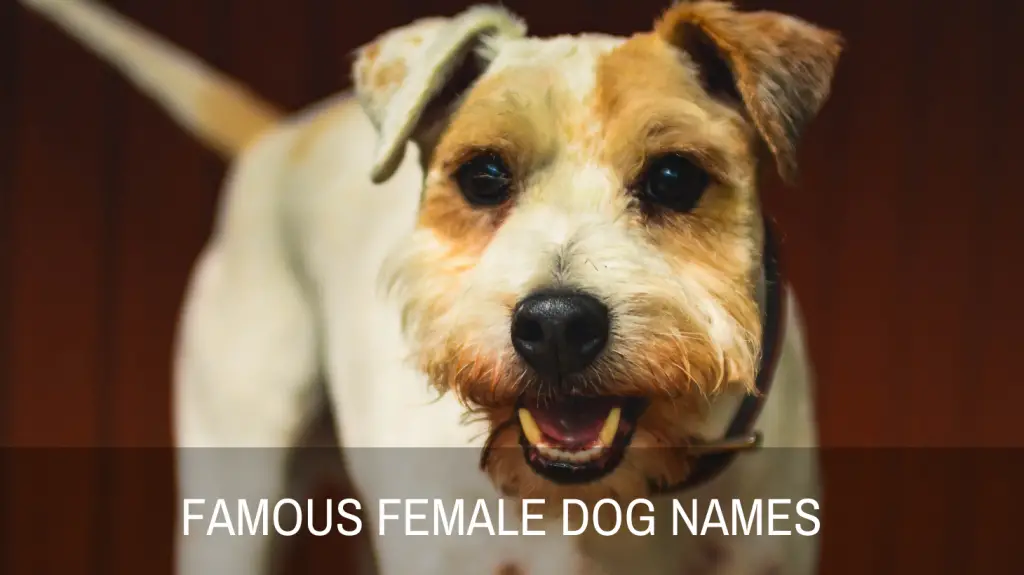 Famous Female Dog Names
Of course, your girl will always be a celebrity in your eyes. Sure, you could give her a popular dog name, but what better way to truly honor your pups' sassy style than by giving her a special name straight out of Hollywood!

Our list below includes names inspired by some of the most famous women and female dogs in history. So, whether your cuddly canine has all the attitude of Angelina or simply wiggles her butt like Shakira when you get home – you're sure to find the perfect famous female dog name in this section! 
Adriana
Alba
Angelina
Angelou
Ariana
Bambi
Barrymore
Beyonce
Brooklyn
Boudicca
Cameron
Cara
Diana
Diaz
Elle
Gigi
Gwyneth
J-Lo
Jane Austen
Jolie
Kardashian
Lady Croft
Lady Gaga
Laika (First dog in space)
Lassie (Famous Collie from the movie)
Leona
Lopez
Marilyn
Mila
Milano
Miley
Nelly
Obama
Oprah
Pink
Rihanna
Rousey – Female MMA fighter
Salma
Scarlett
Selena
Shakira
Sienna
Taylor
Theresa
Ursula – Evil witch from 'The Little Mermaid'
Vogue
Xena (Warrior Princess)
Learn More: Top 250+ White Dog Names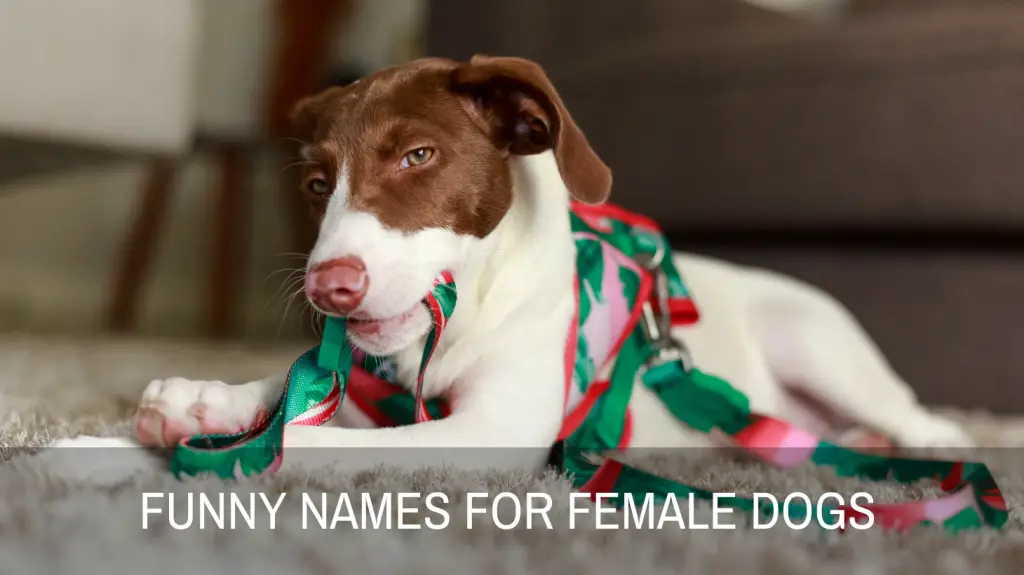 Funny Names for Female Dogs
Do you prefer off-the-wall names that'll raise a smile from everyone your pooch meets? Classic and cute names are great choices, but your girl pup will be truly unforgettable if she has a funny name!

Below, we have listed our favorite funny names for female dogs that are sure to keep family and friends laughing. After all, what could be better than coming home to an excitable "Wooly Butt" after a long day?

Bear Burrito
Bitsy
Bon Bon
Bon Scratch-It
Chickpea
First Dibs
Flop
Fluffernaut
Grandma
Here Kitty
HoneyLegs
Little Bunny Foo Foo
Lovebucket
McTummy
Miss Tabasco Hot Shot
Munchkin
Nugget
Peanut
Pee Wee
Putt-Putt
Rumpypumpy
Scratch
Sissy
Skittles
Smooches
Snickers
Snookie (Suki)
Snorts
Snowball
Snowflake
Snuggles
Sorbet
Sprinkles
Squat
Squirt
Suga Boga
Teddy (Ted)
Tiger
Tiny
Tizzy
Tootsie
Underdog
Valentine
Waffles
Whoopi
Widget
Wonder Naughty
Won Ton
Woolly Butt
Learn More: Top 200+ Big Dog Names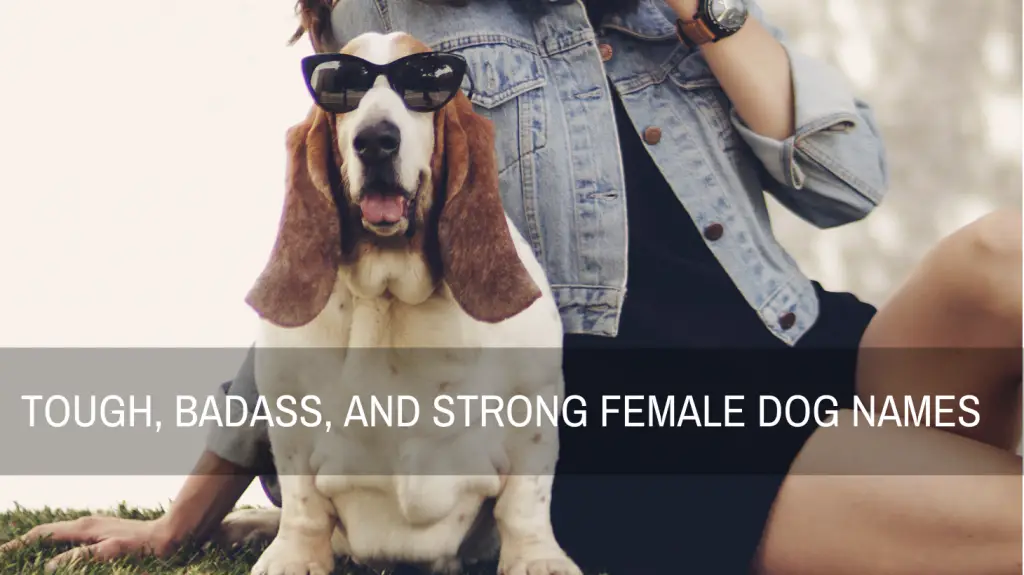 Tough, Badass, and Strong Female Dog Names
Girls can be tough, strong, and badass too! If you're looking for a female dog name that oozes attitude, we've got the perfect list for you.  

Great for large dogs and tiny dogs alike; if you have a female pup with a fearless personality, these names inspired by some of the toughest women in history are sure to be an ideal match! Grr! 

Acadia
Akira
Akita
Alaska
Alex
Alexis
Ambrosia
Amethyst
Andromeda – Princess in Greek Mythology
Angelina
Artemis – Greek Goddess of the Hunt
Astra
Athena – Greek Goddess of Wisdom
Attitude
Avril
Bear
Blaze
Blitz
Blizzard
Bowie
Brooklyn
Callisto – Moon of Juipiter
Cinder
Cleo
Cleopatra – Egyptian Queen
Codex
Colby
Dakota
Diva
Duchess
Ebony
Echo
Elektra
Finley / Finn
Frannie
Freya – Norse Goddess of Beauty and War
Harley
Hecuba – Ancient Queen of Greece
Huntress
Indi / Indy
Indiana (Indy)
Jedi
Jersey
Jinx
Joan of Arc
Jojo
Joplin
Juno – Roman Goddess
Justice
Kaia – Greek word for Earth
Kali -Hindu Goddess of Death
Katniss – Character in Hunger Games movie
Kaya – Phillipino for Strength
Kitana – Character in Mortal Combat game
Koa – Hawaiian name meaning 'Brave Warrior'
Koda – Native American word for 'Little Bear'
Korra
Lakin
Lara
Leia
Leisel
Liberty
Lilo
Lola
Lolita
Medusa – Monster in Greek mythology
Mercy
Midnight
Miss Beazley
Miss Havisham
Myka
Mystique
Ninja
Norma
Nyx
Oakley
Olga
Olympia
Onyx
Pepper
Porkchop
Punky
Pyro
Queenie
Raven
Reagan
Rebel
Red
Ripley
Rocky
Rogue
Ronan
Roxy
Sable
Sage
Samus
Sasha
Sassy
Shadow
Sheba
Starbuck
Stormy / Storm
Timber
Ursa
Vixen
Winter
Zelda
Zola
Learn More: Top 100+ Badass Dog Names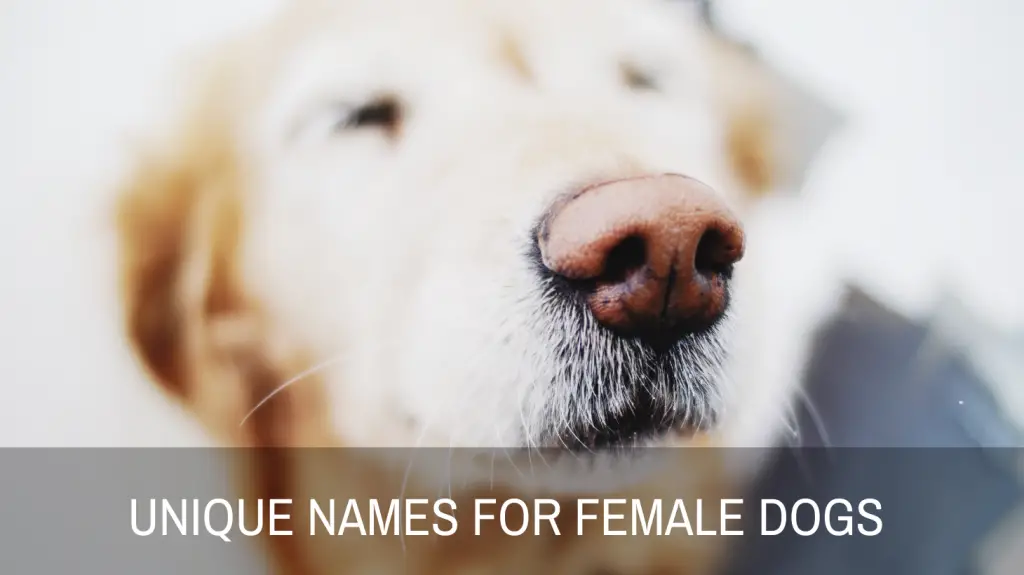 Unique Female Dog Names
Is your pup one in a million? While all of the female dog names we've seen so far are great options, maybe you're looking for something extra-special to show-off her individuality. 
Struggling for ideas? Look no further! Our below list of unusual female dog names is your go-to resource to find the ideal name for your precious pooch. 

Almond
Alyssa
Amber
Antoinette – Last Queen of France
Aphrodite – Greek Goddess of love
Applejack
Aquamarine
Asia
Aster
Atlanta Princess
Banjo
Baroness
Beauty
Belle
Bianca
Bibi
Bindi
BooBoo
Cadence
Carmella
Clover
Coco
Cola
Confectionery
Cookie
Courtney
Crystal
Cupid
Dahlia
Daiquiri
Daisy
Esme
Friday
Golden Girl
Goldie
Gypsy
Half-Note
Halle
Harmony
Holiday
Holly
Honeysuckle
Hope
Ice
Inari – A type of sushi
Indigo
Iris
Isabella
Ivy
Jade
Jasmine
Jelly Bean
Josephine
Ladybug
Lainey
Lavender
Lemon
Libby
Licorice
Locket
Lotus
Lovely
Luca
Luna
Mackenzie
Maddie
Mariah
Mel
Naomi
Navi
Nessa
Pandora
Paradise
Payton
Pearl
Pebbles
Penny
Periwinkle
Piper
Pippin
Pistachio
Pixie
Pocahontas – Daughter of Native American Chief
Primrose
Princess
Queen Ann – British Queen
Rapunzel – Character in German Fairytale
Rigby
Rosebud
Sahara
Sirius – The dog star
Snapdragon
Snookie
Sookie
Sophie
Spirit
Starburst
Starla
Starr
Tala
Taz
Teegan
Tessa (Tess)
Thea (Theia)
Theodora
Tiara
Tricky
Trixie
Trudy
Toffee
Trouble
Velvet
Victoria
Willa
Willow
Wilma
Winnie
Wrigley
Yasmine
Yoko
Yuki
Yumi
Yuna
Zailey
Zeda
Ziggy
Zoebelle
Zuni
Zuzu
Learn More: Top 300+ French Dog Names
Over to You! Which Name Did You Pick?
So there you have it! Our ultimate guide to the best 400+ female dog names. 

What do you think? Did you pick one of our names for your furbaby?

If so, let us know in the comments below – we'd love to hear from you!