Whenever a pet owner learns that their beloved dog has diabetes, their heart drops. Diabetes in dogs is a severe and often life-threatening condition. Many pet owners worry about how they will be able to manage this diagnosis and whether or not they will live a healthy life.
Luckily though, there are quite a few things we can do to help manage this disease and promote our diabetic dog's health. Alongside working with your veterinarian and providing your dog with the proper medication, diet can play a significant role in a diabetic dog's quality of life and lifespan.
Food and diabetes go hand-in-hand. When your dog has diabetes, they can no longer produce insulin, which helps their body control the carbohydrates they consume. These causes the carbs to go unchecked and wreaks havoc on your dog's body and raising their blood sugar. By controlling the number of carbohydrates your dog eats and giving them appropriate food, you can help their medication be more productive and work with their body to manage their condition.
Furthermore, changing your dog's diet can be one of the more reasonable measures you can take to ensuring their overall health.
Why You Should Trust Us
As a lifelong dog owner, I've talked to many vets and have been learning about dog food for 30 years. When researching each dog food, we use scientifically based research and pay very close attention to the ingredient list and nutritional information of. We calculate our own macronutrient data. There is a big difference between high-quality dog foods that are packed full of fillers and high-calorie dog foods that are full of meat. 
We do not accept any payments from dog food companies to put their foods first. Instead, your dog's health is our top priority for every review. 
Reviews of the Best Dog Foods for Diabetic Dogs
Our Pick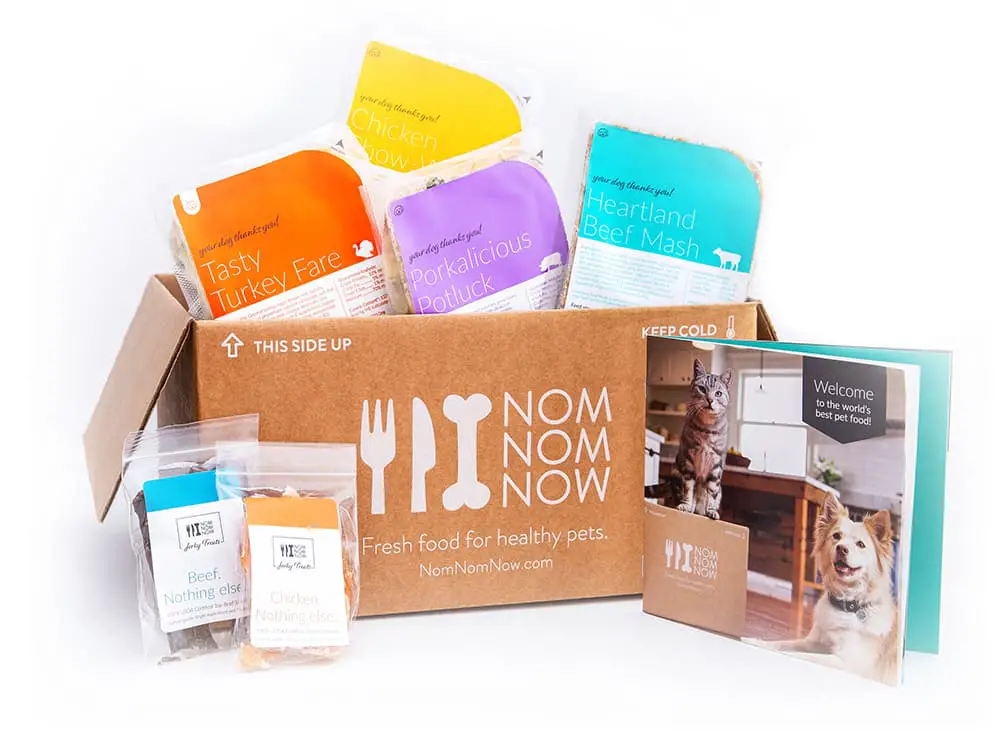 Fresh, human-grade ingredients
Near-perfect macronutrients
Convenient delivery
Doggypedia rating: 5/5
First 5 Ingredients: Diced chicken, sweet potatoes, yellow squash, spinach, and sunflower oil.
Our Pick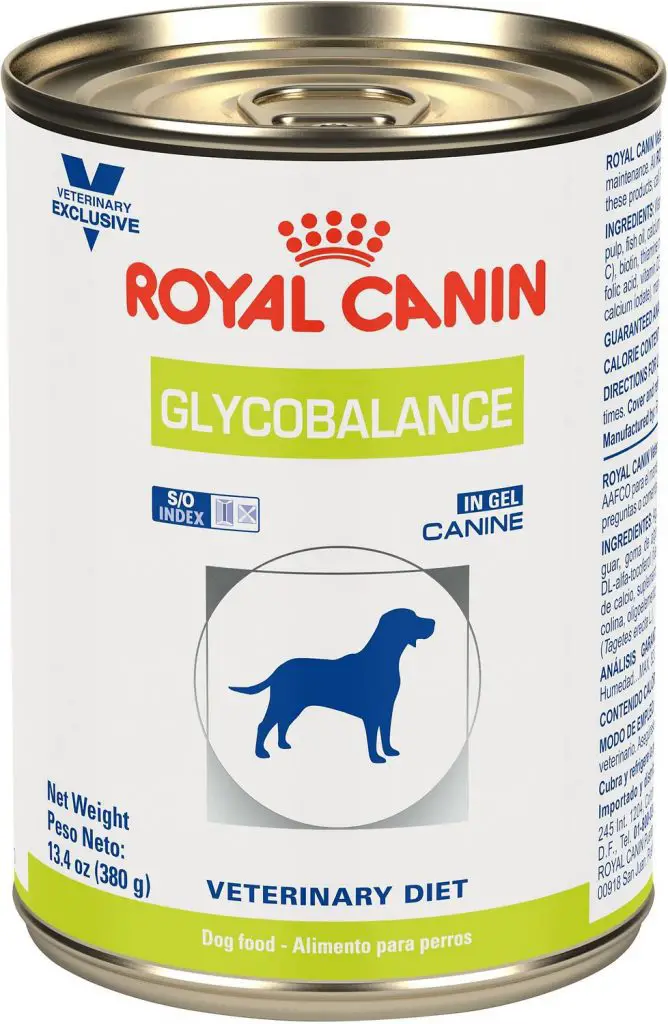 Pea Free
Low Glycemic
High protein and high fiber content
Doggypedia rating: 5/5
First 5 Ingredients: Water Sufficient for Processing, Pork By-Products, Chicken, Powdered Cellulose, Wheat Gluten.
Macronutrients (Dry-Matter Basis):
41.67% Protein
13.89% Fat
27.78% Carbs
Diabetic Dry Dog Food
While we typically don't recommend choosing prescription food just because it has the word "prescription" in it, this veterinary food is quite good. It includes water as the first ingredient. Because this is a wet food, water can be expected to be pretty high on the list. After all, much of wet food contains quite a bit of moisture. If it didn't, it wouldn't be wet food.
Pork by-product is the second ingredient. This is not the most excellent option, but it isn't awful either. It is a meat course and a pretty good one at that. Pork is not tied to any health problems and very few dogs are allergic to it. By-products are somewhat controversial. They contain the "inedible" parts of the pig, like the feet, ears, snout, etc. While most people would not want to eat these parts of the animal, they are very nutritionally complete and resemble how our dogs would eat their prey in the wild. Because the source of this by-product is pork and not something vague like "animal by-product," we can rest assured that it is likely quality meat.
Chicken is the third ingredient, and then we have powdered cellulose, which is just fiber. As we have discussed, fiber can be extremely beneficial in a diabetic dog's diet because it slows down digestion and prevents bumps in blood sugar. This food is higher in fiber than most at 3.5%, likely due to this powdered cellulose additive. It also adds bulk to food without adding calories, which can be helpful for canines who have difficulty staying at a healthy weight and need to maintain a strong immune system.
The macronutrient content of this food is excellent. Carbohydrates are under 30%, with protein above 40%.
Runner-Up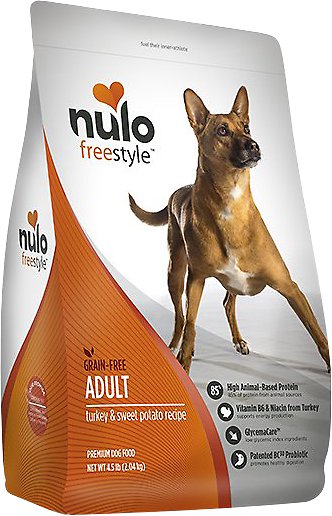 85% animal-based protein
Plenty of omega-3 and omega-6 fatty acids
Grain-free
Doggypedia rating: 4.5/5
First 5 Ingredients: Deboned Turkey, Turkey Meal, Salmon Meal, Chickpeas, and Chicken Fat.
Macronutrients (Dry-Matter Basis):
36.67% Protein
20% Fat
34.44% Carbs
Best low glycemic Dry Dog Food
The ingredient list of this adult food is near-perfect. It includes four animal-sourced ingredients in the first five ingredients, with chickpeas being the only thing that doesn't come from an animal. The meat sources are high-quality. Deboned-chicken is the first ingredient, and then this is followed up with turkey meal and salmon meal.
Don't let the term "meal" scare you. It just means that multiple parts of the animal are used, such as the cartilage and organs. While we wouldn't want to eat these parts, they are very nutritionally-packed and resemble how our dog would consume their prey in the wild.
Further down in the ingredient list, potatoes and peas are included. While we don't like seeing these products in a food due to their connection with heart disease, they are so low on the ingredient list here that there shouldn't be any problem.
The macronutrient content of this food is pretty good. We would have liked to see more protein and fewer carbs, especially given that this food is low-glycemic and suitable for diabetic pets.
While this food is near-perfect, the inclusion of peas and somewhat wrong macronutrient content prevented us from giving it a perfect 5/5 score.
Runner-Up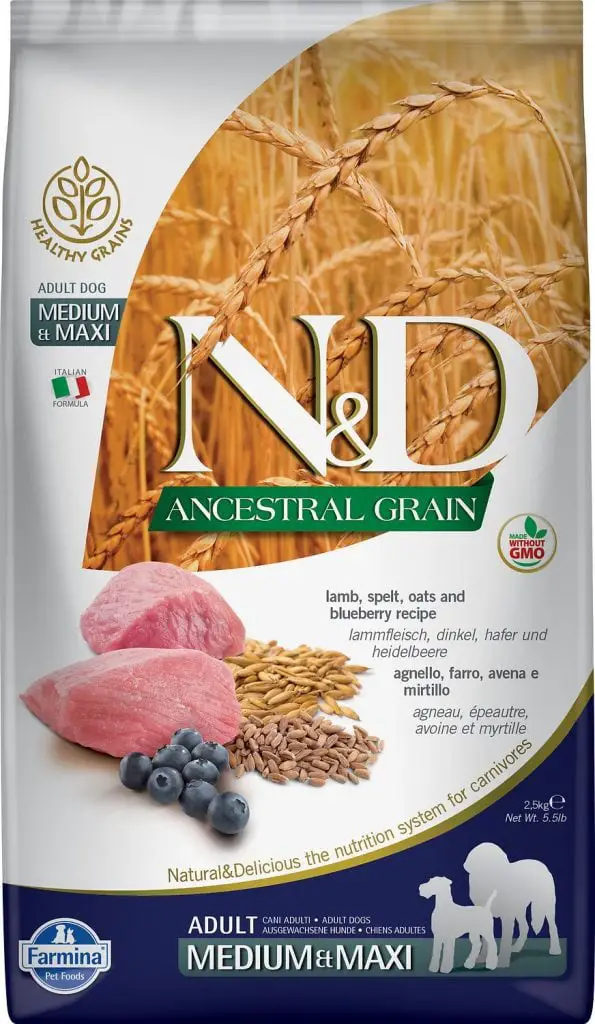 No peas
Low-glycemic
GMO-free
Doggypedia rating: 4/5
First 5 Ingredients: Lamb, Dehydrated Lamb, Whole Spelt, Whole Oats, Dried Whole Eggs.
Macronutrients (Dry-Matter Basis):
30.77% Protein
19.78% Fat
40.66% Carbs
Good glucose management dog food
This is a moderately good food. It has lamb as the first ingredient and the second. While this provides plenty of nutrients for dogs, lamb has been connected to specific instances of heart disease among dogs. However, this particular brand was not related to any of these deaths, so we feel comfortable recommending this food to our readers. It is likely that the heart issues were caused by deeper problems than just the type of protein used and also connected to other ingredients, like peas.
This formula also contains plenty of whole grains, which are suitable for a diabetic diet. The grains used contain many complex carbohydrates. However, we would have liked to see fewer grain products used overall and more protein sources. Finally, whole eggs round out the list as the fifth ingredient. Eggs are an inexpensive, high-quality nutrient source for dogs and are an excellent inclusion to any food.
The macronutrient breakdown is the place where we have our main problem. Carbohydrates are far too high for our liking. We typically like to see carbs at least under 30%, and this food has them up to 40.66%. Protein is also a little low, especially for a diet aimed at diabetic dogs.
Runner-Up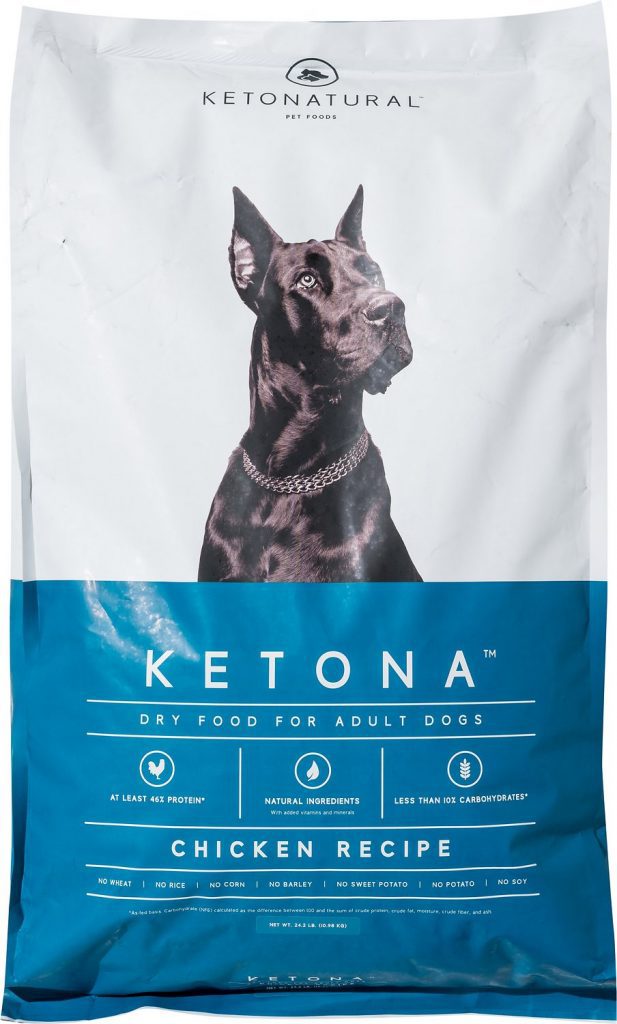 Very low carbohydrate content
Low-glycemic
High-protein
Doggypedia rating: 4/5
First 5 Ingredients: Chicken, Pea Protein, Ground Green Peas, Oat Hulls (Source of Fiber), and Chicken Fat.
Macronutrient (Dy-Matter Basis):
51.11% Protein
17.78% Fat
22.22% Carbs
over the counter diabetic dog food
This kibble is a great option for diabetic dogs. It is low-glycemic, which means it won't cause your dog's blood sugar levels to rise sharply.
It also has good macronutrient content. Protein is extremely high at 51.11%. However, this high protein content does not mean that this food is full of meat. Much of this protein likely comes from this food's second ingredient – pea protein. Because pea has been linked to taurine-deficiency and heart problems, this is troublesome. We also did not find added taurine in the ingredient section to make up for the addition of peas. However, the description of the food does claim that it has a high level of Taurine, though we found no evidence for this on the label.
The amount of fat and carbs are pretty good, though we would have liked to see a little bit more fat and a little fewer carbs. Both are about as low as we would like to see in a diabetic food though.
This food does not contain any of the ingredients diabetic dogs should avoid, like wheat and corn. All the ingredients appeared high-quality and suitable beside the peas, which we discussed earlier.
Runner-Up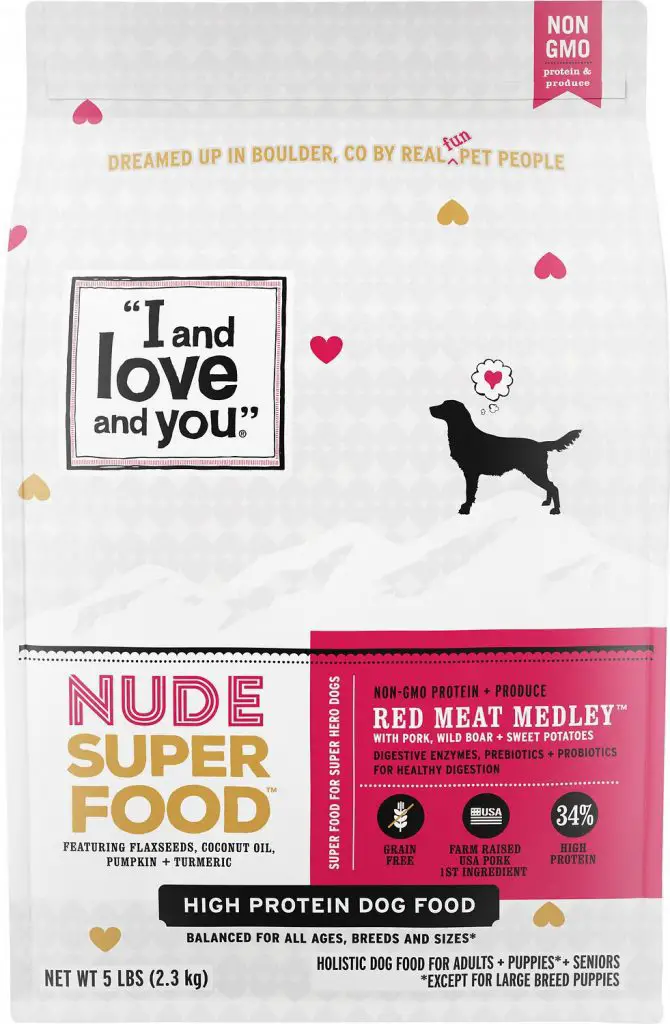 Formulated for dogs with sensitive stomachs
Contains no preservatives
Grain-free
Doggypedia rating: 4/5
First 5 Ingredients: Pork, Beef Meal, Herring Meal, Peas, Chickpeas.
Macronutrients (Dry-Matter Basis):
37.78% Protein
16.67% Fat
36.67% Carbohydrates
This food by I and Love and You is an excellent choice for most diabetic canines. It uses three different protein sources as it's first ingredients: pork, beef meal, and herring meal. We appreciate that quality pork is used as the first ingredient and that the protein comes from multiple animal sources. This prevents dogs from developing an allergy to an animal and decreases the likelihood that they'll create a condition that's connected to a single ingredient. In other words, including multiple animal sources in a food helps the dogs get a more well-rounded, diverse diet.
While both beef and herring are used in their "meal" forms, this isn't particularly worrisome. Meal means that multiple parts of the animal are used and mixed. This is similar to how dogs would eat in the wild – they would eat the whole fish, not just the meaty parts on the sides. Furthermore, the cartilage, ears, and parts of the animal we typically don't eat are very nutritious, especially for our dogs.
The macronutrient breakdown of this food isn't the best and is one of the reasons it only got a 4 rating. We would have loved to see carbs a lot lower, especially for diabetic dogs.
Best Fresh and Wet Dog Food For Diabetic Dogs
Our Pick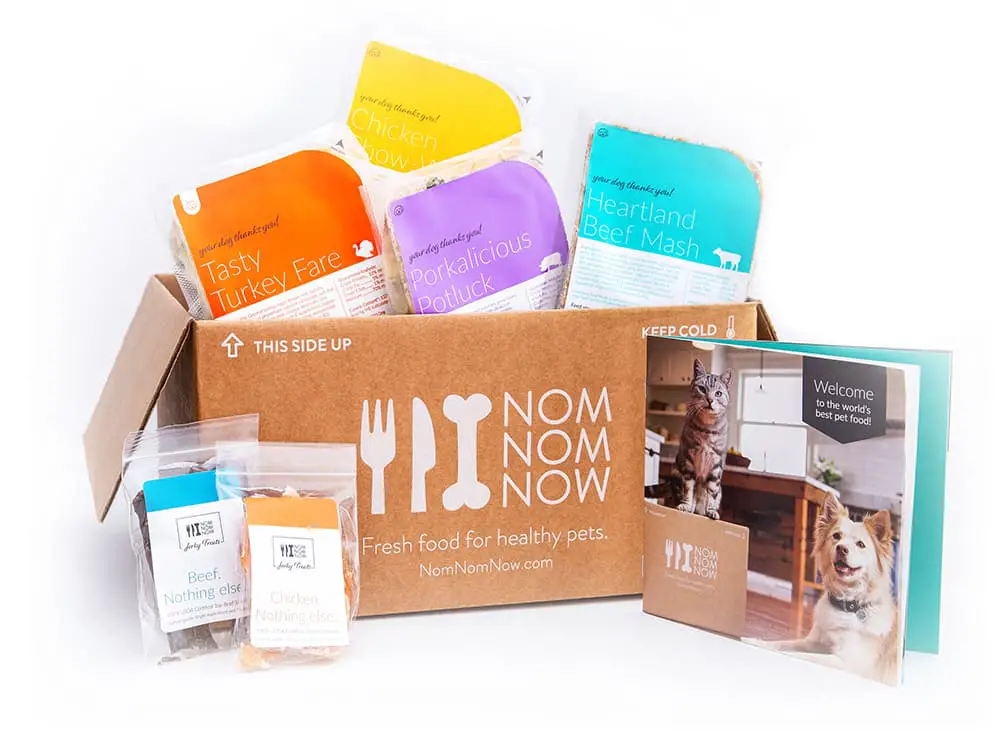 Fresh, human-grade ingredients
Near-perfect macronutrients
Convenient delivery
Doggypedia rating: 5/5
First 5 Ingredients: Diced chicken, sweet potatoes, yellow squash, spinach, and sunflower oil.
Macronutrients (Dry-Matter Basis):
37.04% Protein
16.67% Fat
35.19% Carbs
Great "Over the Counter" dog food for a diabetic
This dog food is unique in that it is fresh. Instead of being in a can or bag, it is delivered to your door regularly in a frozen state. Then, you thaw out the food and feed it to your dog. 

The main source of protein in this dog food is ground beef. This is a wonderful meat for many dogs, as it has the lowest likelihood of causing a reaction. Plus, ground beef is very high-quality and fit for human consumption. 

While this food is not specifically made for diabetic dogs, it is one of the best quality foods out there. As long as your dog does not have any problems with their pancreas, this fresh food is a good option. We recommend only sticking to one formula to make it easier to dose your dog's insulin.   A wonderful option.
Also Great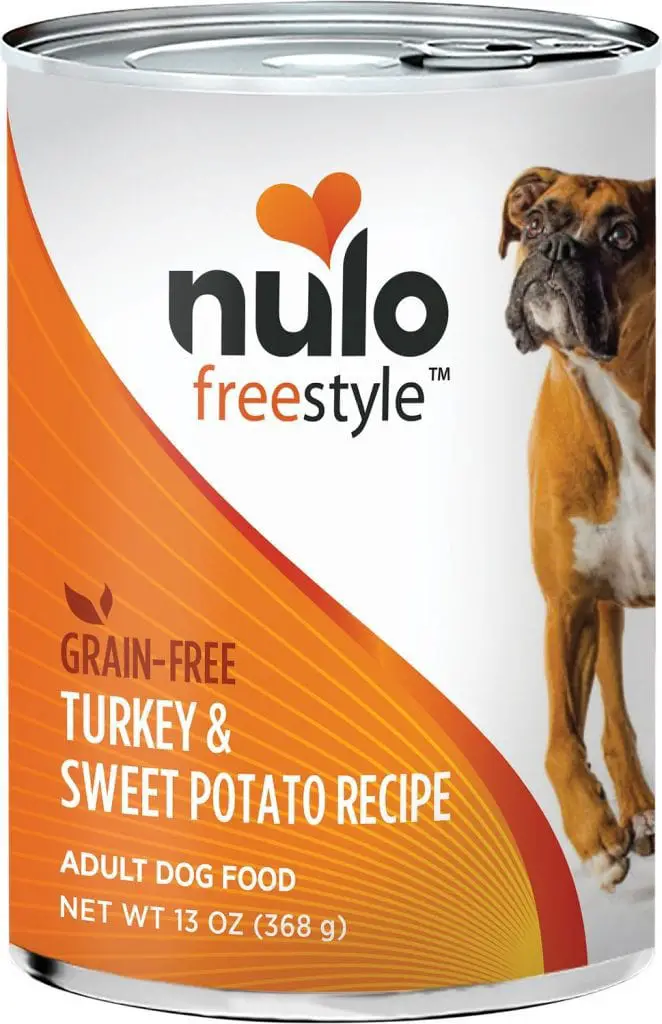 Grain-free
High levels of protein
Low glycemic index ingredients
Doggypedia rating: 5/5
First 5 Ingredients: Turkey, Turkey Broth, Turkey Liver, Peas, Sweet Potatoes.
Great Dog Food for Diabetic Dogs
Macronutrients (Dry-Matter Basis):
45.45% Protein
31.82% Fat
9% Carbs
This food is near-perfect for a dog with diabetes. It contains turkey, turkey broth, and turkey liver as the first three ingredients. Turkey is an excellent protein source to choose for your dog. It is not linked to any diseases and does not cause allergic reactions very often. The addition of turkey broth as the second ingredient helps drive up the amount of protein and adds some extra flavor to the wet food as well.
Peas and sweet potatoes are both included in the first five ingredients. Both of these veggies have been linked to heart problems in dogs. However, Nulo has never been connected to a case of heart disease in dogs, so we are still confident recommending this food to our readers.
The macronutrient breakdown of this food is excellent. It is very close to what dogs would eat naturally in the wild. Carbs are very low at only 9%, which is also great for diabetic dogs. Carbs break down into sugar and raise a dog's glycemic levels. Because we want to avoid this, choosing this food with an extremely low carb content can be extremely helpful. The contents of this food are also low glycemic, which means that the odds of your pooch's blood glucose levels rising are very low.  
Also Great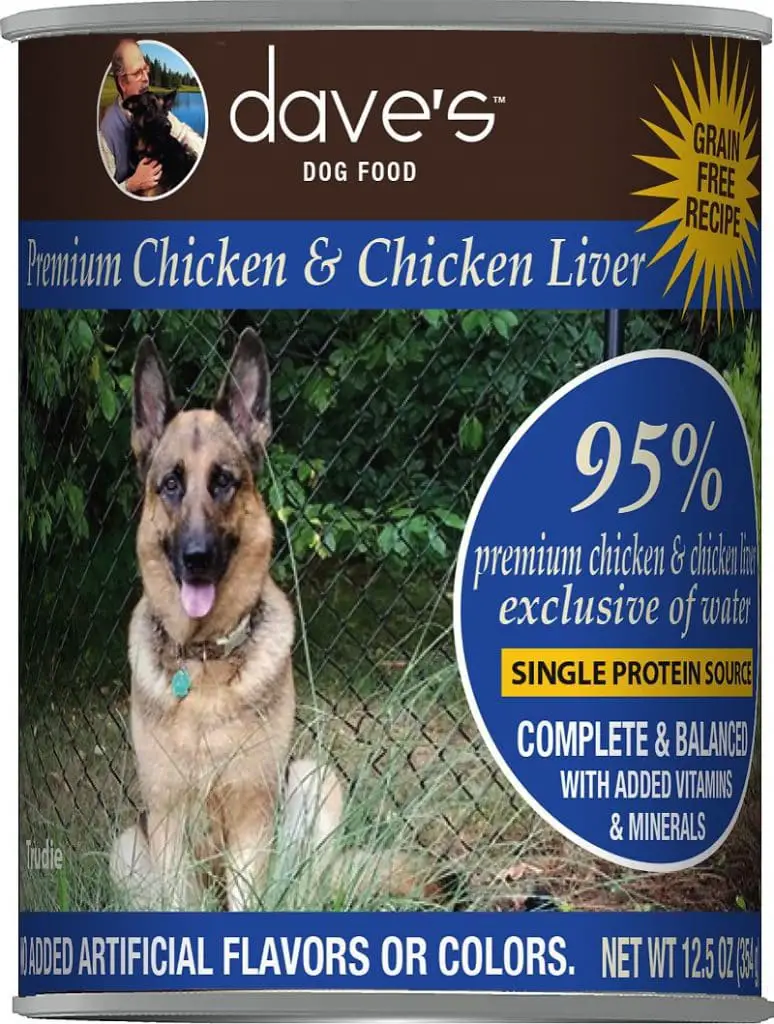 Mostly chicken
Low calorie to help with weight maintenance
Pea-free
Doggypedia rating: 5/5
First 5 Ingredients: Chicken, Water Sufficient For Processing, Chicken Liver, Guar Gum, Potassium Chloride.
Macronutrients (Dry-Matter Basis):
43.18% Protein
27.27% Fat
15.91% Carbs
This canned food is pretty much just made out of meat. It contains chicken as the first ingredient, and then water and chicken liver. The rest is mostly supplements, which are essential for a complete diet. Because of the lack of grains or vegetables, this food is a suitable choice for many dogs with diabetes. This food includes nearly 95% chicken, excluding the added water.
Furthermore, this food has fewer calories in it than most. This can help your canine with weight loss, which can affect diabetes. If your pooch is a good weight but has trouble staying an appropriate size, this food may also help keep them in a proper range.
Because this food relies mostly on chicken, the protein content is very high. Fat content is at a moderate amount, while carbs are low at only 15.91%. These proportions are suitable for all dogs and especially helpful to those with diabetes.
Also Great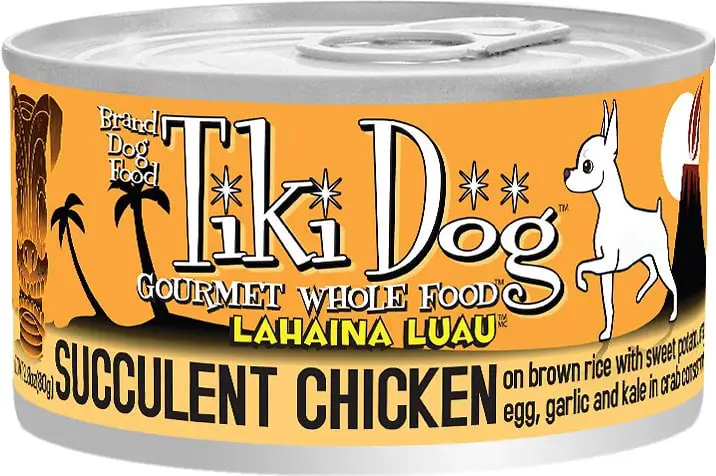 Pea-Free
Very high in protein
Low glycemic for lower glucose levels
Doggypedia rating: 5/5
First 5 Ingredients: Crab Consommé, Chicken Breast, Brown Rice, Sweet Potatoes, Crab.
Macronutrients (Dry-Matter Basis):
68.18% Protein
13.18% Fat
5% Carbs
Best low glycemic Food with High Protein
This premium food contains crab and chicken breast as the first two ingredients. Chicken is a decent protein source; through, we have less information about crab due to its rarity in food. Both of these ingredients are high-quality and human-grade.
Brown rice and sweet potatoes round out the ingredient list. Brown rice isn't excellent for diabetic dogs, but the fact that it is a whole grain product means that it is better than other grain options. Sweet potatoes are nutritious but have been connected with some instances of heart disease.
The macronutrient breakdown of this product is terrific. Protein is very high at 68.18%, while carbs are down to 5%. This is very similar to what dogs eat in the wild and is a fitting choice for any canine.
Read More Dog Food Reviews: Best Freeze Dried Dog Food or Best Beagle Dog Food
Diabetic Freeze-Dried Dog Food
Our Pick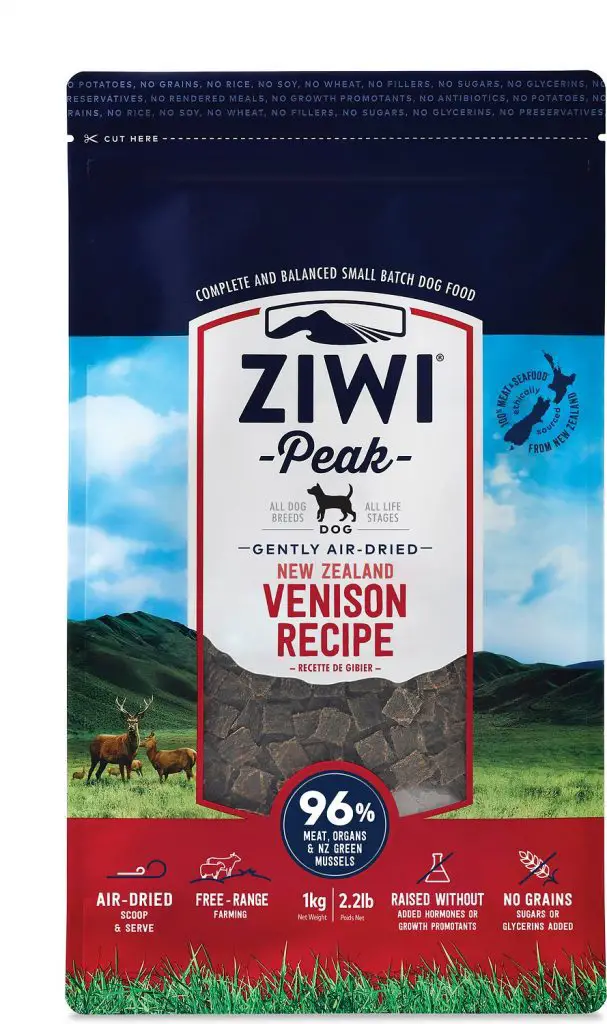 Contains nearly all meat
Very low carbs
Pea and grain-free
Doggypedia rating: 5/5
First 5 Ingredients: Venison meat, Venison liver, Venison Tripe, Venison Heart, Venison Kidney.
Macronutrients (Dry-Matter Basis)
52.33% Protein
29.07% Fat
9.3% Carbs
Best for Body Weight Management
This diabetic dog food is a little different from the others we've reviewed because it's freeze-dried. It is also not labeled as low glycemic. However, the ingredients and macronutrients line up wonderfully with what research tells us a diabetic dog needs. The first six ingredients are from animals. The first five are venison, while the sixth one is a mussel. Besides that, the rest of the ingredients are mostly just supplements. The only real vegetable or grain included is kelp.
This high volume of animal protein is terrific for diabetic dogs for reasons we previously discussed. The high amount of animal products also increases the protein content – all the way up to 52.33%. Carbohydrates are very low because of this, as well. In all, this makes this food entirely fitting for most pets with canine diabetes, as well as an excellent option for other dogs as well. The macronutrient content is near perfect and is one of the best in any diabetic food we've seen.
The only real complaint we have about this product is that the primary meat source is venison. This isn't the best meat source around, as it has been connected to some cases of heart disease in dogs. However, this food brand was not mentioned in these reports, so we feel it is safe to assume that this meat will not cause similar problems.
With that said, we do recommend switching your dog's food out often so you can avoid diseases that are linked to a single ingredient. Having a rotation of two to three meals is generally a good idea. It helps your dog have a complete diet and keeps their life a little more interesting. 
What Type of Food Should Diabetic Dogs Eat?
When choosing a dog food for your diabetic dog, you should work closely with your vet. There are also a few pointers you should keep in mind to ensure that you choose an appropriate food:
Food should be high in dietary fiber. Fiber increases the amount of time it takes for a dog to digest its meal. This makes digested carbohydrates enter your dog's bloodstream slower, which prevents spikes in blood sugar. Blood sugar spikes can cause damage to our dog's body if unchecked, so we want to avoid them as much as possible. Slower digestion also allows insulin time to work.
You should choose complex carbohydrates instead of simple carbohydrates. Complex carbs take longer to digest and therefore enter our dog's bloodstream slower. This also helps prevent blood sugar spikes.
Choose food with the correct number of calories to help your canine maintain a healthy weight. Obesity is a risk factor for diabetes and can make your dog's condition worse. Keeping your dog at a healthy weight is vital for their treatment.
Consider choosing a low-fat diet. Dogs with diabetes are at risk for pancreatitis, which is a life-threatening condition. To counteract this raised risk, some vets recommend feeding diabetic dogs a low-fat diet.
Your dog's food should also be low in carbs. Carbs break down into sugar inside your dog's body. Because diabetes is a condition that removes our dog's ability to regulate their blood sugar levels, we want to limit the amount of sugar they consume as much as possible.
Select whole grains. Whole grains are low glycemic and have moderate sugar intakes. Corn, wheat, potatoes, and rice are high on the glycemic index, however, which means they have high sugar content.
 Don't necessarily choose grain-free. Many pet owners interpret grain-free to mean low-carbs, which isn't necessarily true. Grain-free foods are often packed full of vegetables like potatoes and peas instead. You should always check the dry-matter macronutrient calculation to see if a food has a high amount of carbs or not. Furthermore, grain-free foods tend to have a higher calorie count than grain-inclusive foods. This higher number of calories can be troublesome to some canines.
Remember, treats can also impact a dog's blood sugar levels. You should keep all these pointers in mind for selecting dog treats, as well. Many treats are full of carbs, which is not suitable for diabetic dogs.
In today's market, many prescription canine diets are available for any number of health problems. While you might be tempted to select one of these diets for your diabetic dog, you should be aware that many are full of low-quality ingredients. A veterinarian doesn't even formulate some!
Let's take Hill's Prescription Diet w/d, for example. This diet is prescribed for "digestion, weight, glucose, and urinary management." The first five ingredients are Whole Grain Wheat, Powdered Cellulose, Chicken Meal, Whole Grain Corn, and Corn Gluten Meal. As you can see, there is only one meat ingredient in the first five products. The rest is grain and ingredients that diabetic dogs should be avoiding, like corn.
While grain products are not necessarily harmful, they should not be included as the first ingredient for a variety of reasons. It is not in a dog's natural diet, does not contain many of the nutrients dogs need and is a common allergen. This diet is also costly, especially when considering the low-quality ingredients it contains.
Furthermore, the macronutrient dry-matter content is:
17.05% Protein
6.82% Fat
67.05% Carbs
That is far from the low-carb diet a diabetic dog should be consuming. It is also nowhere close to a dog's optimal intake of 44% protein, 52% fat, and 7% carbohydrates according to scientific research.
In many cases, you're better off choosing a quality commercial diet and an overpriced prescription one.
How We Picked the Best Diets
We ask ourselves several questions when reviewing each food. You should ask yourself these questions when looking at any food for your canine:
 How close are the macronutrients to a dog's optimal diet? A dog's optimal diet is approximately 44% protein, 52% fat, and 7% carbohydrates. We aim to select foods that are close to this optimal range as much as possible. However, because many food companies completely ignore this research, this is often difficult.
Does it include quality meat? While dogs can eat grains, they thrive most on beef. Meat contains many of the nutrients and amino acids dogs need to stay healthy. However, not all meats are the same. Beef, turkey, and pork are often the best meat sources to choose, as they are not usually the cause of allergies and provide many of the vitamins dogs need. Chicken is also a right choice, though dogs are somewhat more likely to be allergic to it. You should avoid meat sources like fish, lamb, bison, and similar meats as they have been connected by the FDA to severe heart problems in dogs.
Does it include quality vegetables? If a food contains vegetables, they should be high-quality. Peas should be avoided if at all possible since they have been linked to severe heart conditions. It is also best if lentils and potatoes aren't included for the same reason. Vegetables should be used to complete the nutrition of the food, and not just as fillers.
Does it meet AAFCO standards? The AAFCO sets rules for proper nutrition in food. If a food meets these standards, that means it contains the proper nutrients for your dog. It is important to note that companies do not legally have to provide this complete diet, so looking to the "formulated according to AAFCO standards" on any container of food is essential.
Does it line up with the optimal diabetic dog diet? As we previously discussed, a diabetic dog has particular dietary needs. You should select food that lines up with these needs.