Dachshunds are immediately recognizable. These dogs are unbeatably unique thanks to their long back and tiny, short legs. According to the American Kennel Club, the Dachshund ranks 12 in popularity out of 191 breeds. 

When you imagine a Dachshund, you probably think of the little, shorthaired, brown dogs. However, there are actually three different Dachshund coat types, one of which is actually quite long. Yes, you heard that right. There is such a thing as a long-haired Dachshund. Furthermore, Dachshunds actually come in many different coat colors and patterns, with brown just being the most popular in America. 

As you can see, Dachshund come in more different shapes and sizes than most people give them credit for. No matter what sort of Dachshund you've recently adopted though, we've gathered together a plethora of suitable names on this ultimate name list. 
Top 10 Most Popular Dachshund Names
There is not a single, over-arching organization that keeps tabs on what everyone names their dogs. However, we can pull data from a few different organizations to figure out the most popular Dachshund names. To our surprise, popular Dachshund names aren't actually that different from what people name dogs of other breeds. 

Here are the top 10 names you might want to choose for your new pooch: 
Bailey
Bella
Charlie
Cooper
Daisy
Lucy
Luna
Max
Molly
Sadie
Learn More: Top 500+ Korean Dog Names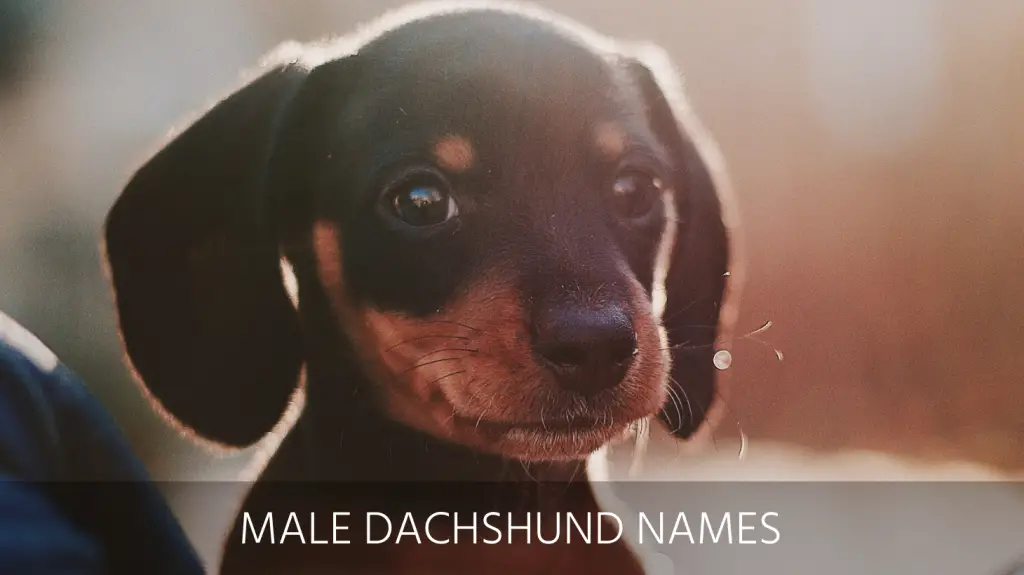 Male Dachshund Names
Striking the balance between masculine and dainty can be difficult. Dachshunds are little hounds, but they can really hold their own. After all, they were bred to flush badgers out of dens. That's an overwhelmingly dangerous job! 

However, they still deserve a name that takes their small size into account as well. These names suitably masculine and appropriate for the smaller stature of the Dachshund.
Arlo
Arthur
Atom
Avalanche
Beast
Ben
Benji
Billy
Blotches
Bobby
Bogart
Brindle
Bristle
Bronze
Butch
Butters
Captain
Carlo
Carter
Castle
Chaos
Chaplin
Charm
Checkers
Cheese
Cheetah
Cobbles
Cola
Crumb
Danny
Dash
Dollop
Domino
Dotty
Droplet
Fawn
Fig
Finn
Fleck
Freckles
Grain
Gravel
Harry
Henry
Herb
Hulk
Iggy
Jack
Jonas
Journey
Legend
Lenny
Leon
Leopard
Levi
Lofty
Logan
Ludo
Luke
Marbles
Mason
Merle
Milo
Motley
Mottle
Noah
Oli
Orchard
Owen
Petey
Pippin
Poirot
Racket
Radcliff
Reginald
Rip
Robin
Rolly
Sam
Seb
Senate
Sergeant
Shady
Silver
Slinky
Smudge
Specky
Speedy
Splodges
Splotch
Spock
Spotty
Sprinkles
Starfleet
Stipple
Storm
Streaks
Stretch
Tabby
Tank
Theo
Thunder
Timmy
Toby
Tom
Whirl
Wyatt
Learn More: Top 500+ Cool Dog Names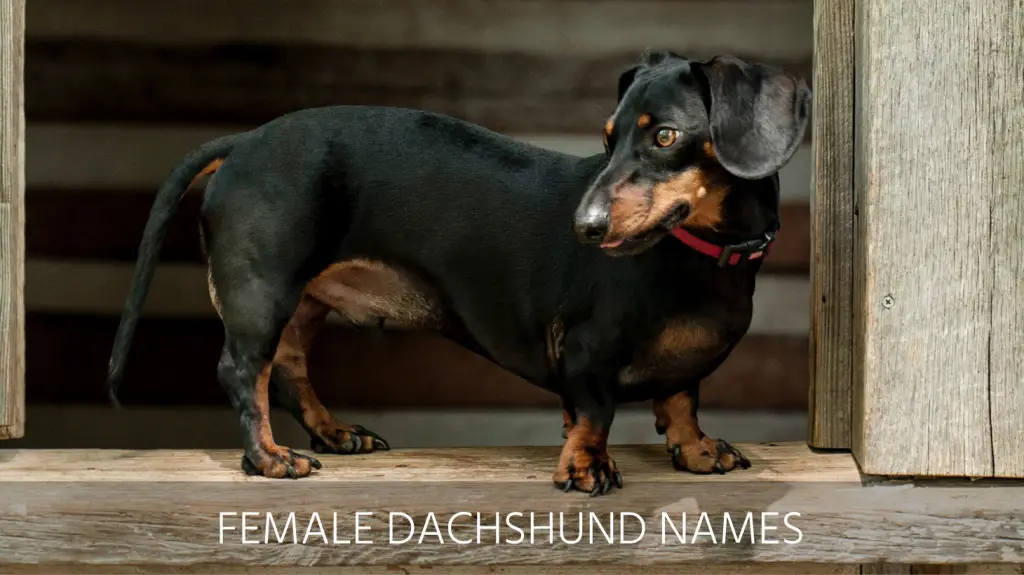 Female Dachshund Names
Girl Dachshund names are a little easier. Many feminine names work very well for Dachshunds. Of course, some are more suitable for others. Here are some of our favorites:
Abi
Alena
Annie
Athena
Beta
Betty
Bonnie
Caramel
Darla
Delta
Dixie
Doris
Earhart
Edie
Edna
Elle
Emma
Ethel
Farrah
Florence
Frankie
Freya
Gamma
Gladys
Harriet
Hula
Illy
Indie
Indigo
Ingrid
Jade
Jelly
Juno
Karina
Kazoo
Kenna
Krissy
Leah
Lola
Lotta
Lupine
Mabel
Marla
Martha
Millie
Moana
Mona
Nella
Nickle
Noodle
Nora
Norah
Odessa
Olga
Orla
Purdy
Queeny
Quinn
Romy
Rosa
Roxanne
Roxie
Sassy
Shadow
Sierra
Silvy
Sugar
Tahoe
Tess
Tilly
Zoe
Learn More: Top 300+ Border Collie Dog Names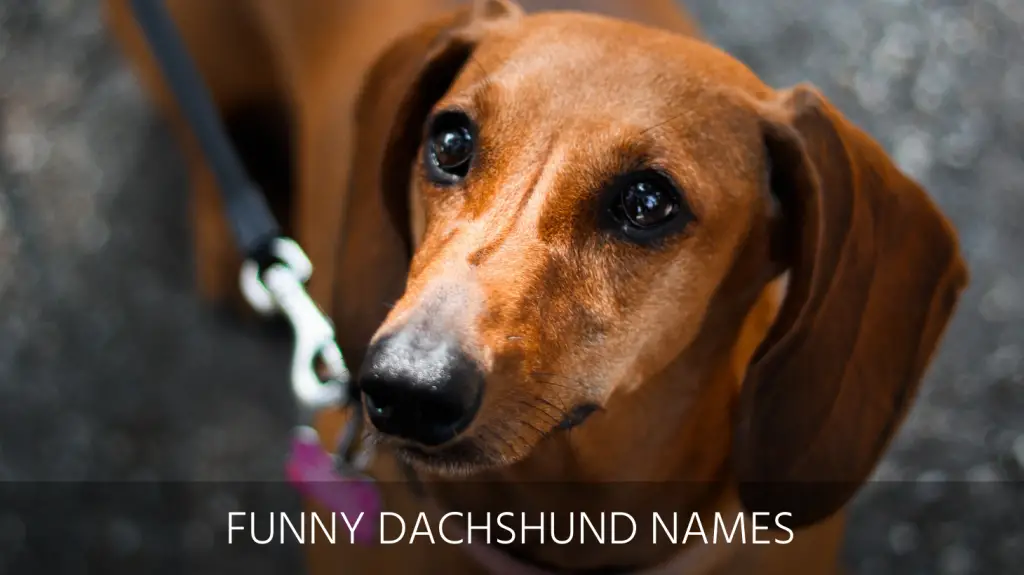 Funny Dachshund Names
Dachshunds have quite a funny body shape. Plus, they're popularly known as "weiner dogs" – which is amusing in and of itself. Suitably, there are many comical dachshund names available. Whether food-inspired or punny, these names provide you with plenty of humorous name options.
Baby
Banger
Bean
Bitty
Bloedworst
Bologna
Boudin
Bratwurst
Cervelat
Chipolata
Chorizo
Drisheen
Elf
Frankfurter
Glamorgan
Goetta
Haggis
Half Pint
Helzel
Junior
Lincolnshire
Little
Lolita
Low Rider
Mettwurst
Mini 
Mite
Morsel
Pebbles
Peewee
Puny
Runty
Salami
Saucisson
Saveloy
Scrappy
Shorty
Shrimp
Skilandis
Smalley
Squat
Squirt
Teensy
Tiny
Vienna
Weisswurst
Wiener
Learn More: Top 400+ Scottish Dog Names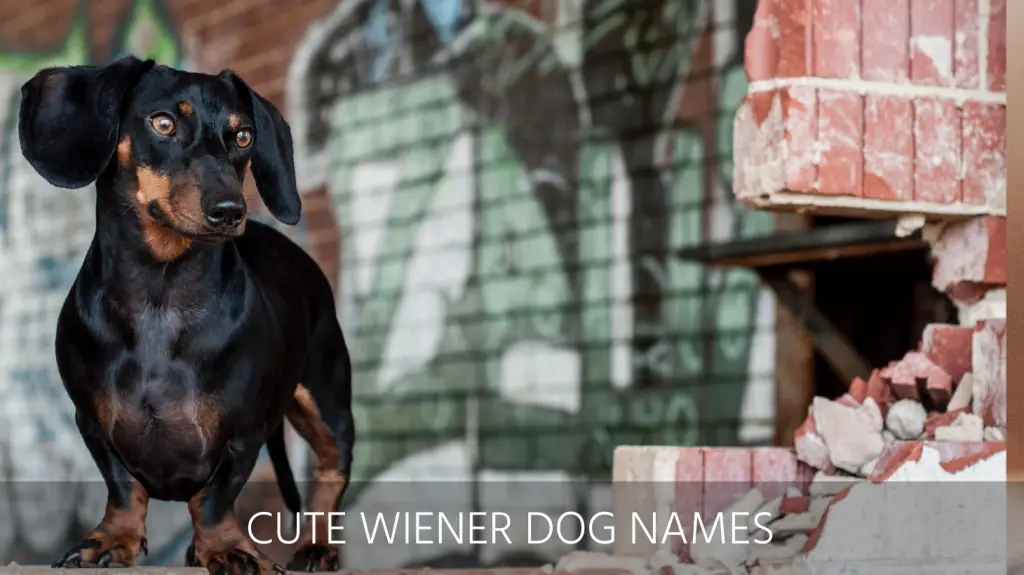 Cute Wiener Dog Names
These dogs are absolutely adorable. Their tiny legs and oversized body make them absolutely weenie. Luckily, there are quite a few cute wiener dog names available. 
A.J.
Abby
Addie
Addison
Adelaide
Adele
Agatha
Aggy
Aida
Airabell
Aja
Alfie
Ali
Alice
Allie
Alma
Amanda
Amber
Amelia
Amelie
Ames
Amos
Amy
Anderson Pooper
Angel
Angie
Angus
Anika
Annabelle
Ansel
Anya
Applejack
Apricot
April
Argo
Aria
Arianna
Ariel
Artie
Aubree
Audrey
Auggie
Augie 
Autumn
Ava
Avery
Babe
Babette
Babushka
Bacon
Balto
Bambi
Banjo
Barkley
Barney
Bear
Beatrice
Bee
Bell 
Benjamin
Bernie
Berty
Bessie 
Betsy
Billie Jean
Bindi
Bingo
Biscuit
Bitsy
Blue 
Blueberry
Boo 
Boots
Bosco
Bowie
Brain
Brewster
Brian Griffin
Brodie 
Brownie
Bubblegum
Bubbles
Bucky
Buddy
Buffy
Bugsy
Bullseye
Bunny
Buttercup
Butternut
Butterscotch
Button 
Caesar 
Candy 
Cappuccino
Carly
Carmel
Carmen
Casper
Cece 
Chaca
Cha-Cha
Chantilly
Charlotte
Cherry
Chewie
Chi Chi
Chloe 
Choco
Chocolate
Cinderella
Cinnamon
Claire
Clara
Cleo
Clover
Coby
Coco 
Coconut
Cookie
Cookie Monster
Copernicus
Copper
Cora
Cordelia
Corky
Cotton
Cricket
Cuddles
Cupcake
Cupid
Cutey
Cutie
Daisy Duke
Danica 
Daphne
Dee Dee 
Dido
Digby
Dino
Dolly
Doonesbury
Dora
Dorothy
Dory
Dot
Dottie
Duffy
Earnest
Eartha
Eddie 
Edison
Eleanor
Ella
Ellie
Elmo
Eloise
Elsa
Emmie 
Emmylou
Enid
Ernie
Esme
Eve
Evy
Ewok
Fergus
Fifi
Flo
Fonzie
Frannie
Frida
Fuzzy
Gabe
Georgia
Gertrude
Ghost
Gidget
Gigi
Ginger
Gizmo
Goldie 
Goldilocks
Grace
Gracie
Gulliver
Hannah
Hansel
Happy
Harper
Hazel
Hershey
Hobbit
Holly
Honey
Honeybear
Honeybee
Isabella
Isabelle 
Isadora
Izzy
Jacques
Jasper
Java
Jawa
Jazzy
Jellybean
Jemima
Jerry Lee
Jill 
Jinx
Jojo
Jordi 
Josie
Joy
Jude
June
June Bug
Justine
Kahlua
Kaia
Kenji
Kennedy
Kewpie
Kiki
Kipling
Kirby
Kit
Kit Kat
Kiwi
Koda
Kona
Lacey
Lad
Lady
Lady Rover
Ladybug
Laika
Lassie
Leela
Leeloo
Leisel
Lena
Libby
Lila
Lilly Bell
Lily 
Lincoln
Lizzie 
Lo
Lois
Lollipop
Loretta
Love
Lucky
Lucy Lu
Lulu
Lyric
Madden
Madonna
Magdalena
Maggie
Mai Tai
Maisie
Mamba
Mamie
Maple
Marigold
Marilyn
Marley
Marshmallow
Mary
Mashmallow
Mavis
May
Maya
Meadow
Meeko
Melody
Mercy
Mika
Miles
Miley
Mimi
Minnie
Miss Beazley
Mitch
Mitsy
Mocha
Monet
Monty
Moon
Mopsy
Mouse
Mowgli
Muffin
Munchkin
Myrtle
Nadia
Nala
Nana
Naomi
Natalie
Nellie
Nema
Nemo
Nermal
Nessie
Newton
Nikita
Noalie
Noodles
Norma
Nugget
Nutmeg
Octavia
Odie
Old Yeller
Olive
Olivia
Opal
Opie
Oreo
Oscar
Otis
Paisley
Panda
Papoose
Paris
Patches
Peach
Peanut Butter
Pearl
Pee Wee
Peggy
Penelope
Penny
Pepper
Percy
Perdita
Petra
Petunia
Phoebe
Picasso
Pinky
Piper
Pippa
Pippi
Pixie
Pluto
Poet
Polly
Poochie
Pookie
Poppy
Porkchop
Precious
Princess
Puddin
Pugsley
Pumpkin
Punky
Quinsy
Rainbow
Rascal
Reba
Reggie
Reuben
Rey
Ridley
Rigby
Riley
Ripley
Rococo
Roma
Roosevelt
Rose
Rosebud
Roxy
Ruby
Ruffles
Rumba
Sabine
Sadie Mae
Sally 
Sandy
Sansa
Scampers
Scooter
Scottie 
Scout
Sebastian
Seuss
Shasta
Sheldon
Simba
Sinclair
Sissy
Skip
Skittles
Slink
Smooches
Snickers
Snookie 
Snowball
Snowflake
Snuggles
Sonya
Sophia
Sophie 
Sorbet
Sparkle
Spencer
Spot
Spud
Squat
Star
Steffi
Stewie
Stinky
Sunshine
Sweet Pea
Sweetie
Sydney
Tabitha
Taffy
Tahiti
Tallulah
Tasha
Teddy
Teegan
Tessa 
Thea 
Theodora
Tiara
Tiger
Tizzy
Tootsie
Toto
Tricky
Trixie
Trudy
Valentine
Violet
Waffles
Wagner
Waldo
Wallace
Wally
Walter 
Whoopi
Widget
Willa
Willie
Willow
Wilma
Winn-Dixie
Winnie
Wishbone
Wrigley
Wrigley
Wyatt
Yasmine
Yogi
Yoko
Yoshi
Yuki
Yumi
Yuna
Zailey
Zeda
Ziggy
Zoe 
Zoebelle
Zuni
Zuzu
Learn More: Top 200+ Native American Dog Names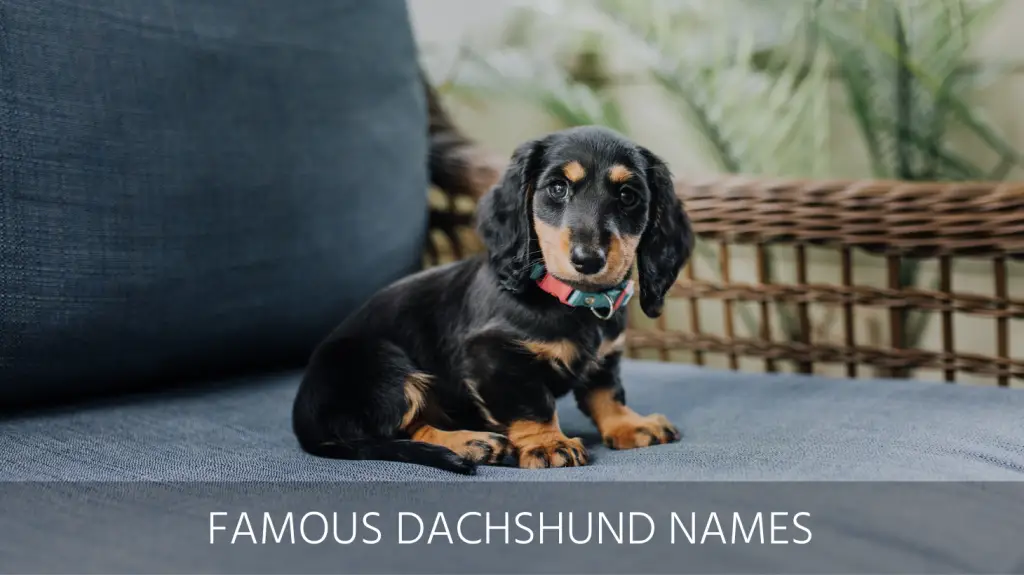 Famous Dachshund Names
There are quite a few celebrities who have Dachshunds, as well as dogs that are famous in their own right. 
Greta: Dita Von Teese
Grеnоuіllе: Napoleon Bonaparte
Helena: William Randolph Hearst
Hexl: Kaiser Wilhelm II
Jed: P.G. Wodehouse
Loeki: Napoleon
Louie: Adele
Lump: Pablo Picasso
Maria: Marlon Brando
Mia
Nate
Nutmeg
Peanut
Pepperoni
Princess Lilo
Rosie
Scrappy Doo
Slinky
Snoop
Learn More: Top 400+ Husky Dog Names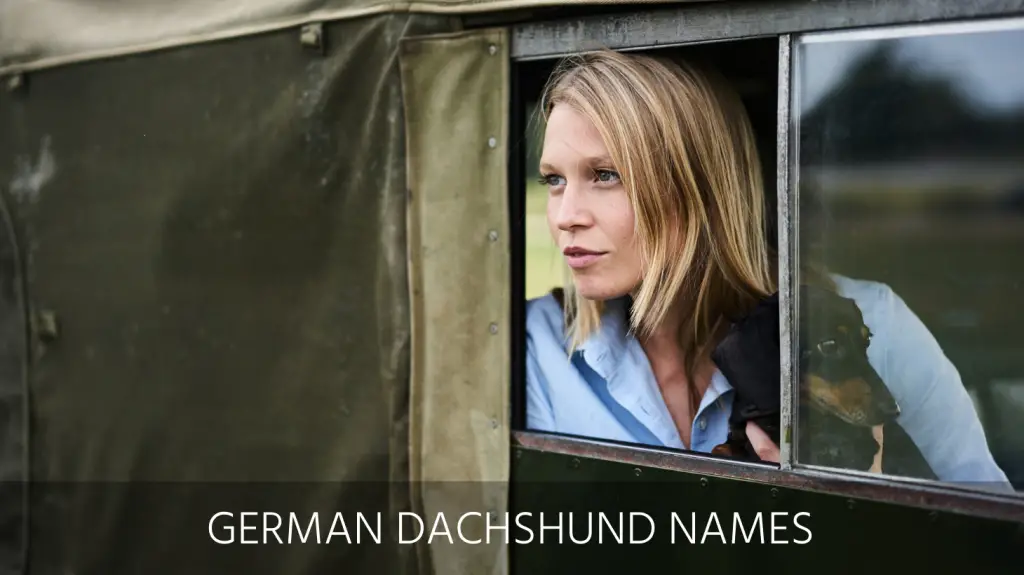 German Dachshund Names
Dachshunds hail for Germany, as you can probably tell based on their names. Here are some more popular German names for your canine: 
Anna
Bernhard
Bruno
Carl
Christa
Claus
Edith
Emil
Erika
Eva
Felix
Franz
Frida
Gerda
Gunter
Hans
Heinz
Herbert
Ida
Ilse
Johanna
Jutta
Karla
Kurt
Leni
Lina
Lotte
Maja
Manfred
Margot
Matteo
Moritz
Oskar
Otto
Rolf
Ruth
Ursula
Werner
Wilda
Wolfgang
Learn More: Top 500+ French Bulldog names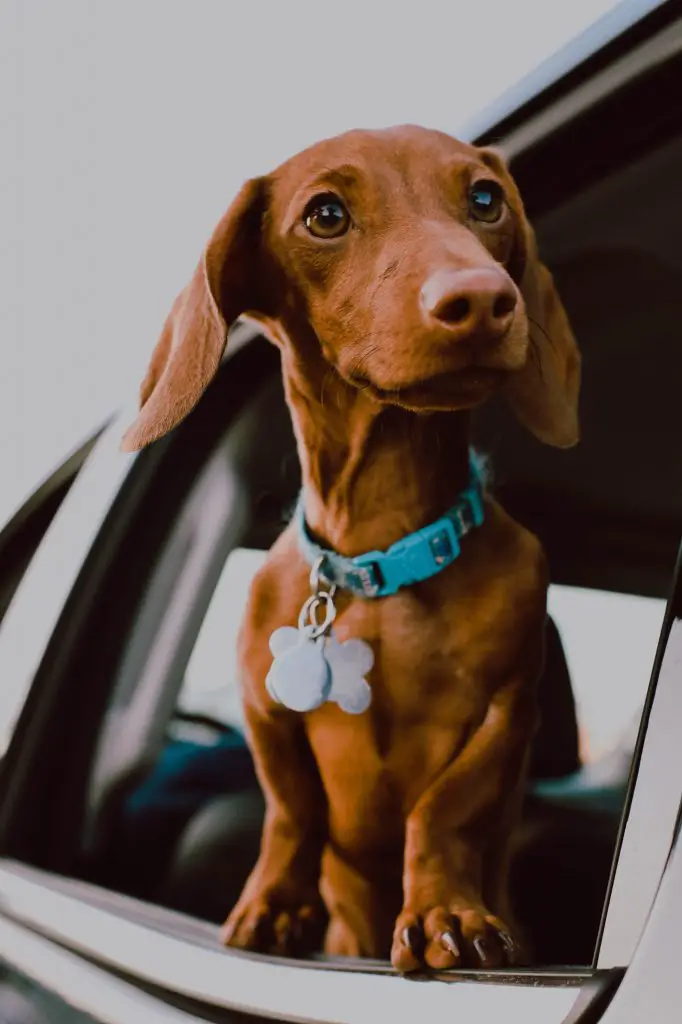 What Did You Name Your Dachshund
We've included a whopping 844 names for your Dachshund on this list. Surely, out of that many options, you should find at least one name that you like and is suitable for your canine. 

Of course, as we have already discussed, Dachshunds come in many different shapes and sizes. Some have long hair; some have short hair. Many in America are brown, but you can also find speckled Dachshunds and those of other patterns. Dachshunds also come with many different personalities. While many will be friendly and curious, but each dog will have their own unique behavior that will set them apart. 

No matter what your Dachshund looks or acts like though, there is a name for them on this list. 

The most important factor in choosing a name is selecting something you like. Some readers will love our funny name section, while others gravitate towards cute names. In the end, it doesn't really matter as long as you choose a name that you like.

With that said, you should avoid names that sound like the names of your other pets or other people in your household. The last thing you want is for your dogs to never know who you're calling, or for your daughter to always think you're actually calling the dog. Names should also sound unique from any commands you plan on teaching your dog, as that can get mighty confusing as well.