Siberian Huskys have become increasingly popular, especially after the popularity of shows like Game of Thrones. These beautiful dogs were ranked 14 out of 191 breeds in popularity by the American Kennel Club. With these dogs' beautiful eyes and wolf-like appearance, it is no wonder why they are so popular. 

However, these dogs are known for being mischievous and quite stubborn. If you've recently adopted one of these adorable canines, you might want to consider choosing a name that embodies their unique appearance and independent personality. 

We've collected some of the best husky names on this list. Whether you want something traditional or unique, you can find an appropriate moniker on this list.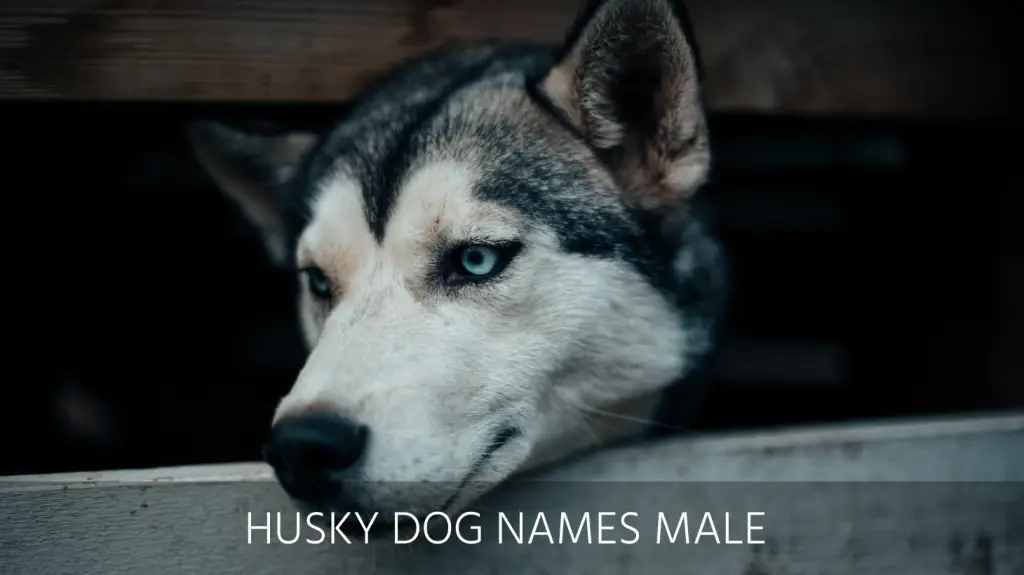 Husky Dog Names Male
Luckily, male husky dog names are not hard to find. In fact, nearly any masculine name would work for a male husky. Of course, you should take your dog's personality and appearance into account when naming them. The name "Blue" might be a great option for a husky with stunning blue eyes but probably won't work very well for grey husky with brown eyes. 

Consider some of these male dog names for your new husky. We've included some of the most popular names on this list, as well as a few that are a little more unique. 
Apollo
Archie
Atlas
Bailey
Balto
Bandit
Banshey
Baxter
Bear
Beau
Benji
Benny
Bentley
Blue
Bo
Boomer
Boris
Brady
Brody
Bruce
Bruno
Brutus
Buddy
Buster
Cash
Chance
Charlie
Chase
Chester
Chewy
Chico
Coco
Cody
Comet
Cooper
Cooper
Cosmo
Dante
Dash
Dexter
Diesel
Duke
Echo
Fable
Finn
Frankie
Fritz
George
Gizmo
Gunner
Gus
Hank
Harley
Henry
Houdini
Huck
Hunter
Ivan
Jack
Jackson
Jake
Jasper
Jericho
Joey
Kai
Kobe
Koda
Leo
Lobo
Louie
Lucky
Luke
Mac
Mako
Malakai
Marley
Maverick
Max
Milo
Moose
Murphy
Neo
Niko
Oliver
Ollie
Oreo
Orion
Oscar
Otis
Peanut
Prince
Rex
Riley
Rocco
Romeo
Roscoe
Rudy
Sam
Sammy
Samson
Simba
Smokey
Tank
Teddy
Theo
Thor
Toby
Togo
Tucker
Tyson
Winston
Zeke
Zeus
Ziggy
Learn More: Top 300+ Border Collie Names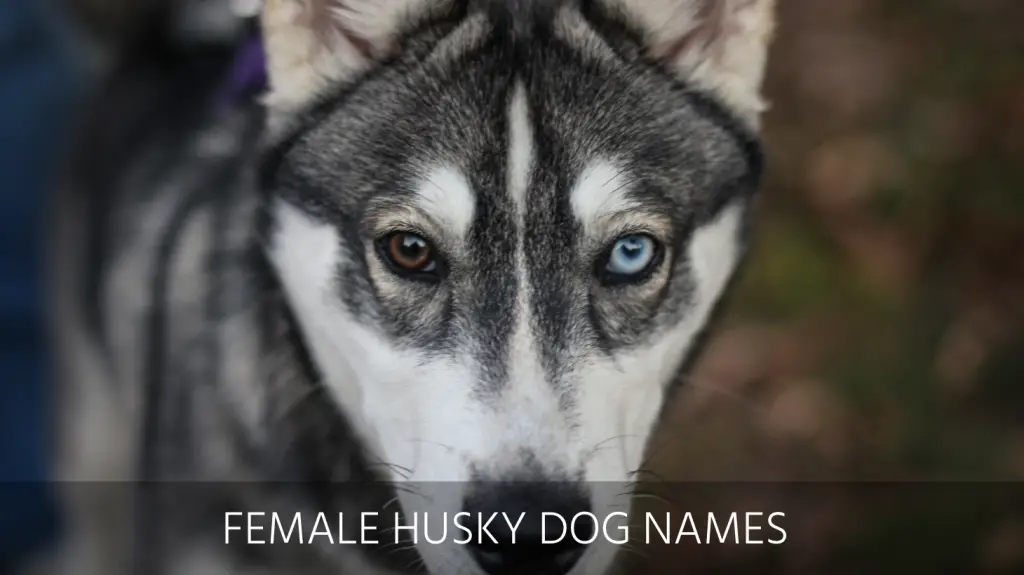 Female Husky Dog Names
Looking for an elegant and beautiful name for your female husky? Then this is the list for you. Female Huskies are known or being graceful and strong. However, they can also be quite clumsy and truthfully, not as smart as they look.

We handpicked this huge list of husky names to help you choose one for your new female husky. Many of these names are incredibly unique, while others are on the more popular side. Either way, these were some of our favorite names. 
Akira
Alina
Anastasia
Anya
Arya
Astra
Babushka
Bailey
Bella
Bianca
Celeste
Cheyenne
Empress
Freya
Genesis
Hera
Indigo
Irina
Elke
Espirit
Kira
Kyra
Mika
Mischa
Misty
Mya
Nala
Nikita
Nova
Pearl
Quinn
Ripley
Sadie
Sasha
Sava
Scout
Shasta
Sheba
Shiloh
Star
Tasha
Willow
Zia
Learn More: Top 400+ Scottish Dog Names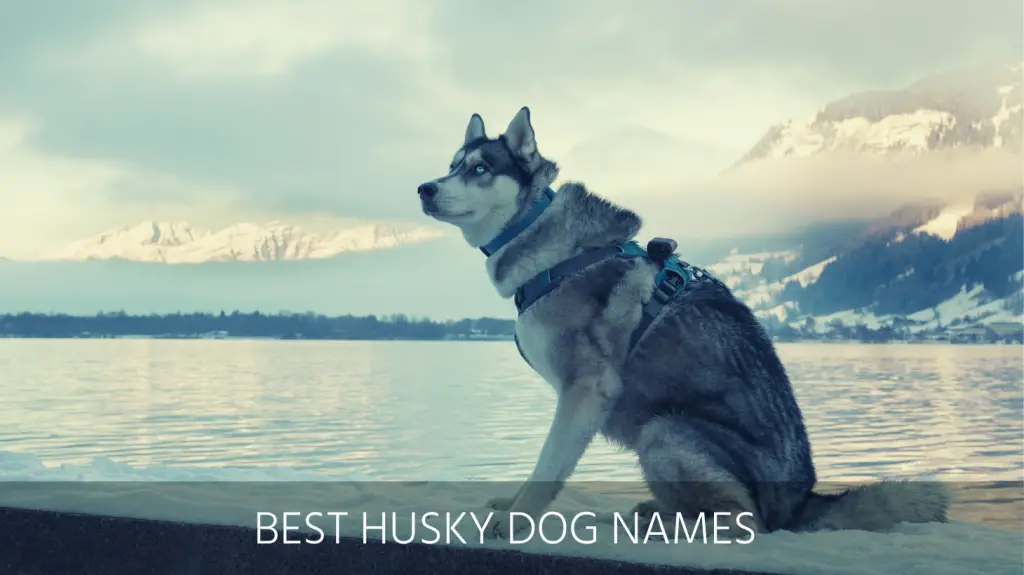 Best Husky Dog Names
Not all names divide easily along masculine and feminine lines, especially those names that relate to geography or other natural features. Of course, these nature names are some of the best Husky names you can find. We've included many natural names for you to choose from on this list, as well as a couple of other unisex options. 
Acacia
Aerie 
Alaska
Alder
Alpine
America
Angora
Ash
Aspen
Aurora 
Autumn
Avalanche
Badger
Bayou
Bengal
Birch
Bison
Blizzard
Bluff
Boa
Boulder
Briar
Buck
Butternut
Caldera
Canyon
Cascade
Cedar
Cheetah
Chestnut
Cinder
Cliff
Clover
Coral
Creek
Cricket
Cypress
Daisy
Dakota
Dale
Dandelion
Delta
Denali
Dusk
Dusty
Eagle
Elm
Ember
Fargo
Fern
Flint
Forest
Frosty
Gaia
Glacier
Hawk
Hawthorn
Holly
Ice
Ivy
Jackal
Juneau
Juniper
Kenai 
Kodiak
Linden
Lion
Luna
Lynx
Maple
Meadow
Mesa
Midnight
Moss
Nome
North
Oak
Oasis
Ocean
Otter
Phoenix
Polar
Quetzal
Rain
Ranger
Raven
Ravine
Redwood
Reed
River
Sable
Sage
Scout
Sequoia
Shadow
Shark
Siberia
Sierra
Sky
Snow
Spruce
Storm
Summit
Tempest
Terra
Thorn
Tiger
Timber
Tor 
Tundra
West
Windy
Winter
Yeti
Yukon
Learn More: Top 900+ Australian Shepherd Dog names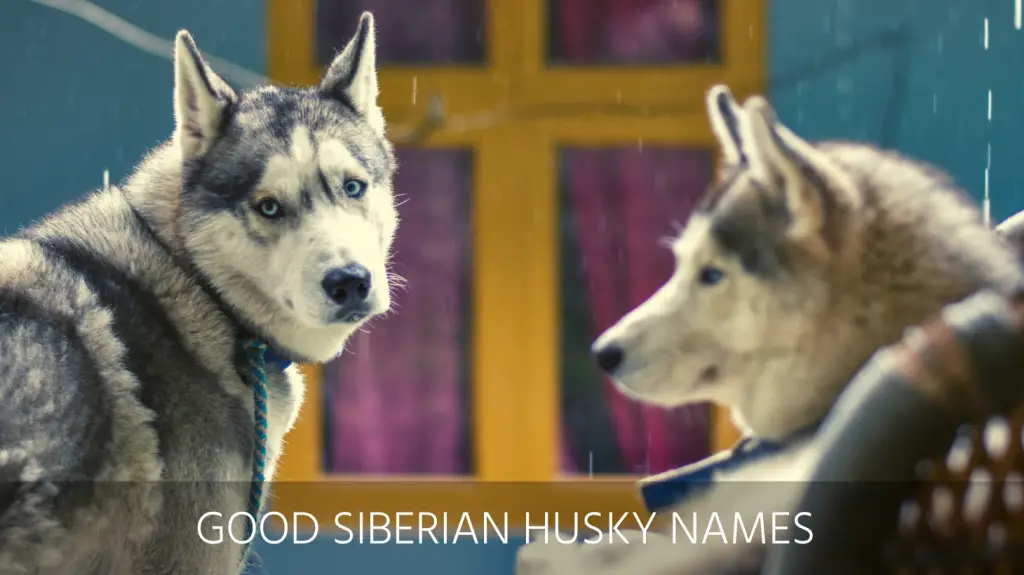 Good Siberian Husky Names
Perhaps the most suitable husky names are those in Inuit, which is the language spoken in the area huskies were originally bred. Here are a few dog names in Inuit for you to choose from:
Adlartok: "clear sky"
Ahnah: "a wise woman"
Akna: "Inuit goddess of fertility"
Amaruq: "grey wolf"
Aput: "snow"
Chinook: "warm wind"
Cupun: "coal"
Ikiaq: "red spruce"
Kavik: "wolverine"
Miki: "small"
Miska: "little bear"
Nanuk: "polar bear"
Neko:  "woman"
Sakari: "sweet"
Siku: "ice"
Silla: "god of sky"
Suka: "fast"
Tatuk: "morning"
Uki: "survivor"
Ulva: "wolf"
Yuka: "bright star"
Yura: "one who is beautiful"
Learn More: Top 500+ Greek Dog Names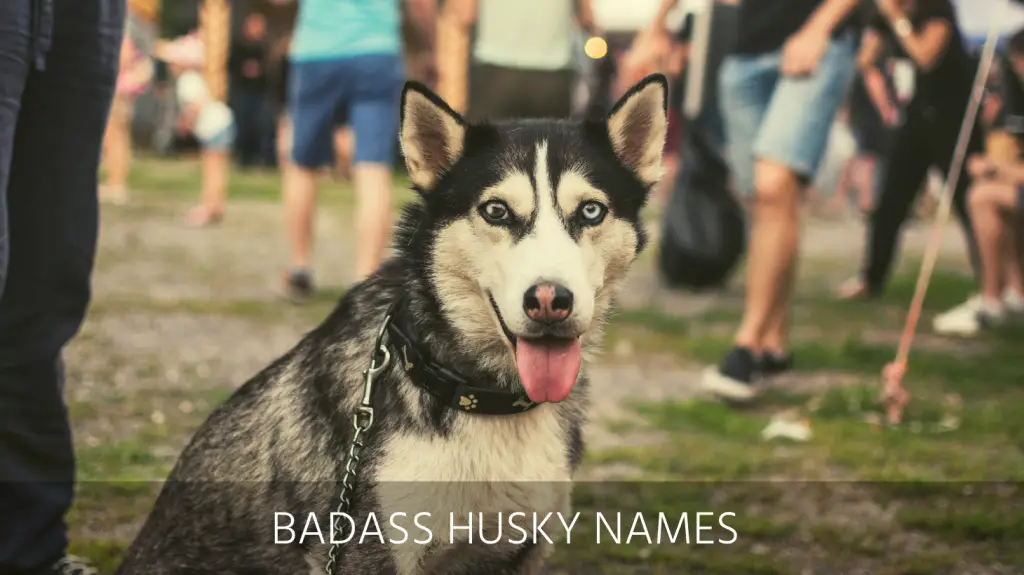 Badass Husky Names
Huskys are considered to be medium to large canines. However, their loud bark and muscular stature can make them seem much larger than they actually are. Here are some badass names for your big, bad dog. 
Ace
Anarchy
Apache
Blaze
Bolt
Bundy
Forrest
Fury
Khan
King
Lash
Legend
Loki
Magnum
Magnus
Major
Meansy
Meteor
Metroid
Mosaic
Nitro
Odin
Outlaw
Ozzy
Puma
Rebel
Rocky
Saber
Scorpio
Solus
Steamboat
Surge
Thunder
Trapper
Ulysses
Walker
Wesker
Whither
Wolf
Wrangler
Learn More: Top 300+ Disney Dog Names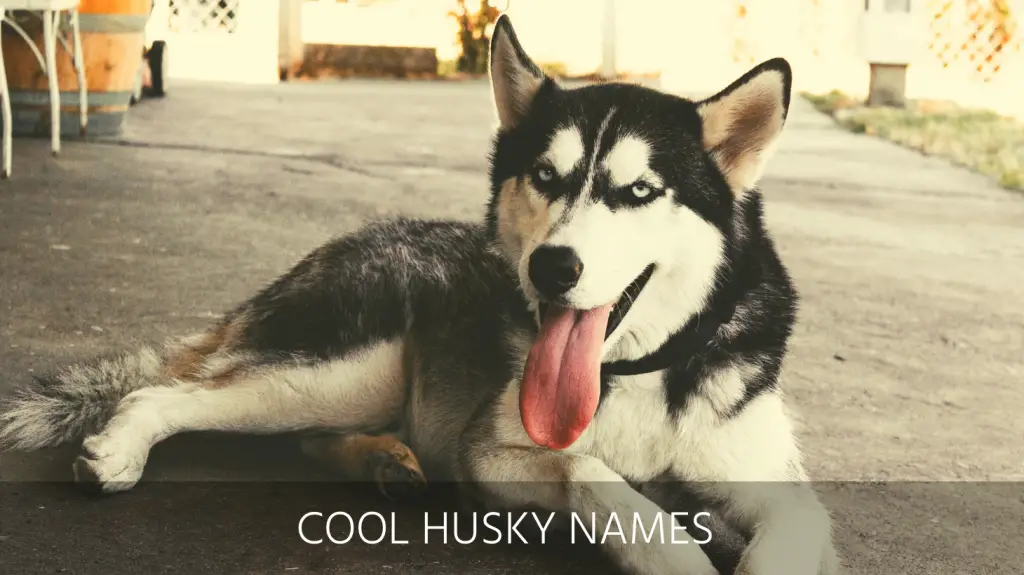 Cool Husky Names
Huskys are known for withstanding cold weather. Their coat and eyes are designed for these colder environments, which makes them great sled dogs and working dogs in cold climates. Why not consider giving them a "cool" name to go with their love for a cooler climate.
Agate
Annie
Belle
Cali
Chief
Diamond
Dixie
Dune
Ella
Emma
Fang
Geo
Granite
Grizzly
Havoc
Izzy
Jax
Jet
Kona
Lady
Layla
Leopard
Lexi
Lulu
Maddie
Maya
Millie
Montane
Olive
Oso
Panther
Pearl
Plum
Princess
Rosebud
Sasha
Surf
Willow
Winnie
Learn More: Top 400+ Golden Retriever Dog Names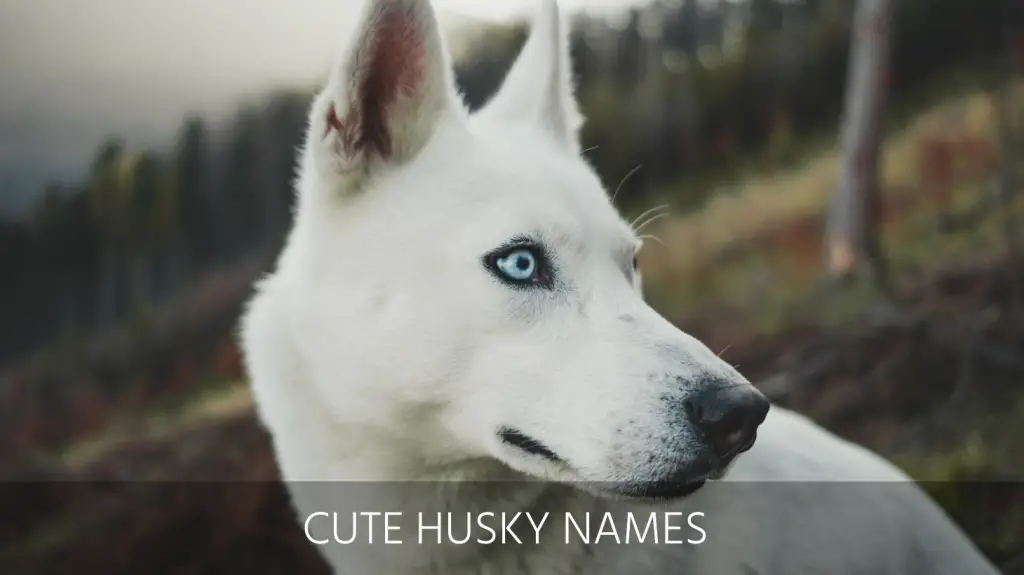 Cute Husky Names
Huskys aren't traditionally thought of as cute. However, anyone who has been around one knows that they can be quite adorable when they want to be (like right after they sneak a cookie off the counter). Even these larger canines can sport a cute name.
Beans
Blackberry
Blueberry
Bok Choy
BonBon
Butterscotch
Cabbage
Candy
Caramel
Cherry
Cotton Candy
Endive
Gumball
Honeydew
Huckleberry
Jalapeno
Jujubee
Kaffir
Kale
Kiwi
Kumquat
Leek
Lychee
Marshmallow
Mushroom
Nashi 
Okra
Parsnip
Peaches
Pepper
Pez
Pixie
Pumpkin
Shallot
Skittle
Sprout
Taffy
Tic-Tac
Twizzlers
Learn More: Top 200+ Black Dog Names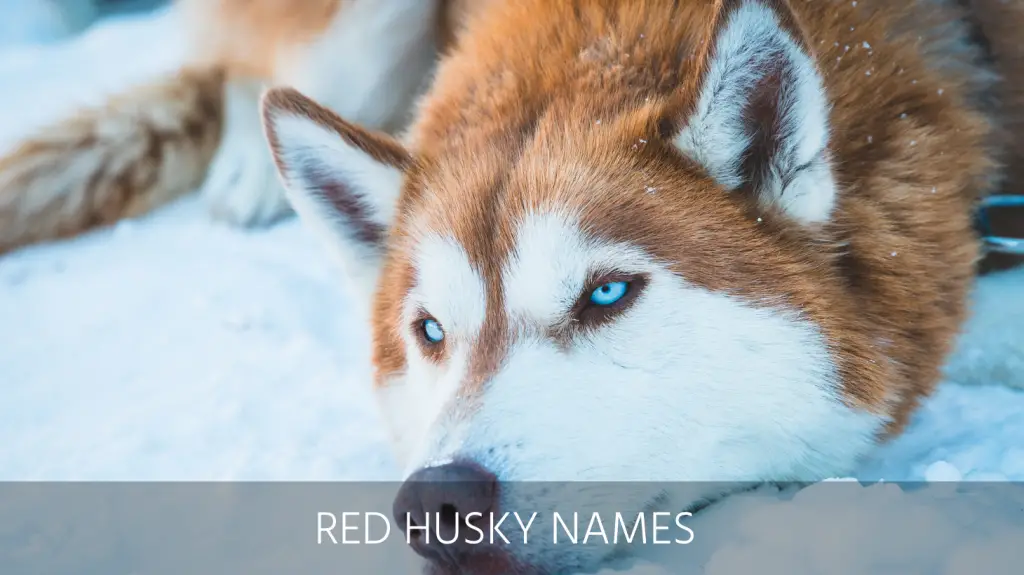 Red Husky Names
Red huskies aren't terribly common, but they are out there. The red colorations genes are not dominant, which means red huskies that are bred with huskies of other coat patterns won't have as many red puppies. Most dogs with red coats come from specialty breeders who focus on producing these unique dogs. With that said, you can find red huskies throughout the United States. They're uncommon but not exceedingly rare, though they might cost a little bit more than a grey or tan husky. These special dogs deserve a particularly fitting name.
Amaryllis
Amber
Apple
Auburn
Azalea
Beets
Begonia
Berry
Brandy
Brick
Burgundy
Cabernet
Calla Lily
Cardinal
Carenne
Cerise
Cheddar
Chili
Cinnamon
Clifford
Copper
Cranberry
Crimson
Current
Curry
Dahlia
Finch
Flamingo
Fox
Ginger
Hazel
Hibiscus
Ketchup
Lobster
Malbec
Mango
Marigold
Maroon
Merlot
Orangutan
Pansy
Paprika
Peony
Peppermint
Pepperoni
Poinsettia
Poppy
Radish
Raspberry
Rhubarb
Rose
Russet
Rusty
Saffron
Sandy
Sangria
Scarlet
Shiraz
Sienna
Strawberry
Sweet Pea 
Tomato
Tulip
Twizzler
Verbena
Zinfandel
Learn More: Top 100+ Badass Dog Names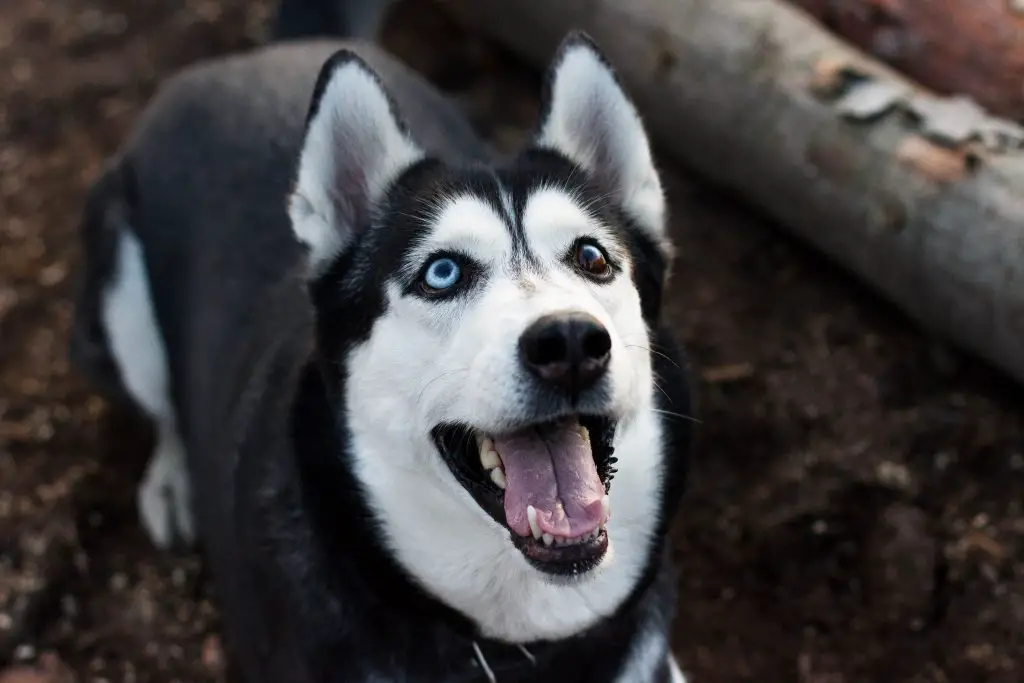 What Did You Name Your Husky?
There are literally hundreds of names for you to choose from on this list. While they share many common traits, huskies are known for having very distinctive and unique personalities. The name you choose should mirror this.

Of course, if you just adopted your new pet, you might not know their personality very well. If you want to choose a name based on their personality, you might want to wait a few days before making a final decision on a name. During this time, get to know your new pooch so you can pick the perfect name to suit them. 

With that said, not all names need to be based on personality. Many names are more suited to appearance than a dog's behavior. Plus, dogs tend to grow into the names you give them. There is no need to wait to choose a name if you don't want to. 

However, even if you decide to give your pooch a new name right away, you will probably find yourself switching in between names for a day or two after adopting your new dog. While your dog probably won't get confused after just a few days of name-switching, jumping from name to name over a long period can cause significant confusion. Eventually, you will have to decide on only one name!

If there are multiple people in your household, we recommend selecting a name as a team effort. Otherwise, you might find that not everyone in your household likes the name you choose. Or, even worse, some of the younger members might not even be able to pronounce the selected name, which can cause confusion for everyone involved, including your new canine. 

Preferably, you should choose a short name with clear pronunciation. This will help your canine learn their name and prevent any confusion between family members. If you select a longer name, you should choose a nickname for training and recall purposes, as it is very important for names to be short and distinct in these situations.