Do you love all things Disney? Then perhaps you should consider naming your new furry friend after a Disney character. 

As you can imagine, there are plenty of Disney-inspired names out there. After all, this company has made dozens and dozens of movies, all of which contain great naming inspiration. You could name your canine after your favorite Disney princess or even a similar Disney canine. 

This ultimate list of names contains nearly every Disney dog name possibility out there, providing you with plenty of inspiration.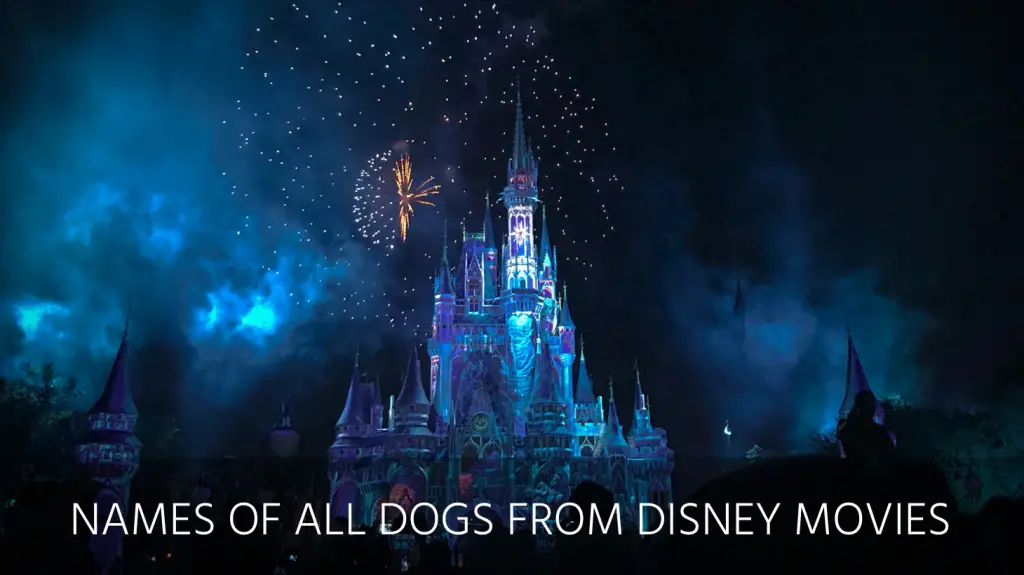 Names of All Dogs From Disney Movies
There are quite a few dogs in Disney and Pixar movies. Browse through these names for exciting options for your canine. We've included the name of every dog in every Disney movie on this list. 
Alpha: Up
Angel: Lady and the Tramp II
Annette: Lady and Tramp
Beethoven: Beethoven series
Beta: Up
Bielle: Tim Burton's Alice in Wonderland
Bingo: Puppy Dog Pals 
Blackie: 101 Dalmatians
Blob: 101 Dalmatians
Blot: 101 Dalmatians
Bolivar: Donald Duck's dog in various Mickey Mouse movies and shows
Bolt: From the movie of the same name
Bowser: Goofy's dog
Bravo: 101 Dalmatians
Bruno: Cinderella
Buddah: Air Buddies film series
Bulgey: 101 Dalmatians
Buster: Lady and the Tramp
Buster: Toy Story
Butch: various Mickey Mouse movies
Cash: Fox and the Hound 2
Cerberus: Hercules
Chance: Homeward Bound
Chief: The Fox and the Hound
Chloe: Beverly Hills Chihuahua
Collette: Lady and the Tramp
Copper: Fox and the Hound
Corky: 101 Dalmatians
Danielle: Lady and Tramp
Danke: The Ugly Dachshund
Dante:  Coco
Delgado: Beverly Hills Chihuahua
Delilah: Homeward Bound II
Demon: Snow Dogs
DeSoto: Oliver & Company
Dinah: various Mickey Mouse movies and shows
Dipper: 101 Dalmatians
Dixie: Fox and the Hound 2
Dodger: Oliver & Company
Dolly: Beethoven & Missy
Dot: 101 Dalmatians
Duchess: Snow Dogs
Duckworth: various Mickey Mouse movies
Dug: Up
Duke: Swiss Family Robinson
Einstein: Oliver & Company
Fifi: various Mickey Mouse movies
Flapper: 101 Dalmatians
Francis: Oliver & Company
Freckles: 101 Dalmatians
Gamma:  Up
Georgette: Oliver & Company
Goofy: From Mickey Mouse
Heidi: The Ugly Dachshund
Jock: Lady and The Tramp
Jolly: 101 Dalmatians
Lady: Lady and the Tramp
Lafayette: The Aristocats
Latch: 101 Dalmatians
Lenny: 101 Dalmatians
Little Brother: Mulan
Lucky: 101 Dalmatians
Max: The Little Mermaid
Maya: Eight Below
Missy: St Bernard and Beethoven
Molly: Air Bud
Nana: Peter Pan
Nana: Snow Dogs
Napoleon: The Aristocats
Nikki: Wild Dog of the North
Nosey: 101 Dalmatians
Otis: Lady and the Tramp II
Otto: Robin Hood
Papi: Beverly Hills Chihuahua
Patch: 101 Dalmatians
Pedro: Beverly Hills Chihuahua
Peg: Lady and the Tramp
Penny: 101 Dalmatians
Pepper: 101 Dalmatians
Percy: Pocahontas
Perdita: 101 Dalmatians
Persephone: Frankenweenie
Pete: from various Mickey Mouse movies
Pluto: Mickey Mouse
Pokey: 101 Dalmatians
Pongo: 101 Dalmatians
Porkchop: Doug
Puddles: 101 Dalmatians
Quark: I Shrunk the Kids
Reggie: Lady and the Tramp II
Riley: Homeward Bound II
Rita: Oliver & Company
Rolly: 101 Dalmatians
Rolly: Puppy Dog Pals
Ronnie: Mickey Mouse
Rosa: Beverly Hills Chihuahua 
RoscoeOliver & Company
Rose: Fox and the Hound II
RoseBud: Air Buddies film series
Roxanne: A Goofy Movie
Ruby: Lady and The Tramp II
Salter: 101 Dalmatians
Scamp: Lady and The Tramp II
Scooper: Snow Dogs
Scratchy: Lady and the Tramp II
Scud: Toy Story
Shadow: Homeward Bound
Shasta: Snow Buddies
Sleepy: 101 Dalmatians
Slinky Dog: Toy Story
Smokey: 101 Dalmatians
Spanky: 101 Dalmatians
Spark: 101 Dalmatians
Sparky: Frankenweenie
Speedy: 101 Dalmatians
Sport: 101 Dalmatians
Stella: The Princess and the Frog
Stitch: Lilo & Stitch (okay, not actually a dog, but he does attempt to disguise himself as one).
Sultan: Beauty and the Beast
Swifty: 101 Dalmatians
Sylvia: An Extremely Goofy Movie
Talbot: The Sword in the Stone
Tiger: 101 Dalmatians
Tiger: The Sword in the Stone
Tito: Oliver & Company
Toby: The Great Mouse Detective
Tramp:  Lady and The Tramp
Trusty: Lady and the Tramp
Turk: Swiss Family Robinson
Wags: 101 Dalmatians
White Fang: White Fang
Whitie: 101 Dalmatians
Wilhelmina: The Ugly Dachshund
Yeller: Old Yeller
Yoyo: 101 Dalmatians
Zero: The Nightmare Before Christmas
Learn More: Top 500+ Cool Dog Names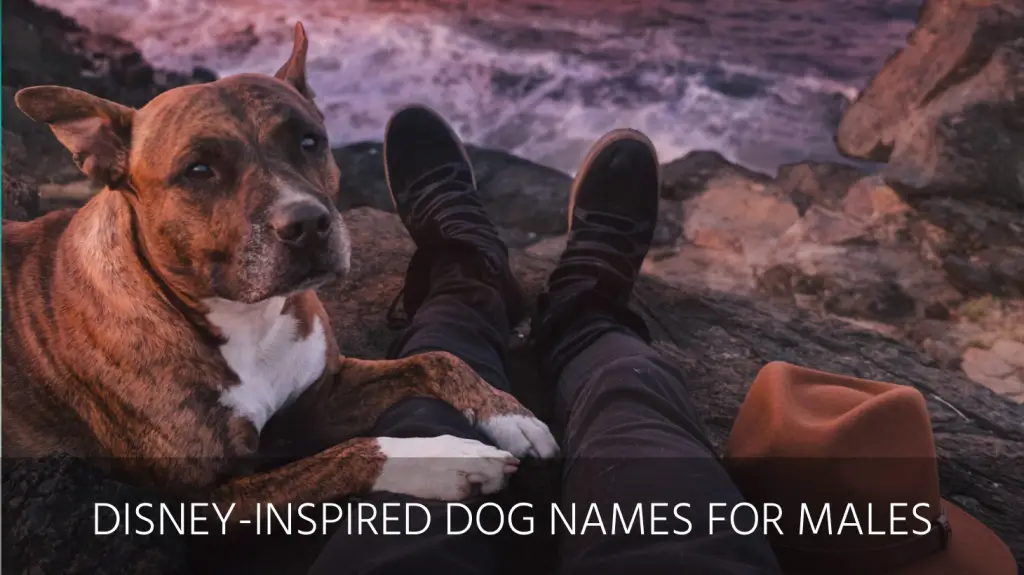 Disney-Inspired Dog Names for Males
While Disney does provide many dogs to name yours after in their movies, there are also lots of other characters you can name your furry friend after as well. Here were some of our favorite picks for boys:
Abu: Monkey in Aladdin
Aladdin: Aladdin
Archimedes: the owl from The Sorcerer & The Stone
Ares: Hercules
Baloo: The Jungle Book
Bathazar: The Aristocats
Beast: Beauty and the Beast
Captain Hook: Peter Pan
Chip: Chip 'n Dale
Clayton: Tarzan
Cody: The Rescuers
Dewey: Donald Duck
Digger: Mickey Mouse
Doc: Snow White
Frollo: The Hunchback of Notre Dame
Gaston: Beauty and the Beast
Geppetto: Pinocchio
Gus: Cinderella 
Hades: Hercules
Hans: Frozen
Heffalump: Winnie the Pooh
Hercules: from Hercules
Huey: Donald Duck
Jafar: Aladdin
Khan: the Jungle Book
Lilo: Lilo and Stitch
Louie: Mickey Mouse
Merlin: Sword in the Stone
Mickey
Morty:  Mickey Mouse
Mowgli: The Jungle Book
Olaf: Frozen
Peter: Peter Pan
Ralph: Wreck-it-Ralph
Roo: Winnie the Pooh
Simba: the Lion King
Tarzan: from the movie of the same name
Tigger: Winnie the Pooh
Tink: Peter Pan
Ursula: Little Mermaid
Walt: Disney 
Winnie: Winnie the Pooh
Learn More: Top 300+ French Dog Names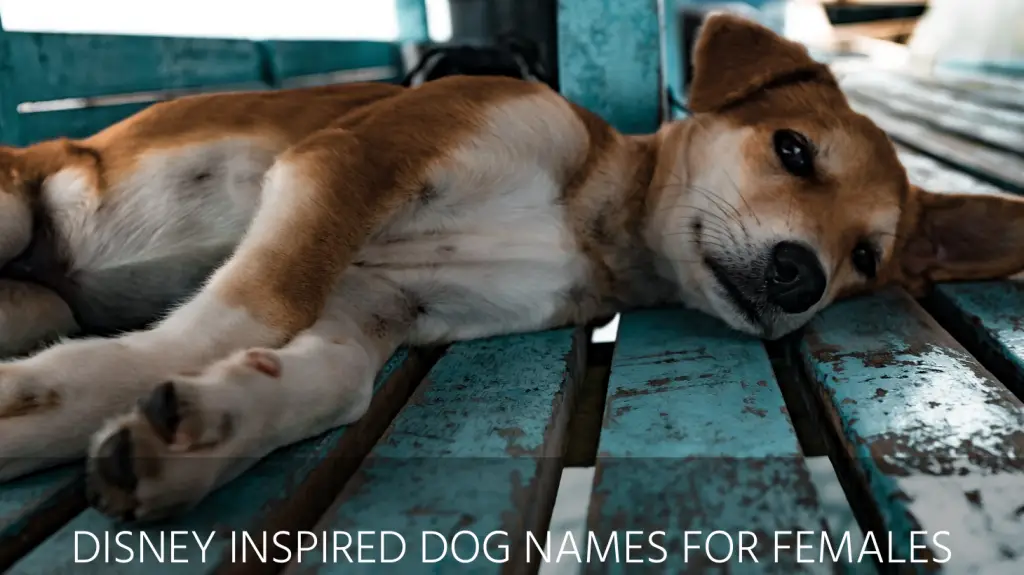 Disney Inspired Dog Names for Females
There are countless Disney princesses and other female characters for you to name your new dog after. Choose from more traditional names, like Cinderella, to something from one of the newer Disney movies. 
Abigail: The Aristocats
Adella: The Little Mermaid
Alice: Alice in Wonderland
Anna: Frozen
Ariel:  The Little Mermaid
Attina: The Little Mermaid
Aurora:  Sleeping Beauty
Belle: Beauty and the Beast
Briar Rose: Sleeping Beauty
Cinderella: Cinderella
Elena: Elena of Avalor
Elsa:  Frozen
Jasmine: Aladdin
Kala: Tarzan
Kanga: Winnie the Pooh
Megara: Hercules
Merida: Brave
Moana: Moana
Rapunzel: Tangled
Tiana: The Princess and the Frog
Wendy: Peter Pan
Willow: Pocahontas
Learn More: Top 250+ Italian Dog Names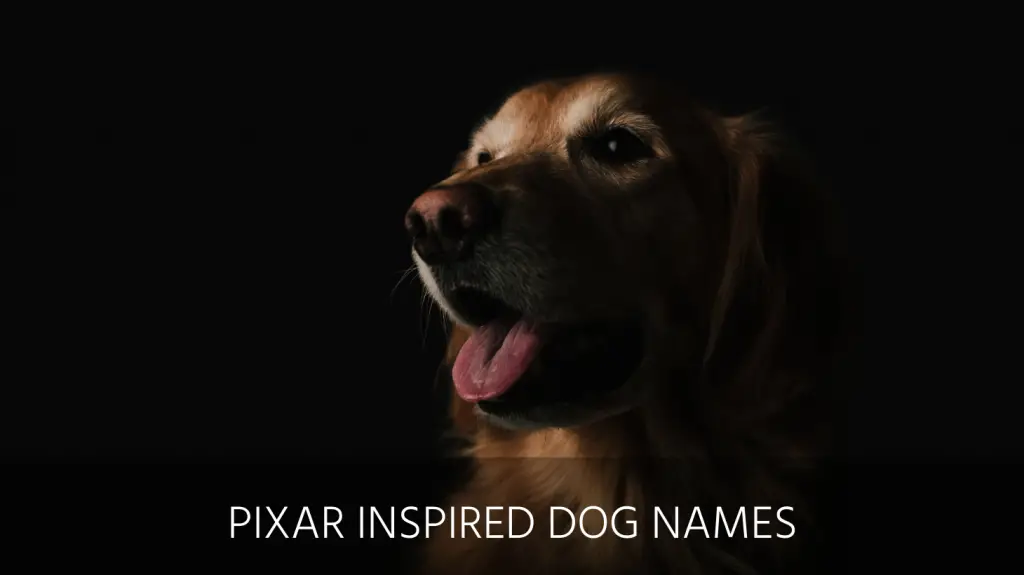 Pixar Inspired Dog Names
We included all Pixar dogs above in our complete list of Disney dog names. However, here are some more names you could select from Pixar movies:
Alfredo: Ratatouille
Andy: Toy Story
Angus: Horse from Brave
Arlo: Apotosaurus from The Good Dinosaur
Atta: A Bug's Life
Bailey: Finding Dory
Bob: The Incredibles
Bonnie: Toy Story
Boo: Monsters Inc
Bruce: Finding Nemo
Buttercup: Toy Story
Buzz: Toy Story
Carl: UP
Celia: Monsters Inc
Colette: Ratatouille
Crush: Finding Nemo
Dash: The Incredibles
Destiny: Finding Dory
Django: Ratatouille
Dory: Finding Nemo
Dot: A Bug's Life
Elinor: Brave
Emile: Ratatouille
EVE: Wall-E
Flik: A Bug's Life
Flo: Cars
Guido: Forklift from Cars
Hank: Finding Dory
Hector: Coco
Imelda: Coco
Joy: Inside Out
Luigi: Cars
Marlin: Finding Nemo
Miguel: Coco
Mike: Monsters Inc
Nash: The Good Dinosaur
Nemo:  Finding Nemo
Nigel: Finding Nemo
Ramsey: The Good Dinosaur
Rex: Toy Story
Riley: Inside Out
Roz: Monsters Inc
Russell: UP
Sheldon: Finding Nemo
Sulley: Monsters Inc
Tony: The Incredibles
Trixie: Toy Story
Woody: Toy Story
Learn More: Top 450+ Unique Dog Names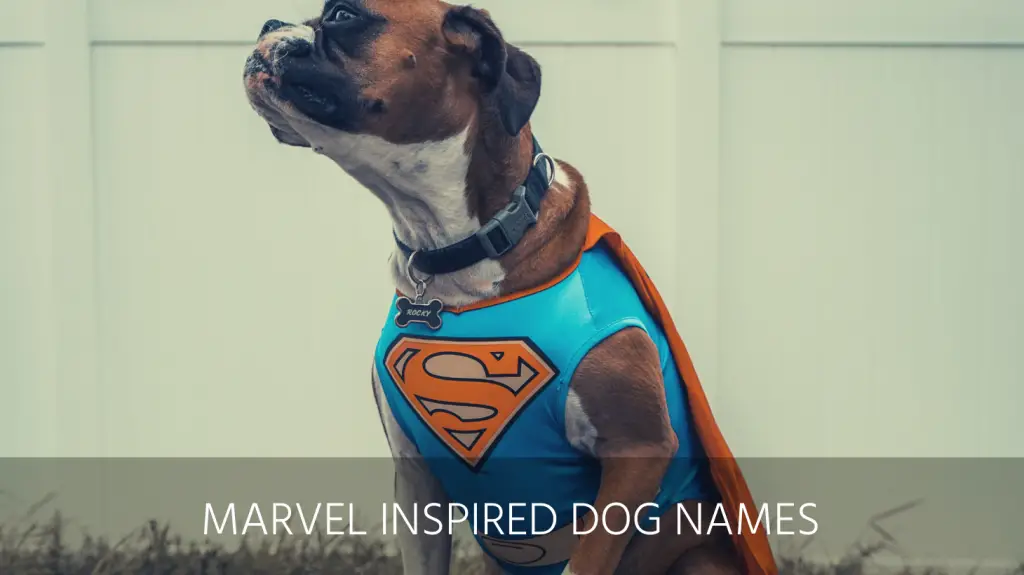 Marvel Inspired Dog Names
If you haven't found anything you've liked so far, why not try out some fo these Marvel names? While Marvel is technically owned by Disney, the universe is often considered its own separate category. Most of these names come from the newer Marvel movies, though you'll find some old classics on here too. 
Att-Lass: Captain Marvel
Ayo: Black Panther
Bron-Char: Captain Marvel
Cap: Avengers Series
Carol: Captain Marvel
Cassie: Ant-Man Series
Flerkin: Captain Marvel
Frigga: The Thor Series
Fury: Avengers Series
Goose: Captain Marvel
Grandmaster: The Thor Series
Hank: Ant-Man Series
Hawkeye: Avengers Series
Heimdall: The Thor Series
Hela: The Thor Series
Hogan: The Thor Series
Hope: Ant-Man Series
Jane: The Thor Series
Korath: Captain Marvel
Korg: The Thor Series
Kurt: Ant-Man Series
Limbani: Black Panther
Loki: The Thor Series
Luis: Ant-Man Series
M'baku: Avengers Series
M'Baku: Black Panther
Maggie: Ant-Man Series
Malekith: The Thor Series
Mar-Vell: Captain Marvel
Minn-Erva: Captain Marvel
Nakio: Black Panther
Natasha: Avengers Series
Nebula: Avengers Series
Norex: Captain Marvel
Odin: The Thor Series
Okoye: Black Panther
Paxton: Ant-Man Series
Phil: Avengers Series
Ramonda: Black Panther
Ross: Black Panther
Scarlet: Avengers Series
Scott: Ant-Man Series
Shuri: Black Panther
Sif: The Thor Series
Skurge: The Thor Series
Soh-Larr: Captain Marvel
Sonny: Ant-Man Series
T'Chaka: Black Panther
T'Challa: Black Panther
Talos: Captain Marvel
Thanos: Avengers Series
Thor: The Thor Series
Topaz: The Thor Series
Ultron: Avengers Series
Ulysses: Black Panther
Valkyrie: The Thor Series
Vers: Captain Marvel
Vision: Avengers Series
W'Kabi: Black Panther
Wanda: Avengers Series
Wendy: Captain Marvel
Zuri: Black Panther
Learn More: Top 300+ Spanish Dog Names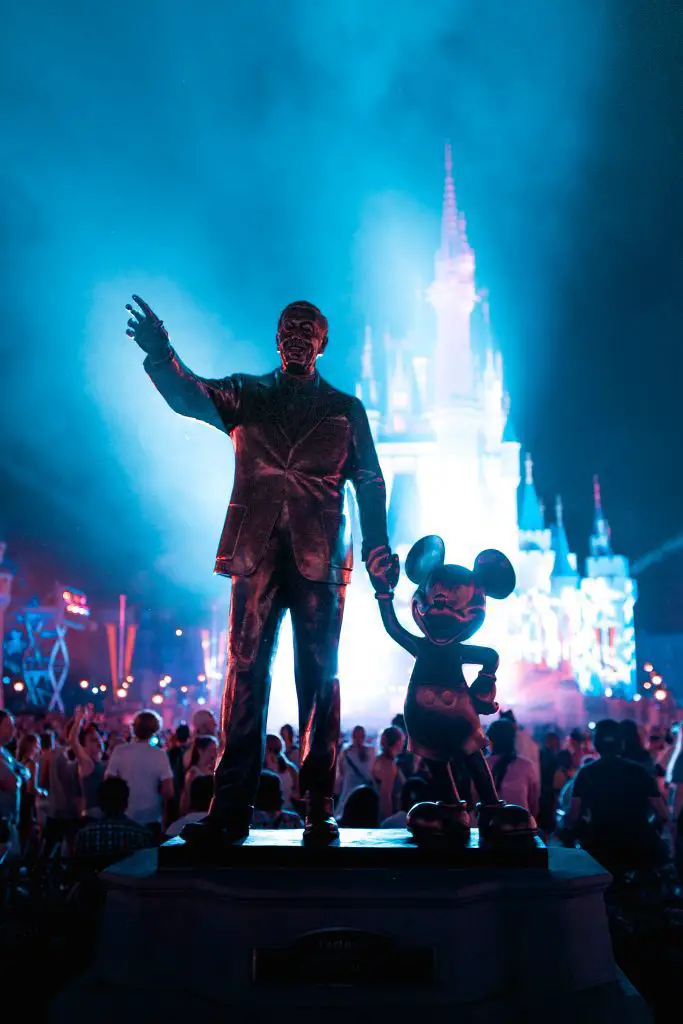 Now It's Your Turn!
Now that you've reached the end of our list, it's time to pick a name for your pooch. If you have a favorite Disney character, this should be easy. However, be sure to give yourself plenty of time to settle on a final name. Selecting a name is often harder than you think it is!

We recommend choosing a name that everyone in your household can pronounce easily, especially if you have smaller children. But, in the end, the name you select is completely up to you!