Looking for the best wet dog food brands? Help your dog stay healthy with our canned food reviews here.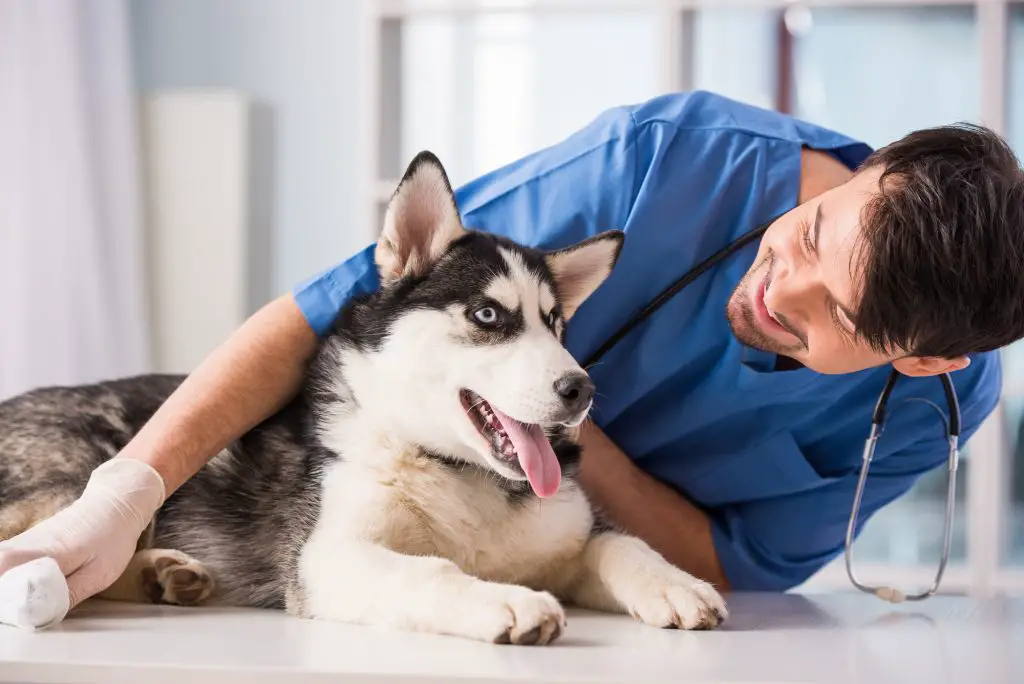 Choosing the right kind of food for your dog can be a long, daunting process. Nowadays, the market is flooded with hundreds of different brands that all claim to be the healthiest option, which can make pet owners feel like they're drowning in a sea of choices.
The first choice that most dog owners have to make is whether to stick to wet dog food, dry dog food, or a mix of both. This question, at least, is a simple one to answer. 
While dry food does have some benefits, like improving your dog's dental health (Gawor, et. al, 2006), wet food is far better in terms of nutritional content and much more closely aligns with dogs' ancestral diet- that is, the type of food that they're biologically wired to eat (Kerns, 2019). Wet food also contains a much higher moisture content, which is great as many dogs don't get the hydration they need from water alone (Zanghi, 2018). Most owners also find that their dogs simply enjoy eating the richer, meatier wet foods as opposed to dry kibble.
Even with that decision made, however, you're still left with a downright frightening amount of options.
This article lists the six best dog foods currently on the market. Only the highest quality, nutritious, biologically appropriate and ethically sourced foods have earned a place on this list, which means that you can be sure that any of these foods will be great for your precious pup. Each of the foods does have its own specific strength, though, so be sure to take a close look to find the product that will best suit your canine friend.
Reviews of the Best Wet Dog Foods 
Our Pick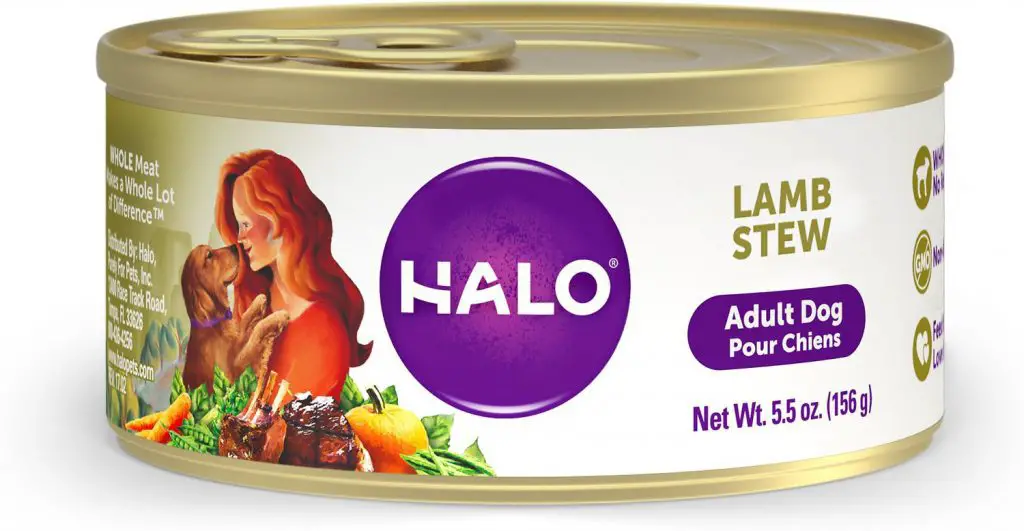 High in protein
No meat meals or meat by-products
Zero fillers
Doggypedia rating: 5/5
First 5 Ingredients: Lamb, Chicken Broth, Beef Liver, Carrots, and Barley.
Calories/100g: 107 kCal/100g
Macronutrients (Guaranteed Analysis):
Macronutrients (Dry-Matter Basis):
Protein: 9.05% minimum
Fat: 5.0% minimum
Carbs: 0% maximum
Protein: 50.3% minimum
Fat: 27.8% minimum
Carbs: 0% maximum
healthiest and Best canned dog food
Claiming the first spot on this list is Halo's Lamb Stew Adult Canned Dog Food. 
In terms of nutrients, the big stand-out of this product is its protein content. It boasts a massive 50.3% high-quality protein content (dry-matter basis), which is the highest of any of the foods on this list and is outstanding for any kind of dog food. The high protein content simulates your dog's ancestral diet and is sure to keep him or her energised throughout the day. Perhaps even more importantly, the protein sources are named and digestible, which means that all of those amino acids won't just go to waste.
Halo's lamb recipe boasts a 27.8% fat content, which is on the higher side. However, the energy density (107kcal/100g) is low enough that, as long as you stick to the product's feeding guidelines, your dog shouldn't put on any excess weight. Instead, the fat gives the food a great taste and provides extra energy. 
All of the ingredients in this formulation are non-GMO and it's free of any by-products and meat meals, which means that you can give it to your dog with the comfort of knowing exactly what you're feeding your pet. The veggies in the food include carrots, sweet potatoes, and pumpkin, which are all great sources of vitamins and fiber to keep your pup happy and healthy.
The only real down-side to this product is that it's formulated specifically for adult dogs, which means that puppy owners should steer clear of it until your pup is ready to graduate to adult food. However, if you're excited about this brand, Halo does stock wet food for puppies that are nearly as good as their adult products.
If you're looking for a great, nutrient-packed, delicious food for your adult dog, it really doesn't get any better than this.
Our Pick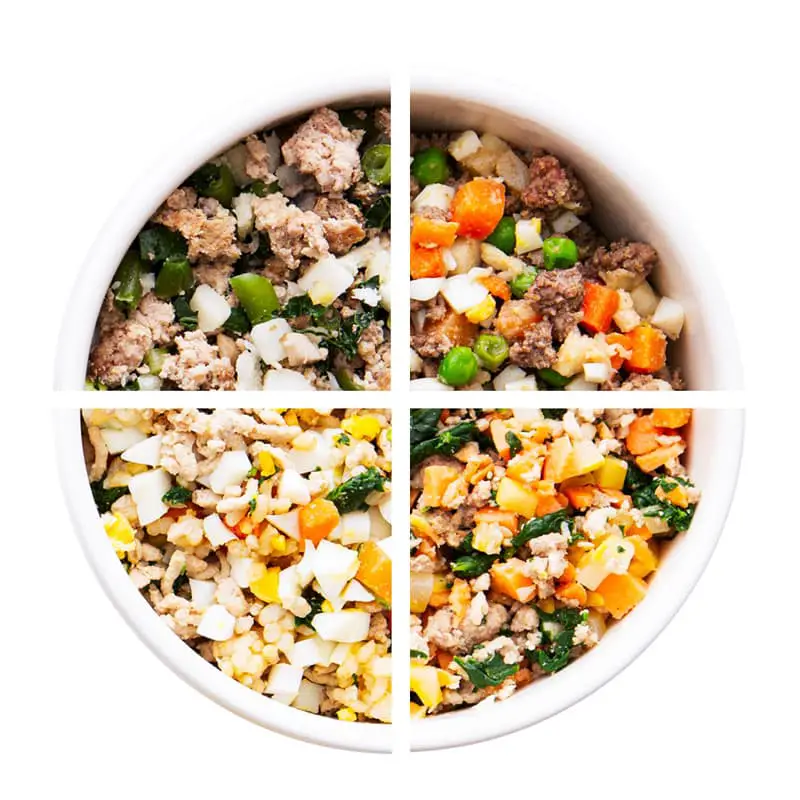 Fresh, human-grade ingredients
Near-perfect macronutrients
Most Convenient delivery
Doggypedia rating: 5/5
First 5 Ingredients: Diced chicken, sweet potatoes, yellow squash, spinach, and sunflower oil.
Calories/100g: Average of 125 kCal/100g
Macronutrients (Guaranteed Analysis):
Macronutrients (Dry-Matter Basis):
Protein: 9.1% average minimum
Fat:  5.4% average minimum
Carbs: 8% average maximum
Protein: 34.4% average minimum
Fat: 20.4% average minimum minimum
Carbs: 30.4% average maximum
healthiest wet dog food
Coming in at number two is a very different sort of dog food to the first pick, with a very different nutrient composition. NomNomNow is an exciting, relatively new dog food brand that claims to put the health of your dog above all else, and all of the evidence suggests that this claim is completely true.
NomNomNow's variety pack contains four different homestyle recipes. The reason that the variety pack was chosen over a single recipe is that diversity is really important in any dog's diet and is a factor that's often overlooked, even by the most well-meaning dog owners.
In terms of nutritional content, NomNomNow's protein and fat percentages both fall within a good range. The carbohydrates, however, are on the higher side and this pushes the energy density up to an average of 125kcal/100g across the recipes. While this may seem like a negative, it's compensated for by the quality of the natural ingredients and the strict portion sizing. 
Instead of being sourced from grain by-products, the high carbohydrate content comes from healthy sources like whole grains (which are great for fiber) and easily digestible veggies. The high energy density is offset by the packaging of the food, which consists of vacuum-sealed containers that are easy to keep track of. Overfeeding your dog with this food is difficult, even for those who like to spoil their pups.
Other highlights of this product include the carefully tailored mineral levels and the fact that the recipes were designed by a veterinary nutritionist, which means that your dog's health is in safe hands when it comes to this food.
 While NomNomNow is a little on the expensive side, as most boutique dog brands are, it's a great product and a great choice for your dog.
Runner-up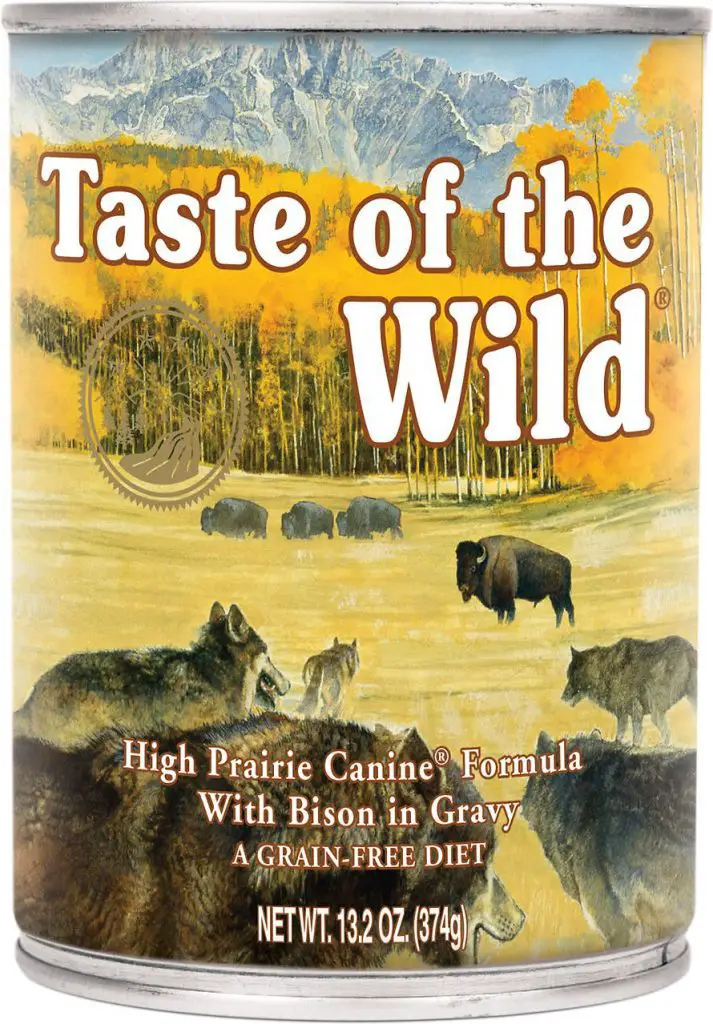 High-quality protein sources
Includes healthy bison meat
No grains!
Doggypedia rating: 4.5/5
First 5 Ingredients: Beef, Lamb Broth, Vegetable Broth, Lamb Liver, and Dried Egg Product.
Calories/100g: 99 kCal/100g
Macronutrients (Guaranteed Analysis):
Macronutrients (Dry-Matter Basis):
Protein: 8.0% minimum
Fat: 4.0% minimum
Carbs: 2.0% maximum
Protein: 44.4% minimum
Fat: 22.2% minimum
Carbs: 11.1 % maximum
Taste of the Wild's High Prairie canned dog food is designed to simulate your dog's ancestral diet, which is terms of nutrition is a big plus.
Its high in protein (44.4%) and all of the sources are named and of high quality, meaning that your pup will get the amino acids that he or she needs. The fat content sits at 22.2%, which is enough to keep the food tasty without driving the energy density up to dangerous levels. To make room for the fat and protein, carbohydrate levels are low (11.1%).
This formulation is grain-free, which is a bit of a buzz-word when it comes to dog food. Grains can actually be a good addition to your pup's diet, provided that they're whole and minimally processed. Because of this, 'grain-free' doesn't always equal healthier. In this case, though, the fiber that whole-grains might have provided is compensated for with an array of veggies, which keeps the fiber composition at a healthy 5.6%. 
The ingredients in this food are all of high-quality. One interesting addition is bison meat, which isn't seen in most dog foods. Bison meat is a great, novel source of protein and helps to keep your dog's diet diverse. Additionally, bison are easier on the land than cattle as they don't errode waterways (Wall, 2019), so if the ethicality of the meat sources in your dog food is something that you're concerned about then Taste of the Wild's High Prairie food is a great way to go.
As mentioned before, a big upside to feeding your dog wet food instead of dry food is the extra hydration they get. Taste of the Wild takes this to the max with an 82% moisture content, so if your dog has a particular problem with drinking water then this is also a great choice for you. Despite the extra moisture, it's still formulated as a pate, which is another plus if your dog prefers pate to stew.
In sum, this is a great, nutritionally balanced, grain-free dog food that's a perfect choice for many dogs out there.
Runner-up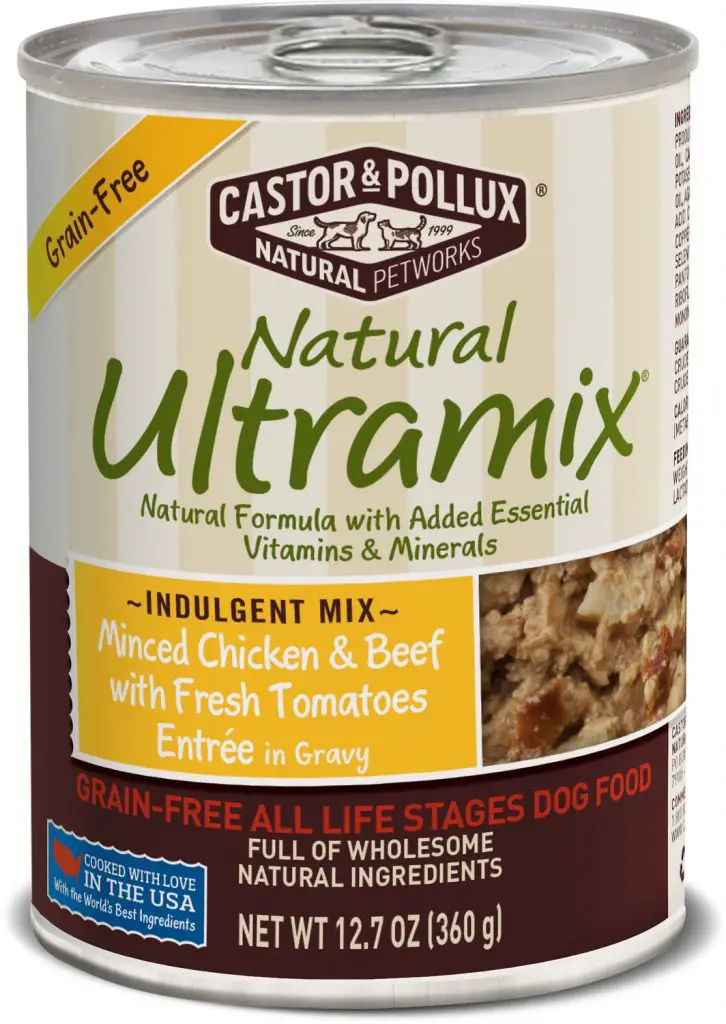 Wide range of ingredients
High omega-3 and omega-6
High Fiber
Doggypedia rating: 4/5
First 5 Ingredients: Chicken, Chicken Broth, Beef Broth, Beef, and Tomatoes.
Calories/100g: 92 kCal/100g
Macronutrients (Guaranteed Analysis):
Macronutrients (Dry-Matter Basis):
Protein: 8.0% minimum
Fat: 4.0% minimum
Carbs: 2.6% maximum
Protein: 42.1% minimum
Fat: 21.1% minimum
Carbs: 13.7% maximum
Still A high quality wet dog food
In fifth place is Castor & Pollux's Natural Minced Chicken and Beef dog food. 
The special thing about this food is the diversity of the ingredients. It includes chicken, chicken liver, beef, and beef liver as sources of protein. Predictably, the protein content is high (42.1%). Aside from the real meat, some notable inclusions include tomatoes, flaxseed, and salmon oil. The latter, which is a source of omega-3 and omega-6 fatty acids, is a particularly great addition. Omegas-3 and 6 help to promote healthy skin and a shiny coat.
Of course, with all good ingredients come not-so-good ones. Dried potatoes are included in the food. While this isn't necessarily bad, some dogs do have difficulty digesting potatoes. Sweet potatoes are a more easily digestible option that you should look out for as a positive inclusion in dog foods.
The fiber content of the food sits at a high 7.4%, which isn't surprising considering the number and quality of the veggies included. The carbohydrate and fat content both sit within the acceptable ranges and the moisture (81%) is high enough for this food to be another good option for dogs who have problems with hydration. 
All in all, this is a good dog food for those who want to include a broad variety of natural ingredients into their dog's diet.
Also Great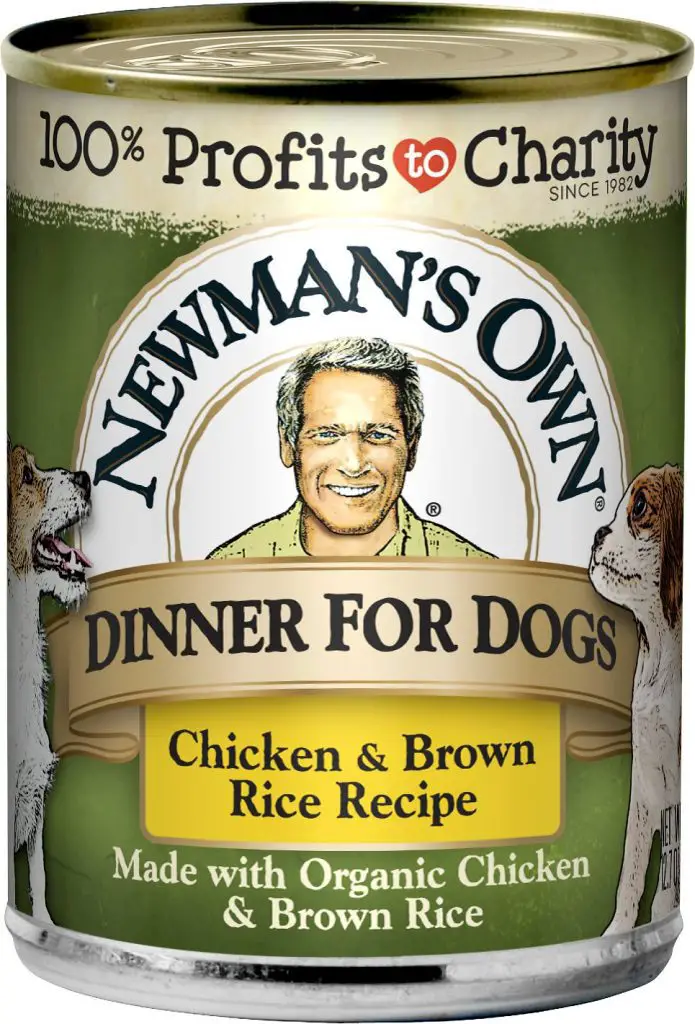 All profits donated to charity!
Healthy organic meat and veggies
Very ethical brand
Doggypedia rating: 4/5
First 5 Ingredients: Organic Chicken, Sufficient Water for Processing, Ocean Whitefish, Organic Brown Rice, and Carrots.
Calories/100g: 123 kCal/100g
Macronutrients (Guaranteed Analysis):
Macronutrients (Dry-Matter Basis):
Protein: 8.0% minimum
Fat: 6.0% minimum
Carbs: 4.0% maximum
Protein: 36.4% minimum
Fat: 27.3% minimum
Carbs: 18.2% maximum
Taking the 6th and final place on this list is Newman's Own Chicken and Brown Rice canned dog food. Just because it ranks last doesn't mean that it doesn't have some interesting features!
Newman's Own is a unique company in that it claims to give away all of its profits to charity. While the truth of this claim is tricky to verify, it's definitely a verified fact that in 2018 they gave away a massive $32 million of their total $220 million net worth. 
Some of the charities that they donate to include SeriousFun Children's Network, a summer camp for seriously ill children, and the MINDS Foundation, which funds projects in rural India. If you're a ethically-minded person who enjoys giving to charity, this might be the dog food for you!
The ethicality of Newman's Own also stretched to its ingredient list, which is packed with organic meats and vegetables. The first ingredient is organic chicken, with organic brown rice being included in the top five as well. They don't skimp on the nutritional content of their dog food either, with the chicken recipe containing 36.4% protein, 27.3% fat, and 18.2% carbs. While none of these values particularly stand out, they all fit comfortably within the scientifically recommended range. 
Another plus of this food is the inclusion of ocean whitefish as a secondary animal protein source, which provides some great variety for your pup. Fish is generally easier on dogs' digestive systems than red meat, so if your pet has a sensitive stomach this could be a great choice for you.
If you're looking for a dog food that hits all of the nutritional requirements and is made by a brand that gives back to the community, Newman's Own is a great fit!
Specific Best Wet Dog Foods:
The six foods on this list are all healthy, general options. However, they don't necessarily suit every kind of dog. Puppies, in particular, require a very specific nutrient balance to keep them healthy and growing. There are also foods formulated specifically for small breed or large breed dogs and further subcategories for grain-free or high-protein foods. When trying to find the right food for your dog, make sure to take these factors into consideration.
How We Chose The Foods on This List:
The foods on this list underwent a rigorous selection process informed by scientific research. 
In terms of protein, it's difficult to make any generalisations. High-protein can be great and is in line with dogs' ancestral diet and provides essential amino acids- that is, amino acids that dogs can't synthesise themselves and must get from their diet. However, if the protein source isn't digestible then it's essentially useless because it can't be broken down into amino acids and is simply excreted unchanged (Hewson-Hughes, et. al., 2013). Because of this, the foods on this list had to meet the following criteria:
Mid-range protein (15-25%) OR high range protein (>25%) from named, quality, digestible sources.
Carbohydrates are a little bit easier to deal with. Although they provide a quick, easy source of energy for dogs, just as they do humans, they are not an essential part of the canine diet. This means that foods that are high in carbs have less room for the more important nutrients, like protein and fats. Therefore, as long as the food is high in both protein and fat to allow the dog to get enough energy, lower carbohydrate content is better (Roberts, 2018). Therefore, the food on the list had to meet the following criteria:
Under 30% carbohydrates, provided that protein and fat levels are high enough to compensate
The fiber content that you choose for your dog's food should be in line with the type of eater that they are. For dogs that tend to overeat, a high-fiber diet can make them feel full more quickly and thus minimise their food intake. For dogs with digestive issues (constipation, diarrhea, etc.) a high-fiber diet can also be beneficial. However, for puppies that still have some growing to do high amounts of fiber can be detrimental (Butterwick, et. al., 1995). Taking this into consideration, the foods on this list subscribe to the following criteria:
A fiber content over 3% but under 10%
Fat is the most energy-dense macronutrient in dog food. According to studies, dogs prefer a high-fat diet, but the health benefits of this isn't clear and this preference could be down to taste rather than nutrients. In the wild, canines would have eaten as much fat as they could get in order to store energy (Roberts, et. al., 2017) but it's important to remember that your pet isn't actually a wild animal and that he or she has a sustained, constant food supply available. Because of this, some fat is good, but too much can cause your dog to put on weight:
A fat content between 10 and 25%, provided that the energy density is suitable
What Do Dogs Really Want To Eat? 
Recently, there's been an explosion of research surrounding the ancestral diet of our canine companions that aims to get to the bottom of what dogs actually want to eat and what natural balance of macronutrients suits them best.
In a study published in the Journal of Animal Physiology and Animal Nutrition fifteen dogs were given three wet food options that were nutritionally complete but included either a high level of protein, a high level of fat, or a high level of carbohydrates. The investigators found that the dogs initially gravitated towards the high-fat food, but as the study progressed they slowly began to eat less of these foods and instead stuck to the high-protein food. The study concluded that the dogs initially displayed a "feast or famine" mentality; that is, that they stuck to the high-fat, high-energy density food with the expectation that in the near future the stable food source would dry up and they'd need the extra energy to keep going. However, as the study continued and the dogs realised that the food supply was constant, they instead switched to the high-protein food.
This research has a lot of implications in deciding what macronutrient balance should be fed to pet dogs. It's clear that dogs prefer a high-protein diet to a high-fat one when they're given a constant supply of food. In the study, the high-carb food was eaten the least, which also indicates that dogs prefer to stick to protein and fat and eat less carbohydrates (Roberts, et. al., 2017)
How To Choose The Best Food For Your Dog 
When picking a food to suit your dog, the most important factor to consider is the food's macronutrient content. Macronutrients include carbohydrates, protein, and fat, and are essentially what determines how healthy a food is for your dog to eat. We'll go on to explain later exactly how the 'optimal values' for each macronutrient were decided, but for now, keep the following in mind:
Wet foods should contain well under 30% carbohydrates, and
a fat content between 10 and 25%, and
mid-range protein (15-25%) OR high range protein (>25%) from named, quality, digestible sources, and
a fiber content over 3% but under 10%.
Along with the nutritional content, this list contains a variety of different dog foods that are suitable for a variety of different dogs. Some are appropriate for all ages and all breeds, while others are specific to a certain life stages or small breeds. When choosing which food to purchase for your dog, make sure to take these factors into consideration. 
Another consideration that you should look at is what the main ingredients in the product are. As an owner, you know your dog best, and if you've tried different wet foods before you probably know at least what kind of meat your pooch enjoys the most. The list includes products formulated from chicken, beef, turkey, pork, lamb, and even fish. Some also contain an assortment of veggies, like sweet potato, peas, tomatoes, and spinach. Dogs are just like humans; they all have different taste preferences, and so consulting the ingredients listed is a great idea for owners looking for a new food to try out. For first-time puppy or pet owners, make an educated guess as to what your pup might enjoy and then be open to switching foods a few times before you find the perfect fit.
Why You Should Trust Us
I've been a dog owner my whole life, growing up with puppies to adopting my newest pup, Max. We have reviewed hundreds of different dog foods over the years, so we have an expert view of what the market currently offers. All of our reviews are based on scientific evidence, not marketing campaigns or ads. We carefully stay up to date on the latest research so that we can recommend only the best to you and your pets. 
Before making it into any article, each dog food has to pass a rigorous review process that involves more than just surface-level information. We calculate all of our own macronutrient data. While we pay attention to the ingredient list, we also consider macronutrient ratios and recall frequency. Additionally, we speak to the dog food brands, vets, and dog trainers to make sure our recommendations are the most healthy options for your dog.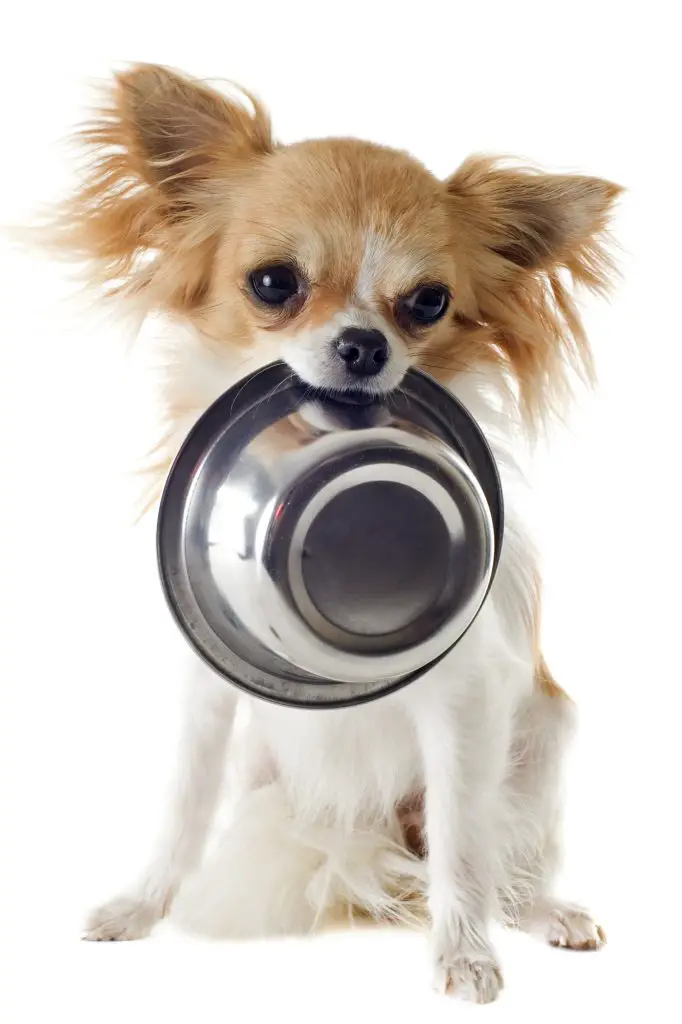 Read More Dog Food Reviews: Best High Calorie Dog Food and Best Weight Loss Dog Food
References:
Dry Food Oral Hygiene Benefits: Gawor, J., Reiter, A., Jodkowska, K., Kurski, G., Wojtacki, M. and Kurek, A. (2006). Influence of Diet on Oral Health in Cats and Dogs. The Journal of Nutrition, 136(7), pp.2021S-2023S.
Canine Ancestral diet: Kerns, N. (2019). The Ancestral Dog Food Diet – Whole Dog Journal. [online] Whole Dog Journal. Available at: https://www.whole-dog-journal.com/food/the-ancestral-dog-food-diet/ [Accessed 12 Oct. 2019].
Dog hydration needs: Zhanghi, B. (2019). Water Needs and Hydration for Cats and Dogs. [online] Purinainstitute.com. Available at: https://www.purinainstitute.com/sites/g/files/auxxlc381/files/2018-05/Water%20Needs%20and%20Hydration%20for%20Cats%20and%20Dogs%20-%20Brain%20M.Zanghi.pdf [Accessed 12 Oct. 2019].
Bison in dog food: Wall, T. (2019). Bison: sustainable and novel pet food protein. [online] Petfoodindustry.com. Available at: https://www.petfoodindustry.com/articles/6879-bison-sustainable-and-novel-pet-food-protein [Accessed 13 Oct. 2019].
Optimal protein content: Adrian K. Hewson-Hughes, Victoria L. Hewson-Hughes, Alison Colyer, Andrew T. Miller, Scott J. McGrane, Simon R. Hall, Richard F. Butterwick, Stephen J. Simpson, David Raubenheimer, Geometric analysis of macronutrient selection in breeds of the domestic dog, Canis lupus familiaris, Behavioral Ecology, Volume 24, Issue 1, January-February 2013, Pages 293–304, https://doi.org/10.1093/beheco/ars168
Optimal fiber content: Butterwick, Richard & Markwell, P & Thorne, C. (1995). Effect of Level and Source of Dietary Fiber on Food Intake in the Dog. The Journal of nutrition. 124. 2695S-2700S. 10.1093/jn/124.suppl_12.2695S. 
Optimal carbohydrate and fat content and canine self-selecting diet: Roberts, MT, Bermingham, EN, Cave, NJ, Young, W, McKenzie, CM, Thomas, DG. Macronutrient intake of dogs, self‐selecting diets varying in composition offered ad libitum. J Anim Physiol Anim Nutr. 2018; 102: 568– 575. https://doi.org/10.1111/jpn.12794