Once upon a time, Pugs were pets of Chinese emperors. They were considered a luxury and often closely guarded by soldiers. Eventually, they were brought over into Europe and became the chosen dog of French and English royalty. 

Today, these tiny dogs are most recognizable due to their curly tail and shortened face. Of course, we now know that these features cause severe health problems and discomfort in many Pugs, especially as their faces have gotten shorter and their tails curlier. Luckily, some breeders are working to make this canine healthy once again, and hopefully, allow us to enjoy them for decades to come. 

If you've recently adopted one of these small companions, naming them should be your next step. Here are some of the top Pug names you might want to consider for your canine: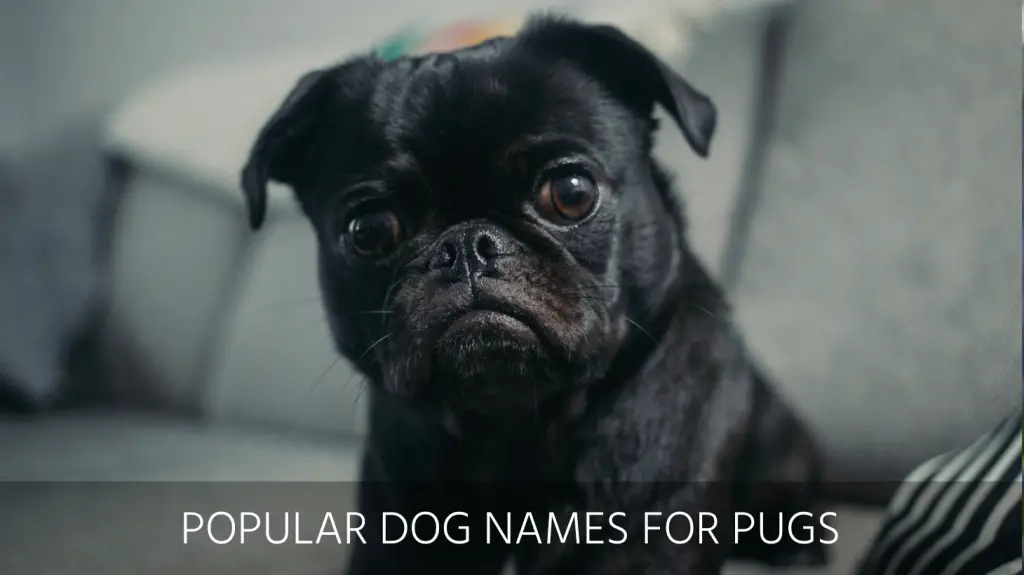 Popular Dog Names for Pugs
Here are some of the most popular names for Pugs out there. This list includes both boy and girl names, though many of them could easily be considered unisex. If you're looking for something a little more common but equally adorable, this is the list to look at.
Abby
Baby
Bailey 
Bandit
Baxter
Bean
Bear
Bella
Benny
Bentley
Biscuit
Bo
Boo
Bruce
Bruno
Brutus
Bubba
Buddha
Buddy
Bug
Bugsy
Buster
Button
Charlie
Chloe
Coco
Cookie
Cooper
Crinkles
Daisy
Dexter
Diesel
Doug
Duke
Ella
Ellie
Elvis
Emma
Finn
Fiona
Frank
Frankie
George
Ginger
Gizmo
Gracie
Gus
Hank
Harley
Henry
Hooty
Hugo
Izzy
Jack
Jackson
Jake
Jasper
Jax
Junior
Leo
Lexi 
Lily
Loki
Lola
Louie
Louis
Lucky
Lucy
Lulu
Luna
Maddie
Maggie
Marley
Max
Mia
Millie
Milo
Mini
Minnie
Molly
Moose
Mr. Big
Mugsy
Munchkin
Murphy
Olive
Oliver
Ollie
Oscar
Otis
Ozzy
Pablo
Peaches
Peanut
Pearl
Penelope
Penny
Pepper
Phoebe
Piper
Pixie
Princess
Pugsley
Riley 
Rocco
Rocky
Roscoe
Rosie
Roxy 
Ruby
Sadie
Sammy
Shortcake
Shorty
Slim
Sophie
Stella
Stumpy
Tank
Teddy
Teenie
Thor
Toby
Tucker
Walter
Winnie
Winston
Wrigley
Wrinkles
Yoda
Ziggy
Zoey 
Learn More: Top 500+ Cool Dog Names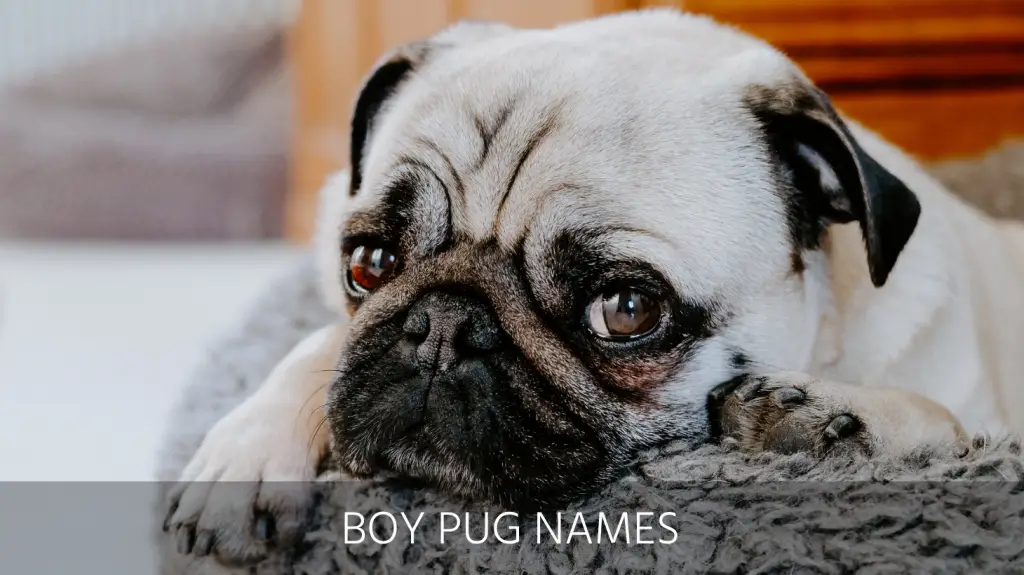 Boy Pug Names
Now that we've looked at the most popular Pug names, let's take a look at some suitable boy names for Pugs. Some of these names are very popular, while others are on the unique side. Whatever the personality of your Pug, you should find a fitting name on this list. 
A.J.
Alfie
Ali
Ames
Amos
Angel
Angus
Ansel
Applejack
Archie
Argo
Arlo
Artie
Augie
Avery
Babe
Bacon
Bailey
Balto
Banjo
Barkley
Barney
Bear
Benjamin
Benji
Bernie
Bingo
Biscuit
Blue
Bobby 
Boots
Bosco
Bowie
Brain
Brewster
Brodie
Brownie
Brutus
Bubbles
Bucky
Buddy
Bugsy
Bullseye
Buttons
Caesar 
Cappuccino
Carmel
Casper
Charlie
Chewie
Chocolate
Coby
Coco 
Cookie
Cookie Monster
Copernicus
Copper
Corky
Cupid
Dexter
Digby
Dino
Doonesbury
Duffy
Earnest
Eddie 
Edison
Elf
Elmo
Ernie
Ewok
Fergus
Finn
Fonzie
Frank
Frankie
Fuzzy
Gabe
Ghost
Gizmo
Gordie
Gulliver
Gus
Hamlet
Hansel
Harry
Hershey
Hobbit
Homer
Izzy
Jacques
Jasper
Java
Jawa
Jerry Lee
Jordi 
Jude
Kenji
Kennedy
Kipling
Kirby
Lad
Laika
Lincoln
Louie
Lucky
Madden
Maple
Marley 
Marshmallow
Max
Meeko
Miles
Milo
Mitch
Monet
Monty
Moon
Mowgli
Nemo
Newton
Nikita
Nugget
Odie
Old Yeller
Oliver
Opie
Oreo
Oscar
Otis
Patches
Peanut Butter
Pebbles
Pee Wee
Pepper
Percy
Picasso
Pluto
Poochie
Porkchop
Quinsy
Rascal
Reggie
Reuben
Ridley
Rigby
Riley
Ripley
Rocky
Roosevelt
Scottie
Scout
Scrappy
Sebastian
Seuss
Sheldon
Simba
Sinclair
Skip
Slink
Snowball
Spencer
Spot
Spud
Squirt
Stewie
Stinky
Teddy 
Tiger
Toto
Waffles
Wagner
Waldo
Wallace
Wally
Walter 
Widget
Willie
Winston
Wishbone
Wrigley
Wyatt
Yogi
Yoshi
Ziggy
Learn More: Top 300+ Disney Dog Names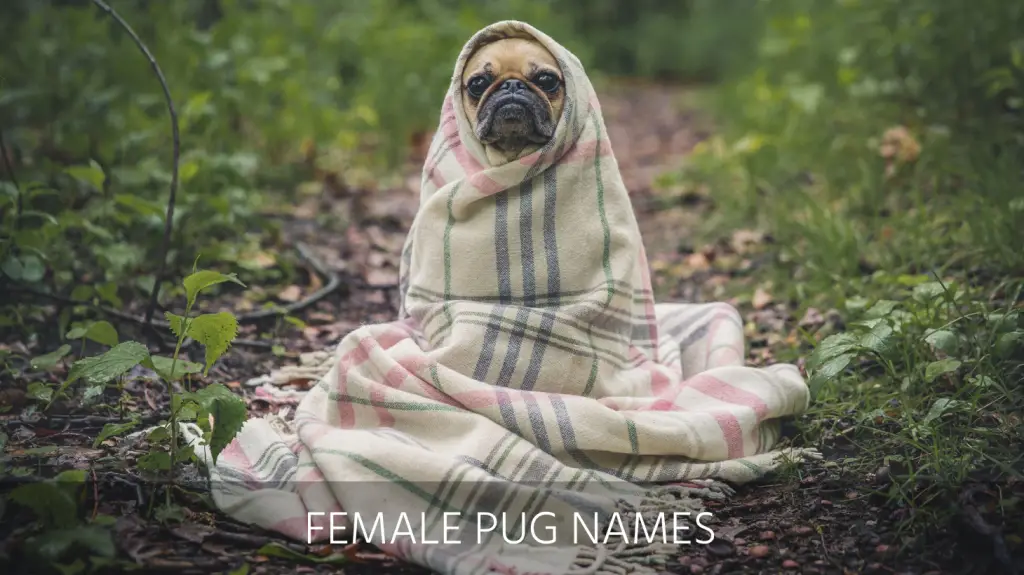 Female Pug Names
Have a new pretty woman in your life? These names were made for female pugs. From more traditional names to those that often take on a life of their own, we've included all sorts of names so you can choose the best option for your canine. 
A.J.
Abby 
Addie
Addison
Adelaide
Adele
Agatha
Aggy
Aida
Airabell
Aja
Ali
Alice
Allie
Alma
Amanda
Amber
Amelia
Amelie
Amy
Angel
Angie
Anika
Anna
Annabelle
Annie
Anya
Applejack
Apricot
April
Aria
Arianna
Ariel
Aubree
Audrey
Auggie
Autumn
Ava
Avery
Babe
Babette
Babushka
Baby
Bacon
Bailey
Bambi
Bean
Bear
Beatrice
Bee
Bell 
Bella
Berty
Bessie
Betsy
Betty
Billie Jean
Bindi
Biscuit
Bitsy
Blue 
Blueberry
Bonnie
Boo 
Boots
Brownie
Butternut
Butterscotch
Button
Candy 
Cappuccino
Caramel
Carly
Carmen
Cece 
Claire
Clara
Cleo
Clover
Coco 
Coconut
Cookie
Copper
Cora
Cordelia
Cotton
Cricket
Cuddles
Cupcake
Cutey
Cutie
Daisy
Daisy Duke
Danica
Daphne
Dee Dee
Dido
Dixie
Dolly
Dora
Dorothy
Dory
Dot
Dottie
Duchess
Eartha
Eleanor
Elf
Ella
Ellie
Eloise
Elsa
Emma
Emmie 
Emmylou
Enid
Esme
Eva
Eve
Fern
Flora
Georgia
Gertrude
Gidget
Gigi
Ginger
Gizmo
Goldie 
Goldilocks
Grace
Gracie
Hannah
Happy
Harper
Hazel
Hershey
Holly
Honey
Honeybear
Honeybee
Isabella
Isabelle 
Isadora
Java
Jawa
Jazzy
Jellybean
Jemima
Jill 
Jinx
Jojo
Josie
Joy
Jude
Kit Kat
Kiwi
Koda
Kona
Lacey
Lady
Lady Rover
Ladybug
Laika
Lassie
Leela
Leeloo
Leisel
Lena
Libby
Lila
Lily 
Lola
Lucy
Lucy Lu
Lulu
Luna
Lyric
Mabel
Madden
Madonna
Magdalena
Maggie
Mai Tai
Maisie 
Mamba
Mamie
Maple
Marigold
Marilyn
Marley 
Mashmallow
Mavis
May
Maya
Meadow
Melody
Mercy
Mia
Mika
Miley
Millie
Mimi
Minnie
Miss Beazley
Mitsy
Mocha
Molly
Moon
Mopsy
Mouse
Muffin
Muffy
Munchkin
Myrtle
Nadia
Nala
Octavia
Olive
Olivia
Opal
Oreo
Paisley
Panda
Papoose
Paris
Patches
Peach
Peanut
Peanut Butter
Pearl
Pebbles
Pee Wee
Peggy
Penelope
Penny
Pepper
Perdita
Petra
Petunia
Phoebe
Pinky
Piper
Pippa
Pippi
Pixie
Poet
Polly
Pookie
Poppy
Porkchop
Precious
Primrose
Princess
Puddin
Pumpkin
Punky
Quinsy
Rainbow
Reba
Rey
Ridley
Rigby
Riley
Ripley
Rococo
Roma
Rose
Rosebud
Roxy
Ruby
Ruffles
Rumba
Sabine
Sadie
Sadie Mae
Sally
Sandy
Sansa
Sassy
Scampers
Scooter
Scout
Shasta
Sissy
Skittles
Smooches
Snickers
Sophia
Sophie
Sorbet
Sparkle
Sprinkles
Squat
Squirt
Star
Steffi
Stella
Sugar
Sunshine
Sweet Pea
Sweetie
Sydney
Tabitha
Taffy
Tahiti
Tallulah
Tasha
Teddy 
Teegan
Tessa
Thea 
Theodora
Tiara
Tiger
Tinkerbell
Tizzy
Tootsie
Tricky
Trixie
Trudy
Valentine
Violet
Waffles
Whoopi
Widget
Willa
Willow
Wilma
Winnie
Wrigley
Yasmine
Yoko
Yuki
Yumi
Yuna
Zailey
Zeda
Ziggy
Zoe 
Zoebelle
Zoey
Zuni
Zuzu
Learn More: Top 350+ Hawaiian Dog Names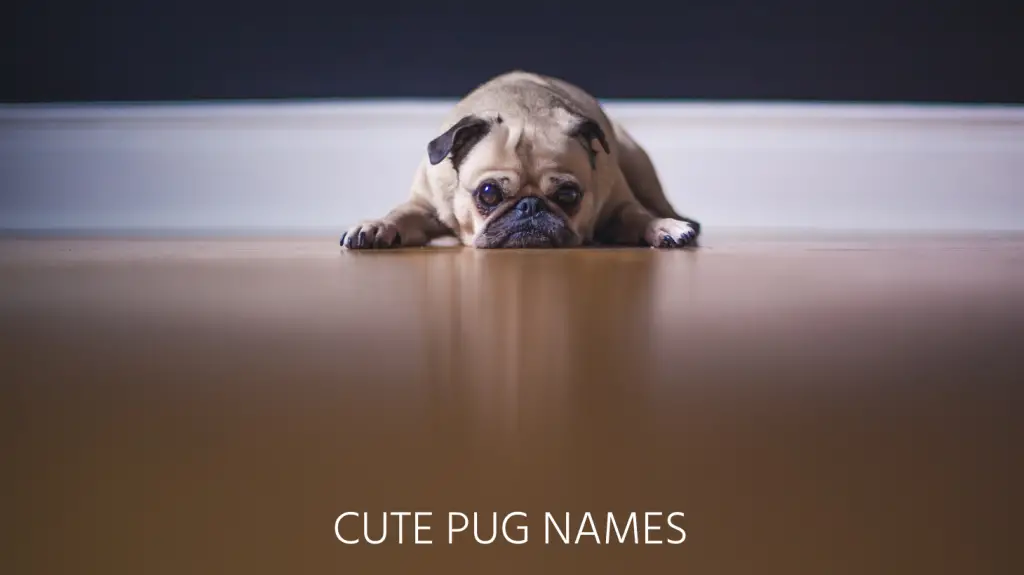 Cute Pug Names
Pugs are cute and tiny, so giving them a cute name only makes sense. Here are some of the cutest ones we could think of:
Bubblegum
Bubbles
Buddy
Buffy
Bunny
Buttercup
Chaca
Cha-Cha
Chantilly
Charlie
Charlotte
Cherry
Chi Chi
Chloe
Choco
Chocolate
Cinderella
Cinnamon
Evy
Ewok
Farrah
Fifi
Flo
Frannie
Frida
Fuzzy
June
June Bug
Juno
Justine
Kahlua
Kaia
Kennedy
Kewpie
Kiki
Kit
Lilly Bell
Lily 
Lizzie 
Lo
Lois
Lola
Lolita
Lollipop
Loretta
Love
Lucky
Lucy
Marshmallow
Martha
Mary
Nana
Naomi
Natalie
Nellie
Nema
Nermal
Nessie
Nikita
Noalie
Noodles
Norma
Nutmeg
Snookie 
Snowball
Snowflake
Snuggles
Sonya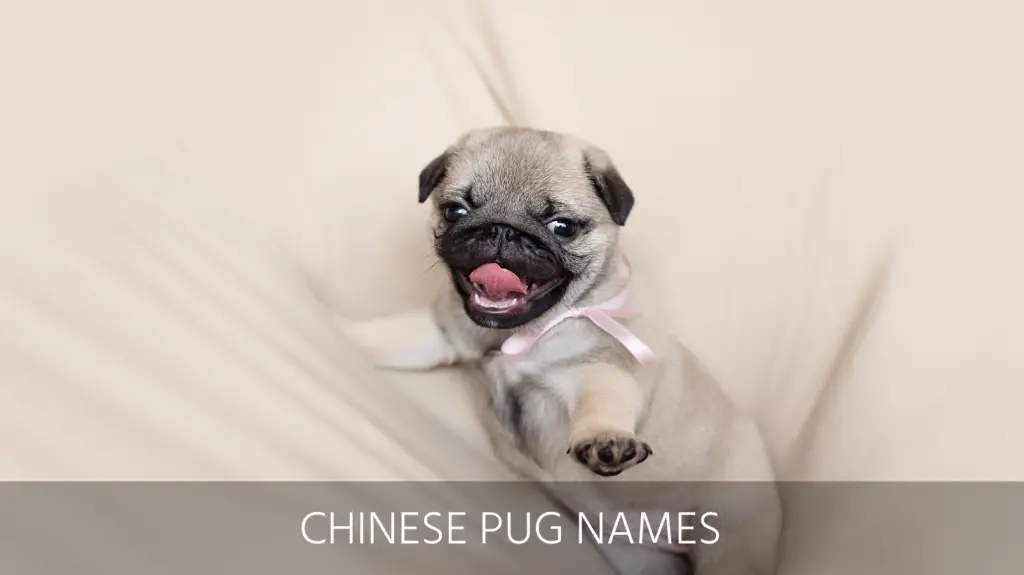 Chinese Pug Names
Because Pugs were originally from China, you might want to consider giving them a Chinese name, like one of these:
Ai: "loving"
Biyu: "jasper"
Chen: "morning"
Guang: "light"
Ju: "chrysanthemum"
Lan: "orchid"
Lanying: "blue glitter"
Li: "plums"
Lin: "a grove"
Liu: "the willow"
Luli: "dewy jasmine"
Mei: "red gem"
Meifeng: "beautiful wind"
Meilin: "plum grove"
Ning: "rest"
Xiang: "incense"
Xiaodan: "little dawn"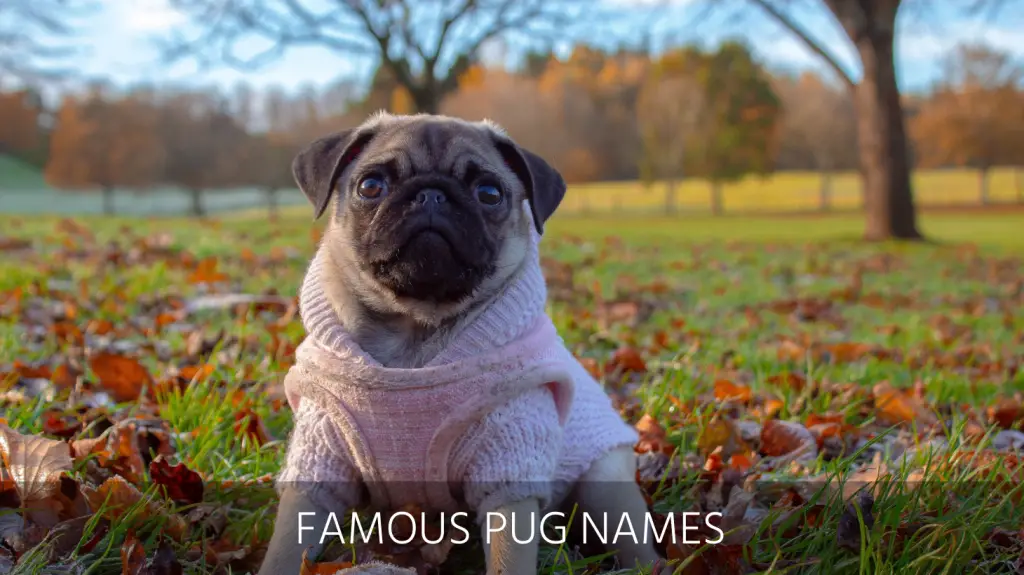 Famous Pug Names
There have been quite a few famous pugs over the years. Here are a few you might want to name your pooch after.
Basco: one of Queen Victoria's pugs.
Frank: from "Men in Black"
Olga: one of Queen Victoria's pug
Otis:  from "The Adventures of Milo and Otis"
Percy: "Pocahontas"
Peter Pug: from "Wee Peter Pug"
Pompey: a pug who saved the Prince of Orange.
Venus: one of Queen Victoria's pug
Learn More: Top 250+ Beagle Dog Names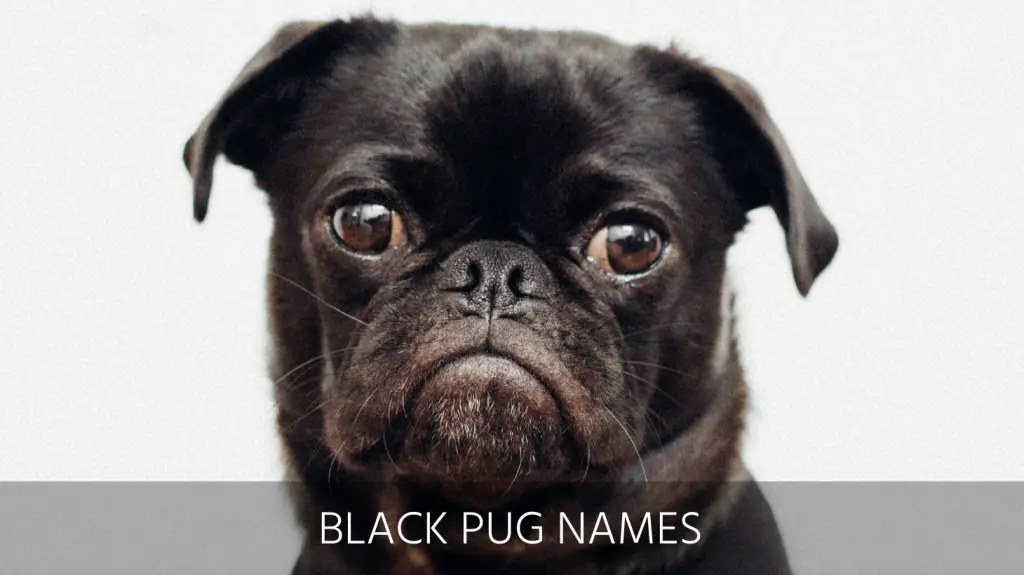 Black Pug Names
While fawn-colored Pugs are the most common, black Pugs are also possible. Here are some names suitable for the darker colored canines of this breed.
Adrian
Amaya
Angus
Anise
Artemis
Arya
Asher 
Astra
Athena*
Bamboo
Bartholomew
Bean
Bear
Black Beauty
Blackberry 
Blackjack
Blake
Boomer
Bran
Brenna / Brena
Bruno*
Calla
Celeste
Chase*
Cocoa
Cola 
Colby
Dashiel
Delaney
Denali
Deva
Domino
Duna
Duncan
Ebony
Eclipse
Elvira
Emery
Espresso
Eve
Flint
Guinness
Hershey
Indigo
Jett 
Keira
Kieran
Kodiak
Kuro
Kylo 
Leila
Legend
Licorice
Luna
Lyra
Maverick
Midnight
Nash
Nerissa
Nisha
Noir
Nova*
Nyx
Olive*
Onyx
Opal
Ophelia
Oreo
Orion
Orpheus
Panther
Pearl
Pepper
Persephone
Poppy
Rain
Raven 
Sable
Scout*
Selena
Selkie 
Shadow
Skye
Smoky
Starling
Stella
Storm
Sullivan 
Thunder
Turtle 
Tynan
Velvet
Vesper
Wednesday
Vega
Wilder
Yukon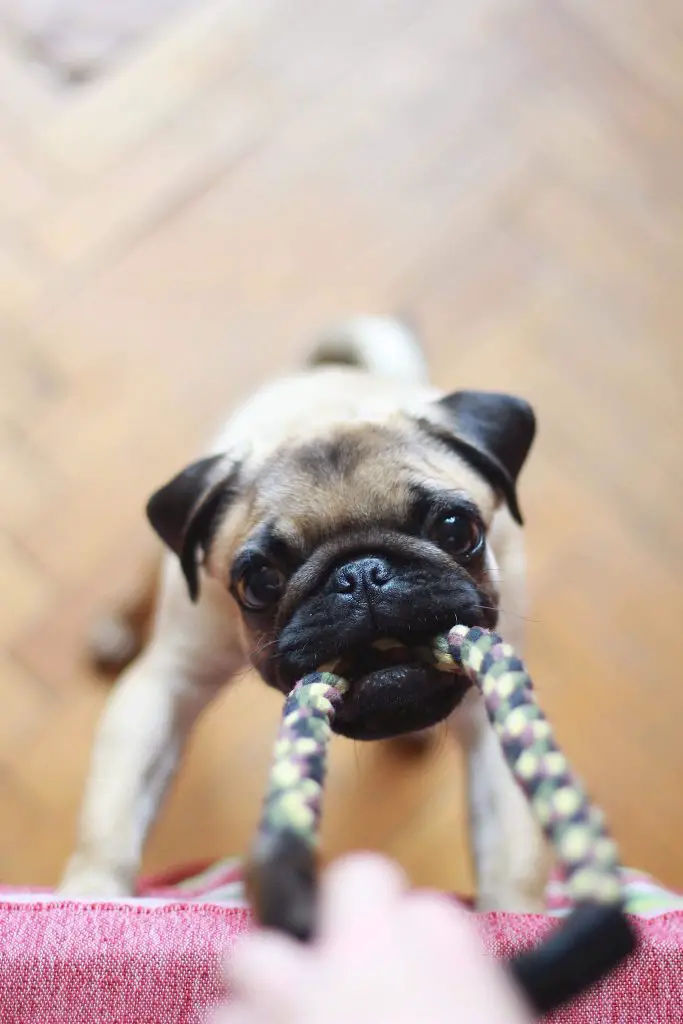 What Name Did You Pick for Your Pug?
To be honest, this ultimate Pug names list includes tons and tons of names – far more than you'll probably ever need! Take your time sorting through them all and choosing one for your new tiny companion. 

If possible, we recommend getting to know your dog before deciding on a name. If you just picked him or her up from the shelter, you probably don't know very much about them just yet. While you might absolutely love the name "Oso", it might not end up being very fitting for the particular dog you adopted. 

Furthermore, you should make naming your new dog a family affair. After all, everyone is going to have to call your dog by its name. Choosing a name that not everyone likes is how dogs end up with many nicknames, which can be very confusing for your canine!